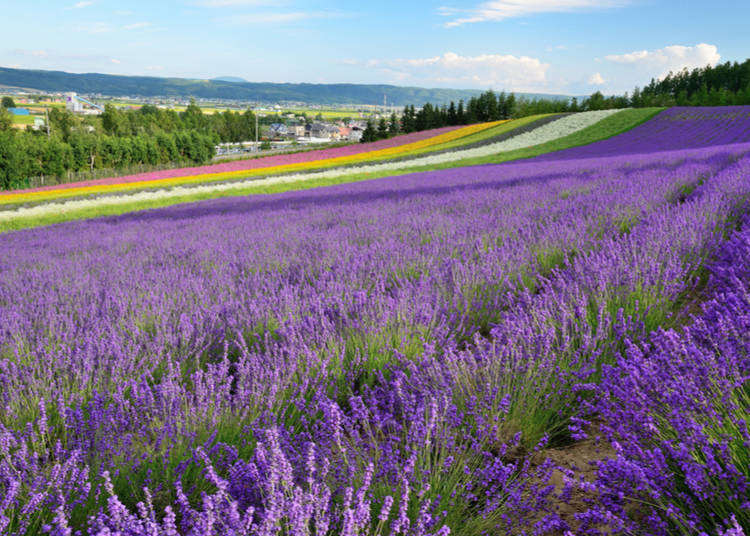 The gardens of Furano are famous for their floral landscapes. July through August is the best time for visiting Furano and is when the area is visited most by many tourists from all over the world.

Biei is an area noted for the mysterious blue of Aoiike, the famous "Blue Pond", plus the beautiful expanses of hilly landscapes, and Asahiyama Zoo, the most northern one in Japan. This is not only an area prominent as a farm belt, but also for the charm of its cuisine which uses local wheat and produce.
What sort of places are Furano and Biei?
Furano and Biei are located almost exactly in the center of Hokkaido. Gentle hills spread out from the foot of the Tokachidake mountain range and as far as the eye can see the scene is one of a patchwork of fields cultivating wheat, potatoes, and other crops.

In Furano there are numerous large gardens, including Farm Tomita, which is famous for its fields of lavender. Biei is a great spot for observing the hilly landscape and is also the site of the famous "Blue Pond". There are many ski slopes on the outskirts of Furano where in winter many types of winter activities such as skiing, snow-shoeing, and dog-sledding can be enjoyed.

The very popular Asahiyama Zoo in Asahikawa is easily accessible and an Asahikawa - Biei - Furano excursion tour is highly recommended.
Sights to see in Furano and Biei
Making a day-trip from Sapporo is possible, but to really maximize your time and take in the many spots, a one-night stay is suggested. If you use Asahikawa Airport, it is possible to travel around the whole area in a single day. The various sightseeing spots are relatively far apart, so we recommend either renting a car or making use of an excursion tour bus or sightseeing taxi.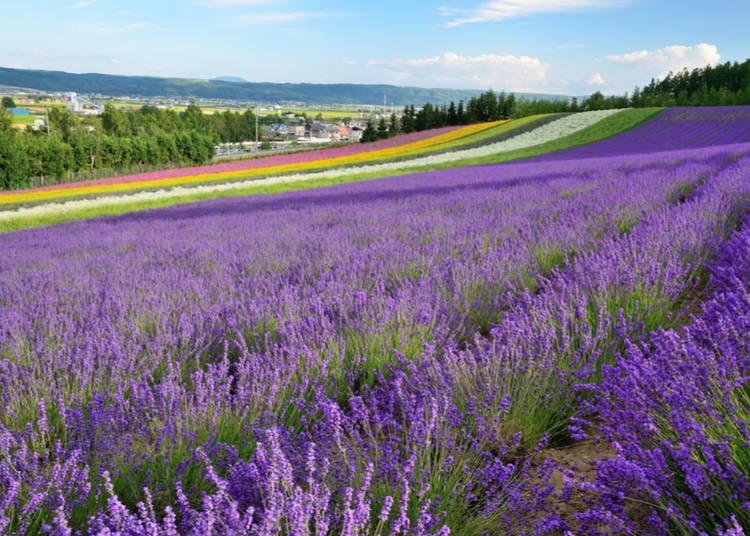 A tourism farm famous for its lavender fields, the farm has more than 100 varieties of lavender in a total of 9 fields of flowers. There are also shops and a café where you can enjoy lavender flavored sweets.
Address

15, Kisenkita, Nakafurano-cho, Hokkaido, 071-0704
View Map

Nearest Station

Naka-Furano Station (Furano Line)


Phone Number

0167-39-3939
2. Hills during the 4 seasons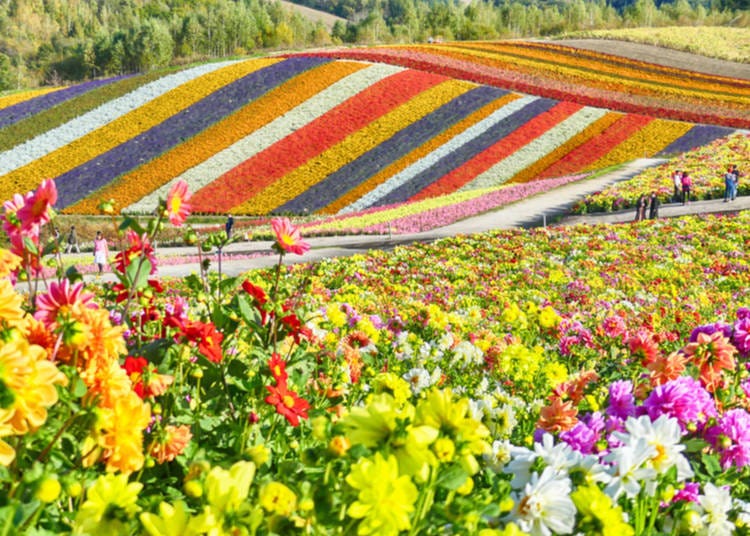 Fields of flowers encompass 150,000sqm and are representative of the Biei area. About 30 types of flowers are planted in rows. You can also ride around the area in buggies and carts. During the winter you can enjoy snowmobile rides through snowy fields.
Address

The Shinsei, Biei-cho, Kamikawa-gun, Hokkaido third, 071-0473
View Map

Nearest Station

Biei Station (Furano Line)


Phone Number

0166-95-2758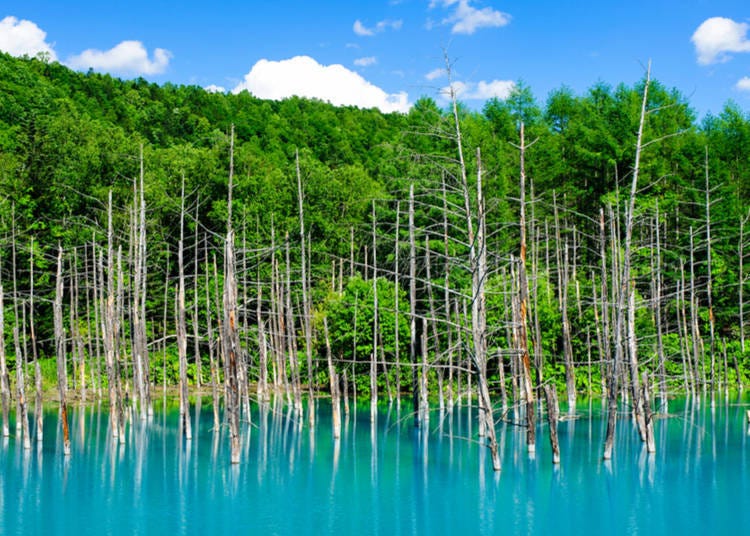 Aoiike - Blue Pond - gained fame for being used in the wallpaper at the headquarters of Apple. It was created when water from the Biei River and spring water accumulated behind an embankment constructed to prevent flooding during volcanic disasters on Mt. Tokachidake. The water gets its blue color from the reflection of colloid in the water.
4. Asahikawa City Asahiyama Zoo - Worth a visit!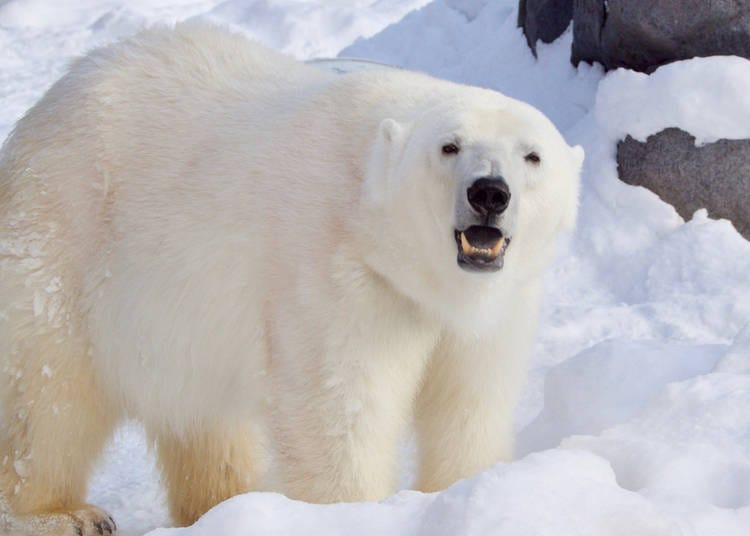 Located in the northern part of the Furano and Biei area, Asahikawa City has the second largest population in Hokkaido. Its most famous place to visit is the Asahikawa City Asahiyama Zoo, the northernmost zoo in Japan. Visitors are delighted by the way the exhibitions enhance the characteristics of the animals.
What to Eat in Furano and Biei
Country landscapes are spread throughout the Furano and Biei area making this area famous for its vegetables such as potatoes, carrots, and onions, and also fruit, melons, and watermelon. Don't miss savoring the home-cooked dishes using seasonal vegetables as well as other local cuisine prepared with locally produced ingredients.
A local Furano delicacy, this uses only vegetables and rice locally produced in the area. What makes this curry rice dish unique is it being topped with an omelet. Each shop has its own unique dishes, such as Kunen Kobo Yamadori which uses homemade bacon for toppings.
This gourmet delight is unique to Biei, famous for its wheat. The main style for eating these noodles that are made from "Komugi" Biei wheat, is to dip them in a curry, the roux of which contains locally produced pork and vegetables. It is offered at restaurants in Biei's city center, such as Family Restaurant Daimaru.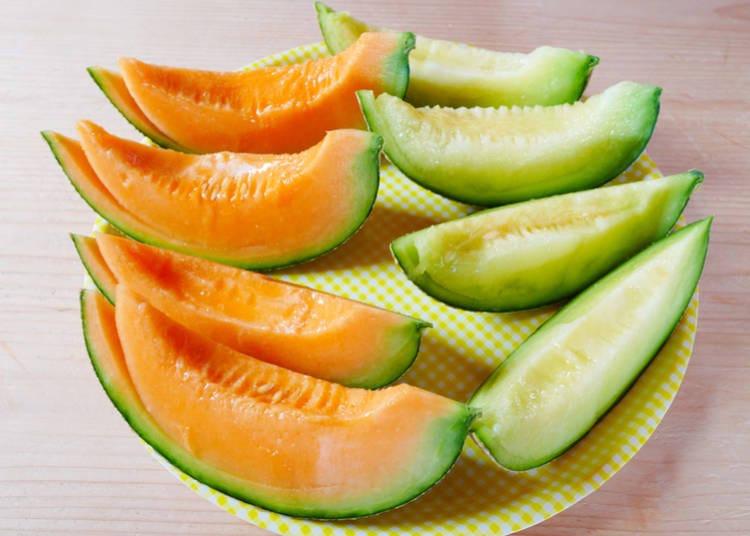 Furano is ideally suited for cultivating vegetables and fruit because of the extreme differences in temperature between night and day. It is especially famous for its melon and when it is in season, shops in tourist areas put out slices for tourists to sample while cafés offer sweets and other desserts made with melon. At the Tomita Melon House, you can enjoy melon flavored soft ice cream and melon bread.
4. Lavender flavor soft ice cream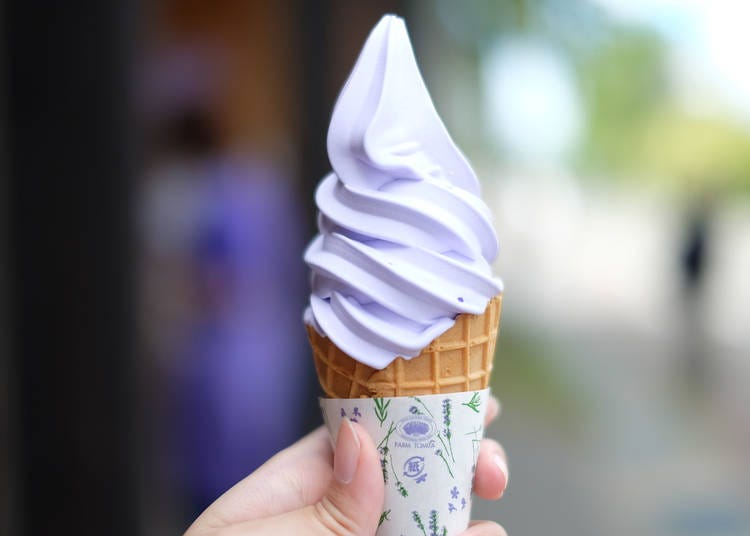 One should definitely try the lavender soft ice cream served at Farm Tomita of lavender fame. Light lavender in color, made with milk and lavender extract, it is refreshingly satisfying. Other flavors, such as vanilla and melon mixtures, are also available.
Address

15, Kisenkita, Nakafurano-cho, Hokkaido, 071-0704
View Map

Nearest Station

Naka-Furano Station (Furano Line)


Phone Number

0167-39-3939
What to Buy in Biei and Furano
There are types of confectionery made from locally produced fresh milk, vegetables, and processed cheeses and jams. In addition, there are also many types of cosmetics made with locally produced lavender. Having a flower field on its label, Furano Wine is a popular souvenir item.
The cheese is made with fresh milk delivered directly from Furano farms. "Wine cheddar cheese" made with Furano Wine is acclaimed for its marbled appearance and light wine flavor. It can be bought directly there or at souvenir shops in Furano.
2. Shinya's "Furano Yukidoke Cheesecake"
Shinya is a long-established confectionery in Furano that makes and sells sweets made from local ingredients. The "Furano Yukidoke Cheesecake", a double-layered cheesecake made with blueberries and specially made mountain grape jam, is very popular. Both whole cakes and slices are sold.
3. Biei Senka's "Biei Rusk"
This is an original product of Biei Senka, a shop that sells food products of Biei. It is made with butter, milk, wheat, and other ingredients produced only in Biei. Having a crisp texture, it has a rich buttery flavor.
Shopping in Furano and Biei
There are no large commercial facilities or duty-free shops in either Furano or Biei. Most shopping is done at antenna shops in the city at stores attached to sightseeing facilities. It's best to enjoy eating sweets and refrigerated items on the spot.
1. Furano Marche offers fresh, locally grown vegetables
Based on the concept of being a place for "promoting the attractions of Furano's farm foods," this is a food market comprised of three buildings. There are various shops such as the product center, direct sales shops of agricultural products, shops selling handmade bread, and shops selling household goods. There are also places where you can get a bite to eat or get take-out if you are feeling hungry.
フラノマルシェ

Address

〒076-0024  北海道富良野市幸町13-1 / 13-1, Saiwaicho, Furano-shi, Hokkaido, 076-0024, Japan
2. Go to "Biei Senka" for Biei Food Ingredients
This is an antenna shop carrying agricultural products produced in Biei and souvenir goods. There are three main sections: the Fruit Market, which sells vegetables and rice shipped directly from farms; the Wheat Factory, which handles bread made from locally produced wheat; and the Fruit Factory, which sells take-out confections such as pudding and soft ice cream. There is also a French restaurant at Biei Senka.
美瑛選果

Address

〒071-0204  北海道上川郡美瑛町大町2 / 2, Omachi, Biei-cho Kamikawa-gun, Hokkaido, 071-0204, Japan
3. Farm Tomita for Hokkaido lavender products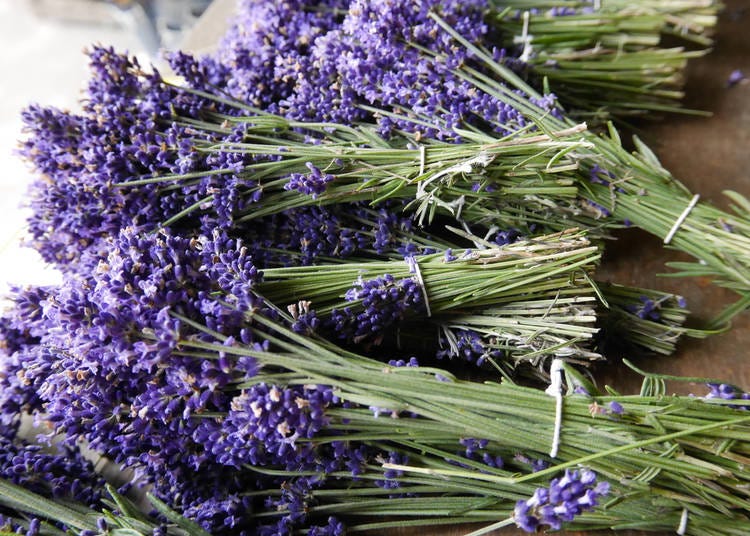 The shop inside the Farm Tomita lavender gardens has a wide selection of goods made with lavender. In addition to a variety of items such as lavender potpourri, cologne, lavender soap having a high moisture content, there are also many kinds of sweets.
Address

15, Kisenkita, Nakafurano-cho, Hokkaido, 071-0704
View Map

Nearest Station

Naka-Furano Station (Furano Line)


Phone Number

0167-39-3939
4. Romantic shopping spot "Ningle Terrace"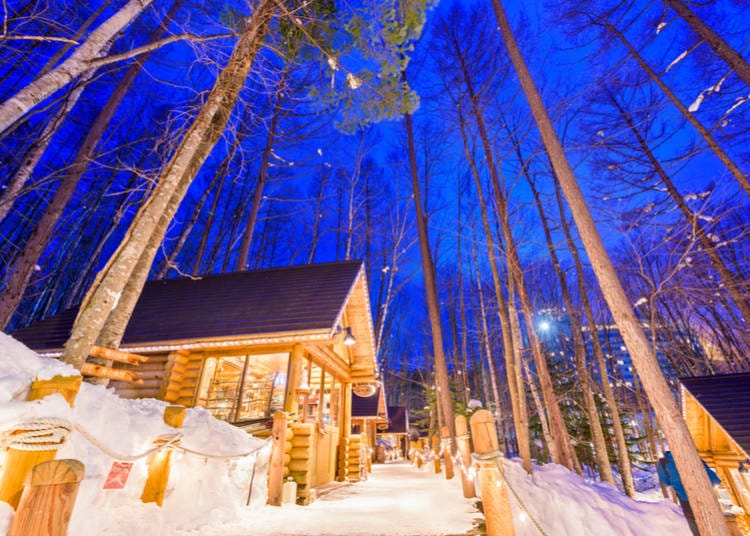 Close to the New Furano Prince Hotel, this shopping spot is located in an area surrounded by trees. Fifteen specialty shops, all built like log houses, line a promenade selling various items such as snow crystal accessories, leather crafts, and miniature miscellaneous goods.
Address

Nakagoryo, Furano-shi, Hokkaido, 076-8511
View Map

Nearest Station

Furano Station (Nemuro Main Line / Furano Line)
10 minutes by car


Phone Number

0167-22-1111
In winter, enjoy skiing & snowboarding too!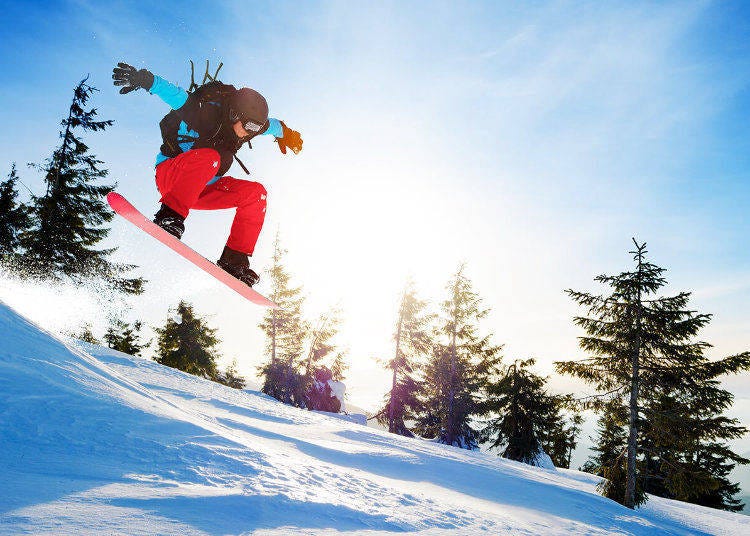 You can enjoy a variety of fun snow activities in this area in winter, including skiing and snowboarding. To save money and hassle, we recommend booking lift tickets in advance. Enjoy the unique winter landscapes and outstanding sense of openness that snow resorts afford, while also avoiding the crowds.
*This information is from the time of this article's publication.
*Prices and options mentioned are subject to change.
*Unless stated otherwise, all prices include tax.