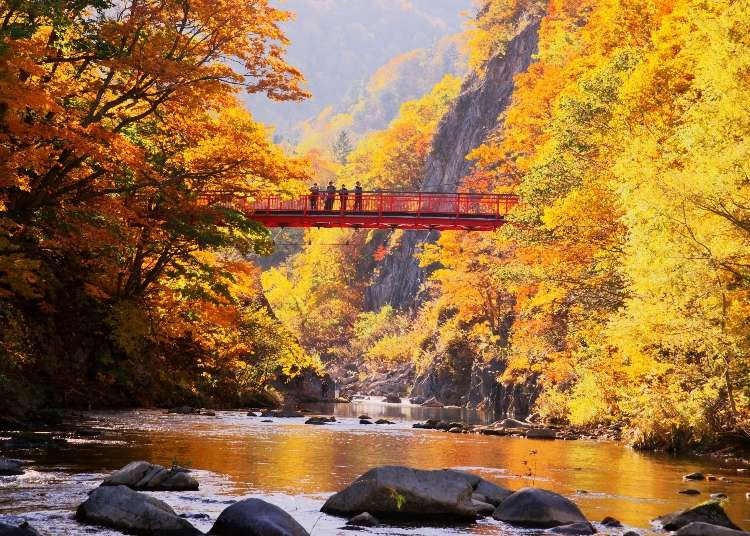 Autumn leaves in Hokkaido are an incredible sight to see: autumn dyes the landscape crimson with the red leaves it brings. If you are in Hokkaido in fall, why not enjoy some fall foliage around central Hokkaido?

This area has various well-known fall foliage viewing spots, from Sapporo's city center to the natural landscapes of Niseko and Lake Tōya. Read on to find out more about eight recommended fall colors viewing spots for you – all of which are easily accessible from the Sapporo city area!
1. Ginkgo Avenue: Hokkaido University's Tunnel of Yellow Trees (Sapporo)
First, we will start off with a viewing spot within Sapporo City. This is Hokkaido University's Ginkgo Avenue, regarded by Sapporo locals as their go-to location for enjoying the yellow leaves that mark the coming of autumn. There are some 70 ginkgo trees grown here on the street, stretching around 380 meters. The best time to catch these yellow leaves is the period from late October to early November. There is so much beauty to appreciate in nature at every phase as the autumn leaves change in color.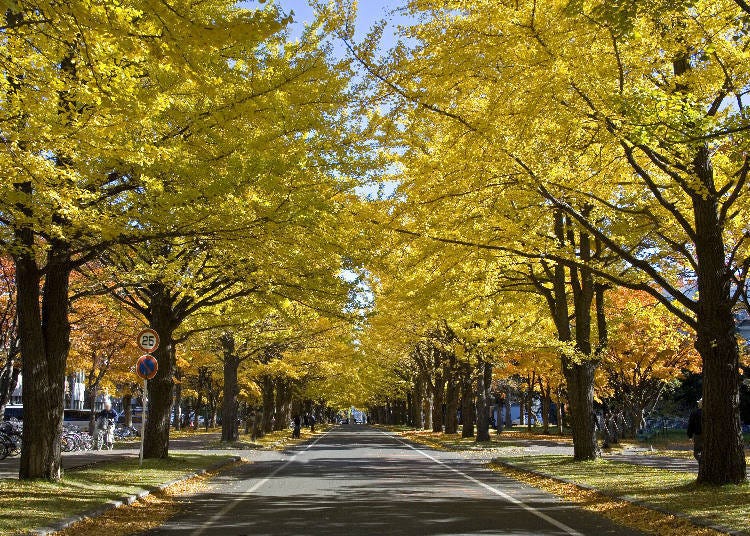 The university campus grounds where Ginkgo Avenue is located is open to the public. The street transforms into a golden carpet when the leaves fall, becoming the perfect, ethereal location for a stroll.

The main entrance of Hokkaido University is a 7-minute walk from Sapporo Station or a 4-minute walk from its nearest subway station Kita-juni-jo Station on the Namboku Line. Ginkgo Avenue itself is located 10 minutes by foot from the main entrance of the university.
北海道大学

Address

Kita 8-jonishi, Kita-ku, Sapporo-shi, Hokkaido, 060-0808

Nearest Station

7-minute walk from North Exit of Sapporo Station
4-minute walk from Kita-juni-jo Station, 7-minute walk from Kita-juhachi-jo Station or 10-minute walk from Sapporo Station on the Namboku Line
15-minute walk from Kita-jusan-jo Station or 10-minute walk from Sapporo Station on the Tōhō Line
Alight at "Hokudai Seimon-mae," "Hokudai Byoin-mae" or "Kita-18-Nishi-5" bus stop if you are taking the Chūō Bus or JR Hokkaido Bus


Fees: None
Hours: 24 hours
Closed: Year-end and new year
2. Mt. Moiwa Ropeway: Enjoy the Spectacular View from Above! (Sapporo)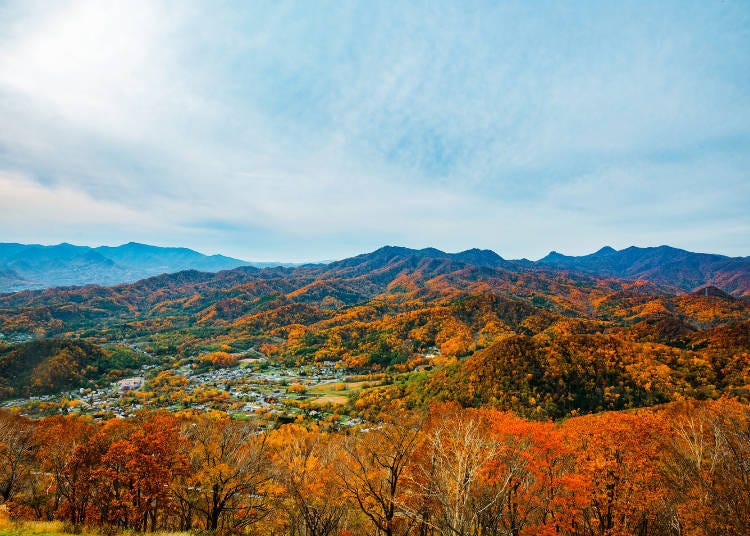 Mt. Moiwa, which stands at 531 meters tall, is a viewing spot that is easily accessible from Sapporo City. You can even look out at the Sapporo streets from the observation deck at the top of Mt. Moiwa. On a day with good weather, you can also see as far as Ishikari Bay in the distance. In autumn, the ancient forest turns a mix of yellow and red, a picturesque view for visitors to enjoy.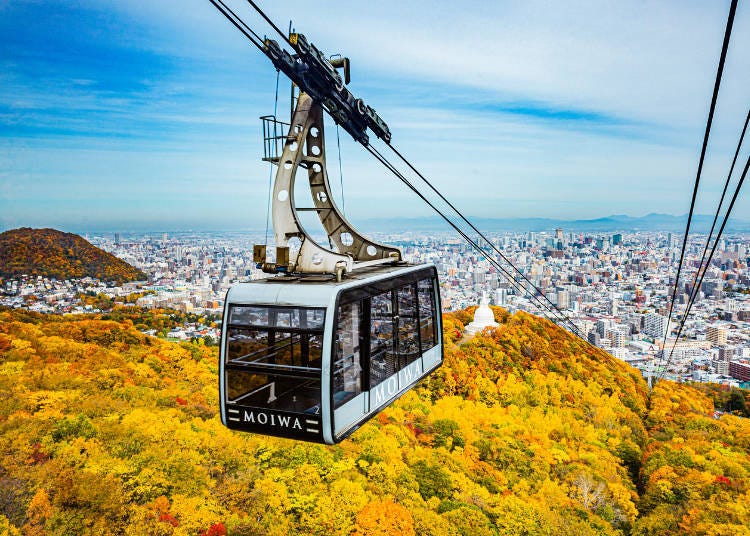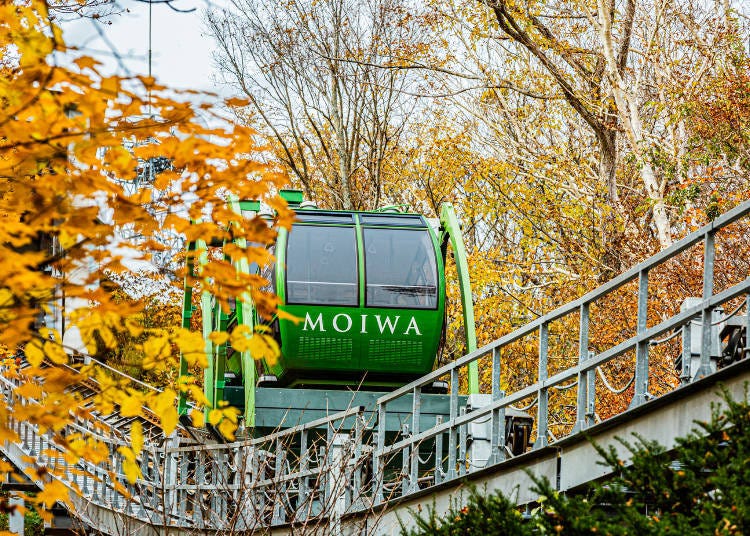 To reach the peak of Mt. Moiwa, we will take the ropeway and cable car. The Mt. Moiwa Ropeway serves the route between Sanroku Station and Chufuku Station. Board the back of the gondola when you are heading up to Chufuku and the front when you are heading down, as this will offer you the most incredible panoramic view of the beautiful scenery during the ride.

On reaching Chufuku Station, switch to the mini cable car nicknamed "Morris Car" which will take you to the summit. Alternatively, as guided pathways have been set up, you may choose to take a walk up instead, which will grant you a more immersive experience and view of the autumn leaves.
Sapporo Mt. Moiwa Ropeway

札幌もいわ山ロープウェイ

Address

5-3-7, Fushimi, Chuo-ku, Sapporo-shi, Hokkaido, 064-0942

Fees:
Ropeway + Mini Cable Car
Round trip: 1,800 yen for adults, 900 yen for children
One-way: 900 yen for adults, 450 yen for children
Ropeway
Round-trip: 1,200 yen for adults, 600 yen for children
One-way: 600 yen for adults, 300 yen for children
Mini Cable Car:
Round-trip: 600 yen for adults, 300 yen for children
One-way: 300 yen for adults, 150 yen for children
Hours:
Mt. Moiwa Ropeway
10:30 a.m. – 10:00 p.m, (last departure for the peak at 9:30 p.m.) in summer (April to November);
11:00 a.m. – 10:00 p.m. (last departure for the peak at 9:30 p.m.) in winter (December to March)
Access: Take the free shuttle bus from the tram station "Ropeway Iriguchi" to Sanroku Station.
Phone: 011-561-8177 (Sapporo Mt. Moiwa Ropeway Sanroku Office)
3. Jōzankei: Fall Foliage Viewing in an Onsen Town (Sapporo)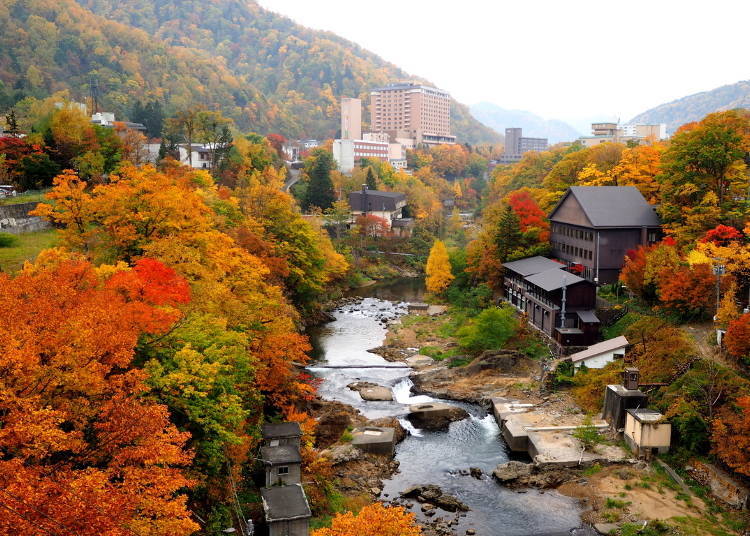 The onsen town of Jōzankei
Jōzankei is an onsen hot springs village located in northern Sapporo, just a 1-hour car ride away from the city center. In Jōzankei, which has been designated as a national park, the best time for viewing fall colors is from late September to mid-October. There are five fantastic viewing spots that the Jōzankei Tourist Association recommends, one of which is the Jōzankei Onsen Area. The view from the Futami Suspension Bridge, which goes across the Toyohira River, is just splendid. The bridge itself is aesthetically pleasing, too, so visitors can also enjoy the view from upstream of Toyohira River and include the bridge in commemorative shots.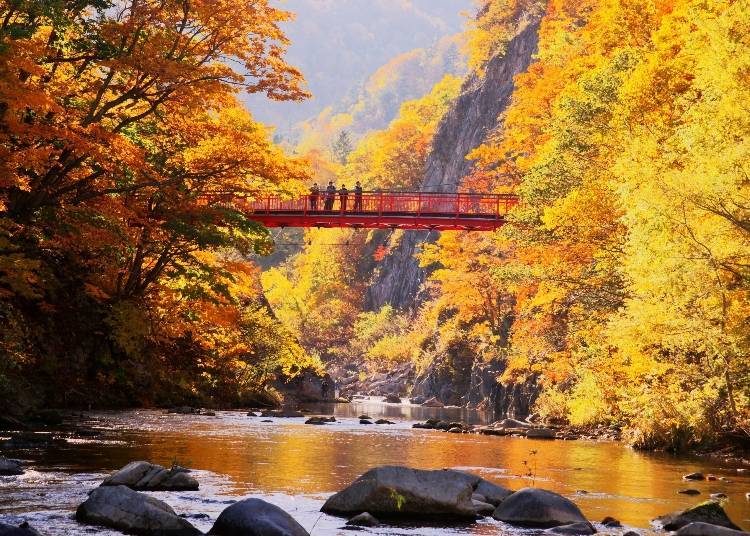 Hōheikyō Dam offers an unconventional view among the five best spots in Jōzankei. Having made the list for a selection of 100 reservoirs, this place is no doubt a picturesque location. Every year during the sightseeing period from 1 June to 1 October, water is discharged from the dam, creating a scenic view together with the red autumn leaves. It is no surprise that this location is very popular with domestic and foreign tourists alike.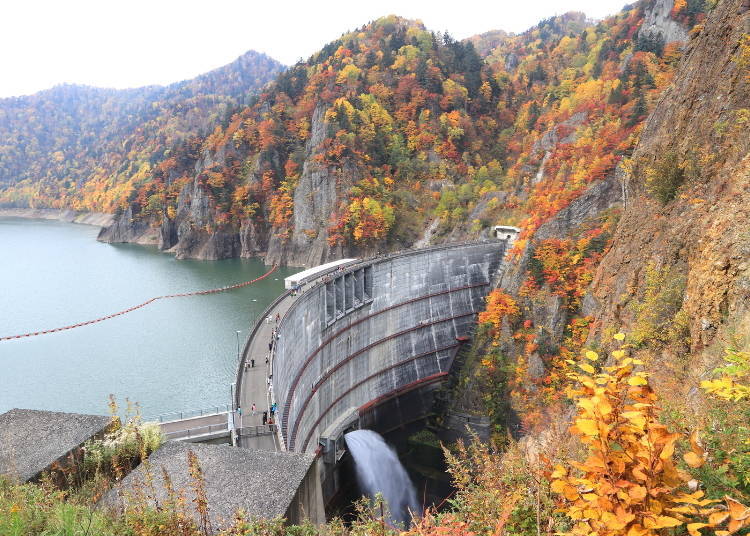 Special buses that take you to the various viewing spots in Jōzankei run in the autumn. Besides Jōzankei Onsen Area and Hōheikyō Dam, the bus goes to Sapporo Kokusai Ski Resort, Jōzankei Farm and Mt. Hakkenzan. The bus to Mt. Hakkenzan requires a prior reservation, so do take note of that. As for the other routes, no booking is required. Simply head to the boarding point to apply to take the bus.

Boarding the bus is on a first-come-first-served basis, so if you definitely want to get on the bus at a particular time, make sure to head to the boarding point ahead of time to apply. The number of scheduled buses and boarding fares vary with the choice of route, so please check the official website for more details.

By the way, the Kōyō Kappa Bus, which goes around Jōzankei Onsen Area is the only one with a tour guide. The tour guide is a local volunteer who will share with visitors never-heard-before information about the fall foliage viewing spots in Jōzankei. The bus stops by the Ainu Cultural Center and shops that sell fresh produce direct from the farms, so you will get the full experience of Jōzankei and enjoy fall colors!
定山渓

Address

Jozankei, Minami-ku, Sapporo-shi, Hokkaido, 061-2301

Access: 60 minutes by the "Kappa Liner Bus" from Sapporo Station direct to Jōzankei Onsen Area;
75 minutes via the Jōtetsu local bus, alight at "Jōzankei" bus stop

Kōyō Kappa Bus
Fees: 500 yen for one pax (fares are the same for adults and children)

Hōheikyō Dam Liner (bound for electric bus boarding point)
Fees: 500 yen for a round trip (fares are the same for adults and children); 1,000 yen for Hōheikyō Dam electric bus round trip + bus round trip tickets (adults only)

Phone: 011-598-2012(Jōzankei Tourist Association)
4. Temiya Park: Enjoy the View from the Otaru Highlands (Otaru)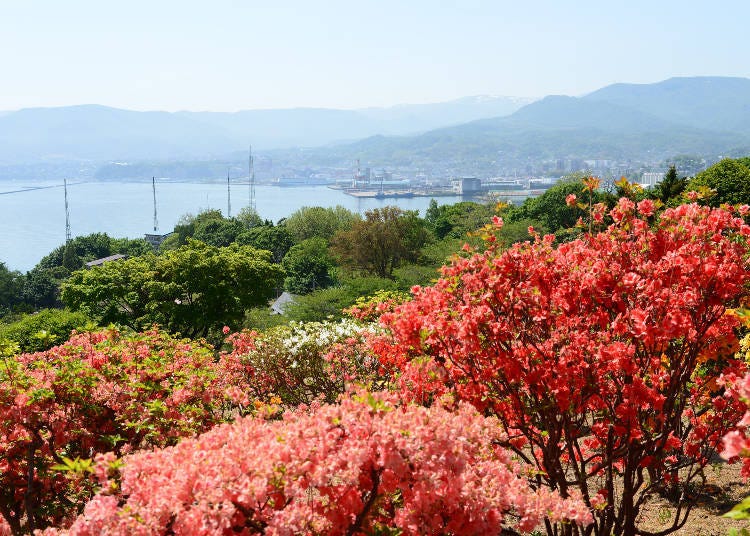 Although Temiya Park is well-known as a sakura viewing spot, it has lots to offer as a spot for viewing fall foliage as well. Here is where you can enjoy a panoramic view of Otaru Port and Otaru's streets while surrounded by nature. Temiya Park is also a popular location for strolling, hiking or just to relax.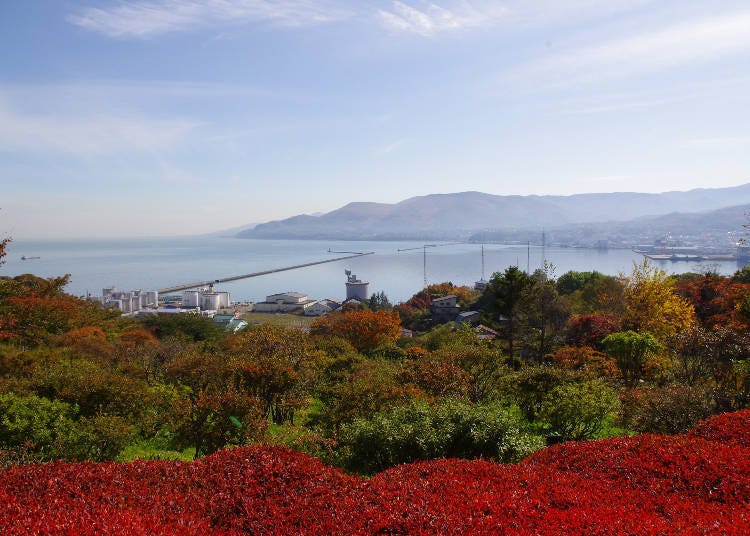 On the eastern side of the park is Temiya Ryokuka Botanical Gardens, which consists of 15 different garden exhibit sections, such as the Japanese garden, sakura garden, rhododendron garden, tree peony garden and more. In autumn, the bush clovers and enkianthus perulatus in the hedge garden turn a beautiful shade of red. While fall foliage viewing spots are usually along canals, visiting Temiya Park will offer you a different experience as you look out at the waters over the sea of red from the highlands of Otaru.
手宮公園

Address

Temiya, Otaru-shi, Hokkaido, 047-0041

Open: 29 April to 3 November
Closed: None during the open period
Access: Take the Chūō Bus to "Temiya Terminal" and walk for 10 minutes; 15-minute car ride from Otaru Interchange
5. Takinoue Park: Rugged Valleys and Autumn Leaves (Yūbari)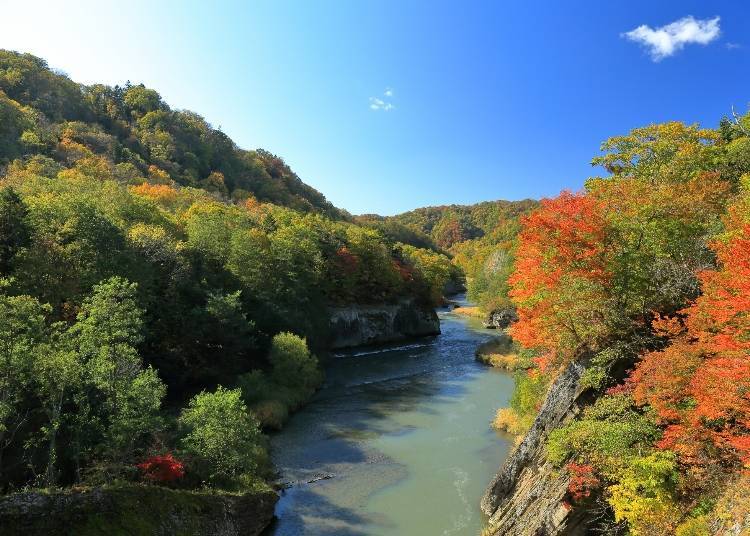 Yūbari is known for its high-quality, branded melon, the "Yūbari Melon." As Yūbari finishes the last of its melon shipments and welcomes the coming of autumn, the greenery on its mountains begin to turn a majestic red. A 7-minute walk from Takinoue Station and located next to the valley of Yūbari River, Takinoue Park is a famous spot for fall foliage, known only by a small number of people. Here, you should definitely look out for Chidorigataki Falls and Ryūsenkyō Gorge.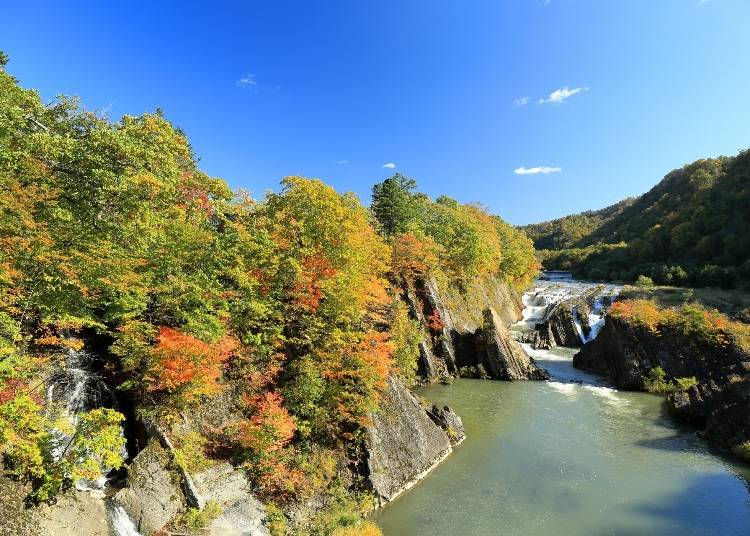 "Chidorigataki Falls" as seen from on top of Chidori Bridge
The valley of Takinoue Park was formed after many years of erosion from the Yūbari River. The rough, strangely shaped rocks get covered in a mix of red and yellow when fall begins. There are waterfalls of various sizes within the park as well, so do look out for those! In particular, the famous Chidorigataki Falls is a popular representative waterfall of the park. Visitors can enjoy a full view of Chidorigaki Falls from the Chidori Bridge.
滝の上公園

Address

Takinoue, Yubari-shi, Hokkaido, 068-0756

Access: 7-minute walk from Takinoue Station on the JR Sekishō Line; 40 minutes by car from New Chitose Airport
Phone: 0123-52-3128(Yubari City Regional Promotion Department)
6. Noboribetsu Jigokudani: The Main Source of Noboribetsu's Hot Springs (Noboribetsu)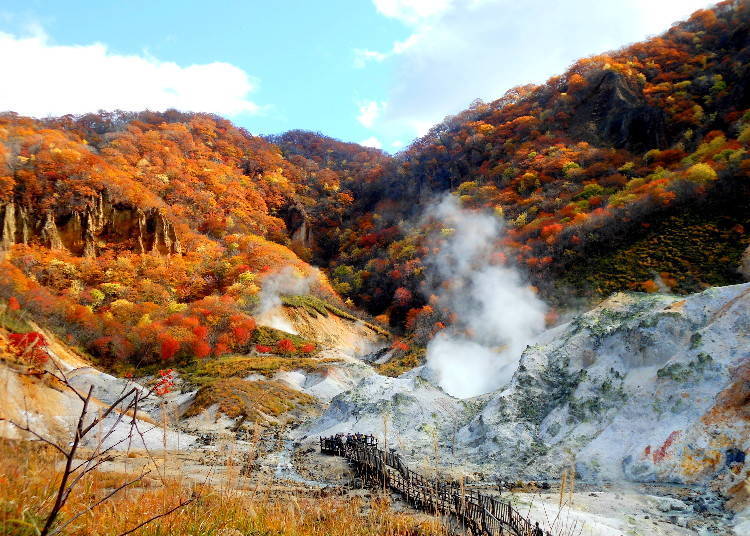 Well-known for its natural hot springs, Noboribetsu is home to Jigokudani, a geothermically active area that was formed from the eruptions of Mount Hiyoriyama. With a diameter of around 450 meters and an area of approximately 11 hectares, Jigokudani has lots of waterspouts and fumaroles and is the biggest source of hot springs for Noboribetsu. In fact, it is always steaming around Jigokudani because of all the volcanic gases and hot spring water being released. It is said that because this sight looked hellish, the crater was named Jigokudani, which means 'hell valley.'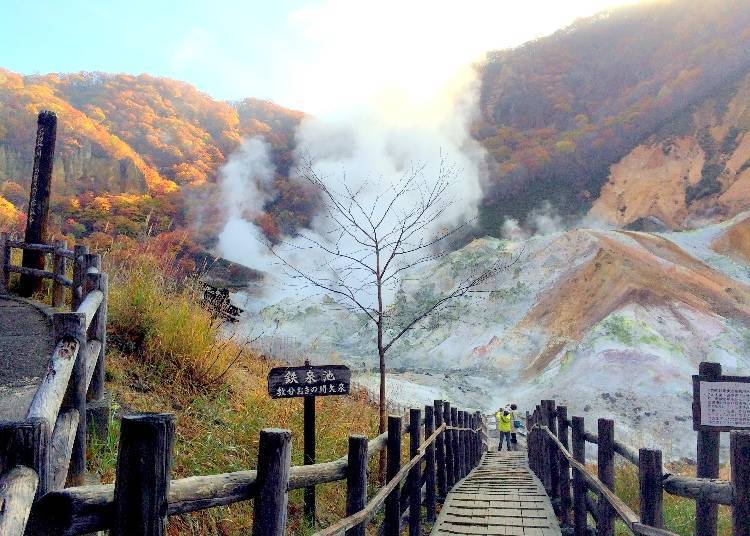 Come fall, the Japanese rowan and Japanese sumac around Jigokudani turns a bright shade of red, adding to that hell-like image. This view of red autumn leaves in Hokkaido among white steam is something that you can see only in Noboribetsu.
Noboribetsu Onsen Jigokudani

登別温泉地獄谷

Address

Noboribetsu, Onsen-cho, Noboribetsu, Hokkaido, 059-0551

Fees: None
Closed: None
Access: 10-minute walk from Noboribetsu Onsen Terminal; 1 hour by car from New Chitose Airport
Phone: 0143-84-3311(Noboribetsu International Tourist & Convention Association)
7. Niseko Annupuri: Enjoy Autumn Leaves in Hokkaido from the Flying Gondolas (Niseko Town)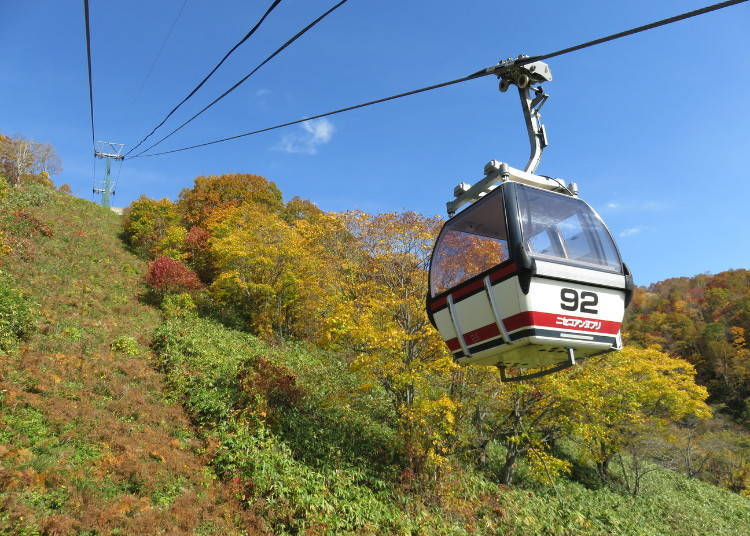 In a place filled with nature everywhere like Niseko Town, fall foliage is on a different scale. Niseko Annupuri is the main mountain of Niseko's mountain range, which has an average height of 1,300 meters above sea level. Its ski resort is open in the winter, attracting tourist crowds from within Japan and abroad. The gondola is in operation even during other seasons, so it is an option to consider if you want to enjoy viewing fall foliage from the mountains. A ride in the gondola lasts approximately 10 minutes for a one-way trip and will take you to the station at the summit, which is situated 1,000 meters above sea level.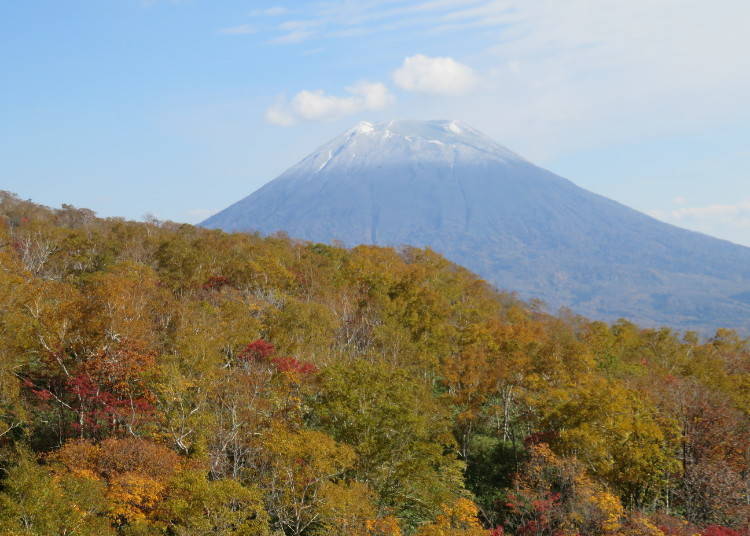 From the 1000M Plateau Observation Square located near the summit station, you can see Mt. Yōtei, also known as Ezo Fuji, Lake Tōya, Funka Bay, and more. The best time to catch the fall foliage in Niseko is from early October to mid-October and the first snow on Mt. Yōtei is typically around October. This means you will get to enjoy the spectacular view of Mt. Yōtei covered in fresh snow alongside the crimson autumn leaves.
ニセコアンヌプリゴンドラ

Address

Niseko, Niseko-cho, Abuta-gun, Hokkaido, 048-1511

Fees:
Round Trip: 1,300 yen for adults, 650 yen for children
One-way: 790 yen for adults, 400 yen for children
Hours: 9:00 a.m. – 4:40 p.m. (last departure for peak at 4:00 p.m.)
Closed: Please check the official website
Access: 10 minutes by taxi from Niseko Station on the JR Hakodate Main Line; 2-hour car ride from Sapporo City (National Route 230 – Hokkaido Route 66) or from New Chitose Airport (National Route 276 – Hokkaido Route 66)
・Summer Period Buses
Approximately 3 hours 40 minutes via the Hokkaido Chūō Bus "Express Niseko" from Sapporo
Around 2 hours 35 minutes via the Chūō Bus Group Chitose – Niseko route from New Chitose Airport
Phone: 0136-58-2080(Niseko Annupuri Gondola)
8. Lake Tōya: Fall Colors from Above (Tōyako Town)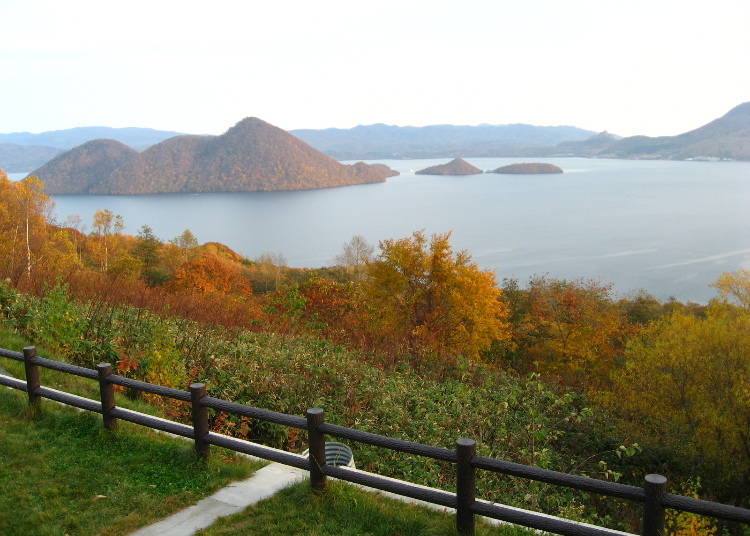 Located within Shikotsutōya National Park is Lake Tōya, the third biggest volcanic caldera lake in Japan. To get a panoramic view of the lake, head to the Silo Observation Deck on the hill next to the lake. Here, you will be able to see the landmarks next to National Route 230 on the west bank of Lake Tōya, including Mt. Usu, Shōwa-shinzan, and Lake Tōya itself. October is the best time for viewing fall colors here.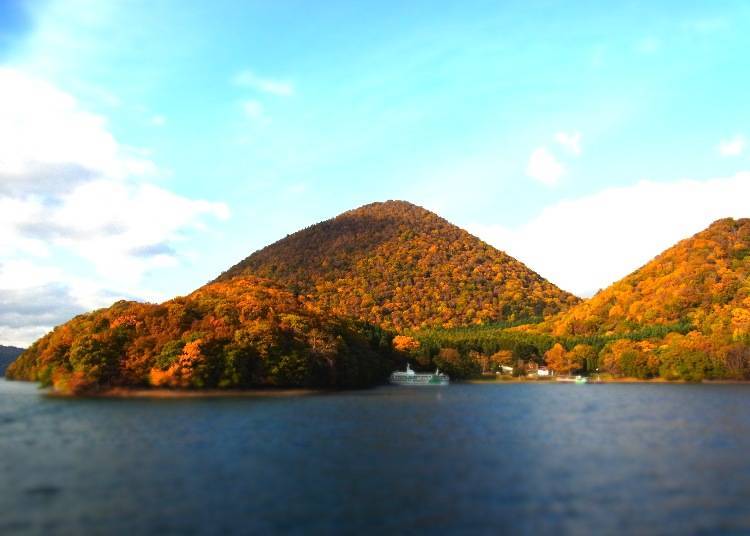 In autumn, the islands on the serene waters of the lake are dyed red too. If you wish to go around the islands, you can take the Tōyakokisen sightseeing boat and even get to visit Ōshima Island as part of the journey. With an onsen village in the area, visitors can create unforgettable memories as they enjoy the fantastic view of fall foliage on the shores while soaking in the hot springs.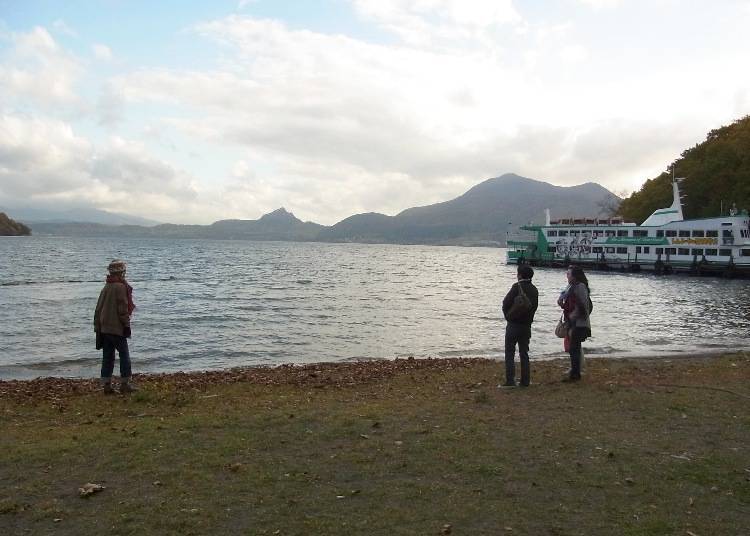 Go around the islands on the Tōyakokisen
洞爺湖

Address

Toyako-cho, Abuta-gun, Hokkaido, 049-5721

Fees: None
Hours: 24 hours
Closed: None
Access: 2 hours 50 minutes via the Dōnan Bus Sapporo-Tōyako Route, from JR Sapporo Station to Tōyako Onsen
Phone: 0142-75-2446(Tōyako Onsen Tourist Association Tourist Information Center)
Hokkaido gets colder and colder each day in autumn. Even though it is relatively cooling in the day in forests and by the lake, the temperature plunges at night, so be sure to bring sufficient outerwear when you head out. Be sure to check out the best timings for autumn leaves in Hokkaido at the various locations so that you can make the most out of your trip!

Text by:みんなのことば舎

*The above article is based on information from July 2020
*This information is from the time of this article's publication.
*Prices and options mentioned are subject to change.
*Unless stated otherwise, all prices include tax.