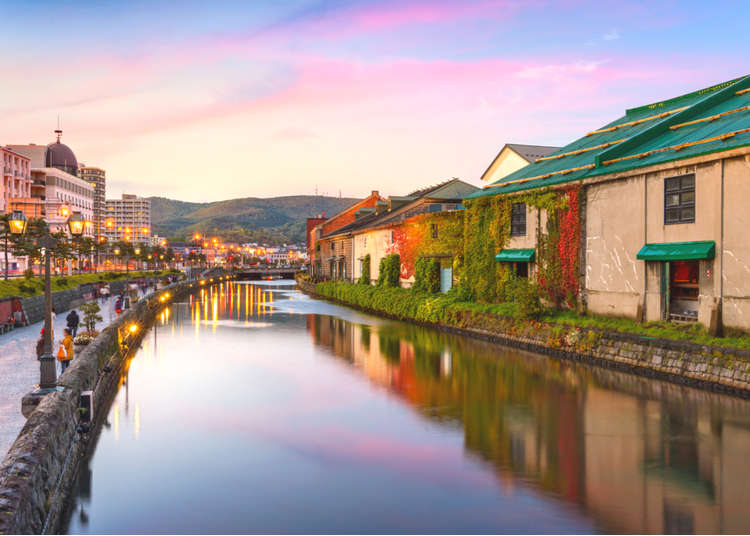 Otaru, one of Hokkaido's leading port cities, holds much of the island's history. If you can imagine, Japan's northern island was fully pioneered only around 150 years ago!

The Otaru Canal in the port and the surrounding stone warehouses have much to tell of the city's proud form of long ago, which paved the way to prosperity beyond Sapporo and the cultivation of Hokkaido.

There are many historical buildings that still stand around the Otaru Canal from 100 years ago, which provide a nostalgic atmosphere that you can enjoy as you walk around. Here are some of the best places to check out during your visit.
1. Otaru Canal: Otaru's Largest Tourist Attraction
The Otaru Canal is a classic staple when it comes to famous sightseeing spots of Hokkaido. Once the distribution hub of Hokkaido, it boasted a population that even surpassed that of Sapporo. At that time the canal was used to offload ships via barges, and was established to lengthen the distance that goods could be distributed. Eventually the canal was no longer necessary to serve its function once the docks were established and was to be landfilled. However it currently stands as a place for citizens and tourists alike to relax and enjoy with its promenades and gas lamps lighting the riverbanks.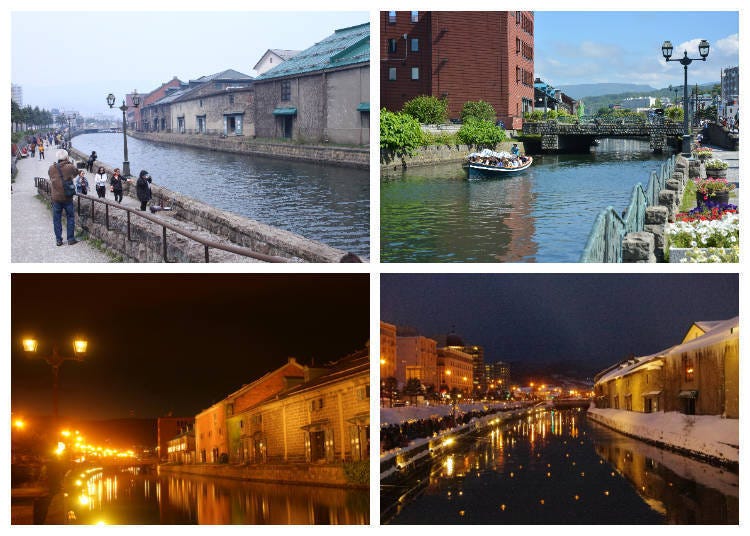 Upper left: A popular location for walking and photography. Upper right: You can also enjoy a cruise along the canal. Bottom left: Warehouse groups are lit up with gas lights at night. Bottom right: The event venue of the "Otaru Snow Light Path," an event held annually in February each year in which the surface of the canal and the walking paths are decorated with candle lights.
You can enjoy a romantic walk down the cobblestone path as you take in the sights of the gently flowing canal and the retro warehouses. It is a must-see location with 63 gas lamps lighting up the way, and is a beautiful sight to see no matter the time of day or night. This place is also one of the venues of the "Otaru Snow Light Road" event, held every February, where tens of thousands of candles illuminate the snowy city landscape and glass lanterns whimsically reflect the surface of the canal. The stone warehouses hold buildings such as restaurants just like the days of old, so it is recommended to stop by for lunch or dinner.
2. Otaru Art Village: An Age Decorated in Brilliant Architectural Art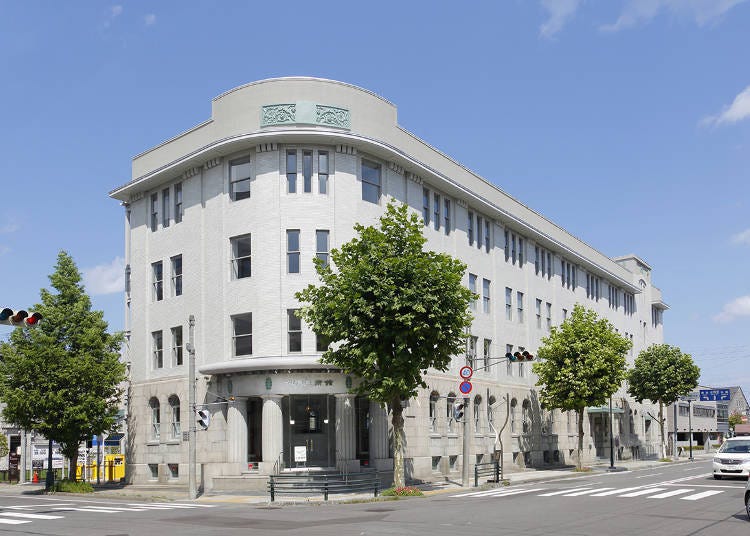 Otaru City's historical buildings of the early 20th century are now used as various resources for tourism. The Otaru Art Base located opposite the Otaru Canal across Rinkosen Street is one such facility. There are four historical buildings where 20 of the largest banks in Hokkaido were gathered, formerly the center of Hokkaido's economy known as "North Wall Street."

What was the former Hokkaido Takushoku Bank Otaru Branch as seen in the picture is now home to the Nitori Museum of Art, and includes displays such as Japanese and foreign paintings, wood carvings, and more. In the basement you will find the Art Nouveau Art Déco Glass Gallery.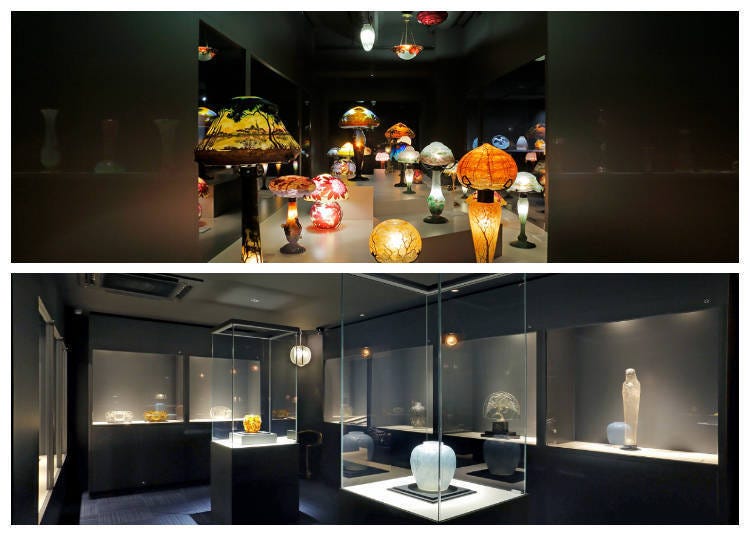 Top: Beautifully curved glass works of the Art Nouveau "Forest of Lamps" Collection. Bottom: Art Deco glass works incorporating geometric patterns.
Facing the Otaru Canal stands the Former Takahashi Warehouse, a historic building which was renovated to become what is now the Stained Glass Museum. The stained glass pieces displayed here were actually used in British churches from the late nineteenth to early twentieth century. You may find yourself losing track of time when surrounded by this beautiful and majestic popular sight.

At the Old Mitsui Bank Otaru Branch exhibit you can view the state of the bank as it was back in the day, including an old vaulted safe deposit box and a conference room. You can also enjoy a projection mapping depicting Hokkaido's four seasons on the ceiling of the plaster-decorated atrium.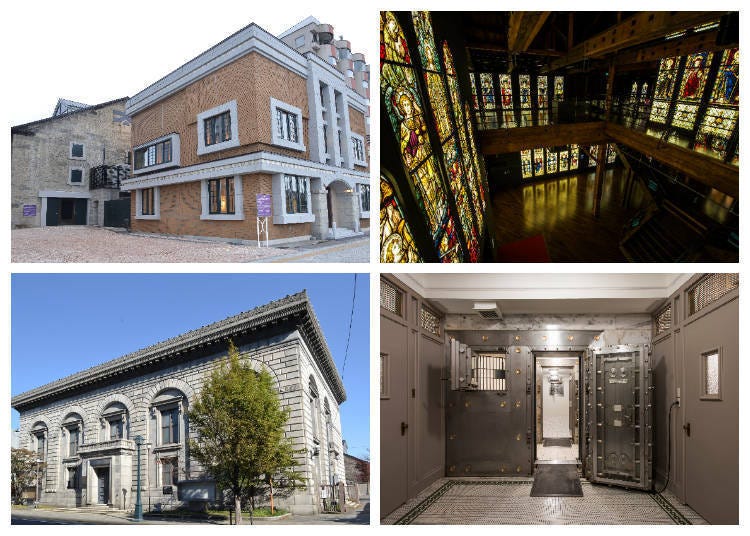 Top left: Back building: Stained Glass Museum; Front: Otaru Art Village Museum Shop Top right: Inside the Stained Glass Museum Bottom left: The Renaissance exterior of the Former Mitsui Bank Otaru Branch Bottom right: The safe room remains in almost exact condition as time of construction
Entry Fee: \1500
Hours: 9:30AM-5:00PM(November~April: 10:00AM-4:00PM)Entry until 30 min before closing
Holidays: N/A, Wednesdays during November~April, (In the case of national holidays, the following day will be closed), subject to temporary closings
Access: 10 minute walk from JR Otaru Station
小樽芸術村

Address

〒047-0031 北海道小樽市色内1-3-1/1 Chome-3-1 Ironai, Otaru-shi, Hokkaidō 047-0031

Phone Number

0134-31-1033
3. Sakaimachi Dori Shopping Street: From Gourmet Foods to Variety Goods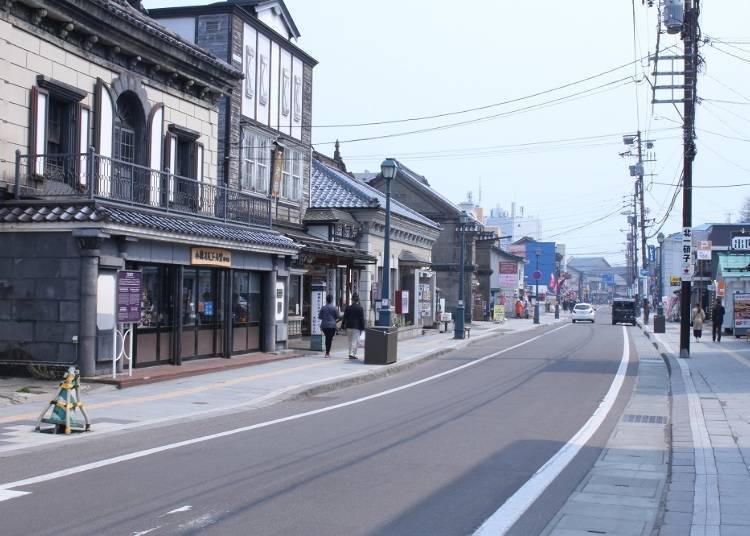 If you're travelling for pleasure, then you'll want to enjoy gourmet and shopping. Both can be done at Otaru's Sakaimachi Dori Shopping Street, located on the inland side of Rinkosen Street, parallel to the Otaru Canal. It is a one-way street that stretches about 900 meters from North Wall Street to the Marchen Crossroads where you will find the Bank of Japan Otaru Branch. Both sides of the street are lined with old merchant shops and Western-style buildings. Nearby to the Otaru Canal, it is another very popular tourist spot.
The glass craft shops representative of Otaru line the street, for example Kitaichi Glass and Taisho Glass. It is also a great place to stop by for lunch with its famous sushi bars and seafood bowls. You can even try the sweets of the famous pastry shops such as Rokatei, Kitakaro, and LeTAO. Most of these shops are closed in the evening however, so it is recommended to visit during the day.

Access: 12 min walk from JR Otaru Station
Address

Sakaimachi, Otaru-shi, Hokkaido, 047-0027
View Map

Nearest Station

Minami-Otaru Station (Hakodate Main Line)
10 minutes on foot


Phone Number

0134-32-4111
4. Tanaka Sake Brewery Kikkougura: Touring and Tasting Hokkaido Sake!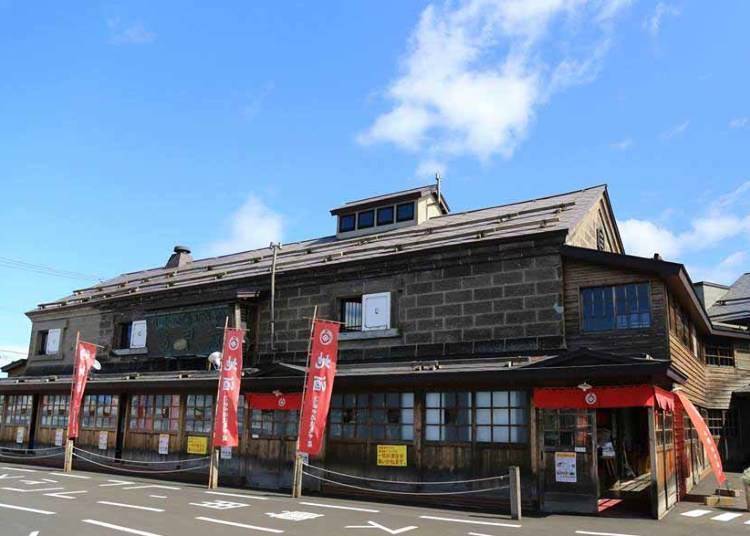 Otaru may be known for its nostalgic influence of historic Western buildings and glass crafts, but there is also a spot that conveys the history of Japan from long ago. One of these places is the Tanaka Sake Brewery, founded in 1899. Many types of alcoholic beverages are manufactured here, including plum wine, sweet sake, and of course the beloved local sake of Otaru, Takaragawa. Because the cool climate of Otaru allows for the manufacture of sake year-round, the Tanaka Sake Brewery Kikkougura is a great place to visit at any time of the year.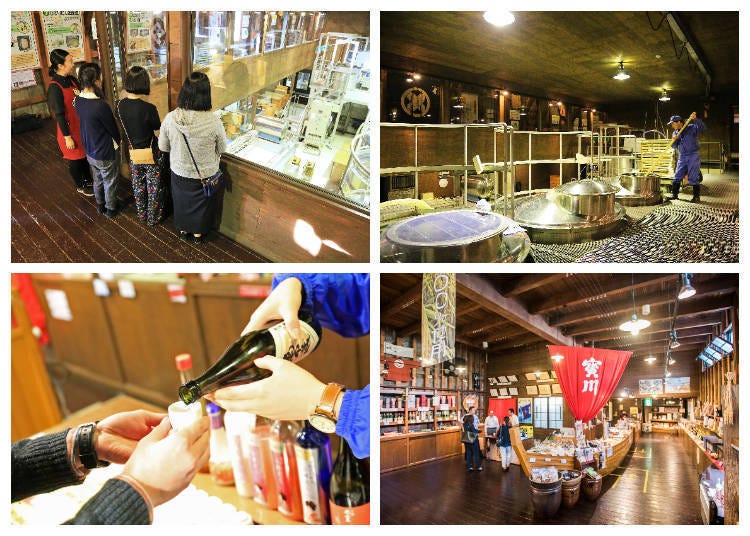 Tanaka Sake Brewery Kikkougura was built as part of the stone warehouse group in 1905, and is designated as a historical monument of Otaru City. You can take a 15-30 minute tour of the manufacturing site in which you can observe the sake brewing process. After the tour, you can sample about 10 types of Japanese sake and liqueurs, such as freshly brewed raw sake, carefully crafted with the pure water of Mt. Tengu and local rice. For those who don't drink, you can enjoy sake manjuu (steamed bun), sembei (rice crackers) alcohol sake crackers, and kuromame (black soybean) tea.

Entry Fee: Free
Hours of Operation: 9:00AM-6:00PM(Tours: 9:00AM-5:30PM)
Holidays: N/A
Access:5 min walk from JR Minami-Otaru Station
Tanaka SAKE Brewery Kikkogura

田中酒造 亀甲蔵

Address

〒047-0016 北海道小樽市信香町2-2/2-2, Nobukacho, Otaru-shi, Hokkaido, 047-0016, Japan

Phone Number

0134-21-2390
5. Otaru Mt. Tengu Ropeway: Spectacular City View from Above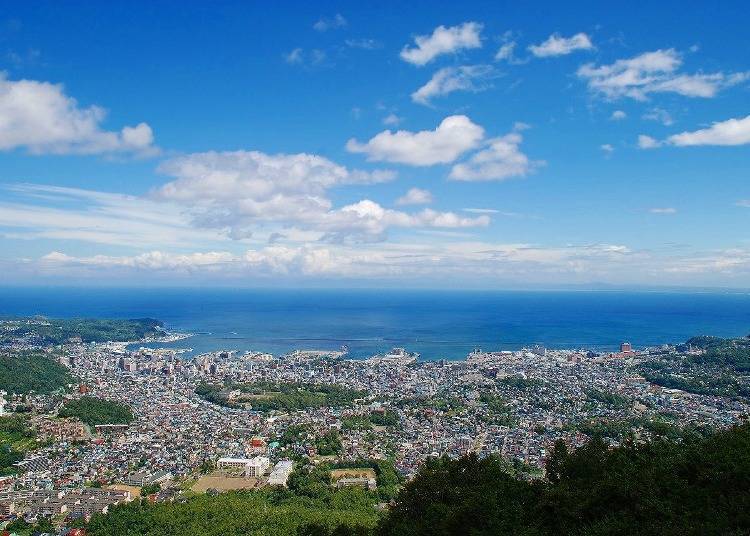 Anyone can enjoy strolling the various beautiful landscapes of historical Otaru. Overlooking this beautiful seaside city and the Sea of Japan is Mt. Tengu, about 15 minutes by car from the Otaru IC. The Mt. Tengu Ropeway can take you from the foot of the mountain to the very top, a total distance of 735 meters, in about 4 minutes.
From the mountain summit you can even get a great view of the Shakotan Peninsula.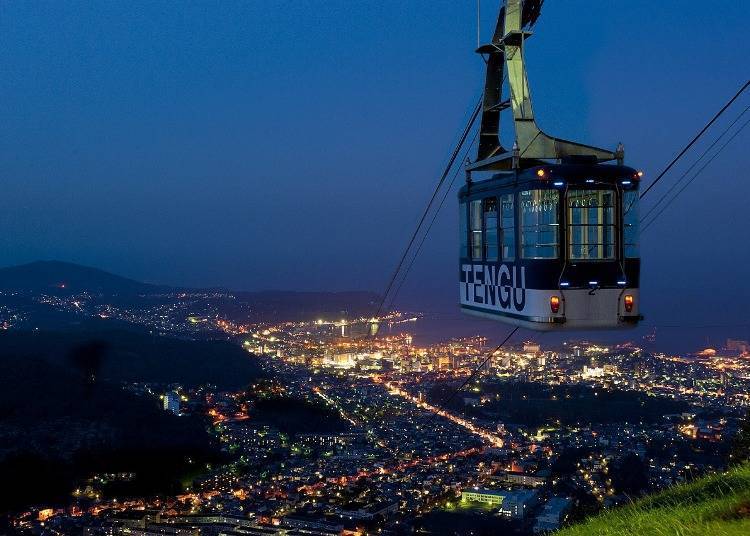 Though it is highly recommended to get a glimpse of this refreshing seascape during the day, you certainly cannot miss out on the stunning night view either. The nighttime scenery here is regarded as one of the top three Hokkaido night views, a beautiful landscape of jewels that could only be found here. In addition to the observation deck you can also visit the Tengu Shrine and rub its nose for good luck, and feed chipmunks in the Chipmunk Park.
小樽天狗山ロープウェイ

Address

〒047-0023 北海道小樽市最上2-16-15/2-16-15, Mogami, Otaru-shi, Hokkaido, 047-0023, Japan

Phone Number

0134-33-7381

Fee: Ropeway (round-trip) \1200
Hours of Operation: 9:00AM-9:00PM (subject to seasonal change)
Holidays: Closings in April & November
Access: 18 min drive from JR Otaru Station
Explore Japan at Your Pace - Rent an RV!
RV rentals are a great way to see a new side of Japan from the open road! Use LIVE JAPAN's promo code below to get 5% OFF your rental now.
・Promo code: LiveJapan_coupon_02
・On the "Request for a Quote" page, enter the promo code to get your discount.
*This information is from the time of this article's publication.
*Prices and options mentioned are subject to change.
*Unless stated otherwise, all prices include tax.
Search for International flights