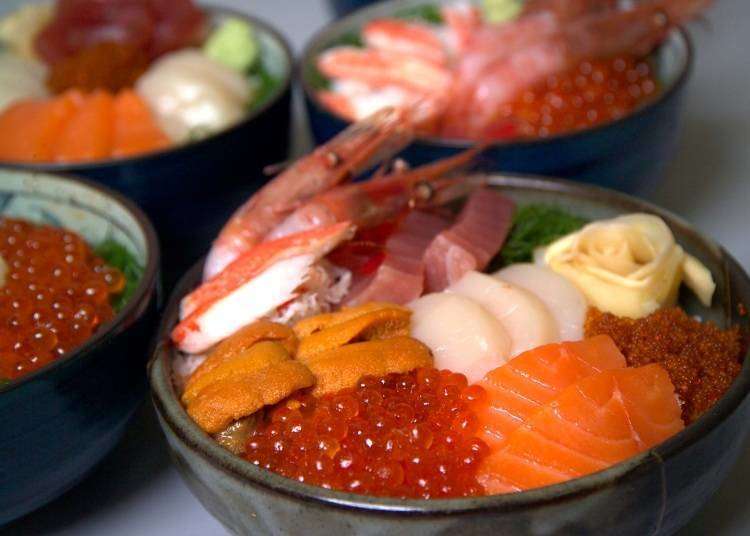 Otaru has many popular areas evoking a nostalgic past, but equally memorable is the fresh Otaru seafood!

When visiting Otaru you really must try the many Otaru foods - from seafood bowls to seafood chanpon, all made with the freshest catches from the sea. Here are four of the most excellent Otaru restaurants where you can sample the local Hokkaido fare.
1. Otaru Poseidon: Restaurant specializing in seafood dishes at great prices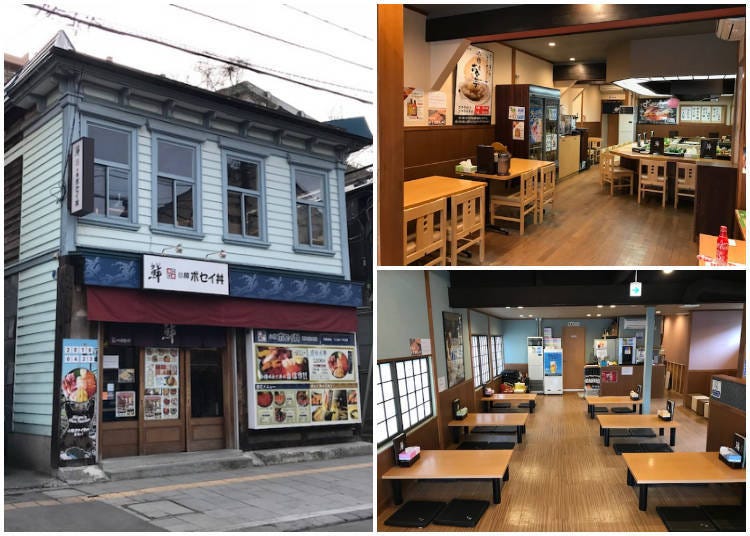 The retro exterior is eye-catching. In addition to tables with chairs, there is also a section with cozy low-level tables for sitting on the floor which in Japanese is called koagari
Many sightseeing spots are clustered around Sakaimachi-dori. Otaru Poseidon is one Otaru restaurant where you can get seafood bowls and grilled main dishes at reasonable prices. Close to the Otaru Canal, it is the perfect place to take a break for lunch or dinner when sightseeing.

Many types of seafood caught in the sea near Otaru are displayed at the counter, and one of the pleasures is to watch experienced chefs preparing dishes before your very eyes as you wait for your order to be served.

You'll love watching grilled the dishes being prepared and then served with a flourish on a large rice paddle to customers at the counter. There are also tables and a kids' room, so this is a place where families are welcome to come and enjoy themselves.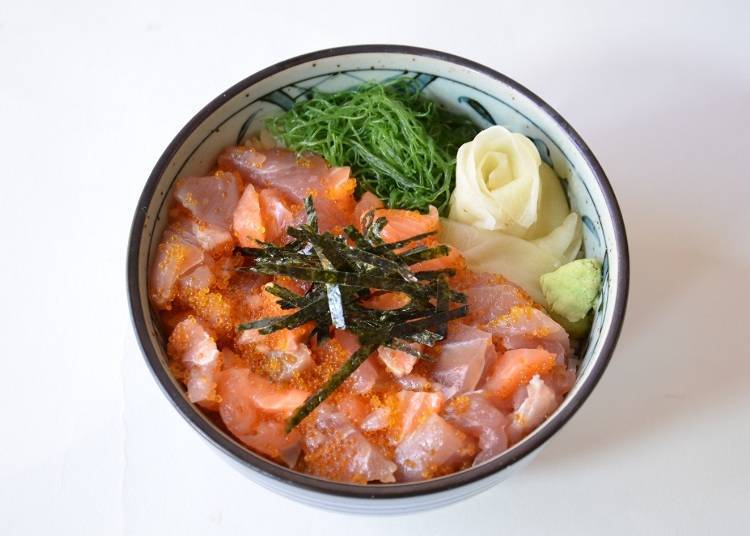 The Kaisen Tobikko-don (540 yen) – a bowl of rice smothered with tuna, salmon, and flying fish
Unga-don [Canal Bowl] (540 yen) and Kaisen Tobikko-don [Seafood and Flying Fish Bowl] (540 yen) are among some of the reasonably priced items on the menu. These seafood bowls are luxuriously heaped high with the freshest Otaru ingredients.

The most popular of these is the Posei-don – 9 different types of fresh seafood heaped on a bowl of white rice. This dish also comes with teppojiru (miso soup with crab meat) and Japanese pickles on the side, all for only 2,268 yen.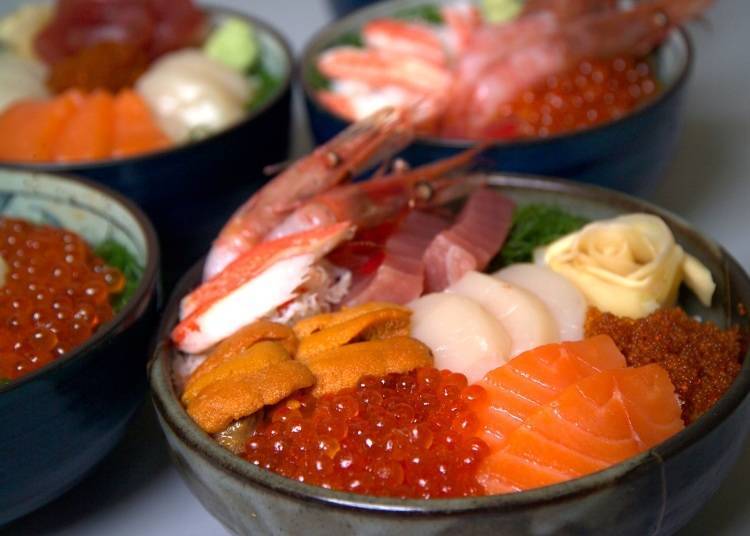 The Posei-don (2,268 yen) laden with 9 types of neta. The sea urchin and sweet shrimp are especially tasty in summer!
Other popular dishes are the Oyako-don consisting of salmon and salmon roe (1,188 yen) and the Yokubari Kaisen-don (1,620 yen), a bowl adorned with several kinds of neta. The menu also includes fried scallops (540 yen) and the extra-large overflowing dish of grilled mackerel (1,620 yen), as well as other grilled dishes full of flavor.
Kaisendonya Otaru Poseidon

海鮮丼屋 小樽ポセイ丼 堺町総本店

Address

〒047-0027 北海道小樽市堺町4-9 / Sakaimachi,4-9, Otaru-shi, Hokkaido, 047-0027

Phone Number

0134-61-1478

Hours: 11:00 AM ~ 7:00 PM (last order 6:30 PM) ※ prices are seasonally adjusted
Closed: only during the end of year and New Year's holidays
Access: 10-minute walk from the JR Minami Otaru Station
2. Kaisenya Yoshidon: Every imaginable type of fresh Otaru seafood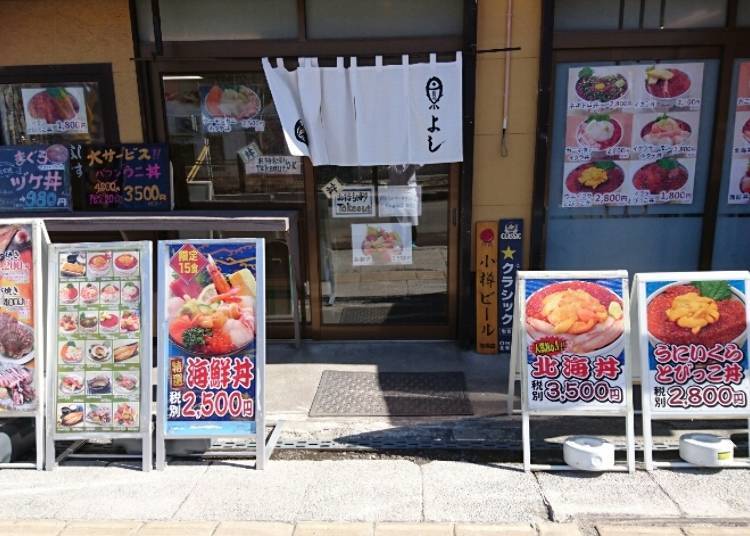 The shop is only open for lunch between 10:00 AM and 3:30 PM (last order 3:00 PM)
Kaisenya Yoshidon, directly managed by a popular sushi shop, is famous for the flavor and size of its seafood bowls. Located a short walk towards the canal from the Otaru Sushiya-dori, it is easily accessible from Otaru Station and sightseeing spots.

At this Otaru restaurant, you either sit at the counter or Japanese-style seating on tatami mats in the rear. You're sure to fall in love with the relaxed atmosphere of this shop, a perfect place to stretch your legs after a bit of sightseeing.

As a rule, it only operates during the lunch hour, but if arrangements are made in advance, it is possible for banquet courses to be prepared with assistance given by local customers. The seafood dishes use only the most excellent quality fish from a first-rate sushi shop, which is sure to please even the most demanding gourmet.
Using ingredients carefully selected by the sushi shop that directly manages it, this popular Otaru restaurant boasts bowls heaping with ingredients on beds of rice prepared with specially made red vinegar.

The best-selling item on the menu is the Hokkai-don, a bowl overflowing with crab, salmon roe, and of course, Otaru sea urchin (3,500 yen). The sea urchin is so delicious it melts in your mouth!

Two more popular dishes are the Yoshi Tokusen Kaisen-don (2,500 yen), limited to only 15 servings per day, and the Bikkuri-don (5,000 yen) which contains a variety of unusual ingredients of the most exceptional quality, as your eyes will testify.
The Yoshi-don "Extreme " - A collection of all-star seafood ingredients including abalone, button shrimp, sea urchin, and crab (3,000 yen)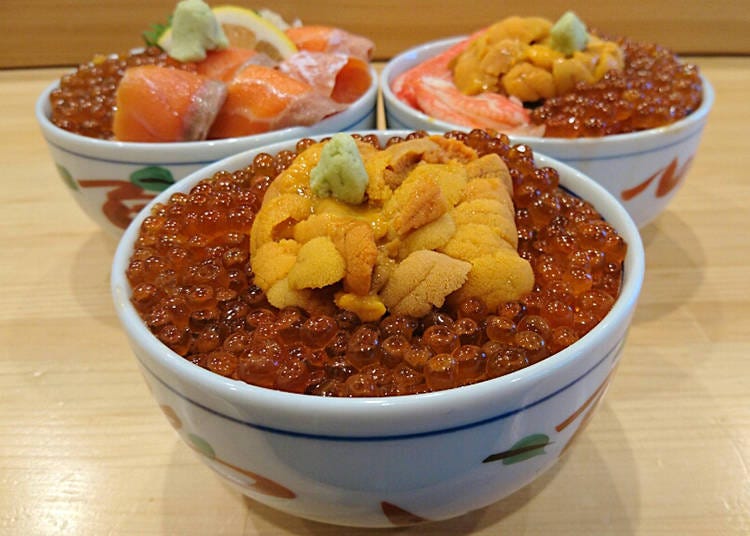 In addition to the seafood bowls, the menu includes several other tasty dishes made from fresh seafood such as the Atka Mackerel Set Lunch (1,500 yen), grilled squid (800 yen), and grilled Ezo abalone (3,000 yen). These large bowl dishes are noted for their flavor and volume and are a delight to the eye as well as filling and satisfying.
海鮮や よし丼

Address

〒047-0026 北海道小樽市東雲町2-2 / Shinonome-cho,2-2, Otaru-shi, Hokkaido, 047-0026

Phone Number

0134-29-5151

Shinonome-cho,2-2, Otaru-shi, Hokkaido, 047-0026
Closed: not set
Access: 10-minute walk from JR Otaru Station
3. Aotsuka Shokudo: A famous diner operated by a fisherman overflowing with genuine hospitality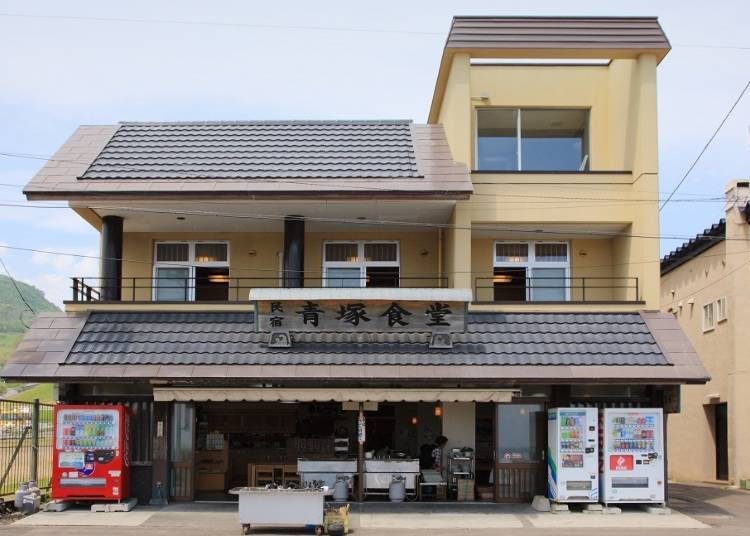 Savor the fresh seafood caught by local fishermen
Aotsuka Shokudo is an Otaru restaurant operated by a local fisherman in the Shukutsu area, a section of scenic spots spread along the Sea of Japan. This inn is famous for its fabulous views from dawn to dusk of beautiful Shukutsu. Herring is charcoal-grilled in front of the shop, the enticing aroma filling the air.

Inside tables and koagari (floor-seating) can accommodate 100 people, giving you an idea of its spaciousness. It has a pure atmosphere typical of a diner in a fishing town, one that is warm and relaxing. Popular nearby sightseeing spots are offering spectacular views of the area, such as the Otaru Shukutsu Panorama Observation Deck, Nishin Goten (Herring Palace), and the Otaru Aquarium which are definitely worth visiting.

It is located only a 15-minute drive from Otaru Station, but there are other ways to get here, such as by a sightseeing ship that leaves Otaru Port and skirts the beautiful Otamoi Coast arriving at Shukutsu Port. On some days, you can even see pods of dolphins swimming alongside the boat!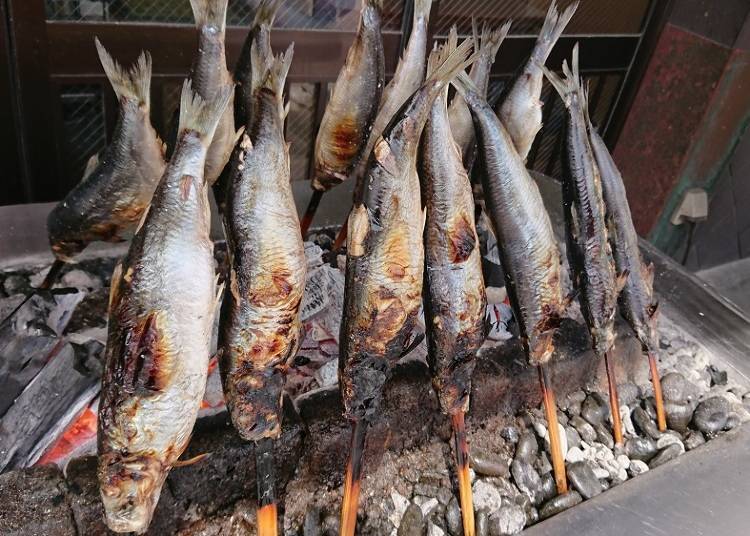 Herring being grilled over a bed of charcoal in front of the inn, filling the air with an inviting mouth-watering aroma
This Otaru diner is directly operated by a fisherman and serves the finest catches of the day and prepared either as sashimi or grilled.

Shukutsu is blessed with abundant herring catches. The herring being cooked over charcoal at the entrance is served in the famous dish called Tokudai Nishin Yaki (Special Large Grilled Herring) that costs only 990 yen. The set lunch, Tokudai Nishin Yaki Teishoku, of charcoal-cooked herring costs 1,390 yen, and Nishin Soba (herring in soba noodles) costs 1,200 yen. These are just some of the many herring dishes offered.

While Hokkaido is famous for herring, there are also many other kinds of dishes made with seafood from the nearby sea. Summer is the season for sea urchins, Atka mackerel, hakka (sailfin poacher), and other fish in which Otaru takes pride.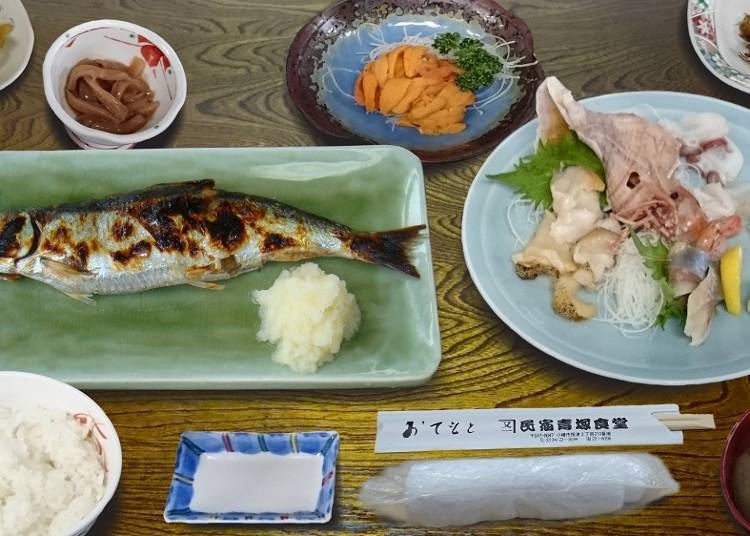 Grilled fish (your choice of either herring or mackerel), seasonal sashimi, and raw sea urchin – the Horyo Teishoku (3,240 yen)
Popular bowl dishes on the menu are Nama Uni-don (bowl of raw sea urchin) [price depends on availability], Ikura-don (bowl of salmon roe) [2,380 yen], Kaisen-don (fresh seafood bowl) [2,998 yen], prices possible because a fisherman operates the diner.

If you want to taste the most delicious fish caught at the right time, then we recommend the Sashimi Moriawase (a combination of slices of different kinds of raw fish) [starting at 2,160 yen] comprised of the season's best neta.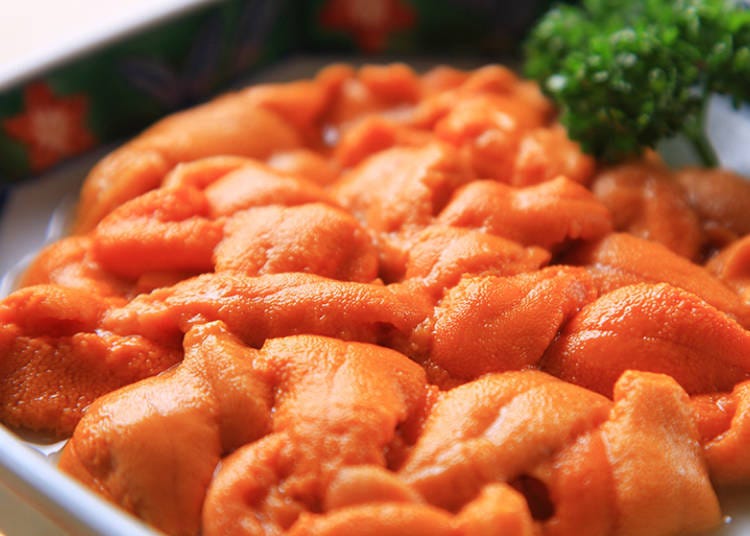 The sweet flavor of raw sea urchin is a summer treat. Otaru sea urchin is generally caught between the middle of May through the end of August each year,
民宿 青塚食堂

Address

〒047-0047 北海道小樽市祝津3-210 / Shukutsu,3-210, Otaru-shi, Hokkaido, 047-0047

Phone Number

0134-22-8034

Hours: 10:00 AM ~ 8:00 PM (last order 7:00 PM)
Closed: no set schedule
Access: 15 minutes by car from Otaru Station; 5-minute walk from Otaru Aquarium
4. Unga Ramen Akari: Succulent Otaru seafood offerings such as crab, shrimp, and scallops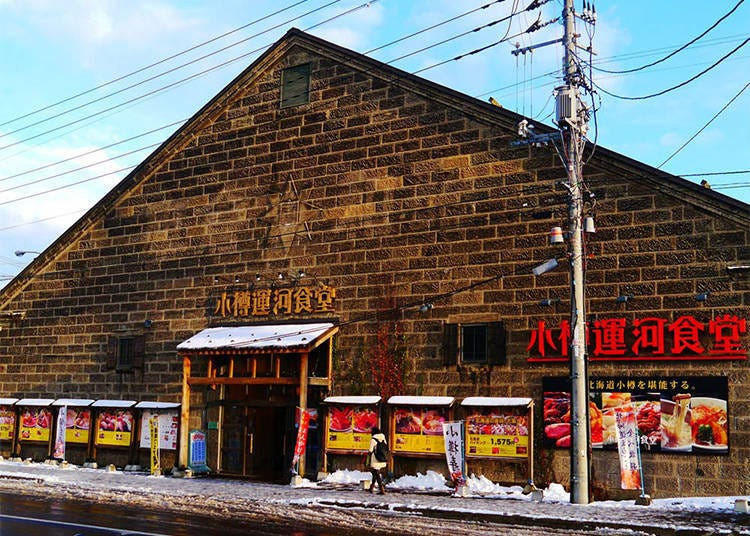 Inside there is a buffet restaurant and shops offering an excellent selection of Hokkaido dishes
The Otaru Unga Shokudo located along the Otaru Canal is a commercial complex situated in a historical stone warehouse and home to a number of shops offering Hokkaido cuisine.

One such shop tucked away in a corner is called Unga Ramen Akari. This cozy Otaru restaurant has an old-fashioned diner atmosphere with a counter that can seat 10 and four tables able to seat four people each. It may not be spacious, but the atmosphere is relaxing and the food delicious.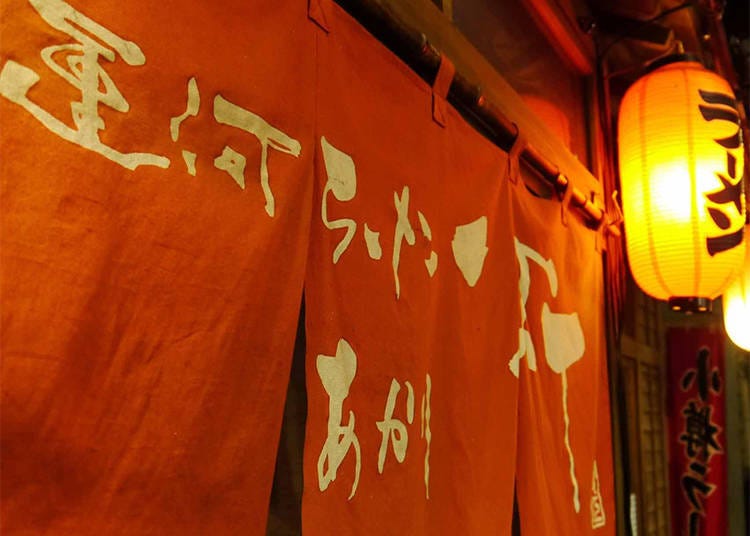 An eye-catching red noren reminiscent of an earlier time
The ramen is made from 100% Hokkaido wheat. The soul food of Otaru is ankake yakisoba (fried noodles covered with a thick sauce) and is a menu staple. This is local dish that satisfies the discerning palates of local residents.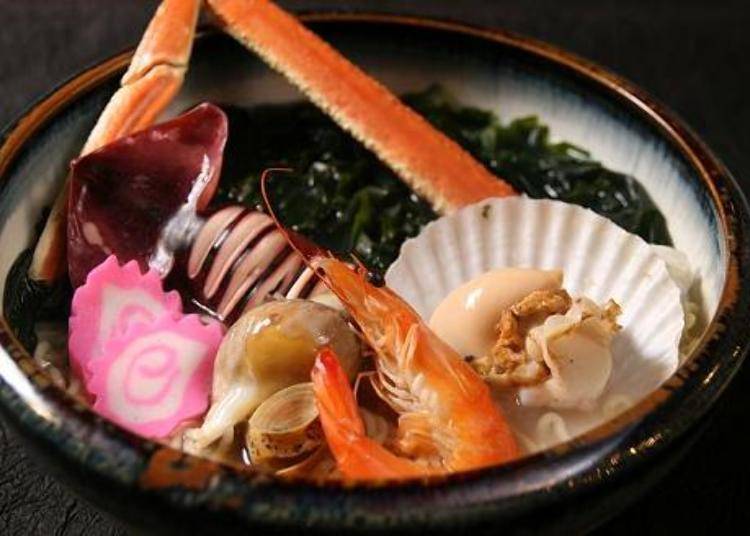 Meibutsu Hama Champon in a heavy seafood broth
Meibutsu Hama Champon (1,670 yen) is a dish especially popular with local residents and one you really should try. The soup broth is salt based and made with dried adductor muscles of shellfish and dried shrimp. This clear, mellow soup brings out the deep flavors of the crab, shrimp and other plentiful fresh ingredients.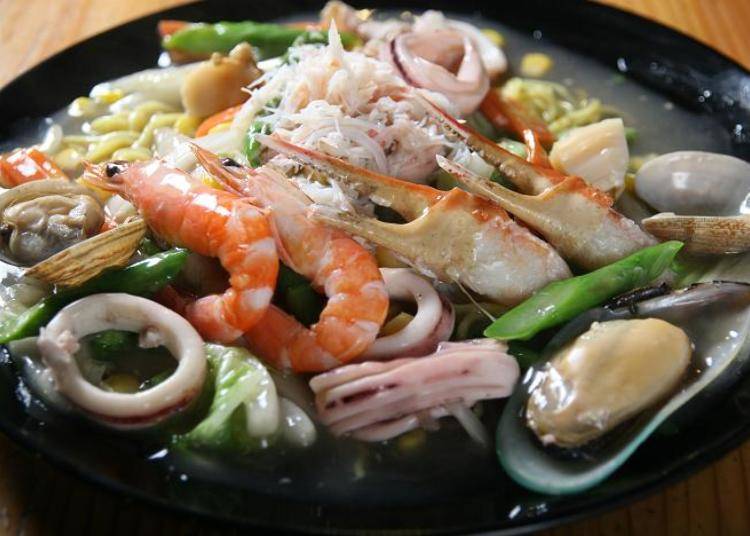 Otaru Kaisen Ankake Yakisoba served piping hot and full of bean paste and seafood. A dish guaranteed to fully satisfy you
The Otaru Kaisen Ankake Yakisoba (1,530 yen), fried noodles in a thick sauce mixed with large portions of seafood, is another dish popular among Otaru residents. Mix the noodles fried to a golden color together with the warm sauce.

For Hokkaido crab lovers we recommend the Kani Miso Ramen (crab butter ramen) that goes for 2,780 yen. This soup is made with white miso and has king crab and snow crab for ingredients, and is topped off with kani miso (crab butter).
運河ラーメン 灯

Address

〒047-0007 北海道小樽市港町6-5 / Minatomachi,6-5, Otaru-shi, Hokkaido, 047-0007

Phone Number

0134-24-8002

Hours: 11:00 AM ~ 7:00 PM ※ Times are subject to change
Closed: never
Access: 10-minute walk from JR Otaru Station
Four Otaru Restaurants, Four Awesome Seafood Choices
The four Otaru restaurants introduced above are great places for enjoying fresh seafood dishes. They are perfect places for taking a break from your sightseeing to enjoy lunch or dinner.

Otaru has more to offer than just the beauty of its historical buildings, so when you come, we highly recommend you sample the delicious seafood cuisine, too.
*This information is from the time of this article's publication.
*Prices and options mentioned are subject to change.
*Unless stated otherwise, all prices include tax.
Limited time offer: 10% discount coupons available now!