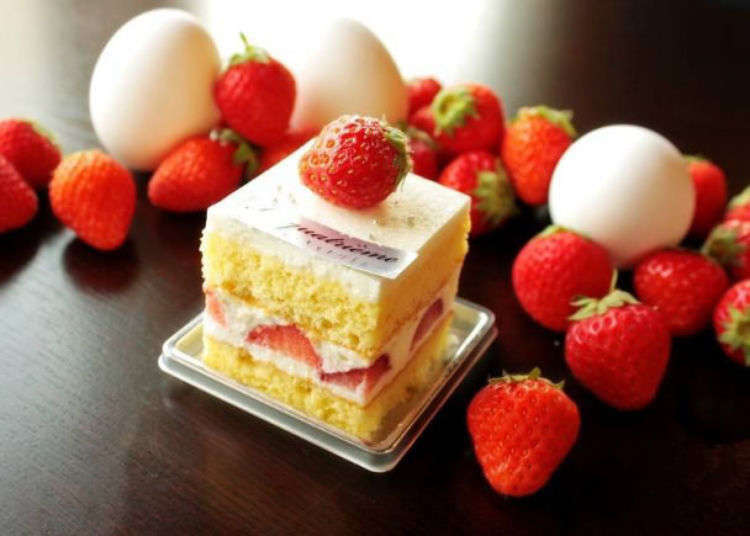 Otaru's exotic townscape is popular with tourists. There are many fancy and delicious Otaru cafes in this romantic city. For instance, there's the magical café directly operated by a glass craft store, the famous western sweets café, and stores where you can enjoy a bite while viewing the Otaru Canal.

We have selected five elegant popular Otaru cafes with a comfortable atmosphere and a perfect place to stop by and take a break.
1. Kitaichi Hall: Enjoy sipping tea in a majestic space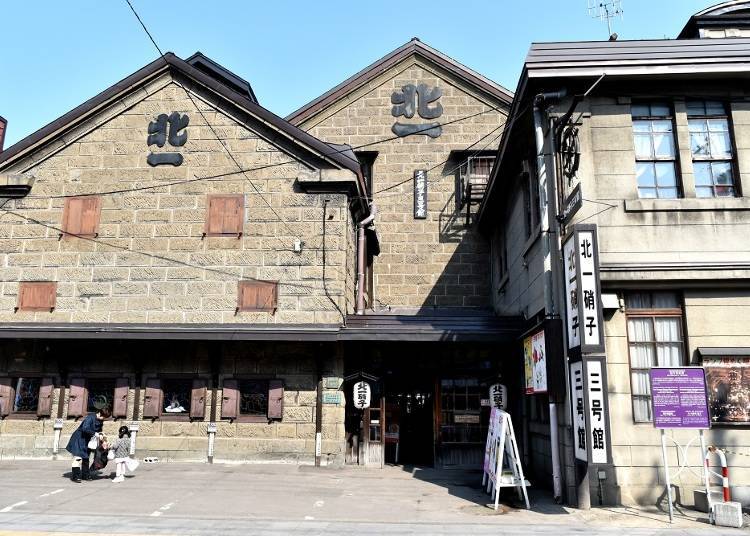 In Otaru, many shops sell handmade glass craftworks; the most famous is Kitaichi Glass. They have multiple shops in Sakai Town, but Kitaichi Hall is a popular shop that the locals and tourists alike love. The stone warehouses along Sakai Street give off a definite historical vibe.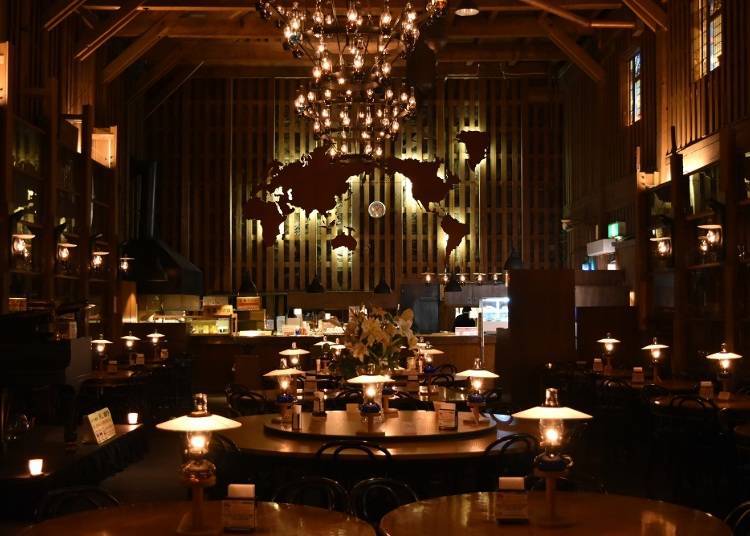 The dim store with the high ceiling is filled with oil lamps giving off a warm glow. There are a total of 167 lamps in the store and the only light source. The lamps give a majestic feeling to the store.

These romantic lamps are all lit by hand; if you stop by the store at 8:45 AM, you can see the staff lighting the lamps. After about 30 minutes, the overhead lights are turned off, and the lamps emit a distinct magical feeling. Many visitors come to the store early to witness this moment.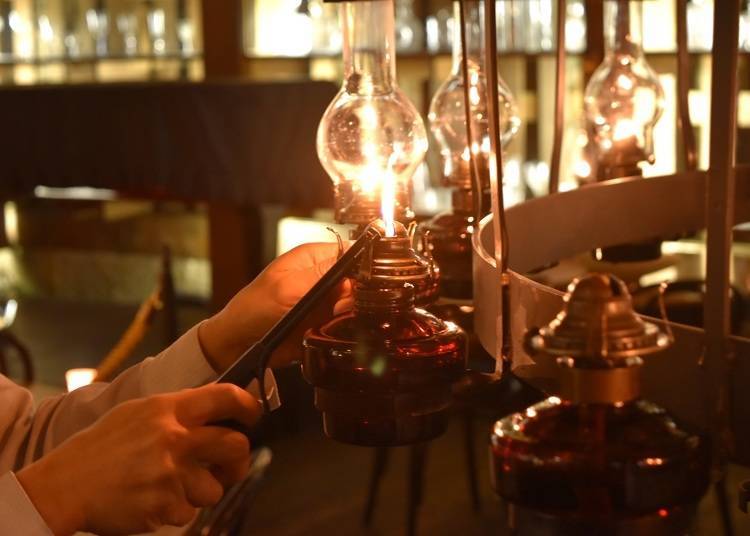 Some might wonder why the café has the word "Hall" in its name, but when you enter the shop, the amazing open feeling should be convincing enough. The café used the warehouse's original structure and kept the high ceiling, which resembles a music hall. The café has live piano performances every week from Monday to Friday. The times are 2 PM ~ 2:30 PM, 3 PM ~ 3:30 PM, and 4 PM ~ 4:30 PM. The café becomes a music hall and offers a fantastic tea time.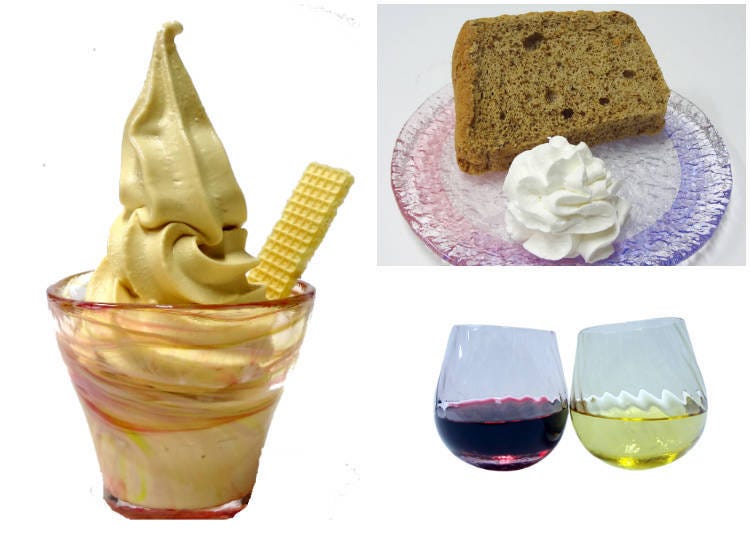 Left: Kitaichi Special Milk Tea Soft-Serve Ice Cream, Right Top: Tea flavored chiffon cake part of the tea set (720 yen) served with the Kitaichi Milk Tea, Bottom Right: wine from Otaru such as the Zweigeltrebe (red – 600 yen) and Niagara (white – 500 yen)
The famous Kitaichi Special Milk Tea Soft-Serve Ice Cream (450 yen) has the fresh sweetness of a milk tea made from Hokkaido milk. They also have a complete meal menu, including items like Kaisendon (seafood rice bowl). Enjoy your time eating sweets and listening to a live piano performance in a magical lamp-filled atmosphere.
北一ホール

Address

〒047-0027 北海道小樽市堺町7-26 北一硝子三号館/Kitaichigarasu3kan, 7-26, Sakaimachi, Otaru-shi, Hokkaido, 047-0027, Japan

Nearest Station

10 minutes on foot from JR Minami-Otaru Station


Phone Number

0134-33-1993

Hours: 8:45 AM ~ 6 PM (last order 5:30 PM, last order for meals 3 PM)
Closed: Open daily
2. GOLDSTONE CAFÉ: Wrap yourself in the music of Otaru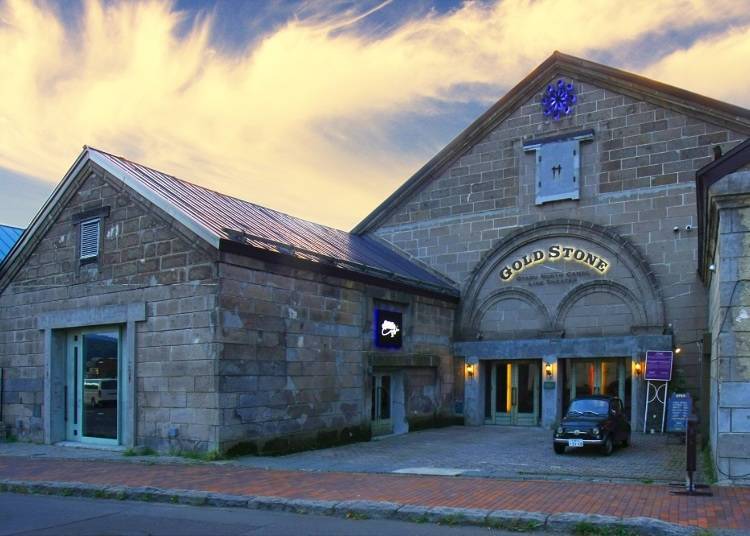 As Otaru's largest live theater, this venue holds events such as concerts for famous musicians, bridal parties, and private presentations and shows. During the day, GOLDSTONE CAFÉ serves lunch and sweets.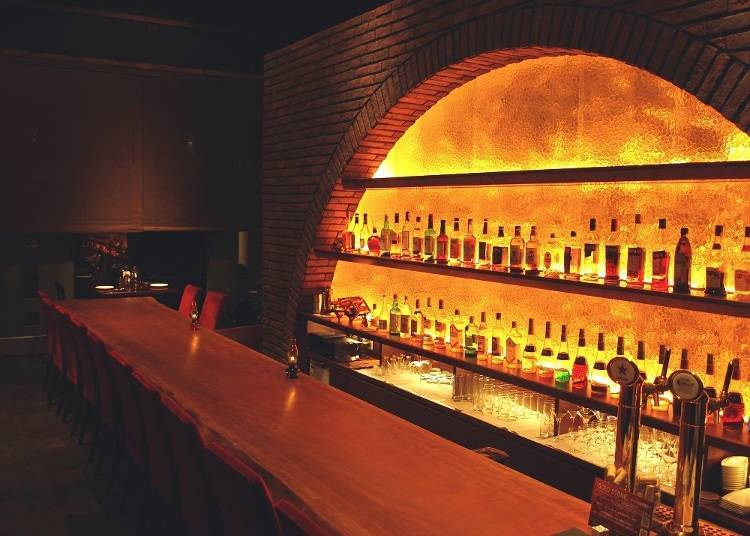 The first thing that grabs your attention entering the facility is the 7.5-meter Makore African Cherry counter. The stylish coloring gives a very mature feeling. Since the café is built in a renovated warehouse, the high ceiling gives an open feel and adds to the uniqueness.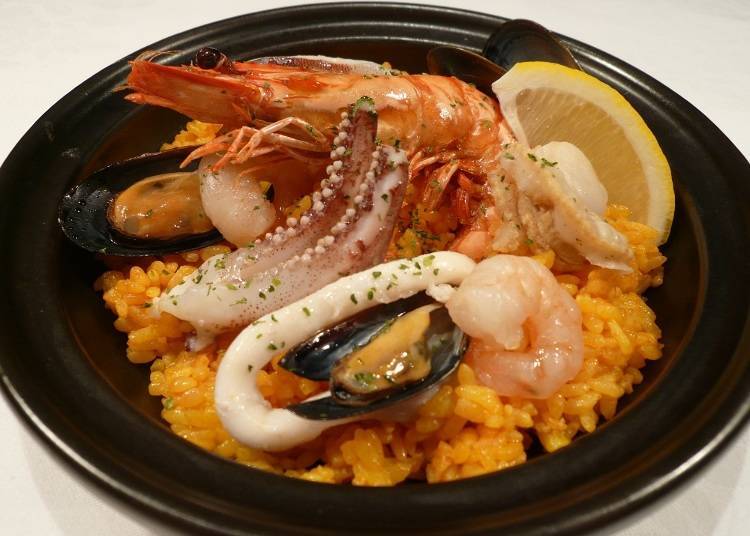 The menu includes meals focused on western dishes, such as the Seafood Paella (980 yen) with a healthy portion of shrimp, squid, and octopus, and the One Plate with 9 Items (1,200 yen) with pasta and quiche and other dishes.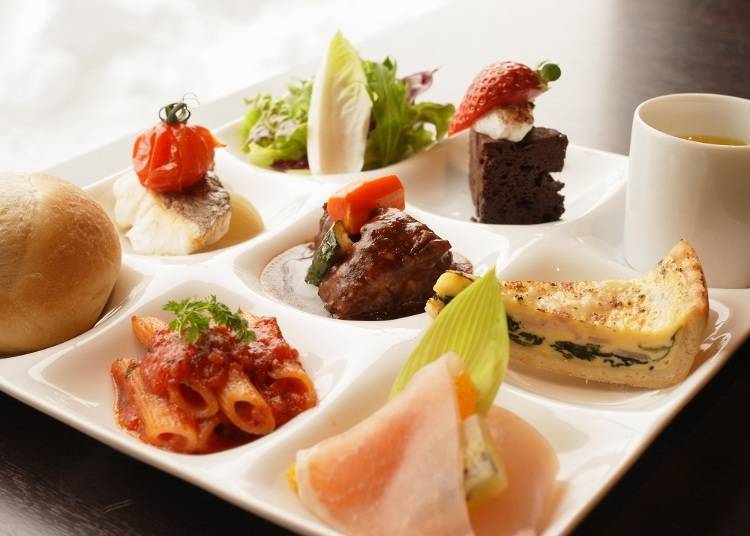 For drinks, they have coffee (410 yen), Darjeeling tea (410 yen), and a full bar including local beer Otaru Beer (670 yen), whiskey, and wine. The facility has a parking lot and one click of the meter on a taxi from JR Otaru Station. During the day, you can relax and take a break at the café, and at night you can have a drink and enjoy the charm of Otaru's evening.
GOLDSTONE CAFE

Address

〒047-0031 北海道小樽市色内3-3-21 旧澁澤倉庫/3-3-21kyuusibusawasouko, Ironai, Otaru-shi, Hokkaido, 047-0031, Japan

Nearest Station

5 minutes by car from JR Otaru Station


Phone Number

0134-33-5610

Hours: 11 AM ~ 22 PM (last order 9 PM)
Closed: Fridays (closed the day after a holiday)
3. LeTAO Pathos: Representing Otaru's popular sweets chain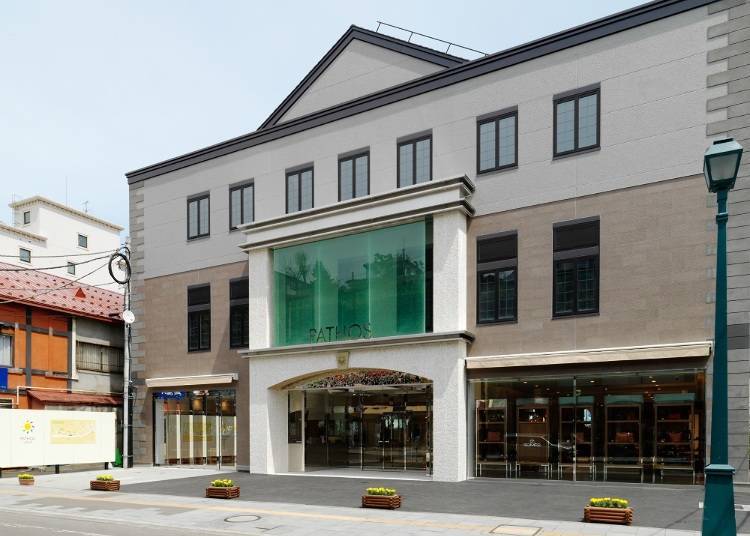 LeTAO is a western sweets shop that is famous in Japan. Their largest facility is the LeTAO Pathos, with a sweets shop on the first floor and a spacious café on the second floor.

In the center of the second-floor café is a white open kitchen with a very sanitary feeling. We strongly recommend the limited dish only available here, the double plate (1,404 yen).

The plate offers the number one sweet Double Fromage (front), Chocolate Double (right), and the right Crème Brulee Venice Rendezvous (back left).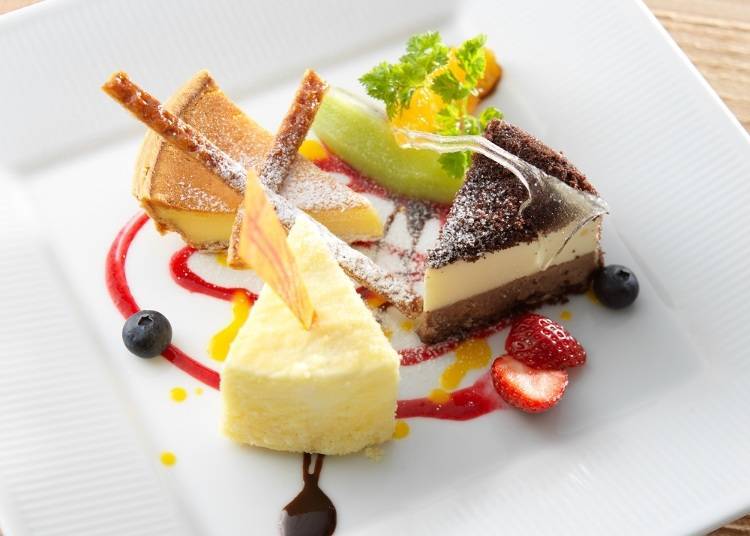 The popular Double Fromage combines the rare cheesecake on the upper layer and the rich milky baked cheesecake on the bottom, creating a miraculous taste. They also serve soup curry, pasta, and other meals.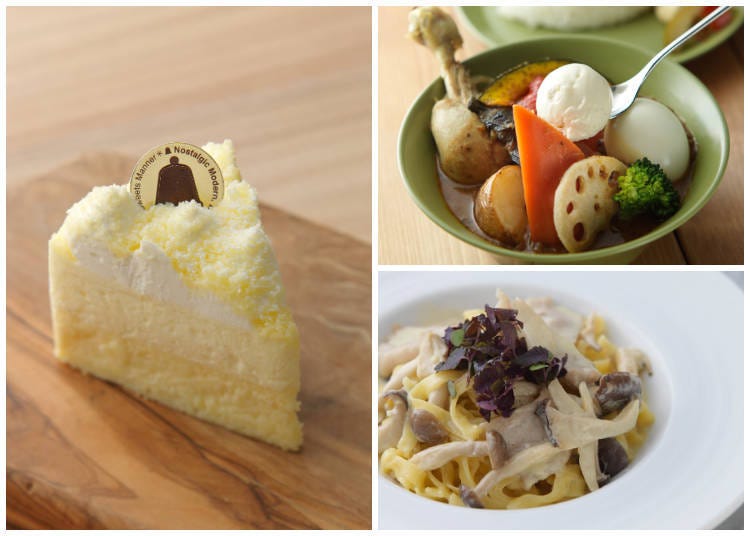 Left: the Rare Double Fromage with a special whipped cream topping made by the chef, only available in Hokkaido. Top Right: soup curry (plain). Bottom Right: Tontoro and Mushroom Fettuccine
LeTAO Pathos is located on Sakai Street. Along the street, there is the LeTAO main store and the chocolate specialty store LeTao Le chocoLat. Each store has its limited items and a slightly different variety; it is probably worth visiting each store to find something unique!
ルタオ パトス

Address

〒047-0027 北海道小樽市堺町5-22/5-22, Sakaimachi, Otaru-shi, Hokkaido, 047-0027, Japan

Nearest Station

10 minute walk from JR Minami-Otaru Station


Phone Number

0120-46-8825

Hours: 9 AM ~ 6 PM (café last order 5:30 PM)
Closed: Open daily
4. Otaru Muse: Enjoy dining and music in a candlelit store
A perfect café to spend a romantic day is the stylish Otaru Muse. With candle lights resembling the soft gas lamps lit at night on the streets of Otaru, the café offers homemade cooking with specially selected ingredients and fabulous music. The store with an antique feeling has country-style British tables with candles on top; you can also choose which candle to light.

The café has a piano, guitar, and PA equipment; sometimes, they have concerts and even impromptu music sessions. The café offers a calm atmosphere and some excitement at the same time.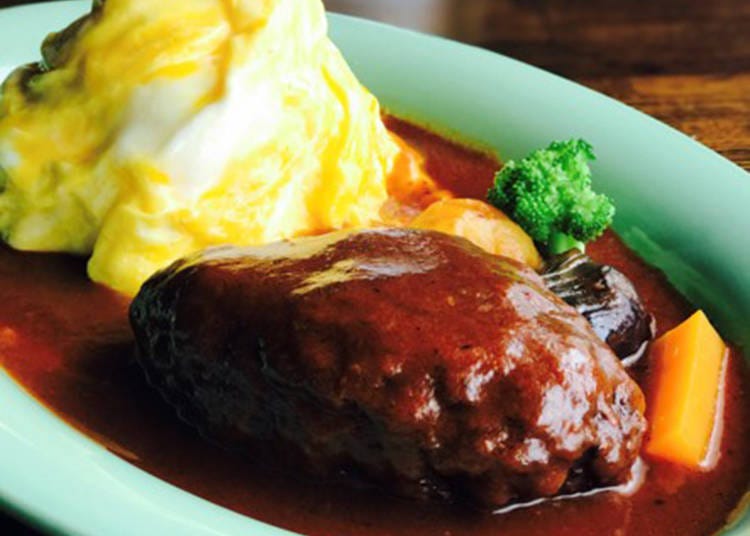 We recommend the Muse Special Stewed Hamburger Steak [150g] (1,080 yen). The handmade hamburger steak using specially selected local beef and pork, and the additive-free demi-glace sauce made from beef tendon with lots of collagen, creates a perfect harmony in the mouth. Muse Special Combo (2,200 yen) offers the Muse Special Stewed Hamburger Steak [150g] and Cheese Omurice (fried rice inside an omelet) on a big plate. Their demi-glace sauce is spectacular!

Matching the moody mature atmosphere, the café menu offers items like the rum cocoa (600 yen) with a pleasant aroma, and the dark chocolate parfait (650 yen) made with bitter chocolate gateau. Enjoy delicious food and fantastic music in a candlelit café.
小樽Muse

Address

〒047-0032 北海道小樽市稲穂1-11-7/1-11-7, Inaho, Otaru-shi, Hokkaido, 047-0032, Japan

Nearest Station

7 minute walk from JR Otaru Station


Phone Number

0134-31-6300

Hours: Lunch 11 AM ~ 2:30 PM (last order 2PM), Café 2 PM ~ 5 PM, Dinner 5 PM ~ 8:30 PM (last order 8 PM)
Closed: Monday (next day if it's a holiday)
5. Le Quartrieme: Relaxing lunch along the Otaru Canal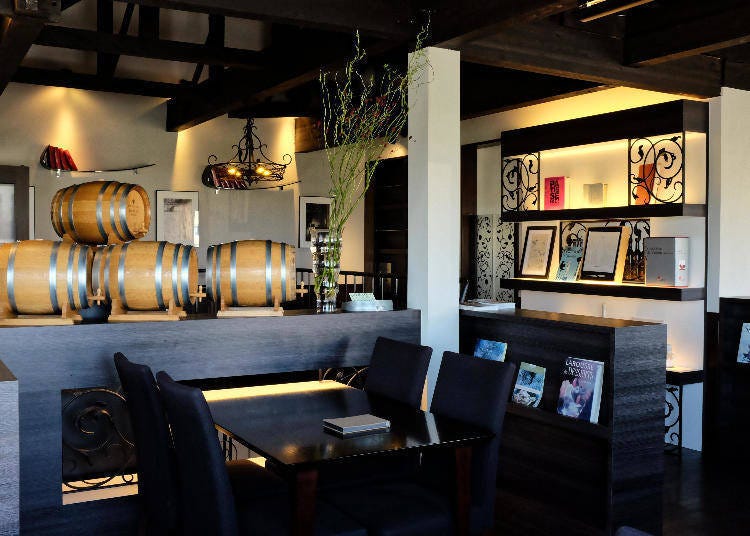 Le Quatrieme has a sweets shop on the first floor, and on the second floor is a café space where you can dine while having a view of the Otaru Canal.

The menu has dishes such as cake made with seasonal fruits by a talented chef and a lunch menu with local seasonal vegetables. A great place to visit to have some healthy food, also the arrangement of the food is beautiful and photogenic.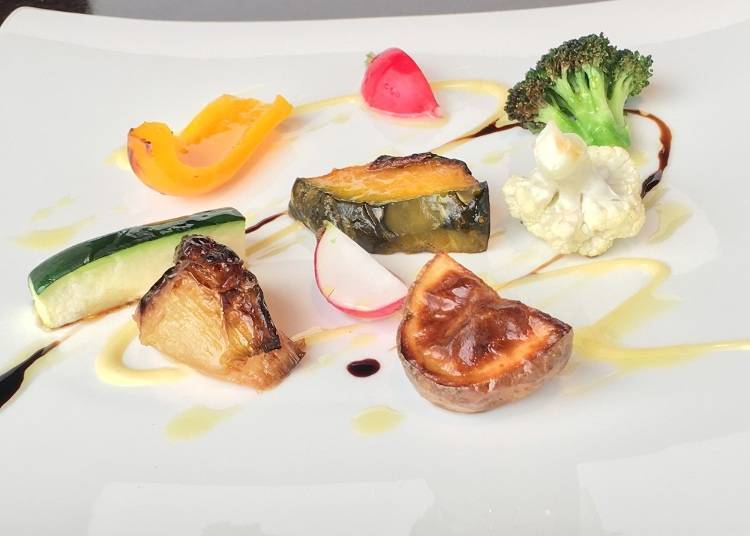 The lunch menu is available from 11:30 AM to 2:30 PM (last order). They have a total of three courses, the Pasta Lunch (1,000 yen), Main Lunch of the Day (1,300 yen), and Meat Lunch of the Day (1,600 yen).

All courses come with an appetizer and drinks. The appetizer for all courses is warm vegetables. The presentation of the appetizer is so beautiful that you will want to take a picture.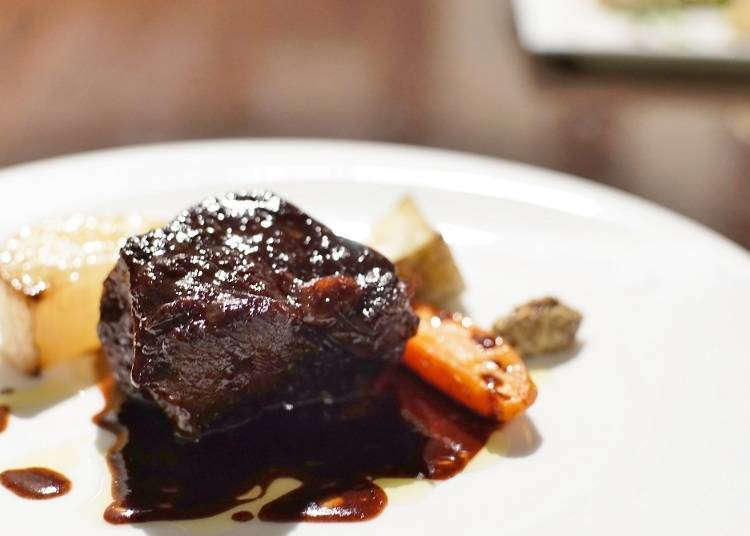 The main dish changes daily; the photo above is the Beef Cheek Simmered in Red Wine. The beef is so tender that it almost melts in your mouth.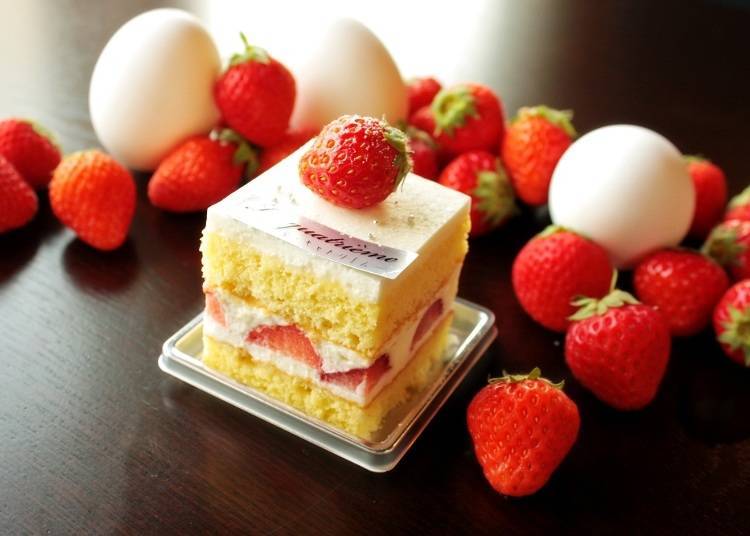 For an additional fee, you can add dessert to your course. For 350 yen, you can pick a cake out of their 12 ~ 15 cakes, and for 500 yen, you can select a dessert such as a parfait from a selection of 4 desserts.

It is possible to view the Otaru canal and cruises. Le Quatrieme is a perfect place to spend a relaxing and elegant time.
ル・キャトリエム

Address

〒047-0031 北海道小樽市色内2-3-1/2-3-1, Ironai, Otaru-shi, Hokkaido, 047-0031, Japan

Nearest Station

10 minute walk from JR Otaru Station


Phone Number

0134-27-7124

Hours: 11 AM ~ 7 PM
Closed: Wednesday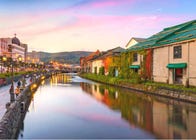 *This information is from the time of this article's publication.
*Prices and options mentioned are subject to change.
*Unless stated otherwise, all prices include tax.
Limited time offer: 10% discount coupons available now!