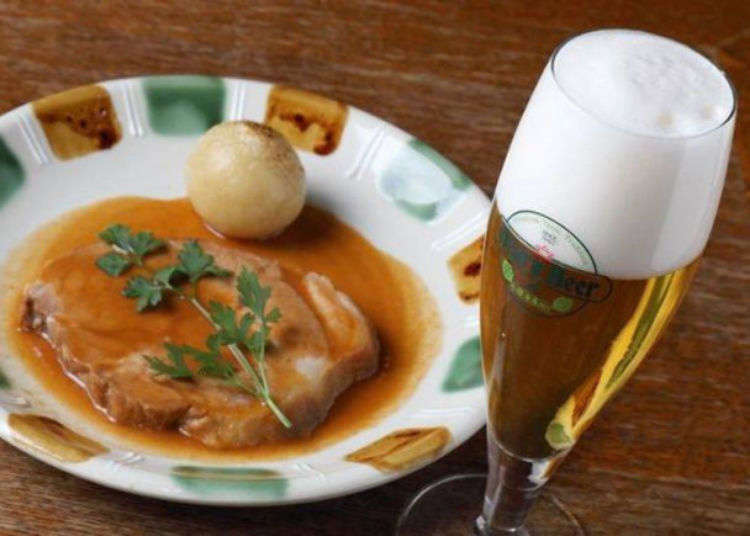 If you go sightseeing in Otaru, raise a toast with Otaru Beer! The Otaru Warehouse No. 1, a solid, old structure along the Otaru Canal, has been transformed into a brewery that makes German beer by traditional methods and here you can also enjoy delicious dishes that go perfectly with its Otaru Beer.

Being a microbrewery pub, you can observe how the beer is brewed. Whether you are a beer lover or not, you will definitely be intoxicated by the delicious local beer and location that originated here! It's a fun way to enjoy Otaru.
The Otaru brewery blends in with the landscape of the Otaru Canal
The Otaru Warehouse No. 1 brewery and pub is situated in a row of warehouses that line the Otaru Canal which is a popular tourist attraction.
Otaru Canal viewed from Asakusa Bridge, a popular tourist attraction in Otaru, Hokkaido. Otaru Warehouse No. 1 is the fourth warehouse from the front
Getting to Otaru Warehouse No.1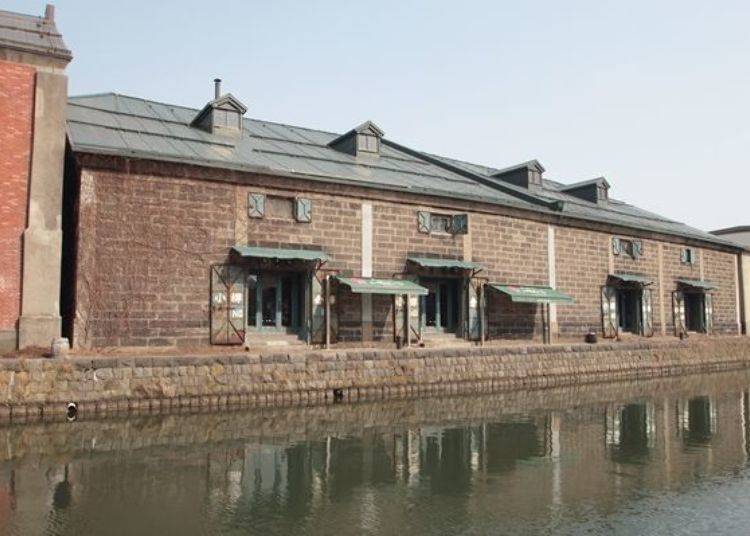 From the sidewalk running along the Otaru Canal you can see the shop on the other side of it
Otaru Beer Otaru Warehouse No.1 is about a 12-minute walk from JR Otaru Station. You can also walk to it in about two or three minutes from the popular Asakusa Bridge photo spot or the Otaru Canal Cruise sightseeing boat pier.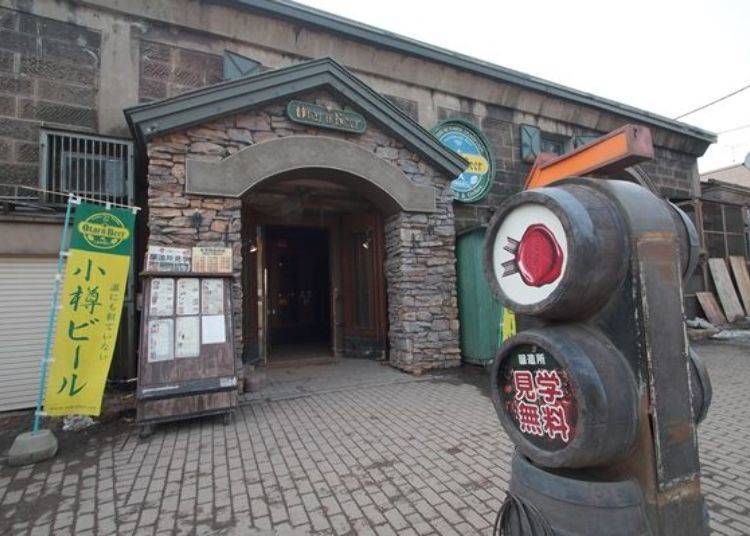 The entrance to the brewery is along the road on the other side of the canal
The heavy-stone exterior of the building is imposing. Built in 1924 it was used for many years as a warehouse and then in 1995 it was converted into its present form as an Otaru Beer facility. The timber-frame spacious interior has a high ceiling. Large, shiny "coppers", or kettle preparation pots, sit in the center of the floor.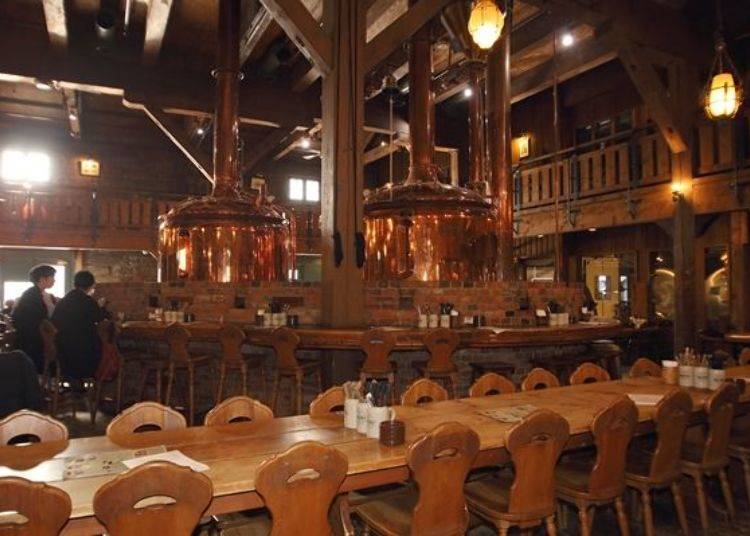 There are counter seats around the coppers, and there are also large table seats for groups to use.
There are two Otaru Beer breweries in Otaru City. Otaru Warehouse No. 1 manufactures beer to be consumed in the Otaru Beer Hall in the facility, and the Zenbako Brewery in the suburbs of Otaru manufactures bottled beer and commercial beer to be sold in stores.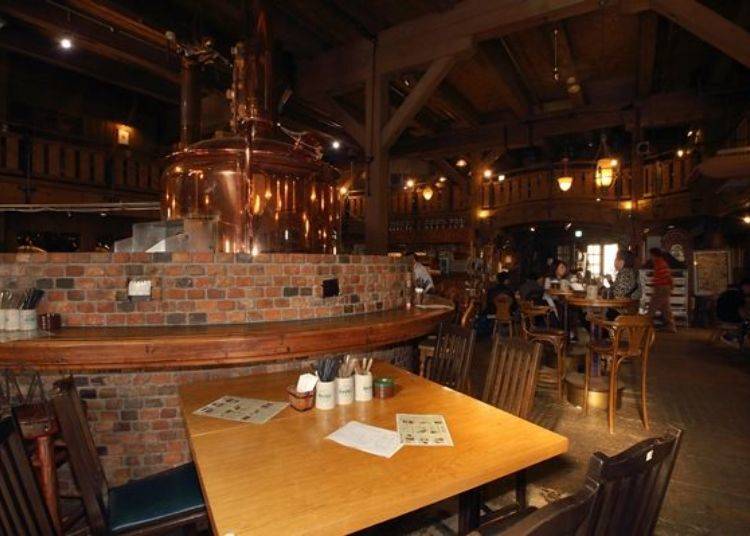 A table with a view of the copper directly in front of it. You can drink beer that was brewed in that copper!
Seats on the second floor overlook the interior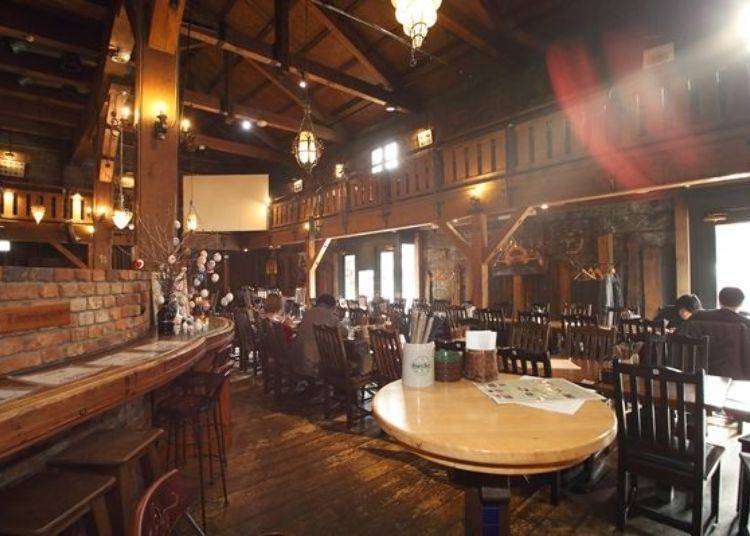 The dim interior of the pub is typical of an Otaru Beer Hall, but windows on the side bring in bright sunlight creating a cheery atmosphere. The pub opens at 11:00 a.m. so you can enjoy a pint with lunch.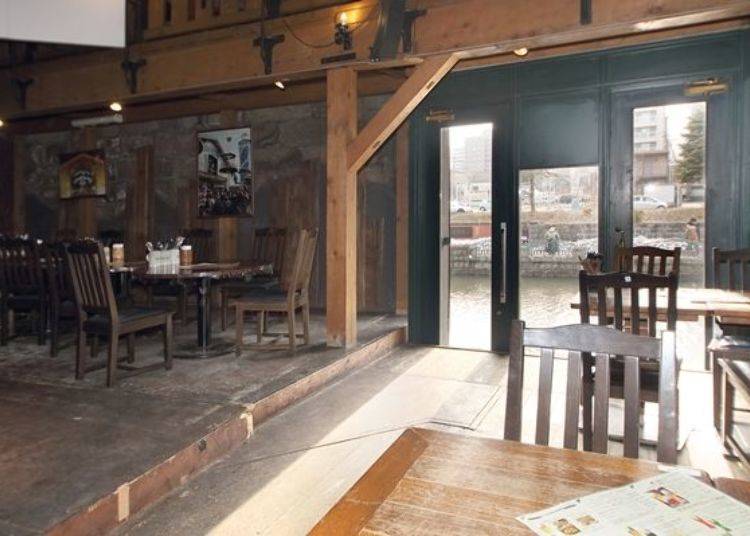 The Otaru Canal can be seen from the windows. When the weather is warm it is possible to go out those glass doors and walk along the canal
Wherever you look the scenes are picture-perfect. In fact they are so lovely, you may become intoxicated just looking at them before even having a drink.
A rare, exceedingly delicious beer made by old, traditional German methods
Otaru Beer is a local beer in Otaru City that began brewing in 1995. Taking over the brewing method and spirit of beer that began in a small village in Germany over 250 years ago, the descendants of the Brau Meister (the person in charge of brewing) have passed down the methods developed so long ago and these have been used in almost exactly the same way to make Otaru Beer.
A lager tank made about 150 years ago is displayed in the pub. Today stainless steel tanks are sued, however the ingredients and methods used are almost exactly the same as in the past
The reason why Otaru beer adheres to the traditional German manufacturing method is that it can produce higher quality beer than beer that is mass-produced by modern manufacturing technology.

Only four ingredients are used: malt, hops, yeast, and the pure water of Otaru. This results in an additive-free organic beer.

In general, beer makers tend to remove the yeast at the end of the production process, but Otaru Beer does not. When the yeast is left in, nutrients grow in the beer to give it more body, which also serves to keep in the carbon dioxide, so the beer then has a high in nutritive value, is rich in body, and retains its effervescence.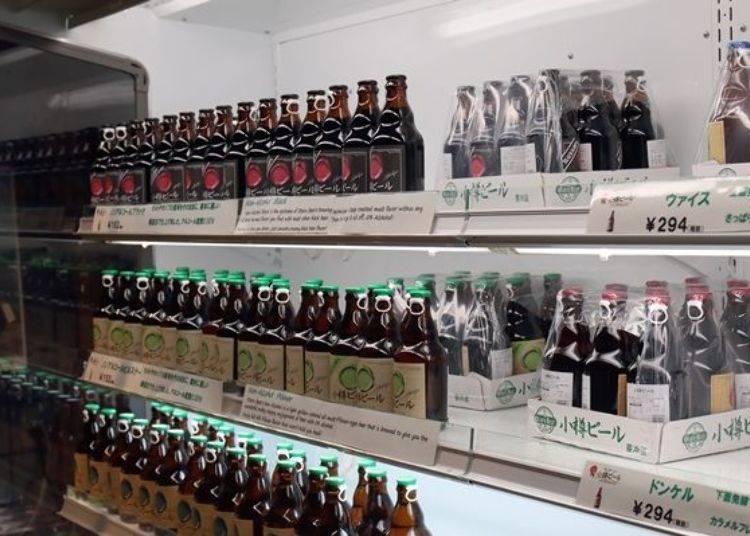 Types of Otaru Beer. Once the beer is bottled it is not kept at room temperature, but immediately refrigerated.
That is because the yeast dies when the beer temperature exceeds 24° C, so after being packed in bottles and barrels it requires refrigeration. And, because yeast is also vulnerable to shaking during transportation, the distribution range of Otaru Beer is limited to within a radius of 100 km from the brewery. For that reason it is an extremely rare and delicious beer.
By all means first tour the brewery!
In addition to enjoying drinking and dining in Otaru Warehouse No. 1 you can also tour the brewing facility. There are free tours every thirty minutes between 11:10 a.m. and 5:40 p.m. daily (no reservation required; tour lasts about 20 minutes). Under the guidance of the staff, you can learn about the history, ingredients and manufacturing process of Otaru Beer.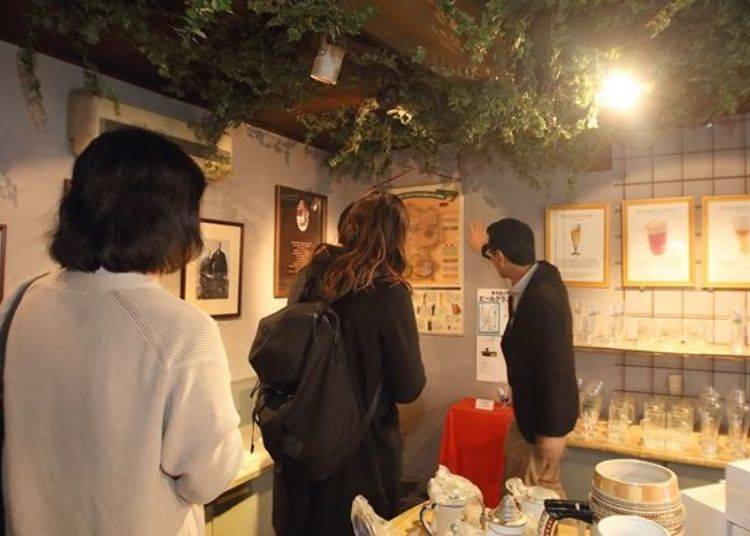 In the sales shop near the entrance the type of beers and brewing method are explained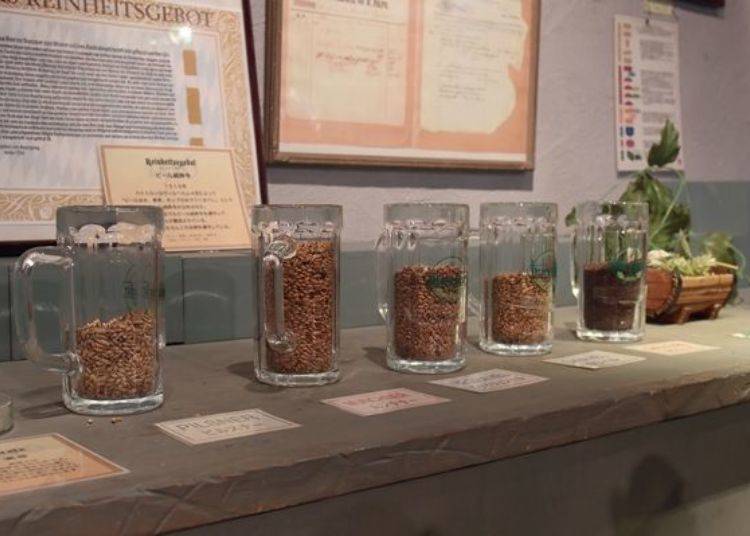 Several types of malt and yeast are displayed in one corner of the sales shop, and you may touch or smell them.
You can also go into the actual brewing area. Normally you would not be able to see these sorts of things up close like this. And there are also many other surprises, as well!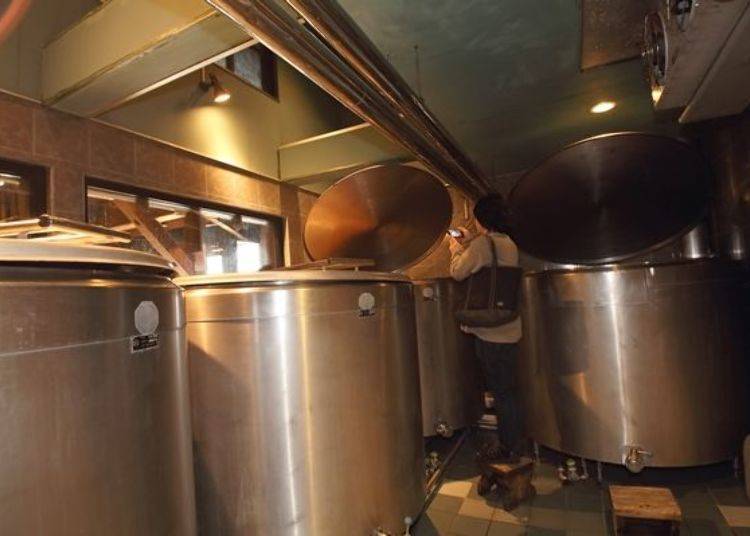 In a corner of the fermentation room you can actually see the inside of a tank undergoing fermentation!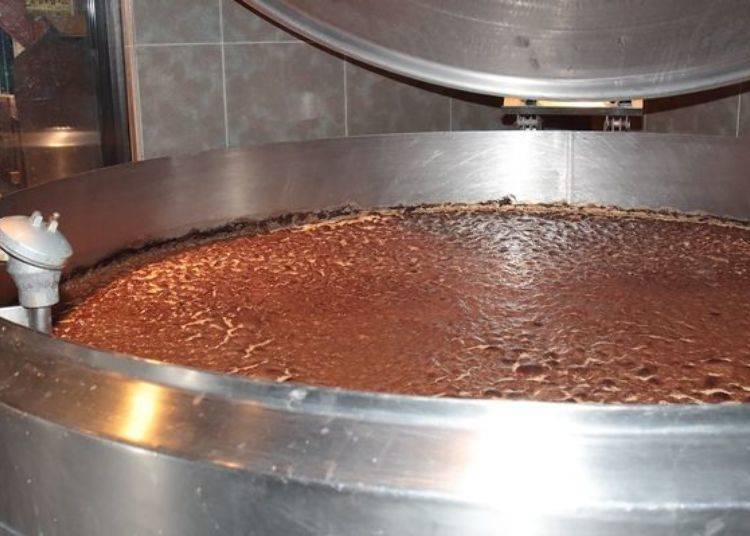 This gives you a clear view of the fermentation. This is not something just made for sightseeing tours, but the actual brewing of product.
Next to the fermentation room is the lager room set to a room temperature of 0° C, where you can see the low-temperature aging tank and you can also sample wort before fermentation.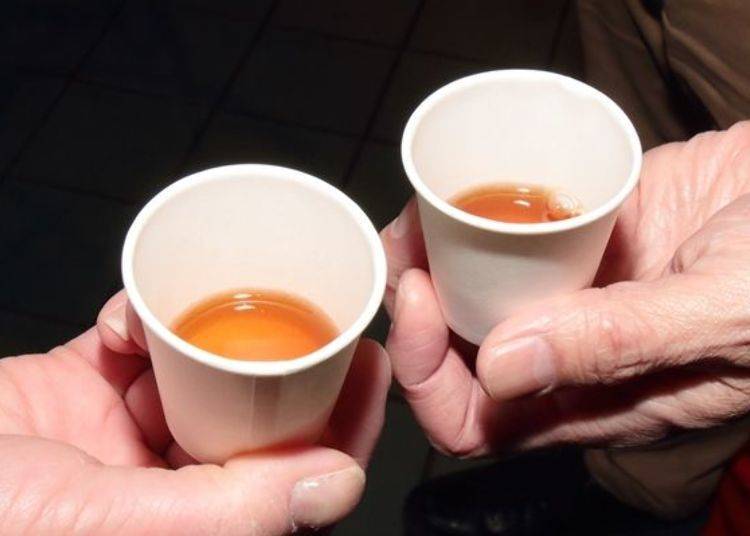 Wort before fermentation. It has a slight caramel flavor and is very sweet! At this stage it does not contain alcohol, so drivers can also safely sample it.
And now it is time to move on to the shiny, gold coppers in the center of the Otaru Beer Hall. This is where the malt is crushed and boiled.

Opening the door next to the coppers you are so close to them that you could almost touch them.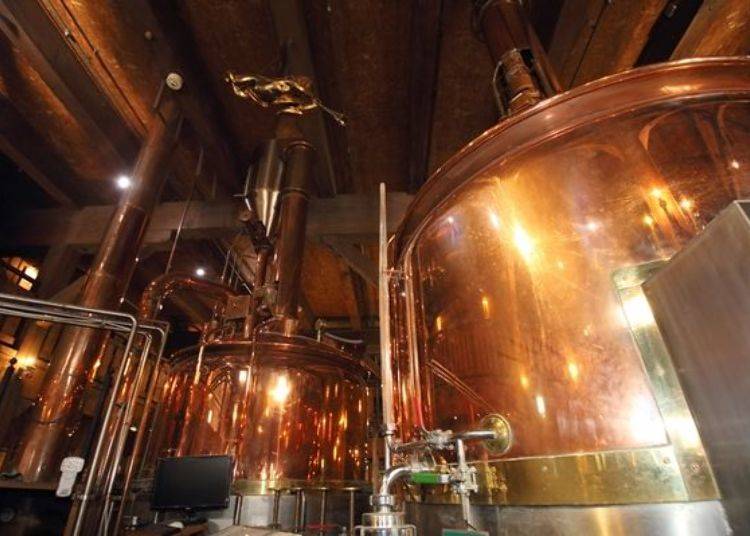 A beautiful view from below looking up at the shiny copper!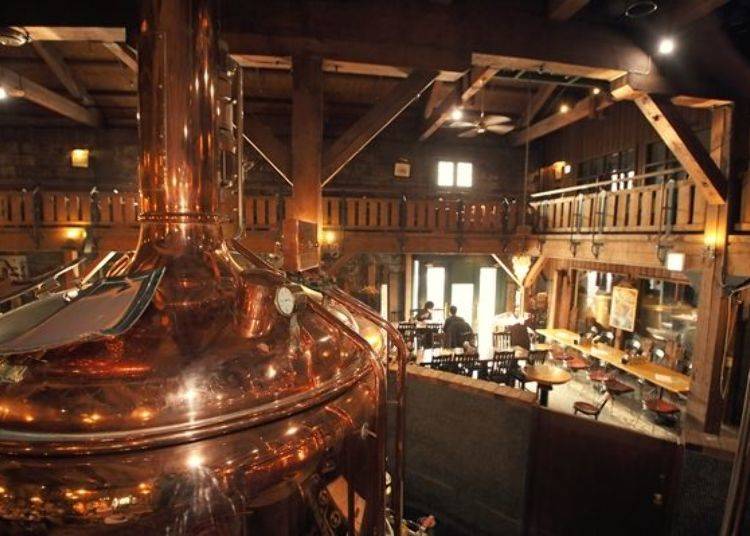 The view from the upper area looking down into the interior beyond the coppers is also very nice.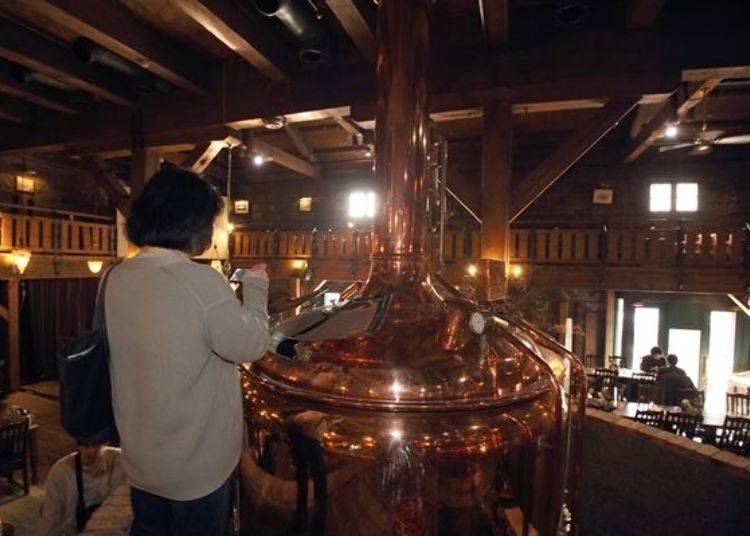 On the day of our visit the interior was empty because work had just ended.
Being able to view a brewery up this close is a rare opportunity. Fun and delicious, it is like being immersed in a social studies tour for adults. After learning about how the beer is made, it may seem even more delicious when you drink it. But before having that drink, I strongly recommend taking the tour!
Three main types of beer at Otaru Warehouse No.1
The three main types of Otaru Beer are Pilsner, Dunkel, and Weiss. The bottle types (330 ml, 294 yen each) are sold in the shop, at retail stores, and draft types at restaurants.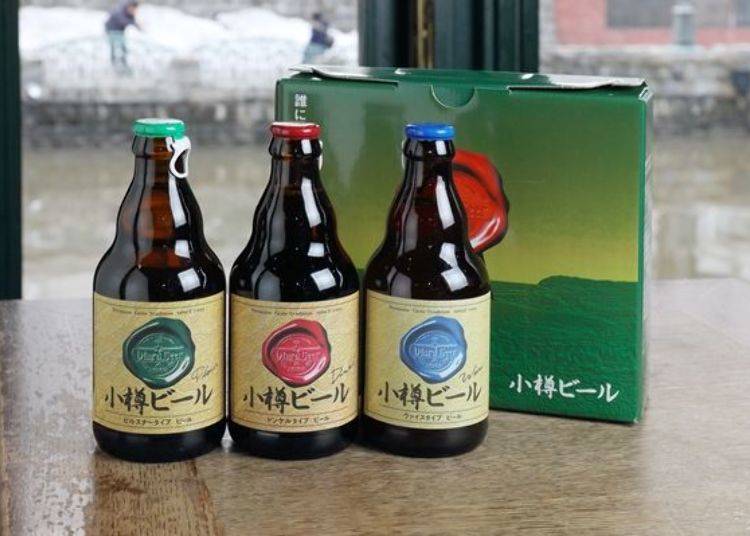 From the left are Pilsner, Dunkel, and Weiss. You can purchase a set of the three in the store (1,000 set of 3)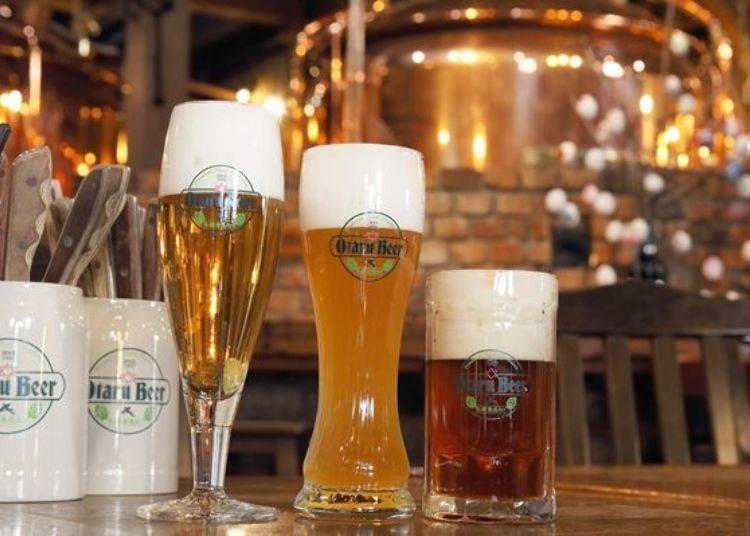 From the left are Pilsner, Dunkel, and Weiss draft types. Each comes in three sizes: S (300 ml) 470 yen, M (500 ml) 610 yen, and L (1,000 ml) 1,200 yen. The S size is shown in the photo
The Pilsner has a clear, golden color and a light, refreshing yet solid taste. The glass for Pilsner has a narrow mouth that delivers a clear, refreshing taste, the middle section slightly wider giving it a shape that enables the aroma of the hops to be easily enjoyed.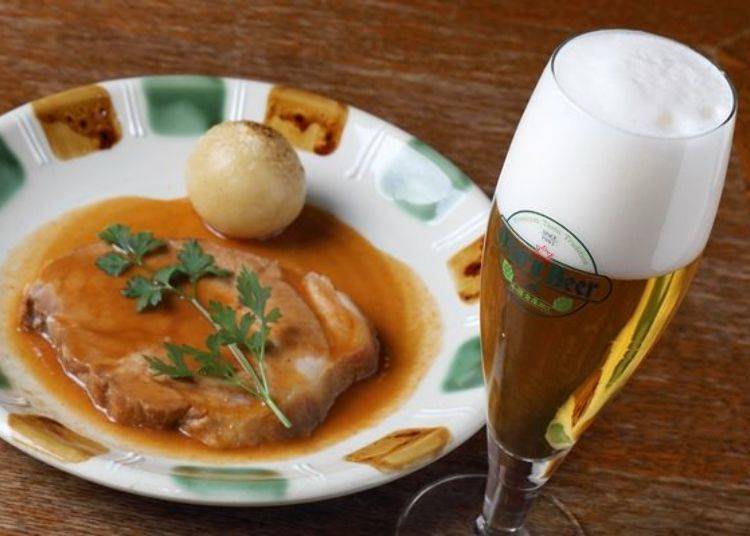 Pilsner goes well with all sorts of dishes, such as meat and cheese, due to its mild flavor. The Schweinebraten (1,280 yen) on the food menu of Otaru Warehouse No. 1 goes especially well with the Pilsner. This roast pork is made using pork produced in Akaigawa Village which is adjacent to Otaru.
Schweinebraten. The meat is succulent and served in a hearty portion! It comes with Knödel, a traditional German boiled dumpling made with flour, bread, or potatoes which has a chewy texture.
Weiss, which has a cloudy appearance, has a fruity aroma similar to banana. The glass for Weiss is long, slender, and curved in the center so that when the beer is poured into the glass as it is held diagonally, it causes a thick head to slowly form due to the carbonation.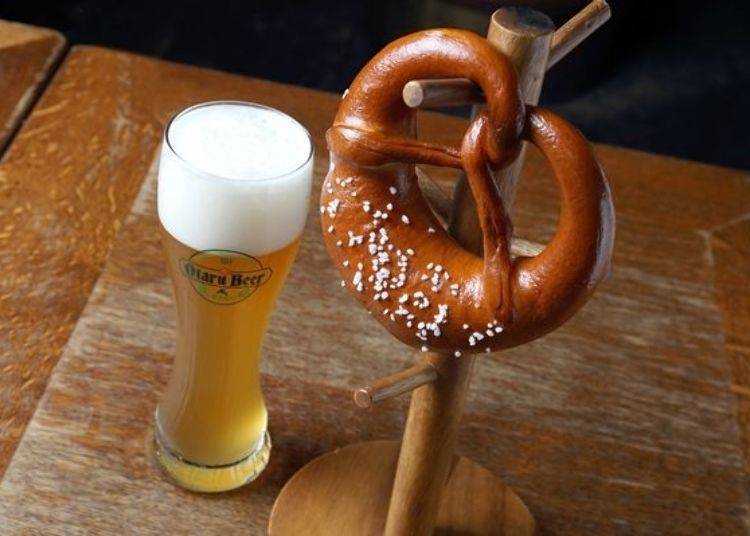 Weiss has a unique flavor and goes well with pretzels 350 yen), another unique German type of bread called Bretzel in German, as well as other authentic delicacies like Weisswurst sausage.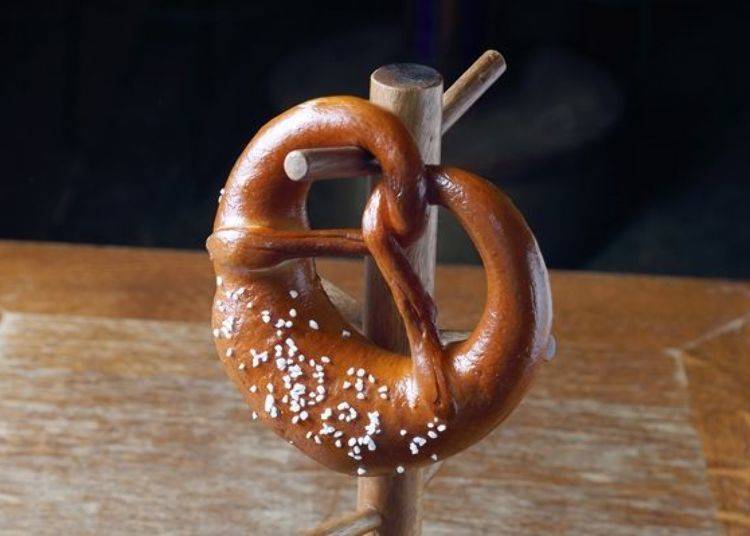 Pretzel with coarse salt. It has a strong, chewy texture. It is delicious when you lightly lick the salt before taking a bite!
The brownish Dunkel is a creamy, rich dark beer with a smooth, malty flavor with a slight hint of caramel. The glass for Dunkel has a thick mouth to allow you to slowly drink it in order to savor its rich, malty flavor.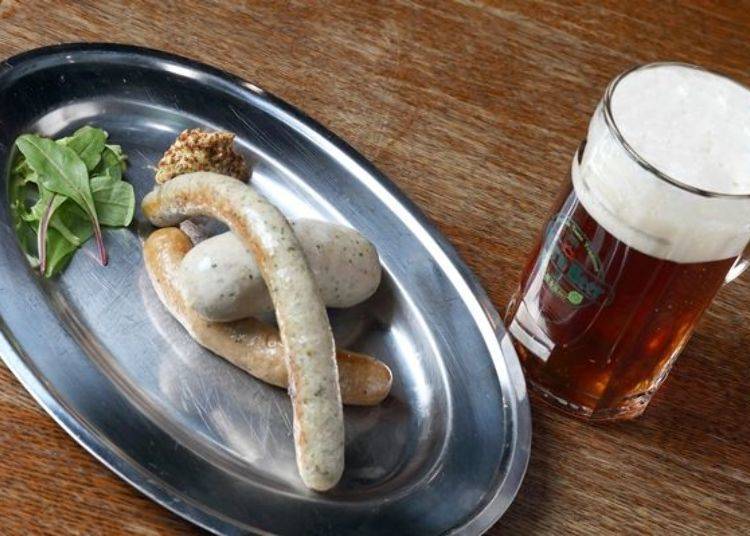 Dishes that go well with the heavy Dunkel include appetizers like sausages and terrine, and especially meat dishes. Sipping Dunkel while nibbling on appetizers is a great combination. The Homemade Sausage Plate (880 yen) made with pork grown in Akaigawa Village is especially recommended.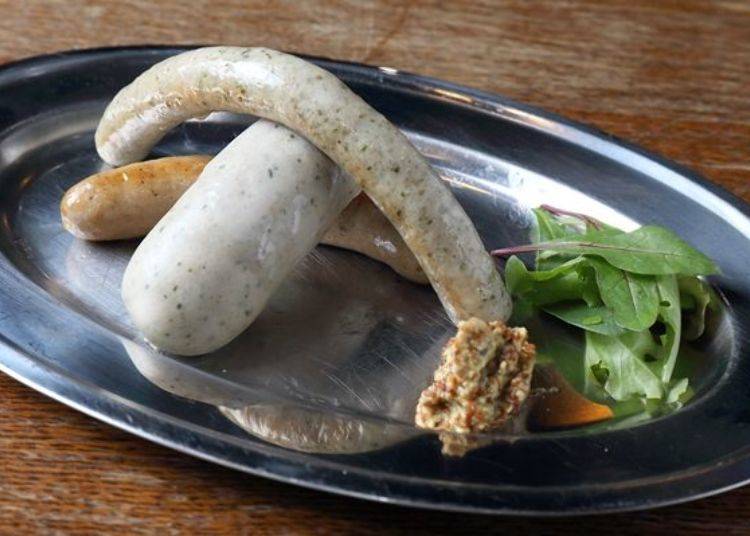 Homemade Sausage Plate. At the very bottom is a normal sausage; above it is a herb sausage, and the fat one in the middle is Weisswurst, a sausage popular in Munich Germany that is eaten after the skin is removed.
Other dishes include salad and potato dishes, pasta and paella, and pizza. These go well alone as a meal or as an appetizer enjoyed with beer. I recommend enjoying them with a delicious glass of beer!
Also try the light beer, fruit beers, and cider!
For those who like cocktails and only a little alcohol, there are also original light beers and apple cider (300 ml, 350 yen) made by Otaru Beer.

Recommended among several types of light beer are Himbeer [red raspberry] Beer (300 ml, 470 yen), Weiss beer in which raspberry syrup has been added, and Waldmeister (300 ml, 470 yen), beer mixed with woodruff-flavored syrup the aroma of which is very soothing. Both are beer cocktails that have been loved by Germans for more than 500 years.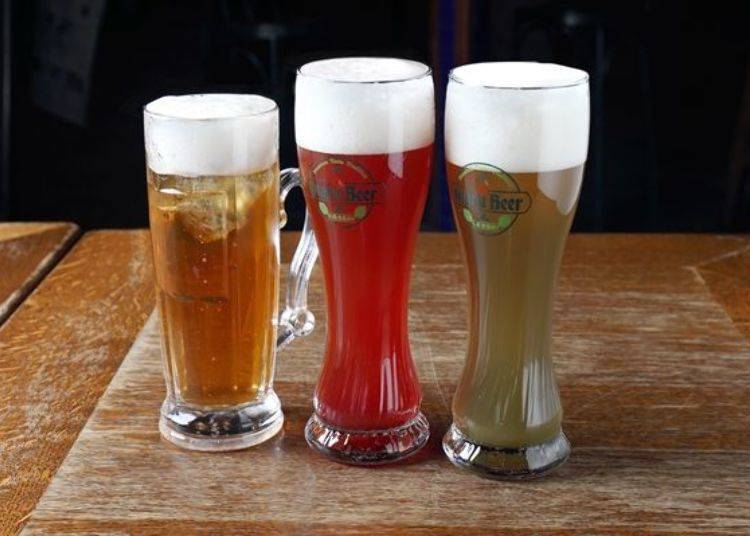 From the left: Apple Cider, Himbeer Beer, Waldmeister
The Himbeer Beer has a delightful raspberry flavor and the Waldmeister has a slightly bitter but refreshing flavor.
The apple cider is lightly carbonated and fizzles lightly when you drink it. It is not very sweet and that tart flavor of the apple makes it popular with adults.

Other beverages offered are oolong tea (300 yen), coffee (350 yen), and non-alcohol beer and non-alcohol black beer (each 300 ml, 380 yen) which are good for designated drivers.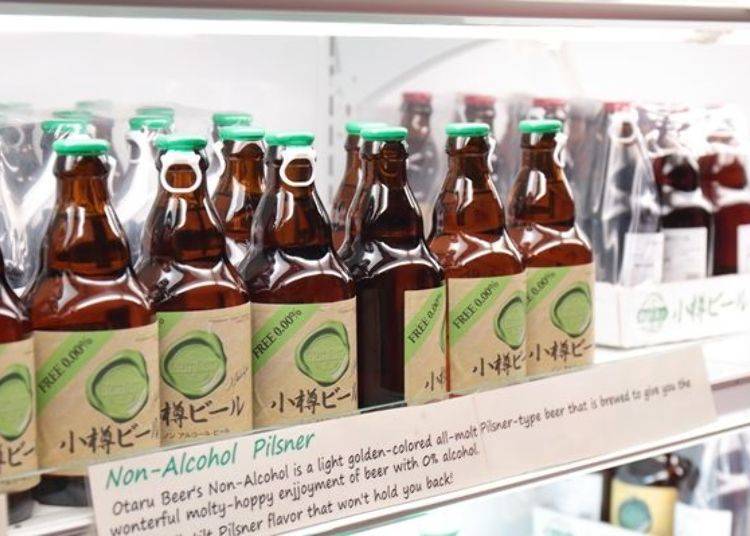 Pint-sized bottles of non-alcoholic beer are offered for sale.
The place is located in a warehouse alongside the Otaru Canal. It is set up so that you can tour the brewing process. This is a great place to enjoy local craft beer and delicious dishes that go with it. Everything is fantastic. If you visit Otaru, then you really should pay it a visit! Let's raise a toast with Otaru Beer!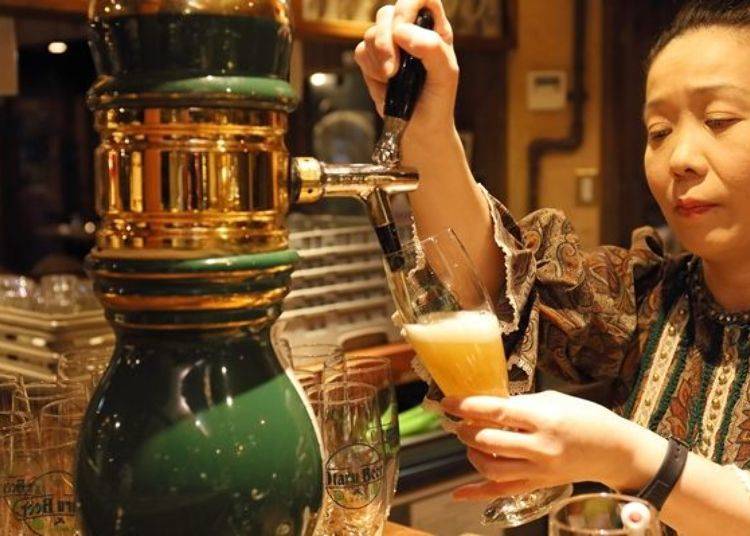 Drinking newly brewed beer here is a great experience!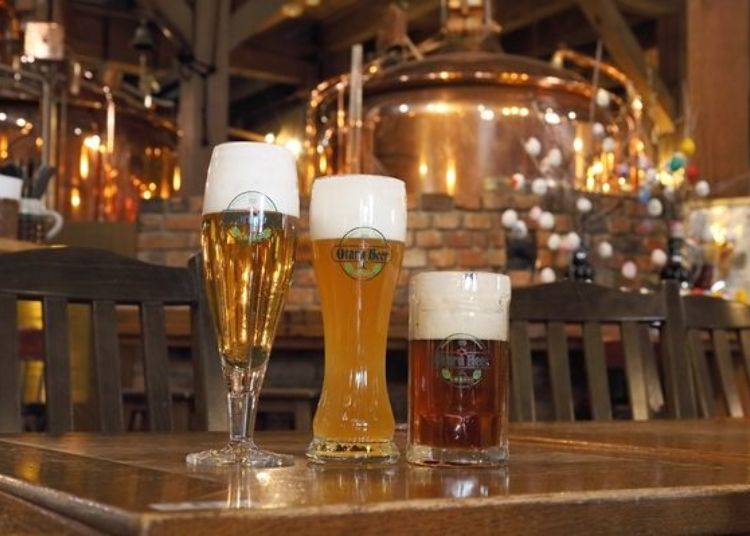 Try the Pilsner, Weiss, and Dunkel to see which one you like best.
Text : Nobuhiro Kawashima
Address

5-4, Minatomachi, Otaru-shi, Hokkaido, 047-0007
View Map

Nearest Station

Otaru Station (Hakodate Main Line)


Phone Number

0134-21-2323
*This information is from the time of this article's publication.
*Prices and options mentioned are subject to change.
*Unless stated otherwise, all prices include tax.
Search for International flights