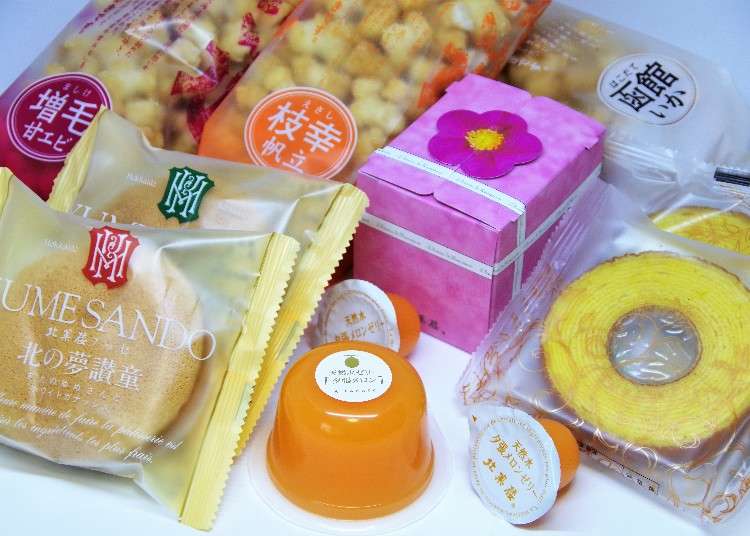 When visiting Hokkaido, you'll be spoiled for choice with a wide selection of confections that are perfect for bringing back home. Among the many options available, one confectionery stands out: Kitakaro, renowned for its delectable Yubari melon jelly and enticingly flavored rice crackers.

Headquartered in Sunagawa City, Hokkaido, this esteemed confectionery manufacturer specializes in Western-style, Japanese-style, and fruit-based confections that showcase the finest ingredients sourced from Hokkaido.

To aid those seeking the ideal souvenirs to commemorate their trip, we have enlisted the expertise of Nobuka Kawashima, a travel creator and Hokkaido tourism specialist, who will assess various Kitakaro products and present five highly recommended souvenirs.
Meet Nobuka Kawashima: Our Hokkaido travel guru!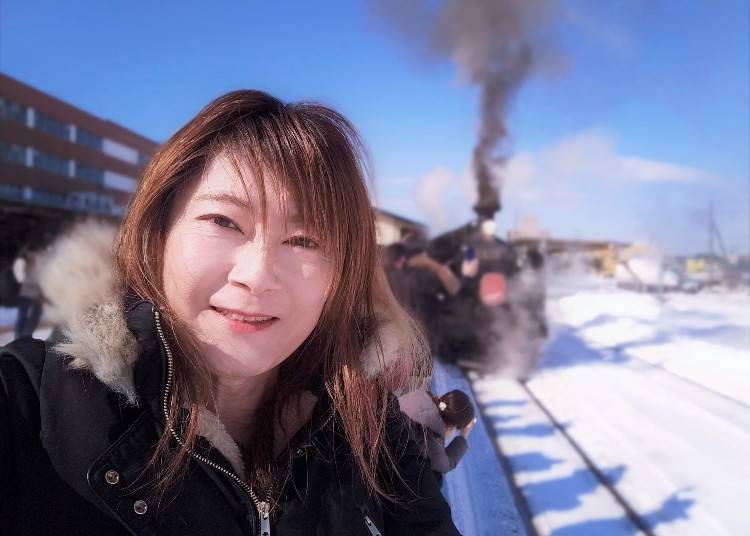 ▲Nobuka Kawashima reporting on the SL sightseeing train "Fuyu-no-Shitsugen"
Nobuka Kawashima, a travel creator from Sapporo City, Hokkaido, Japan, has been an influential figure in the tourism industry since 2009. Working for LIVE JAPAN, tourism websites, and travel magazines, she has covered and written over 1,000 articles on Hokkaido travel and food.

Certified as a Hokkaido Tourism Master by the Hokkaido Chamber of Commerce and Industry, she is also a qualified "Domestic Travel Service Supervisor." Having privately visited all 179 cities, towns, and villages in Hokkaido, she is a knowledgeable expert on the region's tourism.
Kitakaro Confections: Indulge in Hokkaido's finest delights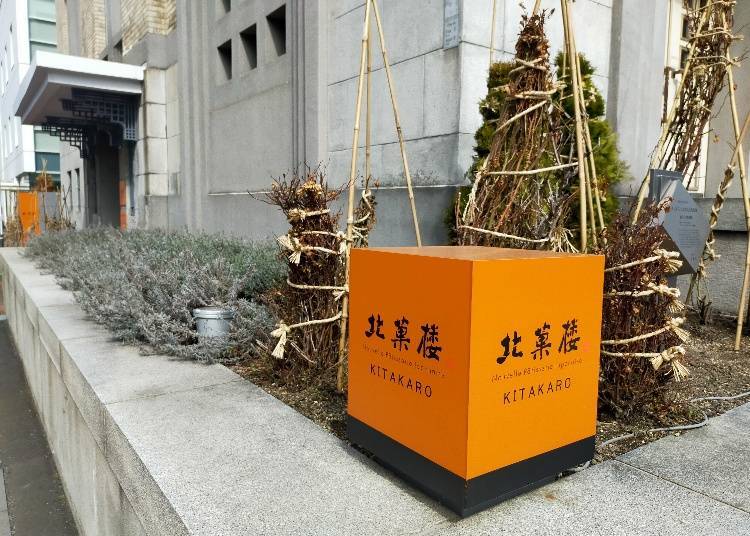 ▲Kitakaro is marked by its orange logo.
Established in 1991 in Sunagawa City, Kitakaro is a renowned confectionery manufacturer that embraces the distinctive ingredients of Hokkaido in its delightful creations. Among its popular offerings are the delectable Yubari melon-flavored jelly, as well as a variety of flavorful rice crackers known as "Hokkaido Kaitaku Okaki." These delectable treats have gained a reputation as some of the most sought-after souvenirs from Hokkaido.

In addition to the flagship Sunagawa store, Kitakaro operates several other locations in key areas such as Sapporo City, Otaru City, and New Chitose Airport. Furthermore, their products can be found in souvenir stores at airports like Hakodate, Asahikawa, and Memanbetsu. For the utmost convenience, there is even a directly-managed store at Sunagawa Highway Oasis, the largest parking area along the Hokkaido Expressway, making it effortless to make a purchase during your drive.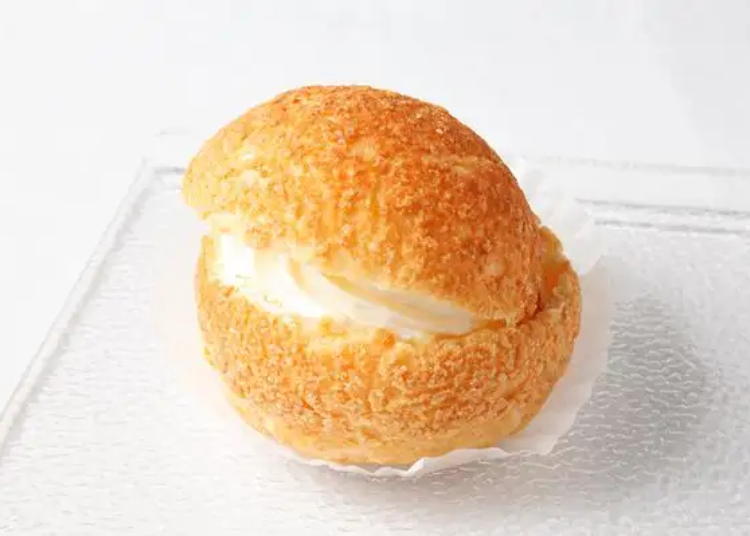 ▲Kitakaro's cream puffs, "Kita-no-Yume Dome"
The directly managed stores also offer a delightful selection of take-out cream puffs and soft-serve ice cream. The renowned "Kita-no-Yume Dome" cream puff, originally introduced at New Chitose Airport, quickly gained popularity among flight attendants and pilots.

Word of mouth spread, captivating the attention of passengers, and positioning Kitakaro as one of Hokkaido's most beloved confectionery manufacturers.

Due to the cream puffs' immense popularity, they tend to sell out quickly, especially during weekends and holidays. To secure both the cream puffs and packaged products, we highly recommend visiting the stores early in the day to ensure availability.
Top 5 Kitakaro Confections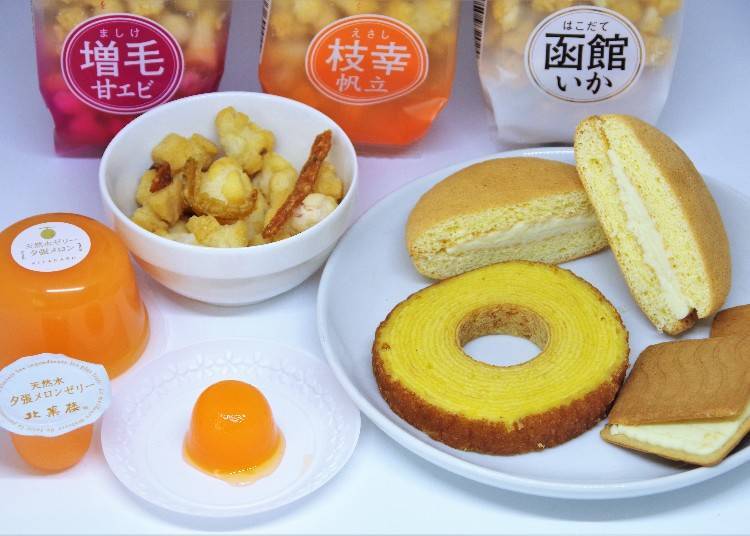 Now, let us present our top five picks from Kitakaro's exquisite collection! Our selection criteria encompassed not only the delectable taste but also the product's popularity in Japan, its suitability as a transportable souvenir, its shareability with loved ones, and the incorporation of Hokkaido's distinctive ingredients.

While it was challenging to rank them in any particular order, we invite you to savor our carefully curated list of five exceptional products that captivated our hearts!
Kitakaro Confection 1: Yubari Melon Jelly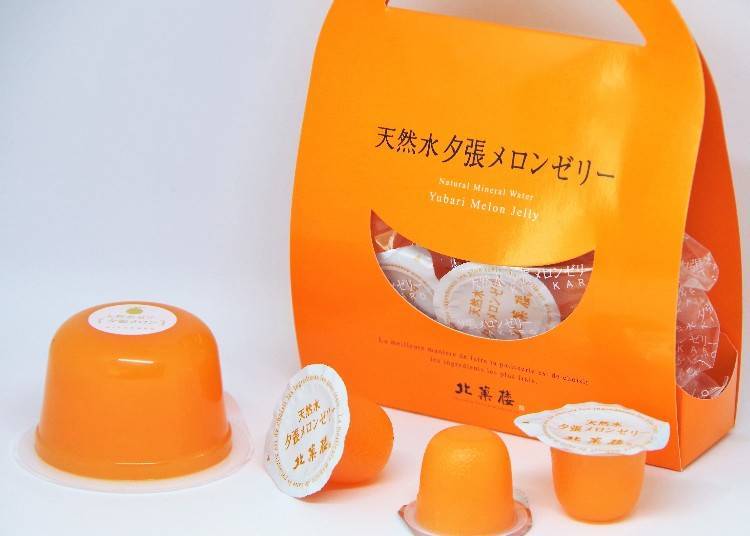 ▲Yubari Melon Jelly 120 grams (left) and Carry Bag Yubari Melon Jelly, 16 grams per cup (center and right, sold in sets of 10)
Get ready for a sensational experience with this Yubari melon jelly. Crafted from fully ripe pulp of the premium red-fleshed Yubari melon, cultivated in the esteemed Yubari City of Hokkaido, this jelly boasts a fresh and fruity flavor. The use of natural water sourced from the foot of Hokkaido's majestic Mt. Yotei further enhances its exquisite taste.

You'll fall in love at first bite! The taste, aroma, and texture impeccably mimic the real essence of a melon. It's difficult to believe that this luscious treat is actually a jelly. Indulge in the velvety-smooth, melt-in-your-mouth texture, relish the intense melon flavor, and savor the gentle lingering aroma that leaves an exceptional aftertaste on your palate.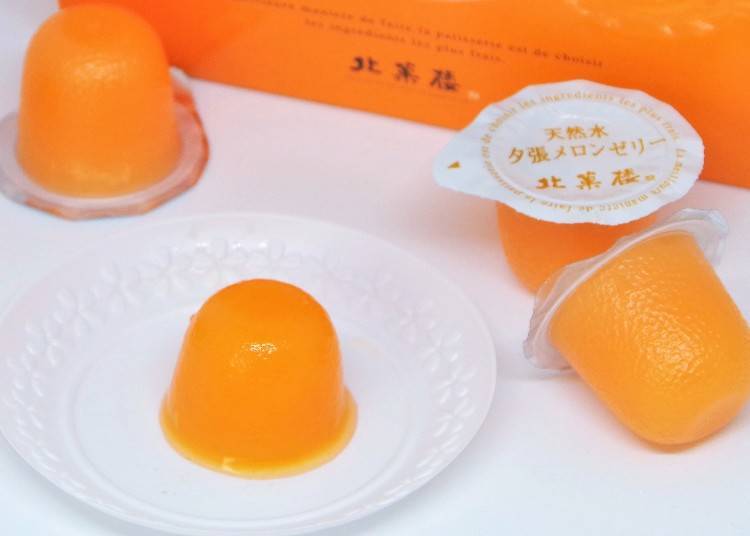 ▲The bite-sized 16-gram jellies are especially recommended as they can be eaten as a palate cleanser or as a light dessert!
Our writer suggests two delightful ways to enjoy the melon jellies: chilling them in the refrigerator or freezing them for a mini sorbet experience.

While the melon jellies are already sweet and delicious at room temperature, refrigeration intensifies the melon flavor, lending it a refined taste. On a hot day, the mini sorbets are particularly refreshing!

These 16-gram, bite-sized melon jellies are not only long-lasting but also deliver a cool sensation as they melt in your mouth, offering the juicy essence of a real melon.

It's important to note that the jellies do have a slight weight to them, which may add to your baggage.

However, we firmly believe that the exceptional quality of the product justifies this minor inconvenience. Considering the heftiness of an actual melon, these jellies serve as a wonderful alternative.

Additionally, the convenience of carrying them at room temperature is a significant advantage for foreign visitors. We wholeheartedly recommend this product as an ideal Hokkaido souvenir!
Kitakaro Confection 2: Hokkaido Kaitaku Okaki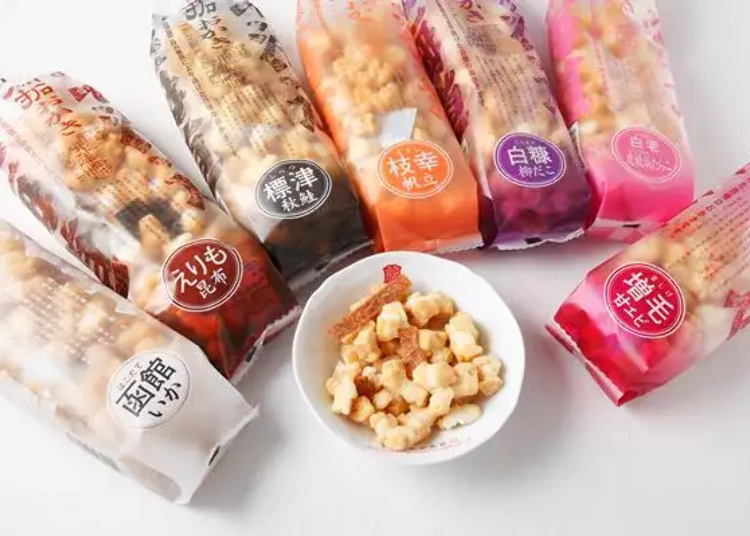 ▲"Hokkaido Kaitaku Okaki". The bowl in the photo above shows the Mashike shrimp flavor.
Don't miss out on the irresistible "Hokkaido Kaitaku Okaki" when visiting Kitakaro! These rice crackers are meticulously crafted using glutinous rice that is finely chopped or crushed, dried, and roasted to a delightful golden brown hue.

Drawing inspiration from the traditional Hokkaido-style rice cracker known as "okaki," this delectable treat showcases locally sourced ingredients, paying homage to the early days of Hokkaido.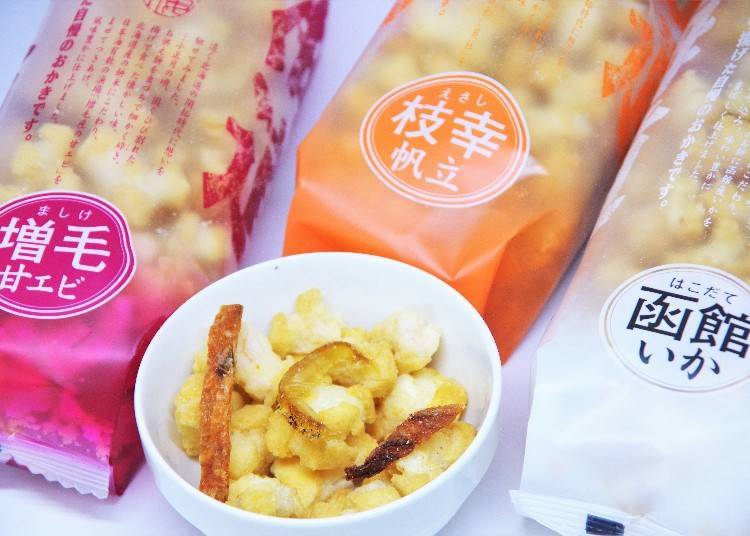 ▲From left to right, the flavors shown in the plate include Mashike shrimp, Esashi scallops, and Hakodate squid.
Indulge in the enticing array of ten distinctive rice cracker flavors, including the renowned Hakodate squid, regarded as the crowd favorite.

Other tantalizing options include Mashike sweet shrimp, Esashi scallops, Erimo kelp, and Shibetsu autumn salmon. Hokkaido-grown rice is expertly combined with squid, sweet shrimp, scallops, and various seafood from across the prefecture, resulting in a profound seafood essence with each delightful bite.

Furthermore, the packaged bags contain delightful dried scallop strings and kelp, adding an extra layer of flavor. This delectable treat pairs exceptionally well with both tea and sake!

While personal preferences may vary, our writer has developed a fondness for the captivating Esashi scallop flavor. The umami-rich taste of scallop rice crackers, coupled with the satisfying chewiness of the scallop strings, creates an absolutely delightful sensation for the taste buds.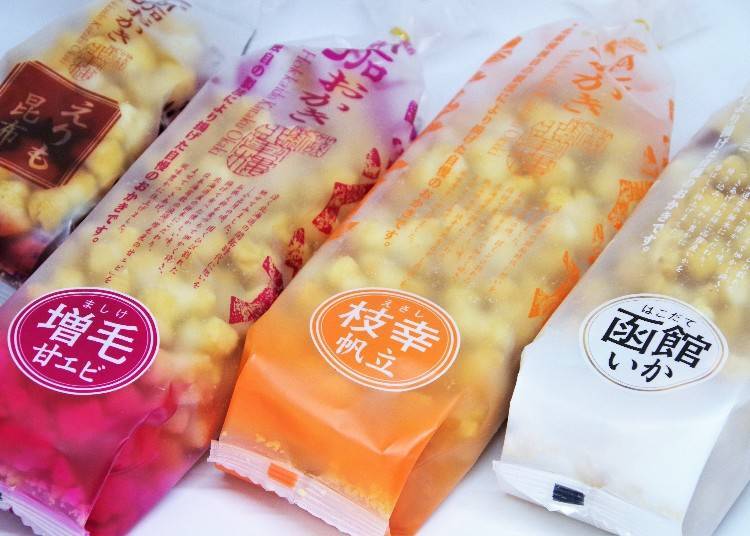 ▲Standard packages are 170 grams. 70-gram packages are available as gifts.
Bringing back fresh seafood from Hokkaido as a souvenir can be challenging. However, why not opt for the Hokkaido Kaitaku Okaki instead?

These rice crackers allow you to savor the delightful seafood flavors of Hokkaido in a convenient and portable form. While they may have a slightly larger size, they are surprisingly lightweight, making them ideal for carrying in your carry-on bag during air travel without any concerns.

Each flavor is available in a 170-gram package at stores, but there are also smaller 70-gram sizes available, perfect for gifting.
Kitakaro Confection 3: Baumkuchen Fairy Forest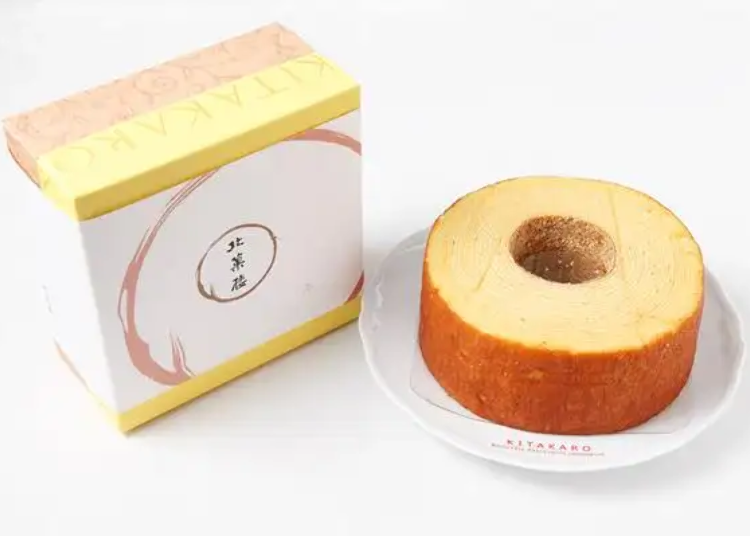 ▲Baumkuchen "Fairy Forest", 14 centimeters in diameter and six centimeters thick.
The exquisite Baumkuchen is crafted using Hokkaido flour, fresh cream, and high-quality eggs. Skilled artisans meticulously hand-roll each layer of the cake onto a wooden oak stick, ensuring precise thickness and cooking control.

Slowly baked with utmost care, the cake is then left to cool overnight at a consistent temperature.

The result is a truly remarkable Baumkuchen that boasts a remarkable combination of fluffiness and moistness, leaving a lasting impression on your taste buds.

Additionally, the cake's outer layer offers a delightful crispiness that adds a pleasing textural element to the overall experience.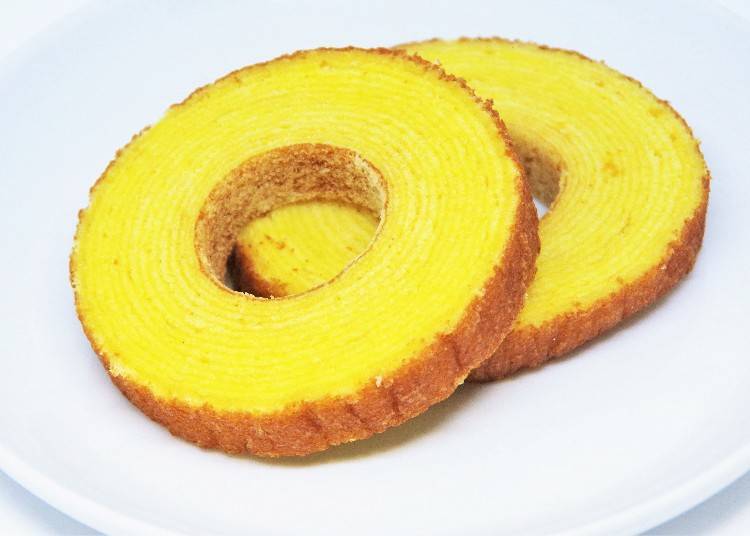 ▲The eight-centimeter cake is about one centimeter thick and individually wrapped.
Kitakaro offers a choice between two sizes of Baumkuchen: 14 centimeters and eight centimeters. The 14-centimeter cakes are available in various heights, such as four centimeters, six centimeters, eight centimeters, and so on.

On the other hand, the eight-centimeter cakes are a centimeter thick, perfectly suited for an individual serving. If you plan to share the cake among several people, we recommend opting for the 14-centimeter cake.

Please note that due to a shortage of eggs caused by bird flu, production of Baumkuchen has been reduced as of 2023. As a result, they may sell out quickly.

In such cases, an alternative option would be to consider purchasing the gift set that contains the eight-centimeter cakes. Keep an eye out for these options at Kitakaro stores!
Kitakaro Confection 4: Kita-no-Yumesando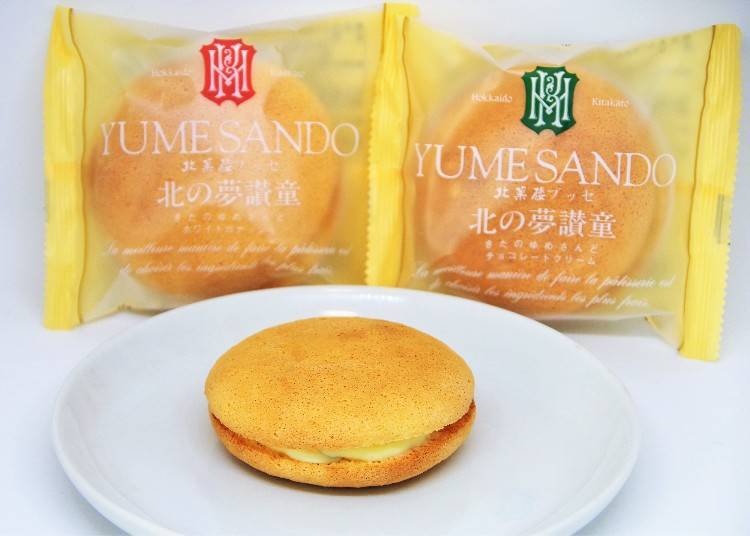 ▲White ganache on the left, chocolate cream on the right
Indulge in the delightful "Kita-no-Yumesando," a delectable confectionary that features a sweet cream filling sandwiched between two fluffy sponge cakes.

Available in two variations, you can choose between the white ganache cream with raisins or the chocolate cream. While both options are incredibly delicious, the white ganache cream is the classic and preferred choice, making it the most popular selection.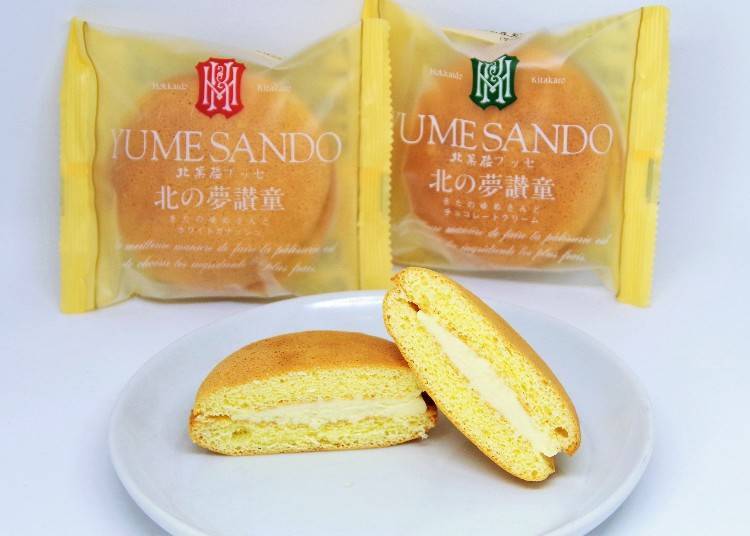 ▲These cakes are filled with cream! It's hard to tell from the picture, but there are also raisins inside.
The cream in the Kita-no-Yumesando has a delightful firmness, ensuring a worry-free experience without the concern of melting or sticking to the cakes. The subtle inclusion of raisins further enhances the cream's flavor profile.

The cakes themselves are decadently rich, striking a perfect balance of sweetness. The cream leaves a pleasant lingering sweetness on the palate. Additionally, these cakes complement both coffee and tea beautifully, offering a delightful pairing.

Conveniently, the Kita-no-Yumesando cakes are individually wrapped when purchased at stores, making them an ideal on-the-go snack during road trips, train rides, or even air travel. This packaging ensures easy consumption and enjoyment wherever you may be.
Kitakaro Confection 5: Hamanasu no Koi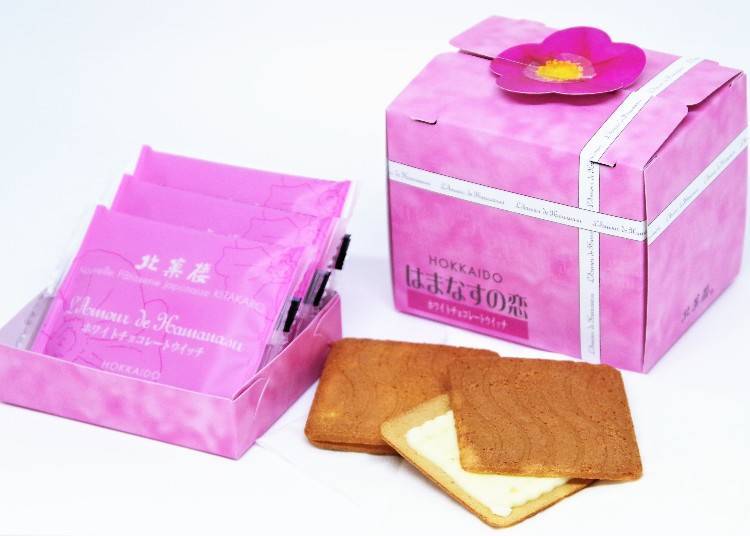 ▲There are eight pieces per box. This confection is named afer the Japanese rose due to its bright pink packaging.
Named after the captivating Hamanasu or Japanese rose, "Hamanasu no Koi" is a delightful chocolate cookie that boasts a reputation for being low in fat and sugar. Its packaging draws inspiration from the charming seaside flower, adorned with delicate pink blossoms that symbolize the essence of Hokkaido.

Featuring four distinct chocolate flavors including white chocolate, milk chocolate, green tea chocolate, and caramel chocolate, each piece of this cookie is thoughtfully wrapped individually, allowing for easy sharing among friends and family.

Among the four flavors, white chocolate stands as the standard choice. These cookie sandwiches possess a delicate texture, initially crisp and gradually melting after the first bite. The indulgent richness of the chocolate filling can be attributed to the generous use of high-quality cocoa butter.

While Hokkaido boasts numerous confectionery manufacturers, Kitakaro stands out for its exceptional quality and the utilization of Hokkaido's finest ingredients and climate. Prioritizing the natural flavors of each ingredient, Kitakaro crafts confections that truly speak for themselves. We hope this article inspires you to visit a Kitakaro store and discover the perfect Hokkaido souvenir!

Text by: Nobuka Kawashima
*The information provided in this article is accurate as of May 2023. For the latest updates, kindly refer to the official website.
*This information is from the time of this article's publication.
*Prices and options mentioned are subject to change.
*Unless stated otherwise, all prices include tax.
Limited time offer: 10% discount coupons available now!