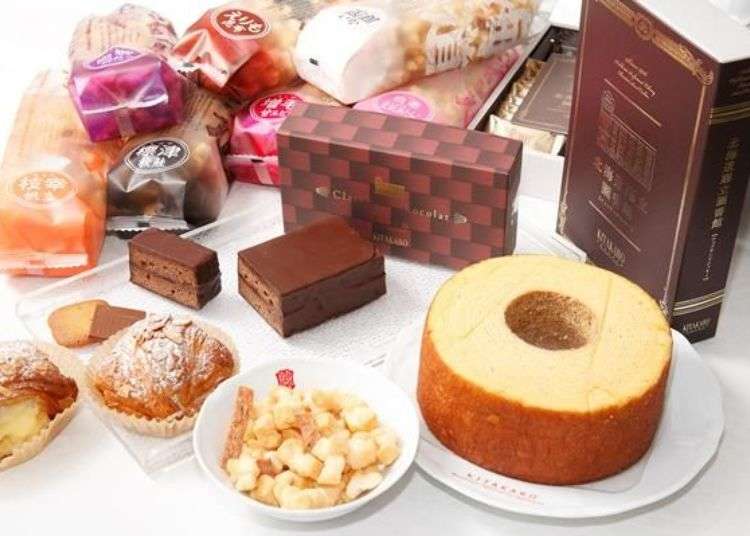 Kitakaro Sapporo Honkan is the home of the beloved Hokkaido sweets brand. Located nearby famous Sapporo sightseeing spots like the Old Hokkaido Government Building and Odori Park, it's one of the must-visit sweets shops in the area.

Starting with classic Hokkaido souvenirs like the famous "Hokkaido Pioneer Rice Crackers" and exquisite Hokkaido cream puffs, there is a wide variety of limited sweets to be found here. In the cafe, don't miss the chance to try items like the omelet or quiche made with Hokkaido's famous ingredients! This building has a retro feel and is the place to go when in search of Sapporo food souvenirs.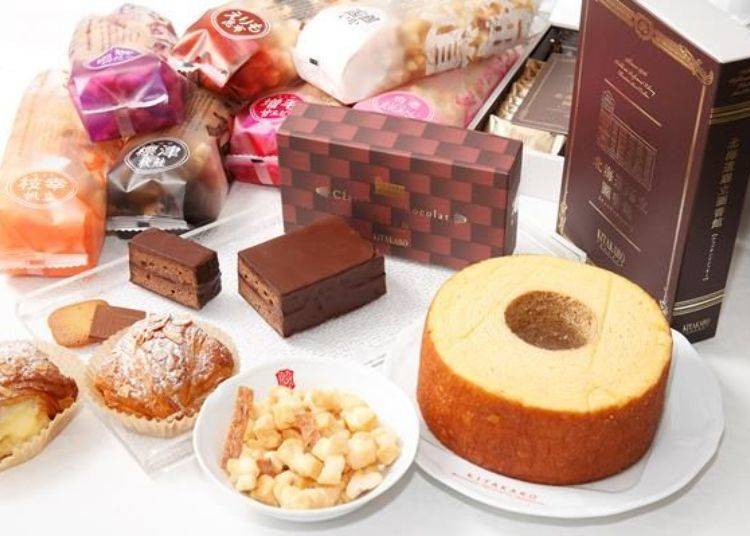 ▲Check out these popular sweets in Kitakaro Sapporo Honkan!
Kitakaro Sapporo Hankan is located near the Odori Station through which all lines of the Sapporo municipal subway pass. From this station, it is about a five-minute walk. Another route to take is a ten-minute walk from the JR Sapporo Station. The Red Brick Government Building (Hokkaido's Old Government Building) is just a few minutes from there, making it a comfortable visit while sightseeing.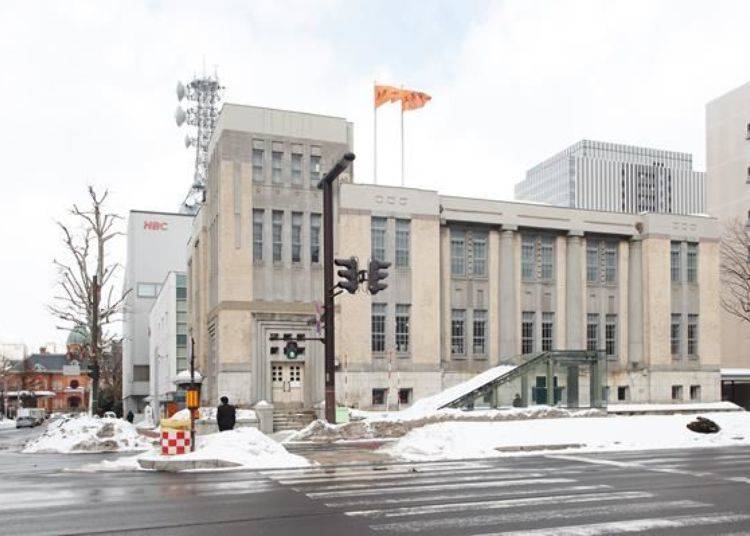 ▲The Kitakaro Sapporo Honkan has such a retro look! The red building to the left is the Red Brick House..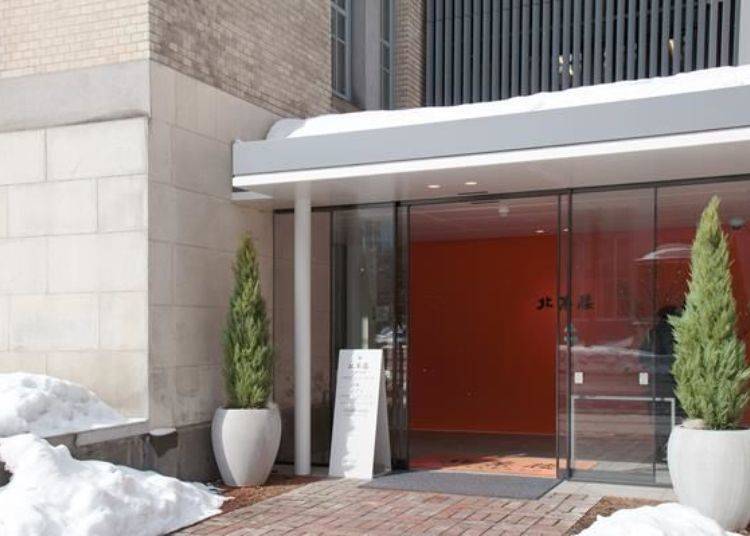 ▲Let`s head inside!
While visiting Kitakaro the cream puff is a must!
"Wow, it's huge!"
Everyone surely feels the same as they enter the shop!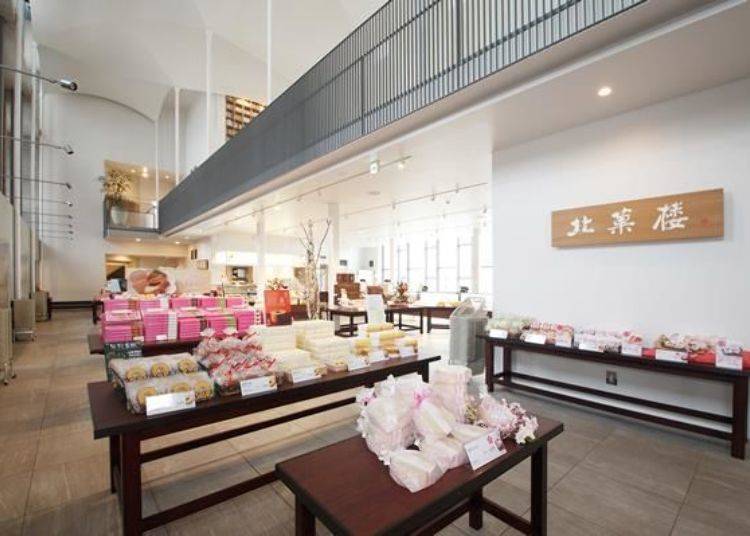 ▲Such high ceilings and wide flooring!
There is so much room on the floor! Here we find various sweet lined up, but trust us and head to the Hokkaido cream puff shop first before the line forms or they sell out.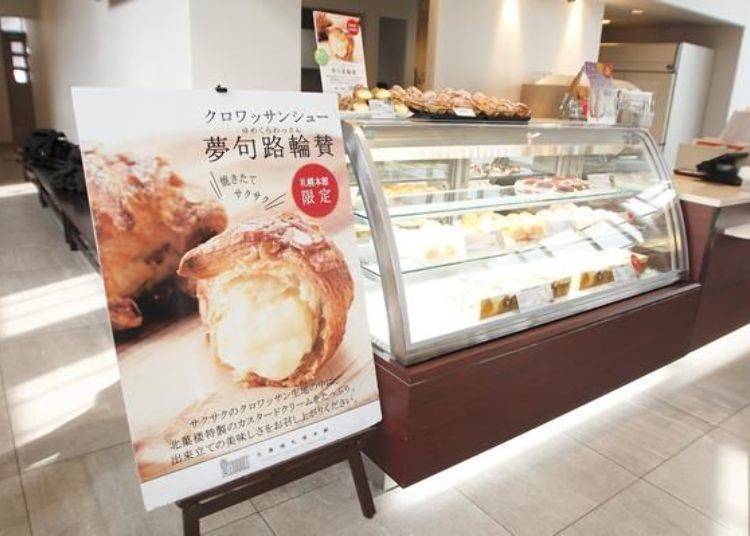 ▲The cream puff store is located on the first floor.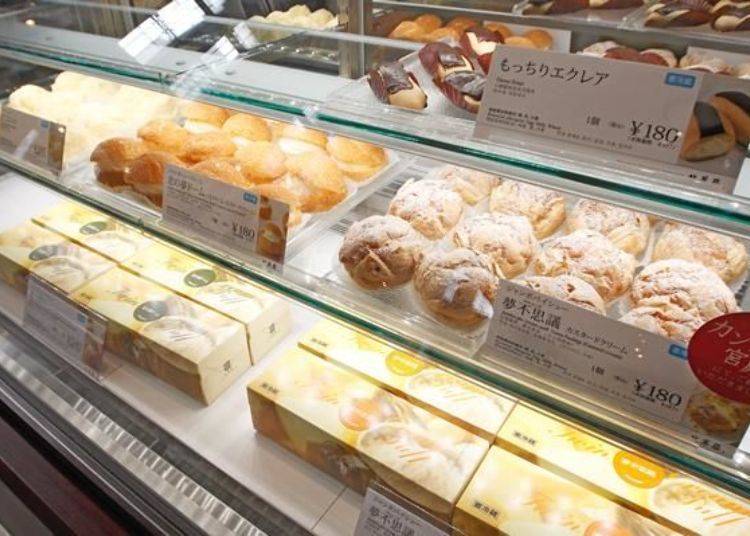 ▲During seasonal events you can find up to ten different types of cream puffs, but without including seasonal or specials puffs they are still selling seven to eight 7 to 8 kinds.
These items are found only here in the Honkan!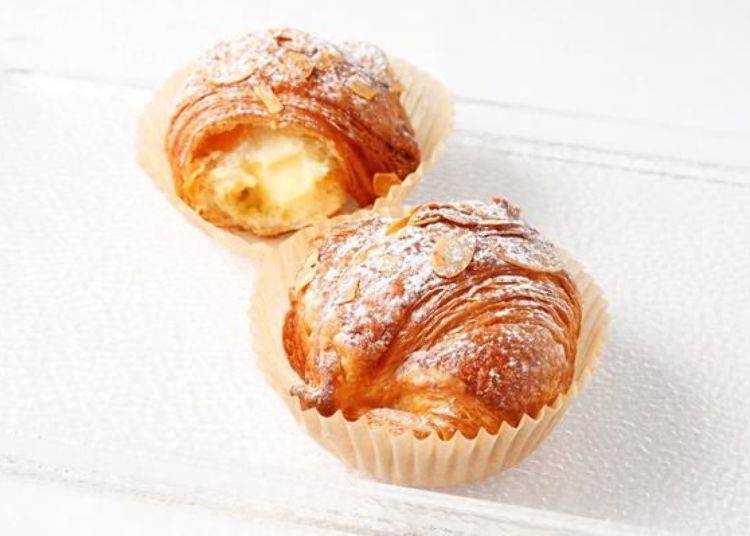 ▲Croissant cream "Yume" 180 yen each. This is a delight with plenty of home-made custard cream stuffed into a croissant!
This gives a crisp bite with a moist inside. What a great texture! The caramelized almonds make a great topping.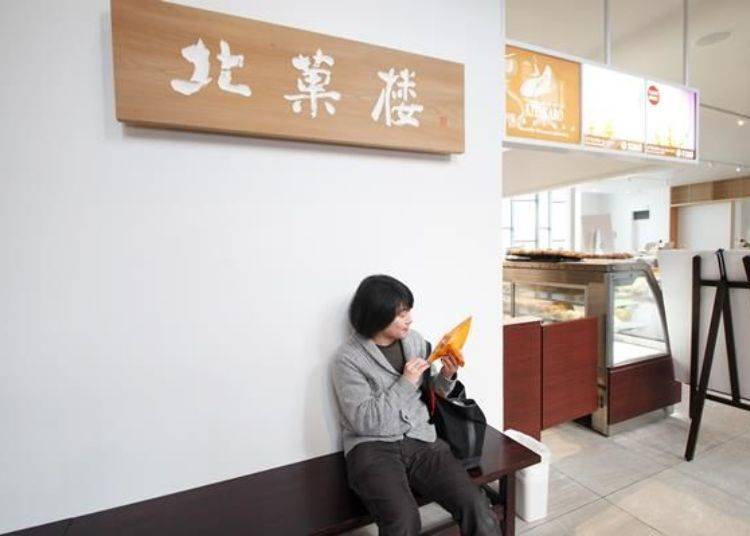 ▲You can enjoy your purchased puffs and sweets on this bench inside the store.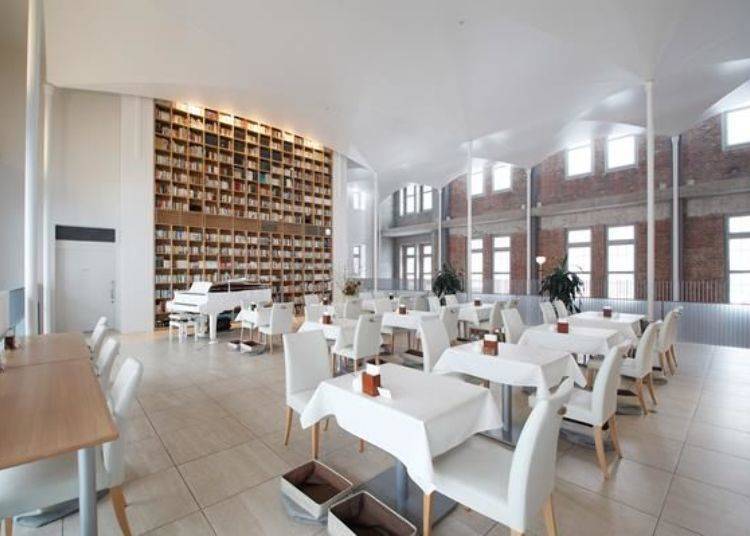 ▲Or bring it up to the café located on the second floor. It is large and spacious with a great atmosphere
For those of you with a sweet tooth we have one more recommendation especially for cream lovers.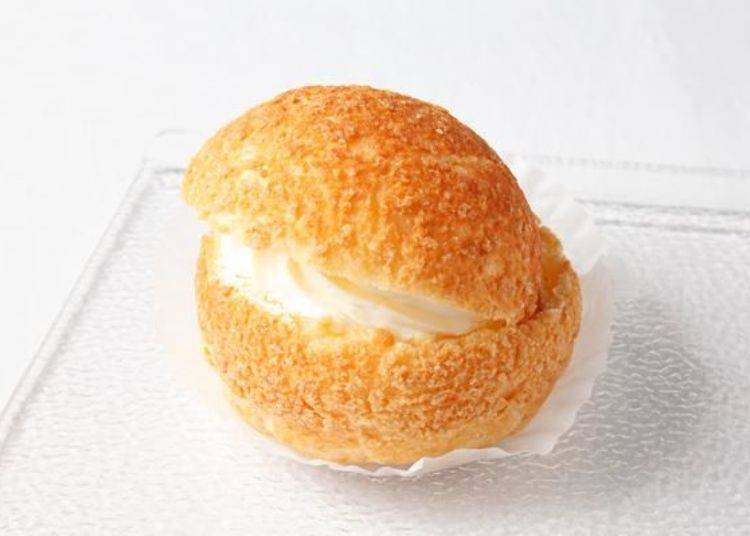 ▲The Jumbo puff "North dream dome" 180 yen each. Fresh cream and custard cream are thoroughly packed in this crispy pastry!
This is the product that triggered the Kitakaro brand, becoming a staple of Hokkaido souvenirs.
The northern candy store opened in 1991 in Sunagawa City, Hokkaido, which is known as the city of sweets.

This was furthered by the creation of the New Chitose Airport that opened a few years later. Pilots and cabin attendants would purchase several boxes of this northern dream dome as gifts. As this happened, the product's popularity grew from the resulting word of mouth advertising.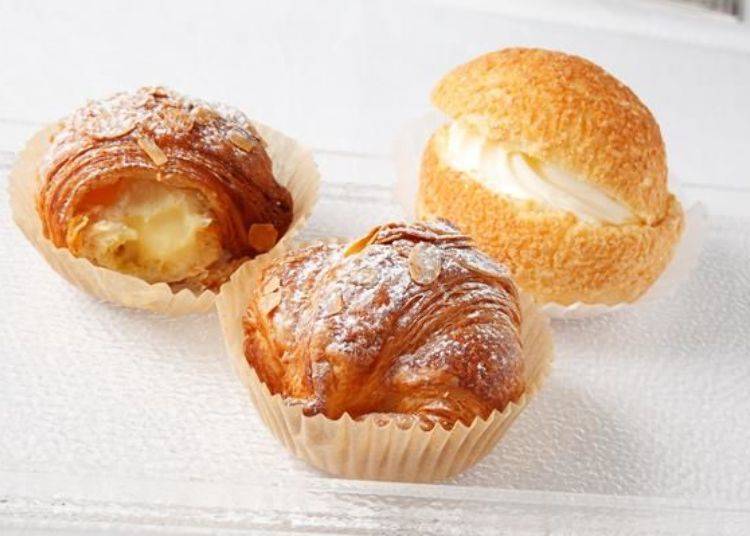 ▲Both are excellent items! They are packed with volume but being so delicious can both go down easily.
Recommended Kitakaro Souvenirs
If you enjoyed the Hokkaido cream puffs, get ready for our next souvenir recommendation!
At the Kitakaro Sapporo Honkan, many varieties of Kitakaro products are available. Here we recommend two standard products to consider.
The first item is the classic dessert product you won't be able to overlook.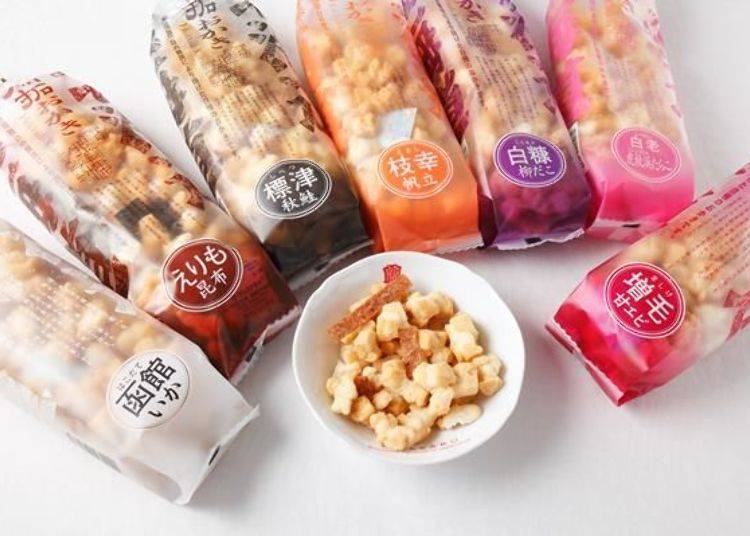 ▲"Hokkaido pioneer rice crackers" (about 170 grams, 440 yen each). In the dish "Masuke" (boiled) sweet shrimp is used. These crackers have a particularly dark color and make a terrific snack.
These rice crackers use sugar made in Hokkaido. As of spring 2018, there are seven kinds in total, and there are also limited-time "northern sea shrimp" that appear for short periods. Incidentally, Thisthis shrimp comes from the fountain between Shiretoko and Nemuro, which is the same area where north sea shrimp and scallops are produced.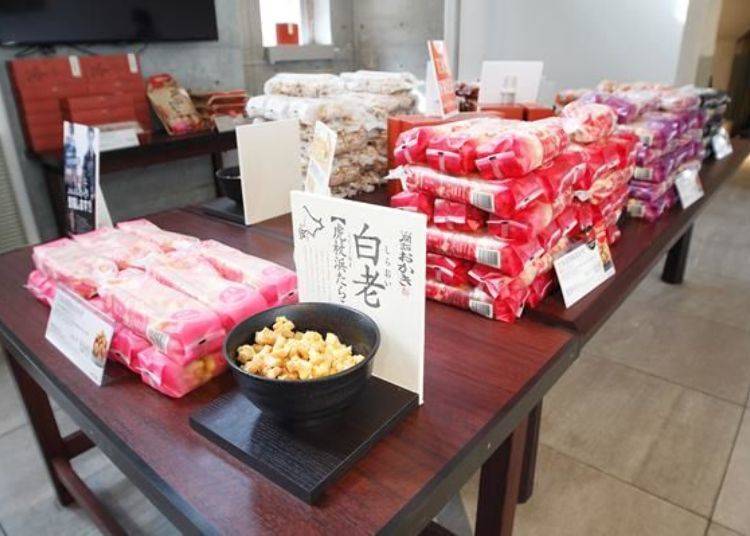 ▲Sample the products to see why they are so popular!
These snacks are characterized by the rich taste that gets better the more that you chew. The secret is that the ingredients are kneaded in glutinous rice and are pestled together. After that, it takes about 7 days to complete the drying, aging, and deep-frying process.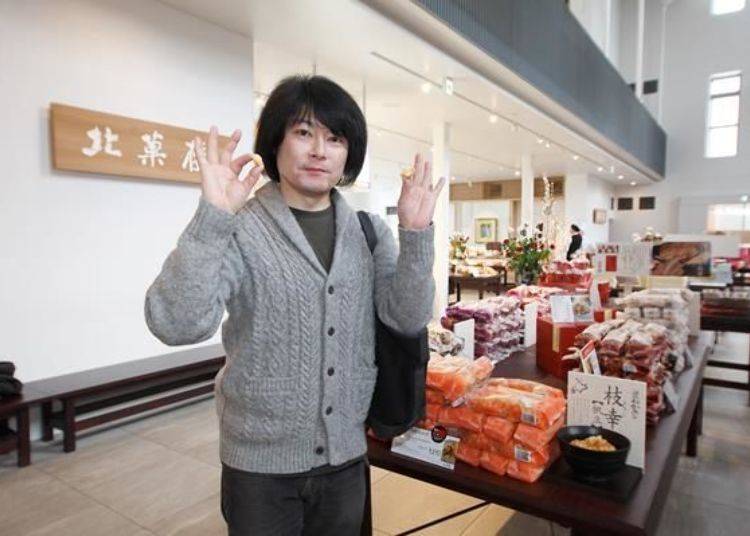 ▲Samples are provided if you want to compare the tastes! Find your favorite!
This time I sampled the "Erimo kelp," "Esashi scallops," and "Mashike sweet shrimp." I could taste the flavors in each one. I could get stuck on these snacks!
Next is this popular classic!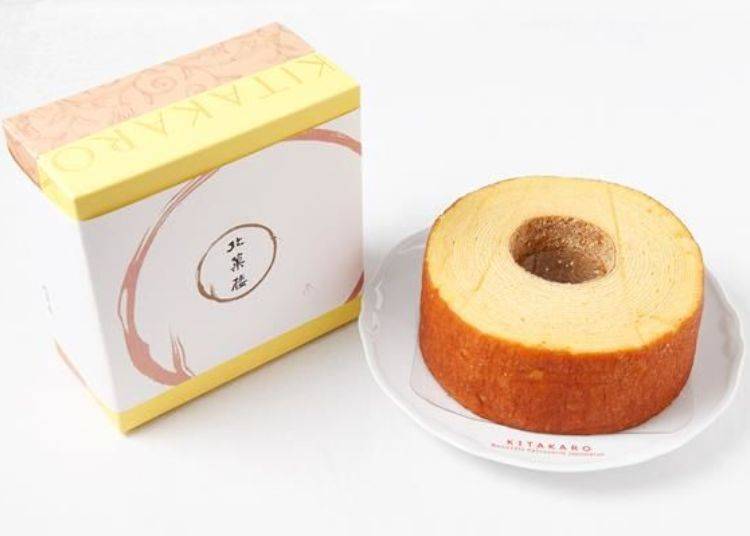 ▲Baumkuchen 'Fairy Forest'. The photograph is of a whole cake with the height of 6 cm for 1, 944 yen. There are also 4 cm 1, 296 yen, and 8 cm 2, 592 yen as well.
Baumkuchen, using cotton flour, fresh cream from Hokkaido, and savory eggs, are hand-baked by craftsmen every time. These have been aged overnight after baking. While maintaining a fluffy texture, it is quite moist. This is a revolutionary taste!
Also check out the limited items of Sapporo Honkan!
Next, let's check out some of the limited items that can only be purchased here.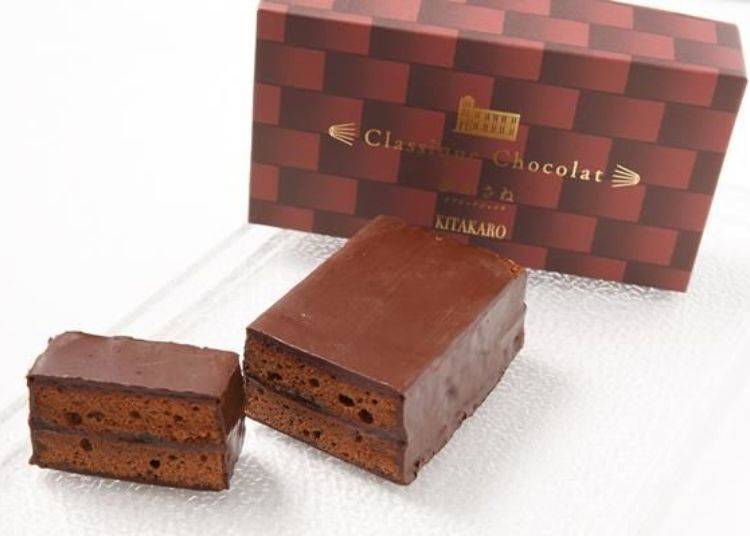 ▲Classic chocolat "A dream come true" 1972 yen
In bitter chocolate, the fragrance of fruity apricot can be sensed. It is a rich chocolate cake with a moist texture. Compatible with dark black coffee!
Here is one more.
▲The Chocolate Sandwich Cookie "Hokkaido Honorary Master Library (Hokkaido Writing Library)" 1 box (20 pieces of Languedoc cookie with 10 chocolates) 1,080 yen
This square chocolate with creamy caramel sauce paired with Lang de Chat Cookies has an exquisite caramel flavor. You may eat separately, or you can sandwich them together for a chocolate cookie, two eating styles available inside one box!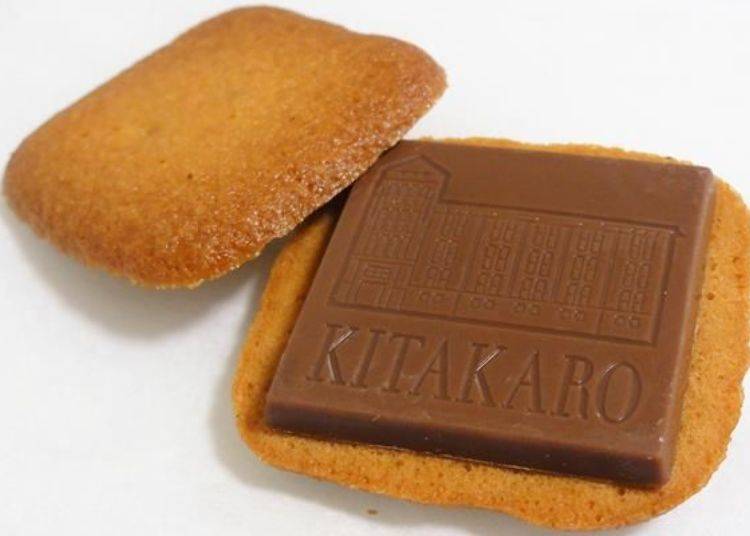 ▲See the design of The Sapporo Honkan exterior right in the chocolate!
Smooth chocolate and crispy cookies that mix for one great taste!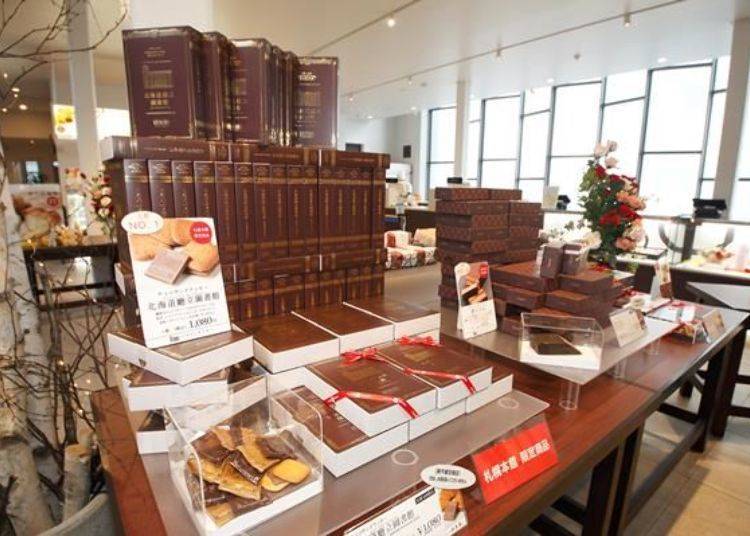 ▲Here you can find these two limited products sold side by side.
Why is this called the "Hokkaido Hospital Library" using difficult kanji?

Read on to see!
This epic building is too beautiful!
The reason: The Kitakarou Sapporo Honkan was used as a part of the Hokkaido agency library commemoration in 1926.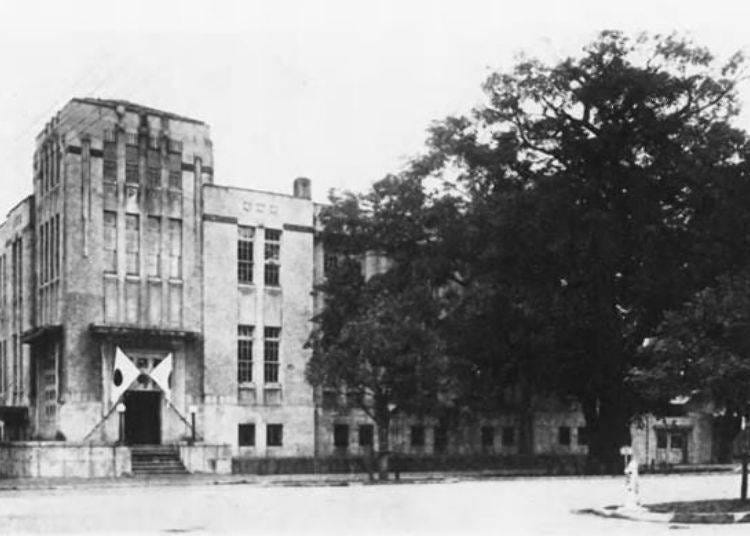 ▲Hokkaido Government Library (Collection of National Diet Library, Photo provided by Kitakaro)
After being used as a library for some time, it was used as an art museum. It was repurposed again and again until recently when it was changed into the Agency for the custodian of administrative documents for Hokkaido.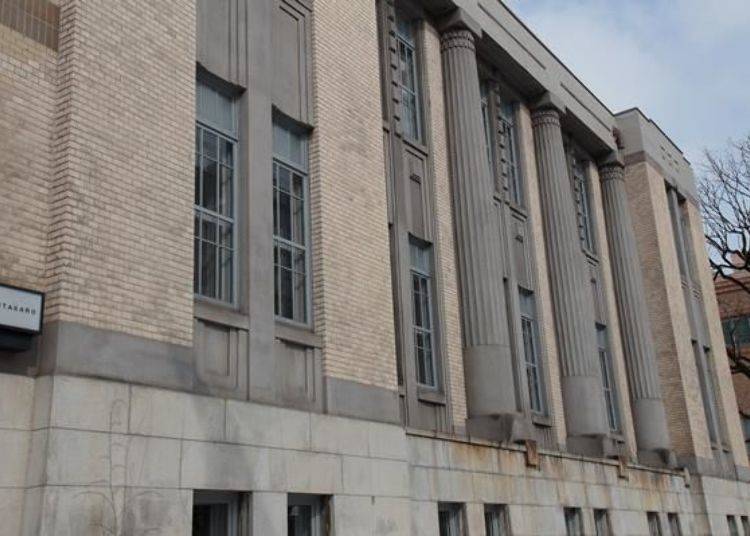 ▲The south side walls are characterized by these giant pillars (pillars spanning the height of several stories)
After that repairs and reinforcements of the walls of the south side and the west side and the old entrance hall were completed. Other parts were demolished from the problem of earthquake resistance, and were newly built with architect Tadao Ando's design. It opened in March 2016 as the Kitakaro Sapporo Honkan.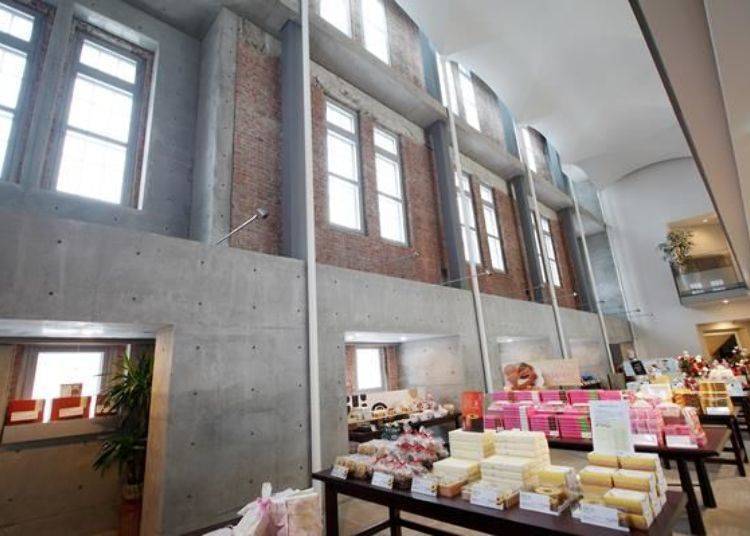 ▲The inner wall on the south side makes use of the old bricks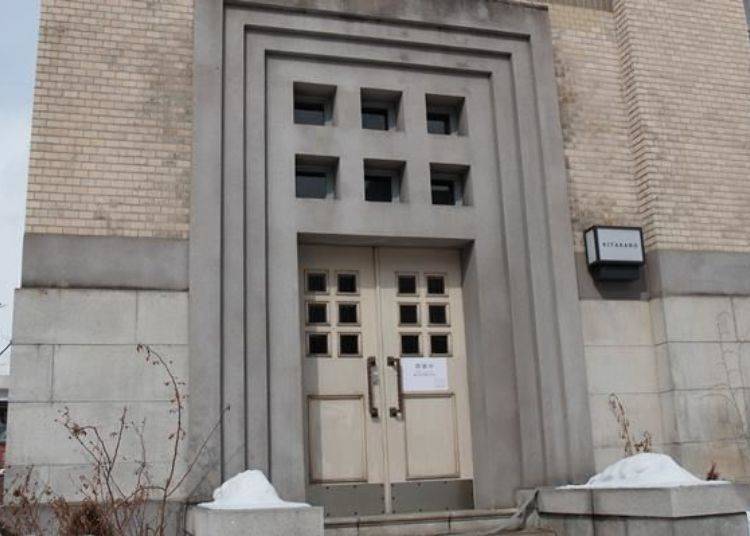 ▲The old entrance is closed but you can see the old entrance and the entrance hall from inside the building
When going to the cafe on the second floor you can use the stairs in the former entrance hall that was made in the Taisho era! This is the perfect spot to get a taste of history!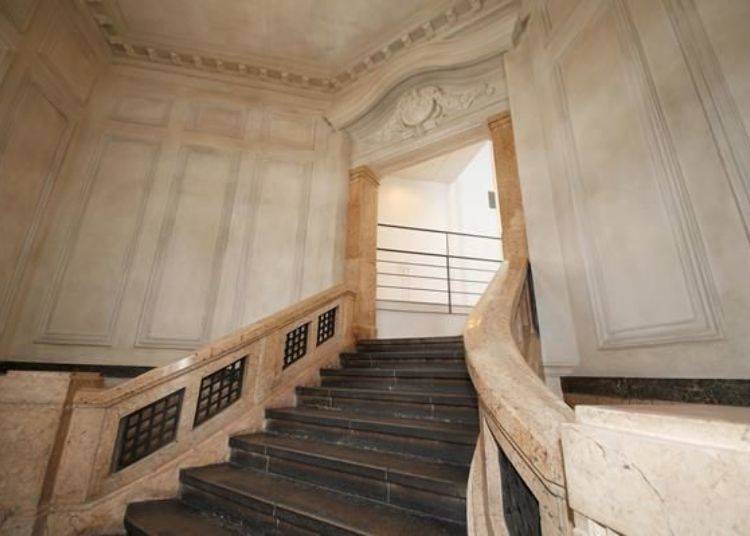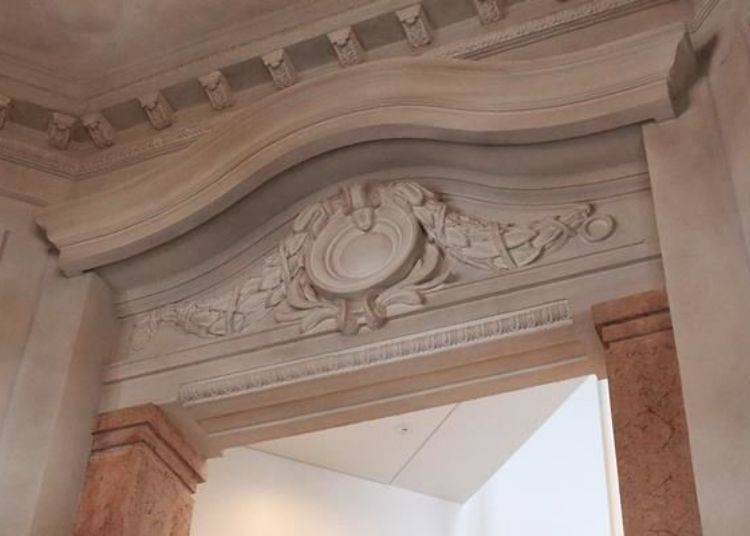 ▲It seems that the design of wheat is meant to represents richness and wealth
▲This design that used a lot of rectangles is based on the style that was popular at the time of construction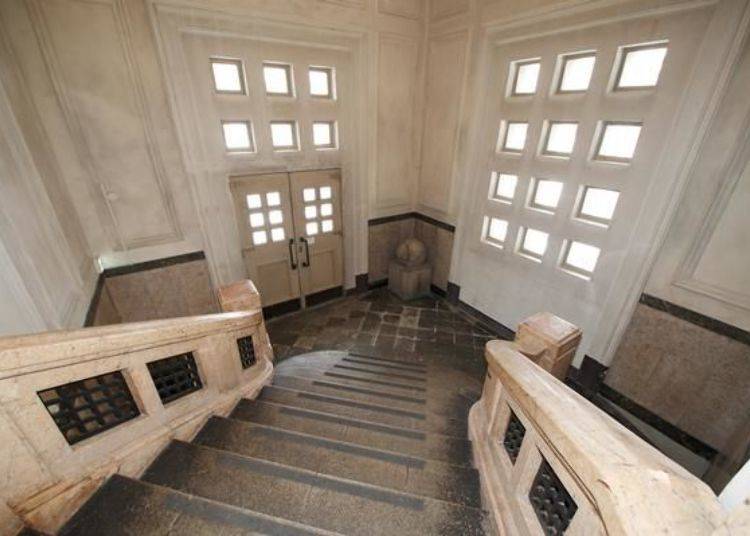 ▲The scenery overlooking the old entrance is great for a photo-op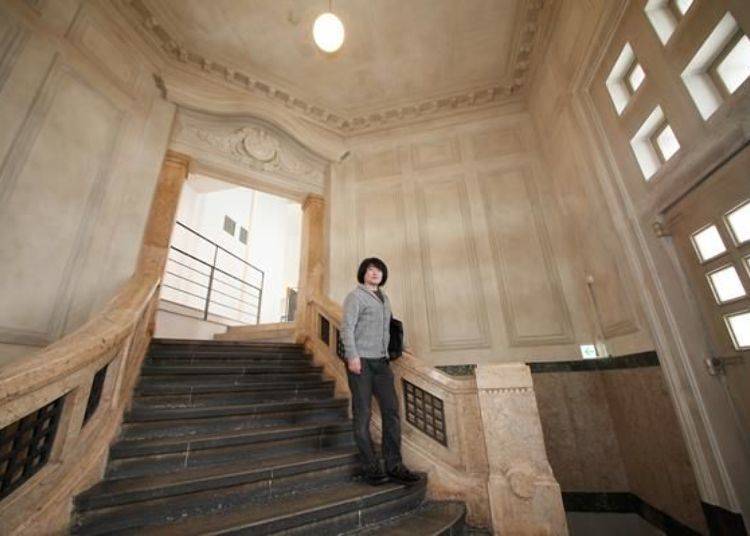 ▲Any picture taken here will make it look professionally done
After showing some appreciation for the building and getting the commemorative photograph, I went to the cafe on the second floor.
It's time to eat and compare Kitakaro creations!
In this relaxing spacious cafe, you can enjoy a cake set and lunch menu giving a sense of luxury during the day.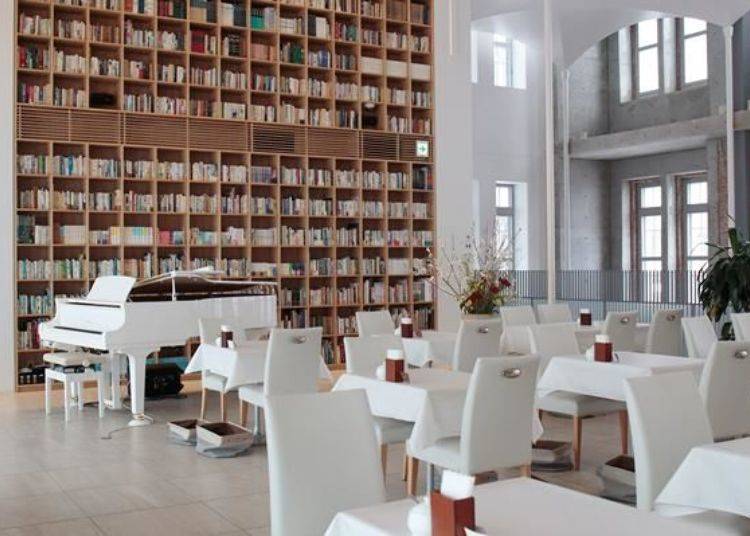 ▲The café on the 2nd floor has wonderful walls that give the image of a library among this pure white space!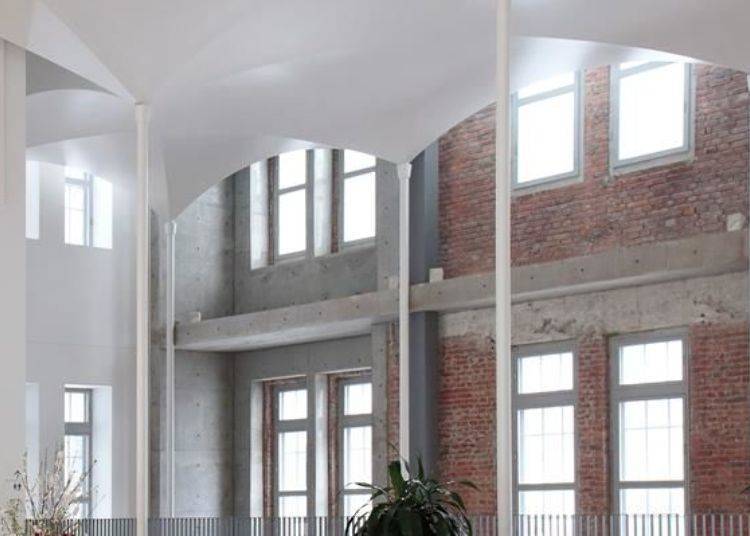 ▲The ceiling is a design used in the medieval European church called Cross Vault. This use of small pillar gives the impression of a spacious hall.
All the lunch menu items are made using Hokkaido's ingredients. I will introduce three of them.

Number One!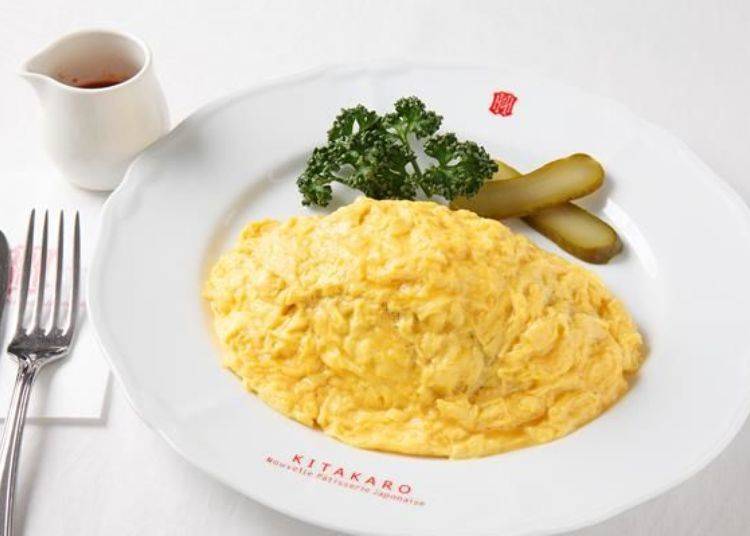 ▲We have the sautéed beef and mushrooms thoroughly seasoned with soy sauce "The Boastful Kitakaro omelet rice" 750 yen
This dish with its meat, mushrooms, eggs and rice, are all fresh local ingredients from Hokkaido. When ordering, you can choose how well you would like your eggs cooked.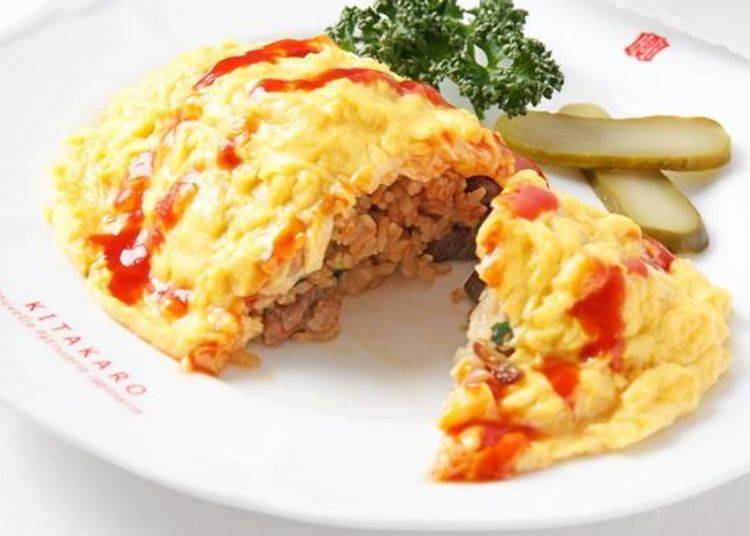 ▲Here we have added ketchup and opened it up to see all the inside goodness.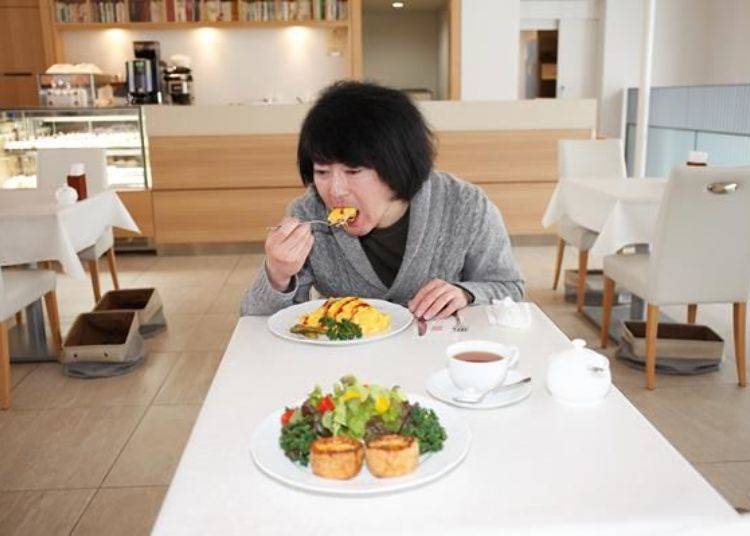 ▲Wow these eggs are fluffy! The soy sauce flavored rice is mellow, with an amazing flavor of meat
Number Two!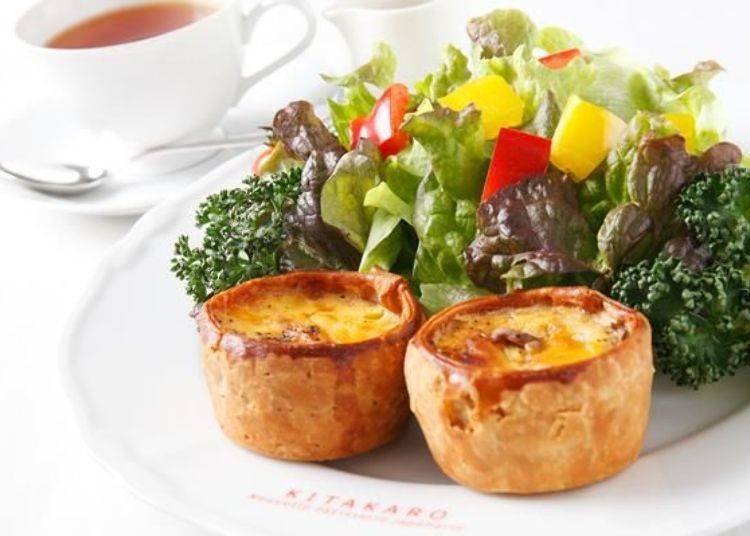 ▲Sapporo Honkan Limited "Quiche" (with coffee or tea) 680 yen
A pie with wheat and butter from Hokkaido is so crispy! The contents of each differ with one baked with bacon & onion, the other containing asparagus and corn in spring and summer, or mushrooms during autumn and winter. It is a dish full of flavors while still being a light menu.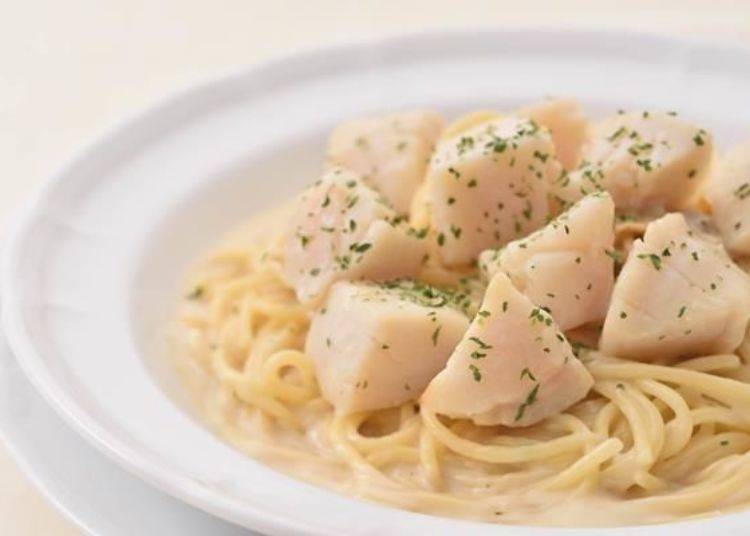 ▲"Scalloped spaghetti" 950 yen (Photo provided by Kitakaro)
Spaghetti served with wild scallops. The scallops have a thick and rich umami flavor that works so well with the cream sauce!

Lastly, let's look at two items off the dessert menu.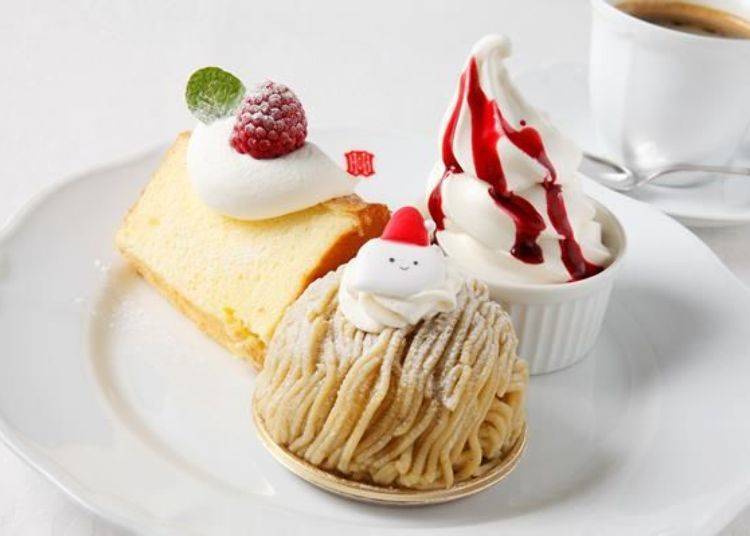 ▲Take a look at this popular "cake set" at the cafe available for 750 yen. Chiffon cake + soft cream + one cake item of your choice + one drink item.
The selected cake in this picture is "Mr. Wagon's Mont Blanc" (350 yen a la carte). Chestnut wrapped in fresh cream creating a firm taste of Japanese chestnut paste, a must for chestnut lovers!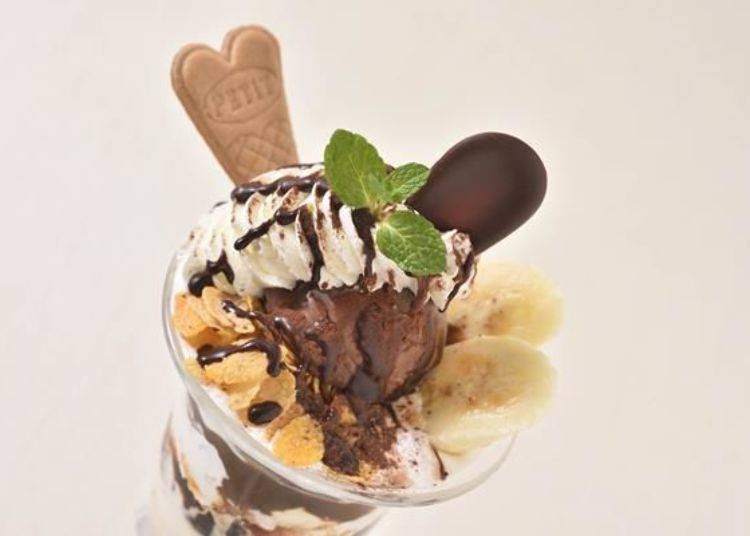 ▲The most popular "chocolate parfait" among several kinds of parfaits 600 yen (Photo provided by Kitakaro)
Served with bananas and chocolate ice cream on top of fresh cream and ice cream overlapping in many layers. This parfait is accented with the presence of the northern candy special, a coffee jelly, for a bitter but wonderful feeling!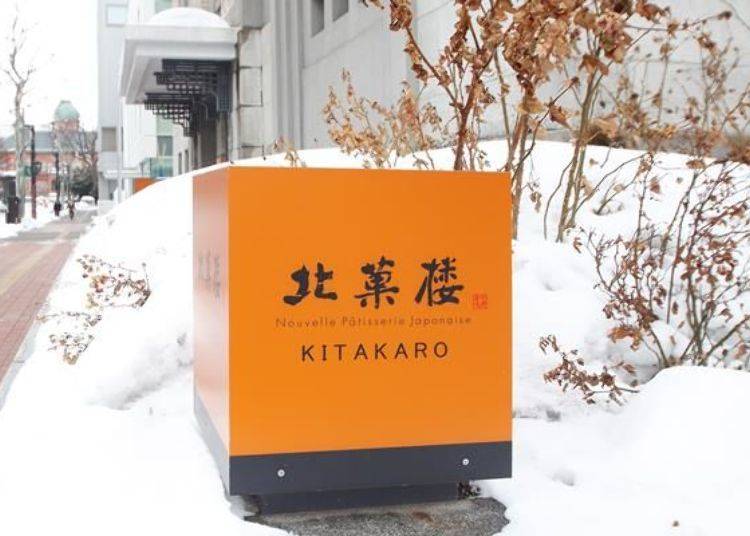 While we have just introduced you to the charm of Kitakaro Sapporo Honkan in full bloom, there are lots of sweets and more we would love for you to see! When entering the shop, there is no doubt that these will be hard to resist. The Taisho era building is also a must-see with its fusion of modern design. Please drop in when you visit Sapporo!
北菓楼 札幌本館

Address

〒060-0001 北海道札幌市中央区北1条西5-1-2/5-1-2, Kita1-jonishi, Chuo-ku Sapporo-shi, Hokkaido, 060-0001, Japan

Phone Number

0800-500-0318

Hours of Operation: 1st floor store 10: 00 ~ 19: 00, 2nd floor cafe 10: 00 ~ 18: 00 (L.O.17: 30) ※ The lunch meal menu is 11: 00 ~ 15: 00
Closed holiday:January 1st
Don't Miss 'Kitakaro L' - The Second Kitakaro Sapporo Store!
KITAKARO L, the second store in Sapporo City, opened April 7, 2018! It is located in front of The Hokkaido Museum of Modern Art, and it can be reached by a three-minute walk after taking Exit 4 of the Tozai Line / Nishi 18 chome Subway Station.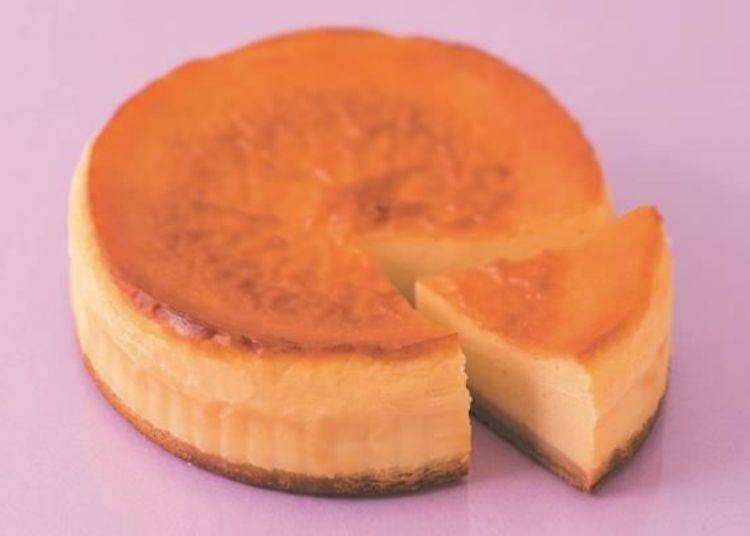 ▲Take a look at this limited time offer! Here you can see the "L Cheese Cake" 1,200 yen (Photo provided by Kitakaro)
The L of "KITAKARO L" stands for laboratory. Based on the technology and experiences cultivated thus far, they are exploring new ideas to give to the world. There is no cafe, but dine-in is available. You can enjoy shopping for these standard items as well limited time sales. After your visit to the Sapporo Honkan, be sure to stop by here as well!
KITAKARO L

Address

〒060-0001 北海道札幌市中央区北1条西17-1-1/17-1-1, Kita1-jonishi, Chuo-ku Sapporo-shi, Hokkaido, 060-0001, Japan

Phone Number

011-555-3737

Hours of Operation: 10: 00-19: 00
Closed: January 1
※ All prices and fees in the articles are tax inclusive

Written by : Nobuhiro Kawashima
*This information is from the time of this article's publication.
*Prices and options mentioned are subject to change.
*Unless stated otherwise, all prices include tax.