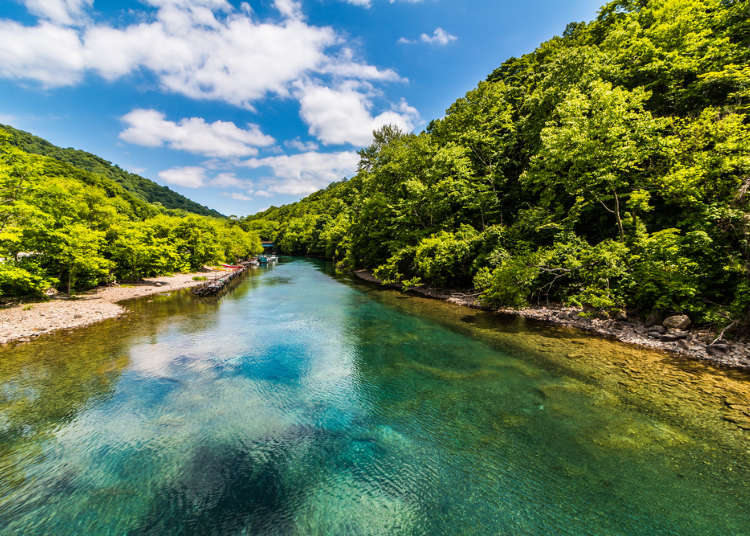 Hokkaido is also a popular resort area during summer and local residents are busy with leisure activities especially suited to summer!

Here is how you can be fully prepared to enjoy the attractions of Hokkaido in summer.
Hokkaido Summers are Refreshingly Mild! The Most Comfortable Place to Spend Summer in Japan
Much of Japan cannot escape the rain in summer with the arrival of the rainy season, sudden downpours, and towering thunderclouds. However, on the other side of the Tsugaru Straits refreshing breezes blow under a broad, blue sky. Summer is the best season for sightseeing in Hokkaido because of the low, comfortable temperatures and excellent weather.

In addition, other regions in Japan continue to have a summer-like climate from June to September, but it really only feels like summer in Hokkaido from the end of June. From about the middle of August onwards the weather increasingly becomes fall-like. Summers are short in Hokkaido, but offer many different attractions, and how you choose to enjoy them is up to you.
Enjoy Leisure Activities in the Great Outdoors
The primary attraction of Hokkaido is its tapestry of natural scenery. Hokkaido, which is surrounded by the sea on all sides, has a variety of coastlines from beautiful sandy beaches to cliffs and rock formations. In particular, the Shakotan Peninsula, which protrudes to the west of Hokkaido, has a beautiful blue sea called "Shakotan Blue" and magnificent steep cliffs. Between June and August sea urchins are a summer delicacy.
Clear, beautiful waterfront scenery can be enjoyed at lakes, rivers and valleys. Hokkaido is blessed with highly transparent lakes, such as Lake Shikotsu and Lake Mashu, where many people enjoy leisure activities such as canoeing and boating. There are many spots for mountain stream fishing, and Hokkaido residents spend the summer enjoying outdoor activities to their hearts' content
Enjoy Gorgeous Summer Flowers in Hokkaido's Northern Regions!
In Hokkaido, especially in the cooler northern and eastern regions, wild flowers are in bloom everywhere during the short summer. In Rebun Island, which is called Flower Island, and in Sarobetsu and Koshimizu there are primordial flower gardens; here you can see precious natural flowers that can only be seen in Hokkaido.

This is the season when flowers can be enjoyed both in cities and farming communities. Broad fields become carpeted in bright colors such as the lavender fields in Furano in early July and the sunflower fields in the town of Hokuryu in early August. Then there is the Hokkaido Garden Highway along which there are eight beautiful gardens alive with blossoming flowers in the months of June and July that make them very popular.
Unspoiled nature is of course beautiful, but it is the landscapes of rural areas that capture the hearts of many people. Here are lush paddy fields and meadows filled with the simple blooming flowers of potatoes and buckwheat, patchworks of different colors from the crops planted in them. Biei is typical of these beautiful villages known for their beautiful and pastoral landscapes which can be seen in all areas of Hokkaido.
Enjoy Local Hokkaido Produce in Summer!
In many rural areas there are direct sales places and markets that sell fresh produce. Some places sell boiled corn freshly picked that morning as well as delicious dishes made with agricultural products. Summer is especially a wonderful time to visit directly owned farm restaurants to savor delicious vegetables. And don't forget the soft ice cream made with fresh milk from the farm. There are so many varieties of delicious dishes available that going about sampling them all is delight in itself.
Sapporo is a Beer Town - Don't Miss the Beer Gardens!
There is one thing that can only be enjoyed in the summer in Sapporo. And that is beer gardens. The Sapporo Odori Beer Garden, which is held in Odori Park, is especially popular as it is able to seat more than 10,000 visitors. This large-scale venue hosts both local residents and visiting tourists who enjoy mingling together and sharing a good time over nice cold beers. Between July and August the city is like one large beer garden where commercial facilities in Soseigawa, in front of Sapporo Station, and elsewhere also have their own beer gardens.
Temperatures and Weather in Hokkaido Vary from Region to Region
The one thing you need to keep in mind when visiting Hokkaido in the summer is that the weather will vary from one area to the next. Many areas including Sapporo, Asahikawa, and Hakodate have many days where the temperature exceeds 25° C in July and August, but the weather on the Pacific side is cooler because of fog caused by the cold Pacific Ocean current. Temperatures on the north side tend to be low.

What makes the weather in Hokkaido unique is that it can be sweltering hot in the day time but in the evening the temperature drops and remains quite low right up into the next morning. In June and late August, depending on the weather, there are days when the maximum temperature does not reach 20° C. From the end of August autumn begins to arrive and with it come typhoons and heavy rains, so it is best to set your itinerary so as to avoid times when the weather is less inclimate.
What to pack for Hokkaido in Summer? Plan according to the weather you expect to encounter when you visit
When traveling to Hokkaido, be prepared for temperature differences between mornings and evenings, so the general rule is to pack an extra article of clothing and even in summer you should always make sure to have a cardigan or jacket. During the day time the sun also is quite strong, so a hat, sun glasses, and UV cream are also recommended.

Comfortable walking shoes are also recommended as you are likely to do a lot of walking in the summer. Sneakers are especially good because in many places you can rent bicycles for getting around.

If you want to enjoy the outdoors comfortably, remember to bring along long-sleeved shirts, trousers, long socks, rain gear and trekking shoes. And if there are special activities you wish to do, check beforehand to see if you need to prepare any special items to bring with you for them.
Text : minna no kotoba sha
*This information is from the time of this article's publication.
*Prices and options mentioned are subject to change.
*Unless stated otherwise, all prices include tax.