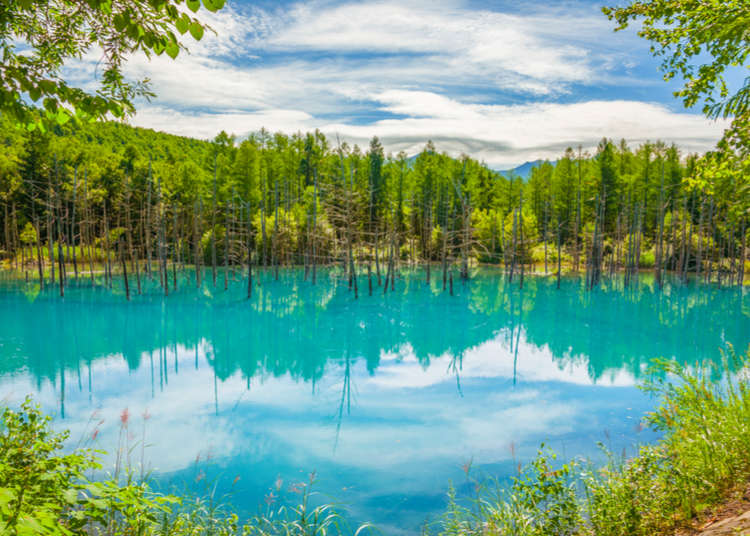 Furano and Biei in Hokkaido are areas offering majestic rural landscapes and fields of flowers to enjoy. Sights like the Patchwork Road (Patchwork no Michi) and Shirogane Blue Pond (Aoiike) will leave you breathless.

Here we'll share 5 things to do in Furano and Biei Hokkaido that you can't miss!
▲Furano and Biei Hokkaido have many picture-perfect areas that you'll want to visit for Instagram!
1. Biei Town's Patchwork Road: Everything is perfect for a picture!
Speaking of Biei Town, this is the landscape!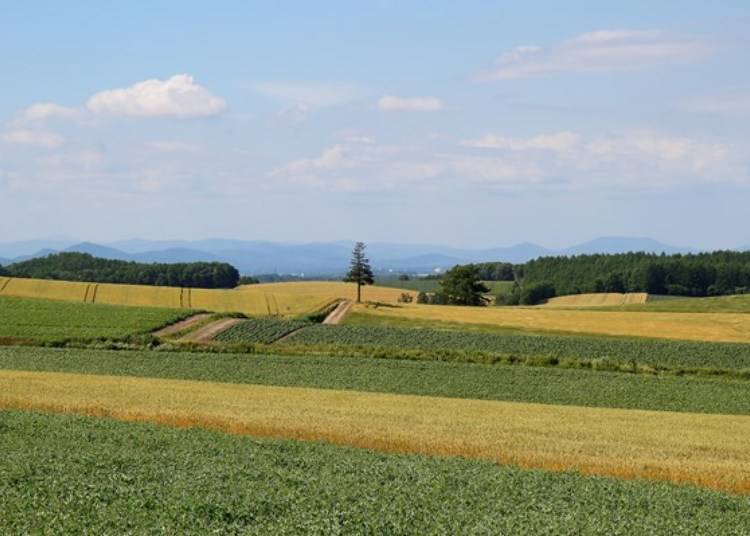 Never-ending rolling hills. The hilly areas are filled with fields and meadows, with the various flowers and crops creating a patchwork pattern. The road that goes through the hills is called Patchwork Road.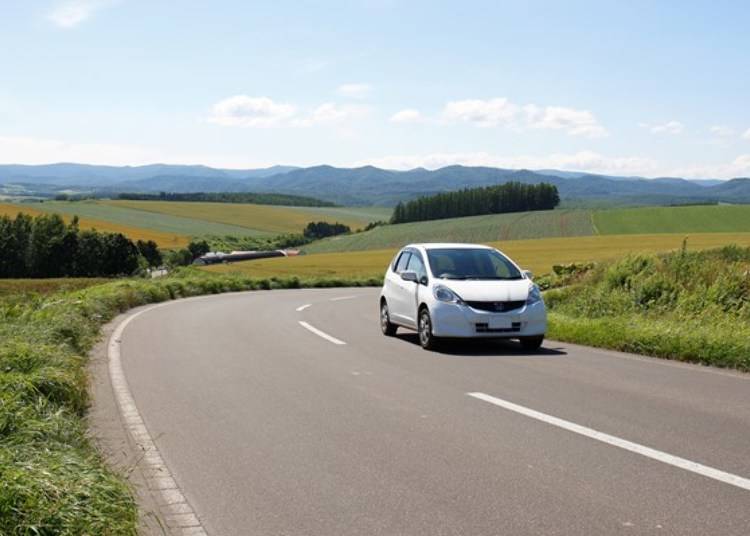 Patchwork Road is a playful name that points to not only to a single road, but the many ones wind through the hills. The majority of these roads are used by the local farmers for their work. The wonderful scenery, picturesque farms and trees are mostly private property owned by the farmers.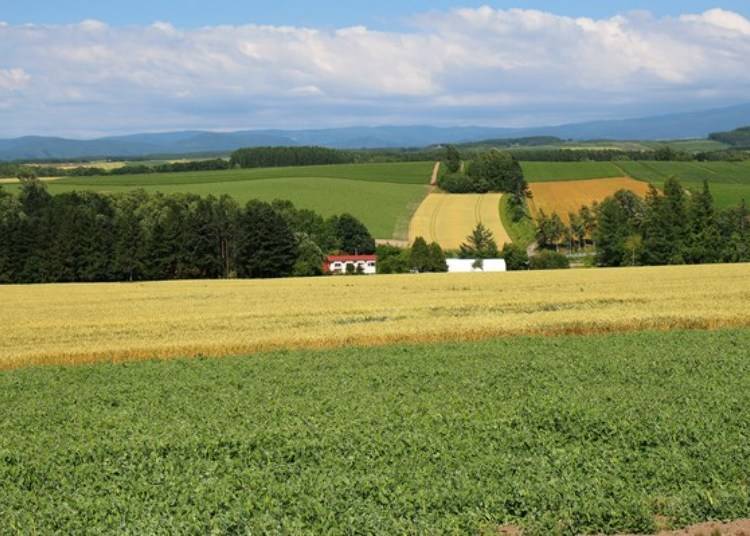 With such a beautiful landscape, this area is used in T.V. commercials frequently. With the recent surge in tourists, some thoughtless people would enter the farms and take pictures. Now there are parking areas in specific scenic points with information boards.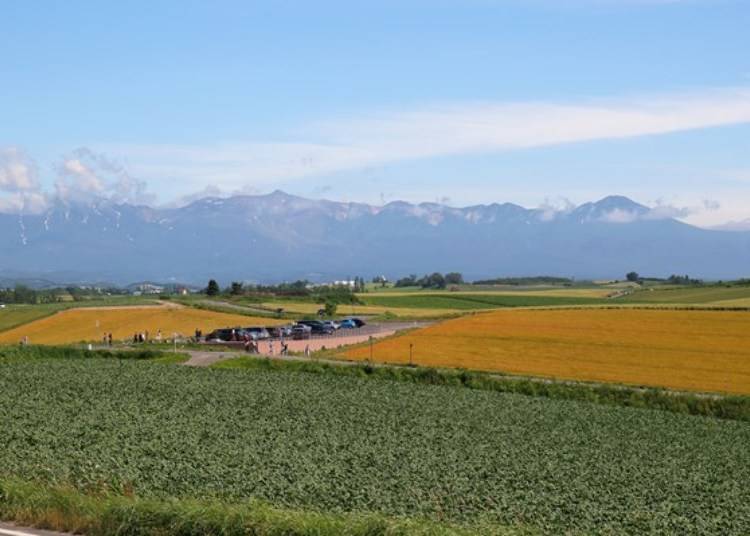 ▲The parking area built near the popular scenic spot Seven Star Tree
The following locations have parking and information boards—making perfect spots for snapping pictures and taking in the view!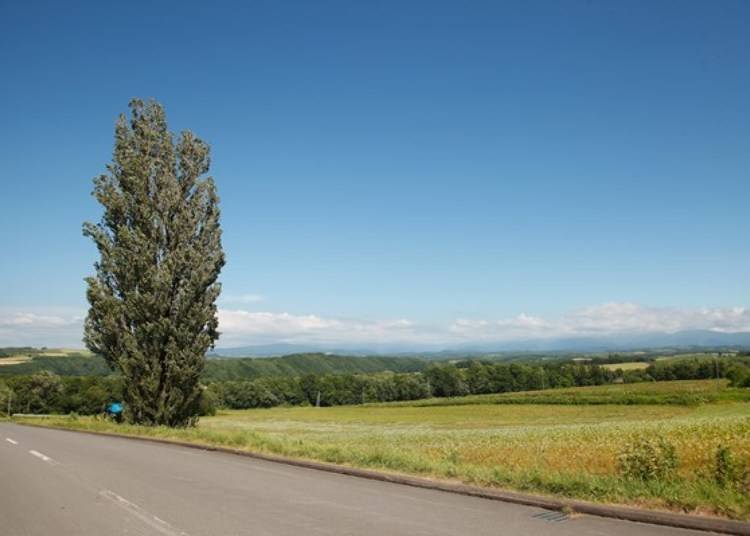 ▲Tree of Ken and Mary. This lone poplar tree was used in a car commercial and became famous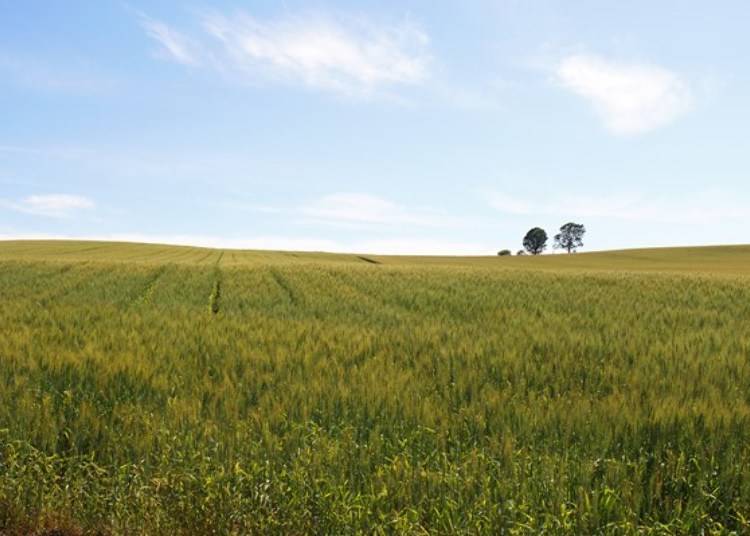 ▲Looking from afar, the 3 Japanese emperor oak trees (Kashiwa) look like a family and was named Parent & Child Tree (Oyako no Ki)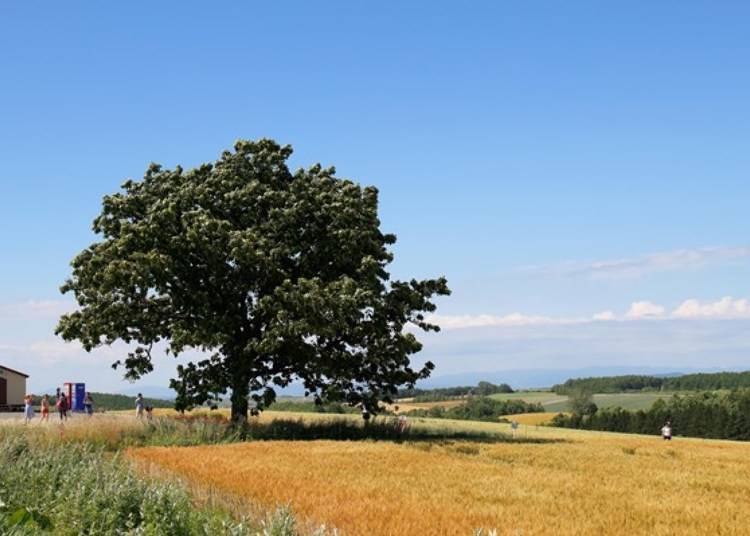 ▲This Japanese emperor oak tree was called Kitaei's Lone Tree. After it was used on a cigarette package, it is now called Seven Stars Tree.
With the seasonal changes and crops growing, the color of the hills change from green to gold. Also every year different crops are planted so the coloring of the patchwork changes dynamically from year to year.

The landscape you see now can only be enjoyed at that moment! One of the attractions of Patchwork Road is not being able to see the same landscape twice. These magical picturesque vistas are waiting for you here to discover.

*Please view scenic spot details at the Biei Tourism Association website.
Address

Hokuei, Biei-cho, Kamikawa-gun, Hokkaido, 071-0200
View Map

Nearest Station

Biei Station (Furano Line)
5 minutes by car


Phone Number

0166-92-4378
2. The Majestic Shirogane Blue Pond in Hokkaido: A Postcard-Perfect Picture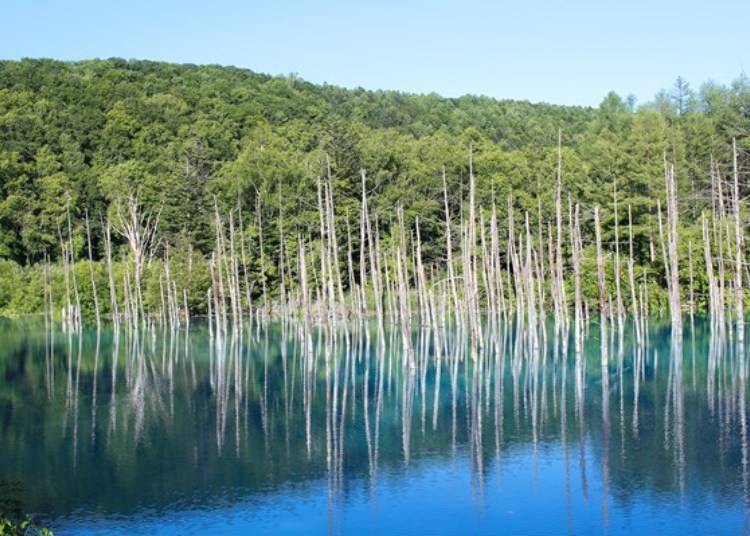 Aoiike - Shirogane Blue Pond - is located near Shirogane Onsen in Biei Town. The blueish white surface and withered white birch forest—this natural breathtakingly majestic sight is now a popular tourism site. There is parking space at the Blue Pond, however, bear in mind that the site itself is in the middle of a natural setting without shops, restaurants, and restrooms.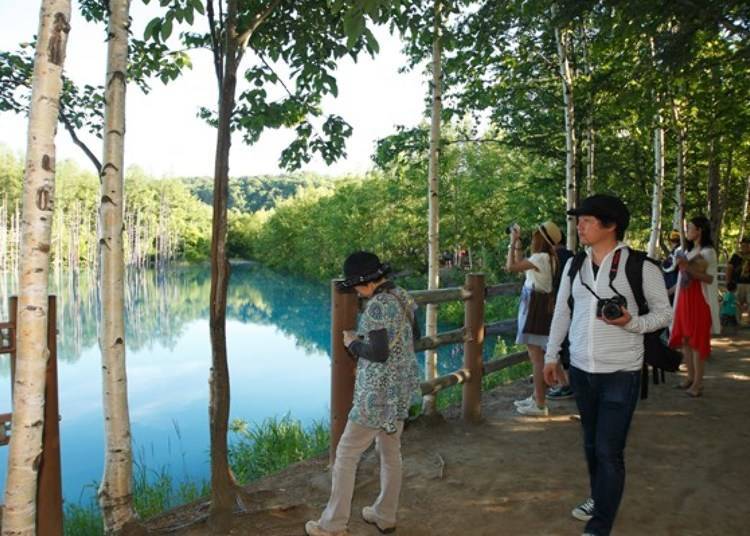 ▲On the banks of the pond there is a white birch path with many visitors taking pictures
Why does the surface look blueish white?
There isn't a clear answer, however, they say the reason for the occurrence can be found at the Shirahige Waterfall (Shirahige no Taki), about a 5 min drive from the Blue Pond.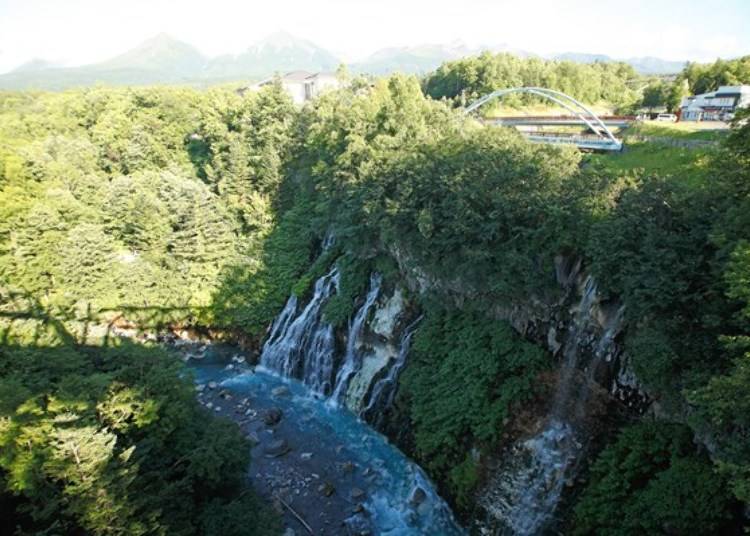 ▲Behind the Shirogane Hot Spring area, Shirahige Waterfall flows into Biei River
A small river called Iouzawa River is located upstream of Biei River and contains a variety of minerals such as aluminum. When the minerals merge with Biei River and Shirahige Waterfall, a colloid is created. It is said that when this comes in contact with sunlight it reflects a blue light to the human eye. This blue water from the river flows into the pond.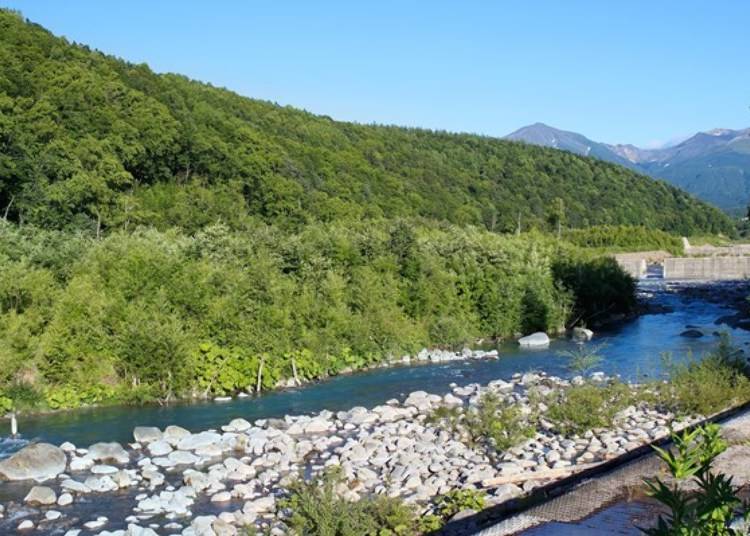 ▲Behind the Blue Pond, Biei River's water also looks blue. This area is also called Blue River
Strangely, Shirogane Blue Pond is not a pond or a lake - rather it is just a pool of water!

Like the Patchwork Road, Shirogane Blue Pond was not created for tourism. It was created by chance when disaster prevention work was being conducted for the active volcano Mt. Tokachi located behind the Shirogane hot springs.

The story behind the fabled Shirogane Blue Pond in Hokkaido is actually quite humble. In 1988, Mt. Tokachi erupted, and to prevent mudflow damage, in the following year a dam was built on the Biei River. Since the dam was built deep into the white birch forest, water flowed deep into the forest, withered the trees, and created a pool of water behind it.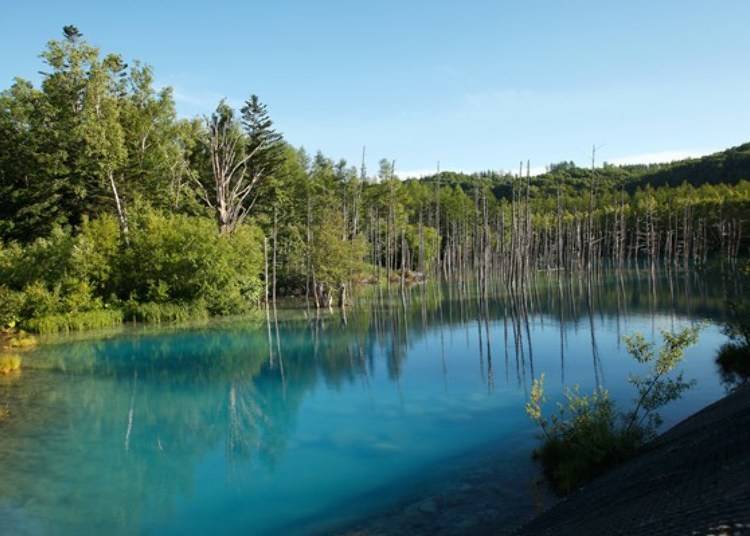 ▲There is a pathway above the dam. The steep sloped dam continues to the water surface
This area wasn't known for a long time, however, in the 2000s it spread through word of mouth from photographers. In the 2010s the information spread on to the general public. It became a major tourist destination due to Facebook and other social networking sites in recent years and for being used as one of Apple's wallpapers.

During the holidays there are major traffic jams in the parking area. We recommend you visit early in the morning.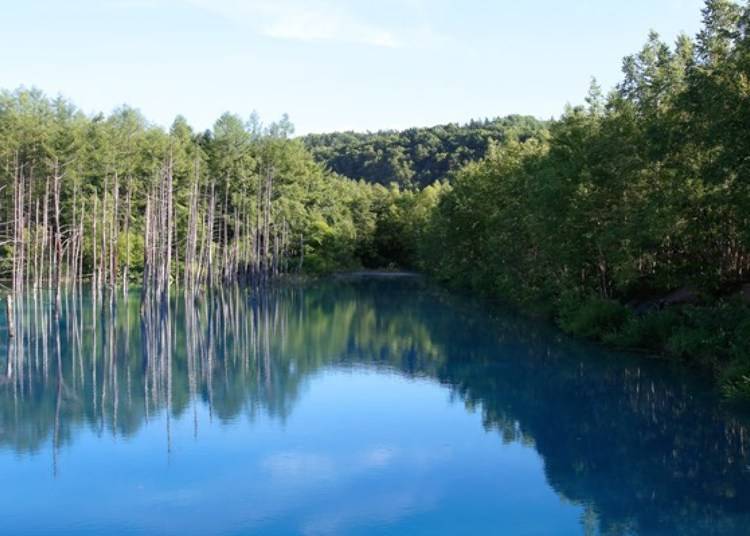 ▲On the day of our visit, it looked like a blue mirror
The color of the Shirogane Blue Pond slightly changes with the angle of view, weather and season. What color will it be when you visit? Let's head on over and take a look!


Hours: after snow thaw to before snowfall (last year: from Golden Week (April 29th to May 5th) to around mid-November)
Free to visit
Closed during the winter except for illumination events.
3. Shikisai-no-oka Panoramic Flower Gardens: Colorful fields of flowers sprawling throughout the hills!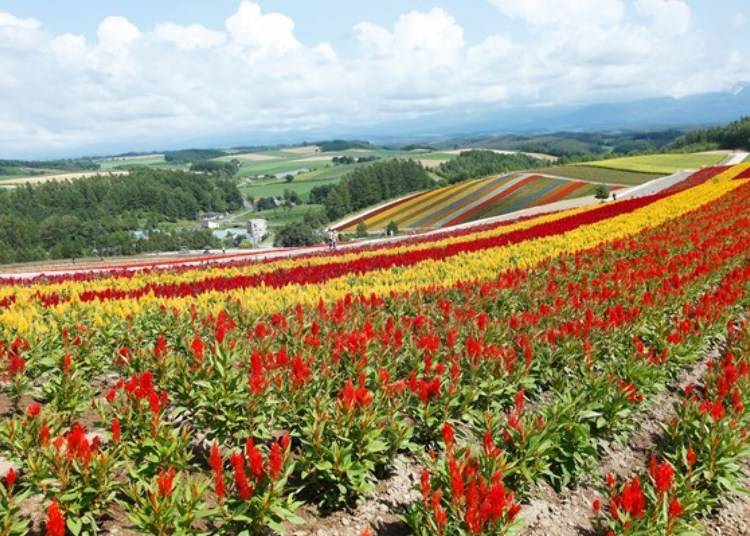 Fields of flowers that continue to the end of the rolling hills. This colorful vivid carpet landscape can be seen at Panoramic Flower Gardens Shikisai-no-oka in Bibaushi, Biei Town.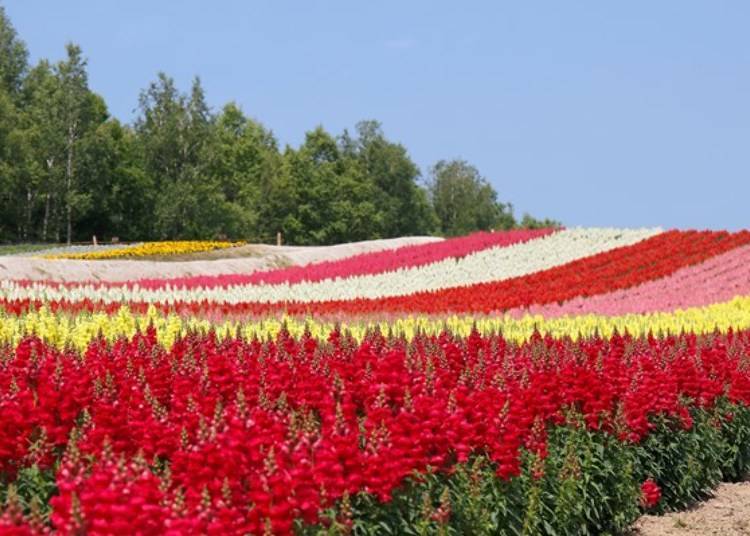 ▲View in July. Flowers are aligned in a striped pattern and are very pretty!
The main attraction is the fields of flowers sprawling across the hills! The vast 15 hectare fields of flowers has various flowers in bloom from early May to early October. Peak bloom is from the end of June to end of August. A view of the real "Flower Paradise" can be enjoyed here.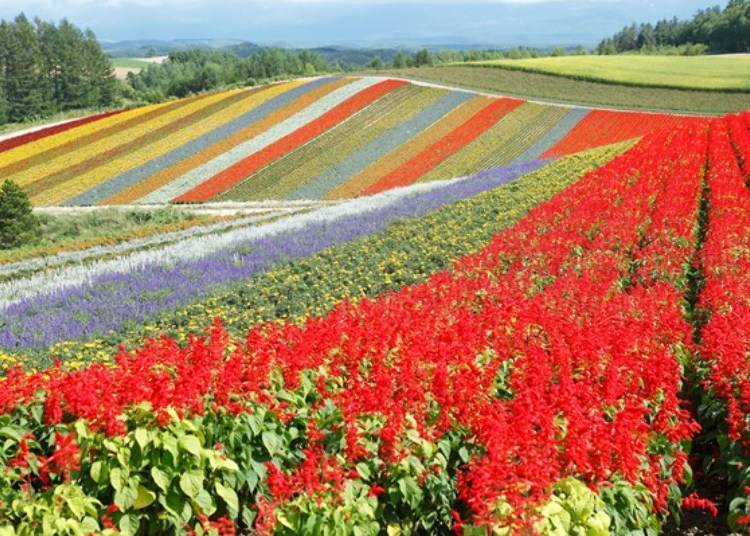 ▲View in mid-August. A classic view where striped pattern flowers can be seen faraway
It is possible to walk around the flower fields, but we recommend riding the passenger cart hauled by the tractor Norroko or golf carts.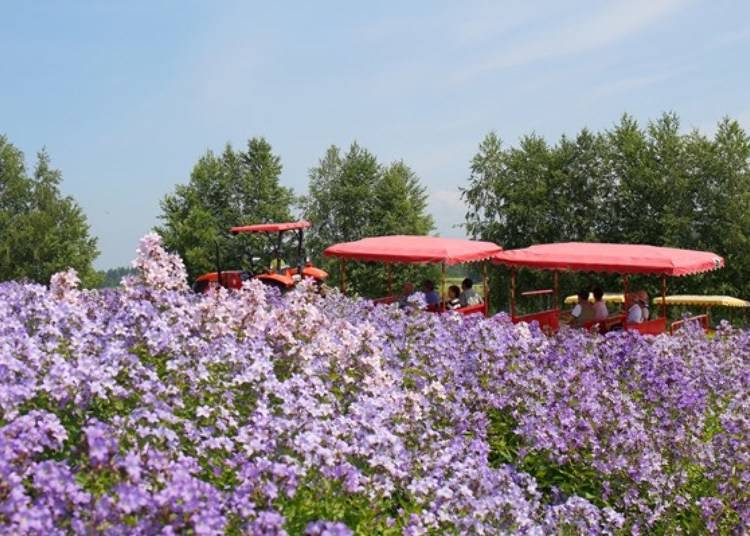 Norokko tours around the garden for 15 minutes. The relaxing ride offers great view of the hills and mountains of the Daisetsuzan Volcanic Group. Also the ride stops by a great location for photos during the tour.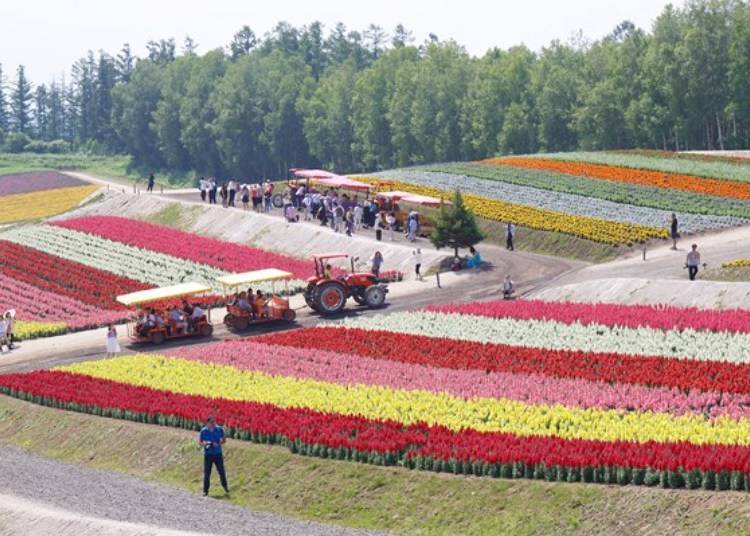 ▲Norroko moving through the fields of flowers. The boarding fee including tax costs 300 yen for elementary and middle school students and 500 yen for high school students and above
Meanwhile, the golf carts seat 4 and you can freely travel through the area. A very enjoyable experience being able to drive yourself to where you want to go in the fields of flowers! We recommend this to people who want to look around at their own pace.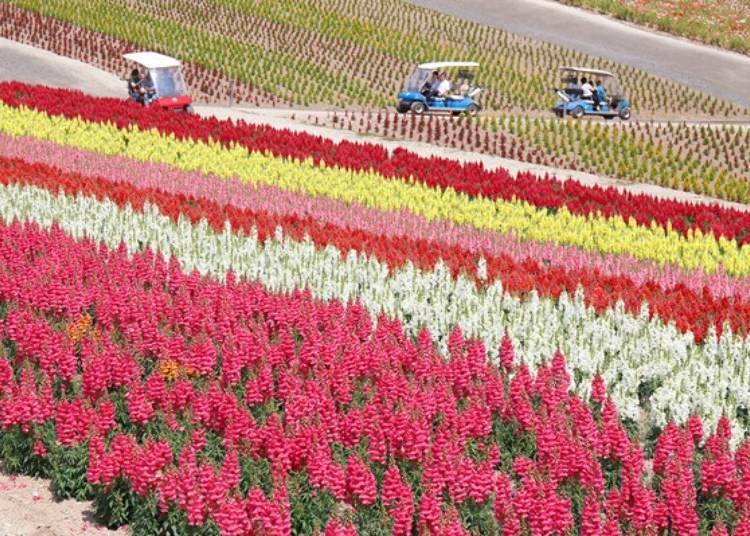 ▲Golf carts you drive yourself. 2,000 yen (tax included) for 15 minutes.
Also a very popular location for kids is the alpaca ranch. It is a spot where families can enjoy.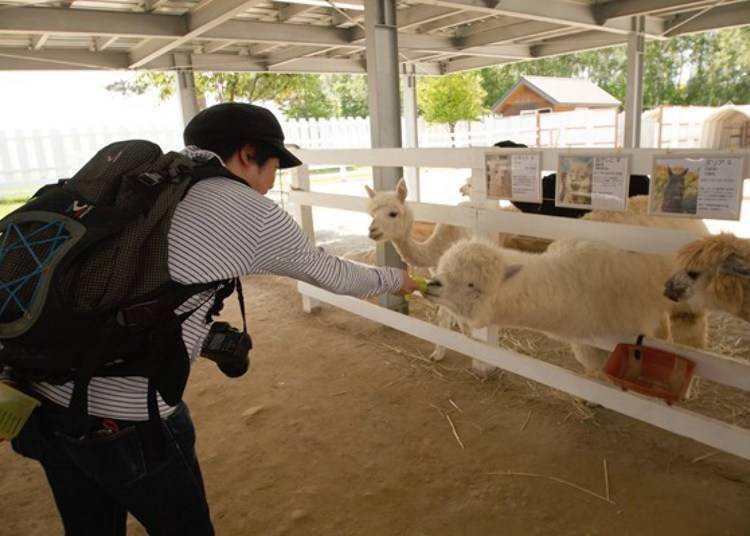 ▲You can experience feeding these cute alpacas! Entry fee 500 yen for adults, 300 yen for elementary and middle school students, alpaca food 100 yen (tax included for all fees)
Would you like to gaze upon the flower carpet while being wrapped in good fragrances of flowers? There are many locations for photogenic opportunities.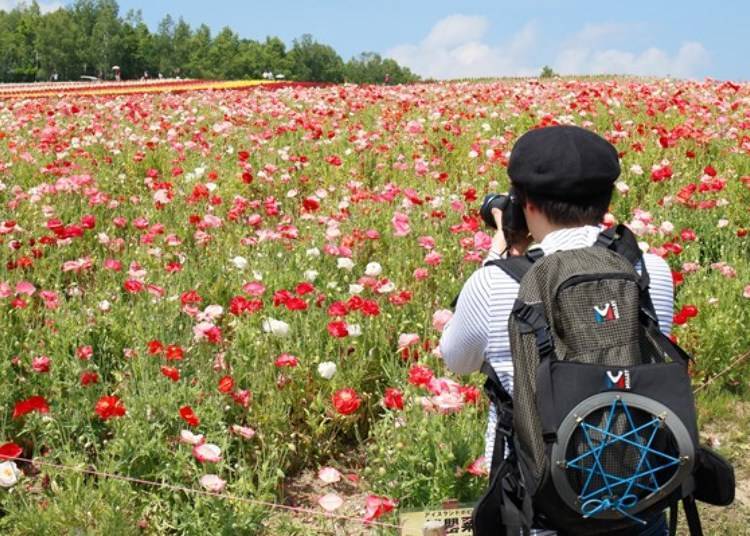 Hours: April to May and October, 9:00 a.m. to 5:00 p.m.; June to September, 8:30 a.m. to 6:00 p.m.; November and March, 9:00 a.m. to 4:30 p.m.; December to February, 9:00 a.m. to 4:00 p.m.
Closed: Always open
Entry Fee: Free, however there is an optional 200 yen donation per person for maintenance costs of the flower fields
Address

The Shinsei, Biei-cho, Kamikawa-gun, Hokkaido third, 071-0473
View Map

Nearest Station

Biei Station (Furano Line)


Phone Number

0166-95-2758
4. Farm Tomita: Famous for its Hokkaido Lavender Field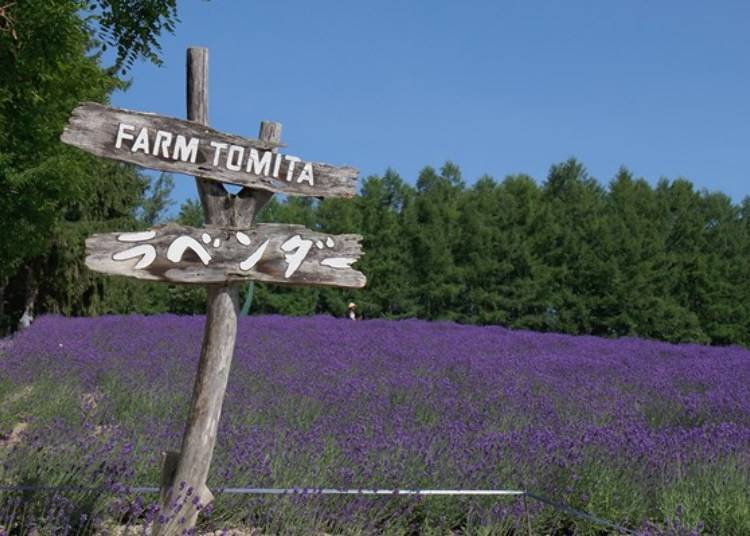 On the way to Furano City from Biei Town is Farm Tomita in Nakafurano Town. It is the location for the very famous Lavender Field.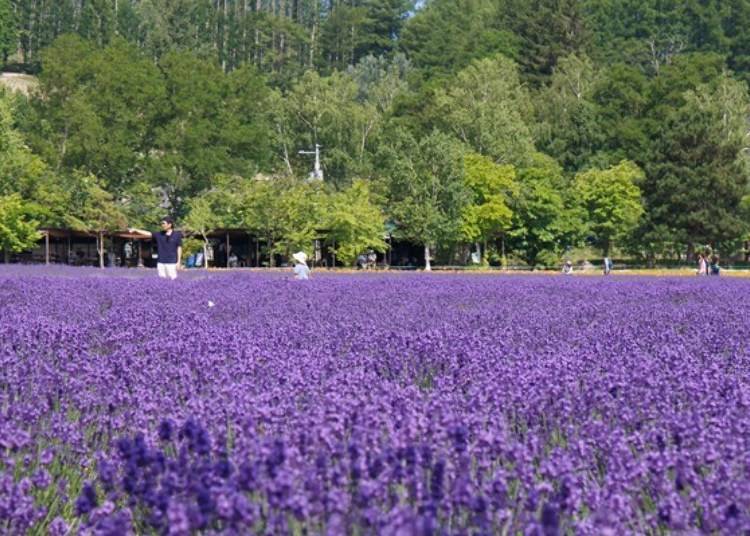 Lavender bloomed in July last year, the best time to visit is during the 10 days from mid-July to the end of month. During this time visitors from around the world come and there is a long line waiting for parking during the day.
Even if you come during the non-lavender season you will not be disappointed. The farm has various flowers planted and beautiful scenery of fields of flower can be enjoyed.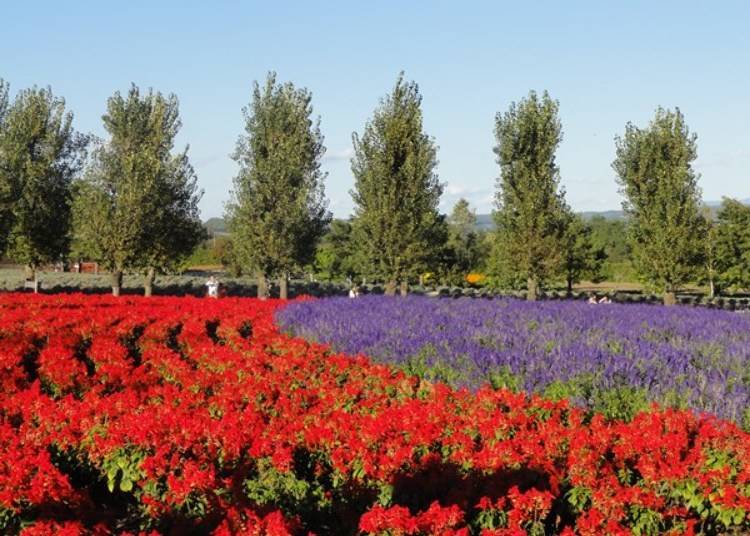 ▲Scenery from early October. The coloring of the trees indicate the start of the autumn color season (koyo season)
In the Furano region, lavender farming was active for raw ingredients used in perfume. However given the rise in overseas lavender production and synthetic fragrances, domestic lavender farming declined. Farm Tomita became the last lavender farm in the region.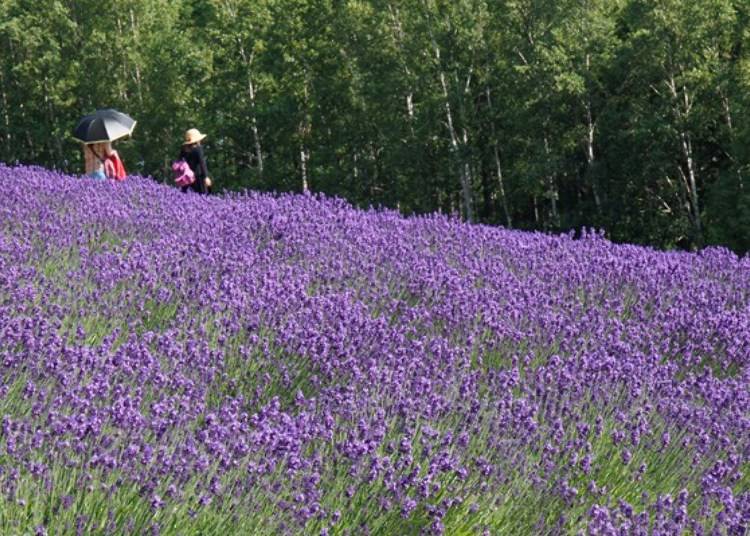 ▲Traditional Lavender Field. This field started to gain attention and help transform the farm into a famous tourist site.
When they thought about abandoning lavender farming in 1976, a picture of Farm Tomita was used in a Japanese National Railways calendar. The stunning view of the purple hill gained attention and many photo enthusiasts flooded over the area. Ever since, tourists constantly visit and it became a world-famous site.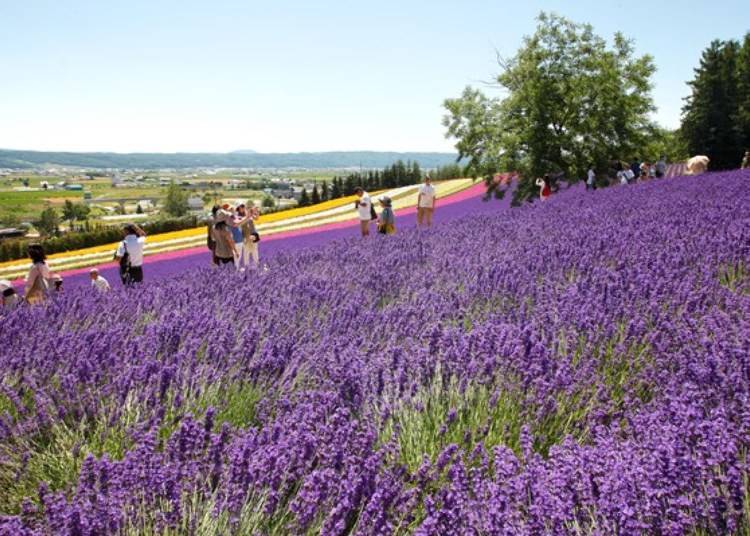 You can enjoy shopping for lavender products and food while admiring the field of flowers. There are many shops and cafes such as the Potpourri House and Flower House. Visiting these locations is part of Farm Tomita's charm.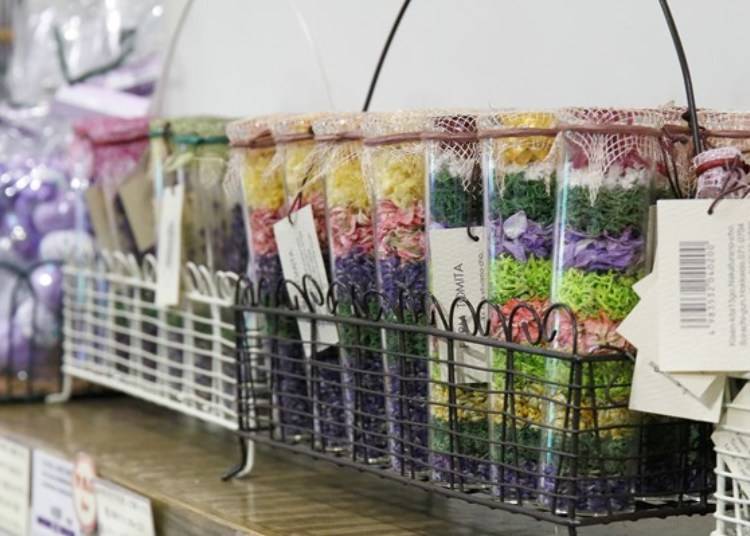 ▲Shopping for potpourri made from harvested lavender is part of the fun!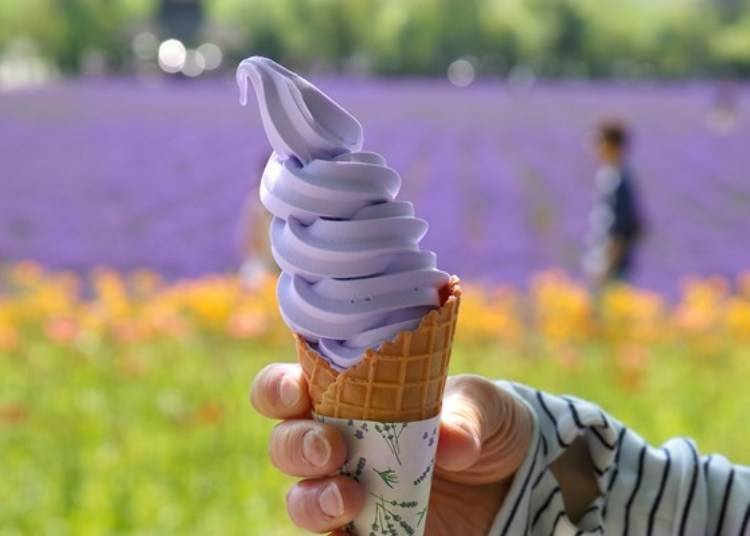 ▲A must-eat is the soft-serve ice cream (300 yen, tax included)!
Farm Tomita doesn't have an entrance fee or parking fee. You can enter and leave freely! One of the charms is being able to see the flowers when you want. It is also possible to stop by early in the morning to avoid the crowd.

Many people touring the Furano region stop by Farm Tomita. It is a wonderful location that makes you want to stay the whole day taking pictures.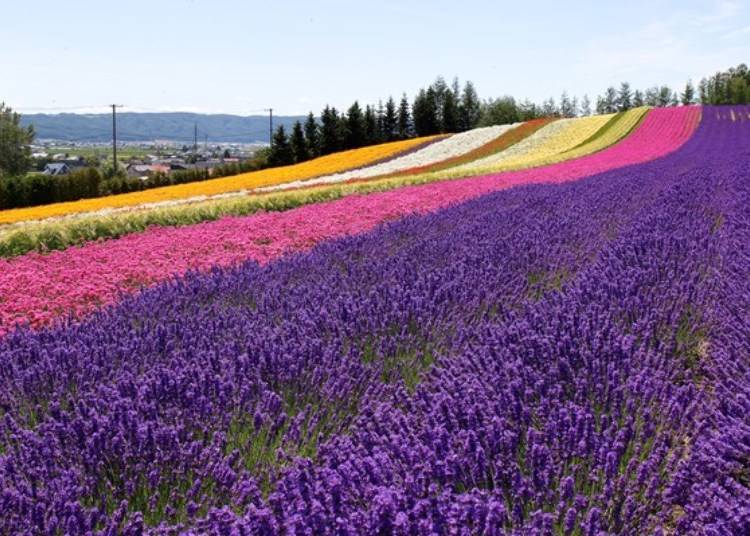 Hours: 2018 planned for normal business hours (December to March will be operated under the "Winter Season")
Free to enter and exit
Closed: Will not close during the lavender flowering period
*Each shop and café has different schedules throughout the season. Please check for details at the web page.
Entrance Fee: none
Address

15, Kisenkita, Nakafurano-cho, Hokkaido, 071-0704
View Map

Nearest Station

Naka-Furano Station (Furano Line)


Phone Number

0167-39-3939
5. Ningle Terrace: Craft shops scattered throughout the forest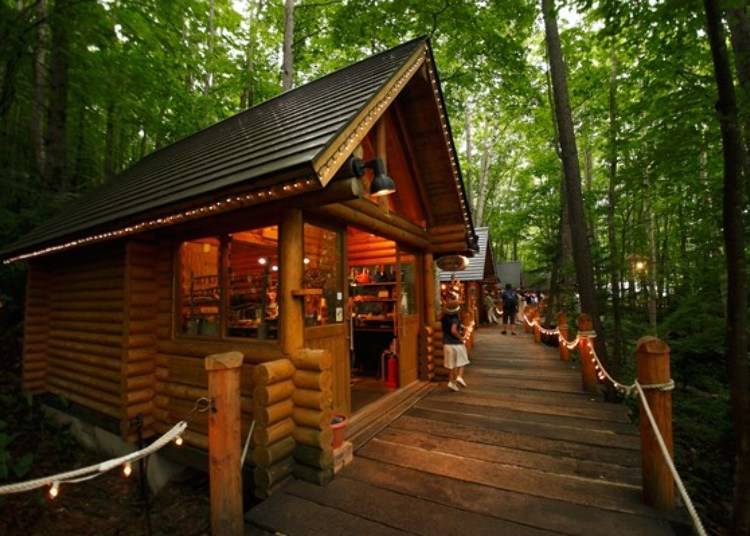 Lastly we will introduced Ningle Terrace, located in the premises of New Furano Prince Hotel in Furano City.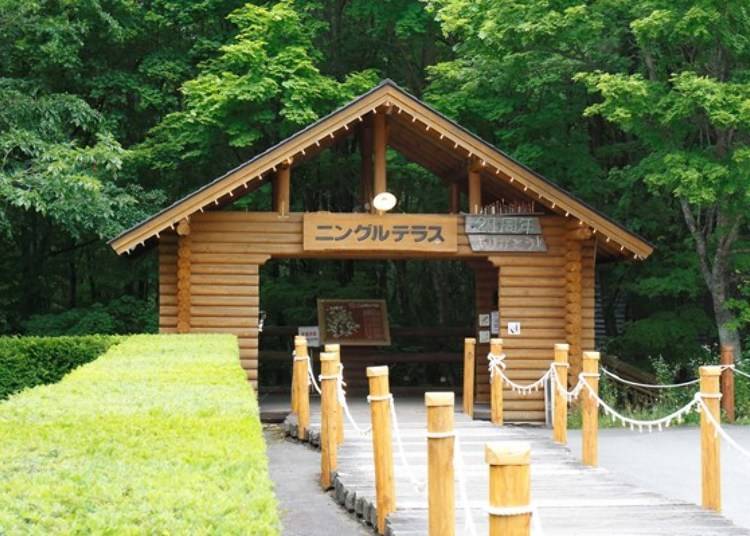 The craft shop area in the forest was produced by writer So Kuramoto. Log cabin-style craft shops are scattered throughout the forest along the wooden pathway.

During the day you can enjoy shopping in the shade with sunshine filtering through the trees. Also at evening the area is illuminated and gives a magical feeling like getting lost in a movie screen.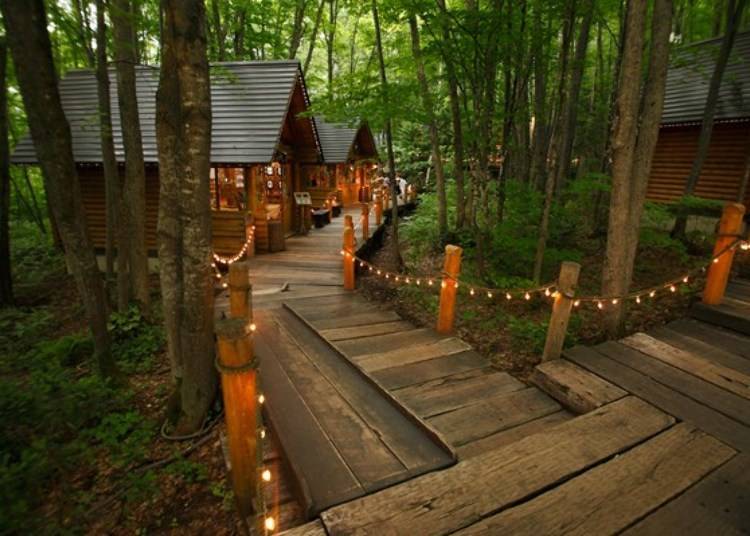 Various craft shops such as glass products, paper craft and kaleidoscope shops sell their products in cozily ensconced in a natural setting. Also some shops offer courses at the craft workshop Ningle Atelier.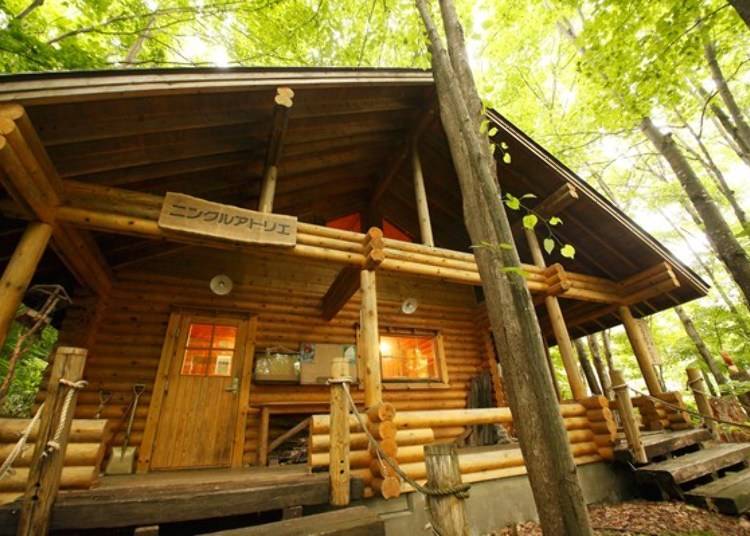 ▲Craft workshop Ningle Atelier. Courses require reservation. Please check their website for reservation and information
This time we took the evening lantern course offered by Mori no Rousokuya (2,160 yen, tax included, maximum of 10 people per course, requires reservation a day in advance). In the course you will use 3 colors of candle wax to color a lantern holder made of candle wax.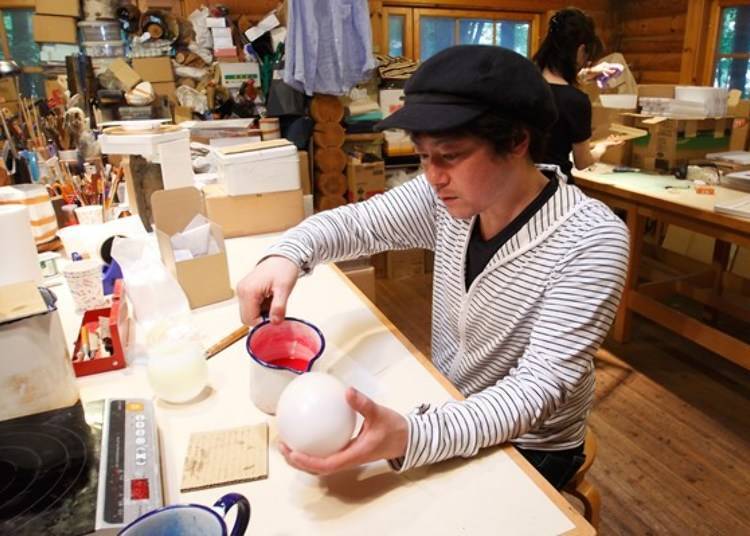 ▲You will pour in candle wax that was melted at around 80 degrees Celsius into a lantern holder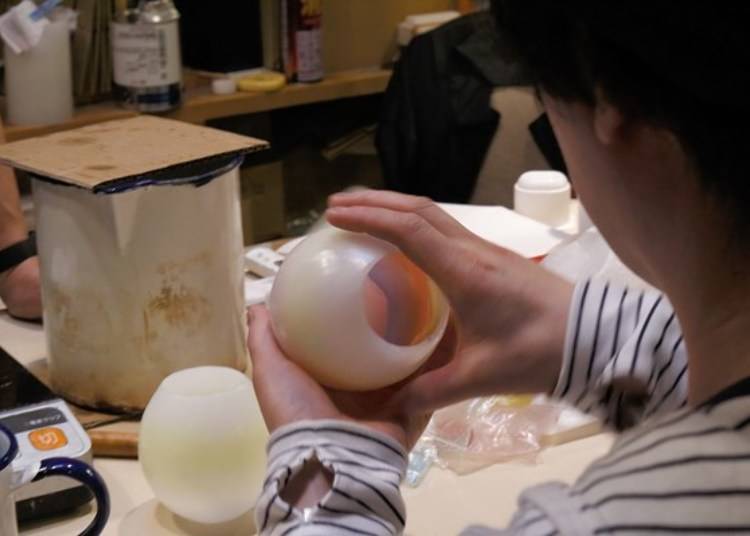 ▲Then roll the lantern so the color spreads before the wax cools
Colorful lantern holder; you can take home the completed piece.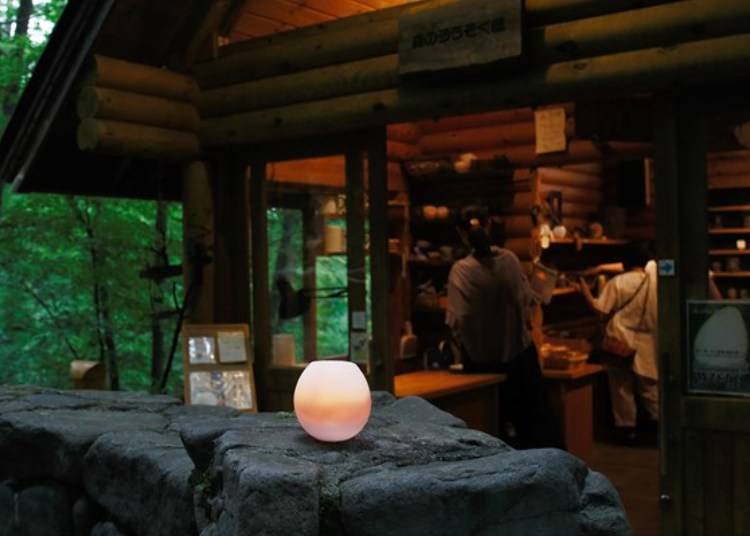 ▲We placed a candle in it and lit it in front of Mori no Rosokuya. It is quite pretty!
There is also a café in the Ningle Terrace, Log Café Terrace TuTu no Ie. They offer cakes and coffee, but their popular menu is the Baked Milk (Yaki Milk) (520 yen, tax included)!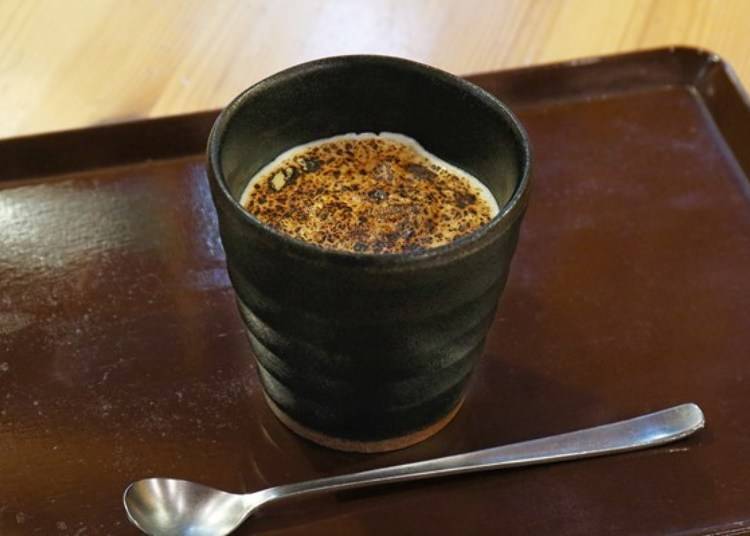 ▲It has a caramelized surface like baked pudding
Even though it has a caramelized surface, it's cold! Take a sip; you'll love the thick, sweet and rich flavor like whipped cream. Keep drinking and the bottom of the cup has fresh milk. Mix it up to turn it into a milk desert dish!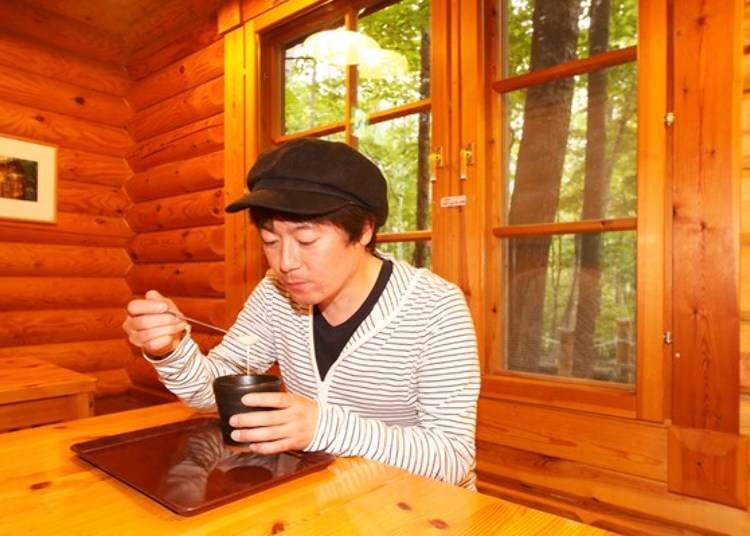 ▲Scoop the upper thick part with a spoon. The upper layer doesn't feel like drinking but more like eating
Operation Hours: 12:00 to 8:45p.m. *may change due to weather and season
Closed: Always open (irregular holidays depending on stores. Holiday period in November)
Address

Nakagoryo, Furano-shi, Hokkaido, 076-8511
View Map

Nearest Station

Furano Station (Nemuro Main Line / Furano Line)
10 minutes by car


Phone Number

0167-22-1111
Written by : Nobuhiro Kawashima

Book an unforgettable experience in Hokkaido!
Make your trip extra memorable by booking one of these recommended tours on our partner site, Voyagin!
In winter, enjoy skiing & snowboarding too!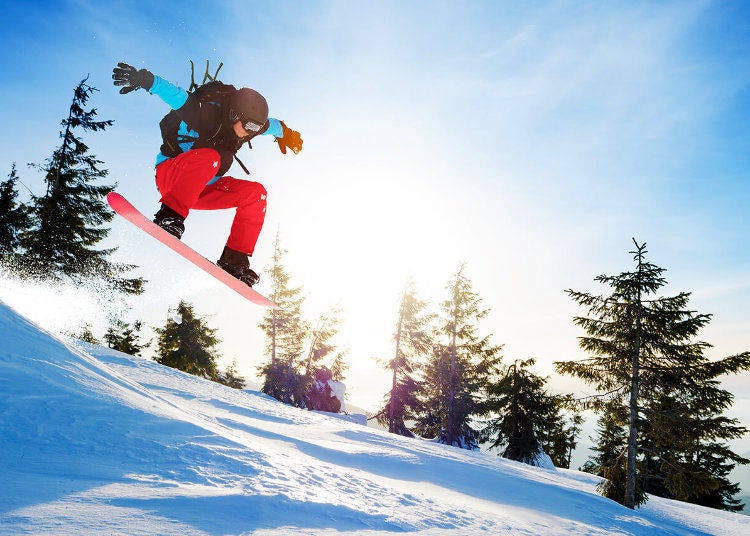 You can enjoy a variety of fun snow activities in this area in winter, including skiing and snowboarding. To save money and hassle, we recommend booking lift tickets in advance. Enjoy the unique winter landscapes and outstanding sense of openness that snow resorts afford, while also avoiding the crowds.
*This information is from the time of this article's publication.
*Prices and options mentioned are subject to change.
*Unless stated otherwise, all prices include tax.
Limited time offer: 10% discount coupons available now!