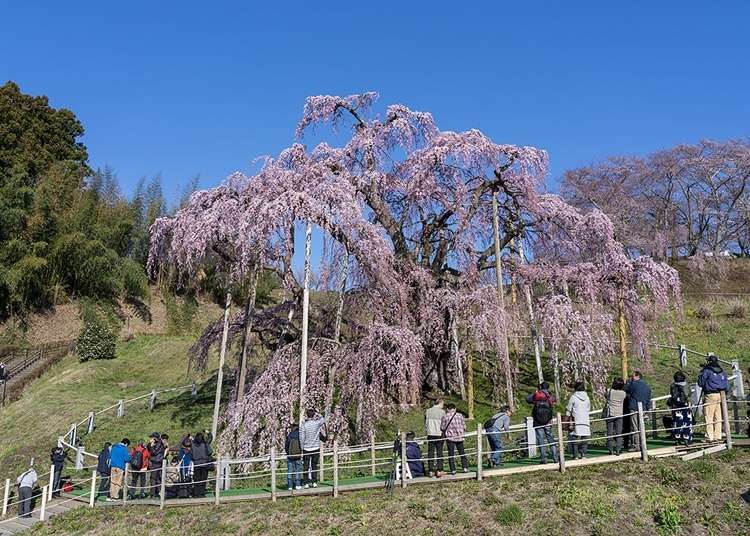 There are many fun places to visit in Fukushima! The prefecture, located in the southern part of the Tohoku Region of Japan, is a popular tourist destination with mountainous areas, such as Mount Bandai and Ouchi-juku, that tend towards cool summers and snowy winters.

Other Fukushima sightseeing attractions include historical spots, such as Nihonbashi Castle and Tsuruga Castle, and tourists donning rented kimono as they explore the castle town. And of course, the area is filled with delicious foods!

Here we will share some of the Fukushima sightseeing highlights and recommended things to eat when visiting the prefecture.
What Kind of Place is Fukushima Prefecture?
With a population of approximately 1.85 million, Fukushima Prefecture is the third largest region in Japan, and is divided into three main areas.

The Aizu Region, with historic sites such as Tsuruga Castle, and Nakadori, with mountainous natural landscapes, orchards, and hot springs, both have basin areas that remain warm in winter, and mountainous areas with cool summers and snowy winters.

Hamadori sits on the Pacific side, and has several popular tourist attractions, including the many pools of "Spa Resort Hawaiians," and the Fukushima coast themed exhibits of the Aquamarine Fukushima Aquarium. The gently blowing sea breeze makes for relatively cool summers.

In the onsen towns of Fukushima City and the town of Aizuwakamatsu, there are many popular pubs where you can enjoy the local sake, as well as gourmet spots where you can enjoy local dishes such as gyoza and ika-ninjin.
Take the Tohoku Shinkansen from Tokyo Station to Koriyama Station, the starting point for your Fukushima sightseeing trip.

The ride will take about 1 hour and 15~50 minutes. There are buses and trains around Koriyama Station that will take you to Aizu, Kitakata, Fukushima, and Iwaki.

If planning to visit multiple areas, or mountain regions like Urabandai and Mt. Azuma, it is recommended to travel by train to the nearest station, then use a car or taxi from there.

There are buses that go to major sightseeing destinations around Aizuwakamatsu, Fukushima City, and Koriyama Station. A one-way ride costs a reasonable 100~210 yen. Or you can opt for a one-day pass, which is sold on some buses, and is a great choice when wanting to visit many attractions at a great deal.
For about 500 years in the Middle Ages, this castle of the feudal lords housed many prominent families, such as the Date and Gamo Clan, the Uesugi Clan, and the Matsudaira Clan. Such a famous castle was known for its strong defense, enduring for an entire month under the enemy's attack during the 1868 war. The castle was demolished with the changing time period in 1874.

It was restored to its present appearance in 1965, and it said to be the only castle in Japan that still has the same red tiled roof from the time before it was demolished. Inside the castle tower is a reproduction of the inside of Tsuruga Castle as it was around 1868, as well as exhibits showing the history of Aizu and the succeeding castle lords. If you climb to the top floor, you can see a view of Mt. Bandai and Iimori Hill, as well as the townscape of Aizu.
鶴ヶ城

Address

1-1 Otemachi, Aizuwakamatsu-shi, Fukushima-ken

Phone Number

0242-27-4005

Business Hours: 8:30AM~5:00PM
Admission: 410 yen
Regular Holidays: None
Ouchi-juku was a post town that prospered as a base for travel and transportation during the Edo Period (1600-1867), with a focus on lodging and luggage intermediation and wholesale. Today, there are about 30 thatch-roofed restaurants and souvenir shops, making it one of the most popular tourist destinations in Tohoku. If you want to take some nice photos of the city, visit Koyasu Kannon Temple, which is a little uphill at the end of the road. There you can get a panoramic view of Ouchi-juku.

Their specialty dish is "negi soba," which is served with a whole green onion to use instead of a chopstick to slurp the noodles. We also recommend "shingorou", a dish made by rolling rice with egoma miso and baking it, as well as the Ouchi-juku omotenashi dish "tochimochi," made from locally grown persimmons.
Urabandai appeared on the north side of Mt. Bandai after a steam explosion in 1888. You can see the crater walls and the rocks that resulted from the blast, as well as the rough surface of the mountain. The hundreds of lakes made from the rocks blocking the flow of the river are another notable sightseeing spot. Amongst them is the "Goshikinuma Konumagun," which is a collective term for a group of about 20-30 large and small lakes, including Lake Aonuma and Goshikinuma. The color of these lakes' waters changes from emerald green to cobalt blue, depending on the time of day and the sunlight.

You can also walk along the scenic path, "Goshikinuma Shizen Tanshoro" and explore the beautiful lakes and marshes one by one, with Mt. Azuma and Mt. Bandai in the background. It takes about one hour, and though it is a relatively easy walk with few altitude differences, it is recommended to wear sneakers or trekking shoes for comfort.
Fukushima Gourmet

Fukushima offers a wide variety of gourmet dishes, from local specialty arrangements to traditional regional dishes. In the Aizu region, you can enjoy local dishes such as kozuyu, miso-dengaku, and mochi dishes around Aizuwakamatsu Station. A short distance from there, around Kitakata, you can try the local ramen. For gourmet dishes in Nakadori, we recommend the dumpling disks served at pubs around Fukushima City area and Iizaka Onsen, as well as the sweets made from peaches harvested from the city's local orchards. You can even enjoy a fresh seafood barbecue at Iwaki Lalamew in Hamadori.
The origin of these noodles is said to have come from Chinese noodles that were sold in stalls by young people who had come from China between 1920 and 1930. The noodles are thick and flat with a relatively high amount of moisture, and are characterized by its firm appearance and texture. The soup has a soy sauce base, with flavors varying widely depending on shop, from miso to salt. It is recommended use the Ramen Map available at the tourist information center when deciding where to eat. The Kitakata Ramen Burger, which is made from baked and hardened noodles together with pork, menma, and green onions, is another popular menu item.

Kitakata is also known for its unique culture of eating ramen early in the morning. This habit began when people who started worked from very early in the morning, such as sake breweries and farmers, ate ramen during those early morning hours. You can currently order "morning ramen" at about 20 different shops.
photo:Fukushima Prefecture Tourism & Local Products Association
These local dumplings are arranged and baked in a frying pan so that they take the shape of a disk when served on a plate. Sometime after World War II, the founder of local gyoza shop "Genso Enban Gyoza Manpuku" visited China, where he tasted these dumplings at an izakaya stall, arranged and baked in a wok. You can now eat this dish at about 15 stores around Fukushima City, most of which open in the evening. It is said to be a remnant from the time when, with the growing popularity of these Fukushima dumplings, salarymen would eat them on the way home from work.

A special feature of this shop is the gyoza skin, some crisp and fried, and others kneaded with yomogi, or Japanese mugwort. The gyoza filling made from vegetables and minced meat is also very delicious, and is the perfect accompaniment for a bottle of sake.
Fukushima Souvenir Shopping

Popular souvenirs are folk crafts of older times, such as Akabeko and Okiagari-Koboshi, and sweets and drinks made from local specialty peaches. It is also not unusual to find tourists visiting Kuramoto in search of highly acclaimed Japanese sake. There are also some rather photogenic Japanese confectionery items that you can see at the long-established sweets shops around the castle towns of Tsuruga and Nihonmatsu Castle
This folk craft is representative of the Aizu region, a figurine of a little priest with a soft and smiling expression. The locals have a New Year tradition in which they buy these dolls in amounts of one more than the number of members in their families, with the hopes of of bringing their family prosperity and health. Because this figure stands up as soon as it falls down, it is thought to represent the ability to do good work.

They are sold in various sizes and in many variations, such as red and blue with a white background, as well as in individual colors such as pink and red. They can be purchased at souvenir shops throughout the prefecture, including the Aizu region, and there are also workshops and tourist facilities that offer painting experience activities.
写真:玉嶋屋
Tamashimaya is a long-established Japanese confectionery shop that has been around since the Edo Period. They are famous for Yokan, which has an elegant sweetness and a rich, red bean flavor, and was said to have been presented to the Tokugawa Shogunate, who ruled Japan at the time, by the Niwa Clan who owned Nihonmatsu Castle.

We especially recommend the cute, small, and round tama-yokan. It was developed at the request of a prefectural governor in 1937 to make a soft yokan that could be eaten even on the battlefield. The shopkeeper at the time realized that this yokan would stay fresh and soft forever when wrapped in rubber. The unique way of eating it requires stabbing through the rubber with a toothpick, and is another reason for its popularity. It has become a standard souvenir representing Fukushima Prefecture, and there are now even heart-shaped ones on sale.
玉嶋屋

Address

1-88 Motomachi, Nihommatsu-shi, Fukushima-ken

Phone Number

0243-23-2121

Business Hours: 7:30AM~6:50PM
Regular Holidays: None
There are shopping centers throughout the Aizu, Nakadori, and Hamadori Regions, however if you want to find souvenirs from all over the prefecture in one place, we recommend the "Fukushima Prefecture Local Products Center," which is a short 2-minute walk away from the Tohoku Shinkansen Fukushima Station.

Located on the first floor of the Corasse Fukushima Building, you can find all sorts of Fukushima crafts, specialty products, and gourmets dishes around the floor.

In the Fukushima sake corner, you can find about 700 types of sake and liqueurs from about 54 different breweries. In the lounge space, you can enjoy a meal while tasting and comparing these different drinks.
Fukushima Prefecture Local Products Center: Fukushimaken Kankou Bussannkan

福島県観光物産館

Address

Corasse Fukushima 1F, 1-20 Mikawaminami-machi, Fukushima-shi, Fukushima-ken

Phone Number

024-525-4031

Business Hours: 9:30AM~7:00PM
Regular Holidays: None
Text by: SHOE PRESs
*This information is from the time of this article's publication.
*Prices and options mentioned are subject to change.
*Unless stated otherwise, all prices include tax.