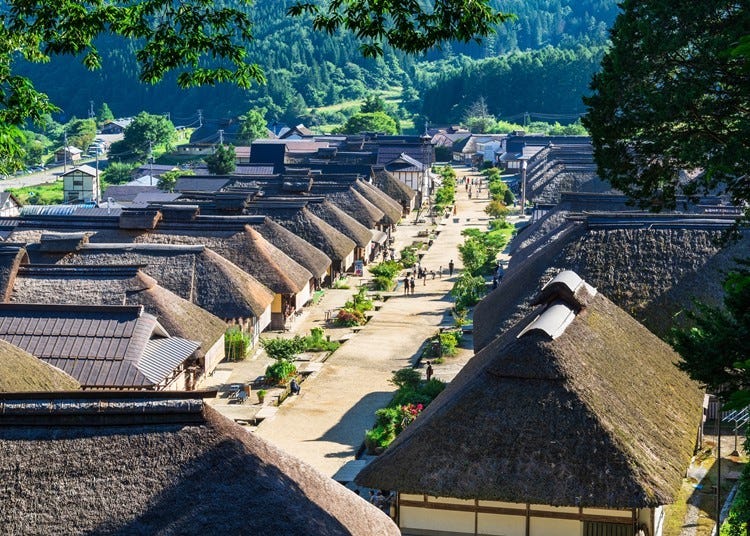 Fukushima Prefecture is a part of Japan's northeastern region of Tohoku. It is the third-largest prefecture in size behind Hokkaido and Iwate and is split between the three areas of Hamadori, Nakadori, and Aizu by a mountain range running north to south.

Each area has its own distinctive features, making it important to read up before visiting to make the most of each spot!

Main image: PIXTA
1. Quick facts about Fukushima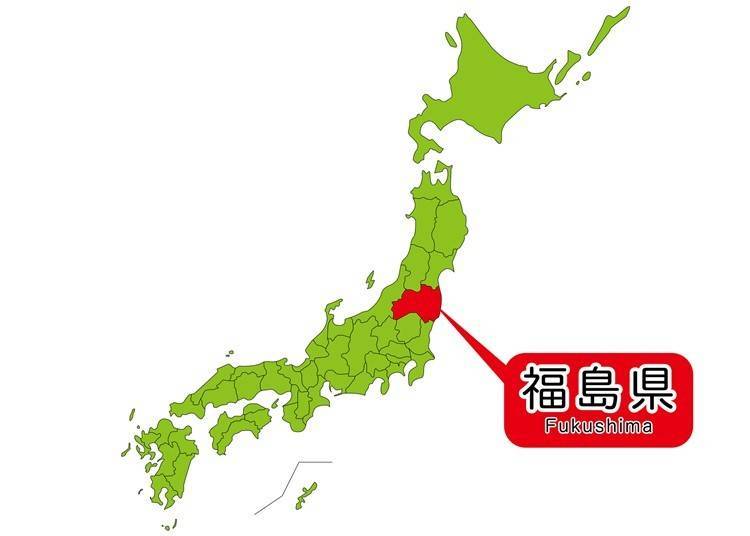 (Image: PIXTA)
Fukushima is a part of mainland Japan sitting in the south of the Tohoku region. It runs long from east to west and is split into the easternmost Hamadori, Nakadori, and Aizu by the north-south running Abukuma Highlands and Ou Mountains.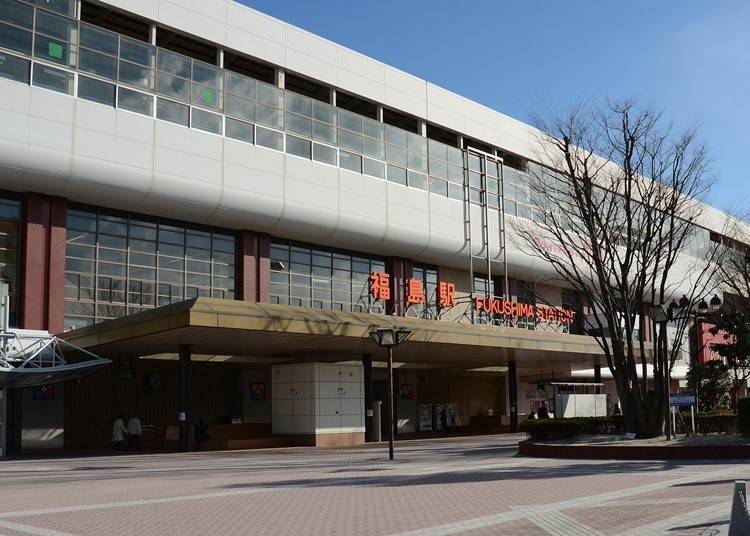 (Image: PIXTA)
The capital is Fukushima City in Nakadori. Fukushima Castle, which was renamed from Suginome Castle, was built in the area where the Fukushima Prefectural Office now stands around 1592, from which the domain of the Fukushima Clan ruled. Today, only part of the earthen wall and remnants of the garden remain. On the grounds stand signboards and stone monuments detailing this history.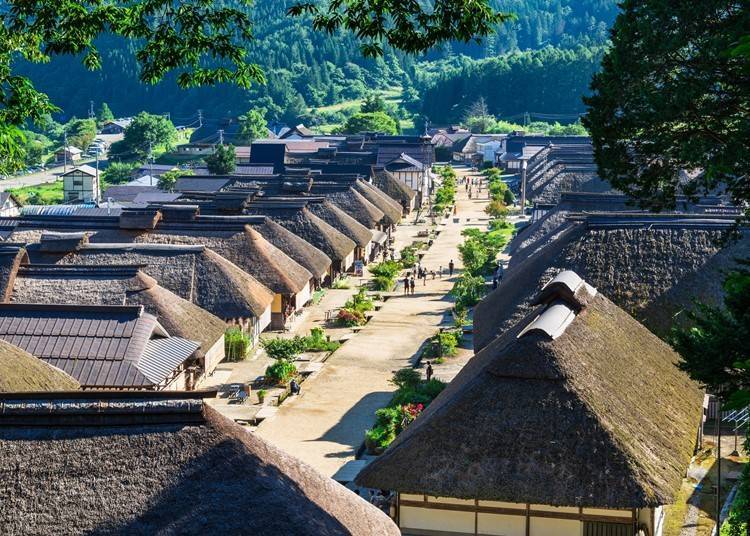 Ouchi-juku - a traditional inn town located in Minamiaizu. (Image: PIXTA)
Nakadori, which contains Fukushima City, is known for its luxurious hot springs and fruit farms where you can pick peaches, pears, and more.

Aizu is all about history and tradition, with the heart of the Edo period still beating in the old post town of Ouchi-juku and the red tiles of Tsuruga-jo Castle.

Facing the Pacific Ocean, Hamadori is most famous for the interactive sea park Aquamarine Fukushima and the enormous resort facility Spa Resort Hawaiians.

Due to its size and the sheer amount of sightseeing in each region, it's best to choose one area you like and plan your itinerary accordingly.
2. When is the best time to visit Fukushima?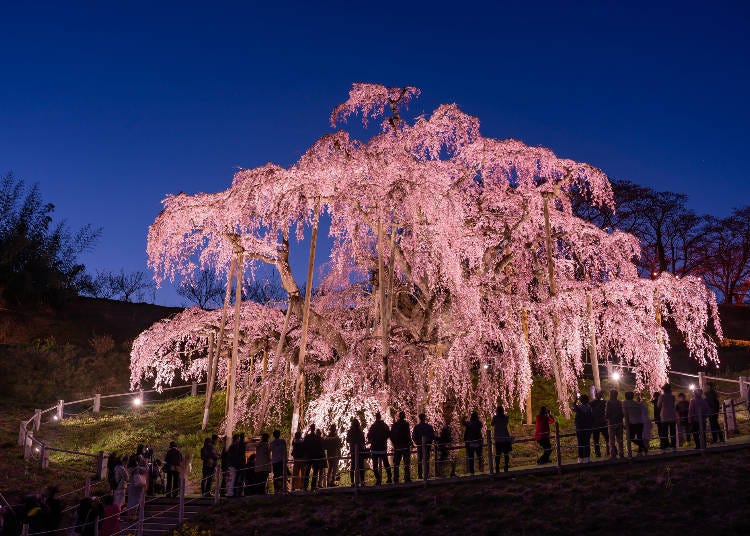 The Miharu Takizakura Light-Up. (Image: PIXTA)
The climate of Fukushima also varies by region. Nakadori sits within a basin, making it extremely hot and humid during summer and snowy in winter. Meanwhile, the mountainous areas of Aizu stay relatively cool in summer while the basin again becomes hot and sticky.

To make the most of Fukushima's gorgeous natural wonder, we recommend visiting between spring and autumn.

・Spring
The "sakura" cherry blossoms will bloom here from mid-April until the end of the month, which is the perfect time to witness the ancient Miharu Takizakura tree, considered one of Japan's Top Three Cherry Trees.

・Summer
During summer, you can swim and camp at Lake Inawashiro, the fourth largest lake in Japan.

・Autumn
Autumn is dominated by breathtaking foliage at the Goshikinuma Ponds, which peaks between mid-October and early November. The enchanting cobalt blue water bursts with color as it reflects the encompassing tapestry of yellow and red, weaving together incredible scenery.

・Winter
Winter snowfall in Aizu is notoriously extreme - up to 5-6 meters! Hamadori enjoys a refreshing Pacific breeze, making it a pleasant place to spend the summer. There's only a little sporadic winter snowfall that rarely builds up. It can snow even as late as March in Aizu and Nakadori, so make sure you prepare accordingly.

Of course, the beauty of winter is not to be forgotten! Ouchi-juku, adorned by snow, brings forth an entirely different ambiance from the warmer months that must be seen. You can also relish the fresh air and great outdoors while skiing at Urabandai Kogen.
3. Getting to and around Fukushima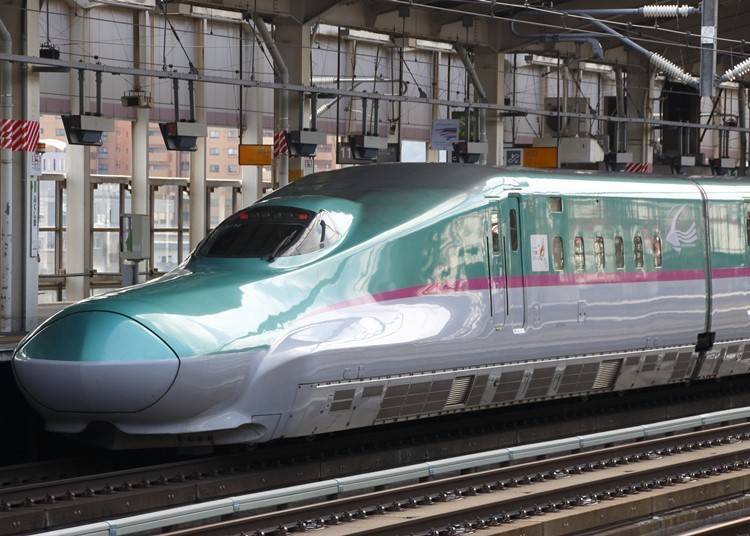 (Image: PIXTA)
Getting From Tokyo to Fukushima
Being the closest part of Tohoku, Fukushima is just 240 km from Tokyo. You can reach Fukushima from Tokyo via bullet train, highway bus, or rental car, however, the quickest and most effective way is the bullet train, which is conveniently covered under the JR Rail Pass.

・Shinkansen
It takes around 1 hr 20 mins on the Tohoku-Hokkaido Shinkansen bullet train from Tokyo Station to Koriyama Station, and 1 hr 30 mins to Fukushima Station, with 2-4 services departing every hour. A one-way ticket will cost 8,340 yen to Koriyama Station and 9,110 to Fukushima Station (with a passenger, regular service reserved ticket).

・Bus
The highway bus departs from Shinjuku in Tokyo and will arrive at Koriyama Station in 4 hours and Fukushima Station in 5 hours. However, it can be up to 6 times cheaper than the Shinkansen fare, making it a tempting option for budget travelers with lots of time.

・Car
If you have ample time and truly want to make the most of Fukushima, then renting a car if you have the means is a great idea. There are numerous rental car agencies in Tokyo with foreign language support, making it a viable option even if you don't speak Japanese.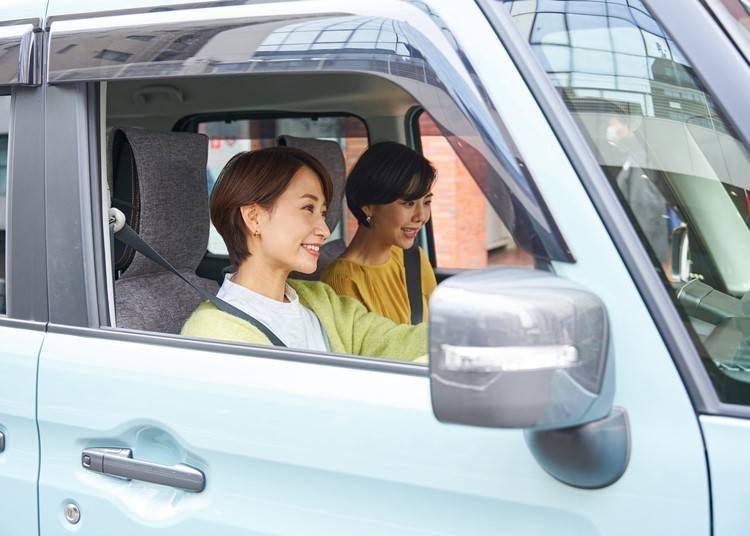 (Image: PIXTA)
Getting Around Fukushima
Public transport is scarce when traveling outside the major cities of Fukushima, making it vital to plan routes and timetables in advance. If you'd prefer to avoid this, you can rent a car or hire a taxi.

When moving between major cities via train, we recommend purchasing the JR EAST PASS (Tohoku area), which allows unlimited rides for five consecutive days on trains within target areas (only available for foreign passport holders). There are also many highway bus services in Fukushima, making it an equally attractive choice.
4. Accommodations: Where to stay in Fukushima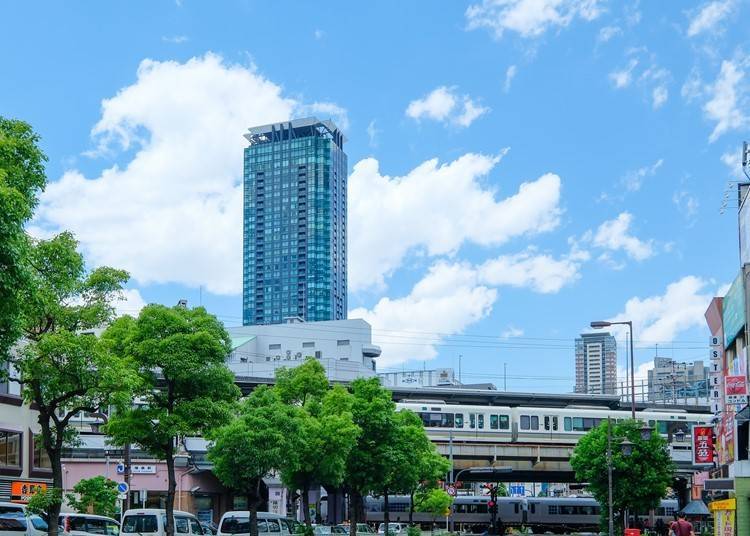 (Image: PIXTA)
Despite not being on Japan's "Golden Route," Fukushima is still a very popular travel destination for international visitors.

Out of the 214,690 overnight international tourists to Fukushima in 2019, most came from Taiwan, Thailand, and China (Survey of Tourist Arrivals in Fukushima Prefecture). Within this, Aizuwakamatsu is particularly popular for its abundant nature, scenery, hot springs, and local food.

If you focus on a particular area of Fukushima for your itinerary, then an overnight trip is definitely long enough. If you wish to visit multiple regions, then 2 or 3 nights is more suitable.

When traveling, it's easiest to stay in places that are well-connected and facilitated, like in front of Fukushima Station or Koriyama Station. On a weekday, you can find a hotel in these areas for just around 5,000 yen a night. All these major stations have tourism information centers inside, making them great bases to plan your trip.
If you'd like to indulge yourself in a hot spring town, then we recommend staying at Iizaka Onsen. It can be reached from Fukushima Station, a stop on the bullet train, after a 23-minute train ride, making it ideal for those short on time.
5. Must-try foods in Fukushima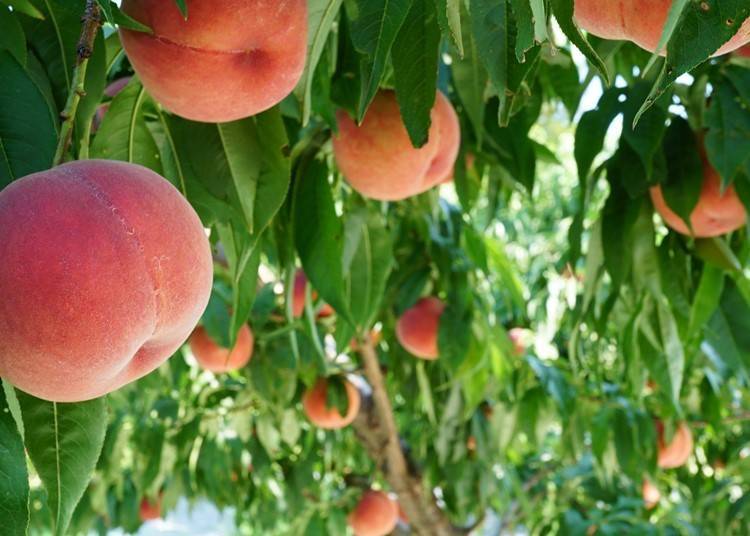 (Image: PIXTA)
Fukushima is renowned for its fruit, particularly peaches harvested in midsummer, for which it boasts the second-largest yield in Japan, along with pears and apples. There are also plenty of fruit orchards with picking options available, allowing you to relish these bounties directly from the source.

In terms of traditional dishes, Aizuwakamatsu's "kozuyu" and Japanese pepper-pickled herring should be on your radar.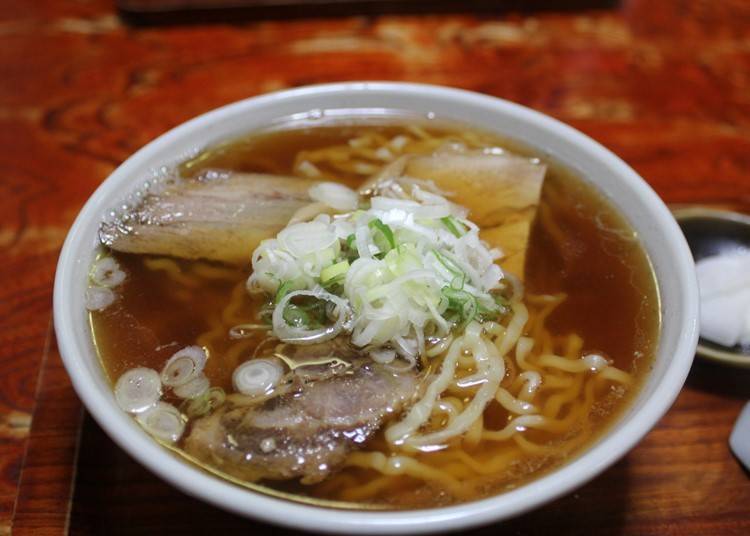 (Image: PIXTA)
However, arguably the most popular dish in the region is ramen from Kitakata, one of Japan's "Three Great Ramen Cities," famed for its thick, wavy noodles.
6. Cultural things to see in Fukushima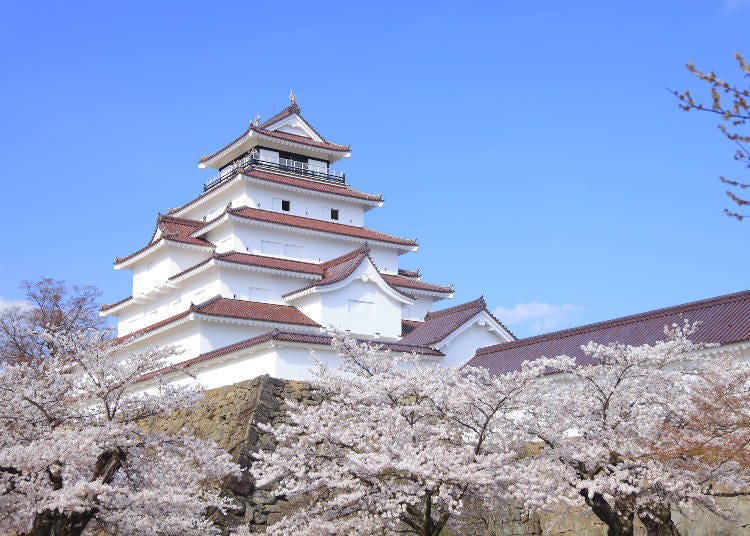 (Image: PIXTA)
The symbol of Aizu is Tsuruga-jo Castle in Aizuwakamatsu City, which was originally built around 630 years ago and is officially known as Wakamatsu Castle.

The 5-story main castle tower was unfortunately demolished in 1874; however, it was reconstructed in 1965.

In 2011, the roof was redone with red tiles to make it look the same as it did during the final years of the Edo period (1853-1868).

While there are numerous castles throughout Japan, Tsuruga-jo Castle is the only one with these unique red tiles, which form an aesthetically pleasing contrast with the stark white walls.

Continue your advances through ancient Japan with a stop at Ouchi-juku, which sits between the mountains of Shimogo.

This former inn town thrived during the 1600s as a stop on the Aizu Nishi Kaido Highway and remains a quaint landscape of more than 30 gorgeous thatched-roof houses lined up along the road, surrounded by mountains and serene farmland.
7. Recommended activities and things to do in Fukushima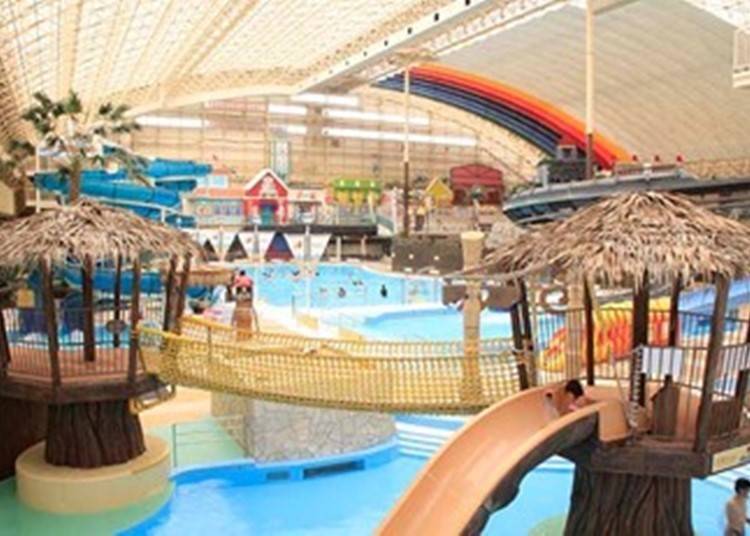 For both fun and relaxation, check out Spa Resort Hawaiians in Iwaki in Hamadori. This gigantic leisure park utilizes the natural hot springs of Iwaki Yumoto Onsen. It boasts hula dances, fire dances, palm trees, a water park, and more, recreating a slice of Hawaii no matter the season or weather.

One of the most popular attractions here is the thrilling BIG☆ALOHA, one of Japan's biggest water slides with a height difference of 40.5m and a total length of 283m.
Also at Spa Resort Hawaiians is the Edojowa Yoichi, a massive outdoor hot spring bath imbued with retro Japan vibes. Putting the men's and women's baths together, it measures a whopping 1,000 square meters, said to be the world's largest!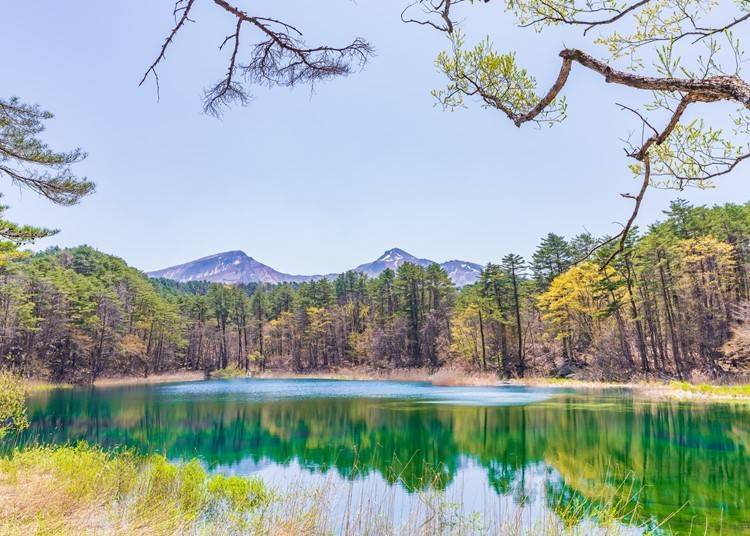 (Image: PIXTA)
For a taste of the outdoors, head to the Goshikinuma Ponds in Urabandai. Hiking the Nature Sightseeing Trail, you'll be able to witness the magnificent ponds from all angles, backed by Mt. Azuma and Mt. Bandai. The course will take approximately 1 hr 30 mins.

You can also swim, fish, canoe, and more at Lake Inawashiro, which sits roughly in the center of Fukushima. There's a lot to do nearby, such as a facility filled with handmade glass products from across the world along with stunning wooden western-style homes built during the Meiji period (1868-1912).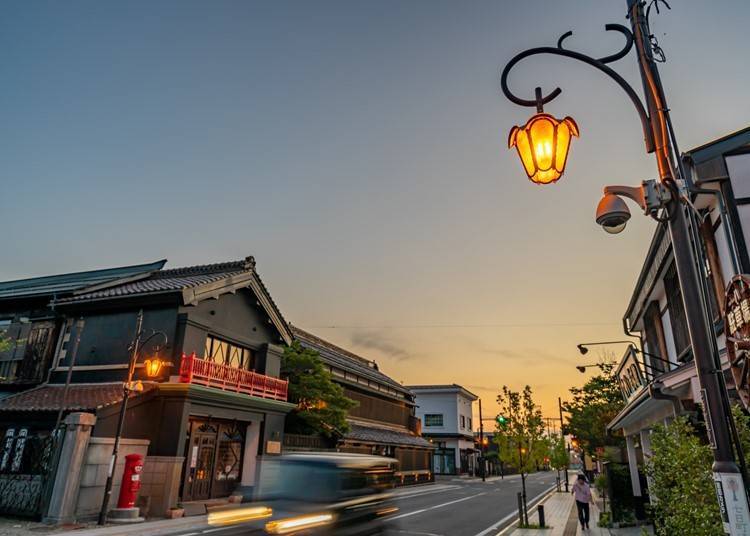 Nanoka-machi Street in Aizuwakamatsu. (Image: PIXTA)
We recommend the Fukushima Prefecture Souvenir Shop for souvenirs and local products, just a 3-minute walk from Fukushima Station. This vast complex stocks confectionery, produce, sake, and more from every region of Fukushima.

If you're in Aizuwakamatsu, there's nowhere better to scratch that shopping itch than Nanoka-machi Street, a collection of antique buildings and warehouses brimming with rustic, local character.

From traditional Japanese sweets at Honke Nagatoya, established in 1848, to stylish, fresh sake like the "Yuri" brand at Tsurunoe Shuzo Brewery, those looking to fill their suitcases with authentic Japanese goods will undoubtedly get their fill at Nanoka-machi.
9. Places to See Near Fukushima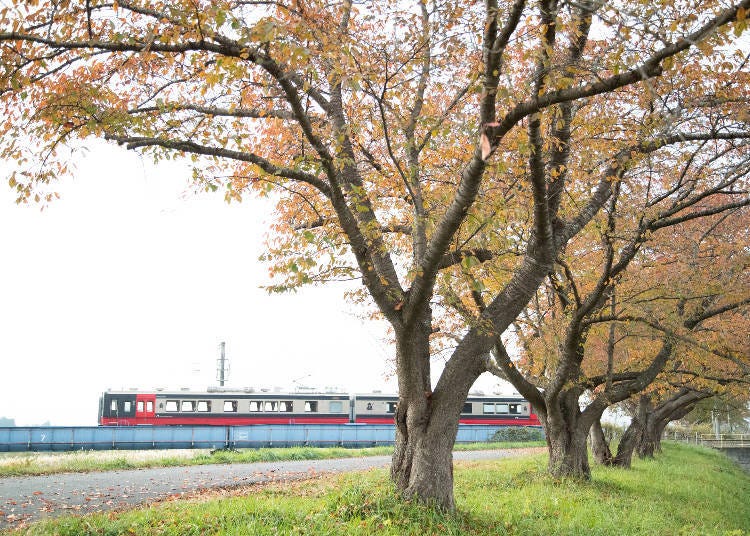 (Image: PIXTA)
Fukushima borders the Kanto region prefectures of Gunma, Tochigi, Ibaraki, and the Tohoku prefectures of Yamagata and Miyagi, along with Niigata Prefecture. This highly centralized location makes it an easy stop to add to your tour of Japan.

We also highly recommend taking a ride on the FruiTea Fukushima train operated by JR East. This "traveling café" tours parts of Tohoku while serving passengers an assortment of sweets made with Fukushima fruits.

FruiTea travels on the Ban-Etsusai Line between Koriyama Station and Kitakata Station and the Tohoku Main Line between Koriyama Station and Sendai Station (one round trip per day on weekends and public holidays, confirm the timetables and operating zone on the official website).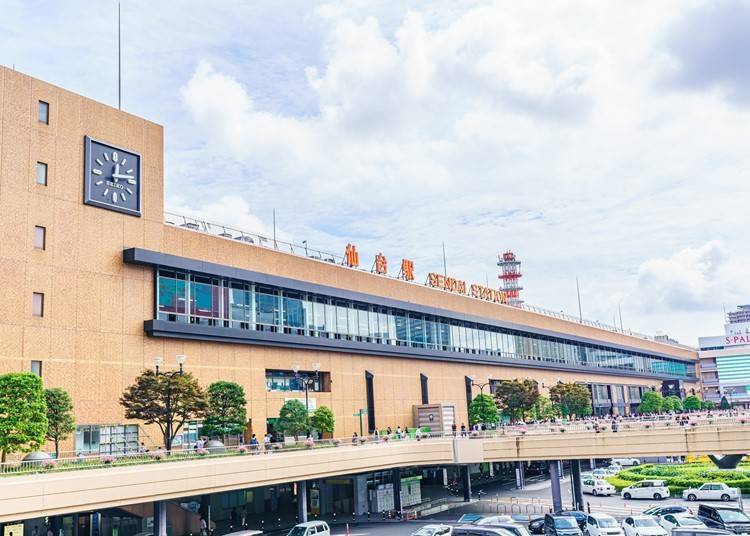 (Image: PIXTA)
Sendai, a stop on the Tohoku Main Line, is the largest city in Tohoku and can be reached from Koriyama Station in around 2 hours. There are loads of shops and restaurants to explore around Sendai Station, allowing a taste of the big city outside of Tokyo. Naturally, it is well connected to other major cities in Japan, making it a great destination following Fukushima.

Being such a vast, diverse land, doing prior research and figuring out which area to visit and what activities to try is vital to making the most of Fukushima. Despite often being overshadowed by many of Japan's other prefectures, Fukushima is a bountiful hub of culture, history, and cuisine well worth heading up north for!

Article by: Shoepress

*The information presented in this article is accurate as of February 2022. Please confirm the latest details on official websites.
*This information is from the time of this article's publication.
*Prices and options mentioned are subject to change.
*Unless stated otherwise, all prices include tax.