Tradition is deeply ingrained in the historical area of Aizu, in western Fukushima Prefecture, reflected today in its picture-perfect rural villages, unique cuisine, and sake culture.

A decade ago, you might have had to explain Japanese sake to non-Japanese people. Yet these days, it is a familiar sight in supermarkets around the world—and you may even have a bottle or two at home yourself! Such is the global popularity of sake—served in the Japanese way or in fusion cuisine or even in experimental cocktails that might surprise brewers in Japan.

As for why it is such a hit, it clearly rode on the success of Japanese washoku cuisine in the West, but when it comes down to it, there is no taste quite like it. Whether smooth or crisp, hot or cold, it is a new frontier in flavor for most in the West. Add to that dedicated Japanese tableware to serve it with, and the very act of drinking it is a cultural experience.

Even if sake, a.k.a. the rice wine, is instantly recognized by non-Japanese people, many still have blind spots where it's concerned. Some tend to be uncomfortable navigating a complicated sake menu or lack knowledge about what goes into the finer bottles at the top of the sake world.

With few exceptions, that knowledge can be found only in Japan itself, and any journey through the country offers countless opportunities to get closer to the essence of sake as well as the fantastic culinary culture that surrounds it.
Getting to Sake Country in Aizu, Fukushima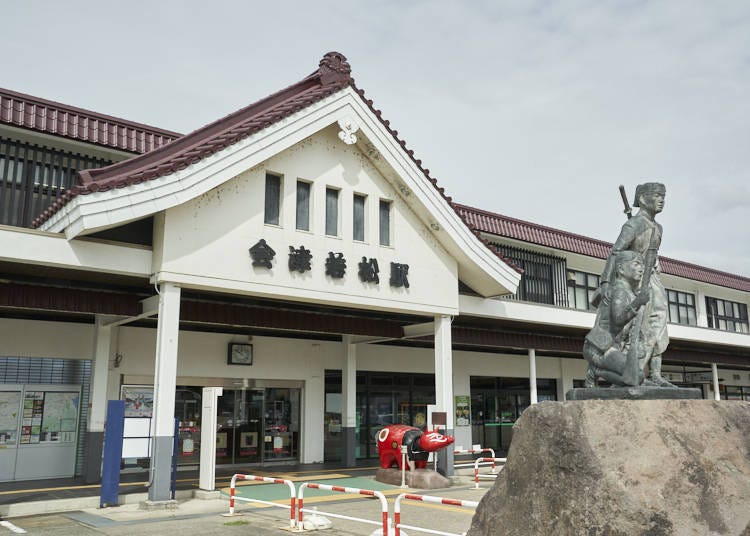 From Tokyo, head up to Koriyama Station on the Shinkansen. Change to a local train on the Ban'etsu West Line, and you will be at Aizu-Wakamatsu Station in around 50 minutes
To make sake, you basically need just rice and water, as well as a bit of the fermenting agent koji to get the process going. So it is no surprise that there are sake breweries almost everywhere in Japan. But not all rice and water are equal, and for premium sake, you need quality rice and pristine water.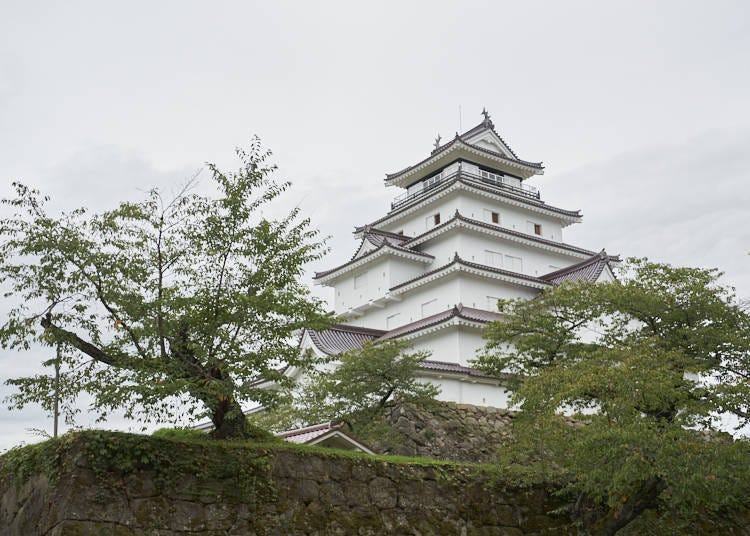 Tsuruga Castle watches over contemporary Aizu
Located just north of Tokyo in Fukushima Prefecture, the Aizu region with its central city, Aizu-Wakamatsu, is close enough to be an easy trip from Tokyo, but far enough to offer a complete break from the Japan more frequently traveled. You can even get there from Tokyo Station in around three hours thanks to the Shinkansen bullet train.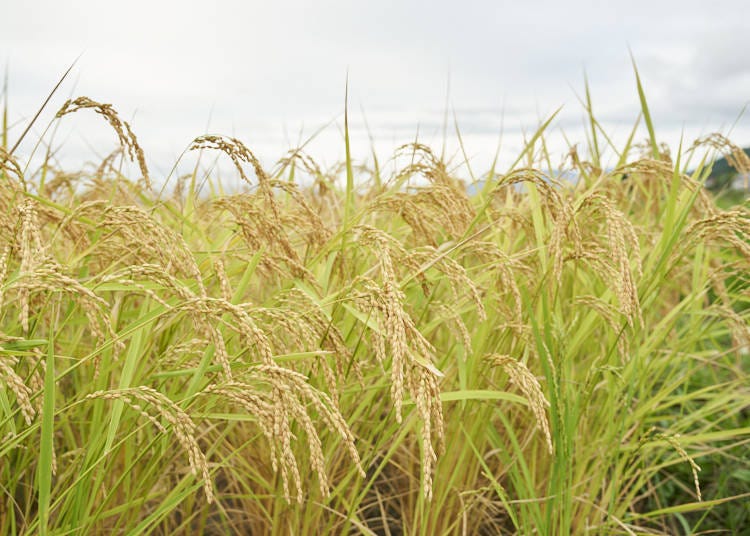 A rice field just on the turn to a glowing yellow
Sure to make an impact as you explore the area are all the rice fields, which will be between a verdant green and a warm yellow depending on the time of year.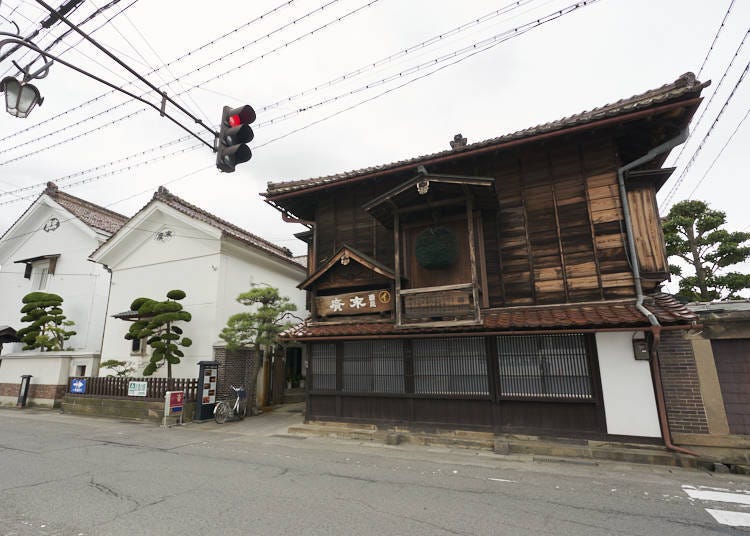 A traditional brewery with a white storehouse (left)
You will also spot plenty of traditional sake breweries, easily recognized by their traditional thick-walled white kura (storehouse). And why are kura built like that? To keep the temperature down—if there is any enemy of good sake, it is a variable temperature. Even if you visit in the height of the summer, you will notice the drop in temperature the moment you step inside the brewery.
Visit the Historic Sake Breweries of Aizu, Fukushima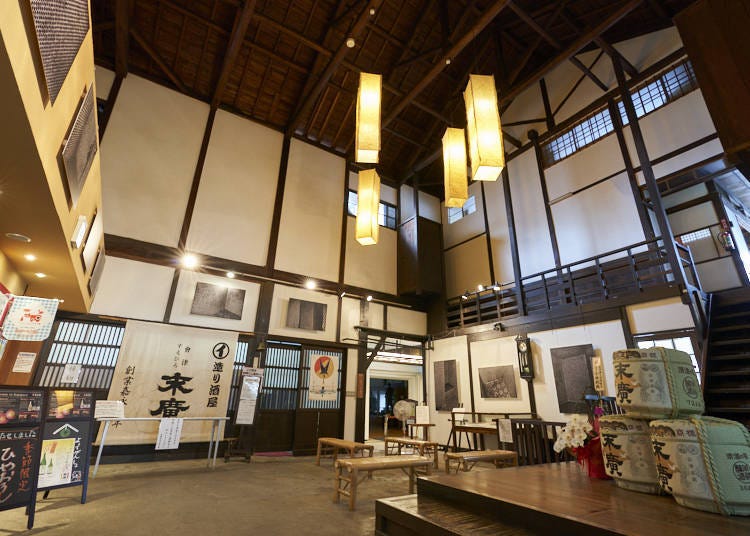 The entrance hall of the Suehiro brewery—tradition never looked so contemporary
One of Aizu's most famous breweries is Suehiro, which has been making award-winning sake since 1850. Now in its seventh generation of family ownership, Suehiro is a star on the global stage, scooping up numerous international awards for its delightfully smooth sake. Join one of the free tours to find out more(Tour is conducted in Japanese, but interpreters and translation devices are warmly welcomed).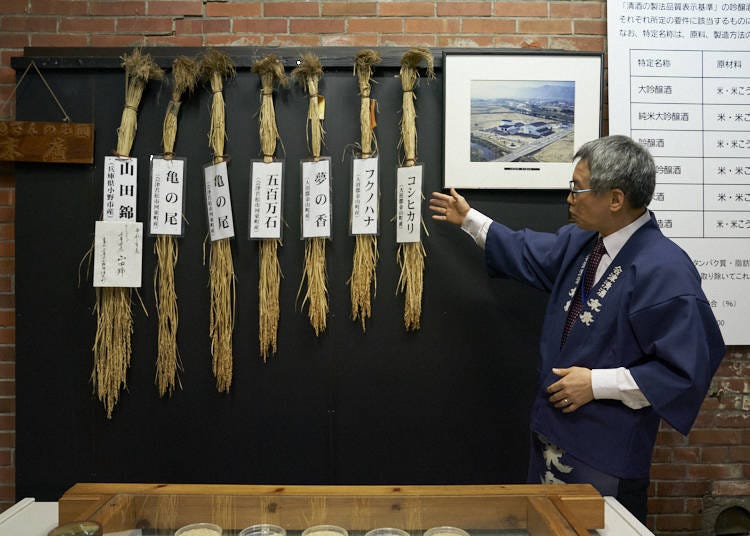 Start your tour by learning the essentials from Suehiro Brewery's team.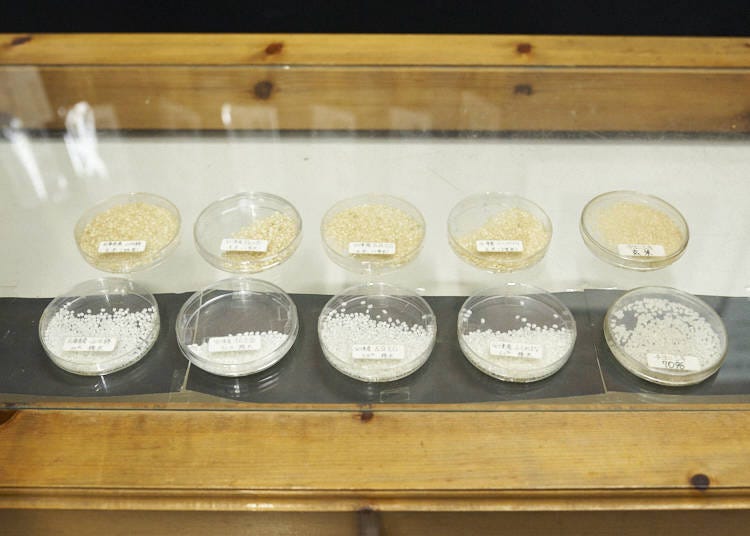 Rice is polished down to remove the husk until it is pristine white. The more the rice is refined, the more premium the final sake is considered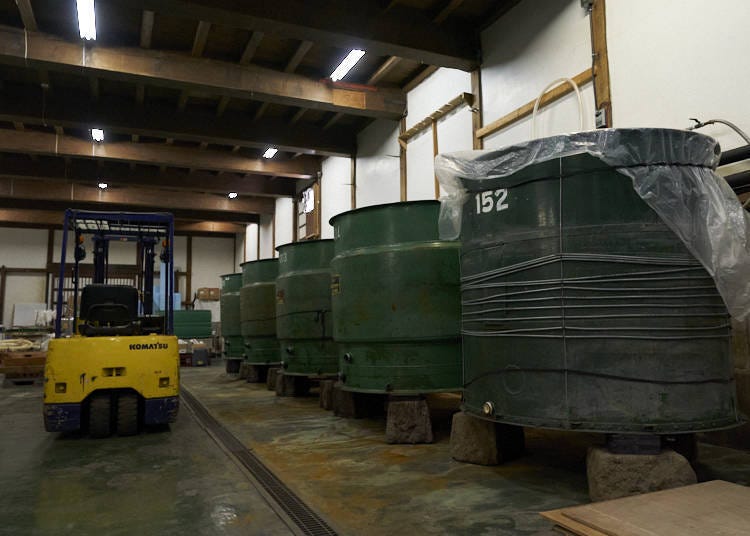 Nowadays metal tanks are used; traditionally, wooden vats were used as with Western wine
Suehiro's success comes not just from the brewery's provenance but also from its innovation. They are famous for pioneering a slow open-fermentation method called yamahai in Japan—a new brewing method that preserves traditional sake-making techniques.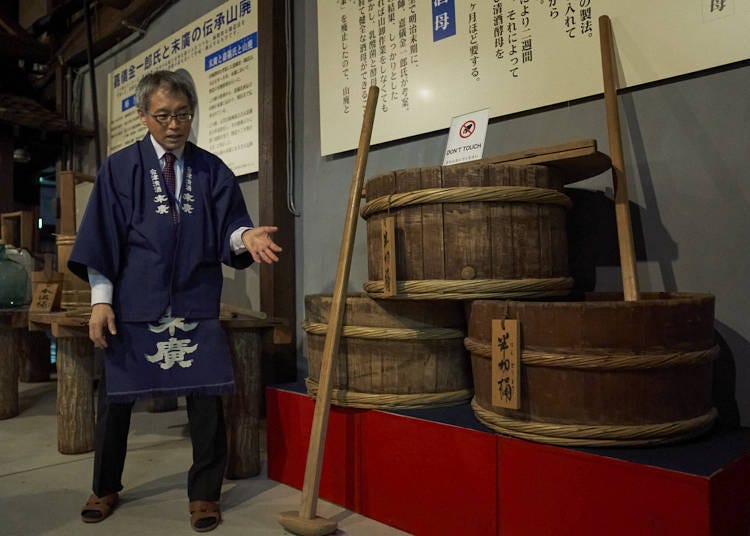 Traditional tools used to prepare the rice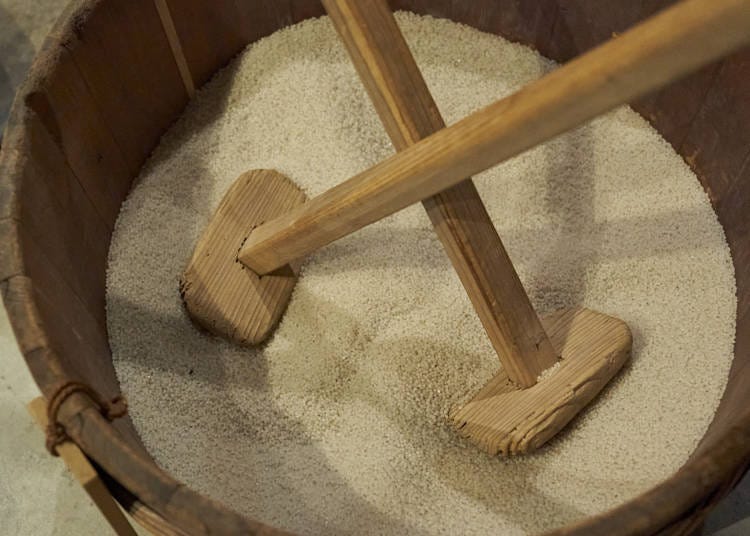 In a technique called yamaoroshi, two workers use two flat paddles to crush the rice
This time-consuming and labor-intensive brewing method is a paragon in the sake world, and you can relive its history by taking Suehiro's free brewery tour (no reservation required).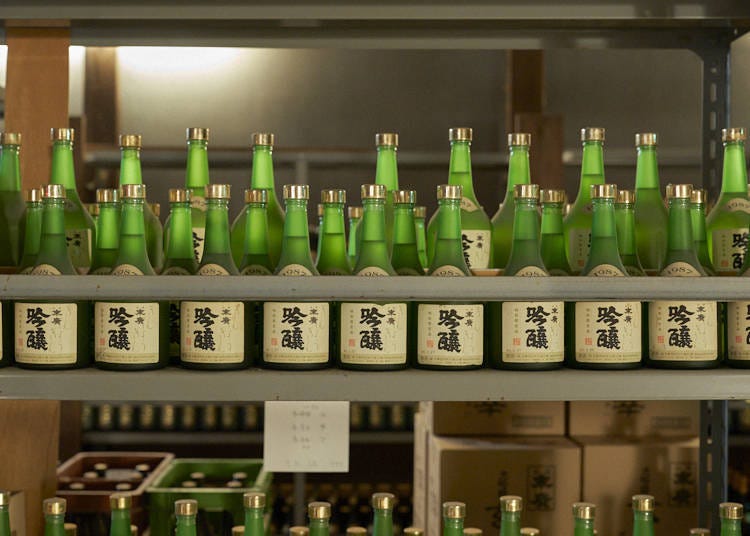 Suehiro is also unusual in keeping vintage sake in reserve. Sake is usually drunk as fresh as possible, but many Japanese breweries are starting to consider the possibilities of vintage sake. Suehiro remains a pioneer as ever!
Beyond Beverages: Sake-infused Sweets!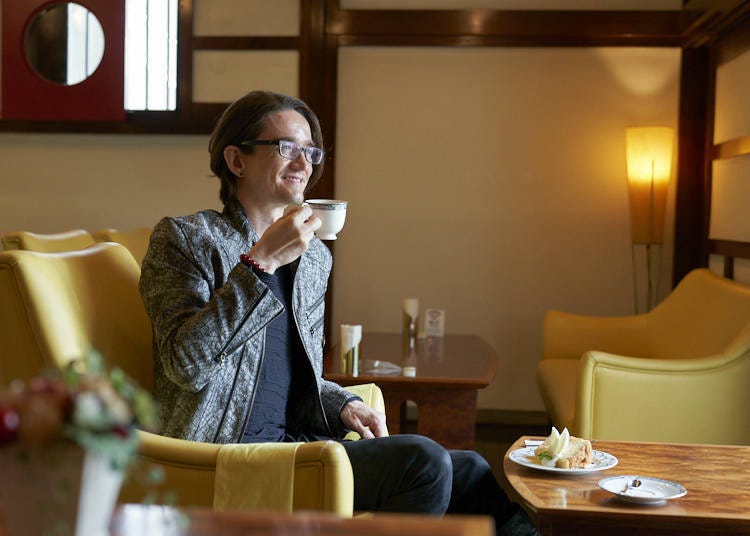 Sake is not confined to the ochoko (sake cup)—it is also a regular ingredient in Japanese cuisine. For a riff on East meets West, be sure to check out Suehiro's café, which is actually inside an original storehouse dating from 1892.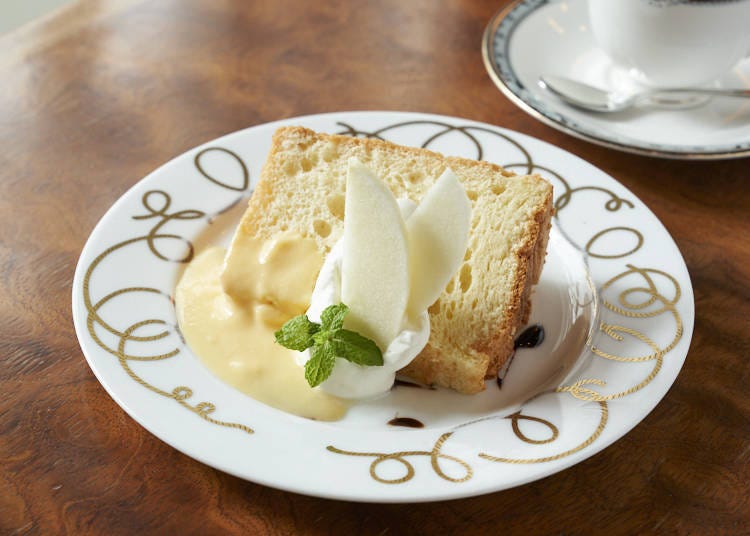 The stunning space takes you back to the early days of Western influence on Japan, best exemplified by the house specialty, Daijingo Chiffon Cake, the classic American cake infused with Suehiro's sake. The selection of creative desserts shows that, in Aizu, Japanese tradition is alive with innovation.
Suehiro Sake Brewery Kaeigura

末廣酒造 嘉永蔵

Address

12-38 Nisshin machi, Aizuwakamatsu City, Fukushima Prefecture, 965-0861

Phone Number

0242-27-0002

Tours are free and held 10:00 AM–4:00 PM every day even on public holidays
The brewery is closed every second Wednesday of the month
(Tours are fully guided and held every hour from 10:00, lasting approximately 30 minutes. Advance reservations are not necessary, but tour groups will need to book in advance.)
Enjoy Aizu Sake, Paired with Soba Noodles in Ouchi-juku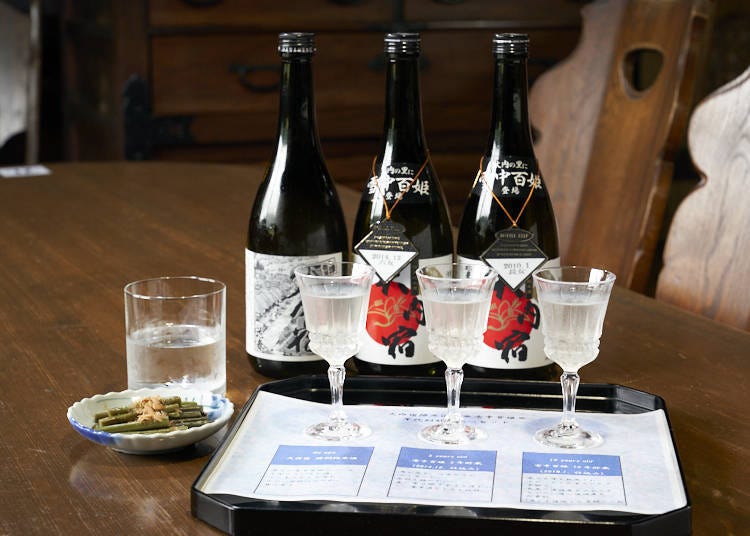 A sake tasting menu on offer in one of Aizu's local restaurants. There is no better way to become a pro, fast!
For a more traditional pairing of Japanese cuisine and sake, the food choice has to be soba (buckwheat) noodles. Japan has a long history of having a cup of sake pre-soba, and like the noodles themselves it is frequently served hot or cold to match the season.

Savoring the smooth flavor of soba noodles combined with the heady glow of sake is one of the best ways to relax in a rustic setting in Japan, but you should know that in Aizu soba is done a little differently.

Going all the way back to the seventeenth century, Aizu has been serving soba with a bit of a kick—namely, a hearty mound of daikon (Japanese radish). Called takato soba and best paired with a crisp karakuchi sake, the combination of rice wine and spicy soba can deliver a real burst of flavor.

Takato soba was brought to the area by Hoshina Masayuki, the daimyo (feudal lord) and head of the Aizu domain Matsudaira clan in the Edo period (1603-1867). He had originally been the lord of the Takato fiefdom in present day Nagano Prefecture where soba was commonplace, so when he brought soba to Aizu, the place name of "Takato" stuck. Over time it really developed a character all of it own in Aizu, which you have to taste in person for yourself.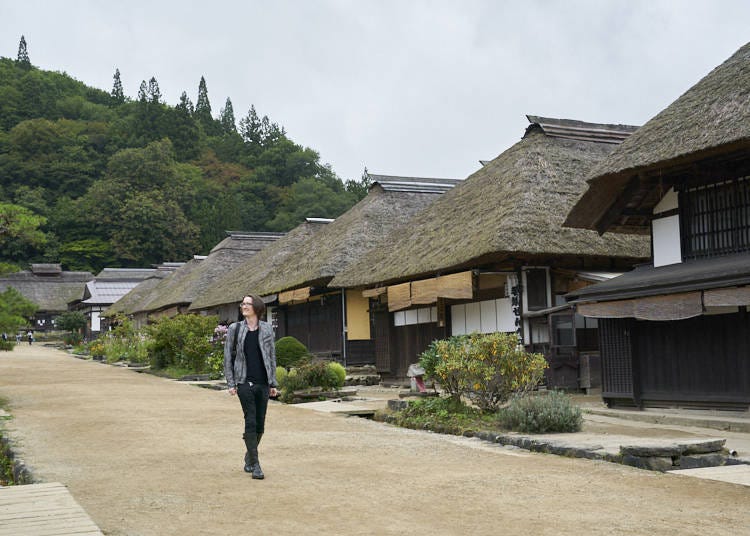 For the complete takato soba experience, head to Ouchi-juku, a traditional mountain village of thatched-roof houses, which stands largely unchanged from 400 years ago. Inside one of the historic thatched-roof buildings—soba in front of you and a cup of sake in hand—you will feel like you are back in the time when takato soba was first introduced in Aizu.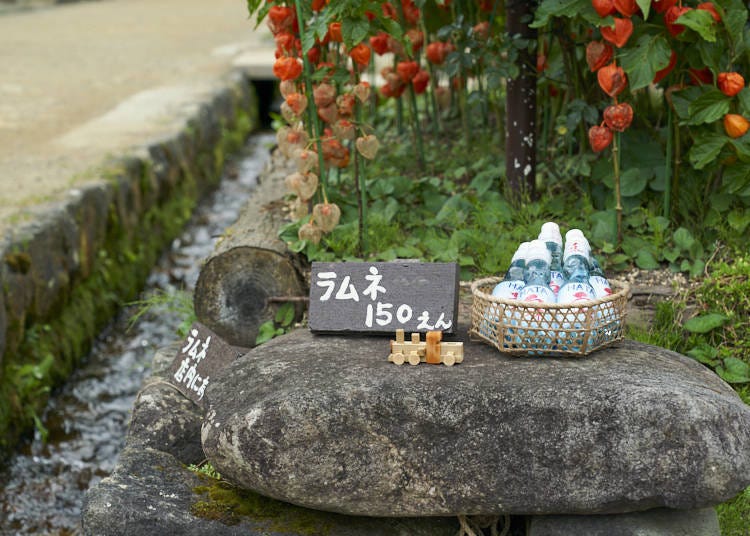 Quintessential country life
Try Next-Level Takato Soba at Ouchi-juku Miyasawa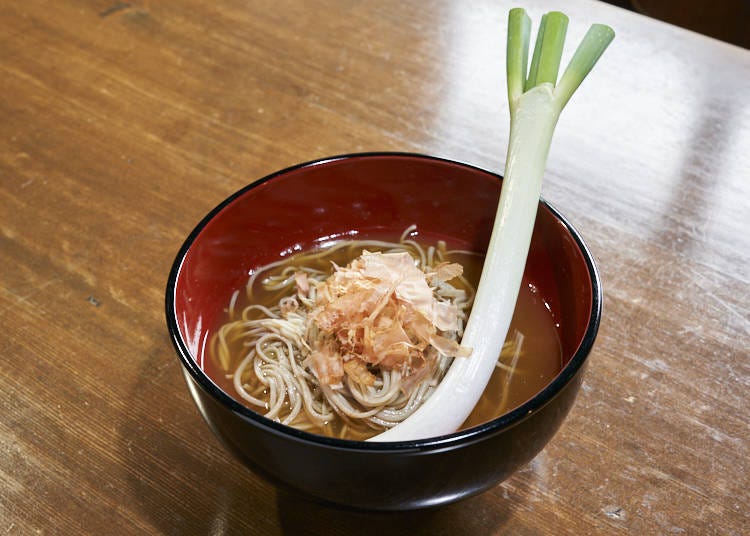 But don't think we are done yet; there is one more flavor experience that alone is worth the trip to Aizu. As if takato soba wasn't flavorsome enough, in the tiny town of Ouchi-juku, a number of restaurants have also incorporated the local negi (long green onion) into the dish. This custom started with the negi as a garnish on top of the noodles, but it quickly became something else entirely.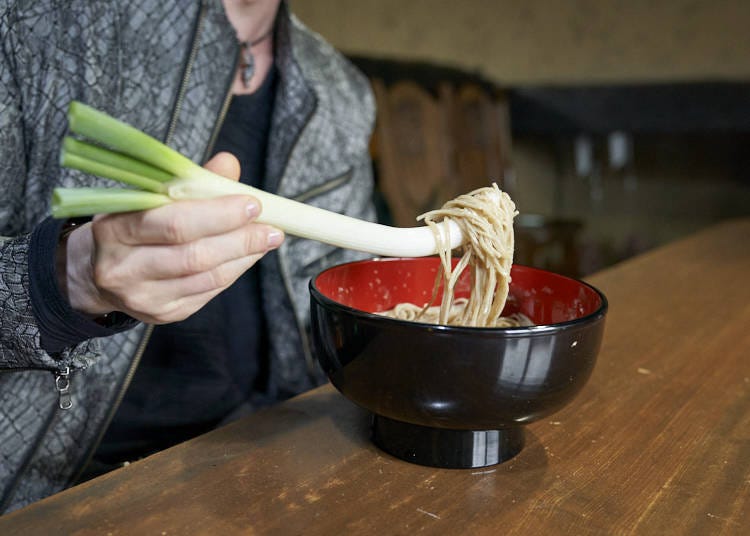 Surprisingly easy once you get used to it
Thanks to restaurants like Misawaya, the negi in its entirety started to be served with the soba, so that you could chomp along the full length of a spicy green onion as you ate your soba. Then someone noticed that a slightly curved negi is actually a serviceable substitute for chopsticks, and in a flash one of Japan's quirkiest culinary traditions was born.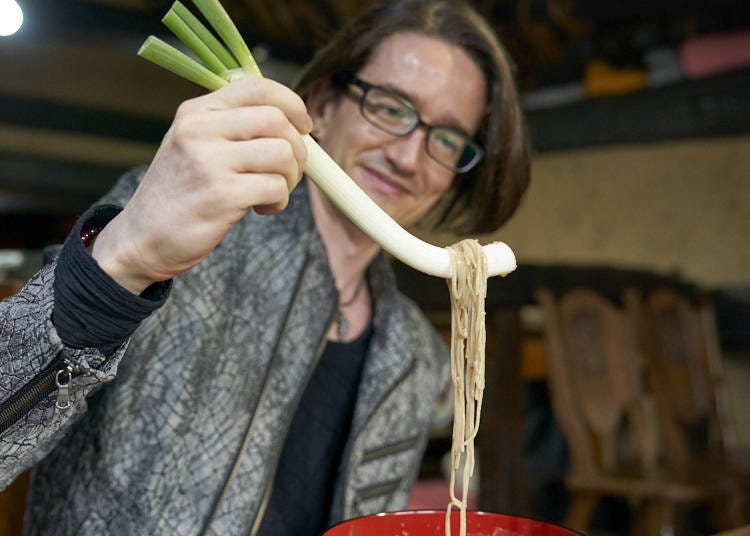 Instead of using chopsticks, you eat the whole bowl of noodles with the negi itself, a task made slightly easier since the green onions are purposely grown with a curve. As you eat, keep taking little bites of the negi, although be warned, it gets spicier and spicier the further you get from the root!
大内宿 三澤屋

Address

16-1 Aza Yamamoto, Oaza Ouchi, Shimogo, Minamiaizu District, Fukushima

Phone Number

0241-68-2927

Opening hours: 9:30 AM – 4:00 PM
Closed January 4-7
Explore Aizu's Cultural Heritage Through the Aizu 33 Kannon Pilgrimage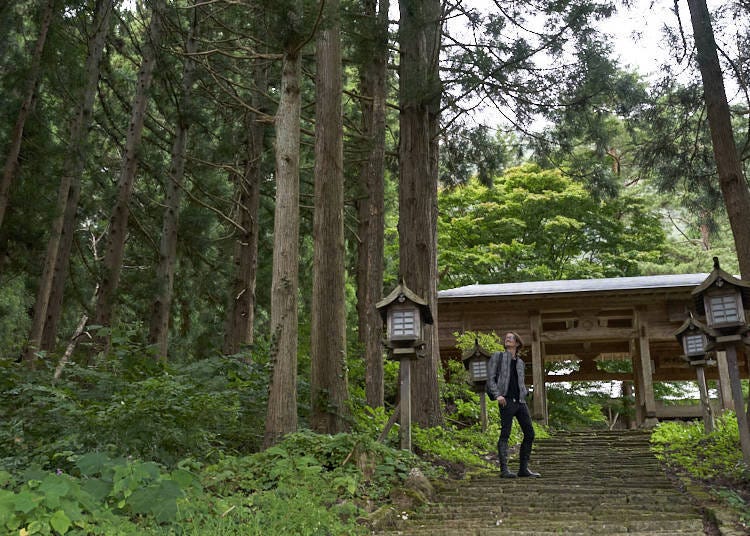 Aizu is a cuisine capital, but it is also a cultural heritage capital with rare protected cultural properties and unique sights making it one of Japan's treasures, which is largely unexplored by international visitors. For the best excuse to travel the whole area, the designated Japan Heritage route of the Aizu 33 Kannon Pilgrimage is highly recommended.

The origin of this 33-stop pilgrimage dates back to the seventeenth century, along with takato soba, which is no coincidence since both were propagated in the area by Hoshina Masayuki. Even for those who do not practice Buddhism, the pilgrimage is a great way to explore Aizu, since every temple and hall lies on the route at a spot of cultural significance or natural beauty.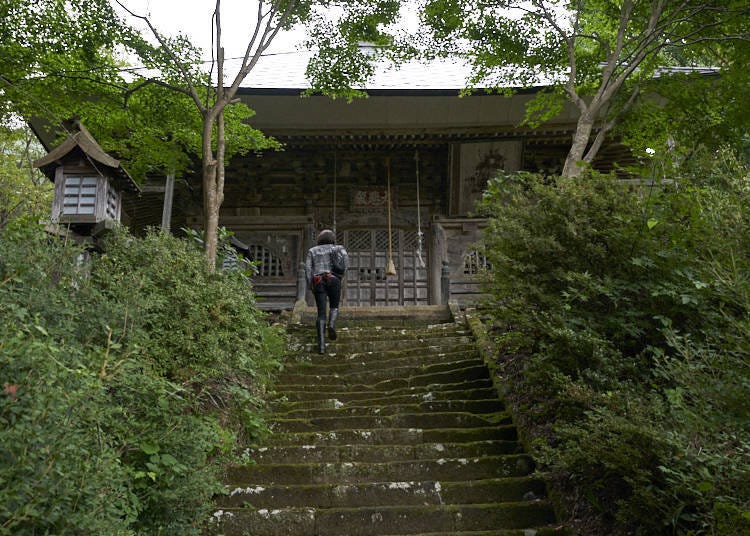 Heading up to the home of the Kannon at stop 10 on the 33 Kannon Pilgrimage route
The number 33 in the name refers to Buddhist statues and images of the Kannon deity. While some are only open to the public at specific times, there are many exquisite Kannon statues and accompanying statues to be seen in truly fantastical settings. This pilgrimage is a spiritual journey that is guaranteed to make an impression—from Kannon's image carved into a living tree at the temple Eryuji to the humble statue of Kannon that sits atop a mighty double-helix structure at the temple Sazaedo.
*This information is from the time of this article's publication.
*Prices and options mentioned are subject to change.
*Unless stated otherwise, all prices include tax.