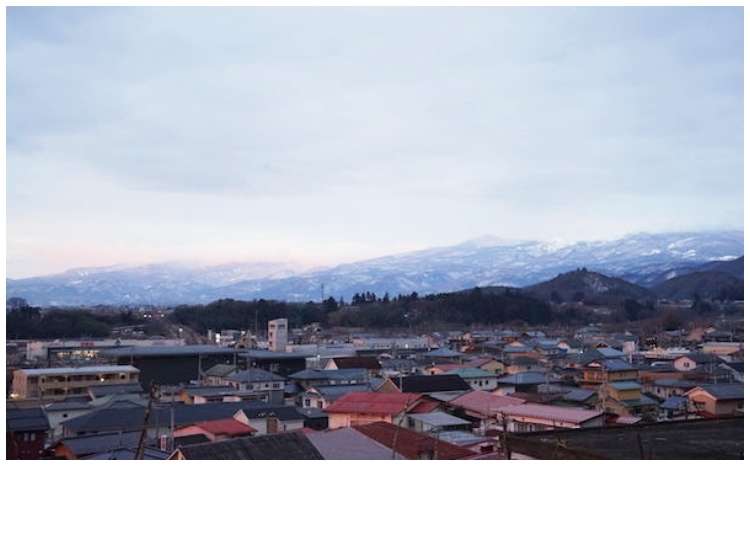 Iizaka Onsen (Fukushima Prefecture) is a scenic town that's particularly famous for having been frequented by famous Japanese writers and poets.

This town of rolling hills has nine communal baths, each with its own character. And as is customary in Japan, many of these onsen not only offer soothing natural baths but fine food as well.

Here we will introduce some of the foremost and most relaxing hot springs in Iizaka Onsen. These are exactly the spots you'll remember forever. Today they continue to overflow with tradition, have incredible gourmet dishes and warm hospitality since ancient times.
Iizaka Onsen is easily accessible. Iizaka Onsen Station is the end of the line on the Fukushima Kotsu Iizaka Line - just 20 minutes away from JR Fukushima Station where you board it. At JR Fukushima Station, you need only to transfer from the Tohoku Shinkansen and take a small local line.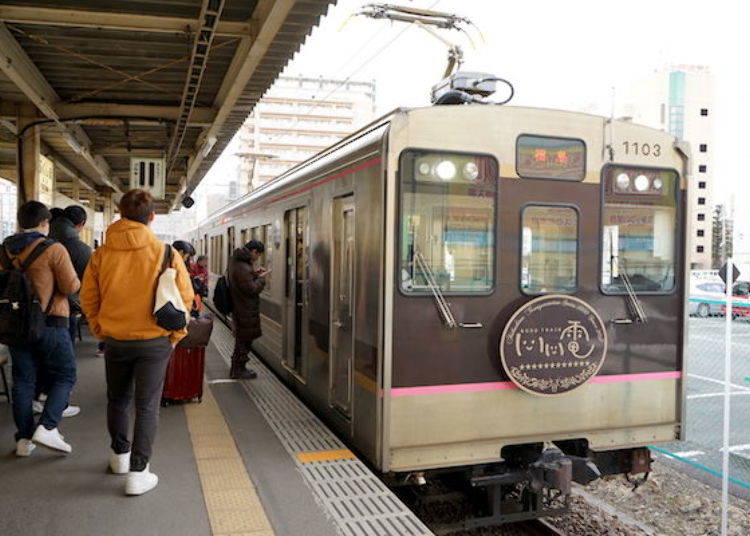 ▲ The one-way fare for an adult on the Fukushima Kotsu Iizaka Line between Fukushima Station and Iizaka Onsen Station is 370 yen (including tax).
Iizaka Onsen Orientation and Backstory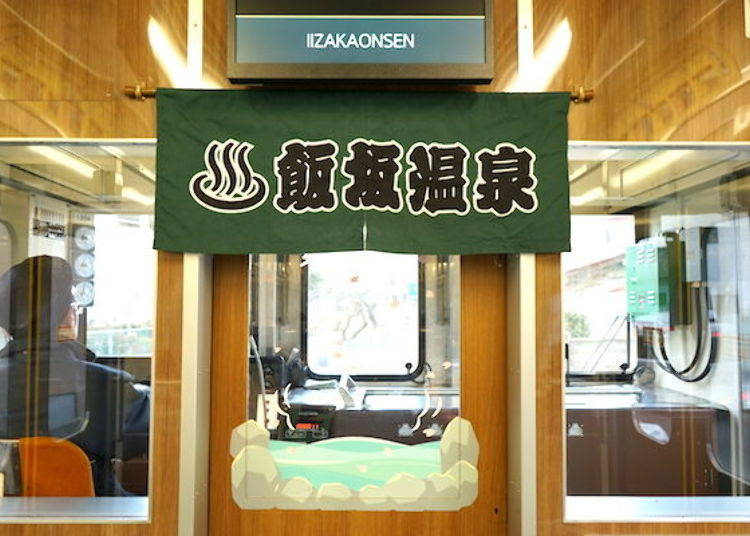 ▲ An interior view of the train. Puts one in the onsen mood!
After arriving at Iizaka Onsen Station, go to the plaza in front of the station and get information. Here you can get concise information about three important aspects of Iizaka Onsen before you set out on your walk so it's a good place to stop by first.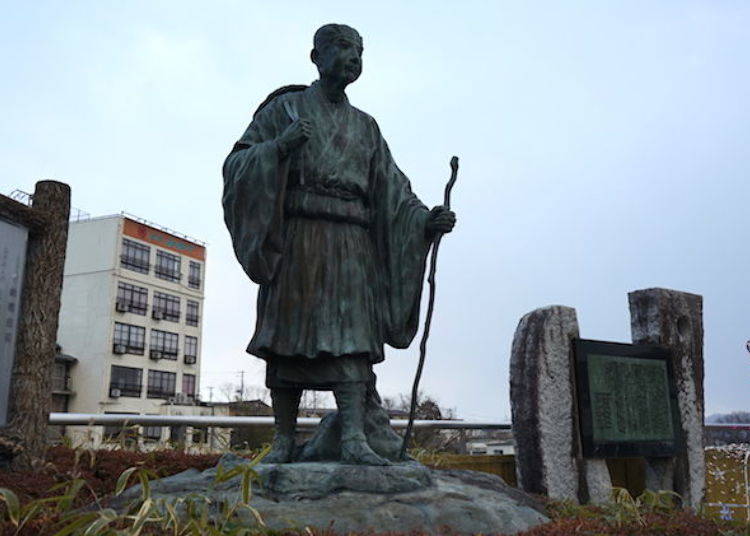 The first thing you see will be a statue of Matsuo Basho. Matsuo Basho mentions visiting Iizaka Onsen in his travel book Oku no Hosomichi (The Narrow Road to the Deep North).

Weary from his journey, he thought how wonderful it would be to relax in a hot spring and wrote about his experience as follows.

"After relaxing in the hot spring I looked for lodging but there was nothing available but a rather rundown house."

Apparently it was a disappointing stay, but there was a reason for that. At that time in Iizaka, an official notice was posted stating, "Lodging is not available to travelers without agricultural or commercial business."

As a solitary traveler, being offered only a straw mat placed on the earthen floor was probably the best hospitality that the family could provide.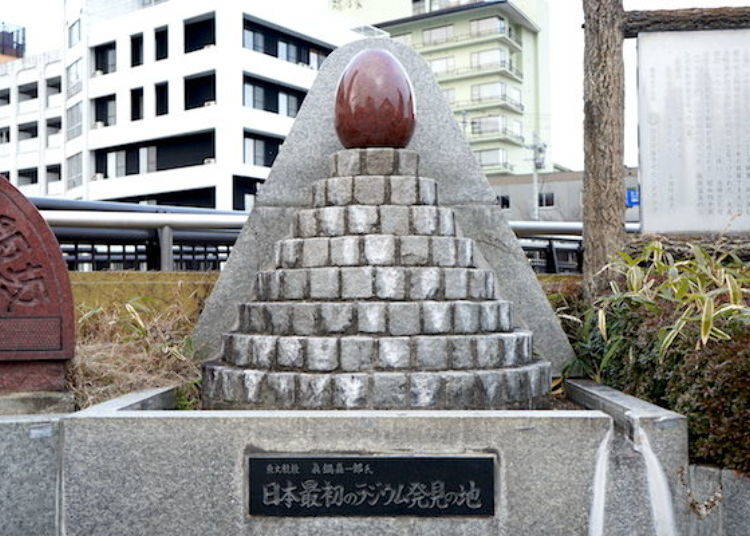 ▲ There is a bronze statue of a radium egg, a product for which Iizaka Onsen is famous.
Actually, Iizaka Onsen was the first hot spring in Japan discovered to contain radium.

In 1898, Madame Curie, the first woman to receive the Nobel Prize, discovered the element radium. Six years after that, in 1904, Manabe Ichiro found that the water source of the Akagawa River that flowed through Iizaka contained radium. This reportedly led to the Iizaka Radium Onsen becoming well-known throughout the country.

Next to that is the Totsuna Bridge.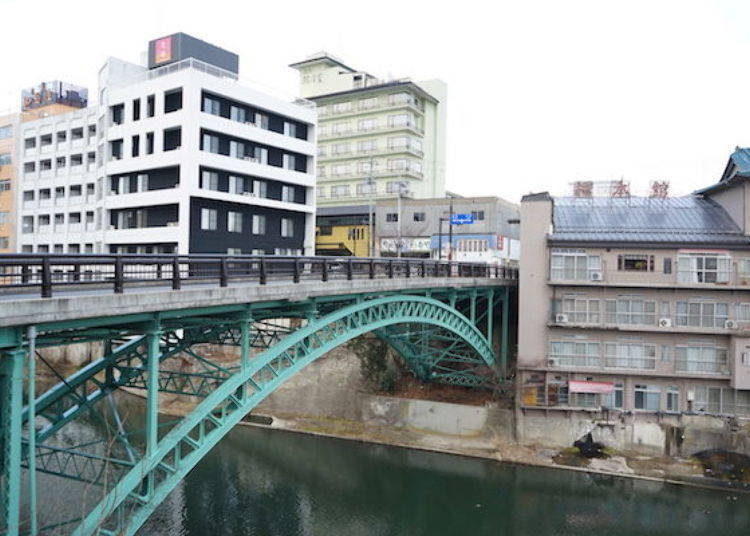 ▲ Not only does the main road run across it, but it also is used for carrying water and hot spring water lines, electrical wires, and communication lines making it a lifeline for the residents.
Inns line the Surikami River and its tributaries that run through Iizaka Onsen. You can get a good view of the area from the Totsuna Bridge.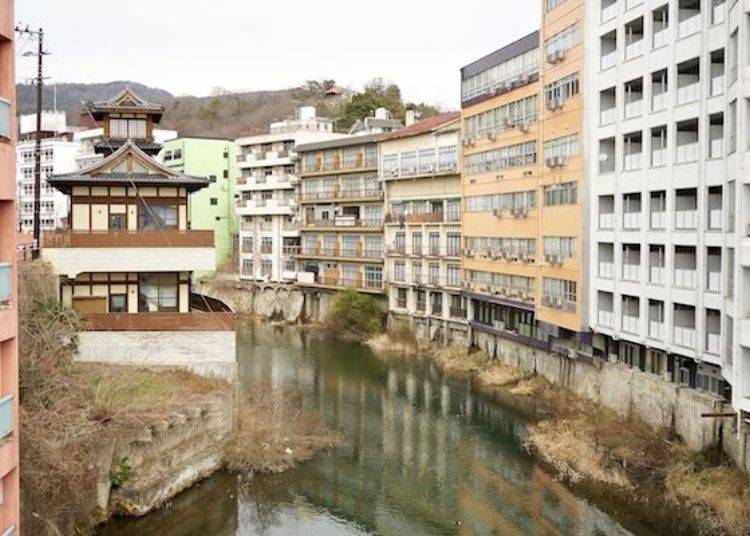 ▲ Hot spring inns along the river. And what could that building on the left that looks like a castle be?
A bridge was first built over the Surikami River in 1729. Until then, a rope was strung across the fast-flowing river and the crossing was made by those on boats pulling themselves back and forth across the river which was referred to as Totsuna Watashi [crossing the Totsuna].

The current Totsuna Bridge was completed in 1915 and is the oldest steel arch bridge in Japan making it a valuable legacy of civil engineering.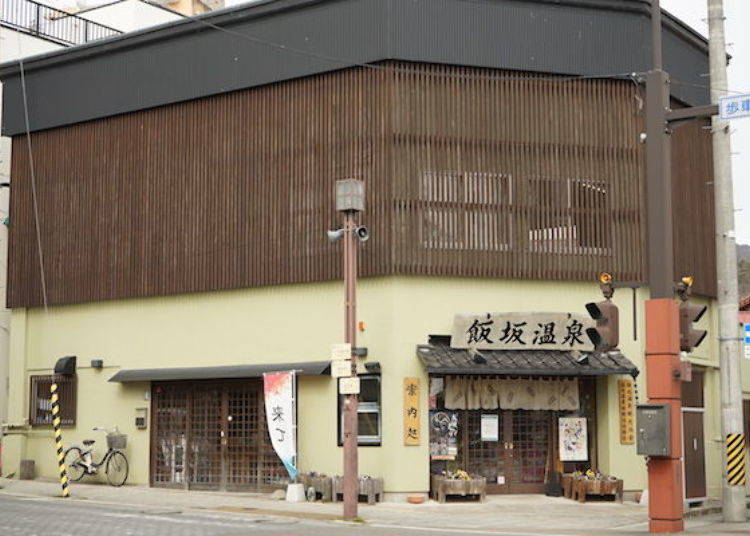 The Iizaka Onsen Tourism Association is right across the street from the station plaza, and here you can receive brochures and walking maps as well as learn about other tourist information.
Begin your visit to the hot springs of Iizaka at the Hakoyu
I was intrigued by the Japanese-style architecture I could see from the Totsuna Bridge and decided to get a closer look. When I reached the top of the gentle hill going up from the plaza in front of the station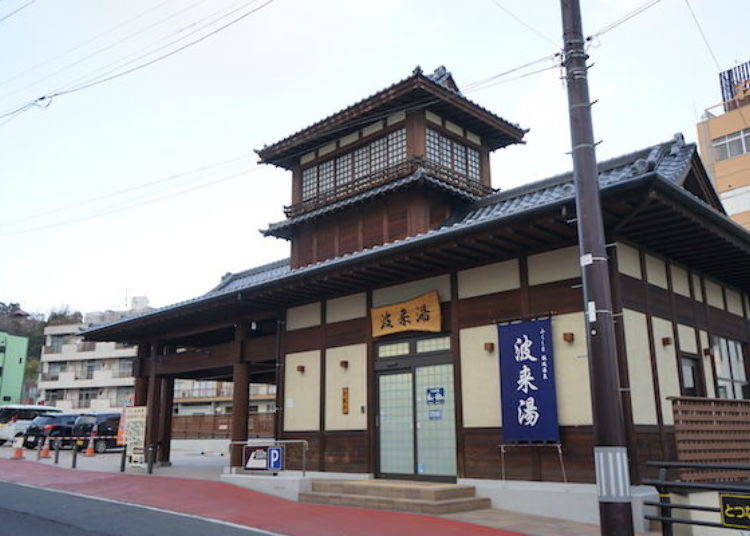 I came to another hot spring!

This is the Hakoyu, one of the nine communal baths in the town. Although it has a history of about 1200 years, it was renovated in a Japanese-style called Taikoyagura [drum tower] in 2011 and outfitted with elevator and multipurpose toilets making it very convenient.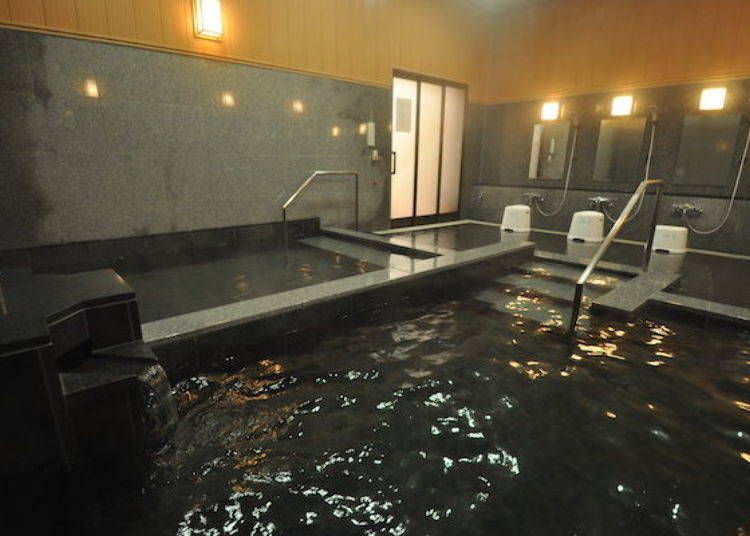 ▲ Interior view of the women's bath (photo provided by Fukushima City Tourism Development Co., Ltd.)
Speaking of the Iizaka hot springs, they are renowned for being quite hot, but this onsen has two tubs, one with hot water and the other with warm water so hot spring newcomers can bath without worry.

Let's first relax in this hot spring and refresh ourselves after our journey. There is also a terrace with benches where you can sit and look at the Surikami River after the bath.
波来湯

Address

30 Totsuna-cho, Iizaka Town, Fukushima City, Fukushima Prefecture

Hours of operation: 6:00 a.m. ~ 10:00 p.m.
Closed: Tuesday (open if Tuesday is a national holiday)
Admission: Adults 300 yen, 12 years and under 150 yen (tax included in both)
024-542-5223 (Communal Bath Association Inquiries)
Wander about the hilly town with the Chanko Chanko stone stairways
After a refreshing dip in a hot spring, let's next head towards the center of the town.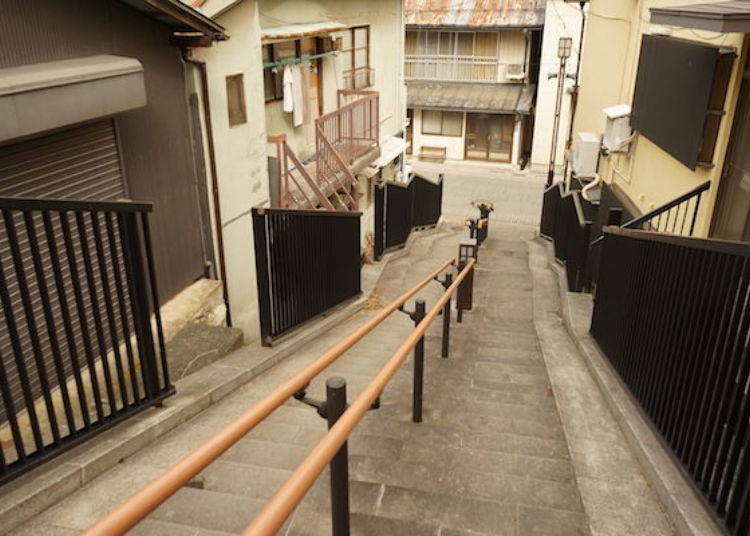 Iizaka has many hills. Everywhere there are pathways and stairs on the hills. The locals call these stone steps "chanko-chanko", and hearing that, the poet Saijo Yaso supposedly wrote Iizaka Kouta [Ballad of Iizaka] because the words perfectly suited the image of Iizaka Onsen.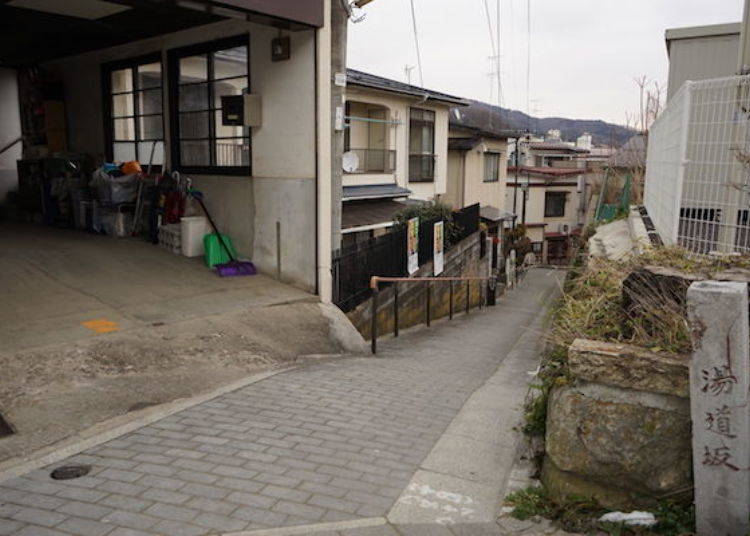 ▲ Yudozaka is the name of the road going from the private parking lot to the Sabako communal hot spring.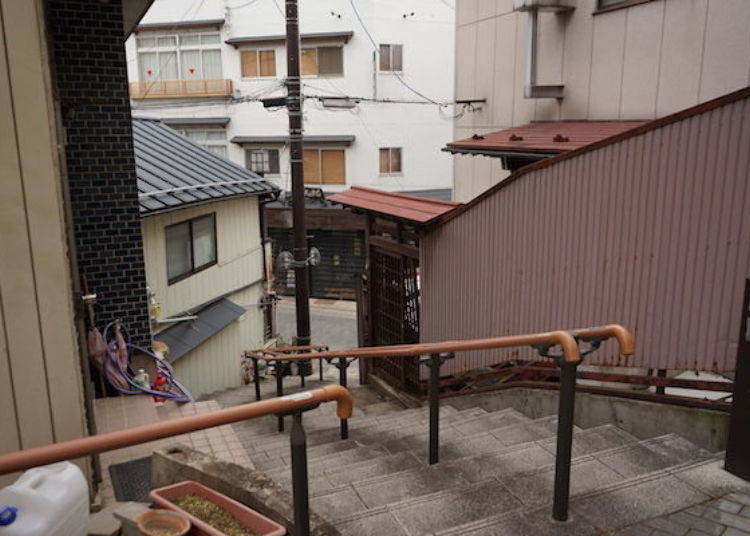 Every slope has its own unique feel that makes me want to walk at a snail's pace.
Sabako Shrine: Pray to the God of Hot Water in the center of Iizaka Onsen
One feature of Iizaka Onsen is its compact size. All the places to see are located within a few minutes' walk of each other.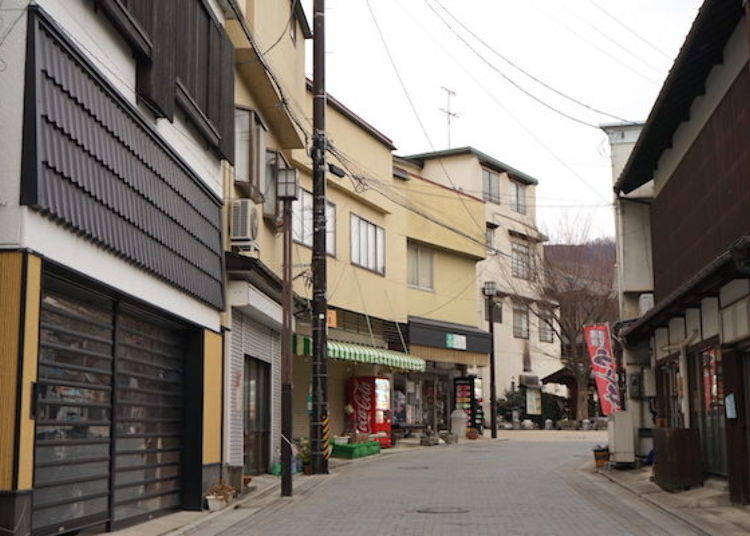 After a short 5-minute walk from the station down Yuzawa-dori you will arrive at Sabako Shrine, where Iizaka Onsen got its start.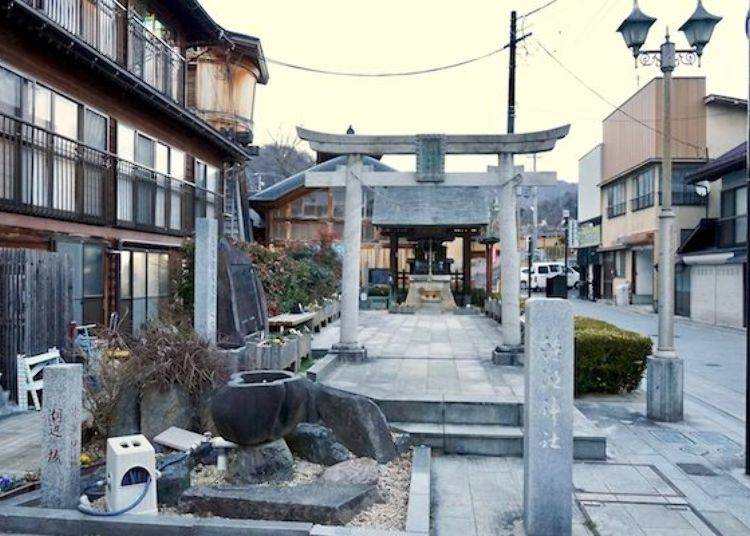 ▲ Sabako Shrine stands in a small stone square in the center of the town.
Previously I briefly mentioned that Hakoyu has a history of about 1200 years, but the history of Iizaka Onsen is even older with one account saying that it was discovered around the 2nd century by Yamato Takeru no Mikoto during the Eastern Expedition.

Along with Naruko Onsen and Akiu Onsen in Miyagi Prefecture, it is counted as one of the three historically famous Oshu [interior province] hot springs.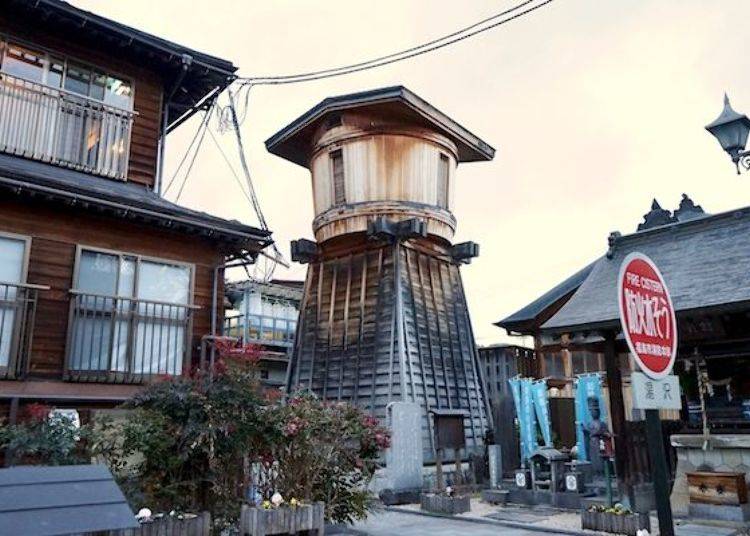 ▲ There is also a hot water tank within the shrine precinct. You can see the hot spring gushing up from here.
This mildly alkaline spring is soft and gentle to the skin and is free of any peculiarities. There is no sulfur-like odor that is common to many hot springs. After bathing in this water your skin feels moist and smooth and is ideal for women travelers seeking such effects.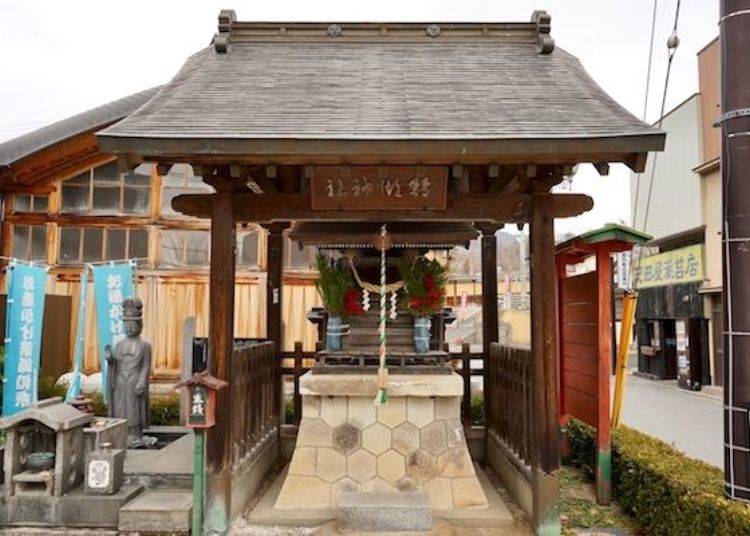 On the left side of the shrine is the small Tathagata Senbutsu Oyukake Yakushinyorai [Pouring Fountain Spring Water on the Buddha of Healing].

They say that if you pour water on that part of the body you want to be healed it will then become better.

As I suffer from chronic stiff shoulders I poured water on the Tathagata's shoulders without hesitation and prayed for improved health.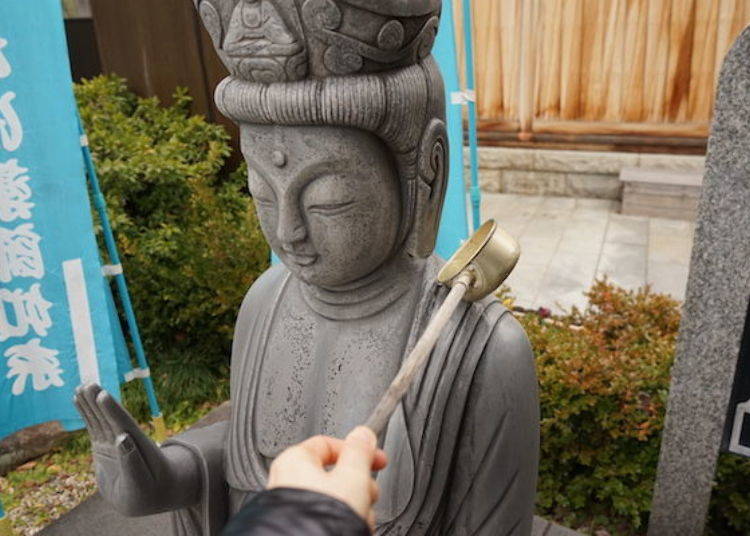 ▲ I hope my wish comes true...
Afterwards I again set out on my walk. There are still many pleasures awaiting in this hot spring village!
鯖湖神社

Address

Yuzawa, Iizaka Machi, Fukushima City, Fukushima Prefecture

Prayers may be offered freely
024-542-5223 (Communal Bath Association Inquiries)
Oncafé hot spring cafe: Where to take a break while wandering around Iizaka Onsen
This is a stylish cafe in Iizaka Onsen, a traditional hot spring area with a long history, and the perfect place for lunch or tea.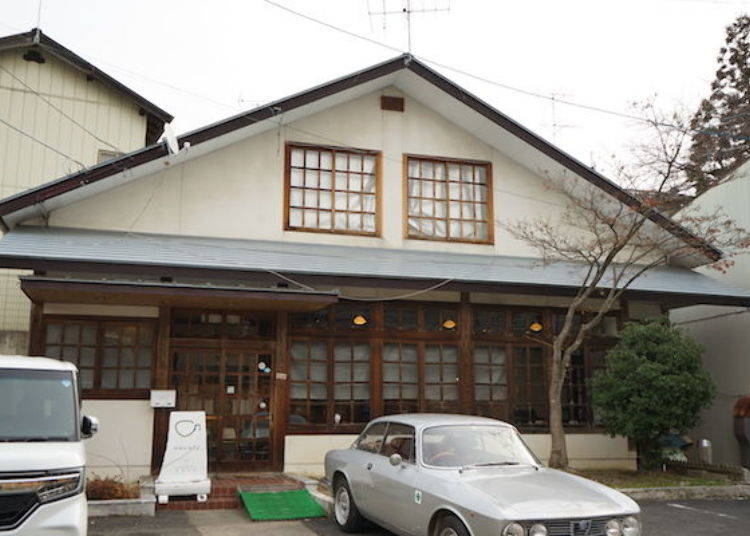 Oncafé is located in a Japanese style house just a short 30-second walk from the Sabako Shrine.
▲ The "on" in oncafé refers to the "on" in Onsen.
This old-fashioned house was a vacant Japanese-style store that was renovated into a cafe in 2012. The store is furnished with mid-century style furniture, the ceiling is high and the atmosphere is relaxed.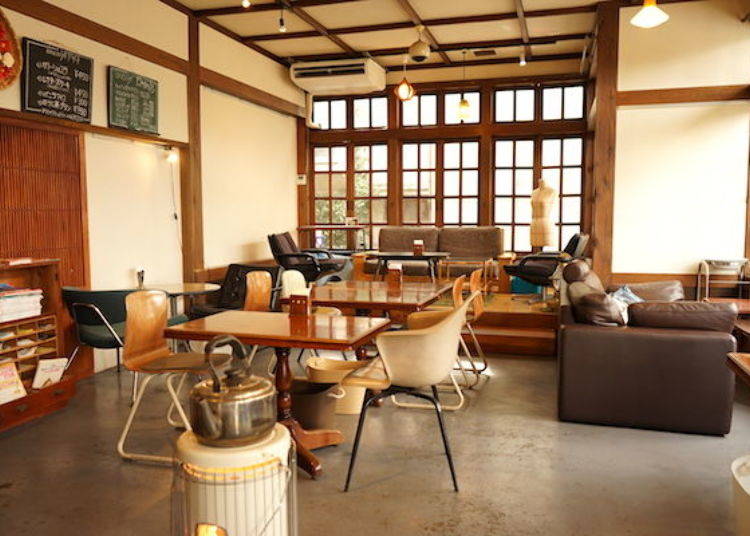 ▲ This is a popular place for local couples on a date. Sometimes unscheduled live concerts are also held here.
When you visit, be sure to try the Moniwakko Soup Curry!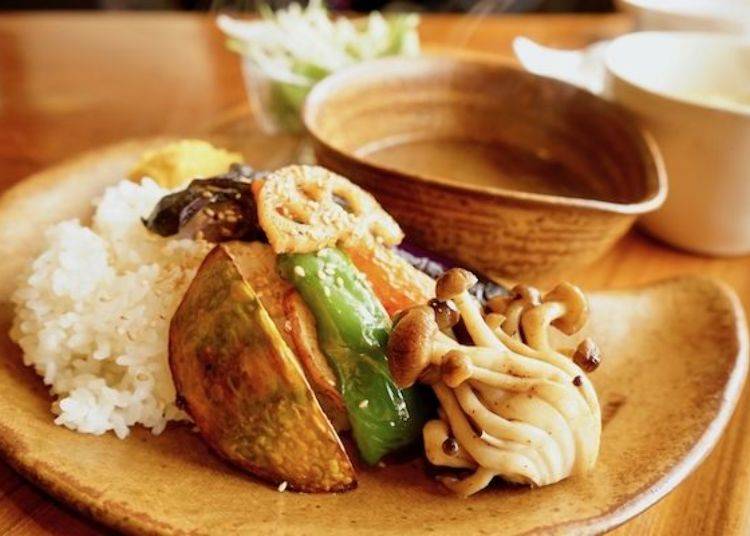 ▲ Moniwakko Soup Curry (soup, salad, side dish, radium egg, coffee or tea) (1,250 yen including tax)
The name and appearance comes from the Surikami River Dam (commonly known as Moniwakko) located upstream of the Surikami River in Iizaka Hot Springs. The rice represents the mountain and the colorful mound of vegetables a forest of trees, I was told.

The curry is a spicy soup curry. As for the radium egg that comes with the curry, this is an egg boiled in the hot springs for which the area is famous. Eating it with the curry gives it a more Western flavor than when it is eaten with soy sauce.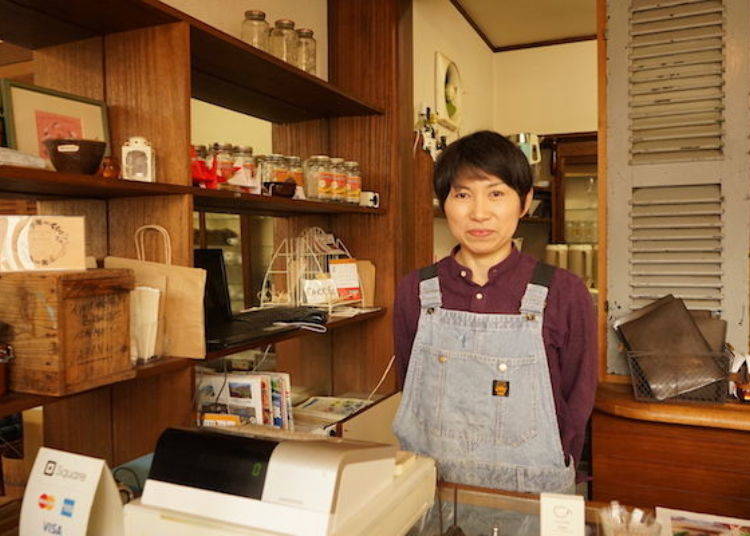 ▲ Ms. Ritsuko Fujiwara, the shop manager.
In addition, there are four different set lunches at all times including the Rajiumu Tamago Oyako-don [Radium Egg Chicken & Egg Bowl] (850 yen including tax) and the Ranchi Pureeto Setto / Shiifuudo Guratan [Lunch Plate Set / Seafood Gratin] (1,050 yen including tax). On weekends it tends to become crowded, so it is best to come early for lunch!
oncafé

Address

26 Yuzawa, Iizaka Machi, Fukushima City, Fukushima Prefecture

Phone Number

024-542-3159

Open: 10:30 a.m. ~ 6:00 p.m. (Lunch time 11:30 a.m. ~3:00 p.m.) Closed: Wednesday
Sabakoyu: Meet the locals at Iizaka Onsen's oldest hot spring
After lunch it's time to try another hot spring. The Sabakoyu hot spring is directly in front of the oncafé.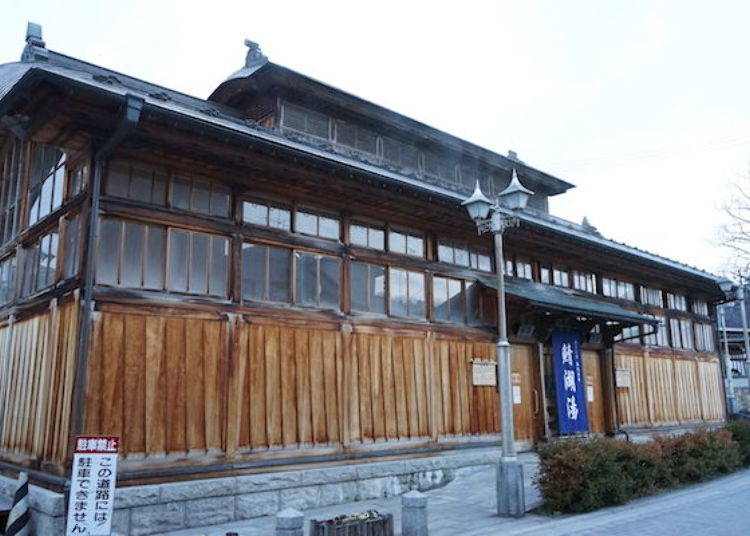 ▲ At night it is illuminated.
Sabakoyu is the oldest hot spring in Iizaka Onsen and it is said that Basho bathed here. It has long been familiar to many as the oldest wooden-structure communal bathhouse in Japan and in 1993 it was renovated. This beautiful structure with its Japanese cypress walls and ceiling maintains the mood of the past.

Ducking under the noren to the women's bath you will see a vending machine. The admission to the bath is only 200 yen including tax. There are separate charges for towel rental, soap, and shampoo so you may wish to bring your own.

After presenting the admission ticket to the banto [bath attendant] you can enter the bath.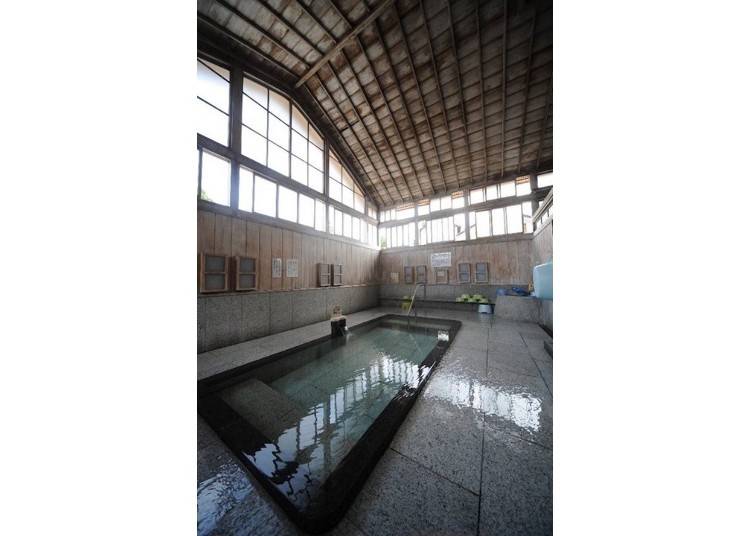 ▲The spacious granite baths and washing area (photo provided by Fukushima City Tourism Development Co., Ltd.)
There is no partition between the dressing area and the bath area. You descend the steps to reach the bathtubs. The room has an exhilarating open feeling to it.

I dipped out water and poured it over me...Ouch!! It was so hot, it made me blink. A lady soaking in the bath told me, "Use that hose over there to cool the water as you enter it."

The thermometer above the faucet read 48 degrees. To tell the truth, I didn't feel like getting into the tub. But I managed to work up my resolve to do so. The hose was near the agariyu [hot water used for rinsing outside the tub] and can be used to pour cool water into the tub.

If other bathers object at that time, then you need to put the hose down by your feet or keep it close to you and then when you get out of the tub, turn it off and return the hose to its place. One needs to be careful of that etiquette.

After a few moments, I became accustomed to the hot water and was able to sit in it for some time. "Now you are used to it, right?" the fellow bather said to me.

Some of the other hot spring baths in Iizaka Onsen are even hotter than this one, I was told, so for anyone not used to really hot bath water, I recommend that they first visit the Hakoyu.

Having friendly exchanges with local people like this is another pleasure of the communal baths. It soothes both the body and soul.
鯖湖湯

Address

32 Totsuna-cho, Iizaka Town, Fukushima City, Fukushima Prefecture

Hours of operation: 6:00 a.m. ~ 10:00 p.m. (Last admission 9:40 p.m.)
Closed: Monday (open if Monday is a national holiday)
Admission: Adults 200 yen, 12 years and under 100 yen (tax included in both)
024-542-5223 (Communal Bath Association Inquiries)
Gyoza Terui: Taste their famous Enban Gyoza once and you'll be totally hooked on it!
After a pleasant soak in the hot spring, I resumed my stroll and realized I was hungry. Enjoying the gourmet dishes of local areas visited on a journey is also part of the pleasure I look forward to. If there is one shop you really must visit in Iizaka Onsen it is the Gyoza Terui Iizaka Honten.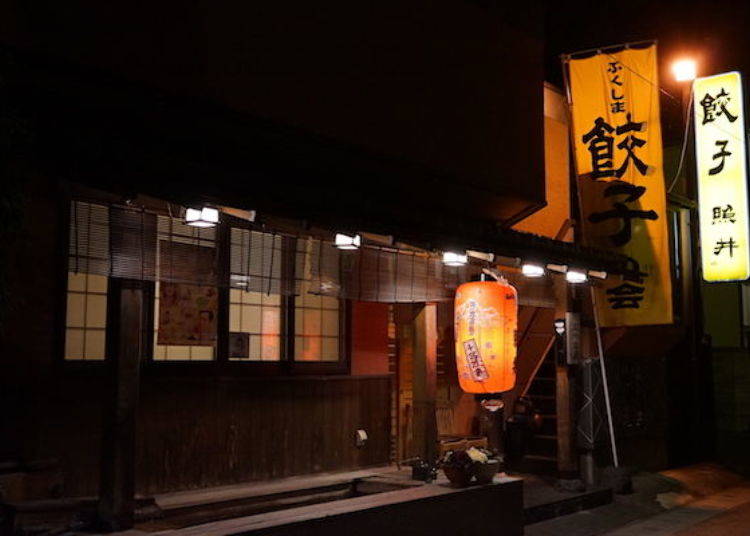 ▲ Gyoza Terui is located in a residential section of the hot spring town.
It was established in 1953. The first proprietor tasted gyoza [dumplings] in Manchuria during the war and never forgot the taste, so later through trial and error, he created a special dumpling dish called Enban Gyoza [flying saucer dumplings] which became famous. The shop also offers other popular everyday dishes such as yasai itame [stir-fried vegetables] and shoyu ramen.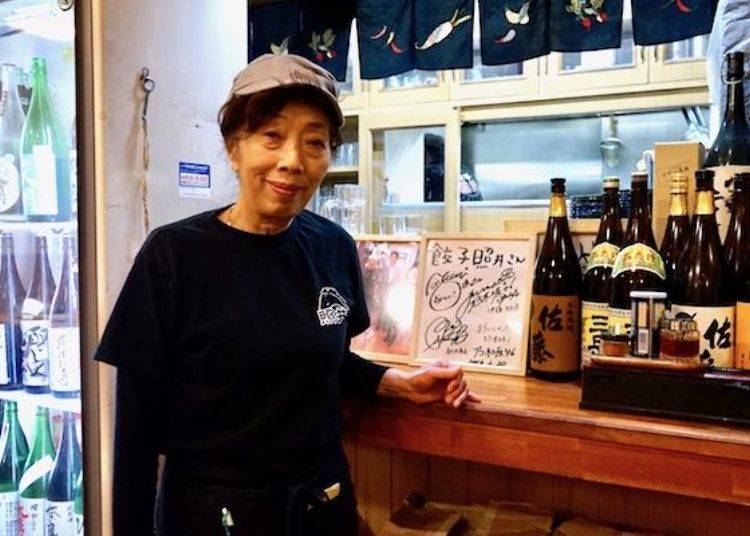 ▲ Welcome! The proprietress, Ms. Tomoko Sato, warmly greets visitors.
First of all, I wanted to try the Enban Gyoza which on weekends has customers lined up waiting to get in. Every day the master personally makes the wrappers and filling. "I don't stuff the dumplings until there is an order for them, so it takes a little while to make," Ms. Sato said.

While waiting for the dumplings to be prepared I looked around the shop.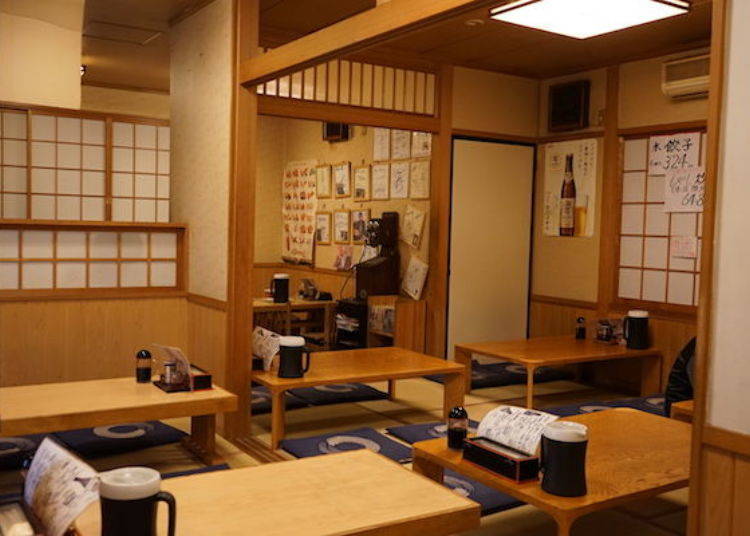 The seating area has a relaxed feel to it and there is a table in the rear. Hmmm? The walls in the room with the table are covered with numerous autograph cards....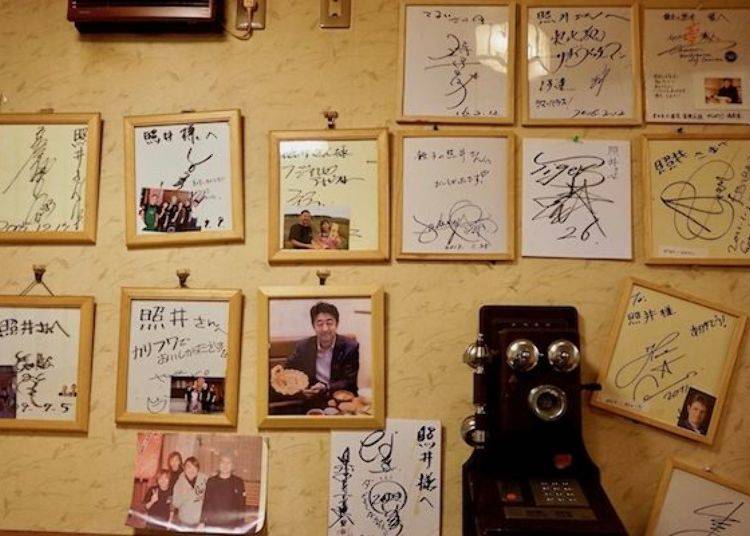 ▲ Many autograph cards and photographs of famous visitors line the walls.
Seeing this increased my anticipation of the dish I had ordered!

After waiting about 10 minutes Ms. Sato arrived saying, "Sorry to have kept you waiting," carrying the dish!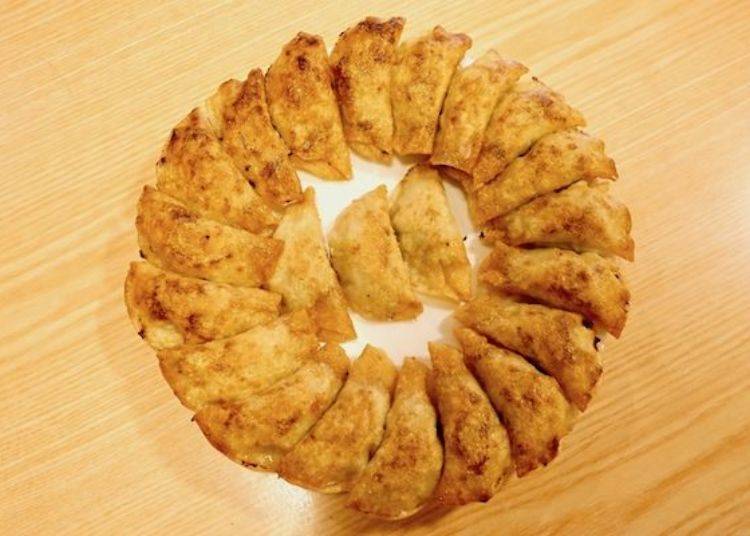 ▲ Enban Gyoza (22 dumplings / 1,296 yen including tax)
True to its name they are presented in a circular pattern! It looks like a flying saucer!

"Yes, that's right. When we first put it on the menu most of the orders for it came from nearby inns so the easiest way to prepare it was to put the dumplings in a round frying pan when cooking them and then to just transfer them all onto a plate so they kept that same configuration," Ms. Sato explained.

When Iizaka Onsen was booming with business this was often provided to employees of the inns for their meals and also led to it becoming a popular delivery menu item.

I immediately tasted one of the dumplings after dipping it into a special sauce made with chili oil and red pepper seasoning.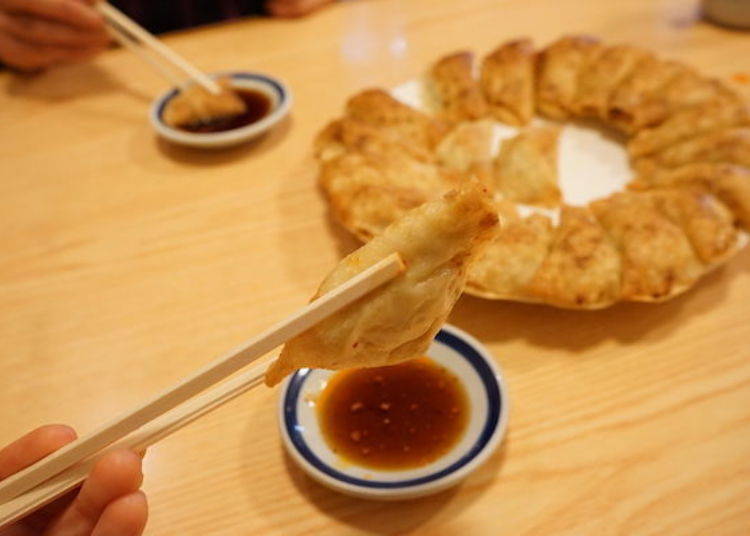 The shell was thin and crisp and the meat inside so juicy that I felt like I could eat any amount!!

"I let the shell dough sit for three days before rolling it out as thinly as possible," said Ms. Sato. This was the first time for me to eat dumplings having such thin shells. When I first heard that the dish contained 22 dumplings I imagined that each dumpling would only be about 5 or 6 centimeters big as it is a dish designed for one person.... By the way, it is possible to order a half dish of 11 dumplings (648 yen including tax).

I also tried another popular dish on the menu, Yasai Itame [stir-fried vegetables]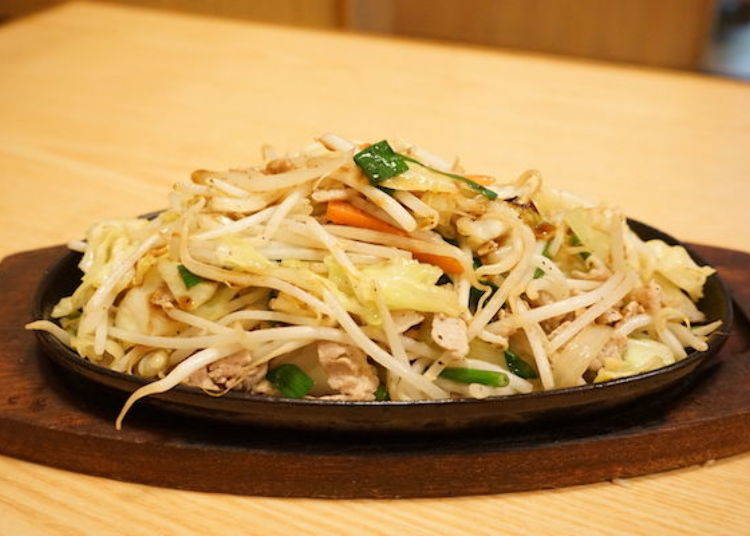 ▲ Yasai Itame (864 yen including tax)
Look at the size of this portion! This is your standard stir-fried vegetables consisting of bean sprouts, cabbage, garlic chives, onions, carrots, and pork; the cabbage had a really great texture. It comes served piping hot in an iron dish. This excellent dish was also very satisfying.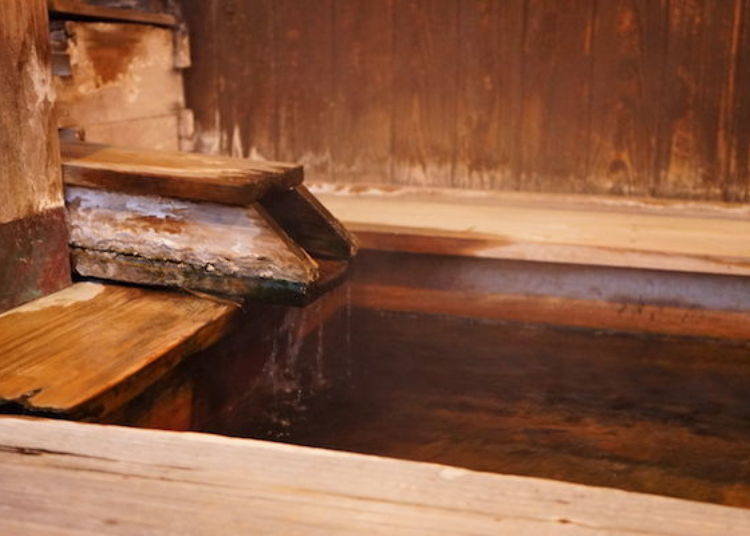 ▲ To the side of the entrance there is a foot bath with running hot spring water for guests waiting outside to get in. It can be quite cold outside when you are waiting.
The shop was originally an izakaya so naturally, it also offers a selection of local sakes. The warm hospitality of the proprietress was very heartwarming. I hope you will also definitely visit someday!
Gyoza Terui Iizaka Honten

餃子 照井 飯坂本店

Address

1-21 Yuzawa, Iizaka Machi, Fukushima City, Fukushima Prefecture

Phone Number

024-542-4447

Open: 5:00 p.m. ~ 11:00 p.m. (Or when the dumplings run out)
Closed: Wednesday
Daimon no Yu: Grand view of the Fukushima Basin! Superb off-the-beaten-track spot
You can't visit a hot springs area without going to all the communal baths. After spending the night in an inn I woke up early and while walking around the town I heard the unmistakable sound of water splashing in a bath. I headed off in the direction of from where the sound was coming....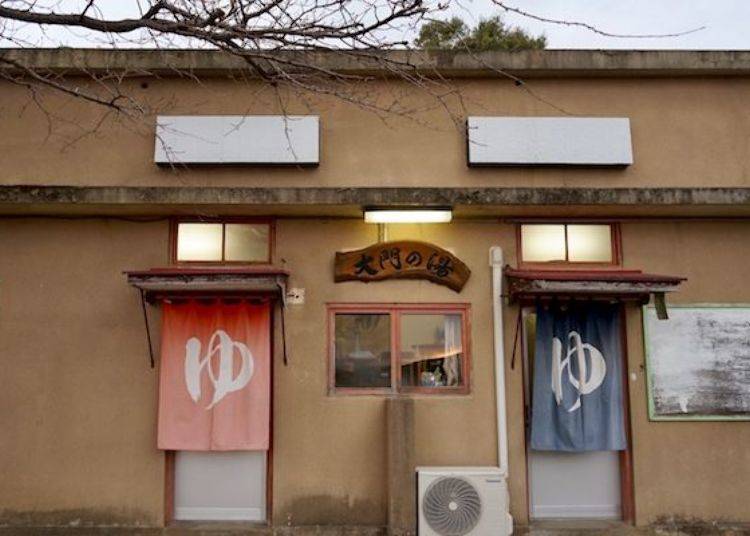 And there it was! The Daimon no Yu hot spring. I was surprised to see that people were bathing in the hot spring at such an early hour (open 6:00 a.m. ~ 10:00 p.m.; closed on Thursday).

The view here is also recommended while also enjoying the onsen hot spring bath. There is a parking area a little way up beyond the communal bath and from there you can get an excellent view of the Fukushima Basin.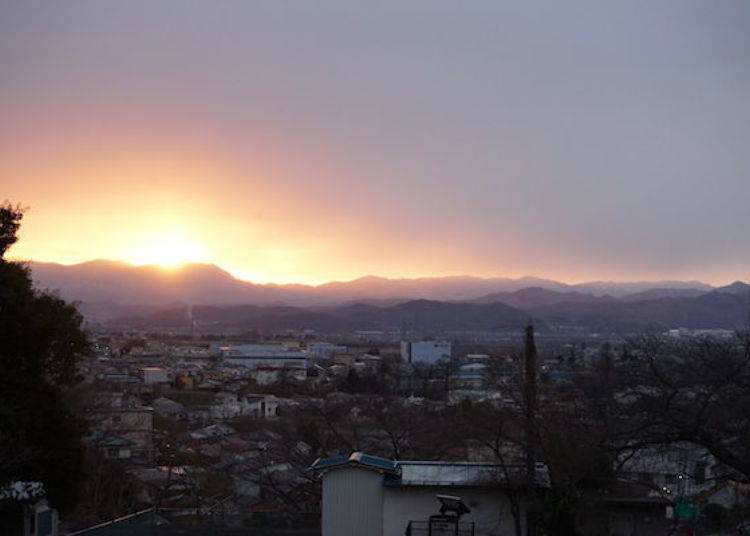 Here it is! I managed to get there just as the sun was coming up. The morning sun lights up the streets of Fukushima and the mountains. The view is breathtaking.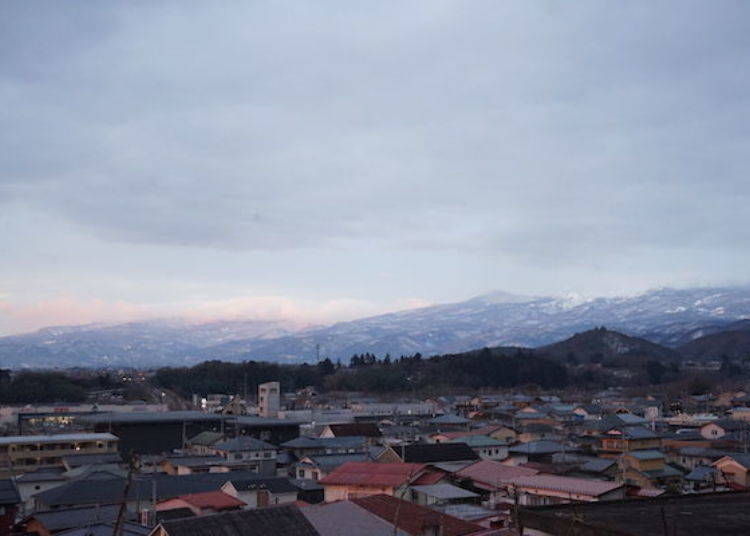 ▲ Fukushima's famous Mt. Adatarayama can also be seen
Seeing this view after a relaxing hot spring bath is a wonderful way to start the day.

What's more, the temperature at the hot spring source is 56 degrees! Iizaka Onsen has many uniquely different communal baths including Kiryu, where you can experience an intensely hot bath; Dosen no Yu and Totsuna no Yu, where you can rub shoulders with local residents living in the area; and Senki no Yu which is reported to be effective for hernias.

The water temperature and mineral quality of each is different, so why not come and compare the differences? (Please check the Iizaka Onsen official website for details and other information about hours of operation).
大門の湯

Address

960-0201 Fukushima, Iizaka, Daimon−1
Former Horikiri Estate: See the heart of Iizaka Onsen through its famous historical buildings
I continued my walk that morning. After walking about two minutes to the north of Sabakoyu, I came upon the former Horikiri Estate, a historical landmark in Iizaka Onsen.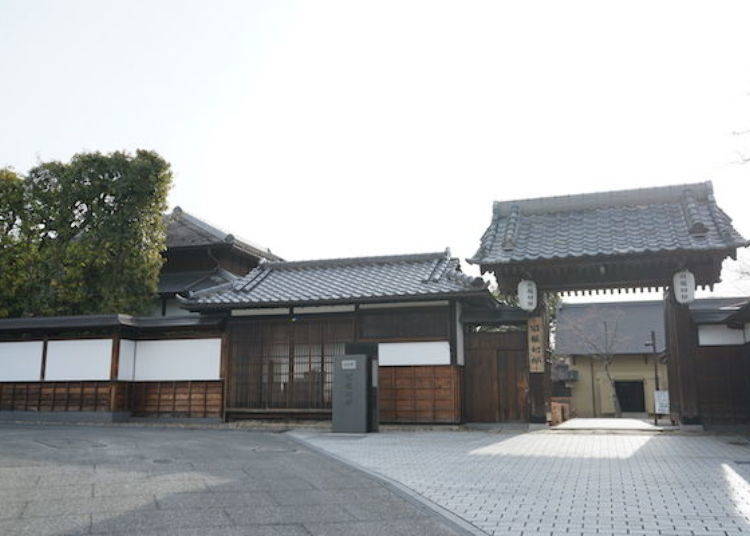 ▲ Front gate of the former Horikiri Estate
This used to be where the Horikiri Family, a wealthy farming and commercial family since the Edo Period, resided. Within the approximate 4,000 square-meter property are historically valuable structures including the largest and oldest storehouse in Fukushima Prefecture today and the modern Japanese-style main house as well as exhibition spaces and a footbath rest area, all of which are open to citizens and tourists free of charge.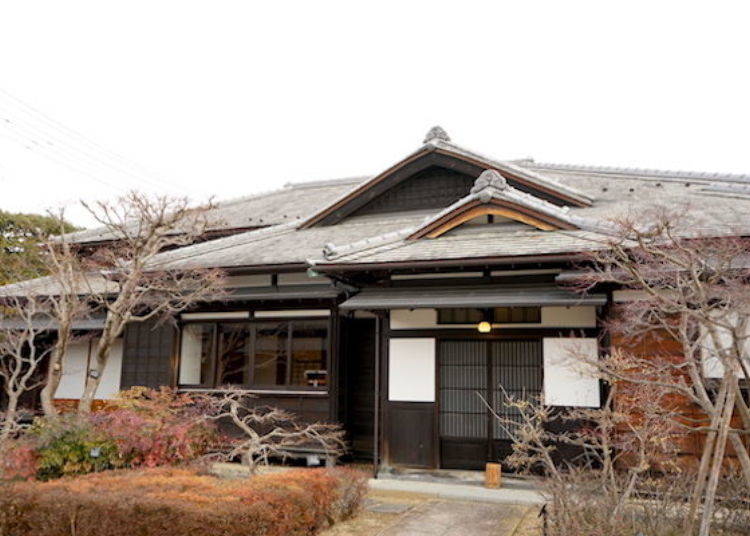 ▲ The modern Japanese-style main house was destroyed by fire in 1880 but rebuilt in the following
The Horikiri Family, former owners of the house, made significant contributions to Iizaka as Ojoya [village heads] and to Japanese politics.

The family got its name of "Horikiri", meaning moat digger, when the family dug a trench that protected the village from disaster when the Akagawa River, which flowed to the west of the house, flooded as a result of heavy rain. The family further came to the assistance of the villagers again later during the great famine of Tenmei and in the rebuilding of it after a great fire, significantly contributing to the development of Iizaka.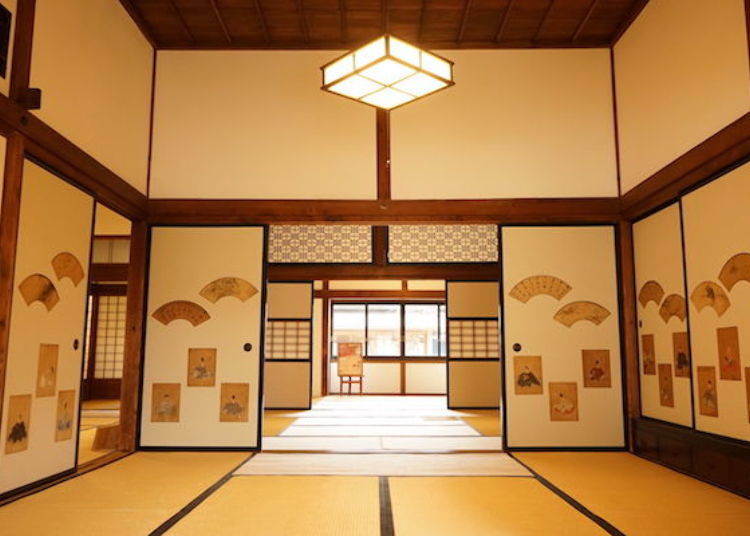 ▲ It is possible to tour the inside of the main house.
There are three storehouses adjacent the main house - Shinzo [new storehouse], Chu no Zo [middle storehouse], Dogugura [tools storehouse] - the interiors of each are now used as exhibition spaces.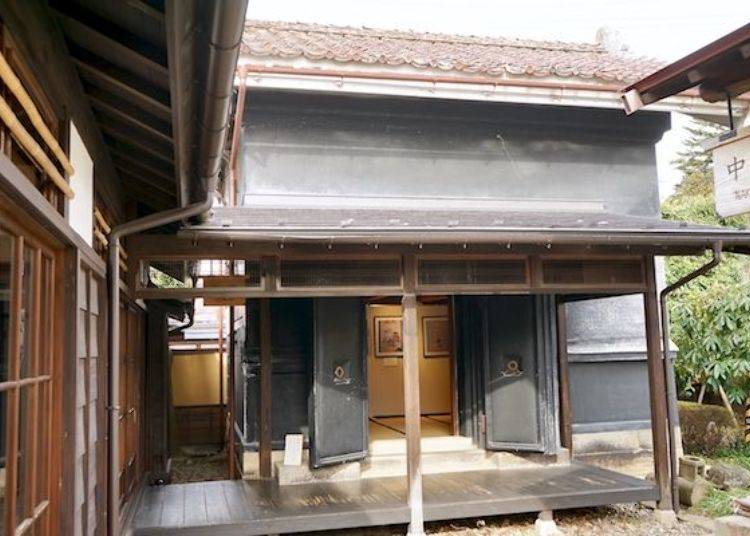 ▲ The origin of the Horikiri Family, ancestors, and family lineage are displayed in the Shinzo.
In each of these there are records tracing the history of the Three Horikiri Brothers: Horikiri Zenbei (at the time the youngest member ever of the Diet House of Representatives), Zenjiro (the 13th mayor of Tokyo, and Uchiike Kyugoro.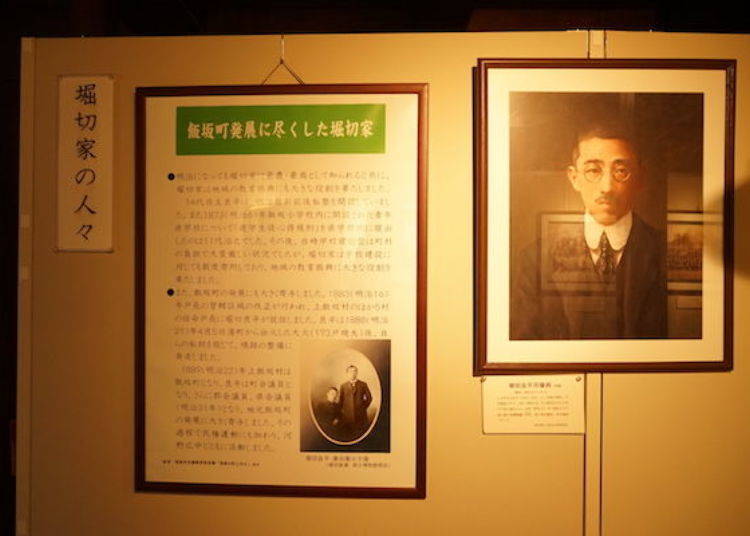 ▲ This is the father of the Three Horikiri Brothers, the 14th Horikiri family head, Horikiri Ryohei. He used much of his personal wealth to rebuild the town of Iizaka after a fire ravaged it in 1888.
As Deputy Secretary of Finance, he carried out successful fiscal reforms and he also contributed to recovery efforts after the Great Kanto Earthquake. One feels a sense of pride when the number of individuals from Iizaka Town who were instrumental in making Japan a modern country are considered.

There is one other attraction at the former Horikiri Estate and that is the foot baths and hand baths!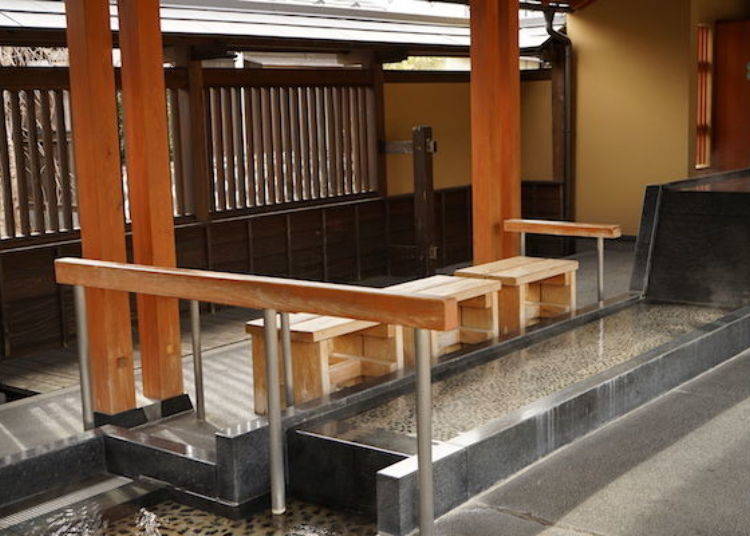 Soaking your hands and feet in the hot spring waters flowing freely from the source while viewing the beautiful garden makes you feel as though you were back in Edo times. This is a wonderful way to relax while feeling the weight of history.

In spring, rhododendrons, dogwoods, and white magnolia bloom beautifully, and at night indirect lighting illuminates the building splendidly. This is a relaxing place to stop by for a brief visit during your walking tour of the town.
旧堀切邸

Address

16 Higashitakinomachi, Iizaka Town, Fukushima City, Fukushima Prefecture

Phone Number

024-542-8188

Open: 9:00 a.m. ~ 9:00 p.m.
Closed: always open
Admission: free
The famous Radium Eggs make a good souvenir
Just outside the former Horikiri Estate you can see a signboard advertising Radium Eggs!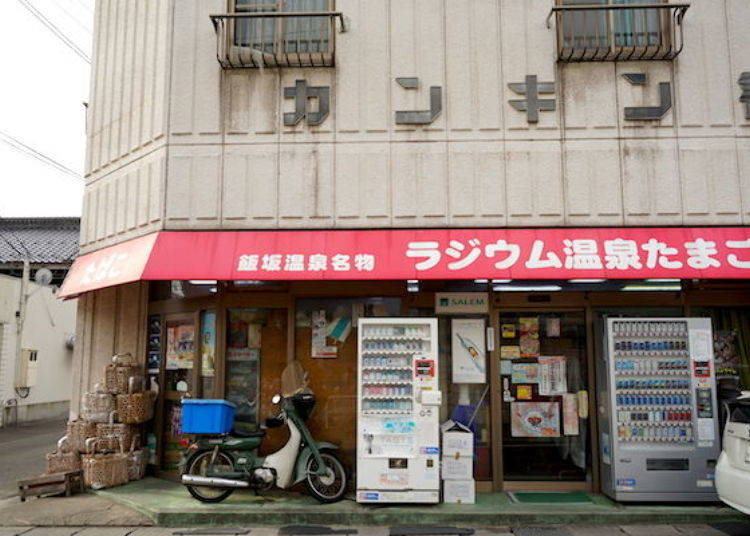 ▲ Kankin Shoten is one of the four or five shops in town that sells Radium Onsen Eggs.
Stepping inside the shop I saw eggs being packaged in boxes!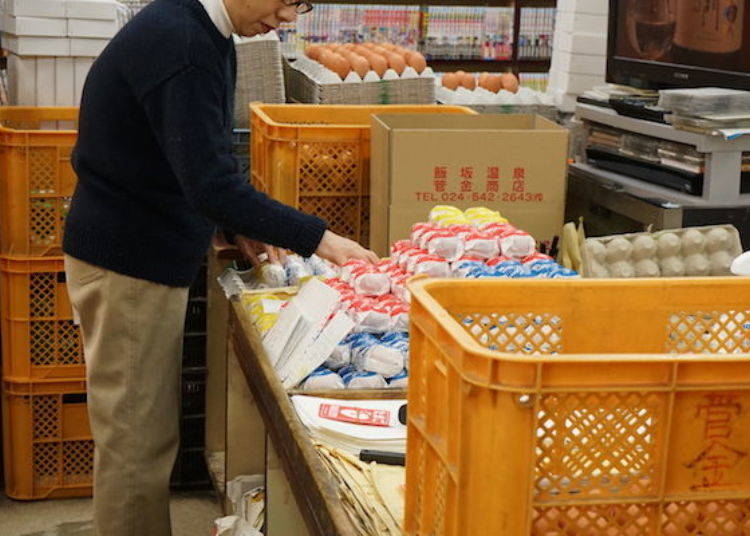 Akadama [Rhode Island Red] eggs that had just been boiled in the hot springs that morning were being wrapped in cute and colorful paper.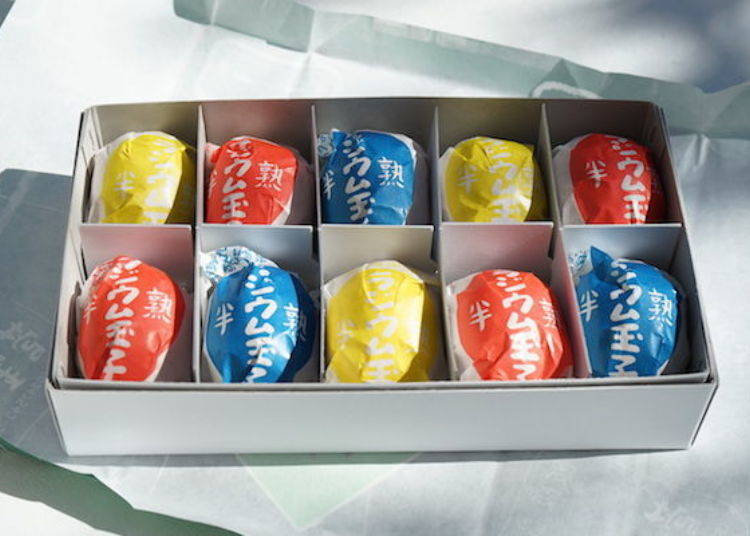 ▲ Radium Eggs (10 in a box / 540 yen including tax)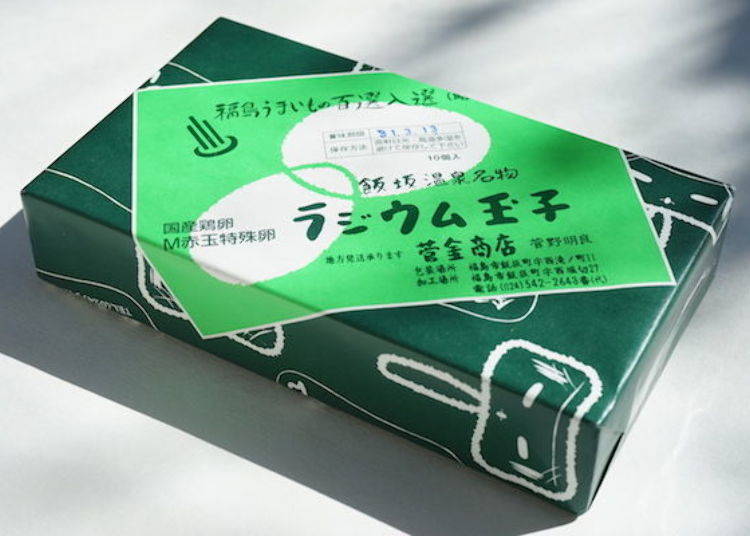 These cute items make excellent souvenirs and gifts because they can be kept at room temperature for up to four weeks.
菅金商店

Address

11 Nishitaki, Iizaka Town, Fukushima City, Fukushima Prefecture

Phone Number

024-542-2643

Open: 8:00 a.m. ~ 8:00 p.m.
Closed: end and start of year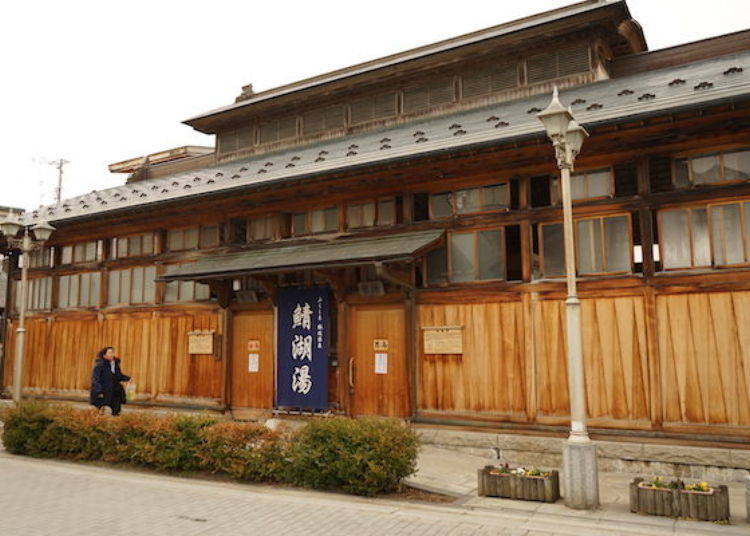 Iizaka Onsen is a place where you can enjoy the good old-fashioned ambiance of several hot springs all within walking distance. Moreover, the hot springs were mild, and I felt that they made my skin feel moist and smooth for several days.

My body felt toasty warm for long hours after the baths, and I was amazed by how improved my shoulders and hips, which had pained me, were. I heartily recommend this onsen to all women!

If you visit between April and May, you can also visit the nearby Hana Momo no Sato as the peach blossoms are in full bloom then.
Recommended Hotels and Ryokan in Iizaka Onsen
Address

Nakanouchi-24-3 Iizakamachi, Fukushima, Fukushima, 960-0201
View Map

Nearest Station

Iizakaonsen Station (Iizaka Line)
20 minutes on foot


Vacancy search, reservation

from

23,400JPY

1room, 2adults

Check with our partner site as the latest rates, rate details, and guest room requirements may vary.
Address

Village 2-14 of the Fukushima-shi, Fukushima Iizaka, Fukushima-shi hot spring jade, 960-0201
View Map

Nearest Station

Hanamizuzaka Station (Iizaka Line)
10 minutes on foot


Phone Number

024-543-1111
Address

Aza Kamikawara Yuno Iizakamachimoniwa 2‐4, Fukushima, Fukushima, 960-0211
View Map

Nearest Station

Iizakaonsen Station (Iizaka Line)
11 minutes on foot


Vacancy search, reservation

from

18,296JPY

1room, 2adults

Check with our partner site as the latest rates, rate details, and guest room requirements may vary.
Address

Iizakamachi, Yunoaza Nishihata 1-10, Fukushima, Fukushima, 960-0211
View Map

Nearest Station

Iizakaonsen Station (Iizaka Line)
11 minutes on foot


Vacancy search, reservation

Please enquire directly about rates.

Check with our partner site as the latest rates, rate details, and guest room requirements may vary.
Address

Iizakamachiyuno Azashinyu 6, Fukushima, Fukushima, 960-0282
View Map

Nearest Station

Iizakaonsen Station (Iizaka Line)
30 minutes on foot


Vacancy search, reservation

from

39,900JPY

1room, 2adults

Check with our partner site as the latest rates, rate details, and guest room requirements may vary.
*This information is from the time of this article's publication.
*Prices and options mentioned are subject to change.
*Unless stated otherwise, all prices include tax.
Limited time offer: 10% discount coupons available now!