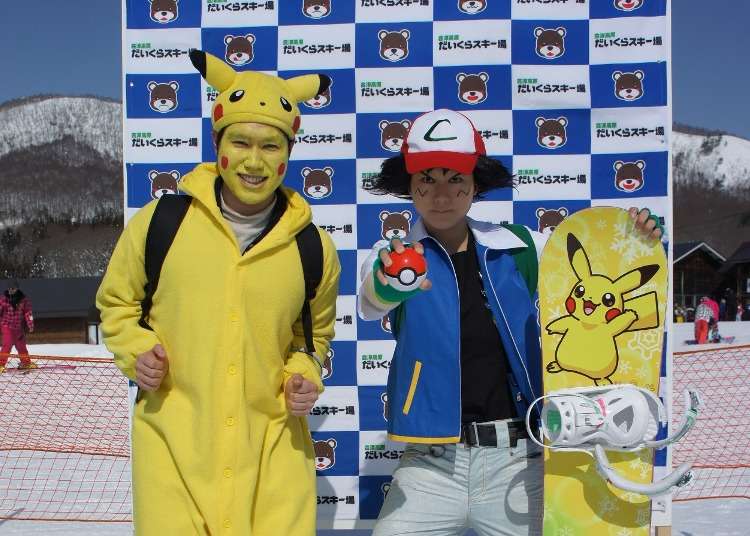 In Japan, the birthplace of manga and anime pop culture, many people enjoy cosplay. Among the many fun cosplay events held in Japan each year, where people dress up as characters from their favorite series, perhaps one of the most fun ones is the "Daikura de Cosplay," held at Aizukōgen Daikura Ski Resort.

Wait – Cosplaying at one of northeastern Japan's celebrated ski resorts? Let's take a look at how things are like on the ground!
What kind of place is Aizukogen Daikura Ski Resort?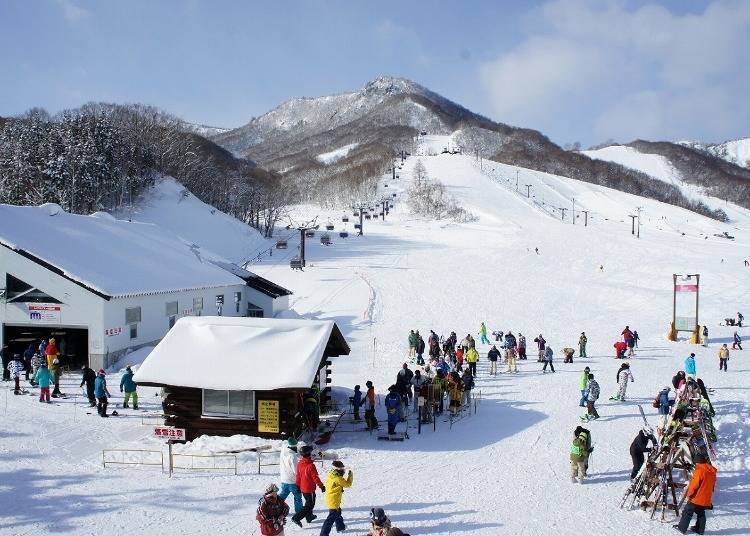 Aizukogen Daikura Ski Resort is in the Minamiaizu area of Fukushima Prefecture, which is at the southern side of the Tohoku region. It is well-known even in the Tohoku area for its deep snow.

With excellent snow conditions and high-quality powder snow, skiers from throughout Japan and all over the world gather here. Peak season typically starts around mid- to late-December. As you can enjoy yourself here until the end of March, February is the best time to visit.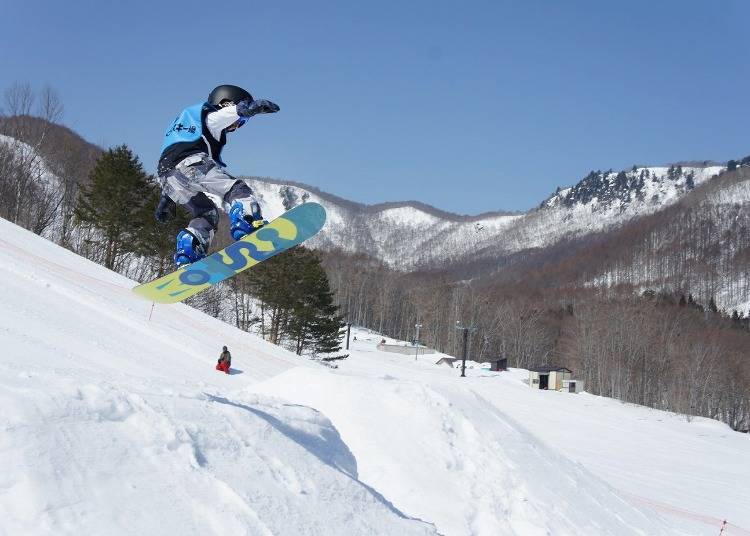 Aizukogen Daikura Ski Resort has 11 ski courses available, with the longest being over 2,000 meters long. From the gently inclined "Beginners' Course" to the "Komatodome-one Course" with a course layout filled with sudden turns and surprises, there are a large variety of courses available.

Besides these, the "Free Ride Park" is outfitted with kickers, a type of platform for doing jumps, as well as down rails, and the "Daichan Park" for children has various types of play equipment for children to enjoy. Regardless of your age or skiing experience, you'll be sure to have fun at Aizukogen Daikura Ski Resort.

From September every year, reservations and sales for the "Early Bird Season Pass", which has discount services for ski lifts and food items, begins. There are many people who make their reservations the moment it begins.

You can get an idea of just how popular Aizukogen Daikura Ski Resort is from this. After registering for the tickets, they are sent via email or post. Payment is made on the day itself.
How do you get to Aizukogen Daikura Ski Resort?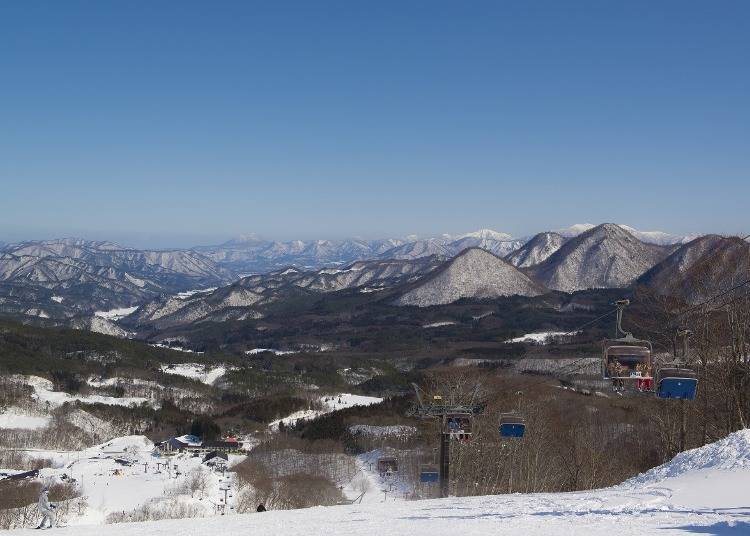 When heading from Tokyo Station via the JR line, you'll have to transfer trains. First, take the Tohoku Shinkansen for about one hour and twenty minutes from Tokyo Station, and alight at Koriyama Station. Change onto the JR Ban-Etsusai line, and take the train for an hour and ten minutes to Aizu-Wakamatsu Station. From Aizu-Wakamatsu Station, take the express train on the Aizu Line operated by the Aizu Railway for one hour and ten minutes, and the nearest station to alight at is Aizu-Tajima Station.

From Aizu-Tajima Station, take a taxi, and you'll arrive in about twenty minutes. Though a route bus is available between the train station and ski resort, there are only four buses per day. As there are buses that only operate on weekdays, it's recommended to use a taxi.

Besides this, if you're arriving by the Tobu Line, you can take the train from Asakusa directly to Aizu-Tajima Station without changing trains. The entire journey takes about three hours and ten minutes.

If you're coming by car, drive from Urawa IC to the Tohoku expressway, and exit at Nishinasuno-Shiobara IC, and continue along national route 400. It takes about two hours and fifty minutes by car.
What is "Daikura de Cosplay"?!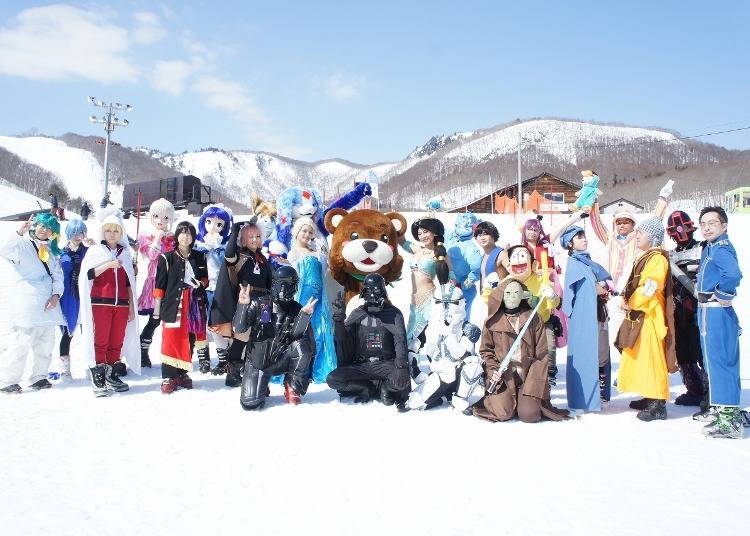 Now for the main focus of this article! We'll be talking more about "Daikura de Cosplay" in more detail from here.

Put simply, "Daikura de Cosplay" is a cosplay event held on Saturdays and Sundays during peak season at Aizukogen Daikura Ski Resort. At cosplay events in Japan, there are photography sessions for cosplayers, and stage shows as well, and amidst the familiar festival-like atmosphere, you can even ski down the slopes in cosplay!

Now, this is really when people bring their cosplay A-game. One of the rules is that you must be in full cosplay. If you think that you'll be able to get away with something simple, like a cloak or hat, you'll feel really left out.

It's really all about being as elaborate as possible. Looking at previous event attendees, one person dressed as the beautiful Elsa from "Frozen" with her blonde hair and blue dress, and another person who painted their entire face yellow to dress as Pikachu from "Pokémon"; the competition there is tough indeed!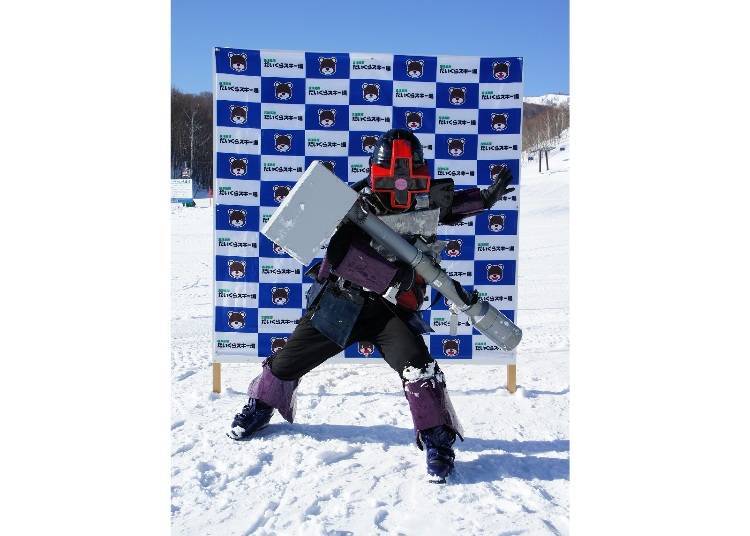 Now, close your eyes and picture this: Amongst the pure white ski slopes, you see Darth Vader, Mario, and the occasional character in a onesie skiing past you.

It's quite an impactful image, isn't it? More than anything, it seems incredibly fun! Just from looking at the pictures, there are surely many people who would love to join in!

Regarding the attendees from past events, you must surely be interested in what they dressed as. You have to check out these photos of especially popular cosplays!
Introducing some of the cosplay skiing from past events!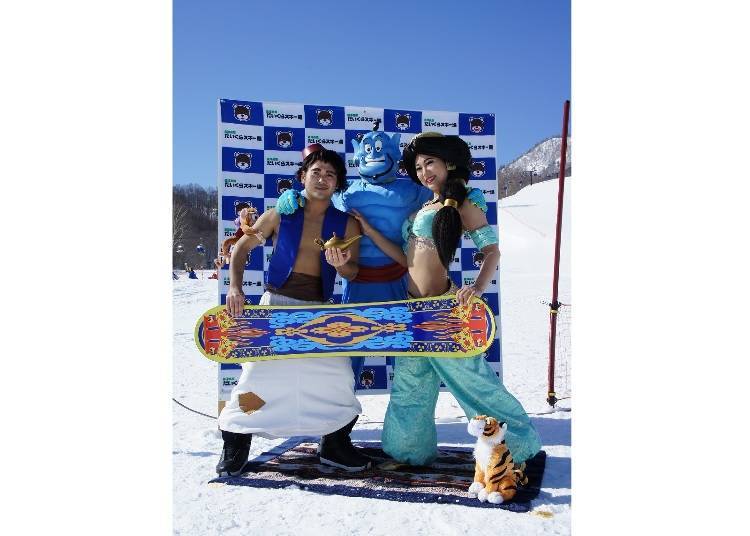 First up, we have Aladdin and Jasmine from the Disney animated film, "Aladdin"! They even have Genie with them in the back. There is even an adorable Rajah on their carpet! Isn't the quality of this cosplay too high?!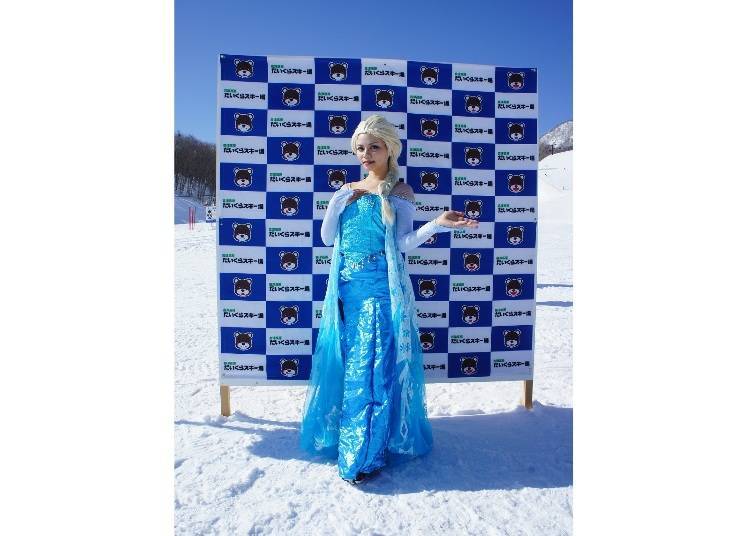 Here we have a lady dressed as Elsa from the popular film, "Frozen." Even her pose is so graceful. The image of her skiing down the slope with the dress flying out behind her is more amazing than you can imagine!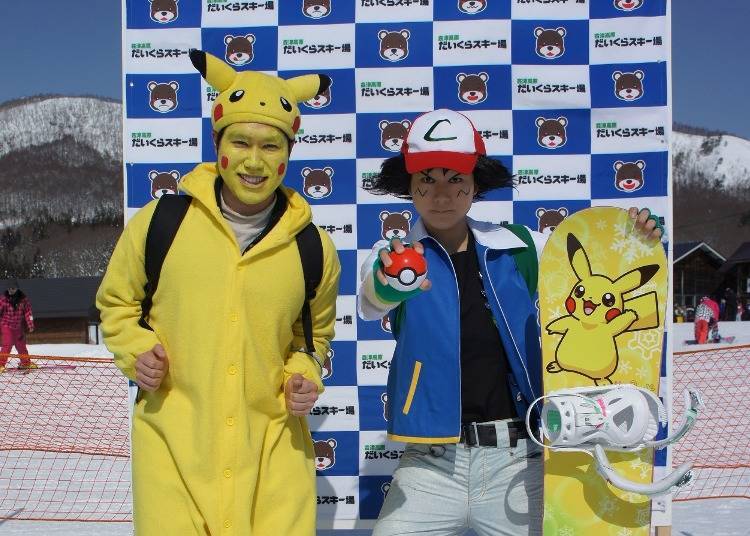 Here we have Ash and Pikachu from the popular Japanese series, "Pokémon." Ash even has a Pokéball in his hand. But this Pikachu really shows the fiery passion of the cosplayer's spirit... there are some who like his unique charm!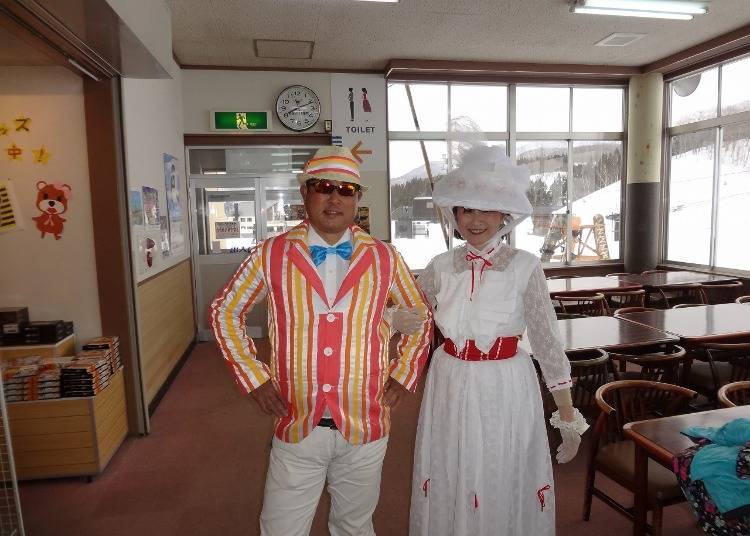 This elegantly dressed couple is Mary and Bart from the musical film, "Mary Poppins." You can almost hear the music from the film playing!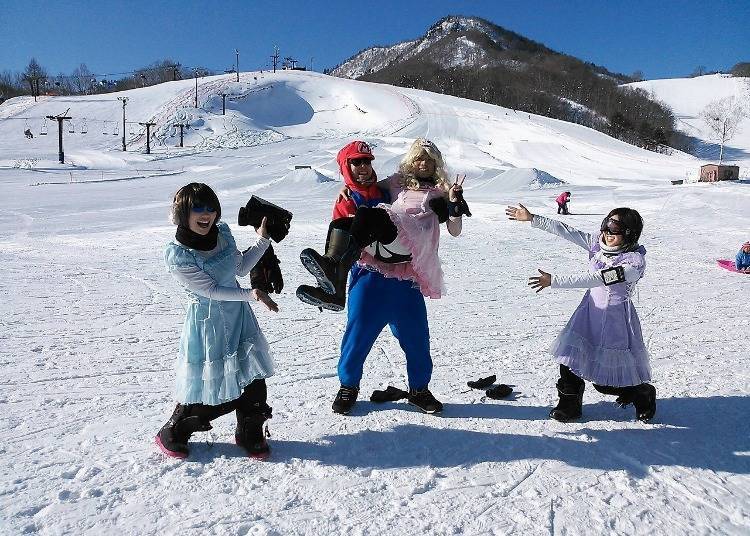 From the popular Japanese video game series "Super Mario Brothers," we have the popular characters Mario and Princess Peach. During the closing ceremony of the Rio de Janeiro Olympics, Abe Shinzo, the prime minister of Japan, dressed up as Mario too. There are two more girls dressed in princess outfits to go along with them.

So how about it? If it's your first time cosplaying, even if you find it a little embarrassing, it'll be easier to try it out within the open ski slope. If you're looking for something different to try out this winter, please enjoy yourself at Aizukogen Daikura Ski Resort!
Measures in place against Covid-19:
-Disinfection of shop interior and facilities
-Disinfectant available for use
-Disinfection between guest rotations
-Regular ventilation
-Use of coin trays
-Use of separating boards
-Staff required to use masks, wash hands, disinfect, gargle, and have their temperatures taken
-Limits placed on number of guests allowed to enter
-Guests feeling unwell requested not to enter
-Guests requested to use masks and have their temperature taken
Aizukogen Daikura Ski Resort

会津高原だいくらスキー場

Address

857-150, Hirutakiyama, Haryu, Minamiaizu-gun, Minamiaizu-machi, Fukushima-ken, 967-0026

Phone Number

0241-64-2121

Hours: From mid-December to end-May: 8:30 a.m. to 4:00 p.m. (on Saturdays, Sundays, and public holidays, open from 8:30 a.m. to 4:30 p.m.)
Price: 4,200 yen for a one day ticket per adult
Open year round
Text by: ShoePress

* The information in this article is as of November 2020.
*This information is from the time of this article's publication.
*Prices and options mentioned are subject to change.
*Unless stated otherwise, all prices include tax.