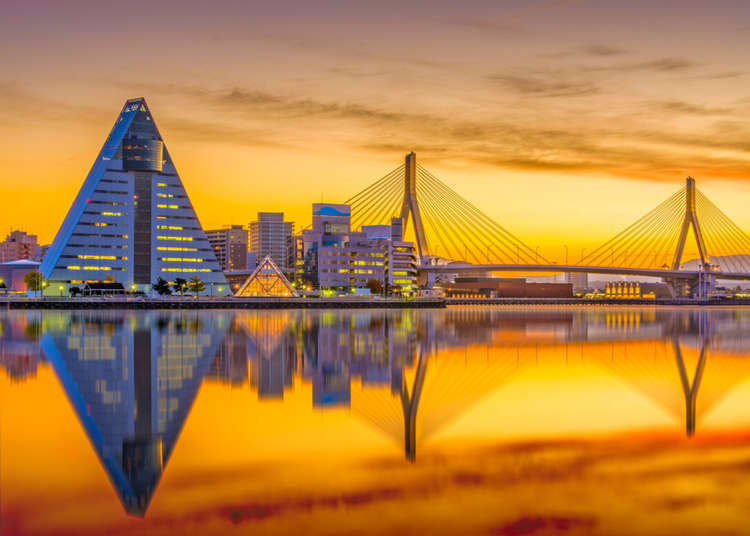 Aomori is located in the northernmost part of Japan's main island of Honshu. Famous for its apples and seafood dishes, Aomori is a popular sightseeing destination.

There are also many Aomori festivals held in various places that attract crowds of tourists every year, including one of Tohoku's three biggest summer festivals: the Aomori Nebuta Festival.

Aomori is also home to beautiful, seasonal landscapes, including the Shirakami-Sanchi Mountains, which has been designated as a World Natural Heritage Site, Oirase, which is designated as a national park, and nature-abundant places such as Towada-Hachimantai National Park and the Hakkoda Mountains.
You can get to Aomori Prefecture from Aomori Airport, which also operates regular flights to and from Seoul and Taiwan. Aomori Airport is also convenient to travel from as there are also regular flights to major cities such as Tokyo, Osaka, and Nagoya.

From Tokyo, you can reach Aomori via Shinkansen to Shin-Aomori Station and Hachinohe Station.
What Kind of Place is Aomori Prefecture?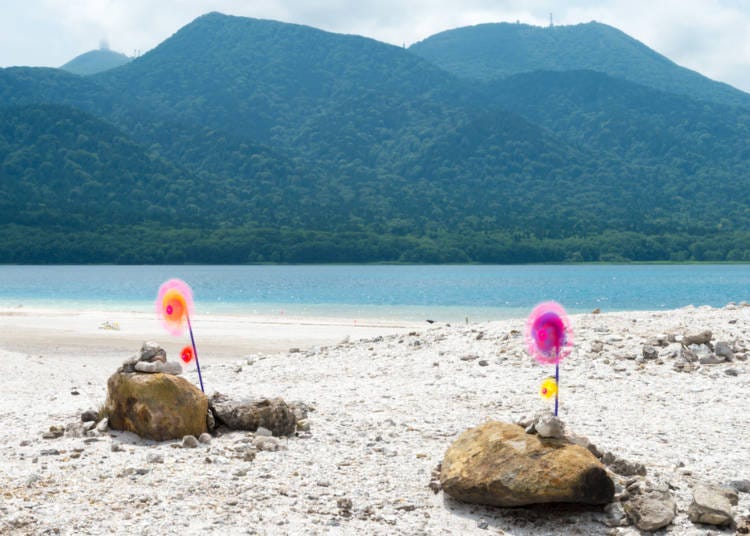 The terrain of Aomori Prefecture is divided in the center by the 1,000 meter class Hakkoda Mountains, and is also broadly divided by the Tsugaru Region to the west, and the Nanbu Region to the east.

Each area has different features, including in culture and gourmet. Aomori Prefecture is the 8th largest prefecture out of all 47, therefore it is impossible to see all the sights in a single day.

Because of its size, Rent-a-car is one of the most effective modes of transportation, however if that is not possible, or for shorter trips, local lines and buses are also available. There are plenty of unique attractions as well as culture and customs that you can find all around the region, even locally.
Aomori Sightseeing: Tsugaru Region
The Tsugaru area, with a spotlight attraction of Hirosaki Castle, has many eclectic streets with an east-meets-west vibe, where both Western-style buildings and Japanese temples coexist.

There are power spots such as Iwakiyama Shrine and sightseeing spots such as Tappi Misaki Cape, which lies at the northernmost tip of the Tsugaru Peninsula. "Rice paddy art" is another attraction visited by many tourists located in the countryside villages, drawn using different colored rice.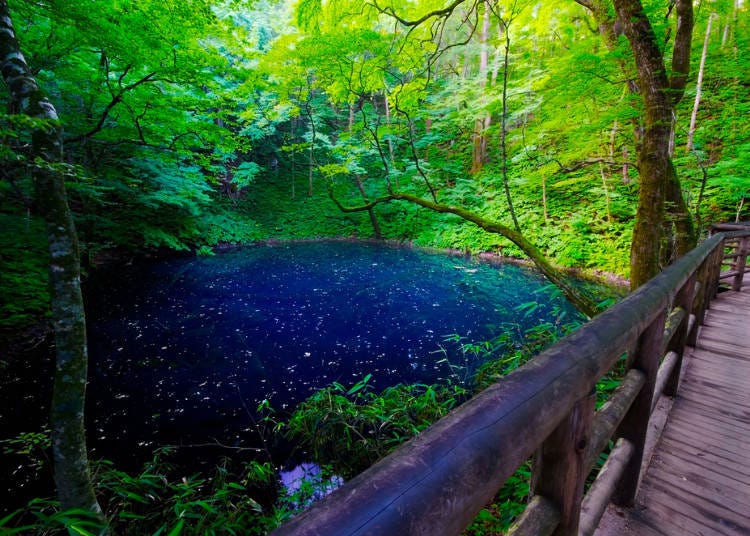 The Shirakami-Sanchi Mountains are known for having the world's largest old-growth beech forest, and along with Yakushima, were the first sites to be registered as World Natural Heritage Sites in Japan.

This vast mountain forest spans the border of Akita Prefecture, and is home to attractions such as Aoike Pond and Anmon-no-Taki Falls.

The Shirakami-Sanchi Visitor Center has many guides and informational sources available that explain the surrounding nature as well as the origins and attractions of Shirakami-Sanchi in an easy-to-understand manner.
Shirakami Sanchi Visitor Center

白神ビジターセンター

Address

Kanda-61-1, Tashiro, Nishimeya, Nakatsugaru-gun, Aomori-ken

Phone Number

0172-85-2810

Business Hours: Apr through Oct: 8:00AM~5:00PM; Nov through Mar: 9:00AM~4:30PM (Last entry is 30 min before closing)
Fee: Free (Fee required for video viewing)
Regular Holidays: Apr~Dec, every second Tues (following day in the event of public holiday); August, every fourth Tues; Jan through Mar, every Mon & Thurs (following day if public holiday); New Years Holidays, 12/29~1/3
The white building of the Aomori Prefectural Museum of Art is a unique structure inspired by the Sannai Maruyama Site, which is the largest of the Jomon ruins in Japan and lies directly adjacent to it. You can appreciate the works of artists from Aomori, such as printmaker Shiko Munakata and contemporary artist Yoshitomo Nara. There are also plenty of things to do here, including special exhibitions, events, and cafes.
Address

Yasuta, Aomori-shi, Aomori character Konno 185, 038-0021
View Map

Nearest Station

Shin-aomori Station (Ou Line / Tohoku Shinkansen / Hokkaido Shinkansen)
20 minutes by bus


Phone Number

017-783-3000
3. Nebuta Museum WA RASSE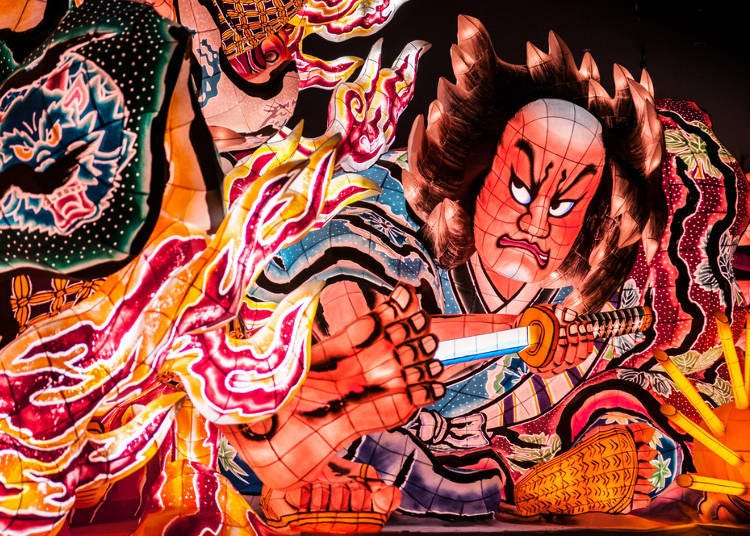 This museum lets you enjoy the popular Tsugaru summer festival, "Neputa Nebuta," all year round! Whether you enjoy the summer season or not, this museum is the perfect spot for everyone to experience and learn about Nebuta.
ねぶたの家 ワ・ラッセ

Address

1-1-1 Yasukata, Aomori-shi, Aomori-ken

Phone Number

017-752-1311

Business Hours:

Fee: Adults: 600 yen; High School: 450 yen; Children (Middle/Elementary):250 yen
Regular Holidays: 8/9, 8/10, 12/31, 1/1
Aomori Sightseeing: Nanbu Region
The Nanbu Region that faces the Pacific Ocean is easily accessible via the Shinkansen. There are major cities such as Hachinohe and Towada, as well as Misawa, which is home to a US military base, and Takko, a town known as the top producer of garlic. Attractions on the Shimokita Peninsula, located in the north, include Mount Osore, known as one of the Three Holy Mountains of Japan, the mysterious rock formations of Hotoke-ga-ura, and Kandachime horses, animals that are known for their ability to withstand severe winters.
Hachinohe, once a town that flourished as a fishing port, is home to the Tatehana Wharf Morning Market, said to be the largest such market in Japan, and held on Sundays from March to December. Here you can find not only seafood but local and gourmet ingredients as well. Hasshoku Center is a popular place for tourists where they can taste such gourmet dishes for themselves, all year round.
八食センター

Address

Kansai-22-2, Kawaragi, Hachinohe-shi, Aomori-ken

Phone Number

0178-28-9311

Business Hours: 9:00AM~6:00PM *O-Bon Festival and New Year's Holiday times may vary
Fee: Free
Regular Holidays: Wednesdays
The Towada Museum of Contemporary Art was established in Towada as part of an art project that involved the entire city. It is a hot spot where you can see various contemporary art works on display in the separate "White Cube" exhibition room.
十和田市現代美術館

Address

10-9 Nishi-Nibanchō, Towada-shi, Aomori-ken

Phone Number

0176-20-1127

Business Hours: 9:30AM~5:00PM (Last entry 30 minutes before)
Fee: Adults 510 yen; Children (high school & under) Free
Regular Holidays: Mondays (following day in case of public holiday), New Years Holiday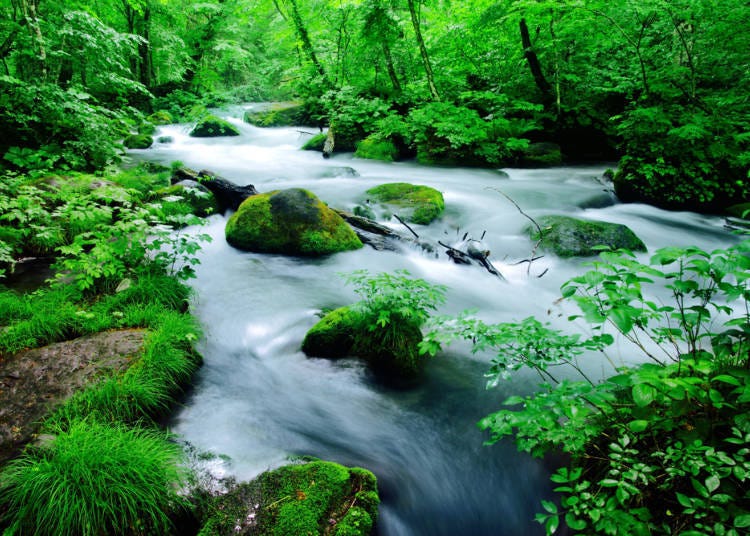 The natural landscape of national parks, such as the Oirase Gorge and Lake Towada, are beautiful sceneries created by nature with various expressions that change like moods with the coming of each season. The national road along the mountain stream is a great point for trekking, where you can enjoy a peaceful walk surrounded by nature and listening to the babbling of the unique waterfalls. At Oirase Keiryukan Hall you can learn about the history and nature of the park, as well as where to find walking maps. You can also borrow a rental cycle to ride along the mountain stream.
奥入瀬渓流館

Address

Tochikubo-183 Okuse, Towada-shi, Aomori-ken

Phone Number

0176-74-1233

Business Hours: 9:00AM~4:30PM
Fee: Free
Regular Holidays:
Aomori Food: Fruits, Seafood, and Local Dishes
Aomori is blessed with three oceans and a thriving agricultural area abundant in all kinds of ingredients such as seafood and other foods grown in the mountains. A unique food culture based on the local climate, history, and culture has developed here, and traditional dishes made using regional specialties and locally ingredients are still enjoyed.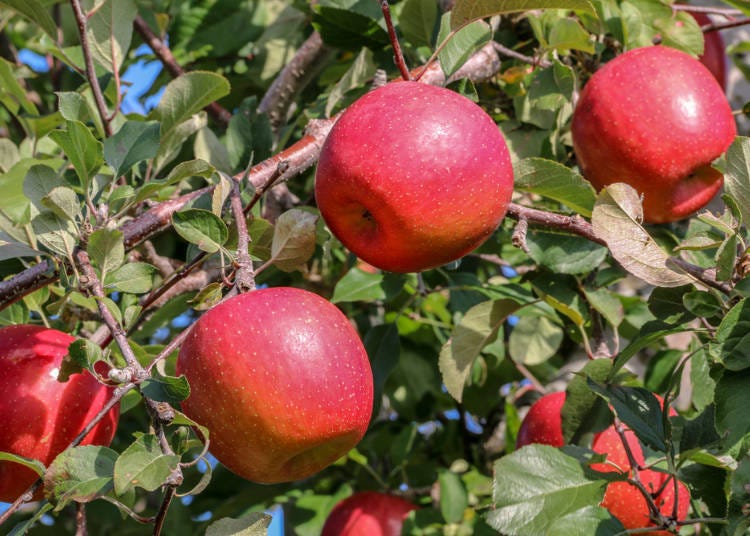 October to December is the peak season for harvesting apples, which are sold all throughout Aomori Prefecture via direct sales and markets. There are more than 50 varieties of apples grown in Aomori Prefecture, each with different levels of sweet-and-sourness, which are all interesting to eat and compare. Apple pie, apple juice, and apple ciders also vary in taste depending on the types of apples used, as well as the production method. You can even enjoy fun activities such as apple picking.
2. A Variety of Fresh Seafood
Also unique to Aomori Prefecture is its popular seafood, such as the tuna that has been given the special nickname "Oma tuna" (black diamond tuna). There are regular tuna cutting shows, ryoshi-meshi (or fishermen's meals), and many other places where you can enjoy delicious seafood bowls made with locally harvested fish. Aomori Gyosai Center is located in Aomori City, and serves one of the most popular dishes called Nokke-don, in which you can choose the seafood to be used from approximately 30 stores in the market. There are even many people who enjoy delicious tuna bowls at Tsurukameya Shokudo and share it on social media.
Aomori Gyosai Center Nokkedon

青森魚菜センター

Address

1-11-16 Furukawa, Aomori-shi, Aomori-ken

Phone Number

017-763-0085

Business Hours: 7:00AM~4:00PM
Fee:
Regular Holidays: Tuesdays; other days as noted
鶴亀屋食堂

Address

293-14 Hotarudani, Asamushi, Aomori-shi, Aomori-ken

Phone Number

017-752-3385

Business Hours: 9:00AM~6:00PM
Fee:
Regular Holidays: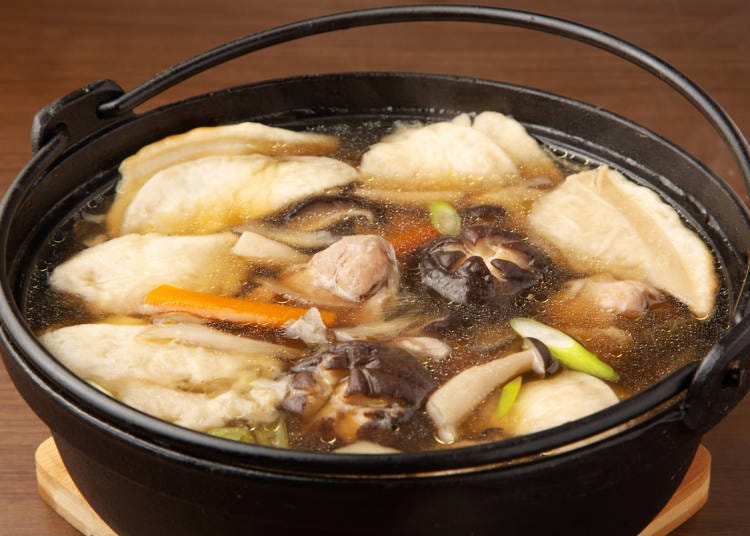 Hachinohe Senbei-jiru is a local soup dish from the Hachinohe Region made with boiled Nanbu-senbei (rice crackers). It is homemade, so the seasoning and cooking methods may vary slightly, and there are various types of senbei used as well. With almost 200 shops in Hachinohe City, it can also be fun to compare the different styles.
Shopping Around Aomori Station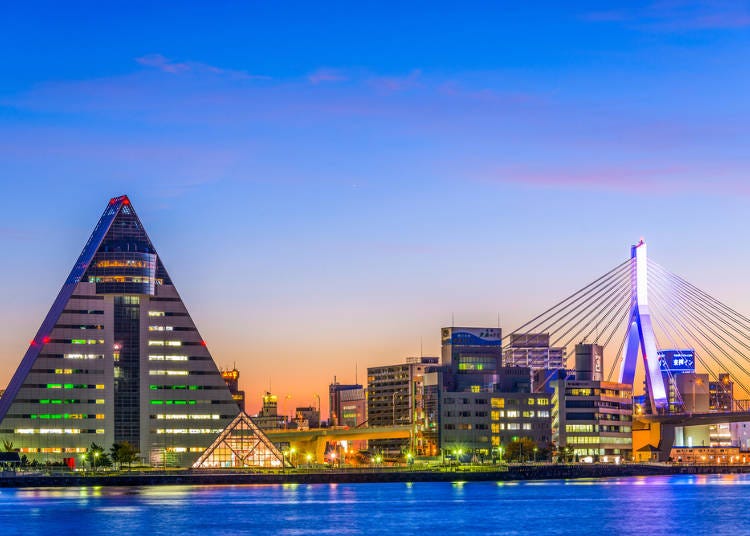 The area around Aomori Station is a tourist hub and a key point for transportation around the prefecture. It is also a great spot for souvenir shopping. There are two popular tourist spots in the area, including the streets where old-fashioned markets still remain from the days of old, and the Aomori seaside. During the Aomori Nebuta season, you can also see the Nebuta huts that house Nebuta floats that are used for this exciting festival.
1. Aomori Tourist Information Center ASPAM: Great for Standard Souvenirs
You can find all kids of standard Aomori souvenirs at the Aomori Tourism and Product Center ASPAM, a building known for its triangular shape. Popular items include traditional handicrafts such as Tsugaru-nuri, lacquerware items which are made using a technique of applying multiple layers of lacquer, and traditional needlework crafts that originated in the sow country, such as Tsugaru kogin-sashi and Nanbu hishi-sashi.
Aomori Tourist Information Center ASPAM

青森県観光物産館アスパム

Address

1-1-40 Yasukata, Aomori-shi, Aomori-ken

Phone Number

017-735-5311

Business Hours: April~October: 9:00AM~7:00PM; November~March:: 9:30AM~6:00PM
Fee: Free admission; Panorama Hall is paid
Regular Holidays: 12/31
2. A-Factory: Rare and Unique Souvenirs
You can find a lot of crafts and souvenirs unique to Aomori at A-Factory, located right next to Aomori Station on the seaside. There is also a restaurant where you can enjoy dishes and sweets made with local ingredients unique to the prefecture.
A-Factory

Address

1-4-2 Yanakawa, Aomori-shi, Aomori-ken

Phone Number

017-752-1890

Business Hours: Shop: 9:00AM~8:00PM; Restaurant: 11:00AM~8:00PM
Fee: Free
Regular Holidays:
Sightseeing the 'Four Seasons'
During spring, Hirosaki Castle is known as one of the best cherry blossom view spots in Japan. The blooming cherry trees really add to the springtime scenery, especially around the castle gate and moats, drawing in over 2 million tourists every year in that season alone. In the summer, traditional festivals such as Neputa Nebuta and the Sansa Festival are held throughout the prefecture. In the fall, Mount Hakkoda and Oirase become painted in the gorgeous colors of autumn leaves. And in winter, you can enjoy plenty of winter activities unique to Aomori City, which is ranked as the #1 city that receives the most snowfall in the world, including skiing and snowboarding, natural phenomenons such as the "snow monsters," or ice covered trees, of Hakkoda, snow-walking tours, and riding in the heated "Stove Train."

Text by: Ken Kudo
Explore Japan at Your Pace - Rent an RV!
RV rentals are a great way to see a new side of Japan from the open road! Use LIVE JAPAN's promo code below to get 5% OFF your rental now.
・Promo code: LiveJapan_coupon_04
・On the "Request for a Quote" page, enter the promo code to get your discount.
*This information is from the time of this article's publication.
*Prices and options mentioned are subject to change.
*Unless stated otherwise, all prices include tax.