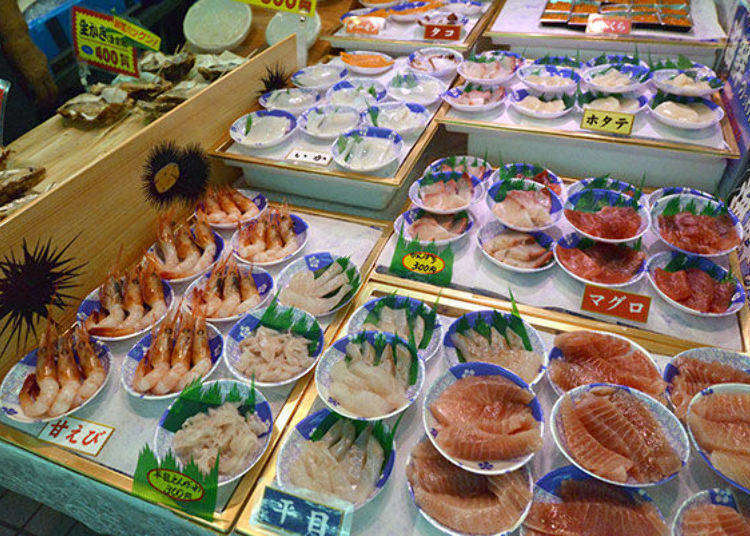 Aomori seafood is famous around the country, and you can find some of the finest fish in the port city of Hachinohe.

At Hasshoku Center, where fresh fish from Hachinohe is delivered, there are many things to experience like trying out fresh sashimi and hamayaki.
Hasshoku Center is like an Aomori Seafood Theme Park
Hachinohe is a core city facing the Pacific Ocean and located in the easternmost part of Aomori Prefecture, the northernmost tip of Honshu.

Hasshoku Center is located a little ways out in the outskirts of the core city and it was established in 1980. Merchants that sold fish near the port gathered here, which lead to creating the market.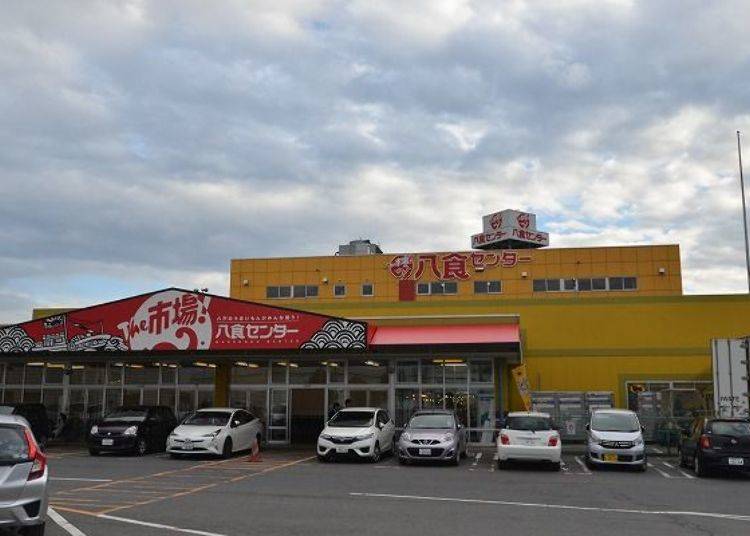 ▲You can reach Hasshoku Center in about 10 minutes by car from Hachinohe Expressway Hachinohe Interchange or Hachinohe Kita Interchange. From JR Hachinohe Station, it takes about 10 minutes by the Hasshoku 100 Yen bus
The sales floor area is about 4,200 square meters and there are about 60 stores. It is a food retail market where each store operates individually. It is like a theme park for sea food and about 3 million people visit the market yearly.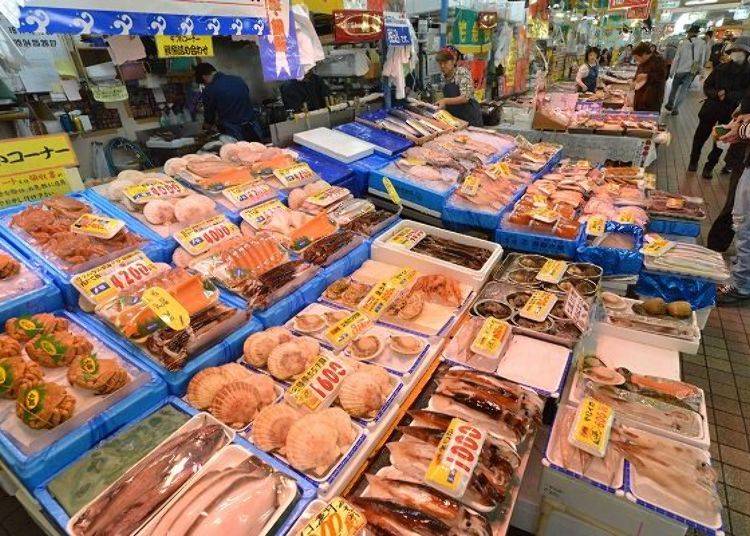 ▲Freshly caught Aomori seafood
Hasshoku Center has different types of shops spilt in categories, from the north there are fresh fish shops, dried goods shops, candy shops, side dish shops and daily goods stores. However there aren't specific grids for shop zones. There are also 3 areas for events, eating and play area for children, which are equipped with tables and chairs.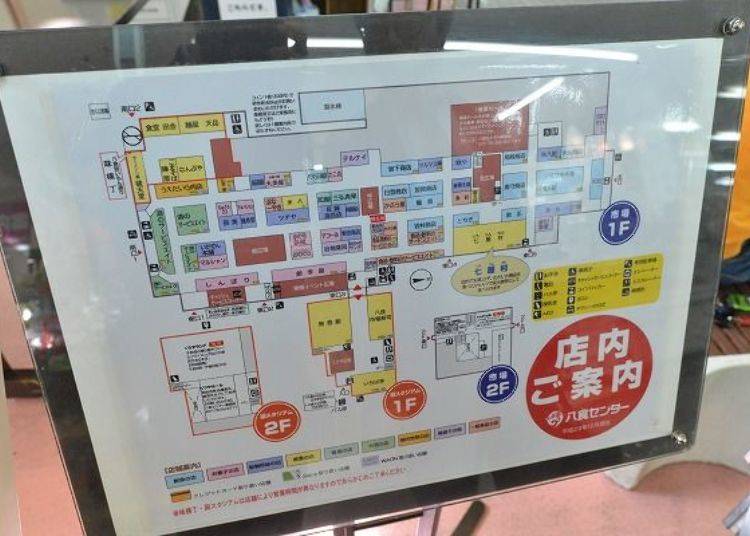 ▲The information map is color-coded by shop categories
The center has two 170m main streets and a 100m street going parallel. There is also an eating area called "Aji Yokocho" and annex eating facility Kuriya Stadium. Let's try out some delicious Aomori seafood on the main street first!
Sashimi, Kaisen, So Many Options!
First we stopped by Kaga Shoten in the middle of the center. It is a fresh fish shop that sells fish hauled in from Hachinohe and other areas from the country. Here you can eat the popular nokke-don, a rice bowl where you can choose your own toppings.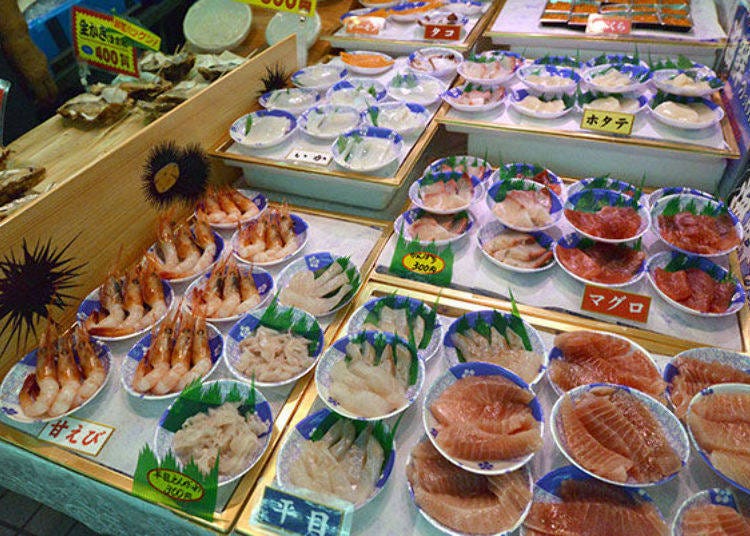 ▲The types of toppings you can choose changes depending on the season, during our visit in October there were 10 toppings to choose from.
The rice costs 150 yen and then you pick your toppings. 300 yen per topping plate. It is really hard to pick which topping to get. We asked the proprietress what she recommended and selected a combination of seasonal Aomori seafood.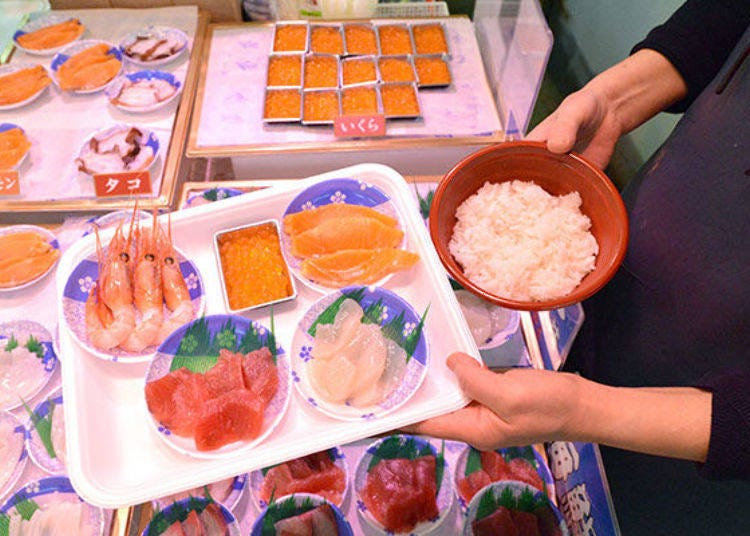 ▲From the right going clockwise, salmon, scallop, tuna, ama ebi (northern shrimp) and ikura (salmon roe)
You can tell that the ingredients are fresh just by looking at how plump they are. Just imagining eating this, I can't stop drooling. The proprietress loaded the toping and served the completed rice bowl to us.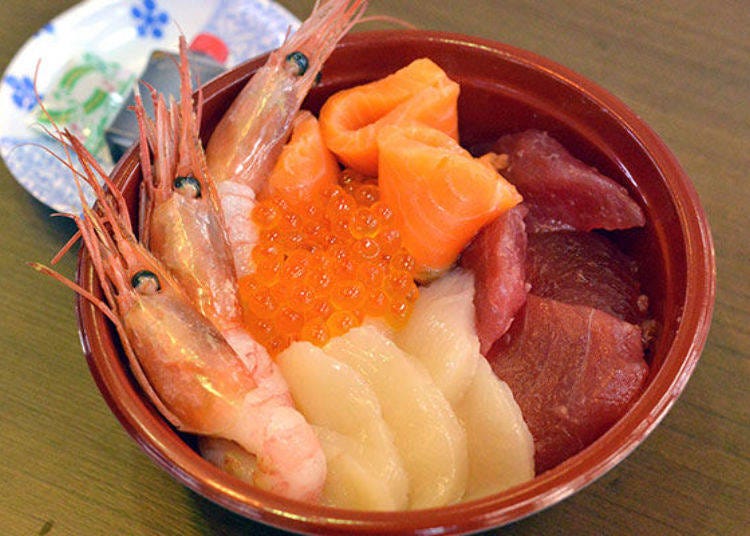 The scallops, tuna and ama ebi were fresh with great texture. Also adding wasabi and shoyu to rice gives it more flavor. Can't stop digging in once you start!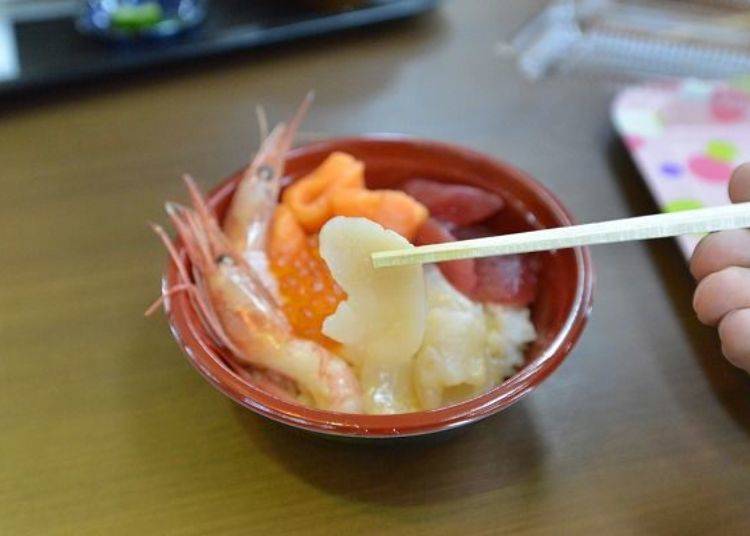 ▲Start with the fresh scallops. We completed the bowl in a matter of seconds
But there are more dishes. In the North Plaza, Yakudake offers cuisine that represent Hachinohe such as grilled mackerel meal sets and senbei-jiru soup. We recommend the sabamayo-don (mackerel and mayonnaise rice bow.).
▲Sabamayo-don (350 yen). With senbei-jiru soup (250 yen)
Sabamayo-don is a simple dish of grilled mackerel mixed with mayonnaise, however the combination mixed with rice is amazing. It's simple, but a delicious dish that also matches senbei-jiru.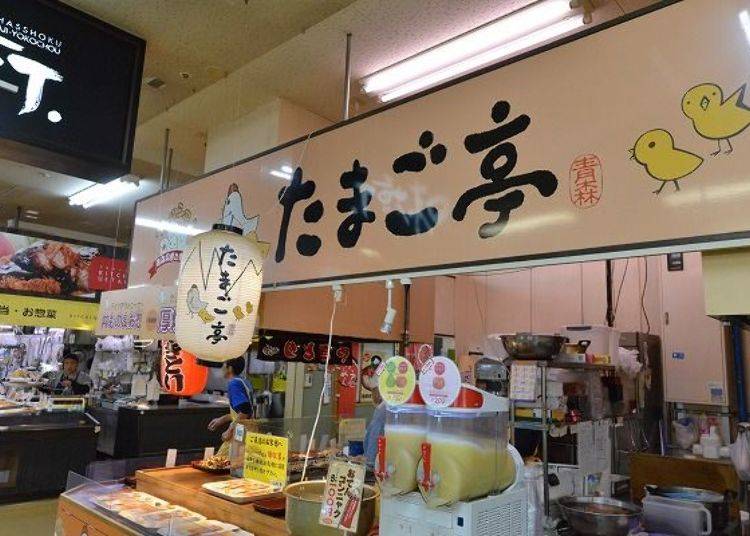 ▲The handmade thick omelet, from Tamago-tei, is usually sold out by evening.
We recommend the pork liver skewer sold by Tamago-tei in the southern side of the center. Tamago-tei is a side dish shop that branched off from the meat shop Eutaira Nikuten that is located in front of Tamago-tei. They focus on local eggs, and take their time to create the stock that brings out the natural sweetness of the egg to create the handmade thick omelet. The omelet may be famous, but they also have a reputation for delicious yakitori, and we tried their popular dish, pork liver skewer.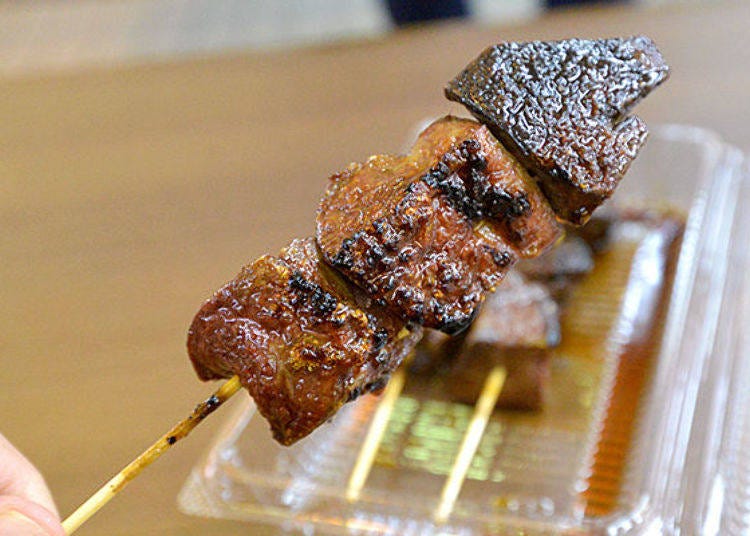 ▲Pork liver skewer (100 yen) with large portions
There are three pieces of large livers flavored with sweet and salty sauce. We were also surprised by the low price of 100 yen per skewer. If we didn't control ourselves, we probably would of ordered more.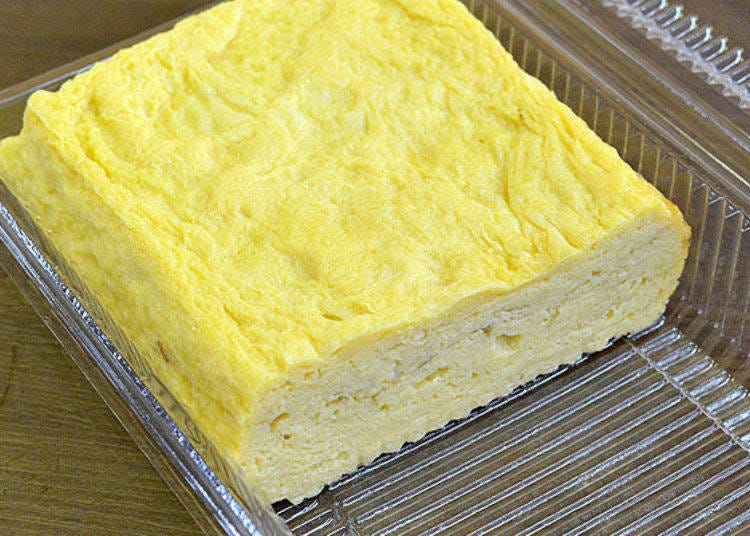 ▲Handmade thick omelet (half size 300 yen, full 550 yen). They also have omelet with cheese and different flavors.
Barbeque Ingredients You Purchased in Hasshoku Center!
Next we headed to the most popular spot in the center, Shichirin Mura. Shichirin Mura is a place where you can bring in anything you purchased in the center and barbeque it. You can bring in fresh Aomori seafood, meat, dried goods and unique delicacy to grill.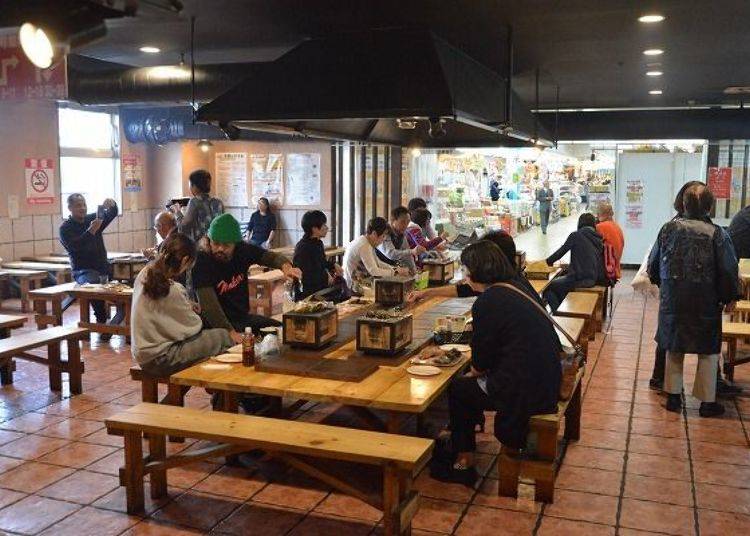 ▲Shichirin Mura is located on the east side of the center
To use the facility it costs 350 yen per person for 2 hours (if you exceed the time limit the same amount of fee is required for additional time). The shops in Hasshoku Center offer sets with recommended items, which is great for people who are overwhelmed with the number of selection to choose from.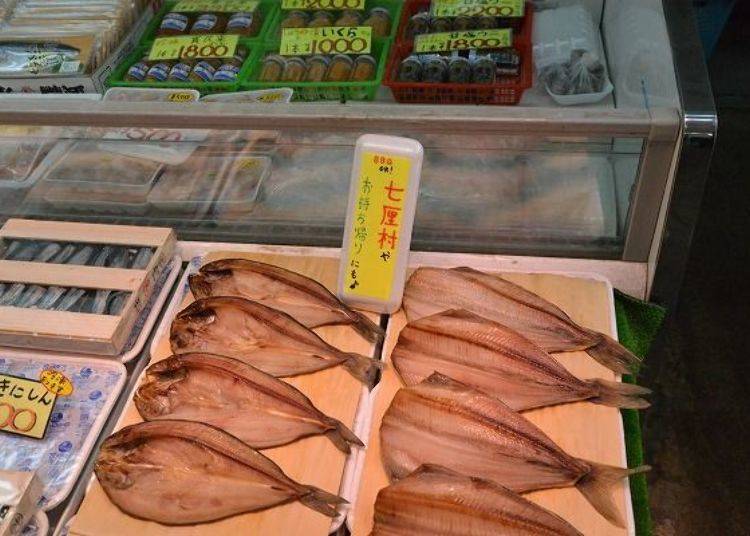 ▲Each shop has different recommendations, so feel free to ask the staff
This time we purchased a set from the fresh fish shop Tochigi. The set includes two of each item of oyster, shrimp, scallops, hamaguri (Asian hard clams) and sazae (the horned turban) for 1,500 yen. It is very reasonably priced.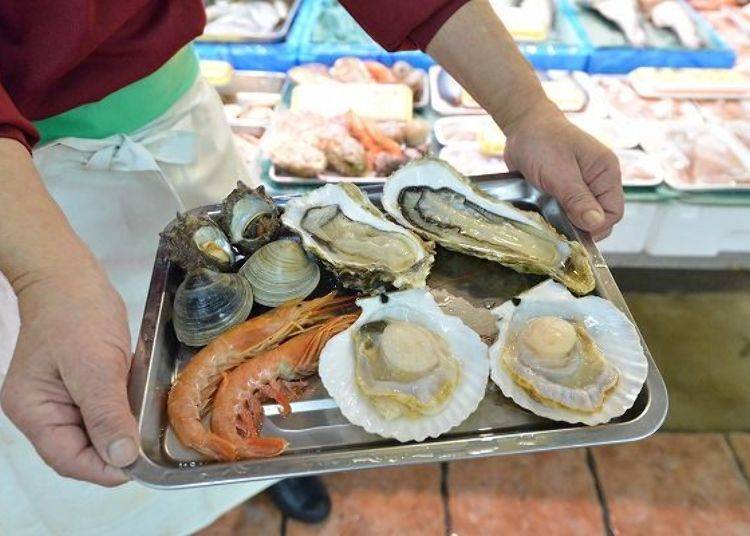 ▲The barbeque set that cost a total of 1,500 yen. Includes huge oysters!
At Shichirin Mura, after you pay for the fee, you are ready to start. During your two hours, you can go in and out as many times as you want and get more food.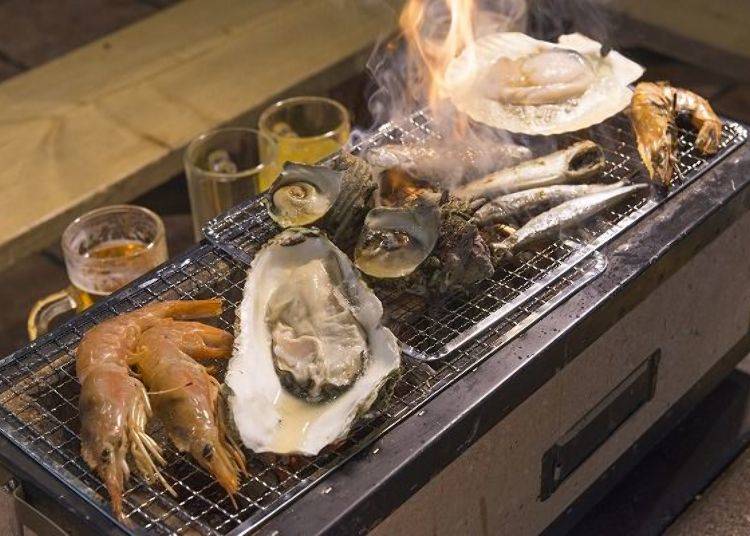 ▲After they set the charcoal you are ready to grill! (Photo provided by Hasshoku Center)
Just placing the fresh seafood on the grill makes you happy. The extract from the shells whet the appetite and the fragrant aroma signals you that it's ready to eat. Itadakimasu!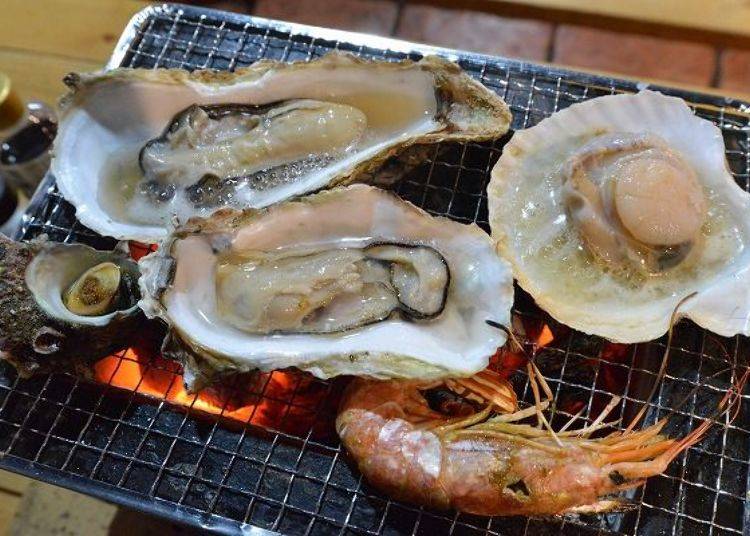 ▲Just looking at it gets me excited
Eating freshly grilled seafood is something special. They have various types of condiments, but having the fresh shells plain is also delicious. Fresh Aomori seafood tastes great without any condiments.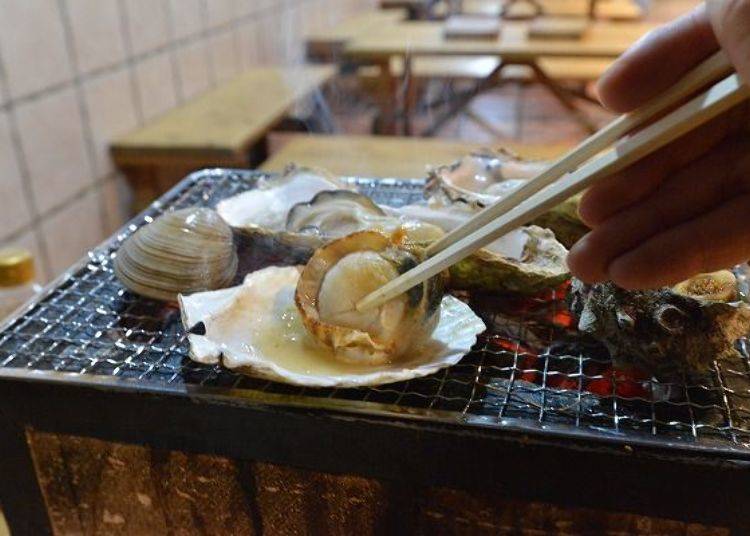 ▲Hot scallops. The scallops are so fresh that you can eat them raw, but eating it grilled makes it even better!
It's always fun eating fresh seafood with a group of people. Please stop by with your friends and families for a fun time.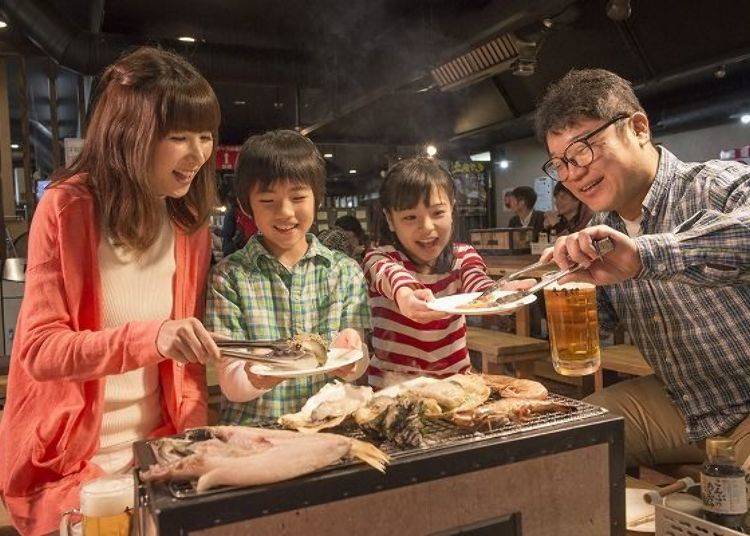 ▲A fun experience for families (photo provided by Hasshoku Center)
At Shichirin Mura you can order side dishes like rice and soup, and also drinks. You don't have to prepare anything so you can just stop by and enjoy the experience.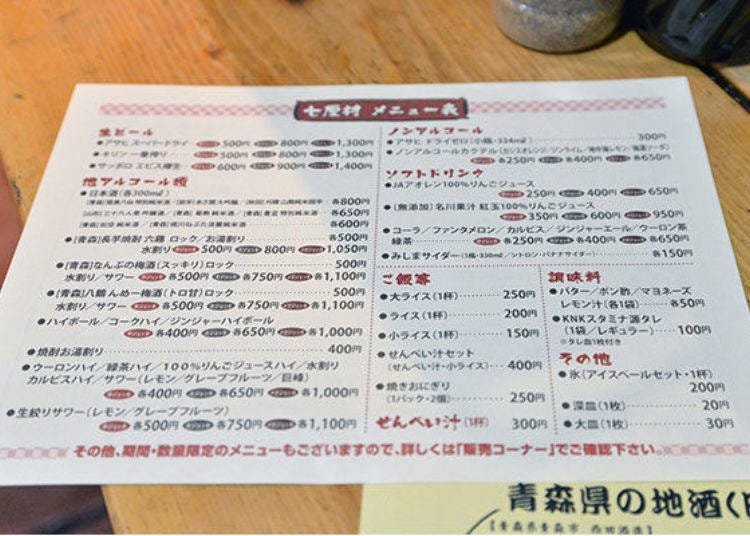 ▲They have a good selection of drinks, this time we controlled ourselves and didn't order anything…
Since you are grilling your own food, you might find something different when looking around for seafood. The best part is you can bring anything you purchase in the center and eat it on the spot. This service is probably only available here in Japan.
七厘村

Address

22-2 Kansai, Kawaragi, Hachinohe, Aomori

Phone Number

0178-29-4451

Hours: 9:00 a.m. – 5:00 p.m.
Closed: Wednesday
Price: Adults 350 yen, elementary school students 100 yen, infants free (includes tax)
*2 hour limit. Costs additional fee past the 2 hour limit (same price)
So Many Options for Gifts! From Fresh Fish to Dried Goods and Sake!
Not only can you get fresh seafood at an affordable price, but you can also find rare fishes, there are so many options that it's hard to pick something.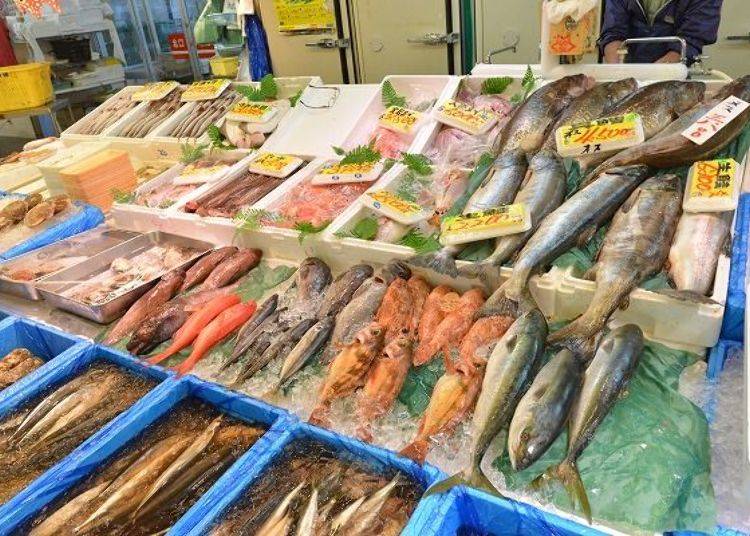 ▲We found interesting fishes such as kinkin (channel rockfish) and parts that we have not seen before
However, Hasshoku Center is not all about fresh fish. They have many options such as dried goods, unique delicacies, fruits, vegetables and sake. First let's take a look at unique delicacies. They have various items such as yaki nori (grilled seaweed) and niboshi (sun-dried infant sardines) from Hachinohe.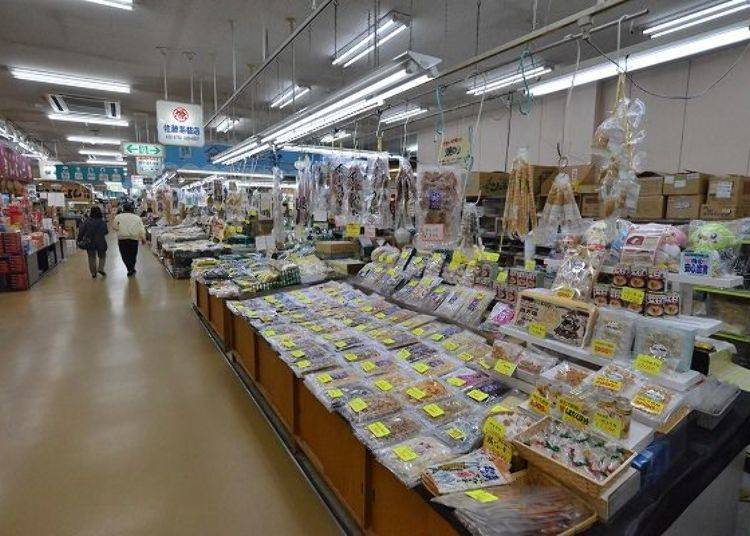 ▲There is even a section of dried unique delicacies!
Sakuya specializes in dried goods and unique delicacies, they conduct demonstration sales of saki-ika (shredded dried squid) made from Hachinohe squid.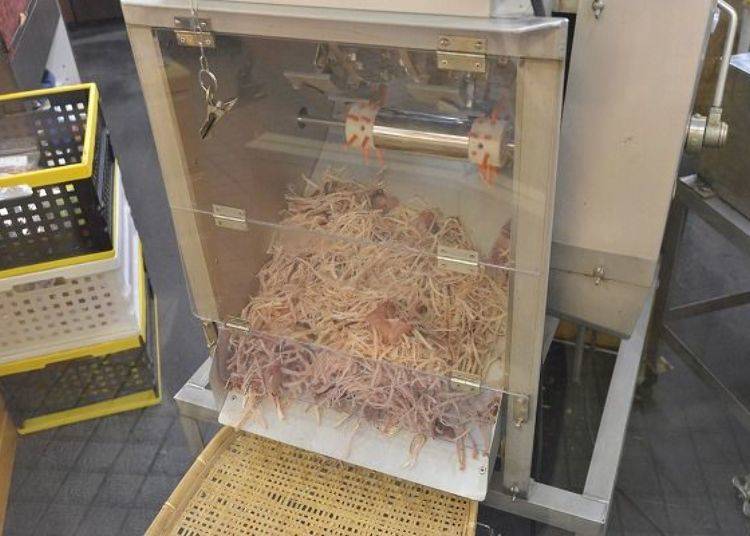 ▲At Sakuya freshly shredded dried squid is made from a machine. You can smell the fragrant aroma drifting through when walking by.
It is possible to buy lots of dried squid and unique squid delicacies, because Hachinohe has the largest amount of squid haul in Japan (Fisheries Agency "2017 Fishery, Cultivation Industry Statistics"). Dried goods packed with squid umami are great side dish for sake and also gifts.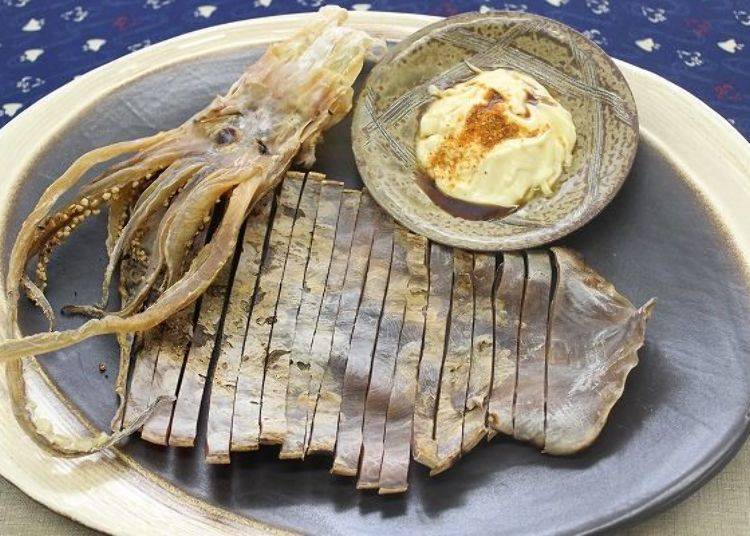 ▲Squids are a staple at other dried goods and unique delicacy shops. Dried surume-ika (Japanese flying squid) with mayonnaise and shichimi [a blend of 7 spices] is something special (photo provided by Hasshoku Center)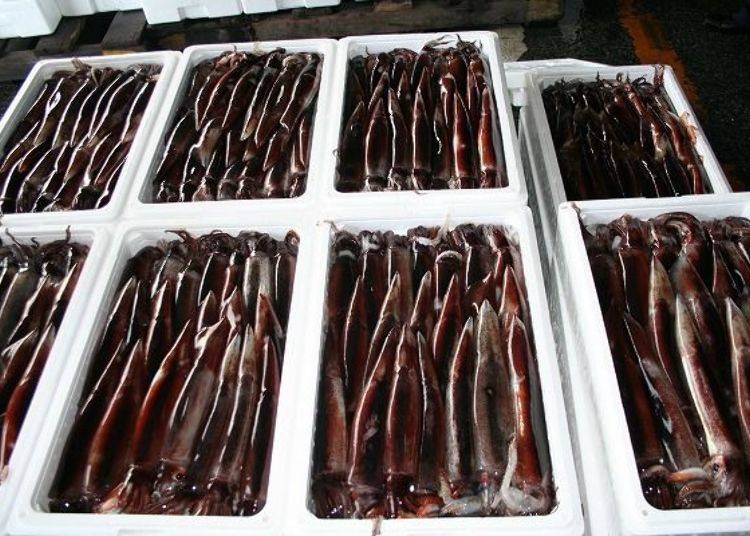 ▲Over half the haul of squids in Hachinohe are surumeika (photo provided by Hasshoku Center)
Sake no Service Eight has one of the best selection of local sake in Aomori Prefecture. You are able to find almost any sake from breweries that are part of the Aomori Brewers Association. There is a sampling section where you can try out some sake before purchasing it.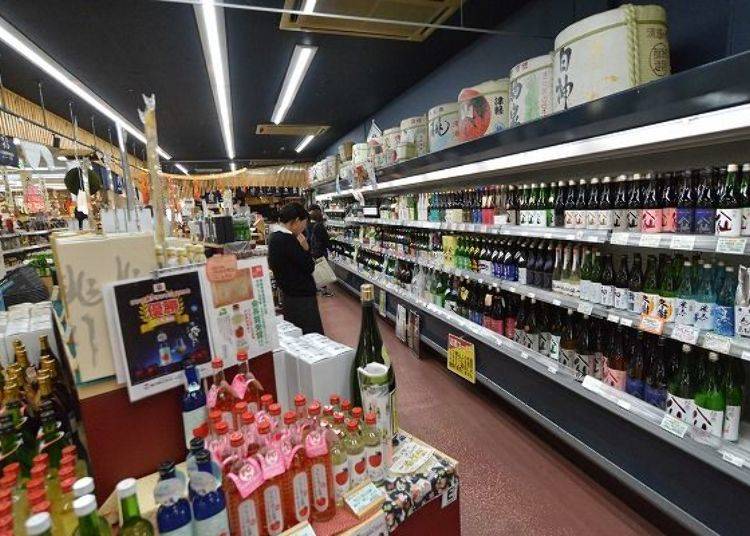 ▲Not only do they have sake from Aomori Prefecture but they also have a nice selection of sake from other Tohoku region prefectures.
If you are not sure what to get, you can always ask for recommendations from the staff. The Japanese dialect of Aomori is hard to understand at times, but that adds to the traveling experience. Part of the fun of shopping at a market is interacting with the unique individuals.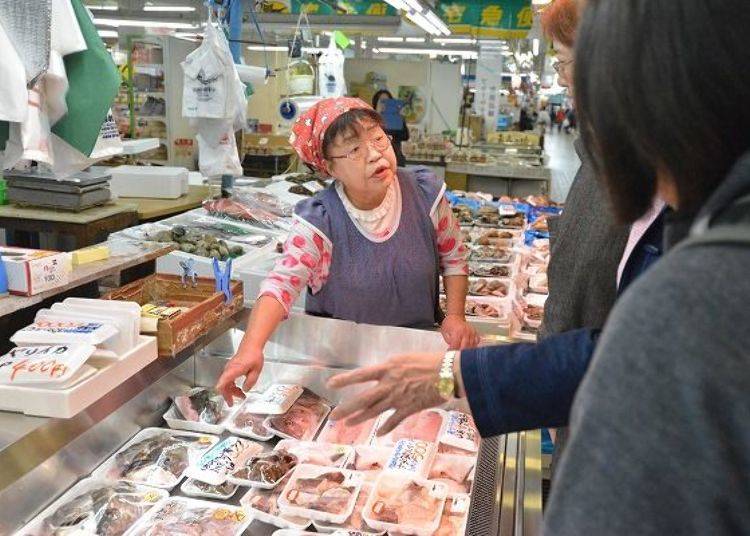 ▲Iwamrau Shoten's Toshi Nakatsukue. She has been working at Hasshoku Center for over 20 years.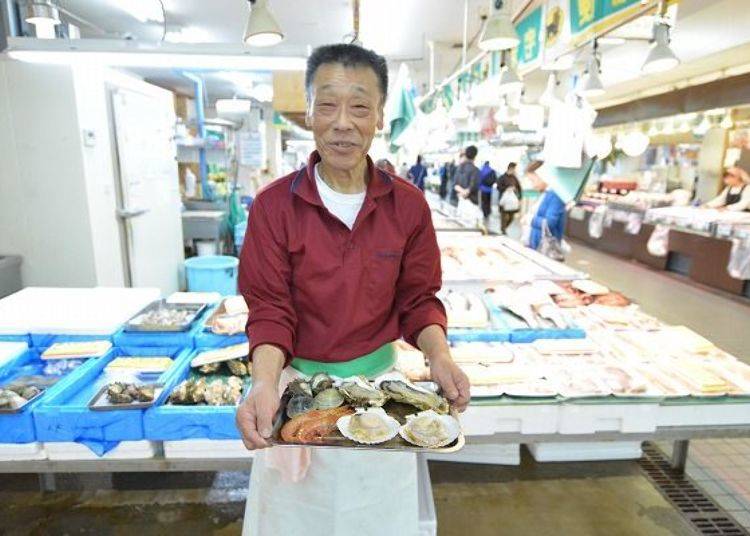 ▲Fresh fish shop Tochigi's staff. He was embarrassed to share his name but didn't mind posing for a picture
A Market that Originally Started for Locals
As seen above, Hasshoku Center has many activity for tourist, however it was originally established as a market for locals. According to the person in charge of public relations their original concept was "to take care of locals" and that hasn't changed. They focus on having a variety of goods, and creating shops and an environment that are uniquely different from other markets, general supermarkets and shopping centers.

In recent years they have started conducting cooking lessons by professional cooks called "Hasshoku Cooking Dojo," in order to spread the quality of local food and to work on food education.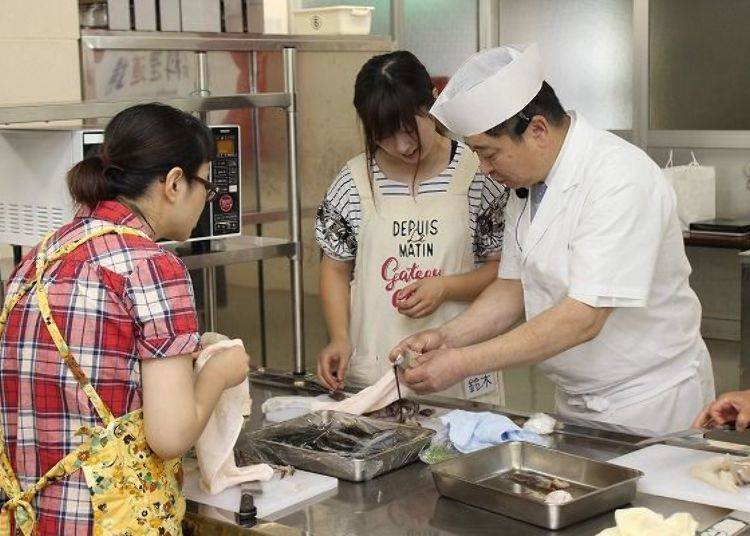 ▲Scene of Hasshoku Cooking Dojo (photo provided by Hasshoku Center)
By learning from local chefs who are familiar with the land, you can learn cooking methods that brings out quality traits of the local ingredients. It might be a bit difficult to join a local cooking class in an unfamiliar land, however it might be fun to learn more about Hasshoku Center's seafood and other ingredients (requires reservation).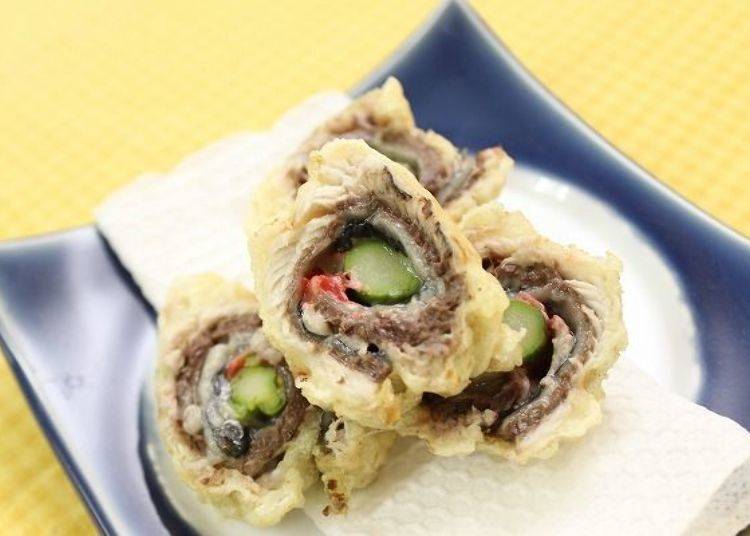 ▲A specially arranged pilchard tempura that you can learn at the dojo (photo provided by Hasshoku Center)
They have various events that are held every week. In August they have the "Hasshoku Summer Free Live" which converts the parking lot into a music festival that attracts many people from around the country.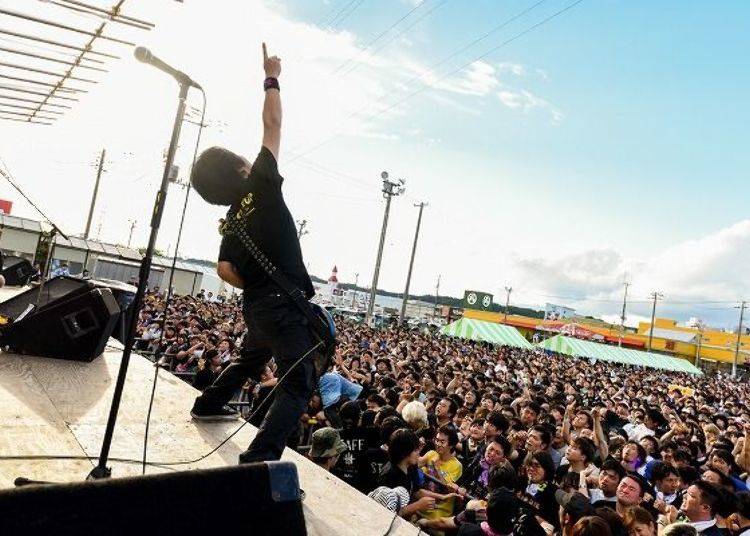 ▲A very rare event in the nation where a market becomes an outdoor music festival. Free entry (photo provided by Hasshoku Center)
Hasshoku Center evolved into a rare market in Japan where you can find unique seafood and also provides space where you can eat what you purchased there. The evolution of the market continues and they provide events and cooking lessons to please visitors. This is a spot you can't miss if you want to try Aomori's seafood.
八食センター

Address

22-2 Kansai, Kawaragi, Hachinohe, Aomori

Hours: 9:00 a.m. – 6:00 p.m. (hours vary depending on the facility and shop)
Closed: Wednesday (Kuriya Stadium open throughout the year)
*Will open on New Year's Holidays, holidays and busy season
*This information is from the time of this article's publication.
*Prices and options mentioned are subject to change.
*Unless stated otherwise, all prices include tax.
Limited time offer: 10% discount coupons available now!