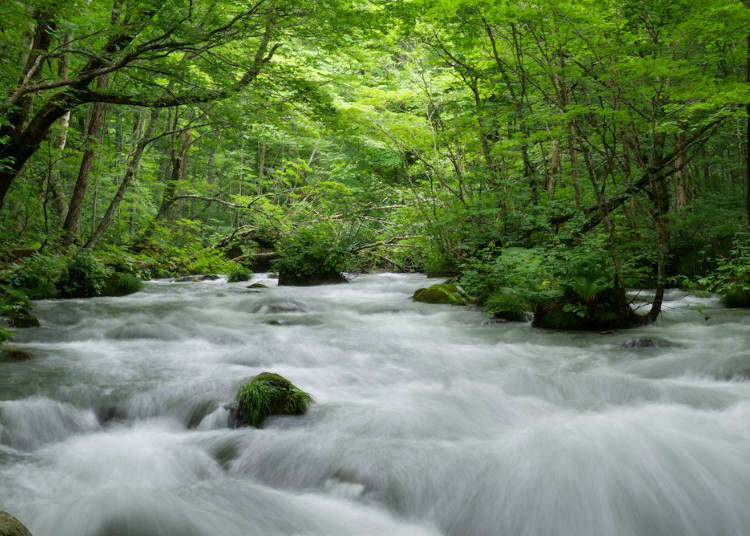 Oirase Gorge is a famous place in Towada city, in Aomori Prefecture. Despite being hidden in thick natural forests, access to Oirase Gorge is actually quite good, with the sightseeing route being available to cars, making it a great place to visit casually.

Here, we'll be sharing our guide to Oirase Gorge, and how to enjoy yourself even if it's your first time.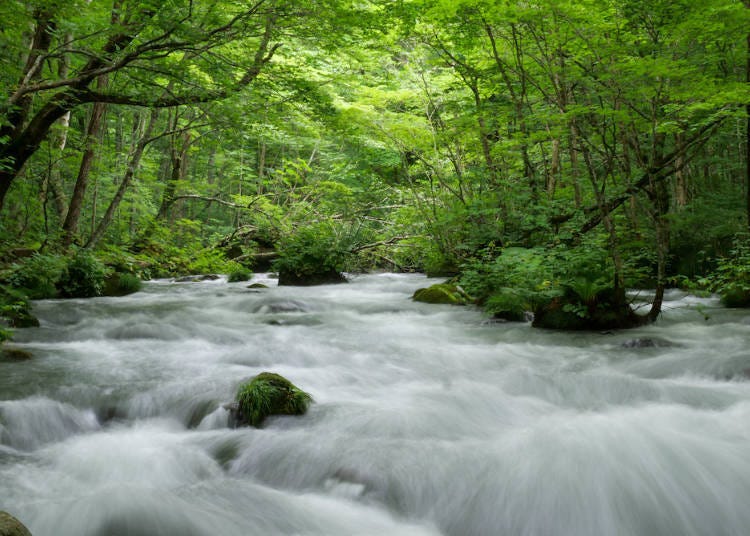 Oirase Gorge is a designated natural monument and natural special scenic spot, and is one of the most well-known scenic spots in Japan. With a 14-kilometer long path surrounded by nature and untouched by mankind, from the huge waterfalls to the beautiful streams flowing, there are numerous breath-taking spots there.
To reach Oirase Gorge, you can rent a car from Aomori Airport and drive for 90 minutes, or if you prefer to go by bus, it's recommended to take a route bus from the airport to Aomori Station, and from there, switch to a JR bus which heads there directly. Please get off at the stop "Oirase Keiryū-kan".

As the JR Bus departs from both Shin-Aomori station, which connects to the shinkansen, and Hachinohe station, even though it's a natural treasure spot, it's easily accessible to foreign visitors without much difficulty via public transport.

The peak tourist season is summer, when the forests are covered in luscious green and filled with negative ions, and is the most popular. However, there are also the vibrant red hues of autumn foliage, and the waterfall, which freezes into a "hyōbaku", or icefall, in winter, allowing you to see different natural sceneries all year round, leaving you wanting to visit again and again.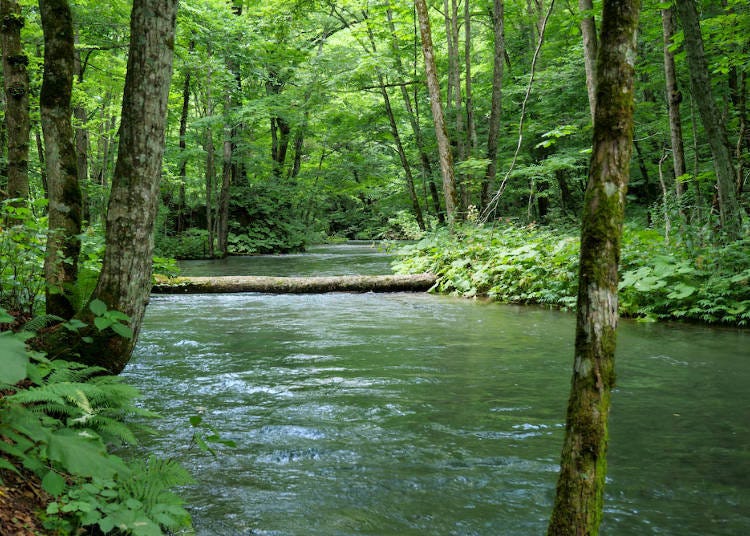 You can feel the abundance of life in Oirase Gorge in the lush greenery of summer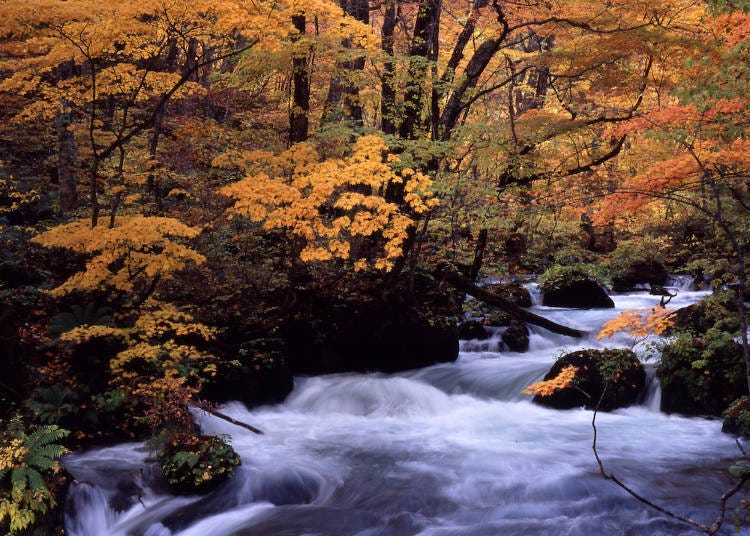 A collaboration shot between the stream and the beautiful autumn leaves (Photo provided by General Incorporated Association Lake Towada National Park Association)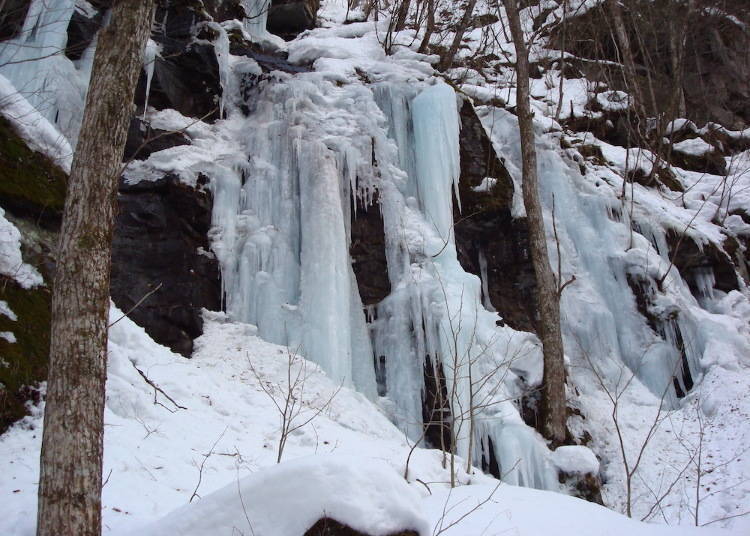 The icefall that you can only catch in winter is a work of art by nature (Photo provided by General Incorporated Association Lake Towada National Park Association)
Main walking paths in Oirase Gorge (Check before departing!)
The walking path along Oirase Gorge starts from Ne-no-Kuchi along the Lake Towada lakeside, to Yakeyama mountain, for a 14-kilometer long route.

The sightseeing path is made to be accessible to cars too, with various bus stops along various famous sights, and as rental bicycles are available as well, you can pick the best path and method to suit your objectives and physical health.

Places of interest and scenic spots are easy to get to from the main road, and as it's a single straight road, you won't get lost.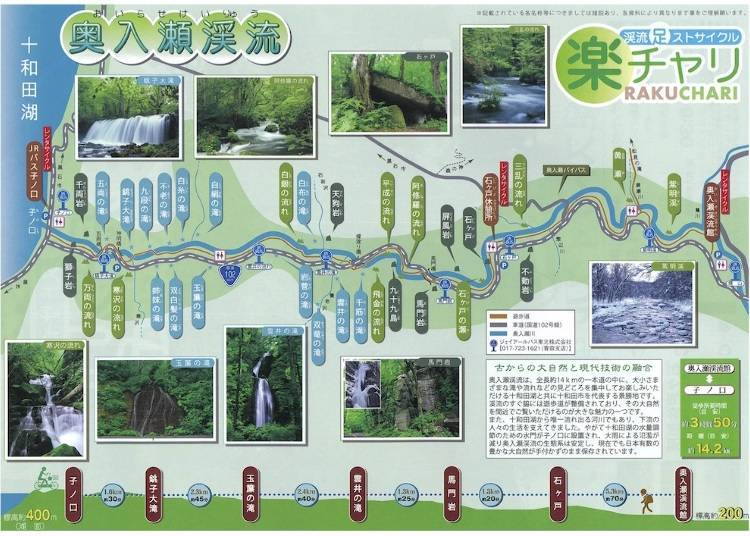 Oirase Gorge walking map (Image provided by General Incorporated Association Lake Towada National Park Association)
(1) Rental bicycle
To walk from Ne-no-Kuchi to Yakeyama (Oirase Keiryū-kan), it takes about four hours.

Though those with confidence in their physical health are welcome to challenge themselves to walking the whole route, a two-hour journey by bicycle is recommended for first-timers to enjoy themselves without pushing themselves too far.

Various tourist information centers and rest spots in the area have electric bicycles for rent, allowing you to enjoy the trip with the appropriate amount of exertion.

Besides this, you can return your bicycles to a different reception from the one you rented the bicycle from, and the ability to return your bike without having to bring it all the way to the original rental station is a plus point too.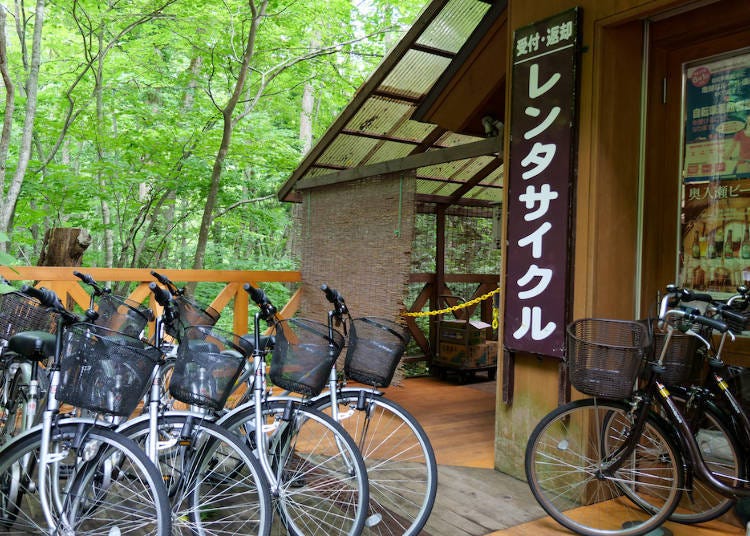 There are three bicycle rental and return stations along the walking route. The rental fees for a city bicycle with six gears is 1,000 yen (with tax) for four hours, and 1,500 yen (with tax) for four hours for a 3-speed electric bicycle.
(2) Car or bus
Along the walking area are various temporary parking spaces, so it's fine to move between spots by car too. When traveling by bus or walking, there are few buses, so it's best to check the timetables for the buses at your destinations properly before you make use of them.
Recommended attire and preparation needed for hiking Oirase Gorge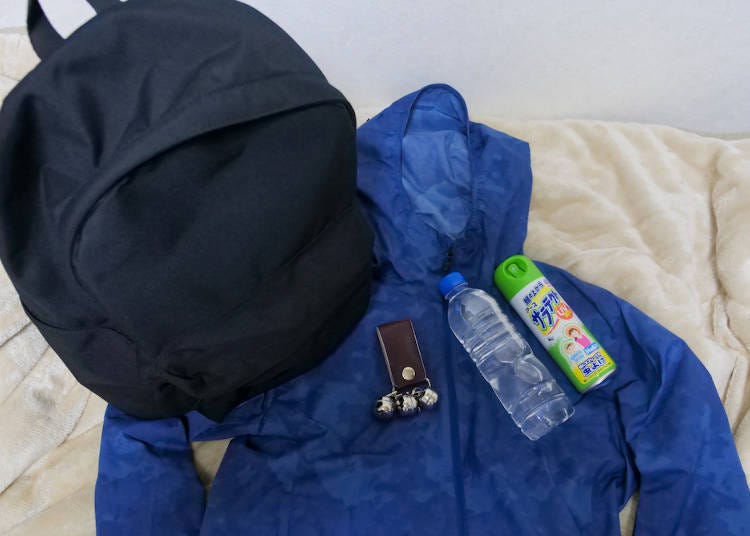 In summer, hiking wear should include long-sleeved shirts and pants, and comfortable shoes that can get wet. As the terrain is largely flat, there's no need for preparing like a mountain climb, though insect repellent and, as a precautionary measure, bear spray, are recommended.

As hiking uses up quite a lot of energy, do bring a towel, a hat, and water. On top of that, the temperature difference is much larger than in the city, so besides clothes suitable for the high heat of summer, don't forget to bring some warm clothing too.
Scenic spots to visit along Oirase Gorge: Ashura Stream and the Choshio Falls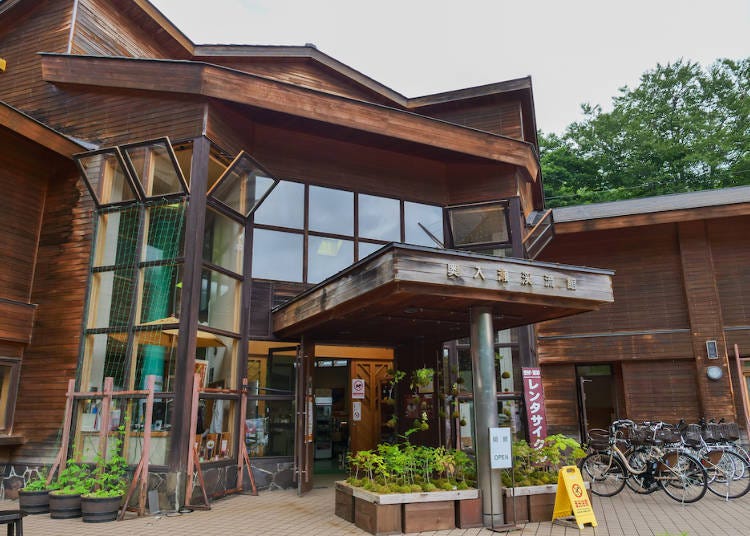 Oirase Keiryū-kan, where you can not just learn about the famous spots and the history of Oirase Keiryū, but buy snacks and food too. The entrance has a temperature checking system and alcohol disinfectant provided.
Once you've made your preparations, you can make your way to Oirase Keiryū. First up, head to the entrance to Oirase Gorge, Oirase Keiryū-kan, in Yakeyama by bus. As the parking lot is big, rental cars are of course fine too.

As we'll be making our way round by rental bicycle this time, we got our bicycles at the reception and headed out.

By the way, at this facility, you can learn about not just the scenic spots and history or Oirase Keiryū, but it sells light snacks too, so we recommend getting some water and sweet snacks before heading off.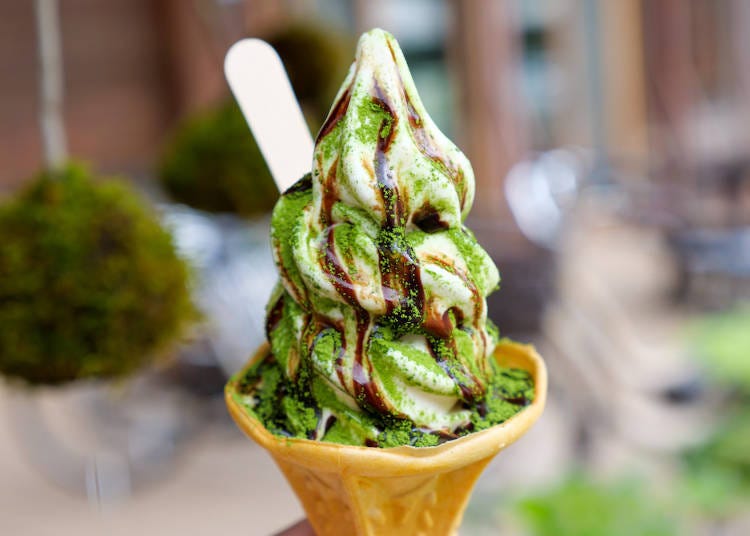 The "Oirase-koke soft" ice cream (350 yen with tax), which uses matcha powder and chocolate to represent greenery and plants, is the most popular item
Though it was the hottest in August when we visited, Oirase Gorge is a popular place for escaping the heat. Its cool climate and beautiful sights to enjoy are one of its main draws. Besides this, the breeze as you ride your bicycle is pleasant, and riding along the path while surrounded by nature heals your soul.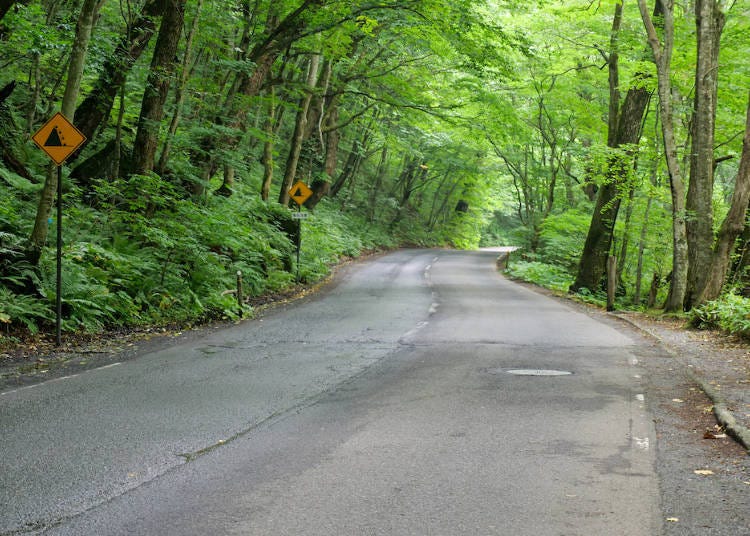 Advance along the green tunnel with ease on a bicycle
As we headed to Ne-no-Kuchi, we arrived at our first view spot, the Samidare Stream. As a plaque was erected at the side of the Oirase Stream, we stopped our bikes so as not to obstruct traffic flow, and once we headed to the walking path, we were immediately greeted by an amazing sight.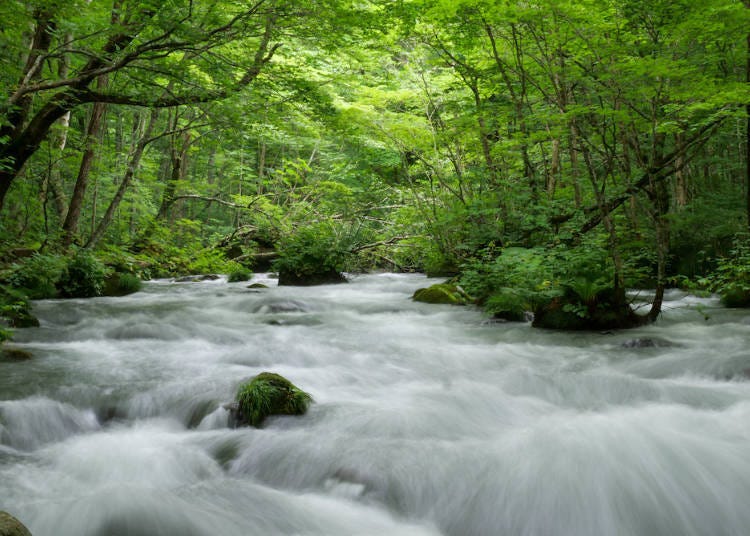 Samidare Stream
The Samidare Stream got its name from how it splits into three from a single stream, and is one of the main streams of Oirase Keiryū. The beauty and force of the remerging of the three streams can only be described by the roar of the stream, accentuating this work of art that nature has created. Though it's also beautiful in summer and autumn, the azaleas blooming along the rocks in May makes for a different scene.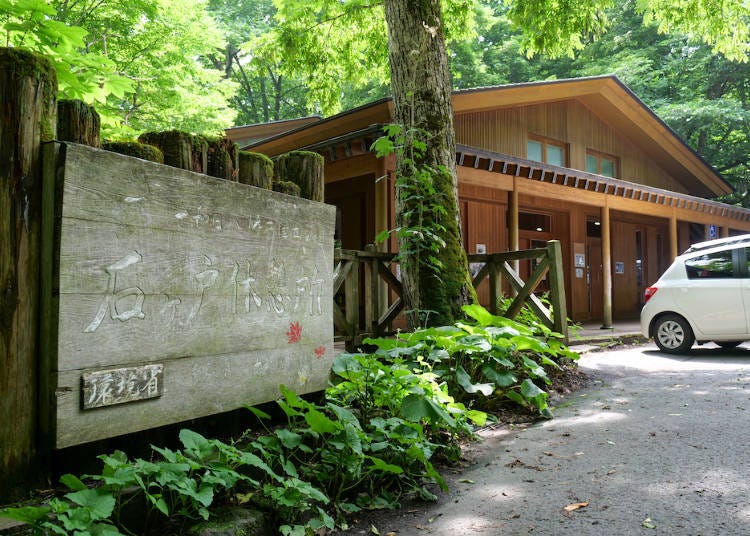 Ishikedo rest stop. With shops and a toilet, there's a rental bicycle counter here too.
As we headed off from Samidare Stream and continued towards Ne-no-Kuchi, we almost immediately caught sight of the Ishikedo rest stop. It's connected to the walking path, and after a short walk from it, a large stone object emerges. "Ishikedo" is a local dialect for "small stone house". It's said to be home of a beautiful thief named Kijin-no-Omatsu, who, according to legend, kills travelers and steals their money.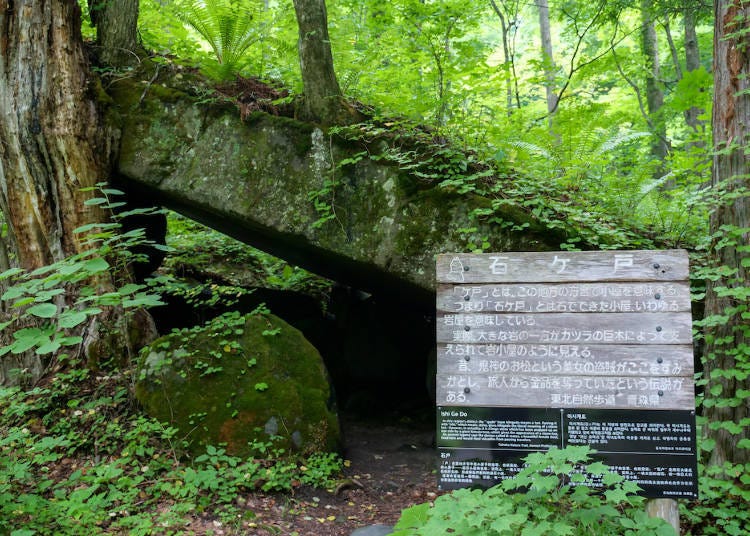 The information board has explanations in English and Chinese, for the convenience of visitors from other countries.
In stark contrast to such a fearsome legend, the walking path here is beautiful, and calm and removed from the flowing stream. Though Oirase Keiryū largely follows the flow of the streams, this area has some beautiful scenery, and is recommended for those who would like to take a short walk too.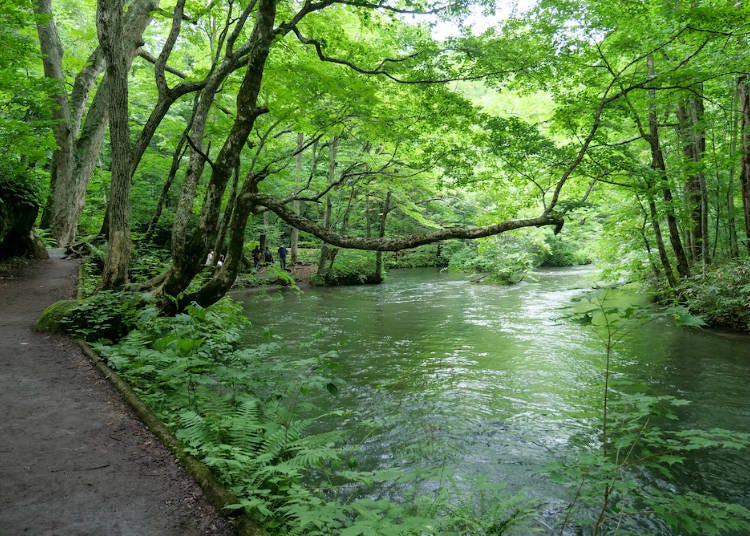 A walking path that calms you even as you stroll along
Besides this, do watch where you stop when on the walking path. Oirase Keiryū has over 300 varieties of moss growing, with trees both standing and fallen, rocks, and signboards covered in green. The intricate designs and textures of the moss form over long periods of time, and are a mystery of the plants. It's a valuable scene unique to the humid and moist environment of Oirase Keiryū.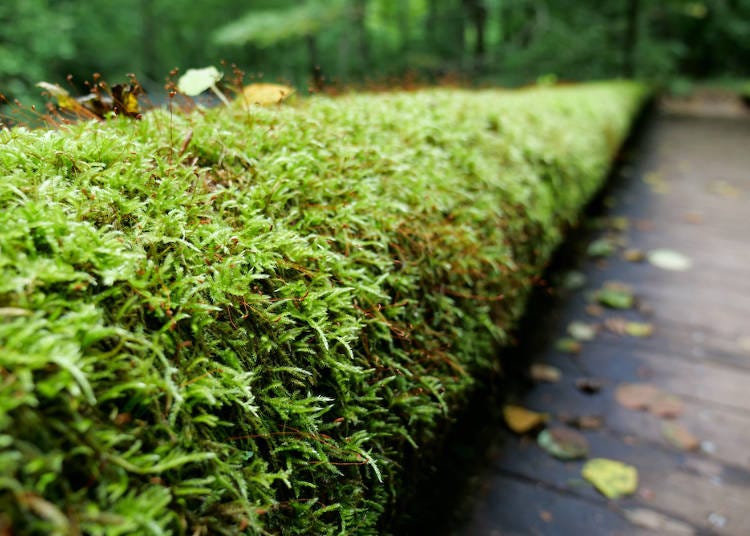 The moss is so popular that there are people who tour the area with a magnifying glass in hand to observe nature up close
For those who like to observe moss while enjoying their walk, this time, we'll be introducing you to the most famous viewpoint in Oirase Gorge. The Ashura Stream is a famous place that has appeared in numerous television commercials and posters, and numerous visitors come touting cameras.
Ashura Stream
Named after the god of war, Ashura, the raging flow of the stream between the rocks and trees, is a testament to its strength and magnificence. But more than that, the continuous flow of the stream and the greenery of the plants is simply gorgeous, enveloping the area in a mysterious atmosphere.

Besides the Ashura Stream, this area has one more hidden scenic spot that you can't miss out. Like the Chisuji-no-Taki Waterfall, which translates to "thousand thread waterfall", which has a beautiful and intricate flow like thousands of threads, the Kamoi-no-Taki Waterfall, which translates to "cloud well waterfall", its 20-meter tall dynamic flow is popular. In the same space, you can experience the marriage of calm and quiet of nature with movement, one of the charms of Oirase Gorge.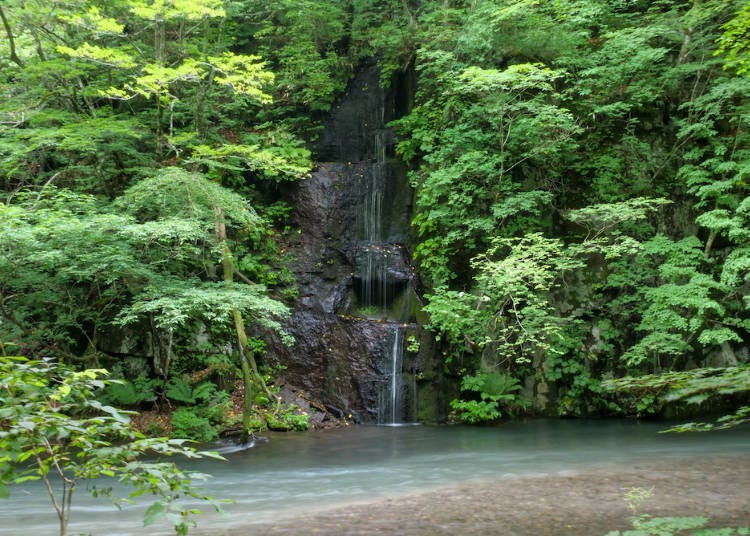 Chisuji-no-Taki Waterfall, with a beauty so calming it's almost like time has stopped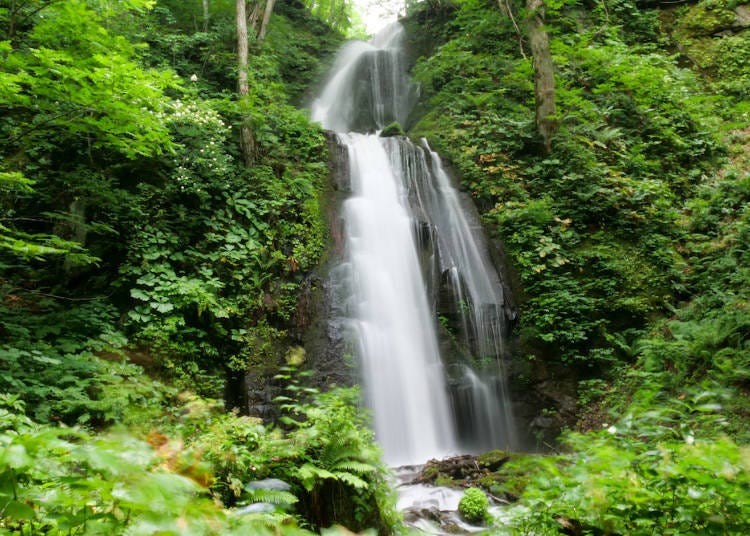 Kamoi-no-Taki Waterfall, which got its name from its cloud like water sprays
As we headed along the driving road from Kamoi-no-Taki Waterfall, we reached our destination, the Ne-no-Kuchi area. As this place has many waterfalls and streams, it's recommended to get off from your cars and bicycles and stroll around. Along the way, you'll see many collaborations with nature, such as wooden tables and chairs, allowing you to take rest stops while enjoying the scenery.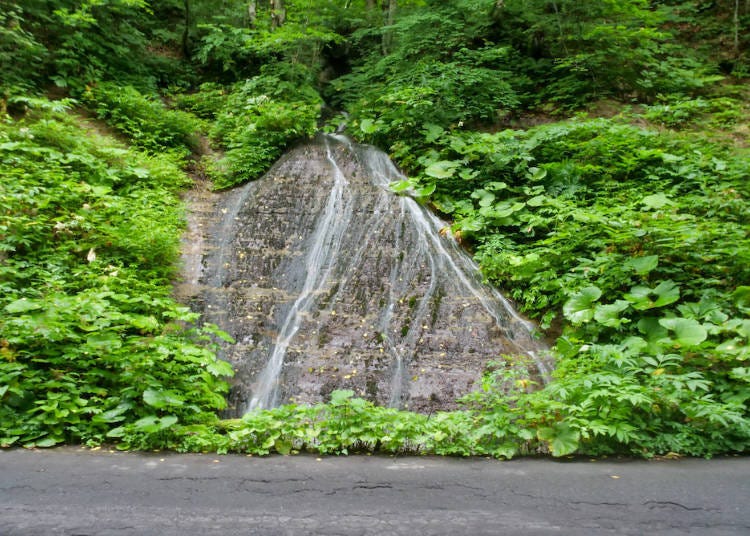 The Tamadare-no-Taki Waterfall, a waterfall that suddenly appears along the driving road, with a six-meter-tall drop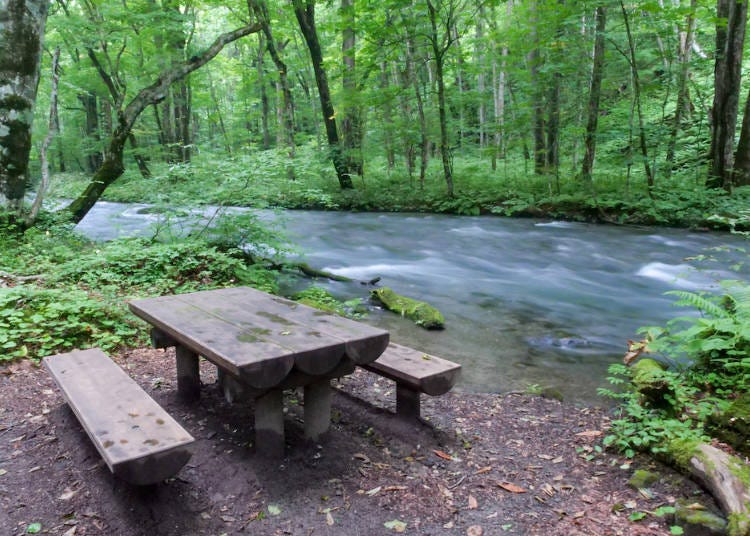 You can gaze at the stream while relaxing and passing time
(4) Choshi Otaki Waterfall
The biggest view point in this area is the Chōshi-Ōtaki Waterfall, standing at a proud twenty meters wide and seven meters tall. The only waterfall to originate from the main stream of Oirase Keiryū, it is said to have gotten its name from being like a bottle mouth to the Lake Towada, if it is thought of as a sake bottle.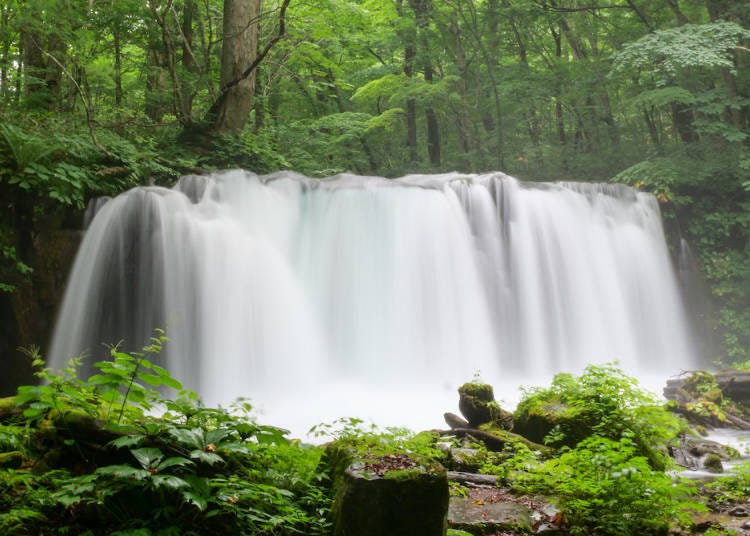 Chōshi-Ōtaki Waterfall, which boasts an abundance of greenery even amid all the nature surrounding it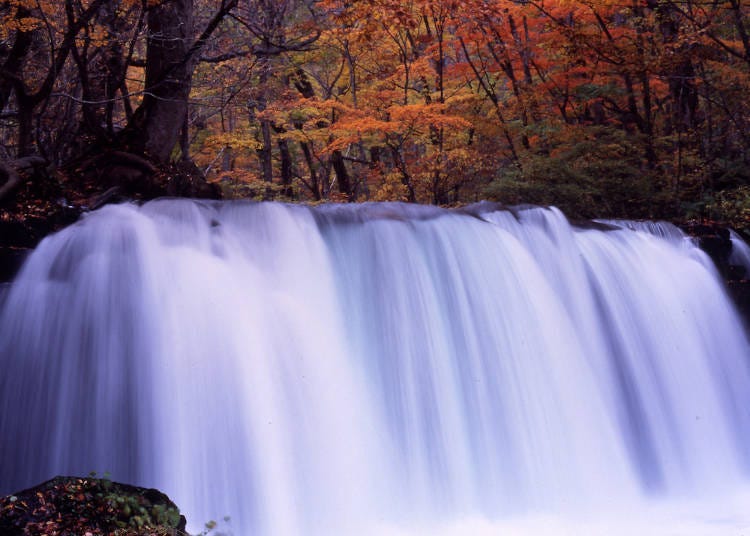 The color contrast with the bright autumn colors is beautiful (Photo provided by General Incorporated Association Lake Towada National Park Association)
Because of the waterfall, fish are unable to swim upstream, and as such, due to Chōshi-Ōtaki Waterfall, Lake Towada does not have fish that live for many years living in it. You can feel the massive scale of the falls up close, and heal yourself with the abundance of negative ions.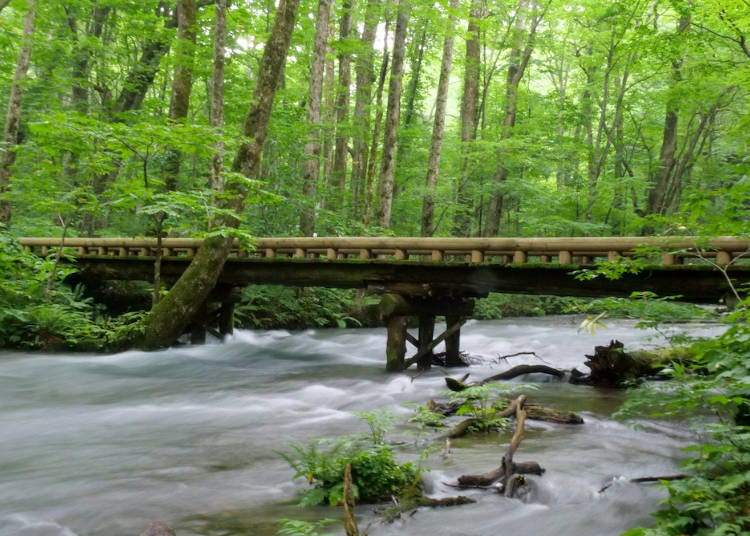 A bridge near Chōshi-Ōtaki Waterfall. To capture all these calming scenes, don't forget your camera.
After passing Choshi-Otaki Waterfall, it's just a little more till we reach our goal, Ne-no-Kuchi. After returning our rental bicycles at the JR Bus "Ne-no-Kuchi" station, our journey through the streams is completed. To see all the spots and walk around them actually took over two hours, but we enjoyed our exploration without getting overly exhausted.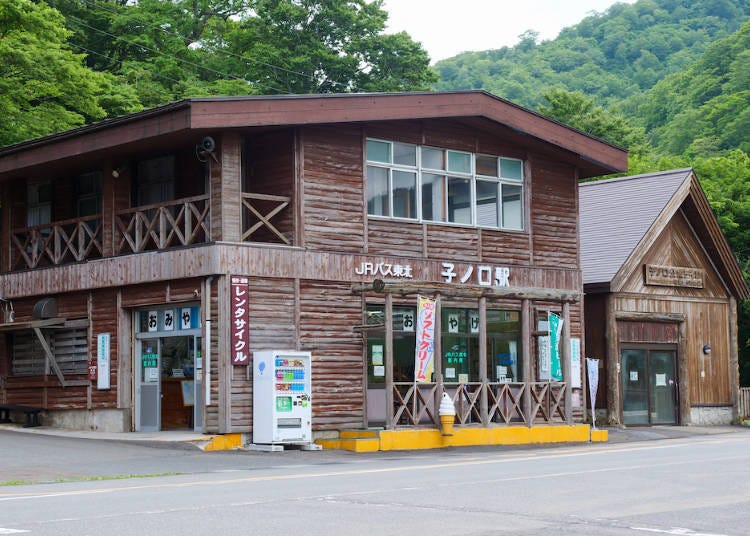 JR Bus Nenokuchi station
A vast expanse of nature untouched by human hands, is the sightseeing spot Oirase Keiryū. We'll be glad if you used this guide to get to know more of the charm points of Aomori prefecture. On top of that, besides the spots we introduced in this article, there are many other places to see too, so do enjoy yourself leisurely in this vast expanse of nature!
Oirase Gorge (OIRASE STREAM MUSEUM)

奥入瀬渓流(奥入瀬渓流館)

Address

Tochikubo 183, Okuse, Towada Shi, Aomori Ken, 034-0301, Japan

Nearest Station

From JR Aomori Station, take the JR bus and get off at "Oirase Stream Museum"


Phone Number

0176-74-1233

Business hours: 9:00 to 16:30
Closed days: Irregular holidays throughout the year
Address

Okuse, Towada-shi, Aomori, 034-0301
View Map

Nearest Station

Hachinohe Station (Hachinohe Line / Tohoku Shinkansen / Hokkaido Shinkansen / Aoimori Tetsudo)
90 minutes by bus


Phone Number

0176-75-2425
Text by: Tsubasa Shimoda

Information in this article accurate as of September 2020.
Recommended Hotels near Oirase Gorge
Address

Horyo Yakeyama 64-263, Towada, Aomori, 034-0303
View Map

Nearest Station

Shichinohe-towada Station (Tohoku Shinkansen / Hokkaido Shinkansen)


Vacancy search, reservation

from

8,140JPY

1room, 2adults

Check with our partner site as the latest rates, rate details, and guest room requirements may vary.
*This information is from the time of this article's publication.
*Prices and options mentioned are subject to change.
*Unless stated otherwise, all prices include tax.