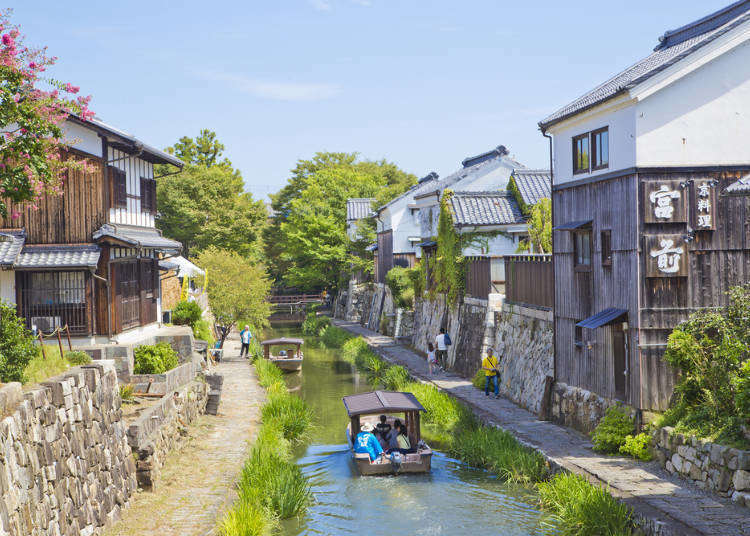 Shiga Prefecture is located almost directly in the middle of Japan's chain of islands. With Lake Biwa, Japan's largest lake, dominating around 1/6th of the prefecture, visitors can experience beautiful natural scenery in every season.

From castles to traditional villages, there are many unique Shiga tourist spots. Shiga also has long had a highly developed economy and culture, and to this day, many historic landmarks and city districts remain. This extends to its cuisine: Shiga is famous for carp and sweetfish, and its "freshwater fish cuisine" is unlike that of any other prefecture.
What Kind of Place is Shiga Prefecture?
beeboys / Shutterstock.com
Shiga Prefecture is home to Lake Biwa, a precious water resource to those living in the Kinki Region. Excluding Lake Biwa, half of the remaining land area is taken up by mountains, making Shiga a region of abundant nature, where you can enjoy seasonal recreational activities.

This includes picnics under the cherry blossom trees in summer, boat rides on the lake in summer, viewing colorful foliage in fall, and skiing in winter.

With activities such as touring the Omihachiman lakeside district via rowboat down the canal, the landscape's unique culture and atmosphere which developed along with Lake Biwa are a selling point of the prefecture.

Historic landmarks also abound, including Hikone Castle and its popular character "Hikonyan", the Azuchi castle ruins, and Enryaku-ji Temple on Mount Hiei. Shiga is also known for its cuisine, such as one of Japan's top wagyu brand Omi beef, the freshwater fish cuisine made with fish caught in Lake Biwa, and traditional Japanese sweets.
For Sightseeing in Shiga, Go Here First!
While there are many sightseeing spots surrounding Lake Biwa, these are the ones we recommend topping your list with first.
1. Biwako Valley / Biwako Terrace
beeboys / Shutterstock.com
beeboys / Shutterstock.com
At an altitude of 1100 meters, Biwako Valley is 10 minutes by bus from JR Shiga Station and then a ropeway ride from Sanroku Station up to the peak of the mountain.

Here you can enjoy a walk at a higher altitude, looking down over the spring cherry blossoms and fall colorful leaves that cover the entire mountainside.

Biwako Valley is a bustling ski resort in winter, and the zipline and skywalk activities are also popular among young people. You won't want to miss the panoramic view of Lake Biwa from the Biwako Terrace.
Address

1547-1, Kido, Otsu-shi, Shiga, 520-0514
View Map

Nearest Station

Shiga Station (JR Kosei Line)


Phone Number

077-592-1155
(C)Hikone city
Hikone Castle was built nearly 400 years ago and is designated a national treasure along with Himeji, Matsumoto, Inuyama, and Matsue Castles. The beauty of Hikone Castle is so beautiful illuminated in the moonlight it is counted as a scenic spot among the "Eight Views of Lake Biwa".

Enjoy viewing the castle's heroic presence, having survived the castle demolishment law and warfare of the Meiji era. You can also meet Hikone City's popular character "Hikonyan" here.
Address

1-1, Konkicho, Hikone-shi, Shiga, 522-0061
View Map

Nearest Station

Hikone Station (JR Tokaido Line / JR Biwako Line)
14 minutes on foot


Phone Number

0749-22-2742
3. A Tour of Omihachiman's Hachiman-bori Canal
Thanya Jones / Shutterstock.com
In the past, Omihachiman flourished as a castle town, and to this day, the waterway connecting the castle to Lake Biwa by boat, known as the Hachiman-bori Canal, remains.

Enjoy a ride aboard a Japanese boat as you savor the rich scenery and its seasonal changes. The retro-style streets lined by white-walled warehouses are also a perfect location for a walk.
八丁堀

Address

743 Taga-cho, Omihachiman-shi, Shiga

Nearest Station

Take a bus from JR Omi-Hachiman Station to Osugicho (near bus stop)


Phone Number

0748-33-5020

Hours: 10:00 AM to 3:30 PM (Mar/Nov), 10:00 AM to 4:00 PM (Apr-Oct), 10:00 AM to 3:00 PM (Dec-Feb)
* Reservations required Dec/Jan/Feb. Inquire to confirm boat departure/ending times. Groups must reserve at least one week ahead of time. Individuals may make similar reservations or join any boat immediately if there is room.
Admission Fee: adults 1000 yen, children 500 yen (all tax included)
Closed: Irregularly
4. Shirahige Shrine: Lake Biwa's Floating Torii Gate
When most people think of a floating torii gate, they will likely think of Miyajima - but a lesser-known Shiga tourist spot is this beautiful floating gate on Lake Biwa!

This is part of the Shirahige Shrine near Takashima. Just make sure you head to the west side of the lake!
Shirahige Shrine Torii Gate

湖中大鳥居

Address

Ukawa, Takashima, Shiga 520-1122
Foods that Shiga Prefecture is Famous For
You can enjoy the wagyu brand Omi beef of cows raised in the clear air and fertile land of Shiga at many shops throughout the prefecture.

Food products made from the freshwater sweetfish and carp caught from Lake Biwa are also available to try at restaurants around the prefecture and make amazing souvenirs.

Thanks to the history of prosperous castle towns like Hikone and Nagahama, there are also many superior traditional Japanese sweets.
"Omi Beef" is one of Japan's three best wagyu Japanese beef brands, standing alongside Kobe Beef and Matsusaka Beef. The finely marbled meat is notable for its sweet, melt-in-your-mouth fat.

Compared to other brands of wagyu, you can eat Omi Beef for a more economical price. Enjoy it both at luxury restaurants serving sushi or steak and as ground beef in casual street food like menchikatsu and croquettes.

Specialty Omi Beef Restaurant Tiffany, a short walk from Omihachiman Station, is a restaurant under the management of a long-established Omi Beef shop, Kanekichi Yamamoto. With easy access and reasonable lunchtime prices, it's a popular place to enjoy Omi Beef.
2. Freshwater Fish Cuisine
Ayu, or sweetfish, is a freshwater fish that lives in rivers. Ayu has long been one of the most beloved fishes by Japanese people and is a symbolic taste of the beginning of summer.

Naturally raised ayu are expensive, but recently, ayu farmed in Lake Biwa are being sold year-round to eat boiled in stews, grilled with salt, as nanbanzuke fried and topped with onions and vinegar, or cut open flat and dried overnight and then grilled as ichiyaboshi.

If you want to try ayu, one recommended restaurant is Ayu Cha-ya Kawase", here you can eat dishes like tempura or grilled ayu, as well as sashimi and hotpot meals of biwa trout caught in Lake Biwa. The distinctive flavor of the local funa-zushi sushi cuisine is yet another taste you'll want to try.
Sweets You Should Buy as Souvenirs from Shiga
Shiga Prefecture is home is a wide variety of souvenirs, such as tsukudani made with specialty Omi Beef, funa-zushi, konbu-maki seaweed rolls, and more. This section will introduce a few standard, locally beloved desserts.
1. Baumkuchen from Club Harie
The baumkuchen cakes at Club Harie, a bakery and cafe managed by 1872-established Japanese sweets shop Taneya, are moist and soft with exquisite sweetness.

All Club Harie branches, including La Collina Omihachiman and Moriyama Harie-kan, strive to highlight the nature and traditions of their respective local regions and have an outstanding atmosphere. You can eat at the in-house cafe or take home a freshly baked cake. Umeda Hankyu Department Store also carries Club Harie baumkuchen.
2. Miidera Chikara-Mochi from Miidera Chikara-Mochi Honke
Long-established Japanese sweets shop Miidera Chikara-Mochi Honke, founded in 1869 and family-run for several generations, produces simple traditional Japanese sweets. Miidera Chikara-Mochi comes on a skewer with three bite-sized mochi cakes.

Sweetened with a secret syrup and kinako (soybean flour), it is also famous as a typical Otsu souvenir. You can buy Chikara-Mochi in packs of 7 to 70, but the expiration date is two days after the date of manufacture, so try to buy them on the last day of your trip. One good thing about this sweet is that it's easy to acquire since they are sold at department stores and hotels.
3. Ubagamochi-ya's Ubagamochi
"Ubagamochi" is a local treat well-known as a Shiga product. It is a famous dessert with over 400 years of history, with ankoromochi even featured in ukiyo-e block prints. The exquisite sweetness of koshi-an smooth red bean paste covers soft mochi.

They come in bite-sized pieces, in packs of 12 up to 72. They need to be stored in a cool, dark place, and they taste best in 2-3 days in summer or 3-4 days in winter. Besides the main store, which is a 15-minute walk from JR Kusatsu Station, you can also buy them at store branches near the station and within the station concourse.
Text by:WEST PLAN
*This information is from the time of this article's publication.
*Prices and options mentioned are subject to change.
*Unless stated otherwise, all prices include tax.