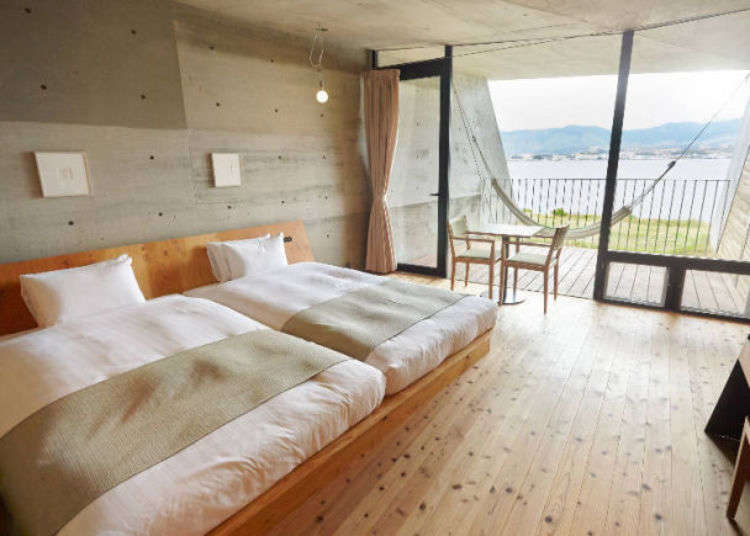 Book a stay at these Lake Biwa hotels and make the best of the gorgeous scenery! Shiga Prefecture is home to Lake Biwa, Japan's largest lake that's ringed by incredible natural scenery.

From the cherry blossoms of spring and lake cruises in the summer to the colorful foliage of autumn, at Lake Biwa, you can enjoy outdoor recreation activities and the seasonal changes of nature all year-round.

Here we will introduce five Lake Biwa hotels that pride themselves in offering scenic views of the lake and vicinity.
What Kind of Place is Shiga?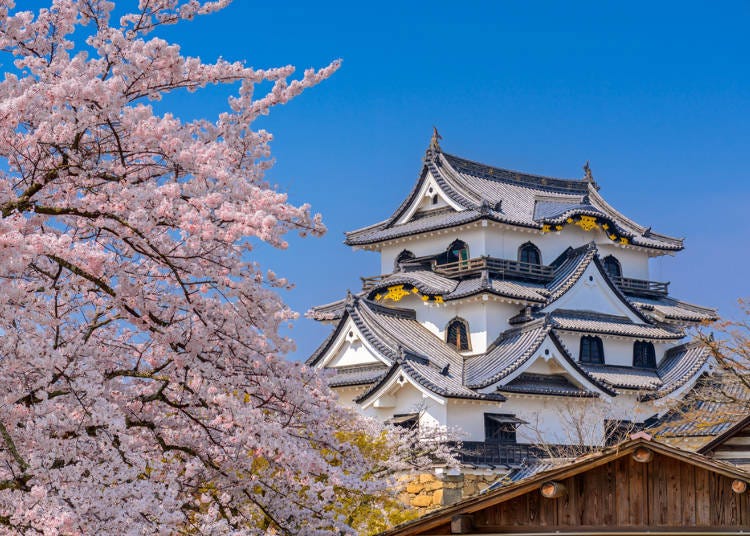 Lake Biwa takes up an entire sixth of Shiga Prefecture, and half of the remaining land area is dominated by mountains, making it a prefecture of abundant nature. There are also many historic landmarks, such as Hikone Castle, the Azuchi Castle Ruins, and Hieizan Enryaku-ji Temple, and an extensive local food scene including Omi beef and lake fish cuisine. Be sure to stay in Shiga and get a sense for all that the prefecture has to offer.
1. Lake Biwa Otsu Prince Hotel: High-Rise Hotel with a Giant Panoramic View of Lake Biwa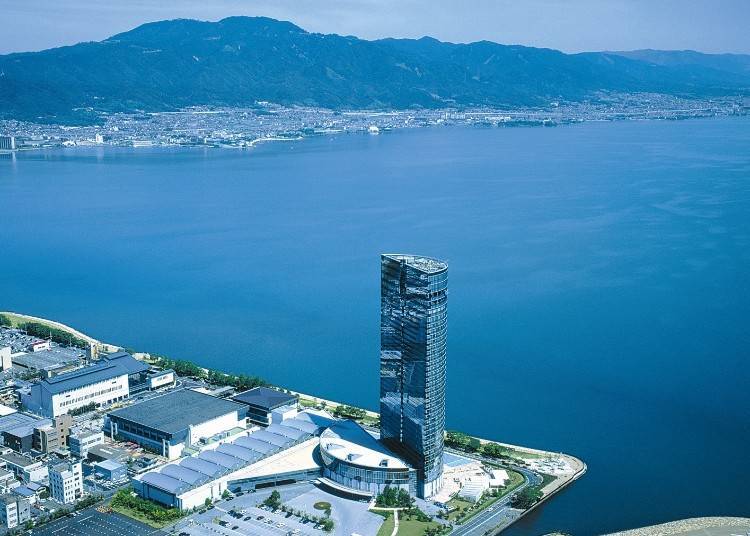 This is a 38-story Lake Biwa hotel where you can view a 180-degree panorama overlooking all of the area. Lake Biwa Otsu Prince Hotel's concept is "Lake Biwa's box seating". You can enjoy the scenery of the bountiful surrounding mountains and the lake in every direction the eye can see.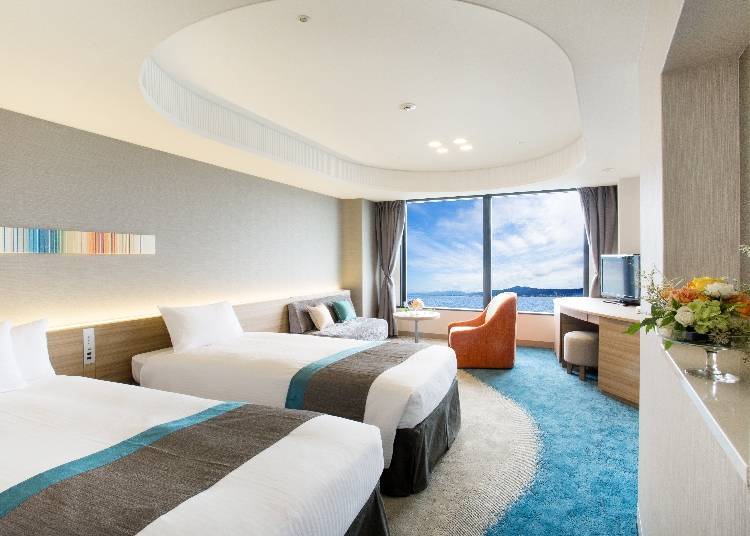 This photograph is a guest room on one of the "Sky Floors", between floors 21 and 32. The room is decorated in a blue reminiscent of the wide open Lake Biwa sky and an elegant greige, with orange chairs designed to mimic the shining sun.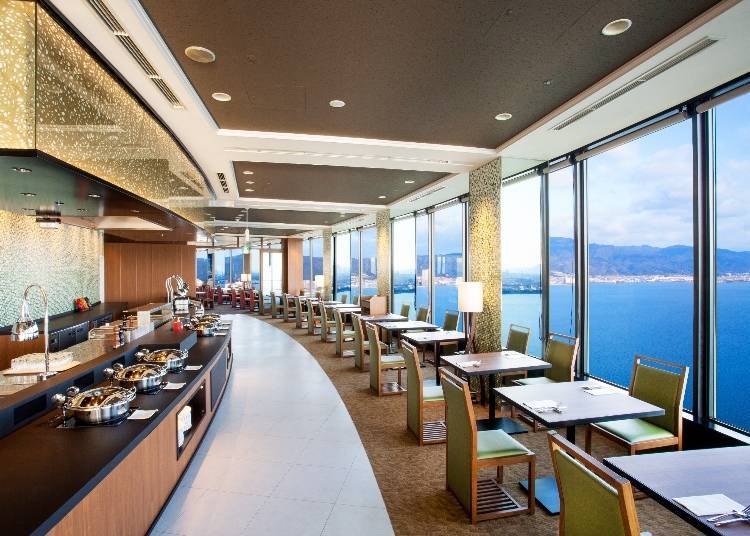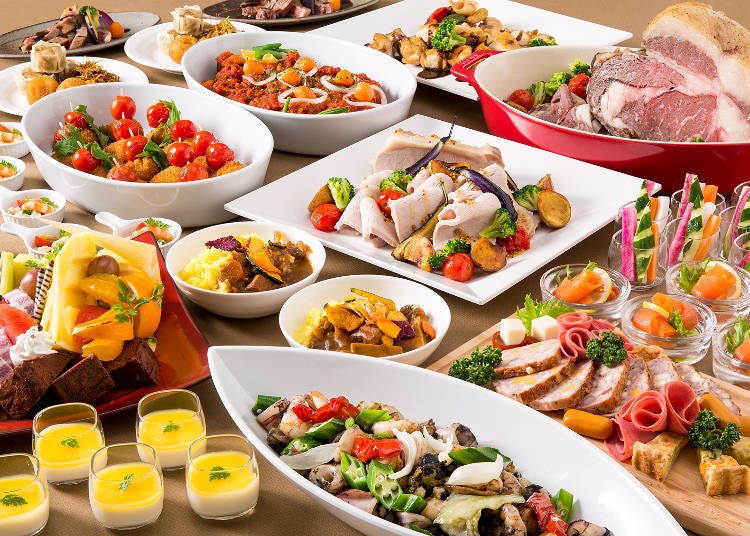 You can eat your meals at the restaurant on the 37th floor, which serves a mix of Japanese and Western dishes using local ingredients and vegetables in a buffet style. The uppermost 38th floor is a sky lounge, where you can enjoy the night scenery along with top quality beverages and cocktails from around the world.
Lake Biwa Otsu Prince Hotel

びわ湖大津プリンスホテル

Address

4-7-7 Nionohama, Otsu, Shiga 〒520-8520

Phone Number

077-521-1111

Hours: Check-in 2:00 PM, Check-out 11:00 AM
Price: 1 night, breakfast included starting from 7,270 yen (per guest, up to 4 guests per room)
Closed: Open Daily
2. Biwako Hotel: Featuring a Natural Onsen with a View of Lake Biwa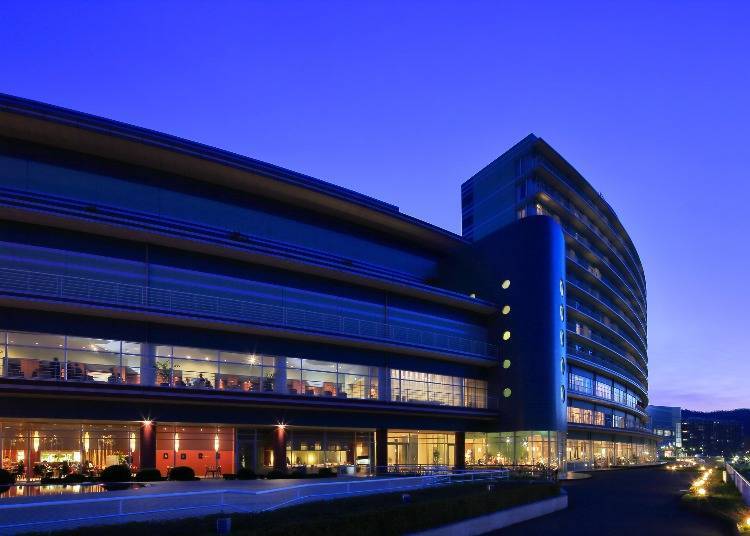 This Lake Biwa resort hotel is easy and easily accessed, with a 5-minute free shuttle bus ride from JR Otsu Station or a 5-minute walk from Keihan Biwako-Hamaotsu Station.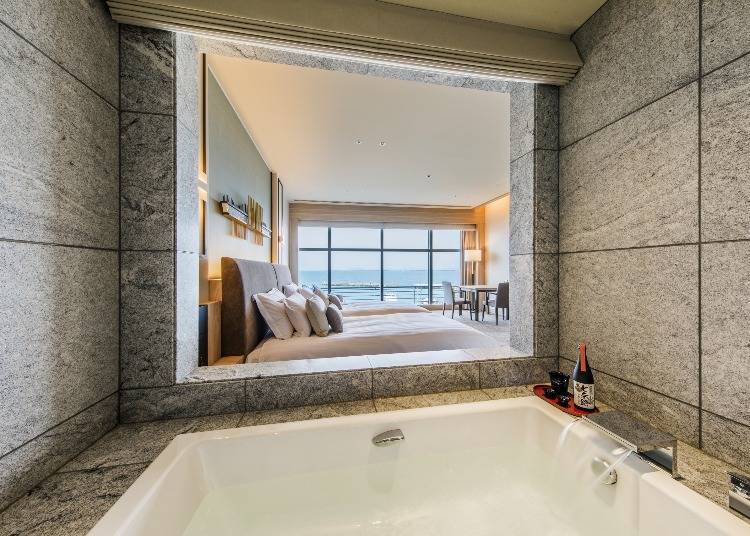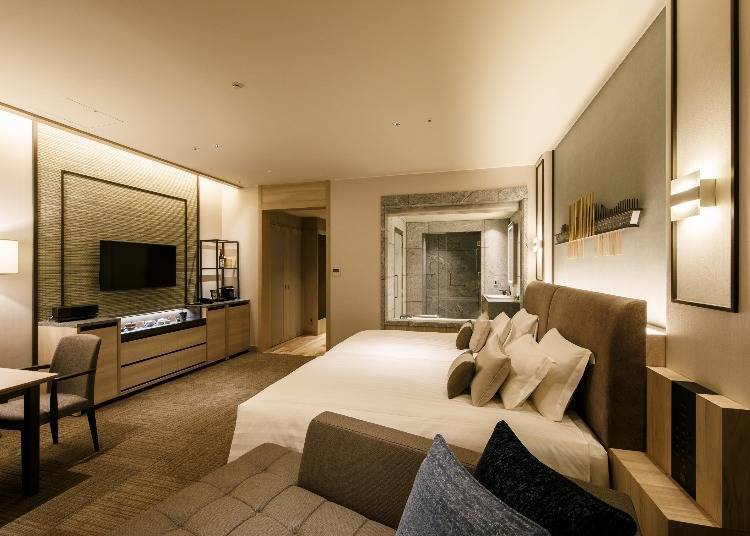 The guest rooms are divided into 4 floors, each with a different theme. One floor recently opened in March 2019 is the premium luxury floor "Vista". Rooms on this floor adopt the "airy bath" style combined bedroom and bathroom.

Experience a luxurious stay relaxing in the bath in your room while you gaze out at Lake Biwa.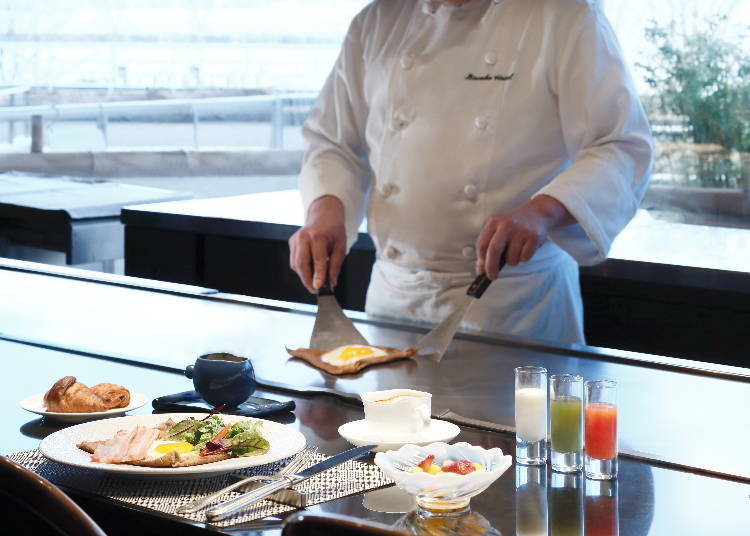 If you stay on "Vista", you will be able to enjoy a special breakfast at Biwako Hotel's teppanyaki restaurant. Right in front of you, the chef cooks a galette using locally-grown eggs and bacon and serves it fresh and piping hot. The soft-boiled egg will gently fill your stomach for the morning.

You can also switch to the buffet-style Japanese breakfast. Whichever you choose, every meal uses plenty of fresh, Shiga ingredients.
At Biwako Hotel, you can also enjoy a natural onsen. The spacious large bath with a sweeping view of Lake Biwa will ease your travel fatigue. There is an open air bath as well, where you can enjoy a relaxing moment in the refreshing natural breeze.
琵琶湖ホテル

Address

2-40 Hama-cho, Otsu, Shiga

Phone Number

077-524-7111

Hours: Check-in 3:00 PM, Check-out 12:00 PM
Price: 2-person room starting at 37,500 yen per guest
Closed: Open Daily
3. Setore Marina Biwako: Feel the Lake Biwako Breeze During Your Stay at Private Resort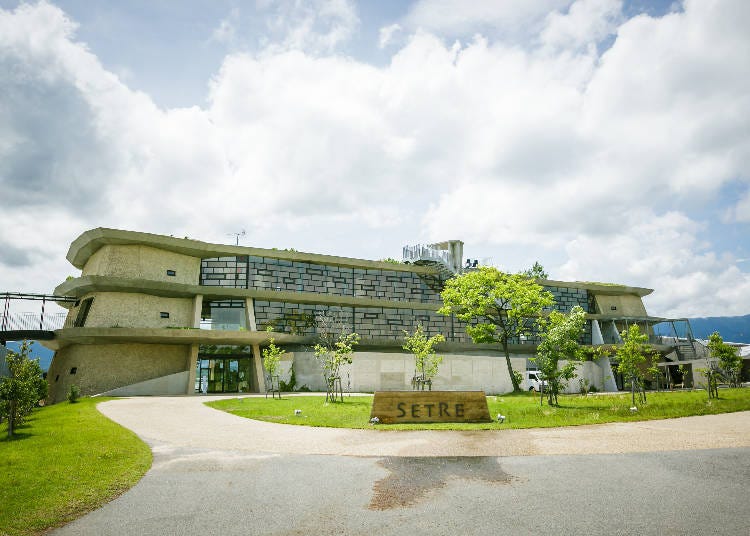 As one of the Lake Biwa hotels designed with views in mind, Setore Marina Biwako has 14 separate rooms that invite a sense of being one with nature. The hotel is situated in front of Lake Biwa, such that a refreshing breeze will often whisper in.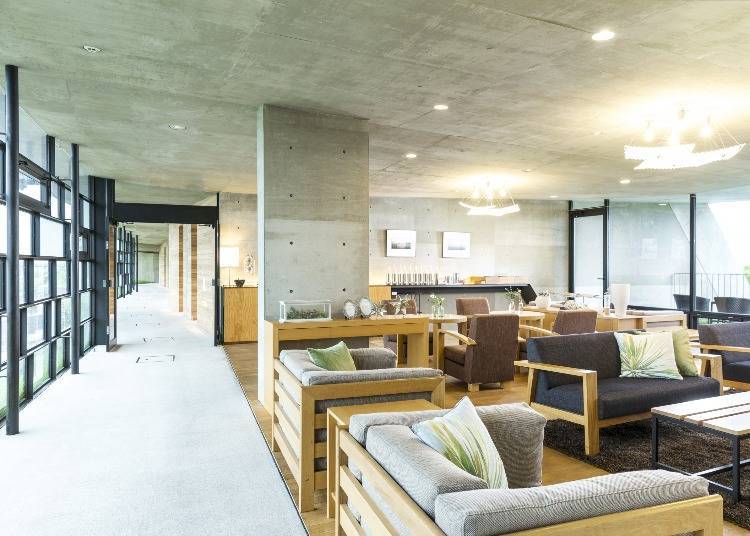 This photograph is of the club lounge only for overnight guests. Here you can sit comfortably on the sofa, made with Shiga-grown wood, and enjoy a drink while you watch the changing panorama of Lake Biwa as the hours pass.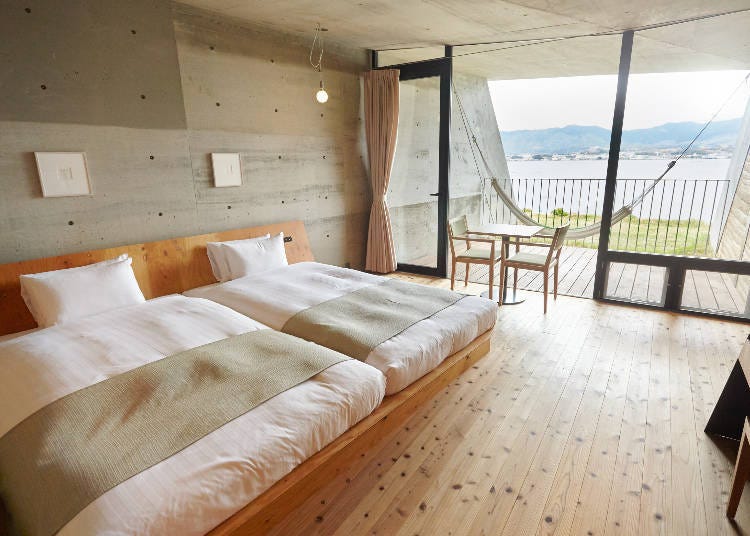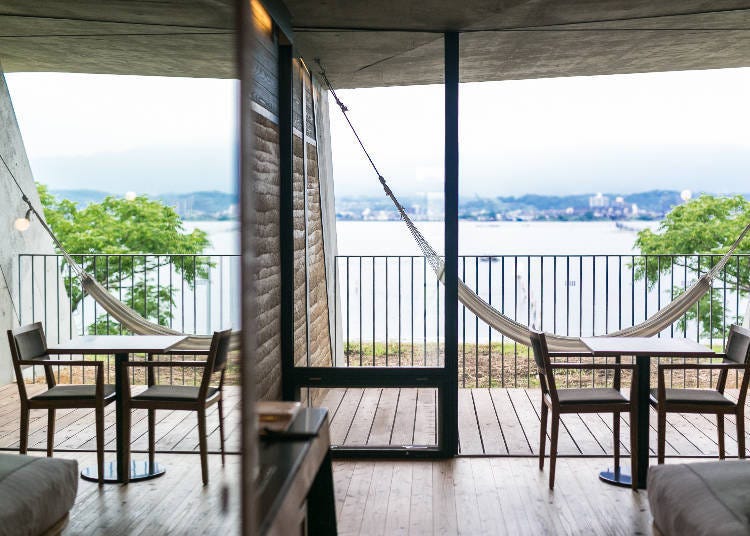 The guest rooms incorporate ample amounts of local cypress and cedar wood into their furnishings and interior. The rooms come equipped with flooring you can walk on barefoot and clay walls that are one of Shiga's traditional crafting methods. Accommodations are cool in summer and warm in winter, so you can enjoy a comfortable stay while feeling harmony with nature.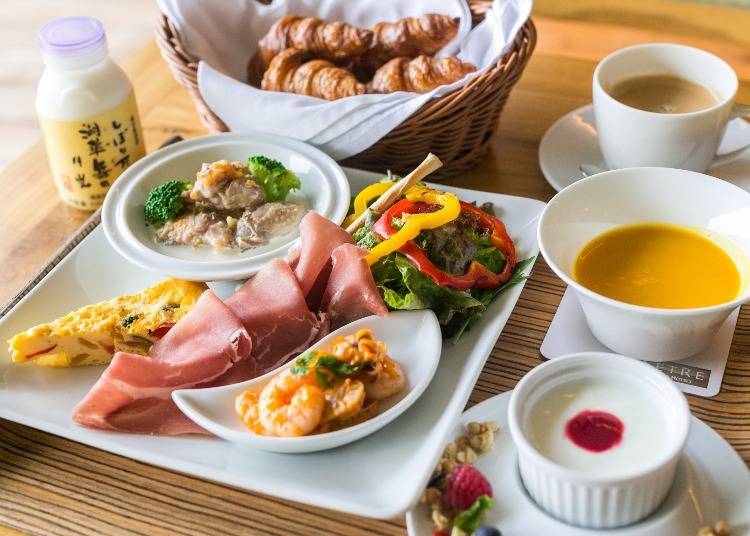 The breakfast is a Shiga feast, using locally grown vegetables, eggs, milk, and more. Hotel staff provide guests with the choicest ingredients by personally visiting local growers and occasionally even helping with the farmwork in order to deepen their understanding of the food and ingredients. One perk is the ability to also enjoy your food via room service, so you can have a leisurely meal while appreciating the gorgeous scenery.
セトレマリーナびわ湖

Address

Yanmar Sunset Marina, 1380-1 Mizuho-cho, Moriyama, Shiga 〒524-0102

Phone Number

077-585-1125

Hours: Check-in 3:00 PM, Check-out 12:00 PM
Pricing: 1 night, breakfast included starting from 14,000 yen; 1 night, breakfast and dinner included starting from 26,000 yen (tax included)
Closed: every Tuesday (excluding holidays, the summer season, and New Year's holiday)

Vacancy search, reservation

from

37,000JPY

1room, 2adults

Check with our partner site as the latest rates, rate details, and guest room requirements may vary.
4. Okubiwako Makino Grand Park Hotel: Where You Can Enjoy Glamping!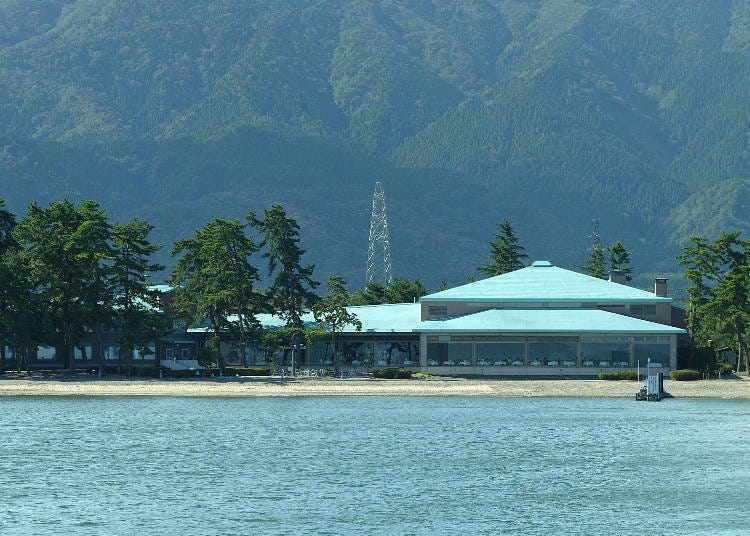 Part of Lake Biwa's Makino Sunny Beach, which has been designated a nationally important cultural landscape, is owned privately by the hotel. Located in the pine forests alongside the lake, Okubiwako Makino Grand Park Hotel uses Omi tile for its exterior walls which makes it seem to blend into the natural environment.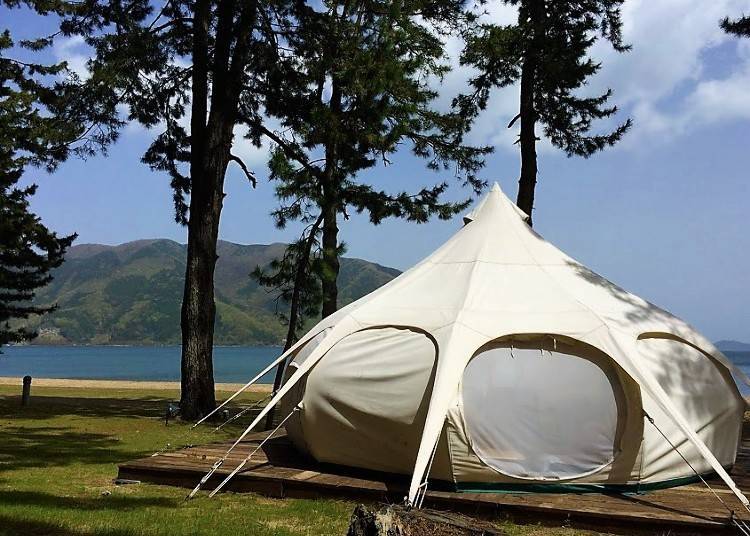 From spring through late fall, you can enjoy glamping on this private beach. The tents are affectionately dubbed "onion tents" and manufactured by English company "Lotus Belle". There are 4 tents available in total, each with its own stylish and luxurious atmosphere. On clear days, you can see the sun rising over Lake Biwa from all of the tents. Naturally, there are also rooms available inside the Lake Biwa hotel.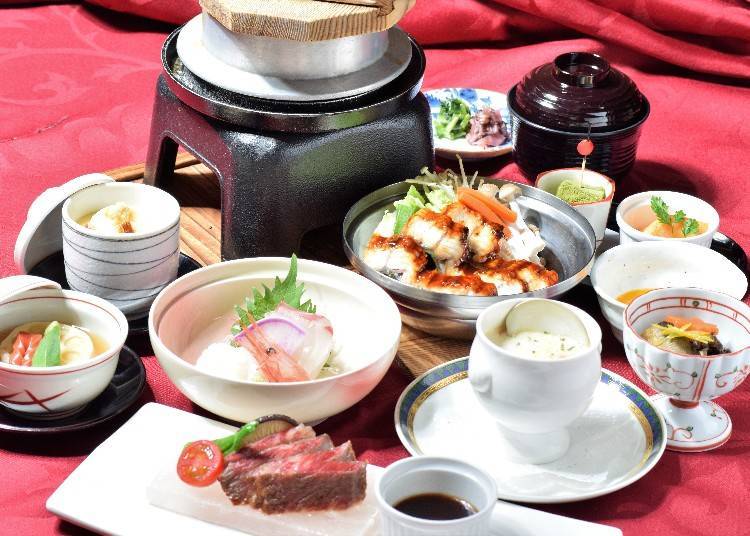 Dinner is a Japanese-Western fusion style course meal made with local, Takashima City ingredients and spices. The most premium course uses Omi beef for its meat dishes. If you choose a glamping style stay, you can also select an outdoor barbecue meal plan.
Okubiwako Makino Grand Park Hotel

奥琵琶湖マキノグランドパークホテル

Address

763-2 Nishihama, Makino-cho, Takashima, Shiga 〒520-1812

Phone Number

0740-28-1111

Hours: Check-in 3:00 PM, Check-out 11:00 AM (starting July 13, 2019 - Check-out 10:00 AM)
Pricing: 1 night, breakfast included starting from 7,992 yen; 1 night, breakfast and dinner included starting from 9,936 yen (tax included)
Closed: Open Daily
5. North Biwako Hotel Grazie: Enjoy A Brief Encounter with a Touch of Italy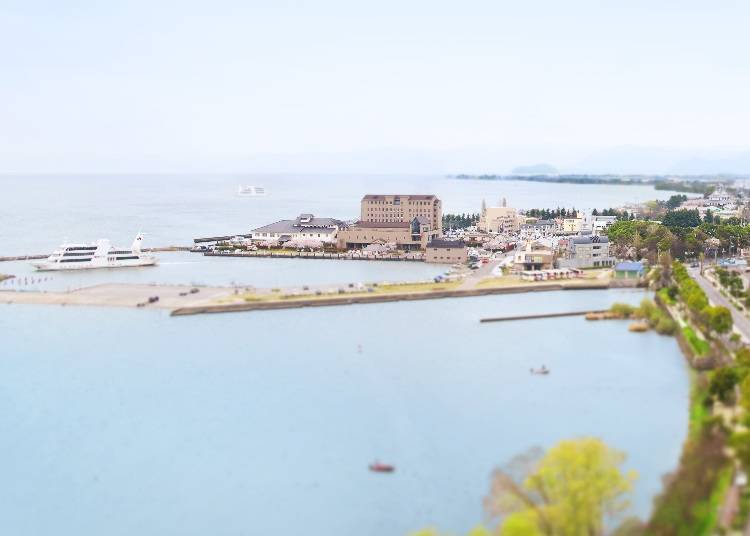 This Lake Biwa hotel is situated in an ideal location, with Mount Ibuki to the east and Lake Biwa to the west. You can see the sunset over Lake Biwa, named one of "Japan's Top 100 Sunsets", right in the area.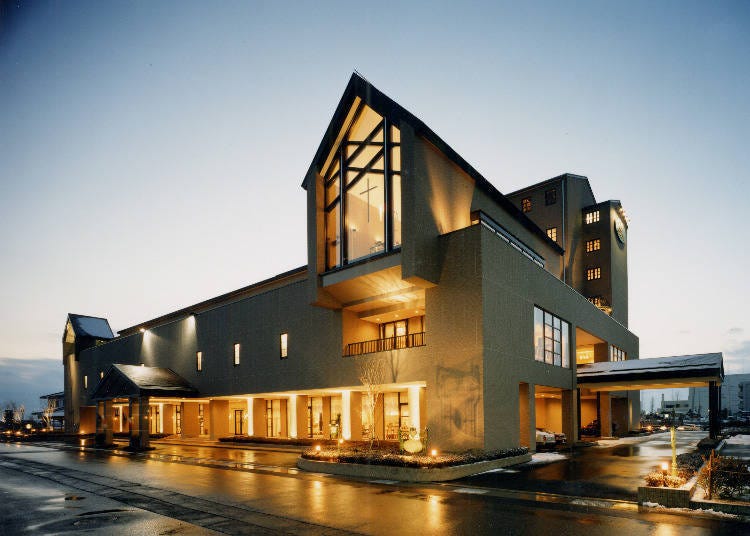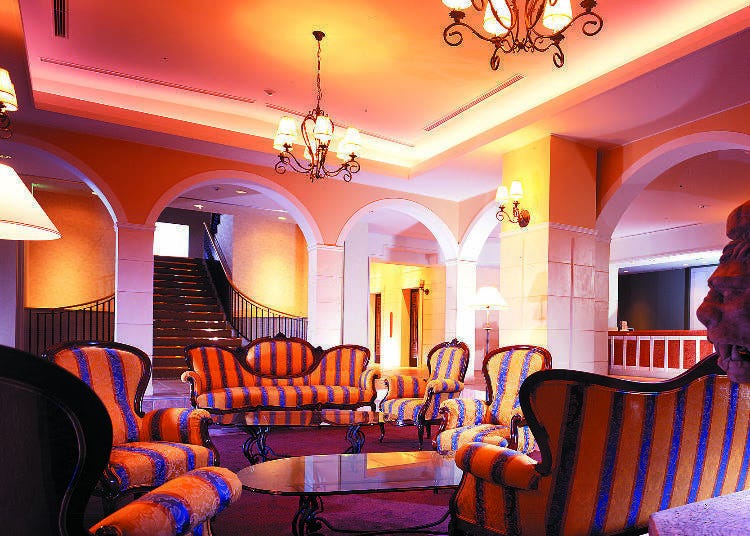 Both the exterior and interior are designed with inspiration from the city streets of Verona, Nagahama's sister city in Italy. With features like the statue of Juliette and the winged lions, you will be able to enjoy a special time in North Biwako Hotel Grazie's extravagant atmosphere.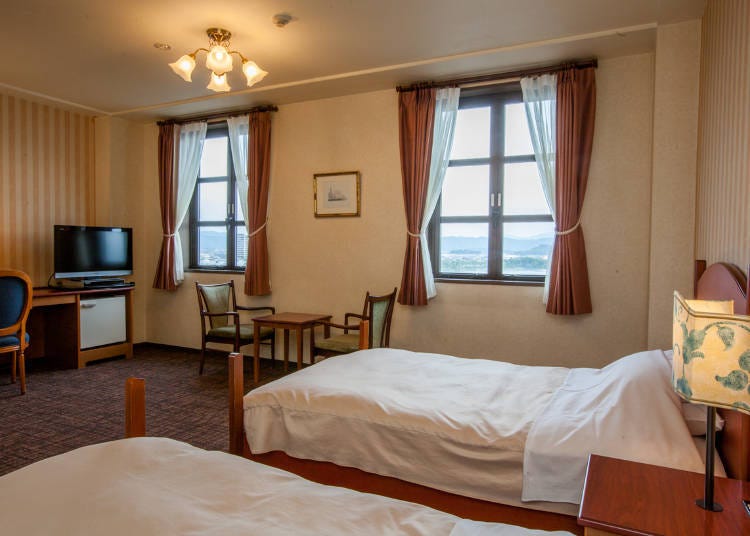 There are a total of 82 guest rooms that come in various styles, such as exotic, simple and modern, resort, or Japanese style, each and every room an excellent place to rest and relax.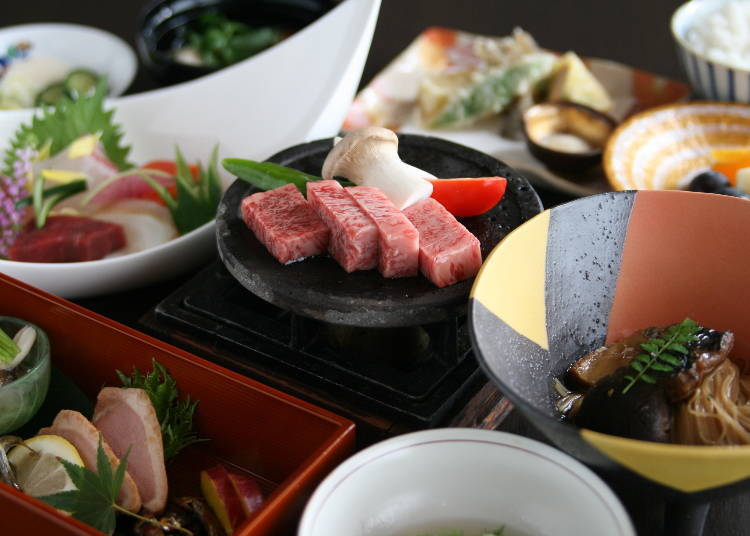 For dinner, you can choose from 3 restaurants, either Japanese, Italian, or Chinese. The Japanese restaurant "Chikubushima" has continued its cooking traditions from the time it was once a traditional inn specializing in cuisine and today prides itself on its time-tested flavors. Here you can enjoy cuisine unique to the Lake Biwa "lake country" featuring seasonal ingredients.
North Biwako Hotel Grazie

北ビワコホテルグラツィエ

Address

4-17 Minato-cho, Nagahama, Shiga 〒526-0067

Phone Number

0749-62-7777

Hours: Check-in 3:00 PM, Check-out 11:00 AM
Pricing: 1 night, no meals included starting from 9,720 yen; 1 night, 2 meals included starting from 14,040 yen
*Prices subject to change. Inquire at the hotel for more information.
Closed: Open Daily
Text by:WEST PLAN
*This information is from the time of this article's publication.
*Prices and options mentioned are subject to change.
*Unless stated otherwise, all prices include tax.