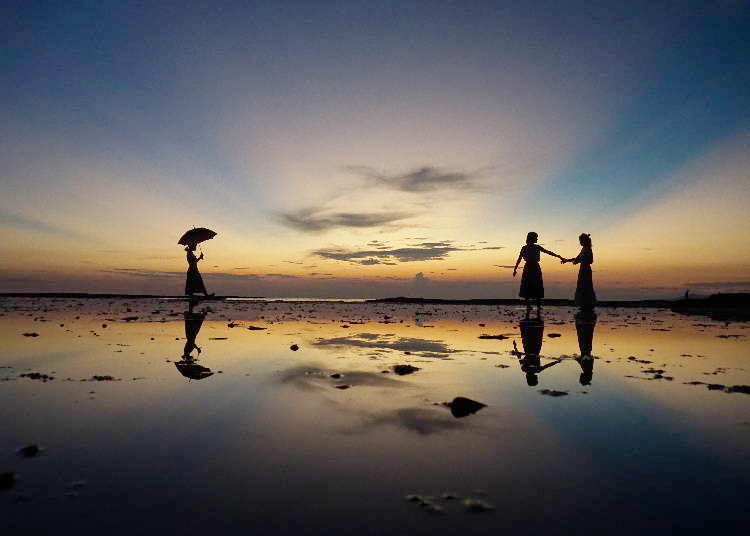 Japan's Kansai region is home to some of the most beautiful places in western Japan. With an abundance of breathtaking natural landscapes, it's easy to escape from the city and immerse yourself in the stunning scenery.

What makes these beautiful scenes in nature even more charming is the changing of seasons. Imagine the shifting views on a mountain peak through the year, the sea of clouds above it formed by a combination of environment and climate, a temple gate looming majestically above the surface of a lake, or a sunset that you just can't take your eyes off.

These otherworldly sights are not just fantasies, but real, awe-inspiring experiences waiting for you in the Kansai region. So, here's a list of seven must-visit places to enjoy on your next visit!

Main image: Yoshida Toshihide
1. Takeda Castle (Hyogo): The castle that floats in the sky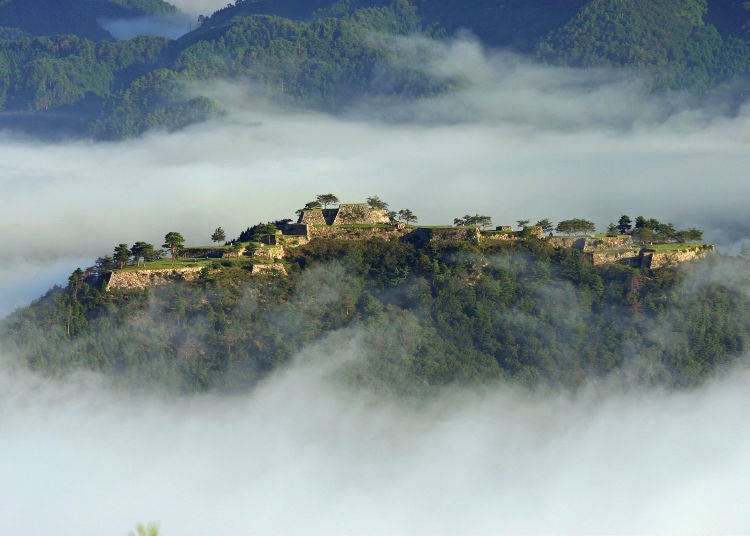 Image: Yoshida Toshihide
North of Hyogo Prefecture in Asago City are the ruins of Takeda Castle, a castle keep built on a mountain peak 353.7 meters (about 1,160 feet) above sea level that was listed as one of Japan's top 100 castles in the year 2006.

The entire castle's territory (or layout) measures about 100 meters (about 328 feet) from east to west and about 400 meters (about 1,312 feet) from north to south, resulting in a long rectangular shape that somehow resembles a tiger lying down.

This is why the castle is also known as Torafusujo (lying tiger castle). Since it became a heap of ruins in the year 1600, the stone walls have remained in their original places more or less untouched. As one of the most beautiful places in western Japan, Takeda Castle ruins even have the nickname "Japan's Machu Picchu."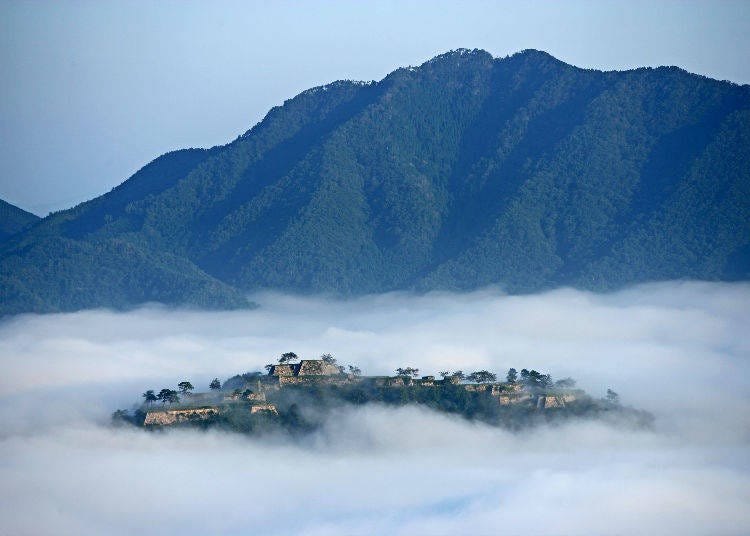 Image: Yoshida Toshihide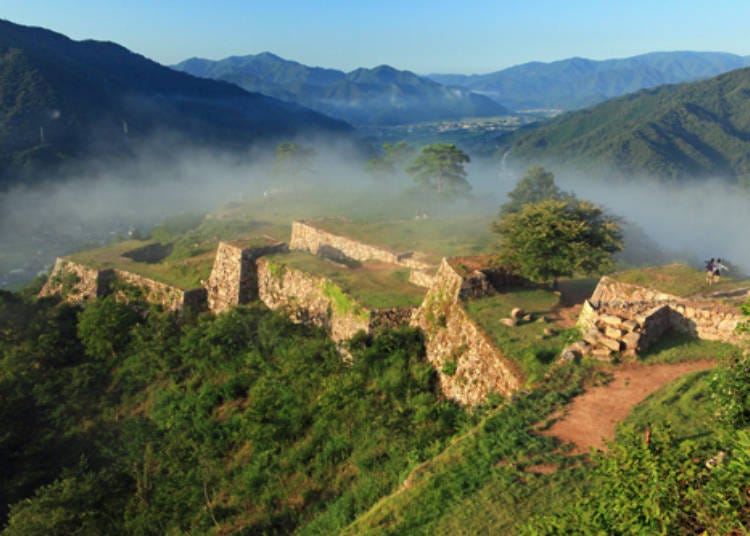 Image: Yoshida Toshihide
Mist forms easily in this area during the morning from late September to early December, and the low-lying sea of clouds that clad Takeda Castle make it seem almost fantastical, earning it yet another nickname, "Castle of the Sky."

October and November are the months that see the most occurrences of cloud seas, but to enjoy this sight from Takeda Castle, there's some climbing to be done first, and you'll have to set off early in the morning, so don't forget to pack a flashlight, rain gear, and warm clothing.

If you're considering gazing at Takeda Castle from another vantage point, try the Ritsuunkyo observatory around halfway up the nearby Mount Asago.
Address

169, Wadayamacho Takedakojosan, Asago-shi, Hyogo, 669-5252
View Map

Nearest Station

Takeda Station (JR Bantan Line)


Phone Number

079-674-2120
2. Aragi Island (Wakayama): Naturally-sculpted landscapes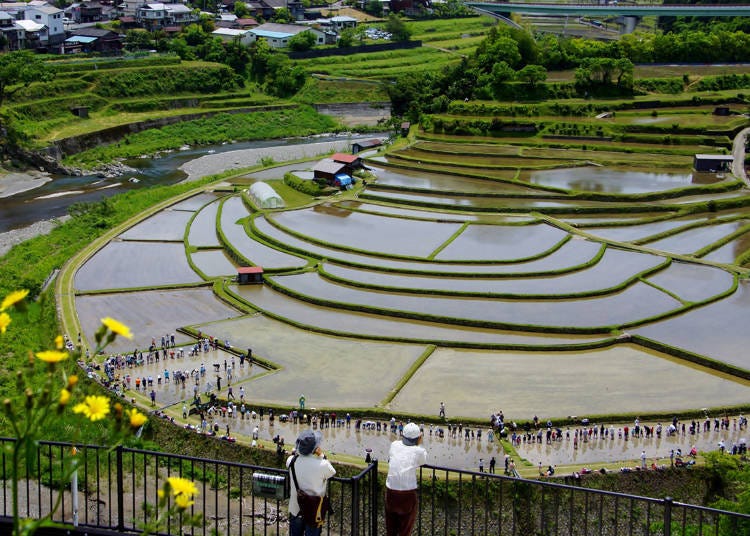 Aragi Island, located in the Shimizu ward of Aridagawa town in the heart of Wakayama Prefecture, is one of the most beautiful places in western Japan.

Here, you can find a gorgeous paddy field with 54 fan-shaped rice terraces of all sizes. A rice terrace is a stepped rice paddy field cultivated along mountain slopes or valley inclines.

The unique shape of Aragi Island's rice terraces is said to have formed due to soil erosion caused by the Arida River, the water source that flows down Mount Kōya (or Koyasan). The area was developed during the early Edo period (1603 to 1868 C.E.) and still has its original appearance. No wonder, then, that it's listed as one of Japan's top 100 rice paddies!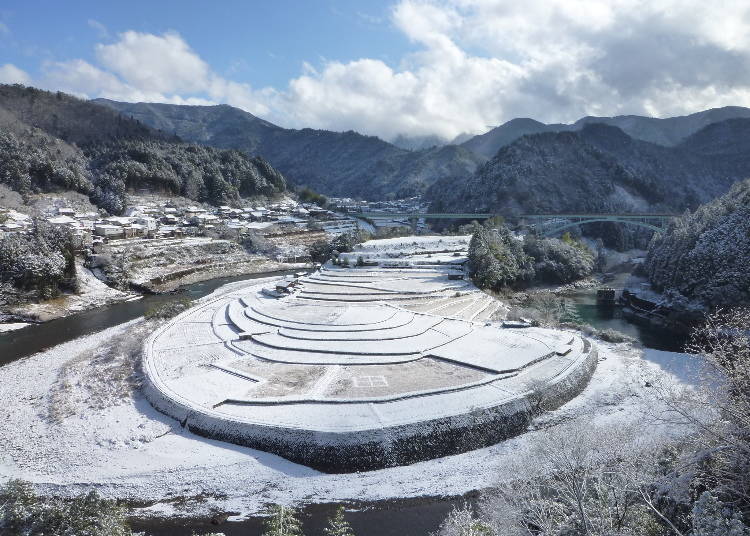 One of its attractions is that the field takes on different looks as the seasons change. Six farm households are cultivating the paddies, so the rice here grows at different speeds, giving the entire area a patchwork-like design in autumn when some rice stalks start turning a mature gold ahead of others.

Although it seldom snows in Wakayama, when it does, the snowy makeover it gives Aragi Island and the paddy fields is a rare, somber sight that is inspiring to behold.
あらぎ島(蘭島)

Address

Aridagawacho Shimizu, Arida-gun, Wakayama

Nearest Station

About 90 minutes by train from Shin-Osaka (special express on the JR Kinokuni Line) to Fujinami Station, then take a transit bus and disembark at Sanda.

3. Shirahige Shrine (Shiga): A fantasy-like view of temple gates floating on the waters of Lake Biwa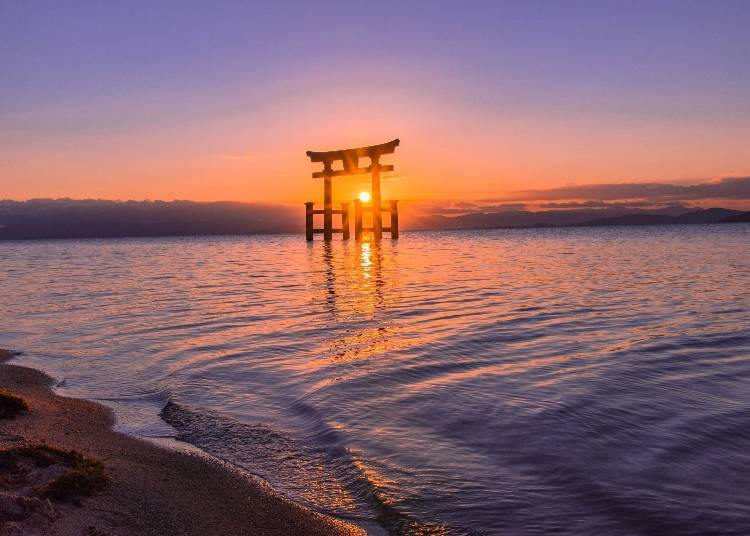 Another of the most beautiful places in western Japan is the floating torii (temple gate) of Lake Biwa, the largest lake in Japan.

Located in Takashima city in northwest Shiga Prefecture, this torii belongs to Shirahige Shrine, which was established 1900 years ago. It can be found along a path north of the torii. Being a historic shrine viewed as the main shrine of all the other Shirahige under-shrines in Japan, it is also a well-known spot for spiritual rejuvenation.

The island behind the torii is the biggest in Lake Biwa, Okinoshima. When the morning sun falls upon the island and surrounding mountains, a sense of divinity enwraps the area in a shroud of celestial beauty.
Address

215, Ukawa, Takashima-shi, Shiga, 520-1122
View Map

Nearest Station

Omitakashima Station (JR Kosei Line)
5 minutes by car


Phone Number

0740-36-1555
4. Ryūogabuchi (Nara): Hidden scenic pond that perfectly mirrors its surroundings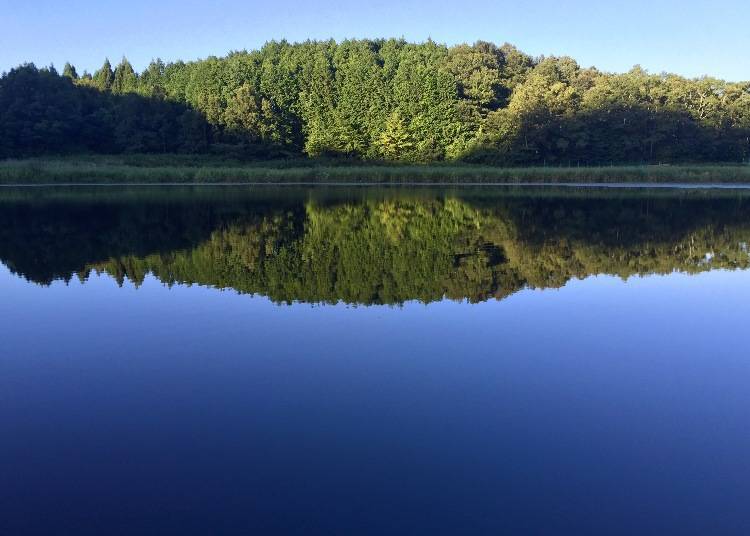 About an hour's car journey from Nara City is the beautiful Ryūogabuchi near Mie Prefecture that is surrounded by lush greenery.

The pond is 530 meters (about 1,739 feet) above sea level in the mountainside of Nukaitake, sometimes known as Yamato Fuji. It is a natural body of water fed by the creeks and springs running down from the mountaintop.

Because the pond has served as a water source for those living in the Nara Basin, the people have protected and preserved it well as a religious site since times past.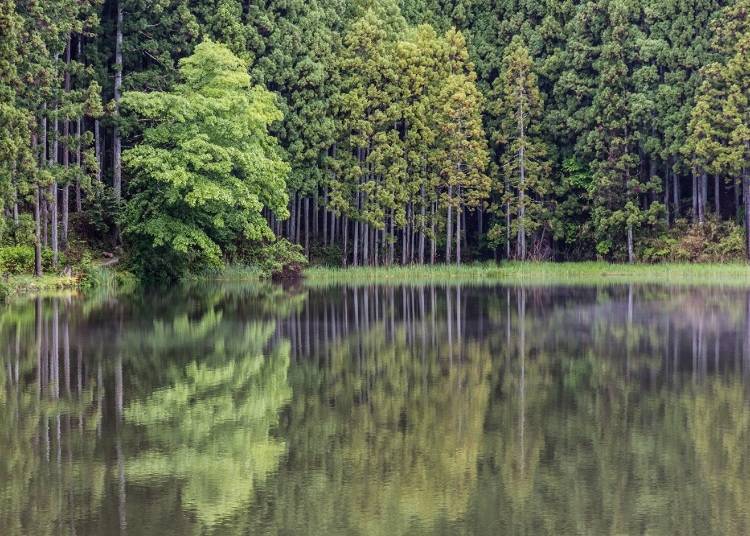 On days with no breeze, the calm water surface of the pond becomes like a mirror, and the astounding sight catches the attention of any who happens upon it. A recreation trail runs along the pond's perimeter, offering breathless views with every step. Every second presents a new photo opportunity of one of western Japan's most beautiful places!

Halfway through the recreation trail is a swampy area inhabited by creatures such as wild animals, vipers, and hornets, so be sure to wear something that will provide adequate protection if you plan to hit the trail.
龍王ヶ淵

Address

Murou-mukouji, Uda, Nara

Nearest Station

About an hour's walk from Muroguchi-Ono Station on the Kintetsu Line (hiking/mountain climbing); 13 minutes by car (information counter in front of the station will provide you the number to call for taxis)

5. Yūhigaura Coast (Kyoto): Be enraptured by a dreamy sunset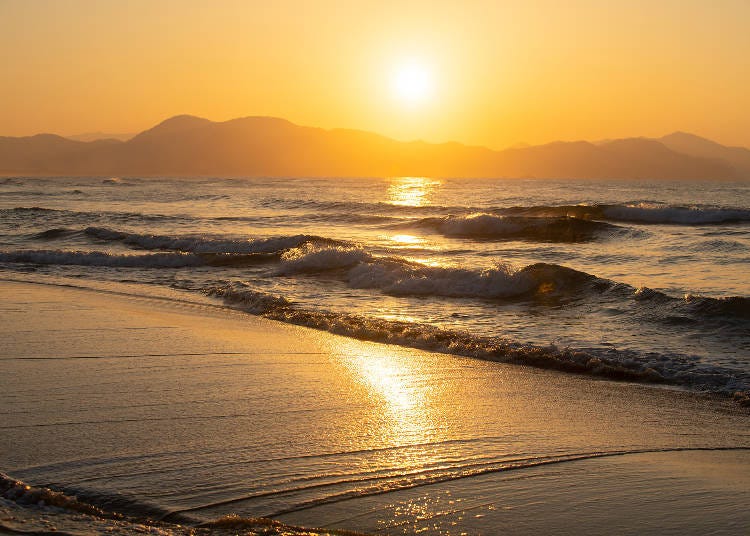 On the northern edge of Kyoto Prefecture is Yūhigaura Beach, where a beautiful sunset awaits those who venture to make the journey. The long stretch of beach is a shoal that runs from east to west, and the water here is a clear navy blue that is an unusual coloring for the Japan Sea.

In the evening, as the sun slowly sinks into the horizon, the cerulean sea and everything around starts to be clad with a red veil, bringing out the mysterious vibe of the natural world. The Yūhigaura hot spring nearby is the perfect spot to soak and relax while watching the beautiful sunset at leisure.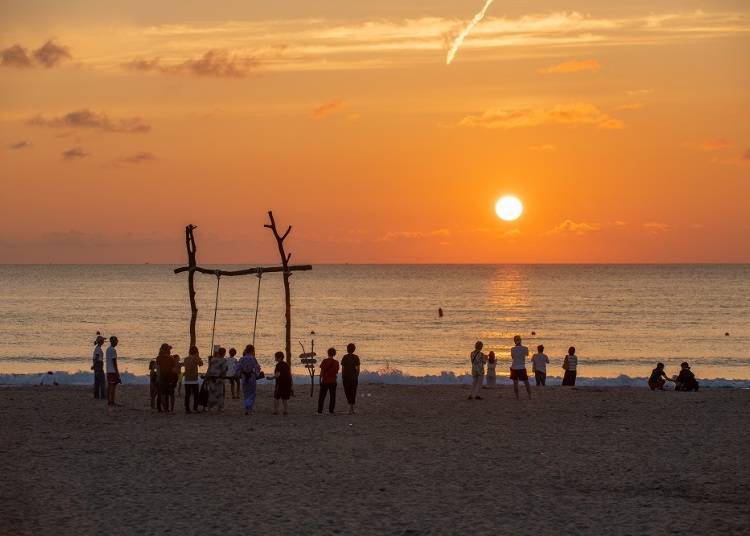 Yurari, a beach swing that is set up on Yūhigaura Beach from April to October
From April to October, a beach swing called Yurari will be set up on the beach. Many youths and couples come here during this period to take romantic photographs with the sunset as a result, but of course, everyone is welcome, including you!
夕日ヶ浦海岸

Address

Aminocho Hamazume, Kyotango, Kyoto

Nearest Station

20-minutes on foot or 5-minute by car from Yuhigaura-Kitsu-Onsen Station on the Kyoto Tango Railway, which can be reached by changing trains from Toyooka Station on the JR Lines

6. Tenjinzaki (Wakayama): Nature's treasure trove and Japan's own Uyuni Salt Flats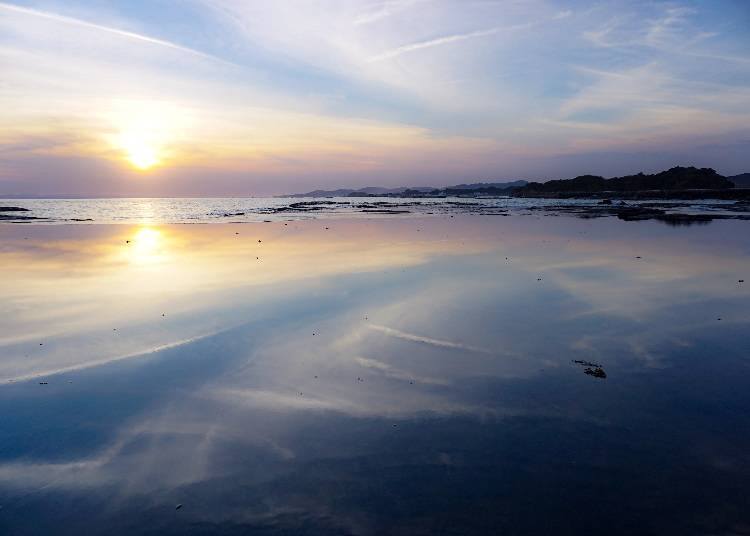 Tenjinzaki, a cape that juts out from the northern part of Tanabe Bay of Wakayama's Tanabe City, is a precious gem of nature where flora and fauna on the land and in the sea coexist in harmony with just a shore reef wedged between them. It's also well-known as Japan's first National Trust project and is one of the most beautiful places in western Japan.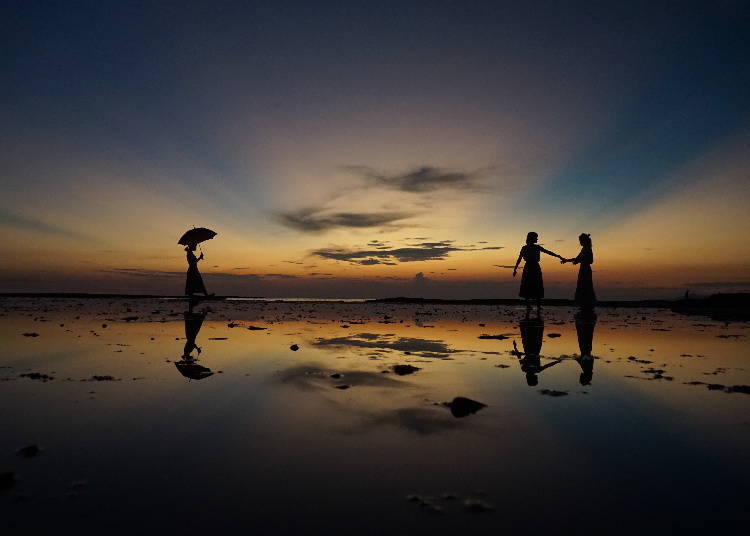 During low tide, the surface of the water that accumulates on the reef reflects everything around it perfectly - from the clouds to the people around it. It's almost as if you're standing on the Uyuni Salt Flats itself! Do note, however, that on rainy days or days with strong wind, the water starts dashing against the beach, and the reflection won't be as beautiful as it would be in ideal conditions.
天神崎

Address

Tenjinzaki, Tanabe, Wakayama

Nearest Station

15-minutes walk from Meiyomae Bus Stop, accessible via Ryujin bus (Minabe Line) from Kii-Tanabe Station on the JR Lines.

7. Metasequoia Namiki (Shiga): Lover's sanctuary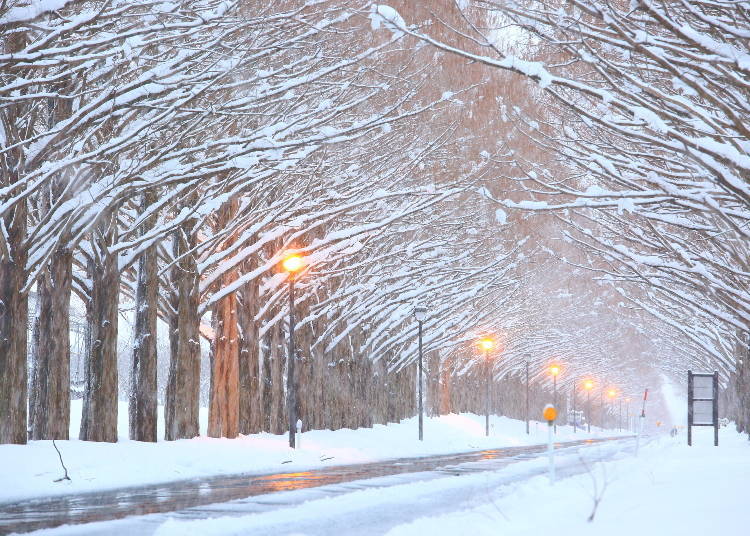 This refers to the 2.4 kilometers (about 1.5 miles) stretch of road from Makino PicLand to Makino Kogen, located in Takashima City in northern Shiga Prefecture, with about 500 metasequoia, or dawn redwood trees planted on both sides.

Every season, this road, flanked by neatly arranged metasequoia trees on both sides, offers exciting sights to new and repeat visitors alike. For example, you can look forward to enjoying a verdant vibe during the summer season or gazing at resplendent red leaves during autumn.

Winter is incredibly charming when it snows as snowfall accumulates on the branches of these metasequoia trees, making them look like pretty snow flowers.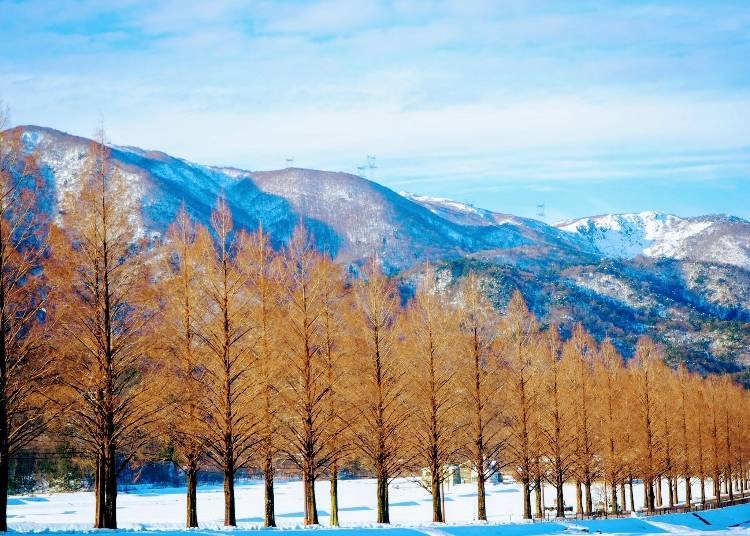 The Nosaka mountain district is visible in the background, and the colors on the mountaintops here complement the trees' ever-changing appearance very well. Just standing in front of this fantastical and remarkable scene is enough to make you feel like a movie star! It's really no wonder many sightseers do all they can to catch sight of its iconic looks, even during the dead of winter.
メタセコイア並木

Address

Makinocho Makino, Takashima, Shiga (approximate location)

Nearest Station

About 10 minutes by bus from Makino Station on the JR Lines


Phone Number

0740-33-7101
These fantasy-like sightseeing spots in Kansai are not the most train-accessible places by any means, but you can be sure the jaw-dropping views they offer are well worth the extra effort needed to get there.

Be inspired like never before with exquisite scenery prepared by nature itself! While you would understandably be scrambling to capture any one of these sights on a camera, don't forget to impress the views firmly onto your mind as well, so that you can draw those memories out whenever you like to enjoy them again at a later time.

English translation by: Huimin Pan.
Written by: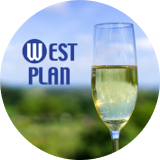 *This information is from the time of this article's publication.
*Prices and options mentioned are subject to change.
*Unless stated otherwise, all prices include tax.
Limited time offer: 10% discount coupons available now!