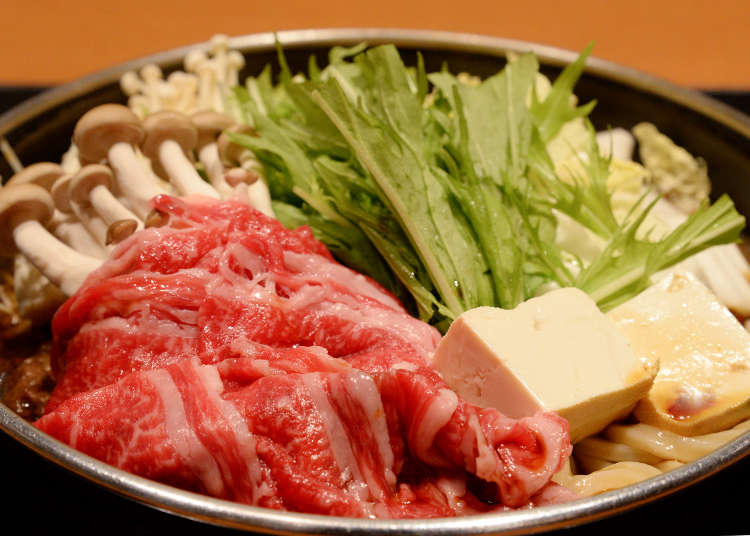 Sukiyaki is a delicious Japanese hot pot dish, in which meat and different vegetables are cooked in a special soup. Sukiyaki using domestic Japanese beef is the next incarnation, and while it can cost over 10,000 yen in some higher-end restaurants, ample lunch servings are available for around 1,000 yen.

At Shabu Shabu Tajimaya on the 6th floor of the Yodobashi Camera building on JR Kyoto Station's north side, you can enjoy domestic Japanese beef sukiyaki for as little as 980 yen.
Choose your domestic Japanese beef sukiyaki meat and let the feast begin!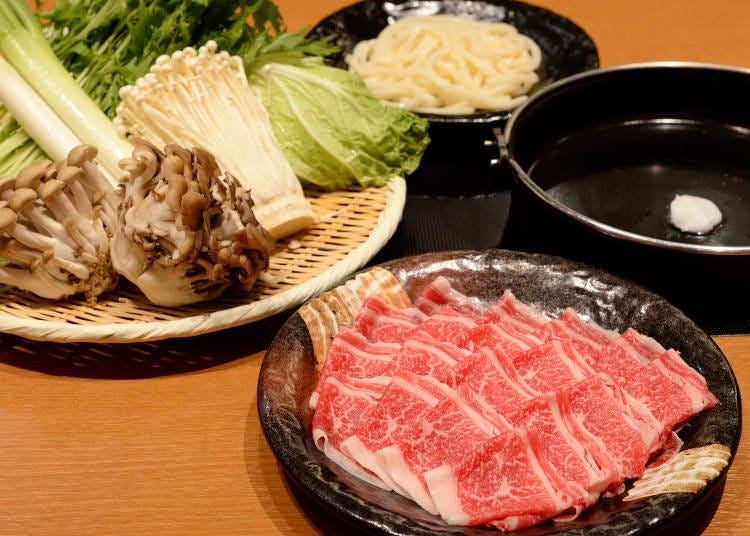 The price of sukiyaki at Shabu Shabu Tajimaya varies depending on the type of meat you choose. The Domestic Tajimaya Lunch, featuring beef shoulder is 1,680 yen for 150 grams or 1,980 yen for 200 grams (tax excluded).

Thinly sliced beef is served on a platter upon ordering, and customers get their own vegetables from the all you can eat buffet. Using the small gas stove installed in the table, it's fun to cook the meal yourself.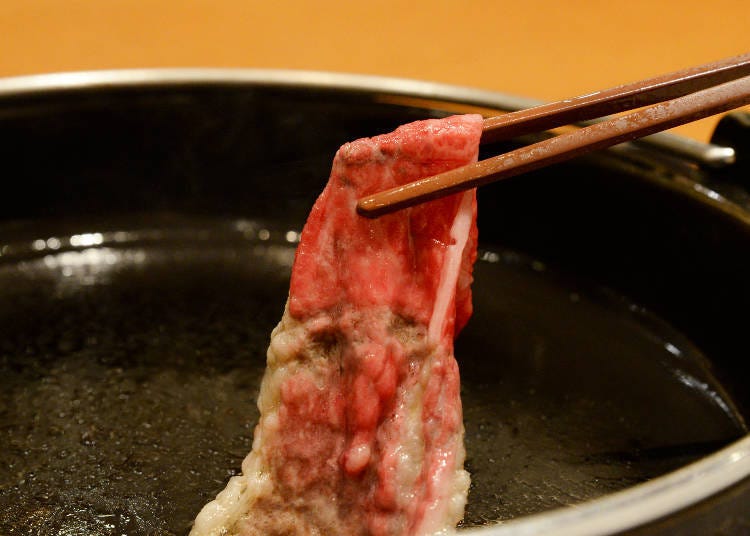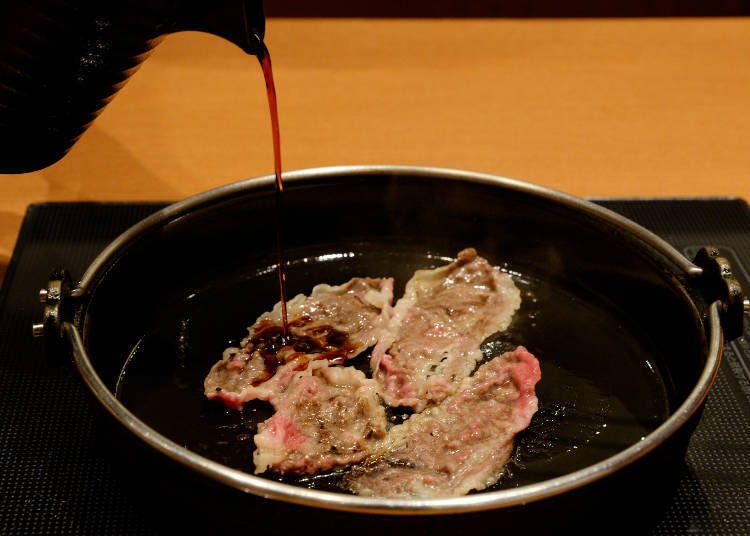 Place all the meat in the pan, and brown both sides. The sound of the sizzling beef and its delicious aroma will tempt you to eat it quickly, but it's not yakiniku, so don't eat it yet! When the meat is almost done, add Tajimaya's special soy sauce, which is slightly sweetened with sugar.
Boil in the special sweet and spicy soup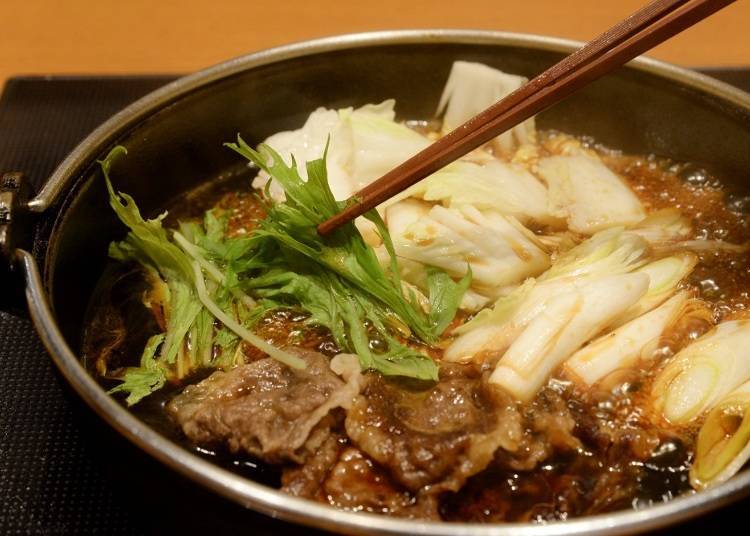 When the dashi begins to boil, add the vegetables. Start with the cabbage and leeks so they will be thoroughly cooked. Moisture from the vegetables will add to the flavor, and you can ask the staff for more dashi if you like. When the ingredients are tender and full of the sauce's flavor, it's time to eat! Be careful to avoid overcooking the meat, or it will become tough.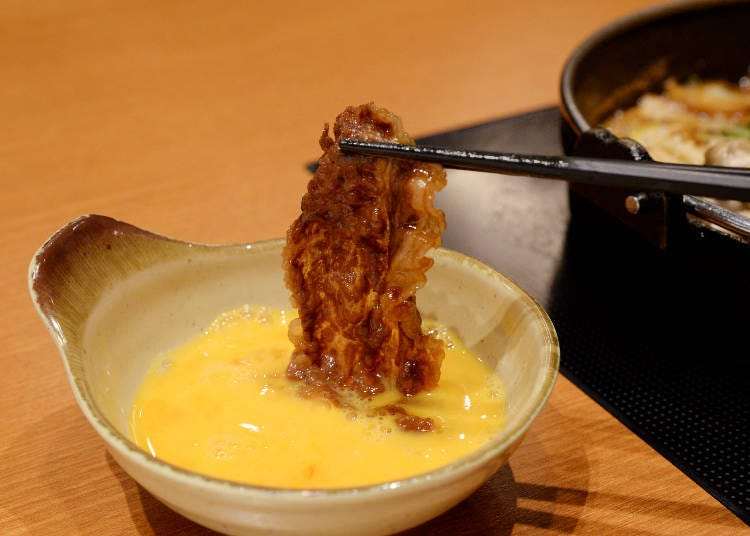 Put the raw egg in a small bowl to the side, then dip the cooked meat and vegetables in it. The egg will add a mellow flavor and will also cool the meat a bit, making it easier to eat. This is one of the keys to delicious domestic Japanese beef sukiyaki.
Add all the vegetables and tofu you want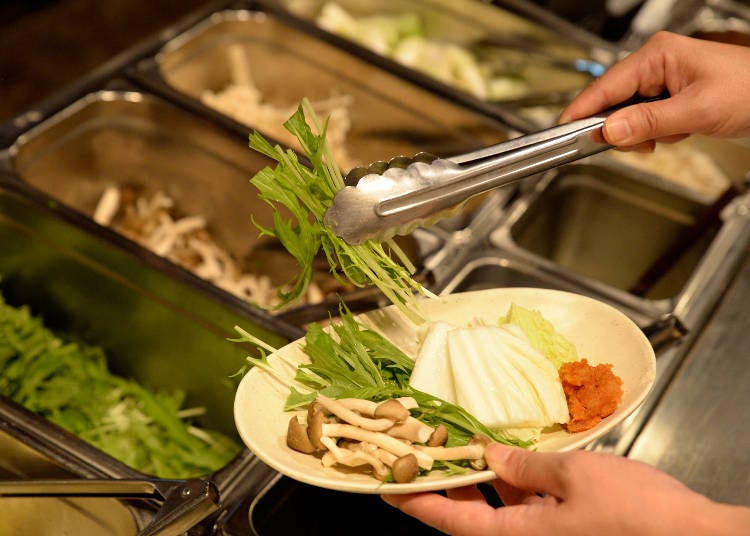 You can freely add vegetables and tofu, but taking too much at once is impolite, so be sure to enjoy them little by little. Cooked rice is often served with sukiyaki, and goes well with it, however, adding udon noodles to the pot after the meat and vegetables are finished is also recommended. The taste of the ingredients will soak into the udon, making it uniquely delicious.
All you can eat and drink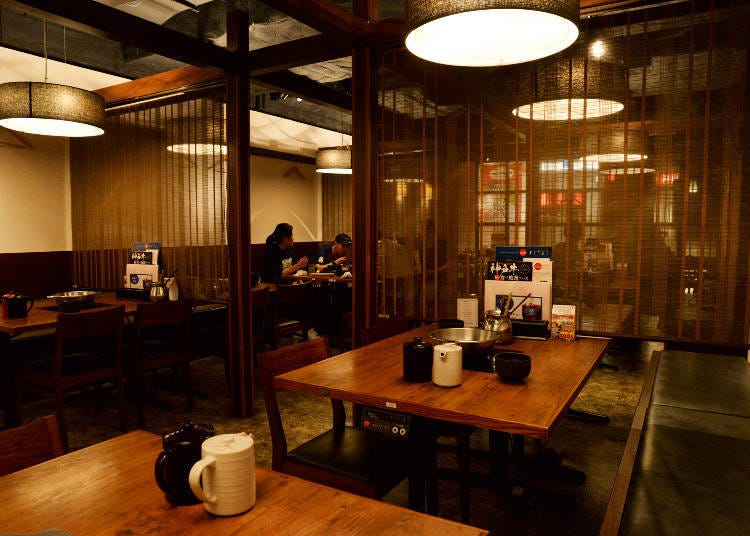 At Tajimaya, you can order either sukiyaki or shabu shabu with your favorite sauce for the same price. The all you can eat lunch course features beef loin, pork loin and belly, and chicken thighs for 1,580 yen, while the Lunch Domestic Course includes all you can eat domestic beef shoulder, pork loin and belly, and chicken thighs for 2,580 yen. Dessert is also all you can eat, and ten types of ice cream are served daily with flavors ranging from vanilla and chocolate to ramune and blueberry cheesecake.
Choose your favorite course and enjoy delicious domestic Japanese beef sukiyaki
At Tajimaya, you can choose from a variety of Japanese and imported beef. The Tajimaya Lunch is 150 grams of beef shoulder for 980 yen. There are also menu options that include pork and chicken, perfect for those who want to try a few different kinds of meat.

The all you can eat dinner time limit is 90 minutes – plenty of time for a fulfilling meal followed by Haagen Dazs for dessert. Tajimaya also has a menu and instructions on how to eat sukiyaki in English, making dining convenient for tourists.
Tajimaya (Kyoto Yodobashi Branch)

但馬屋 京都ヨドバシ店

Address

6F Kyotoyodobashi Bldg. 590-2 Higashishiokojicho, Shimogyo-ku, Kyoto, 600-8216

Phone Number

075-344-2919

Hours: 11:00 - 23:00 (L.O. 22:30)
Price: Lunch Sukiyaki, 980 yen (excluding tax)
Text by:WESTPLAN
*This information is from the time of this article's publication.
*Prices and options mentioned are subject to change.
*Unless stated otherwise, all prices include tax.