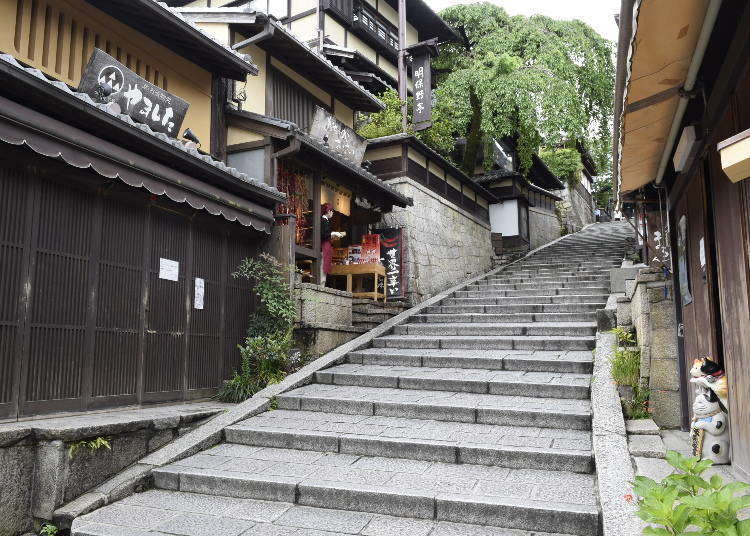 The old cobblestone streets of Ichinenzaka, Ninenzaka, and Sannenzaka have prospered since ancient times. These sloping streets are lined with historic Japanese-style buildings that typify Kyoto, even including many souvenir shops. Nearby Kodaiji Temple and Yasaka Shrine also make these narrow streets part of a popular sightseeing route centering on Kiyomizu Temple.

Here you can immerse yourself in the atmosphere of Kyoto, with Kiyomizu's three-tiered pagoda overlooking private houses and scattered temples as you ascend the gentle incline.

Main image: 7maru / Shutterstock.com
How to get to Ichinenzaka, Ninenzaka, and Sannenzaka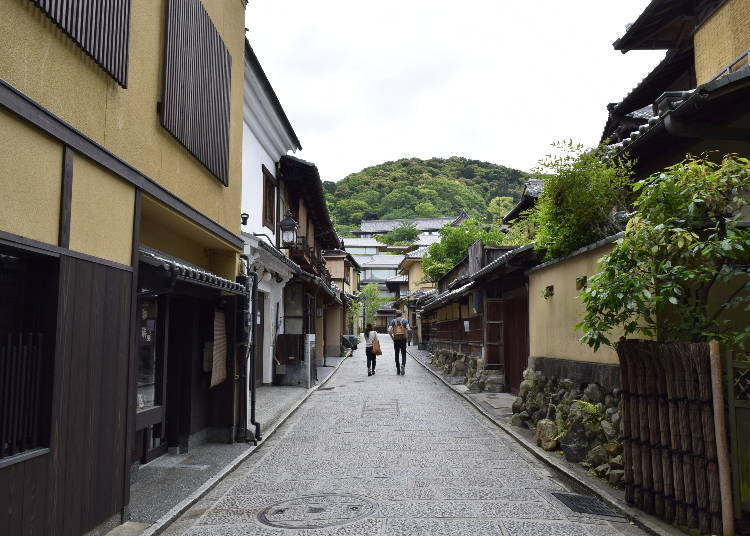 ●From JR Kyoto Station: Near the central exit, take the No. 206 bus from city bus stop D2 to Higashiyama Yasui.
● From Hankyu Kyoto Kawaramachi Station or Keihan Gion-Shijo Station: From Shijo Dori, take the 207 bus eastward to Shimizu.
●On foot: Around 18 minutes from Hankyu Kawaramachi Station or Keihan Gion5-Shijo Station.

Brief history of Ichinenzaka, Ninenzaka, and Sannenzaka
Hideyoshi Toyotomi's wife, Nene, founded Kodaiji Temple and from her nearby house would ascend the hill to Kiyomizu Temple to pray for the safe birth of a healthy child. Sannenzaka ("Three-year hill," a.k.a. "Sanneizaka)" and Ninenzaka ("Two-year hill," a.k.a. "Nineizaka") derive their names from the Japanese word for childbirth and Nene's name, respectively, with the third street eventually being given the name of "Ichinenzaka" ("One-year hill").

Walking course and recommended sites
From the bus stop on Higashioji Dori, go east on Kodaiji Minamimon Dori. When you reach the Nene no Michi alley (on your left, but easy to miss), there will be a small sign on the right indicating the foot of Ichinenzaka. After passing through this quiet street of souvenir shops and private homes, turn south and you will come to Ninenzaka then continue to Sannenzaka from there.

At the end of Sannenzaka is Matsubara Dori, the lively route to Kiyomizu Temple, full of worshippers coming and going from the temple.

Here are some of the highlights of each slope.
Ichinenzaka is a gentle slope only 85 meters long. Traditional buildings line the narrow street, home to soba and udon noodle shops, souvenir shops, etc.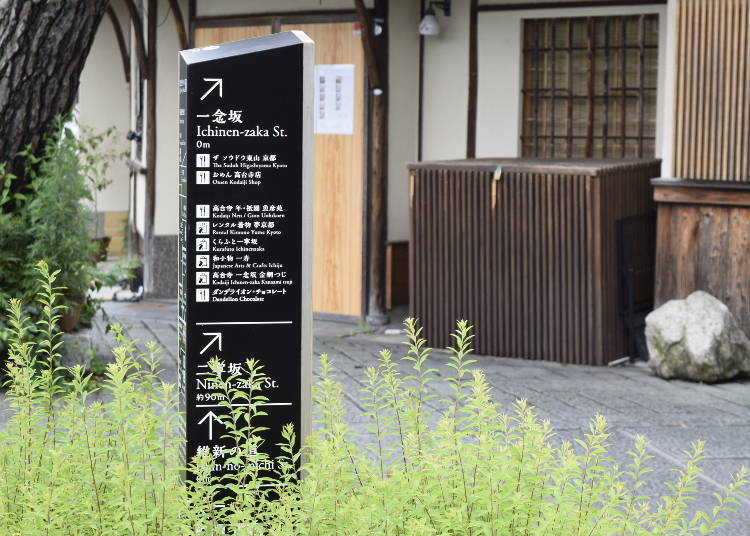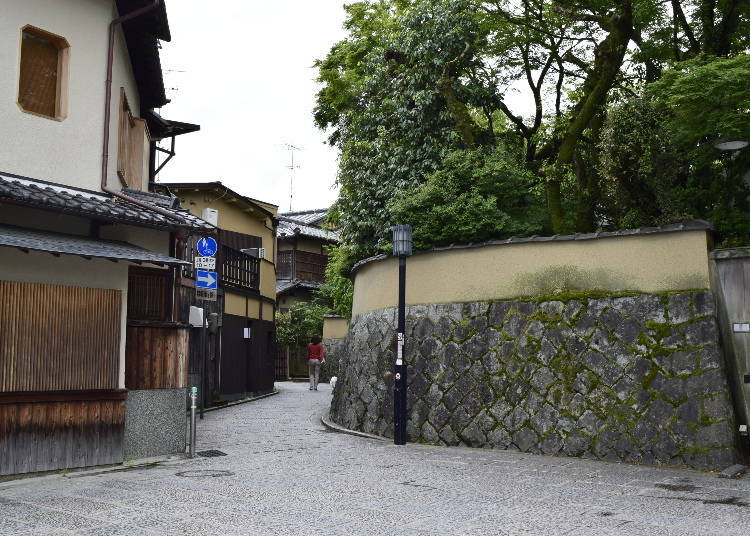 If you don't spot the sign on Kodaiji Minamimon Dori, you'll easily walk past Ichinenzaka. There are private homes found among the street's shops, and when the number of tourists is low, it feels like a regular neighborhood street, so please walk as quietly as possible.

Yasaka Koshindo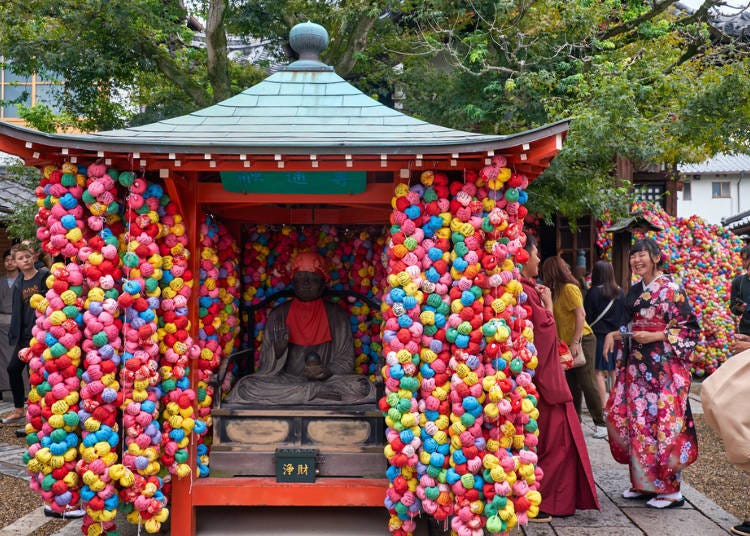 Yasaka Koshindo Serg Zastavkin / Shutterstock.com
Yasaka Koshindo (formally named Daikokusan Kongoji Temple Koshindo) is often referred to simply as "Koshin." Colorful, eye-catching "monkeys" adorn the temple. Visitors write a wish, the date, and their name on the monkey of their favorite color. That, combined with letting go of one desire, is said to make the wish come true. The monkey is considered a godly messenger, and there are three monkeys – "see no evil, say no evil, hear no evil" – seen everywhere, including the main hall. It's an exciting place to stop by on your way to Ichinenzaka.
Yasaka Koshindo (Kongoji Temple)

八坂庚申堂(金剛寺)

Address

390 Kinencho, Higashiyama-ku, Kyoto, 605-0828

Hours: 9:00 - 17:00
Admission: Free
The Sodoh Higashiyama Kyoto
This restaurant serves seasonal course meals that incorporate Kyoto-grown ingredients into Italian dishes. Formerly the residence of Japanese painter Seiho Takeuchi, guests are treated to a view of the garden as they dine and are free to stroll through the vast garden, from which Yasaka Tower can be clearly seen.
Ninenzaka is wider, and at 150 meters, longer than Ichinenzaka, giving it a more touristic feel.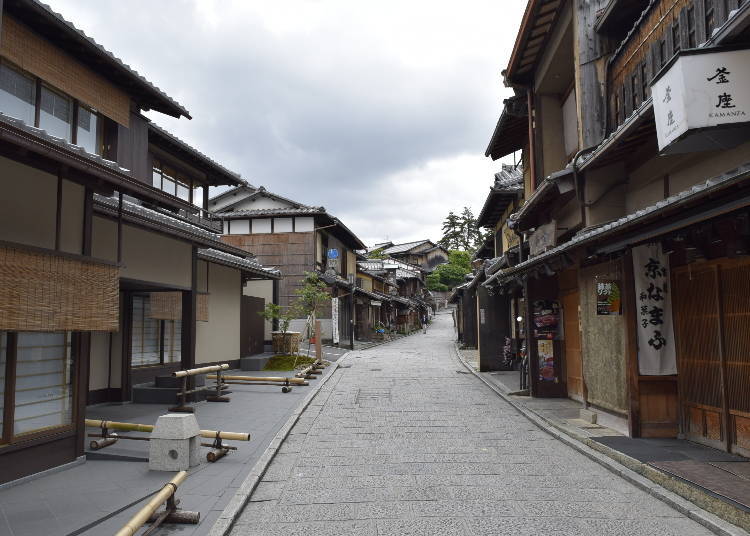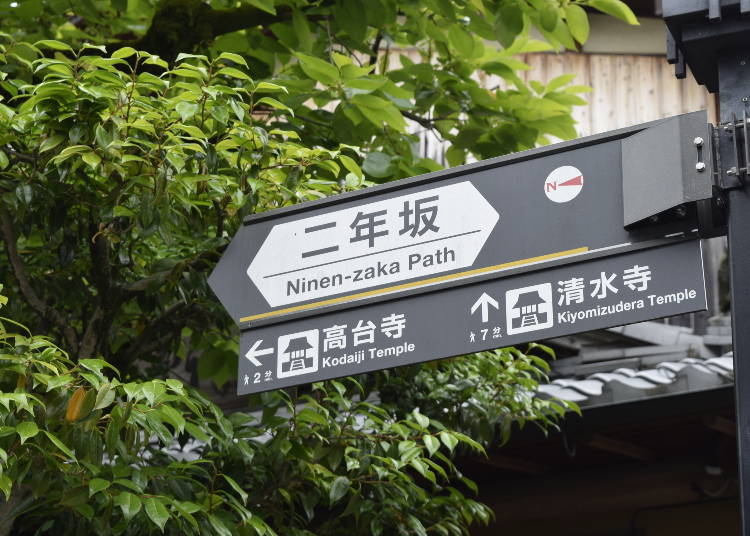 Ninenzaka is lined with shops ranging from souvenir shops and those selling various Japanese products to sweet shops and restaurants. You're sure to take a detour into a few. Yumeji Takehisa, a famous painter and poet of the Taisho era, spent about two years in the neighborhood starting in 1917, and there is a stone monument near the place he lived.

Fragrance specialty store Niimi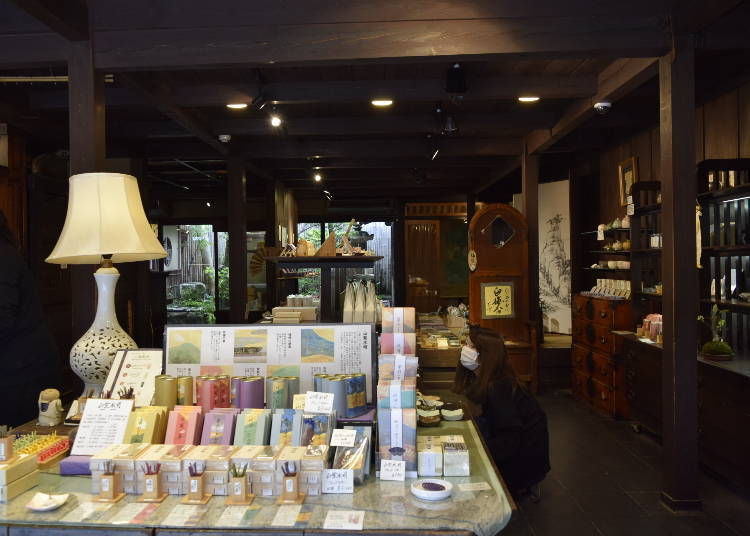 Niimi
This incense maker's store is well-stocked with unique varieties of incense. The products use only top-quality materials like high-grade sandalwood and are certified by Koshi (incense master) craftsmen. In addition to incense, floral-scented lip balm and cosmetics are also popular. At the back of the shop, there's a garden where light and greenery are beautifully intertwined, and customers can experience the atmosphere of a Kyoto home.
香りの専門店 二井三(にいみ)

Address

351-4 Kodaijiminamidori Shimogawara-higashiiru Masuyacho, Higashiyama-ku, Kyoto, 605-0826

Phone Number

075-551-2265

Hours: 10:00 - 18:00
Starbucks Coffee Kyoto Ninenzaka Yasaka Chaya
Even the local Starbucks is found in a renovated house that's over 100 years old and built in the sukiya style. After placing their orders and paying at the entrance, customers pass through a narrow passage to pick up their drinks at the counter in the back room. The long, narrow room gives the sense of being in a classic Kyoto teahouse. The second-floor seating area has table seats, sofas, and a tatami room where you can take off your shoes and relax while enjoying your drink.
Ryozen Museum of History
Formally known as Bakumatsu Ishin Museum: Ryozen Rekishikan, the museum houses valuable materials related to Ryoma Sakamoto, Shintaro Nakaoka, and other Shishi (loyalist samurai), who were martyred in the upheaval and transition from the Edo period to the Meiji period. Other artifacts related to the Shinsengumi (special police force of the era) and Tokugawa Shogunate are also on display.
Address

1, Seikanjiryozancho, Higashiyama-ku, Kyoto-shi, Kyoto, 605-0861
View Map

Nearest Station

Gionshijo Station (Keihan Line)
16 minutes on foot


Phone Number

075-531-3773
3. Sannenzaka (Sanneizaka)
Sannenzaka is about 100 meters long and is a little steeper than Ninenzaka. There certainly isn't a shortage of restaurants, so it might be a good idea to visit at lunchtime.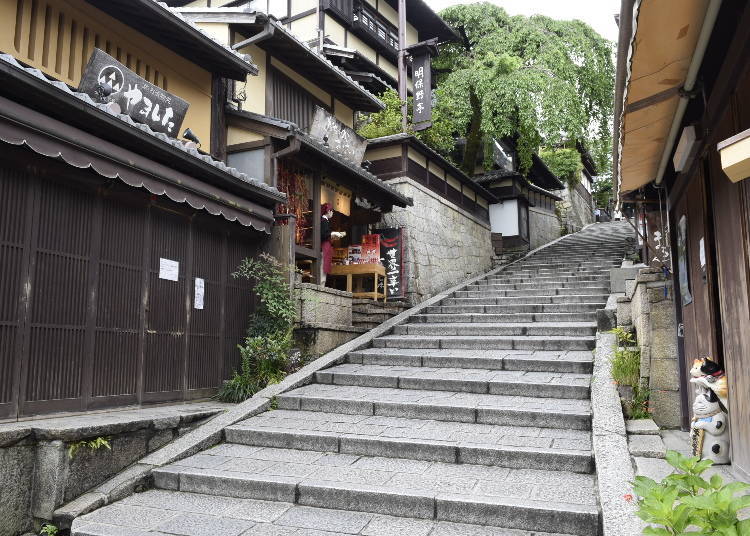 Ascend the stairs at the southern end of Ninenzaka to reach Sannenzaka and the sweets and craft shops that populate the old-fashioned buildings in this Kyoto old town district.

According to legend, if you stumble and fall on Ninenzaka, you will die within two years - so better be careful walking up those steps! Likewise, a mishap on Sannenzaka is said to result in death within three years.

More practically, this can be interpreted as advice to tread carefully. Continue up the stairs from Sannenzaka, and you will reach Matsubara Dori, the main thoroughfare to Kiyomizu Temple.

Sannen-zaka Marun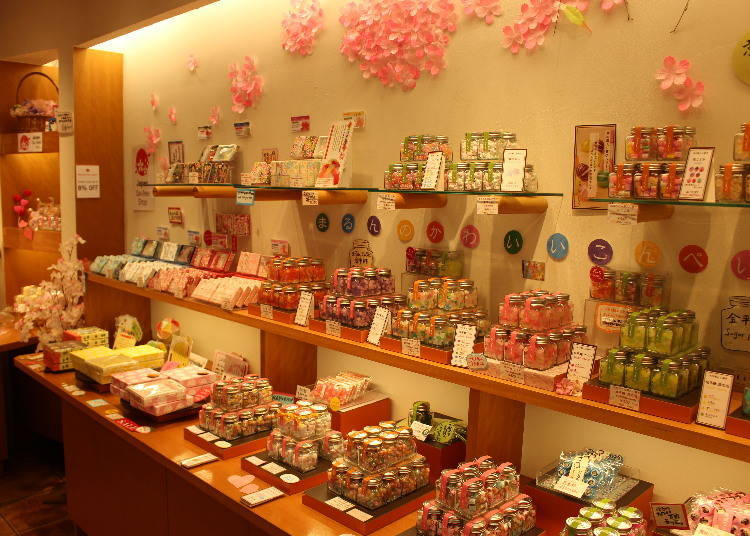 Sannen-zaka Marun
Sannen-zaka Marun offers plenty of eye-catching sweets that just say "Kyoto" beautifully, and make perfect souvenirs. Colorful konpeito (sugar candy), cookies, and other Kyoto sweets are packaged in small, cute boxes, with some depicting Kyoto's famous Maiko.
産寧坂 まるん

Address

3 Chome-317-1 Kiyomizu, Higashiyama-ku, Kyoto, 605-0862

Phone Number

075-533-2005

Hours: 10:00 - 18:00
Yasaka Pagoda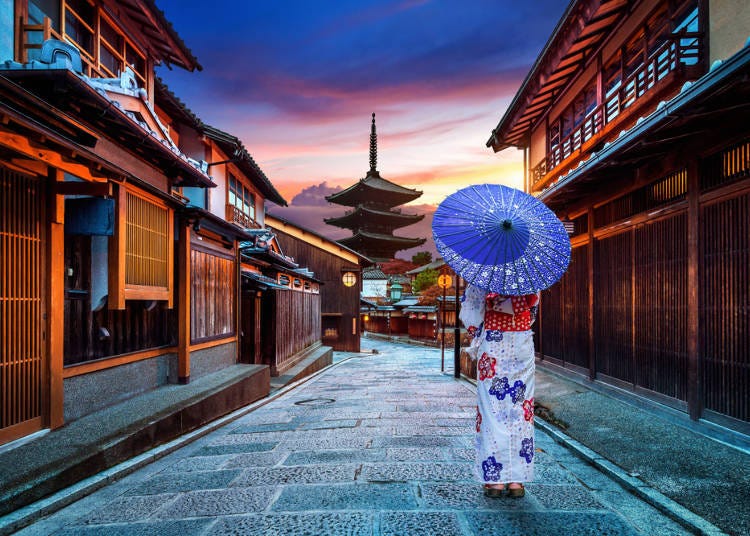 One of the most striking structures in the Kiyomizu area is the five-story, 46-meter high pagoda located at Hokanji Temple, which is said to have been founded by Prince Shotoku in 592. A photo of the pagoda towering above the local teahouses makes for a great memento of sightseeing in Kyoto.
八坂の塔

Address

388 Yasakadori Shimogawara-higashiiru Yasakakamimachi, Higashiyaima-ku, Kyoto, 605-0827

Hours: 10:00 - 16:00 (Hokanji may close at 15:00 depending on the weather)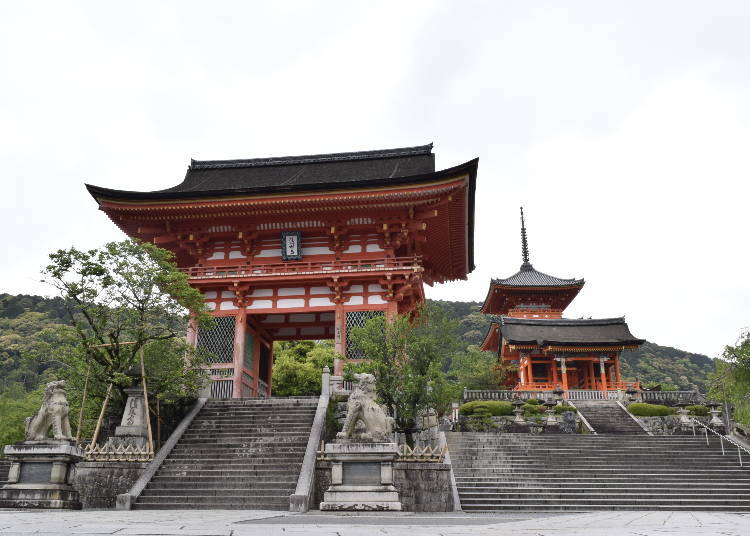 Kiyomizu Temple
Kiyomizu Temple is located on the slopes of Mt. Otowa and Ichinenzaka, Ninenzaka, and Sannenzaka gradually increases in altitude as you move away from the main roads below.

However, should the ascent pose a challenge, there are numerous shops, so you can choose some souvenirs, eat a light meal, and walk to the temple at your own pace. After visiting the temple, if you make the descent via nearby Chawanzaka, you'll be able to stop by pottery shops selling Kiyomizu ware and see different scenery in the Kyoto old town quarter.

*The above article is based on information from June 2020
*This information is from the time of this article's publication.
*Prices and options mentioned are subject to change.
*Unless stated otherwise, all prices include tax.
Limited time offer: 10% discount coupons available now!