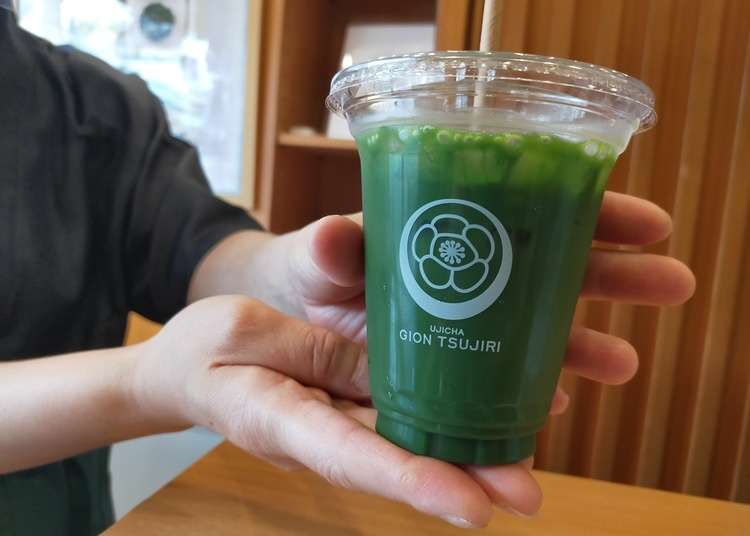 Gion Tsujiri is a Kyoto-based store specializing in the finest Uji tea and matcha sweets. It was founded as an Uji tea specialty store by first-generation owner Tsuji Riemon in 1860 and followed by Tsuji Tokujiro. The chain's main store in Kyoto's Gion area is popular for souvenirs and takeaway orders.

Their soft-serve ice cream, drinks, and Japanese sweets – all made with Uji matcha – are excellent. If you like Japanese matcha (green tea powder) then Gion Tsujiri is a must-visit. Not only will you have fun getting something to take out, but you'll also find satisfying souvenirs!

Here are five popular products from the shop's extensive lineup. Be sure to check out Gion Tsujiri, and experience the shop's concept and commitment to their product.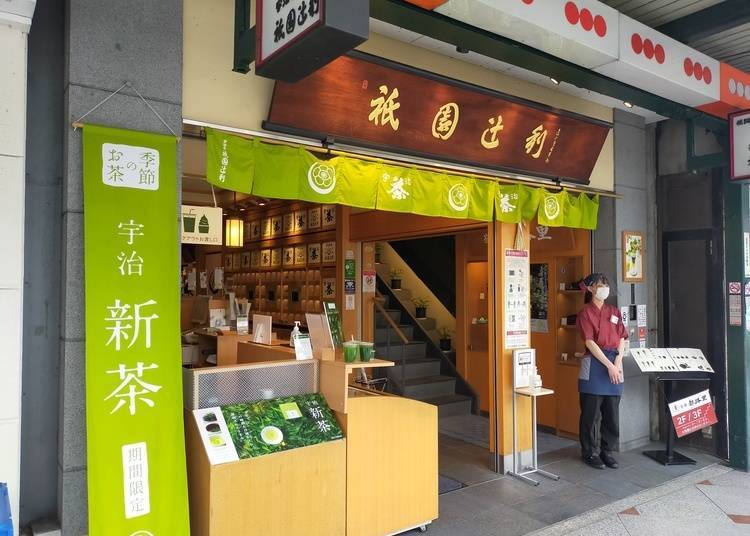 Gion Tsujiri's main shop is closest to the Keihan Railway's Gion-Shijo Station. About a 3-minute walk from Exit 6, it is located on the Gion Shopping Street, which leads to Yasaka Shrine.

Gion Tsujiri is on the 1st floor, and Saryo Tsujiri is on the 2nd and 3rd floors. Saryo Tsujiri serves light meals and sweets made with Uji matcha, while Gion Tsujiri focuses on takeaway orders and merchandise. Both shops are popular and often have a line of customers outside waiting to enter.

Disinfectant hand spray is available at the store, and staff members also take measures against COVID-19, such as wearing masks and face shields.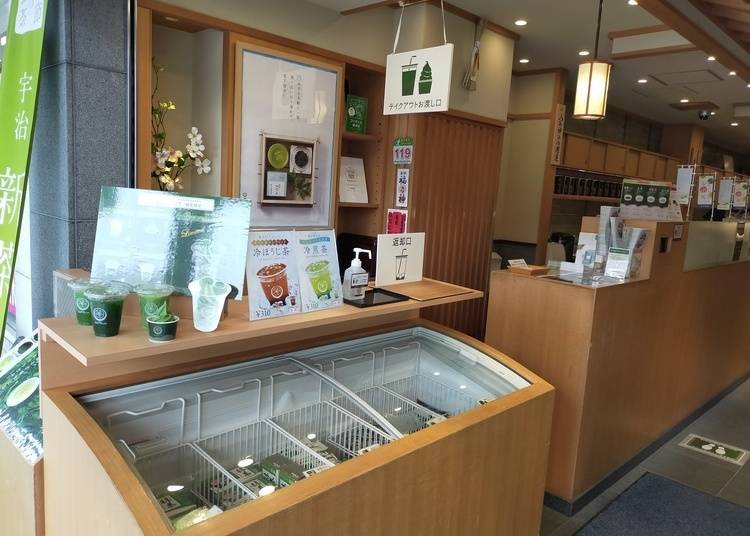 Matcha flavored soft-serve ice cream, drinks, floats, and ice cream are all available on the store's takeout menu with the appeal of eating or drinking right after you order.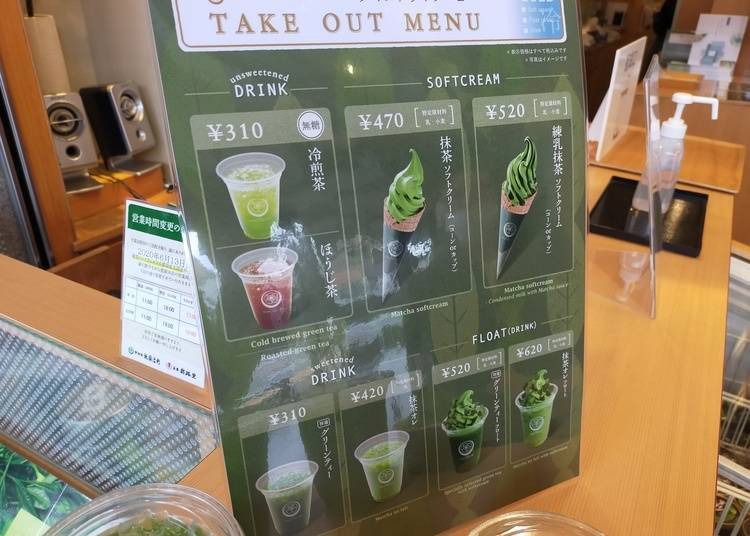 Our visit was during the season for new tea (April to June) and the shop's décor was an impressive, fresh green. Customers can enjoy a unique seasonal feeling as the shop's decorations change throughout the year.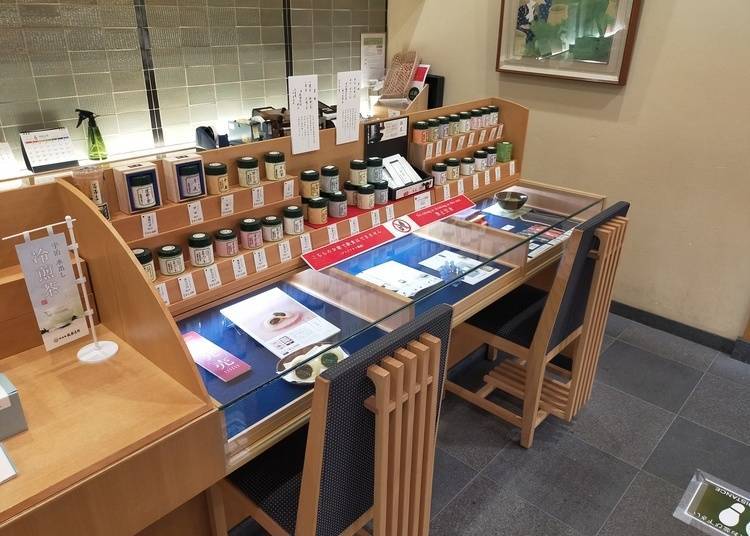 At the back of the shop, a wide variety of products are on display. From standard to seasonal products, they'll welcome you into the world of Uji tea.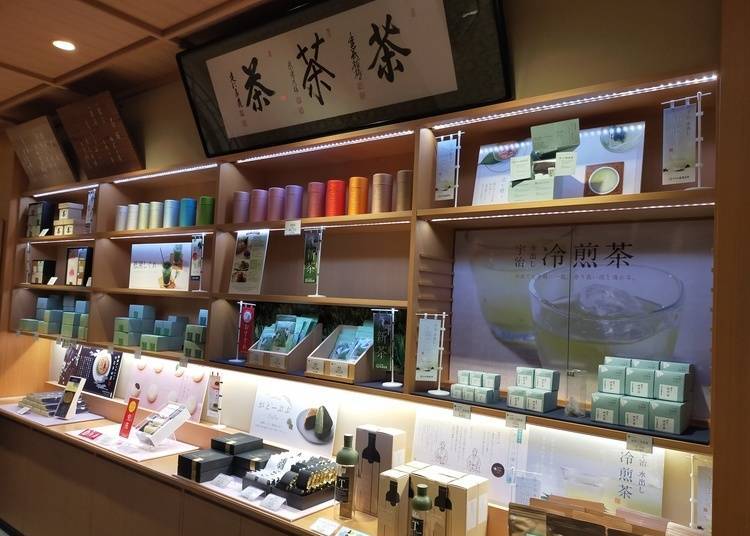 Tea from Uji, Kyoto has been popular for more than 800 years. It even features in a well-known tea leaf plucking song that goes "Shizuoka for color, Uji for aroma and Sayama for taste."

Uji tea brands are characterized by their refined taste, and Gion Tsujiri offers tea of the highest quality.
Popular among tea professionals and in homes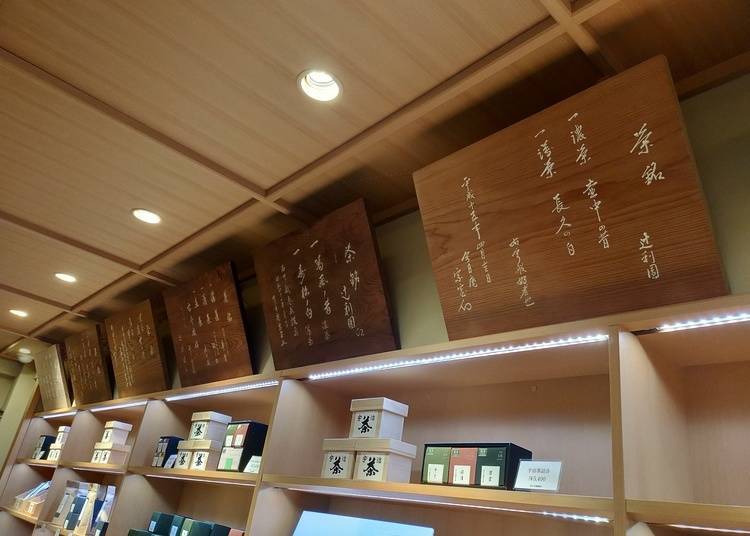 Gion Tsujiri has gained tremendous support from Kyoto shrines and tea ceremony schools. The story is that the teas of many brands and schools were presented and Gion Tsujiri was selected by professionals familiar with tea. Just standing in the shop you can feel the history and prestige.

However, even if you aren't familiar with Uji matcha, there are familiar household teas available and the staff will gladly offer recommendations.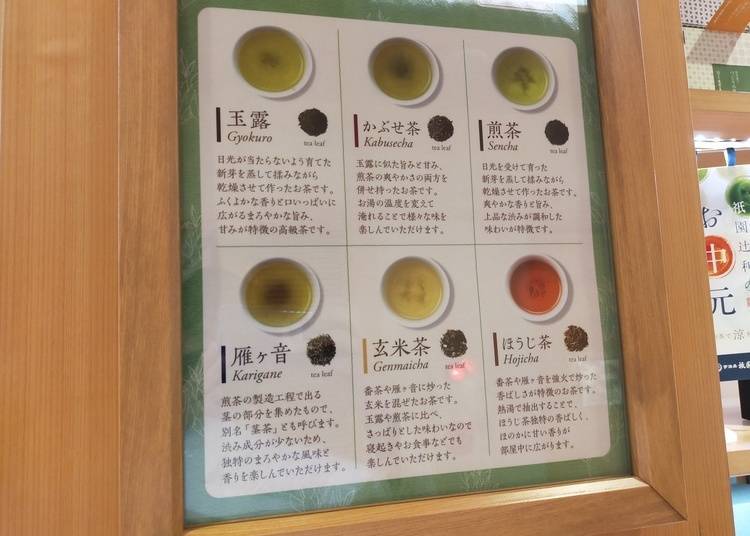 Detailed information on the differences between gyokuro, kabusecha, karigane, sencha, genmaicha, and hojicha is on display in an easy-to-understand format, so you can easily enter the world of tea.
An English menu is available, and all staff can offer service in English and Chinese, so tourists can shop with peace of mind. A detailed English explanation of Ujicha is also provided, for those who are interested in reading it.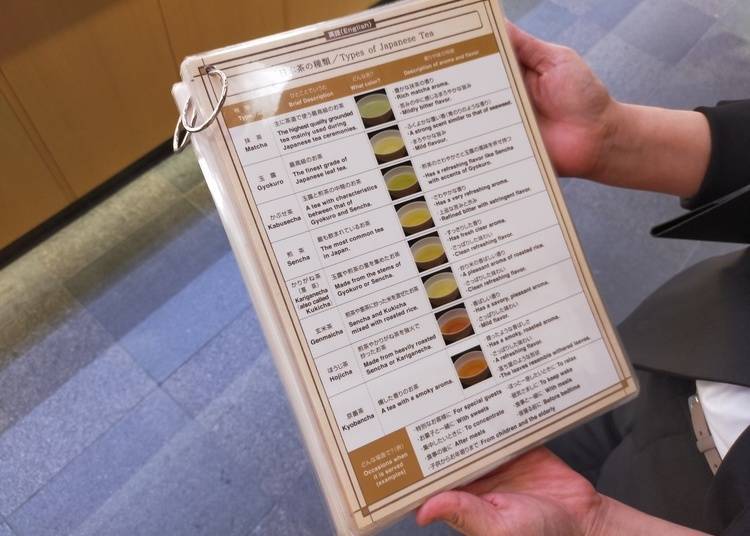 We asked a Gion Tsujiri staff member, Mr. Ide, about five take-out and souvenir products that are particularly popular with tourists. He kindly shared the following items:
1. Matcha soft serve ice cream, 470 yen (tax included)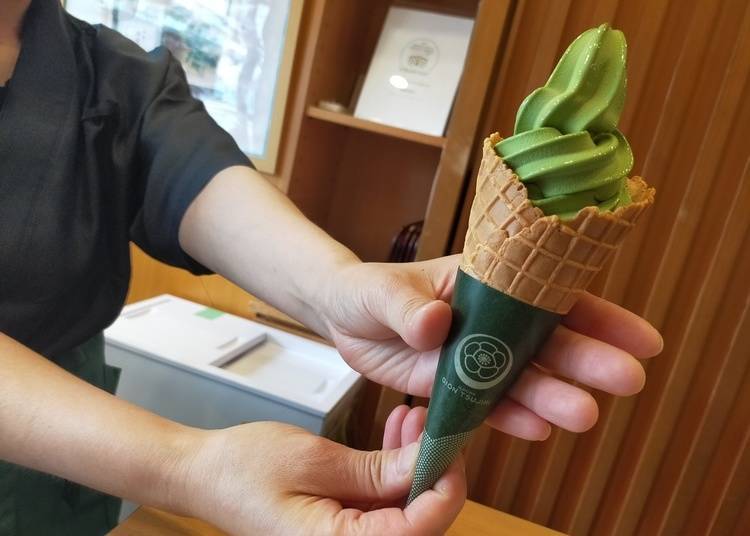 Matcha soft serve ice cream, 470 yen (tax included)
The first is "Matcha Soft Cream" in your choice of a cone or a cup.

The beautiful green matcha soft serve has a delightful sweetness followed by a bitter aftertaste.

The sensation of the ice cream melting in your mouth is irresistible and creates an addictive combination with the cone. It's perfect for eating while walking through Gion.

You'll want to take your time eating it to relish every bite, but you might have a hard time holding back!
2. Specialty Green Tea, 310 yen (tax included)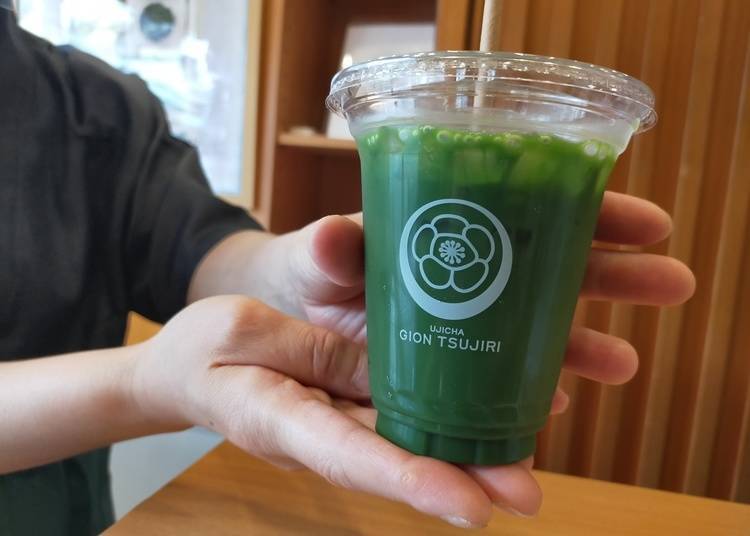 Specialty Green Tea, 310 yen (tax included)
Next is "Specialty Green Tea." Sugar is added to Uji matcha, creating a beverage with the characteristic rich aroma of matcha and refreshing sweetness. The drink is completed with the addition of ice, making it easy to drink.

Even if you are not a fan of stronger teas, you may still enjoy this juice-like drink.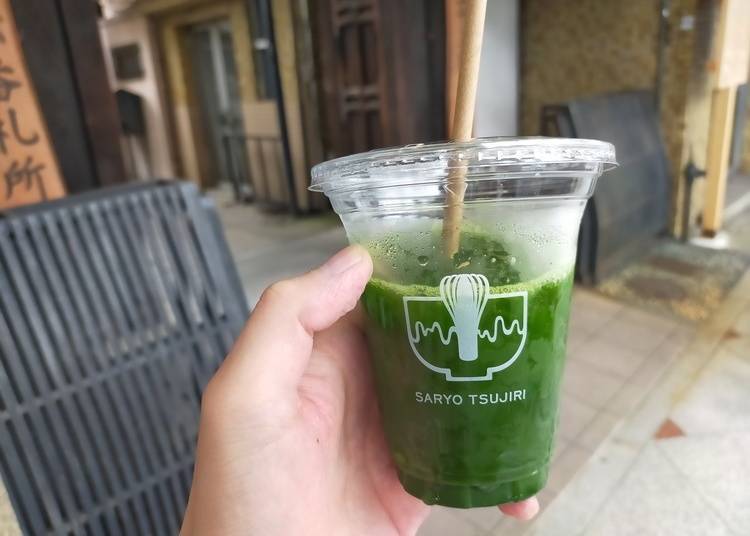 One side of the cup bears the Saryo Tsujiri logo – traditional matcha-making utensils. The opposite side has the cute Gion Tsujiri logo that looks like a tea flower, and is equally photo-worthy. Why not soothe your throat while taking a stroll through Gion?
3. Tsujiri no Tsuki, 972 yen (9 pieces, tax included)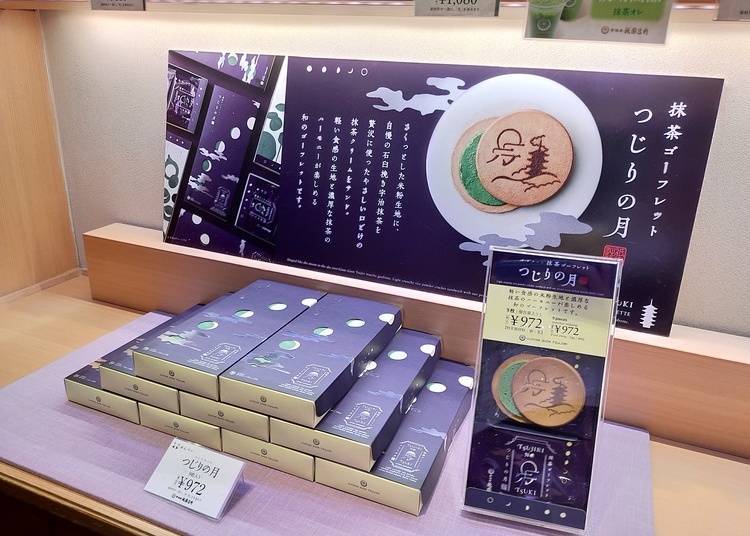 Tsujiri no Tsuki, 972 yen (9 pieces, tax included)
When asked about souvenirs, Mr. Ide recommended "Tsujiri no Tsuki." Stone milled Uji matcha is used to make green cream that's sandwiched between thin baked rice crackers to make these luxurious gaufrettes.

Rice flour gives the wafers a crispy, light texture that complements the aroma of the matcha creme. The packaging depicts a clever image of the phases of the moon against the purple night sky of Kyoto.

Upon opening the carton, you'll see that the moon phases double as an illustration of tea serving utensils. There is no doubt this unique Kyoto souvenir will bring happiness to whomever it's given.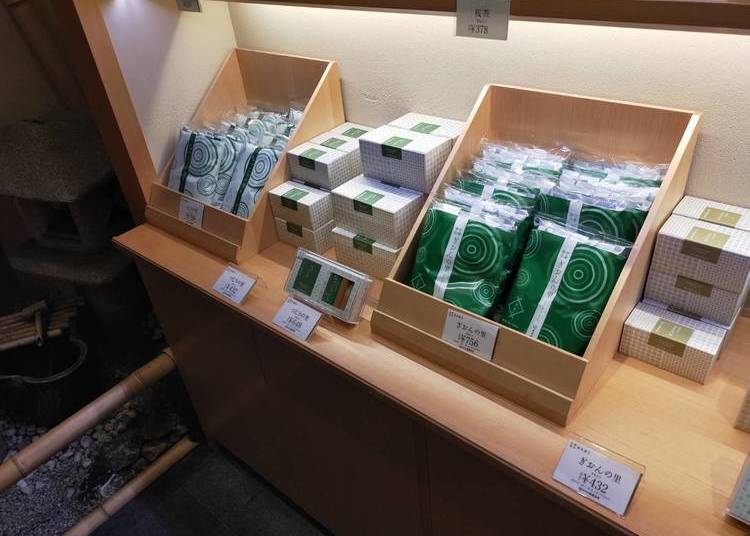 Besides the Tsujiri no Tsuki, "Gion no Sato" (8 pieces, 432 yen, tax included) seems to be a standard purchase. It's an Uji matcha-infused roll rice cracker filled with white cream.
4. Tsujiri 88 Nights, 1,080 yen (96g, tax included)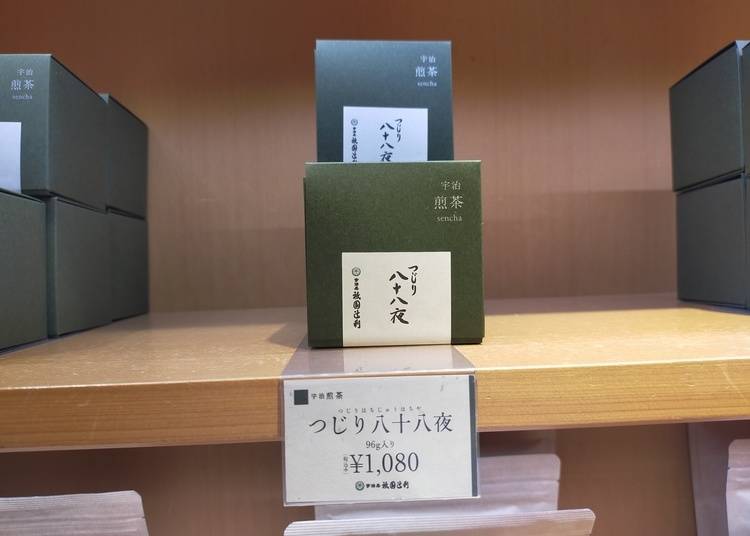 Tsujiri 88 Nights, 1,080 yen (96g, tax included)
"Tsujiri 88 Nights" green tea is the most balanced sencha in the Gion Tsujiri product line as bitterness, astringency, and sweetness join in perfect, refreshing harmony.

The "eighty-eight nights" refer to the 88th day (around May 2) from the beginning of spring. May is the peak of tea picking season, and tea picked on the 88th night is said to be auspicious.

The most attractive feature is its refreshing astringency, making it easy to drink even for those who are new to sencha.

For those who like sweeter and more refined green tea, "Kennin" is recommended, and "Tsujirien" is perfect for someone who wants a lighter taste than the Eighty-eight Nights.
5. Chokyu no Shiro 1,188, yen (20g can, tax included)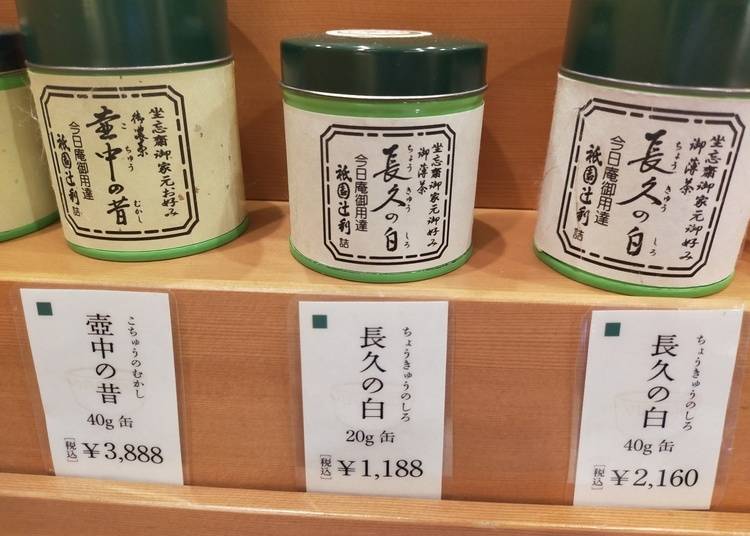 Chokyu no Shiro 1,188, yen (20g can, tax included)
Lastly, "Chokyu no Shiro" from the Matcha series.

Many matcha teas are called "white" or "old." "White" matcha is used to make thinner, whipped "Ousucha" while "old" matcha is suitable for thick "Okoicha." The taste of Okoicha is adjusted so people can drink one cup during a tea ceremony.

Chokyu no Shiro has a good balance of bitter, umami, and sweet flavors and provides a feeling of relief with its rich fragrance.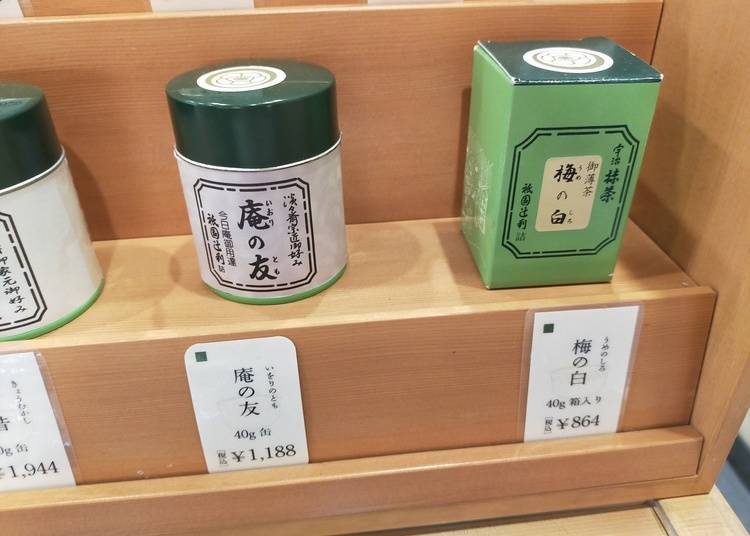 "Ume no Shiro" on the right
Another option, "Ume no Shiro" (40g for 854 yen, tax included), can be used for making sweets.

Gion Tsujiri offers teas suitable for a wide range of interests, from those who enjoy matcha in authentic tea ceremonies to those who want to use it casually in cooking.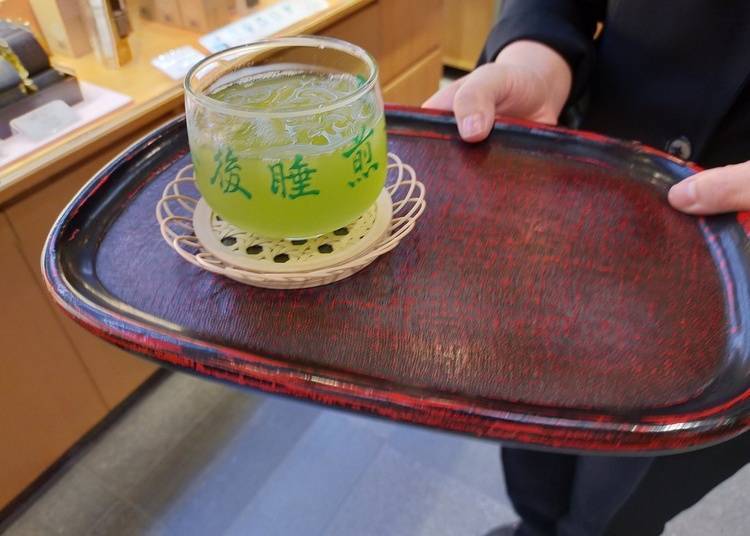 In addition to these recommended products, there are many others to choose from and the selection of matcha is especially impressive.

Even beginners can find their favorite tea, from stronger matcha to refreshing varieties.

Depending on the season, the available products will change. For example, sencha mixed with cold water is perfect for hot summer months. Mr. Ide mentioned that it would be exceptionally delicious after taking a bath. You can sample some products in the store, so feel free to ask the staff.
Gion Tsujiri: Great souvenirs made with high-quality Uji tea!
Hopefully, you'll be inspired to try a few of these take-out and souvenir products from long-established Gion Tsujiri the next time you're in Kyoto.

When shopping at Gion Tsujiri, why not try some Ujicha sweets at Saryo Tsujiri on the second floor too? You'll enjoy the finest unique teahouse sweets and be captivated by the charm of Uji tea.
祇園辻利 祇園本店

Address

573-3 Minamigawa, Gion-cho, Higashi-ku, Kyoto 605-0074

Phone Number

075-551-1122

Hours: 10:00 - 21:00 (Currently: weekdays 11:00 - 18:00, Saturdays and Sundays 11:00 - 19:00)
Book an unforgettable experience in Kyoto!
Make your trip extra memorable by booking one of these recommended experiences on our partner site, Voyagin!
*This information is from the time of this article's publication.
*Prices and options mentioned are subject to change.
*Unless stated otherwise, all prices include tax.
Search for International flights