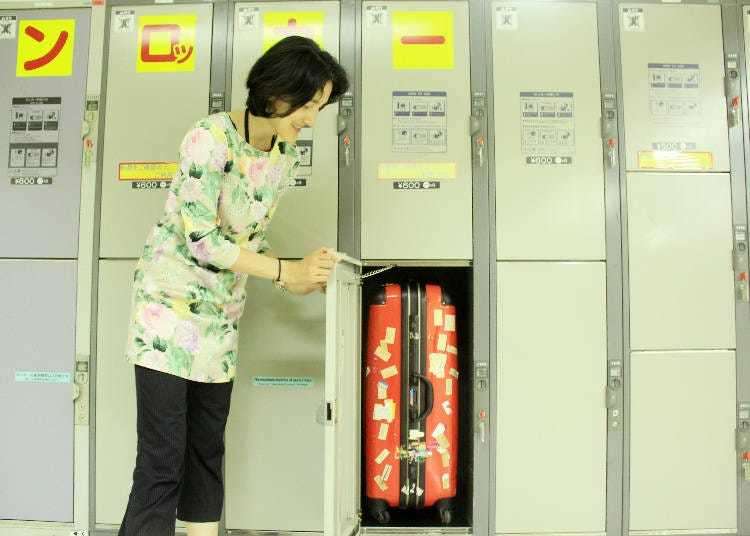 When you need to store your luggage, coin lockers are a useful option. Learn about where you can find them and how to use them.
Where to Find Coin Lockers
Coin lockers are often located in train stations, department stores, shopping malls, and amusement parks. Some supermarkets even have refrigerated lockers.
Coin lockers generally cost between ¥300 and ¥1000, depending on their size. There are different types, the most basic one being just a locker with a key, and other lockers with digital sound locks, and others that use your cellphone number for the key. Many lockers take only ¥100 coins, so be sure you have the right coins before you try to use a locker. Recently, there are lockers (especially in train stations) that accept prepaid digital cards, such as those issued by the railroad/subway companies. There are even lockers at public facilities that return your money after you have used the locker.
How to Use a Key-type Coin Locker
Let's take a look at how to use plain, key-oersted lockers. Digital types may have screens in English.
1. Choose a locker that still has a key attached — the ones without keys are already in use.
2. Open the door, place your luggage inside, and insert the required coins into the coin slot.
3. Close the door, lock it, and remove the key.
4. When you want to take out your luggage, use the key to open the door. If you have exceeded the maximum time limit, you will need to insert more coins to open the door. The amount needed will be on display beside the coin slot.
Calculation of Additional Fees
There are two types of fee systems. One has a set number of hours — for example, whether it is used from 9 AM or from 10 PM, the fee is the same until midnight, and you will have to pay an additional fee after midnight. Another type charges for fixed units of time. Additional charges are calculated based on the number of hours over the set time limit.
How Long Can You Store Your Items?
Normally a locker can be used for a maximum of 3 days. If you leave your goods in the locker longer than that, the management company will remove your goods and hold them in their office. They will charge you for storing your goods. If you do not claim the goods within one month, the company may discard the goods at their own discretion.
Most lockers prohibit the storing of money or valuables. Many of them prohibit storing fresh food, animals, or anything dangerous. Note that you have to pay when you open the locker, so if you open it twice, you will have to pay twice. Places like big train stations have many lockers, so be sure you remember where your locker is located. Lockers at stations near popular tourist attractions may all be in use, so think ahead. Also, lockers inside certain buildings cannot be accessed at night, so be sure you check the operating hours carefully. available ones at nearest stations around famous sightseeing areas than any other spots.
Inside facilities, you sometimes unable to pick up your stuff at midnight. Check and be sure of the available time.
*This information is from the time of this article's publication.