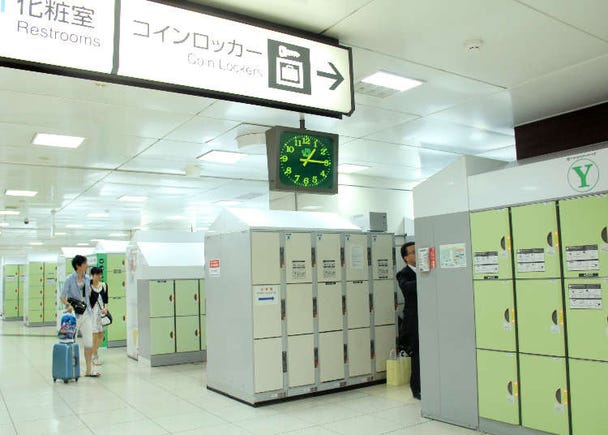 Coin lockers can be found at pretty much any station in Tokyo, usually installed just next to ticket gates and underground passages, but also near busy streets and department stores. The only problem is: the coin lockers in the busiest places are almost always full! Worry not, though, as Tokyo has many secret coin locker hot spots that are often surprisingly close to popular locations!
Coin Lockers at Tokyo's Main Stations and Sightseeing Spots
Coin lockers at Ikebukuro Station. They line the passages of the station premises.
We compiled a list of Tokyo's main stations and the number of their coin lockers, based on information of the website "Coin Locker Navi" that features locations, sizes, and fees of coin lockers mainly in Tokyo and Osaka.
Check below to get an overview of which stations offer a lot of coin lockers, along with useful information like extra-large sizes.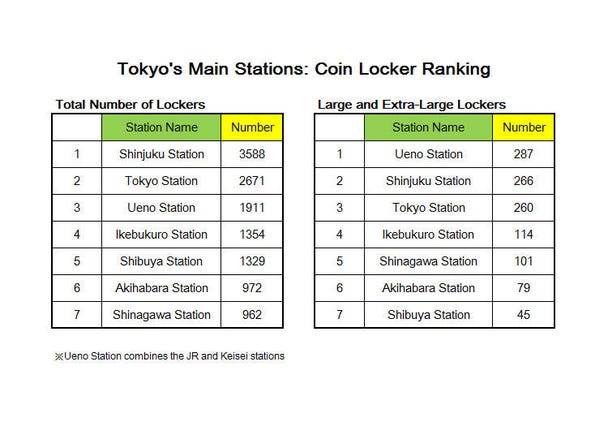 ● Shinjuku Station
Shinjuku Station boasts the world's most passengers per day – and within Tokyo, it is also the station with the most coin lockers. They are set up at various places, such as on the premises of JR, Odakyu, Keio, or Tokyo Metro, as well as around ticket gates, passages, the West Exit underground plaza, and more. The sizes vary by location, with some "small size only" coin lockers here and there.

● Tokyo Station
Tokyo Station is famous for its many Shinkansen connections, on top of being served by the JR Yamanote Line and the Chuo Line. When it comes to ticket gates, the lockers along the central passage on the first underground floor are particularly busy and not likely to be vacant. Go for the coin lockers at the north passage and the underground passage a little further – it's much less crowded there.

● Ueno Station
JR Ueno Station features several coin locker spots, both within and outside of the ticket gates. Their characteristic is that they are remarkably big, despite their large numbers. We especially recommend the coin lockers outside the ticket gates at Keisei Ueno Station (approx. 1 minute away from JR Ueno Station) where the Keisei Skyliner arrives. Seventy large-size coin lockers can be found there!
Make a Bargain While Storing Your Luggage!
Let's take a look at websites and apps informing you about coin locker locations, their vacancy, and all sorts of other useful tips and tricks. Also, "storage facilities" will come in handy when there's no coin locker available!
Use the Suica Coin Locker Search at Tokyo Station, Shinjuku Station, Ikebukuro Station, and Shinagawa Station for real-time information about coin locker vacancy around you. The icon on the digital map is green if there are many coin lockers ready to use and turns to orange once there are less vacant lockers available. If you touch the icon, you can check the vacancy by size and also see the access route from your current location.
There are several websites that feature information on empty coin lockers in Japan's major cities and stations, mainly Tokyo and Osaka.

Search for station or spot to check the numbers of available coin lockers, as well as their sizes and fees, how long you can store your luggage there, and the contact information of the managing company.

■ Storage Facilities Around Tokyo's Major Stations and Sightseeing Spots

● Yamato Transport Hands-Free Travel Service
Yamato Transports offers its convenient hands-free travel service at Tokyo Station, Ginza Koyabashi Center, and Haneda Airport.
・ Tokyo Station Marunouchi North Exit Cloak: in Tokyo Station Marunouchi North Exit Dome. Offers temporary luggage storage, same-day delivery, sending souvenirs and baggage
・Ginza Koyabashi Center: 2-2-4 Ginza, Chuo-ku, Tokyo-to 104-0061 (a 5-minute walk away from Tokyo Metro Ginza Station). Offers temporary luggage storage, sending souvenirs and baggage, and sightseeing information.

● Sagawa Express Tokyo Hands-Free Travel Baggage Storage
A counter that offers baggage storage (800 yen per day, 500 yen only for Tokyo Skytree), as well as same-day delivery to your hotel.
・ Tokyo Service Center: at Tokyo Station, outside of the ticket gates near Nihonbashi Exit
・ Shinjuku Service Center: at Shinjuku Station's South Exit, within the Tokyo Tourist Information Center of Busta Shinjuku
・ Asakusa Kaminarimon Service Center: 2-1-3 Asakusa, Taito-ku, Tokyo-to 111-0032 (a 4-minute walk from Asakusa Station on the Tobu Railway)
・ Tokyo Skytree Town Service Center: Solamachi 1F at Tokyo Skytree Town
・ Terminal Ginza Home Delivery Counter: Ginza Six 1F, 6-10-1 Ginza, Chuo-ku, Tokyo-to 104-0061

● Tokyo Station Cloak Service
A service offering temporary luggage storage (one-day only, 600 yen per day).
・ At the JR East Travel Service Center outside the Marunouchi North Exit ticket gates (7:30 a.m. – 8:30 p.m.)
・ B1 Gransta Cloak Service: within the Tokyo Station ticket gates, at the Silver Bell Waiting Area near the west side (8:30 a.m. – 9:00 p.m.)

● Shibuya Chikamichi Baggage Storage Counter
Shibuya Chikamichi is located within Shibuya Chikamachi on the first basement floor. The information counter there keeps luggage for one day for 600 yen per piece (10:00 a.m. – 6:00 p.m.).

● Tokyo Disney Resort Lockers & Baggage Storage
Tokyo Disneyland offers 7, Tokyo DisneySea offers 8 places where coin-operated lockers are available, both inside and outside the park (from 300 yen for small to 700 yen for extra-large). There also is a baggage storage at the Tokyo Disney Resort Liner near Tokyo DisneySea Station's ticket gates (700 per piece, only on the day of your park visit).
*This information is from the time of this article's publication.
*Prices and options mentioned are subject to change.
*Unless stated otherwise, all prices include tax.