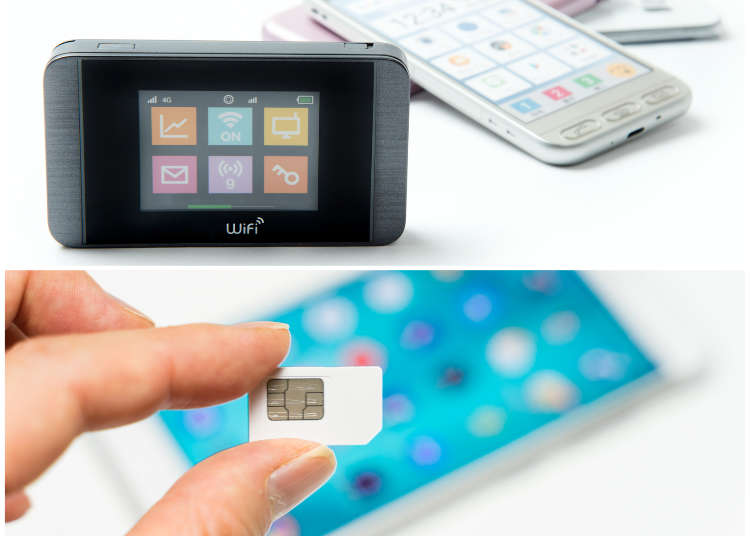 You're almost ready for your trip to Japan! The excitement is palpable, but you may also be wondering how you'll manage to stay connected while in the Land of the Rising Sun. One of the worst feelings for an international traveler is that of finding oneself in a foreign (often unknown) country, with no way to communicate. Not knowing something, or someplace, doesn't scare us anymore, since we have all the knowledge we need literally at our fingertips, but when travelling abroad, using our devices could require a little bit of planning and some hardware.

Worry not! Keep reading to learn all there is to know about staying connected in Japan so you can choose the best option for you!
Option 1. Getting a Japanese SIM card
A SIM card is like your phone's "ID". Every phone has one and it serves the purpose of giving your phone a unique identification number, as well as storing your data, not to mention allowing your phone to work.
Japanese SIM cards available to tourists, or long and short-term visitors are easily accessible. Many providers in Japan have adopted this kind of service and you can obtain a card for your phone online (some business would deliver the card at any address, including abroad), at selected retailers, in airports, and through vending machines.

As always, prices vary depending on the plan you choose. You can expect to pay anywhere between ¥600 and ¥1000 per day for these cards.

If you think you won't be using much data from your phone, the best option would be to get a card that provides a limited amount of data usage. They are cheaper, and will stop working once you run out of data. Alternatively you can get a time-based plan, which you can use until a pre-determined day. The time-based plans also limit your total data usage, but the threshold is much higher.

The price of Japanese SIM cards is also affected by the download speed they provide. SIM cards, by and large, offer higher speeds than hotspots, and while they may not be fast enough to allow you to download a movie in HD, they can definitely enable you to use the Internet for your every-day tasks. The average download speed of these cards is between 150 and 250 Mbps (megabytes per second).
These cards could be a good option for those who want to avoid having to look for the "right hotspot" and would rather not carry with them extra equipment. They are easy to find, easy to use, and relatively cheap. They are also hassle-free as you have nothing to return once you finished using them. Furthermore they generally offer good service even in rural areas.

There are a few things to consider before you get one, though. First of all, make sure that your phone is "unlocked". If you purchased your phone through a plan with a specific provider and have a contract (usually 2 years), your phone is not unlocked, therefore you won't be able to use SIM cards that are not connected to your main provider.

Make sure you know what kind of SIM card fits your phone. The three most common cards are the "standard SIM", the "micro SIM" and the "nano SIM". A less common one is the "mini SIM". Also, albeit rarely, some phones do not have a removable SIM card.

When getting your card make sure to set up an APN (Access Point Name – i.e. 4G) from your phone settings, or have the retailer do it for you (some might charge an extra fee).

Lastly, make sure to let your family and friends know that you'll be only reachable through applications such as WhatsApp and Skype, as your regular phone number won't be active. Although there are retailers that provide SIM cards with regular-phone plans, they might not be the best option if you're only visiting Japan, as they require quite a bit of paperwork unlikely available in any language other than Japanese.
An increasingly accessible option is that of rental phones. These devices are available in some hotels and are also easily found online. They carry the great benefit of allowing you to use a Japanese phone as if you were in your home country. Depending on the use you make of your phone they may also be quite cost effective (assuming you mostly use data and not regular calls and text messaging).

If you procure a phone from your hotel, keep in mind that, should you move to a different one, you'll have to return the phone.

If you get a rental phone from a retailer or online here is a sample plan that might help you make a decision.
Most rental-phone plans will also provide you with 6-8GB of monthly data usage included in the price, as well as incoming calls and texts, and a pre-paid envelope to return the phone at the end of your stay in Japan at no extra charge.
This option will probably be the best one for those who are interested in more data usage than the one offered by some alternatives, and especially for those travelling in groups. A pocket Wi-Fi, as the name suggests, is a portable personal Wi-Fi hot spot accessible via personal password.


Most portable Wi-Fi's will have a good coverage even in less central areas. Pocket Wi-Fi's are usually the preferred option for many travelers, especially because they offer so many combinations of plans that it will be very unlikely for anyone to not find one that fits them. Because of this reason, trying to have an idea of the costs beforehand is challenging. The variables are: quality of the device itself (band, speed, battery life); data plan (limited or unlimited, as well as limitations on daily data usage or not); rental period; areas covered; number of devices that can be connected at the same time.

Most people would probably be perfectly content with an average plan, such as 2.4Gb of data/3 days at ¥500-600/day. Make sure to confirm with the retailer that your device will cover all the areas you're planning to visit. If your group includes many people, make sure that the pocket Wi-Fi can link enough devices to its network at the same time.

You will be able to rent a pocket Wi-Fi in most airports in Japan, as well as at Internet-provider shops, electronics stores, and online.
It's recommended to also rent or buy a battery pack for your pocket Wi-Fi, especially if you're planning to go on long excursions.

Once you're done with the Wi-Fi, you'll need to return it to the place from which you rented it, or, if you rented it online, you'll probably be provided with a pre-paid envelope to return it.
Option 4. International Roaming
For those who would rather set everything up in their own country there's always the option of international roaming plans provided by many companies. If choosing this alternative, make sure that your provider has a plan in place, and check for activation plans and costs. Some providers have a built-in roaming plan within your regular one. Regardless make sure to activate a plan, if available, before you use your phone in Japan or you might be charged staggering amounts for roaming.

Ultimately the best option is whichever best fits your particular needs. While it's true that sometimes choosing the right way to go can be a daunting experience, fortunately, in Japan, there is such a variety of options that you'll definitely be able to find the right one for you.
But we are not done yet!
Other Ways to Stay Connected in Japan
Hotel Wi-Fi

This might seem like a no-brainer (and oftentimes it is) but there are a few things to consider. While most hotels in Japan offer complementary Internet access, a few might ask for a fee to connect to their Wi-Fi or wired connection service. In most cases you'll be offered free Wi-Fi on premises.

That being said, an increasingly large number of people, when visiting Japan, decide to opt for traditional Japanese-style hotels (ryokan). Such a choice is understandable since it adds to the lure of the country and allows you to experience a number of features (such as onsen, traditional food, and relaxing tatami rooms). At the same time, not all of these businesses offer Wi-Fi (although several of them have public internet rooms with access to computers on the premises). Furthermore even having access to a good Wi-Fi in the hotel will not help you once you go out and start exploring.
Public Wi-Fi hotspots in Japan

Like in many metropolitan areas all over the world, Wi-Fi hot spots in many Japanese cities are on the rise. They work by allowing you to connect to an open network. Most cafes, restaurants, malls, and stores in Japan will have a hotspot, and, in some areas, you will be able to access the Internet even while in open spaces.

Many of them are free, but the downside is that they will not be present in every area, however popular. What's more, it's hard to know beforehand where you'll have a good enough reception. Lastly, even when connected with full reception, your speed might be disappointing. Partly because of the system itself, and partly because of the very large number of people that connect to such hotspots at the same time, it might take quite long to even open a simple webpage.

One way to work around these issues is to choose a paid hotspot plan. This service is usually offered by major mobile companies in Japan and it allows you to access their hotspots at higher speeds, although they are limited to the areas that the companies cover. The prices vary depending on the provider, and on the plan (usually you can choose a daily, weekly, or monthly plan). The cost, generally, will be between ¥400 and ¥600 per day, but you'll notice considerably lower prices per day if you choose to sign up for a longer plan right away.
Here are some pointers on how to avoid some paperwork and searches, as well as some other tools and ideas to better stay connected during your trip in Japan.

Pro-tip #1: Internet cafes and manga cafes are very common in Japan.

Internet cafes are open 24/7, have pretty fast Wi-Fi, and a lot of computers. You could just stop by and use the connection, or stay there as long as you need. You'll find that these places are used mostly by gamers, since they often have good equipment and more than decent upload speeds. You can even spend the night in an internet café for as little as ¥1500-¥2000 (we are talking about a cubicle with a comfortable armchair, a computer and not much more). You can also find pool tables, darts, karaoke, and more.

Here are the average costs of an internet café (they may change slightly depending on the place).
30 minutes: ¥260-¥300
Every extra 10 minutes: ¥83-¥100
3-hour package: ¥1000-¥1100
6-hour package: ¥1500-¥1700
9-hour package: ¥1900-¥2100
12-hour package: ¥2200-¥2500
8-hour night package (8pm to 4am): ¥1500-¥1700

Manga cafes, similarly to Internet cafes, are open non stop. There are some computers, but mostly reading material. Should you opt to stay there for a longer time, you could rent a private cubicle with a computer and a bed-like chair (they also have "VIP booths" for an extra fee). You'll find showers and changing rooms and, of course, Wi-Fi.
The prices are usually similar to the ones listed above for the Internet cafes.

These options are recommended for those who are travelling on a budget and would like to avoid charges to use Wi-Fi, but still would like to stay connected while in Japan.
Pro-tip #2: If all you need is your Google or other maps keep in mind that in most cases it works without the need for an Internet connection, but there's more.

You can pre-cache your map data for off-line use. It just takes a little bit of planning ahead.
1) Launch the app
2) While connected to the Internet (from a free hotspot, or in a hotel, for example) find the area(s) you'd like to visit.
3) In the search bar type "ok maps" and search. After some loading, you'll receive a confirmation message that the area has been saved for off-line use. Should you receive an error message, try to zoom in onto the area and try again.

Pro-tip #3: If you want to use some of your time in Japan to live-stream, you'll need a massive amount of fast data readily available.

Japan is becoming increasingly popular when it comes to IRL videos (In Real Life Videos), and more and more people log in everyday to simply be part of your journey.

In this case it's strongly recommended that you get yourself a pocket Wi-Fi (described above). This will be the best option (and sometimes the only option) to have access to unlimited data at an acceptable to good speed.
One thing to keep in mind is that, sometimes, while advertising unlimited data for their pocket Wi-Fi, some providers fail to mention that, while it's true that you'll have unlimited data at no extra cost, if you go over a certain limit, you'll have access to data at much lower speeds (often making live-streams nearly impossible).

Make sure that the data provided is not affected in speed by any usage limit. Also invest in extra batteries, and, if you can, on an extra phone to communicate with your followers in real time (live streaming in Japan is a rather competitive environment and quality is king).

Hopefully you will find this guide helpful! Safe travels and enjoy Japan to the fullest!
SIM Card & Wi-Fi Rental Spots in Tokyo
Wi-Fiチャンネル

Address

Seibushinjuku station square building 5F, 2-46-3, Kabukicho, Shinjuku-ku, Tokyo, 160-0021


Nearest Station

Seibu-Shinjuku Station (Seibu Shinjuku Line)
1 minute on foot


Phone Number

03-5155-5331
PUPURU Wi-Fi

Address

Kyodo Tsuushin Kaikan 5F, 2-2-5, Toranomon, Minato-ku, Tokyo, 105-0001


Nearest Station

Tameike-Sanno Station (Tokyo Metro Ginza Line / Tokyo Metro Namboku Line)
5 minutes on foot


Phone Number

03-3560-9566
*This information is from the time of this article's publication.
*Prices and options mentioned are subject to change.
*Unless stated otherwise, all prices include tax.