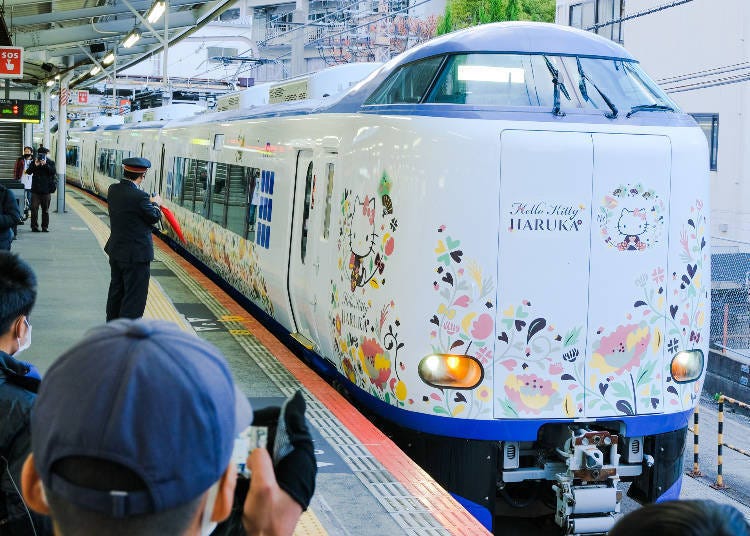 Connecting Kansai International Airport with Osaka and Kyoto is the adorable Hello Kitty HARUKA. Featuring the internationally beloved character Kitty White, this "kawaii" train has garnered attention worldwide!

Read on to discover its full charm and how to get tickets.
What Is the Hello Kitty HARUKA?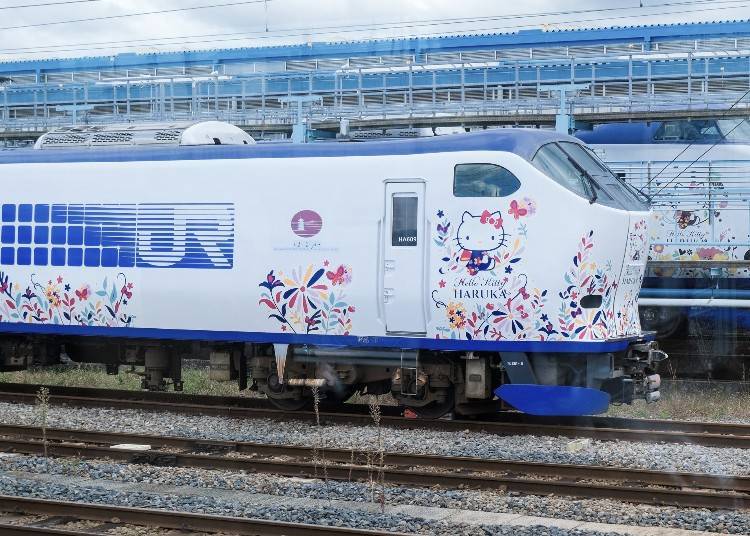 HARUKA is a limited express train service run by JR West, connecting Kansai International Airport with Tennoji, Shin-Osaka, and Kyoto. It began running to coincide with the opening of Kansai International Airport in 1994 and is known for its distinctive long, simplistic white body.

As more people began using Kansai International Airport, the number of passengers on the HARUKA train also increased. To welcome visitors from overseas to Japan, JR West decided to decorate this now popular train with Hello Kitty in 2019. Donning a dazzling long-sleeved kimono, many have visited just to snap photos of it.

The first Hello Kitty HARUKA train was just six carriages; however, a surge in popularity led to even more trains being graced by a Hello Kitty design. As of 2021, every HARUKA train is now a Hello Kitty HARUKA. Moreover, there are now four different types to check out!
Where Does the Hello Kitty HARUKA Operate?
The Hello Kitty HARUKA departs from Kansai International Airport and stops at the southern Osaka City terminal station of Tennoji and the bullet train station of Shin-Osaka before heading to Kyoto.

From Kansai International Airport, it takes around 35 minutes to reach Tennoji, 50 minutes to reach Shin-Osaka Station, and 80 minutes to Kyoto. Being the only line from the airport allowing direct access to Kyoto without changing trains, it's ideal for those who want to start their journeys in Japan's ancient capital.
How to Ride the Hello Kitty HARUKA
The Hello Kitty HARUKA is a rapid express train, which means it has three different kinds of tickets: unreserved, reserved, and green (first class) seats. When purchasing a passenger ticket for the Hello Kitty HARUKA, you'll also have to select one of these three options.
While it's fine to opt for unreserved seats for most of the year, we recommend booking a reserved seat in advance during the busy Japanese holiday periods of Golden Week from late April to early May and Obon during mid-August to guarantee your seat.

The green seats refer to the luxury carriages offering more space and a relaxing atmosphere. If you want to use this space, you'll need to buy both a passenger ticket and a green seat ticket.

Tickets can be purchased at Kansai International Airport via the "Travel Service Center" ticket counter or the "Green" automatic ticket machines.

The ticket machines allow you to avoid the long lines that often form at the counter, and you'll be able to reserve a seat here, too, without any trouble. Plus, they have alternative language settings, including English, Chinese, and Korean.
Discount Tickets For Short-Term Stays in Japan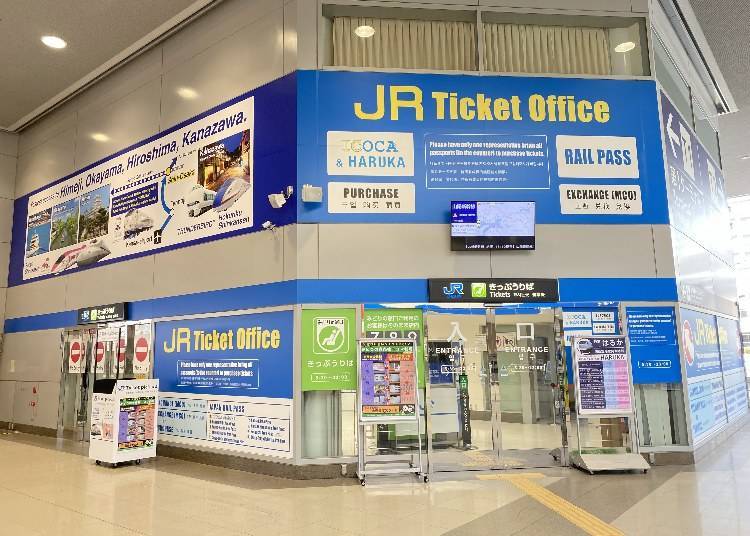 The Japan Rail Pass, offered by the JR Group, allows you to ride on the Hello Kitty HARUKA for free. Plus, if you're happy to sit in an unreserved seat, you'll be able to board the train with just the Japan Rail Pass alone, saving you the trouble of using the ticket machines. Once you've picked up your pass from a ticket counter, just walk on through to the platform.

If you want a reserved ticket, you can also ride the train with the Japan Rail Pass; however, you'll need to order the reserved ticket separately. Once you've gotten your pass, let the staff know which train you wish to ride and your desired seat selection to receive a reserved seat ticket. Reserving a seat is free.

Green seat tickets also need to be reserved at the ticket counter. If you have a regular Japan Rail Pass, you'll pay an additional fee for this service. If you have a Japan Rail Green Pass, this will be free.
You can also ride the Hello Kitty HARUKA with other passes, including the JR West Rail Pass.
There is also the thrifty "HARUKA One-Way Ticket," which can be purchased through most major international travel agents.
Take a Look Inside the Hello Kitty HARUKA!
Without further ado, let's take a close-up look at the outside, interior, and facilities on board the Hello Kitty HARUKA, along with available merchandise.

The Exterior and Interior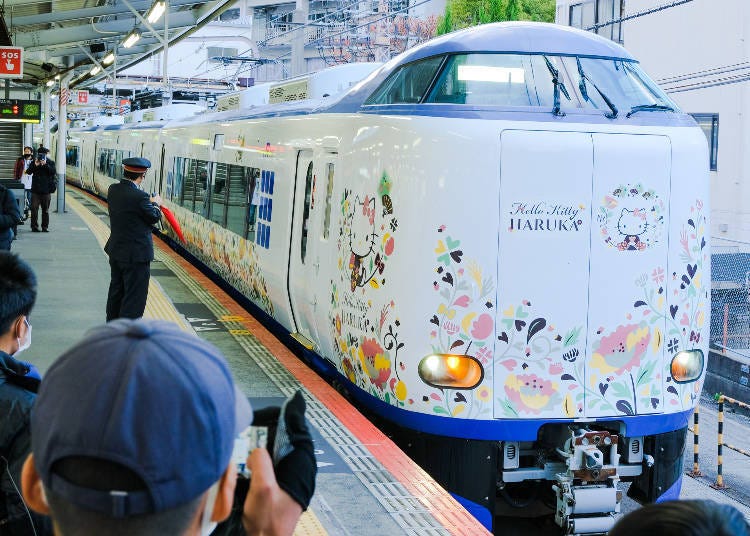 Make sure you follow the instructions of station personnel when taking photos of the train.
Above is the outside of the Hello Kitty HARUKA with its name written in English on the front. Needless to say, it attracts loads of attention each time it arrives!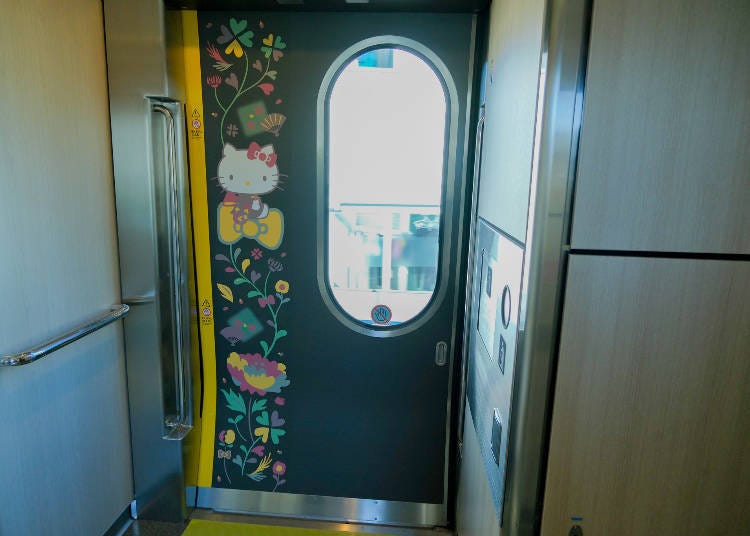 Stepping into the train, you'll be met with more Hello Kitty goodness.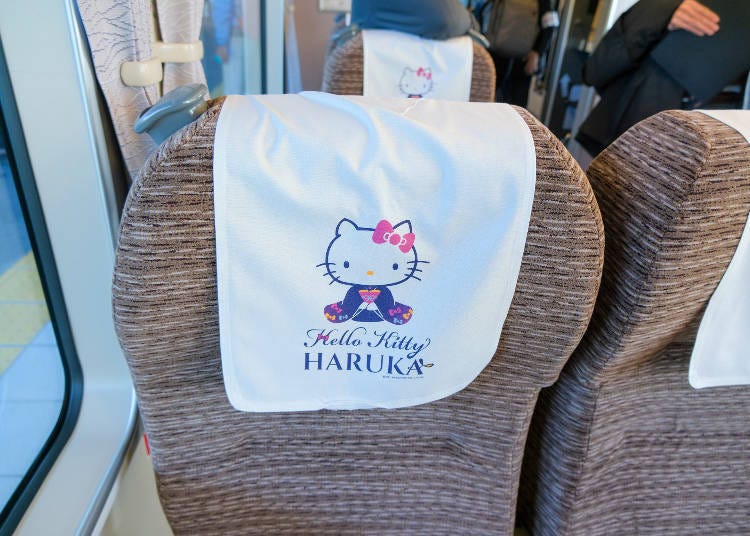 Even the headrests and window-side walls are adorned with exciting Hello Kitty designs!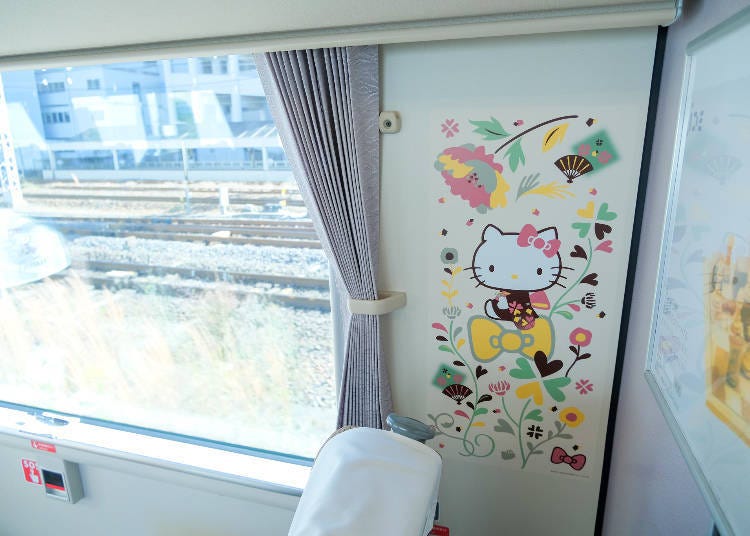 This also includes the onboard sinks and toilets. As you can see, actually boarding the train is the only way to uncover the scale of its charm!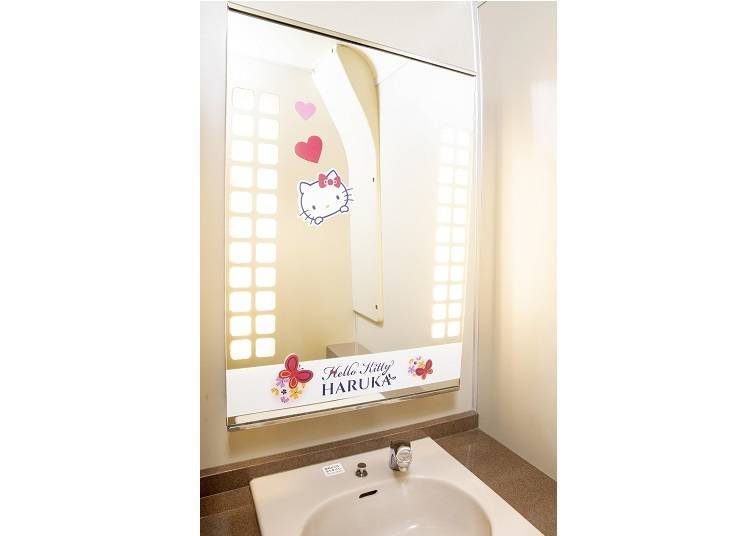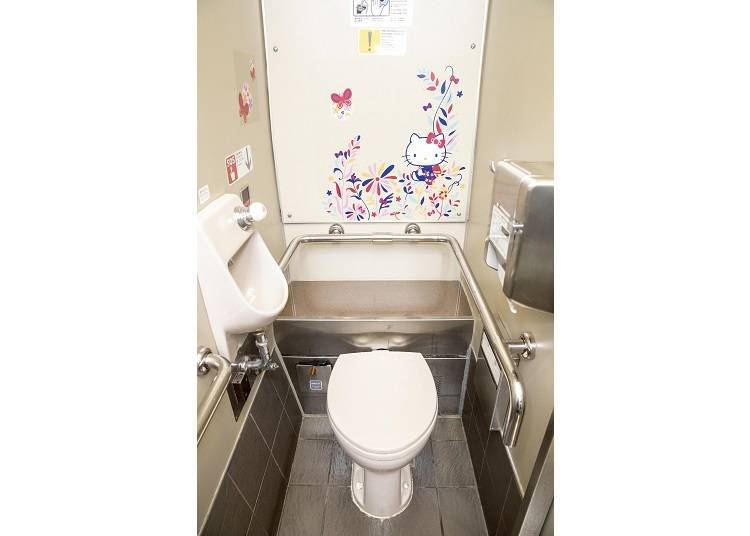 Onboard Facilities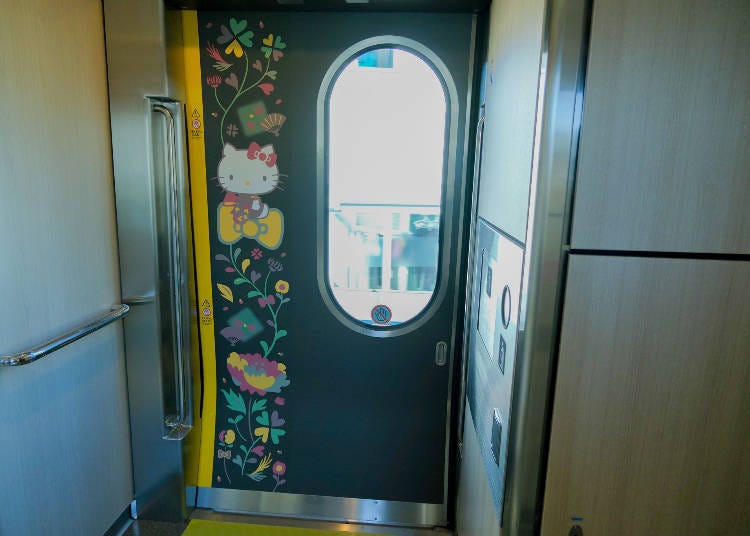 Being an airport train, each carriage of the Hello Kitty HARUKA is equipped with space to safely store luggage, making it handy for those bringing on large suitcases and whatnot.

There is also free wi-fi along with power outlets at each seat in certain parts of the train.

Unfortunately, no food or beverage sales are on board the Hello Kitty HARUKA, including vending machines. Make sure to purchase drinks in advance at the station before boarding the train.
Hello Kitty HARUKA Merchandise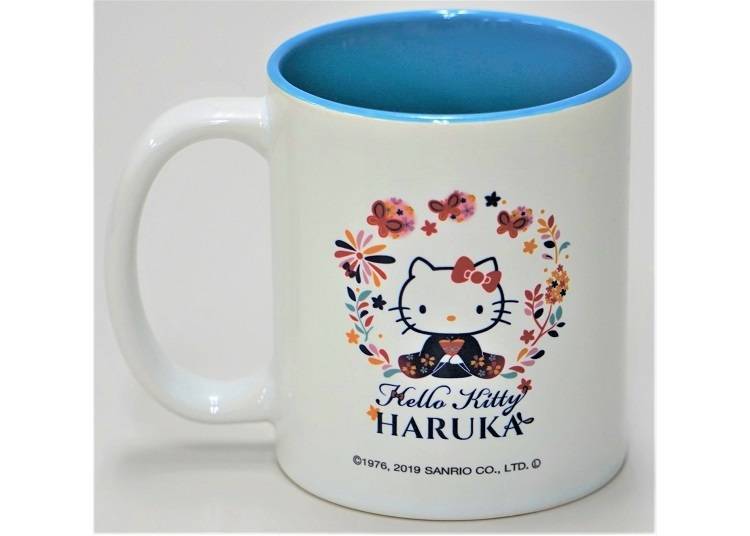 There are Hello Kitty HARUKA goods such as mugs and tote bags available at the Kyoto Railway Museum Shop and the online store Train Box.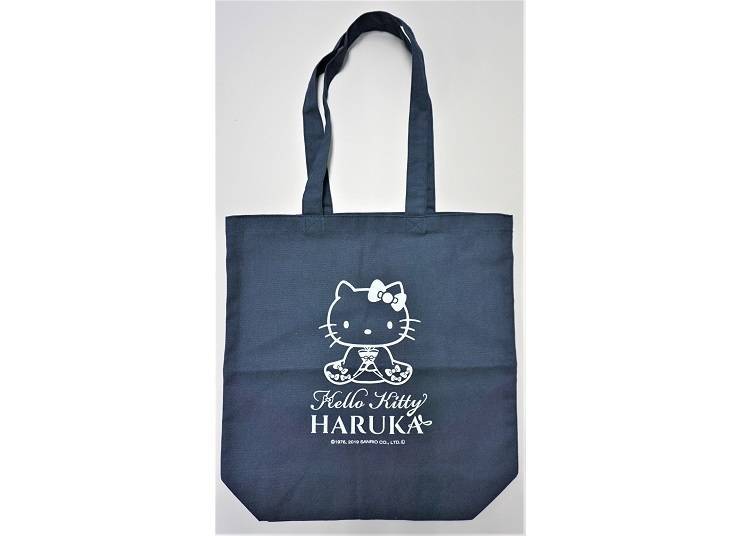 A Special Day-Trip Tour on the Hello Kitty HARUKA
As of December 2021, Hello Kitty HARUKA services have been dramatically decreased due to the impact of COVID-19. There are now practically no services in the afternoon, with the majority instead running during the morning and evening. Because of this, most of these gorgeous trains spend much of their time waiting at the depot.

However, on November 23, 2021, Hello Kitty HARUKA hosted an event allowing fans to ride the train once again. This was dubbed the "Rail Depot Day-Trip on the 271 New Hello Kitty HARUKA."

On this day-trip journey, passengers were able to board a new type of Hello Kitty HARUKA, which debuted in 2019, to check out the usually off-limits rail depot from the window and take photos from the train driver's cab. The event was conceived by JR West to bring joy to families and locomotive fans through the power of the Hello Kitty HARUKA.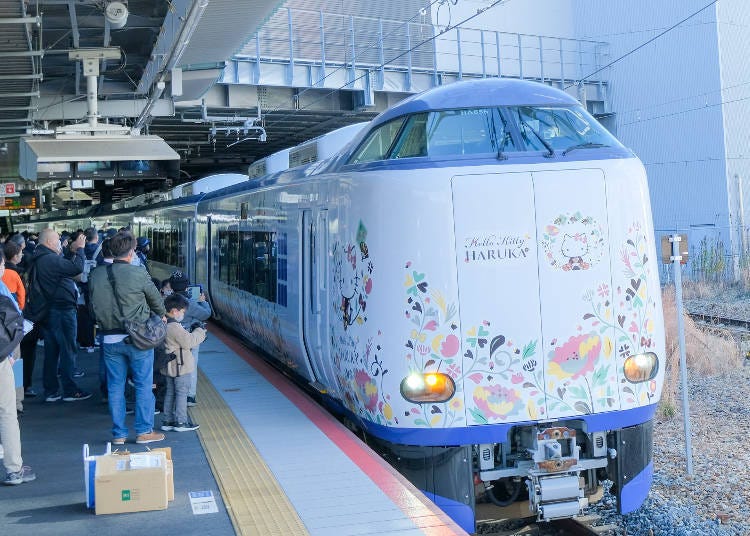 While viewing the rail depot, Hello Kitty HARUKA and Hello Kitty Shinkansen bullet train goods were also on sale. Plus, for lunch, passengers could enjoy a "Hello Kitty Hippari-dako Bento," which boasted rice with octopus and other juicy seafood served in a traditional octopus pot bento box. If you truly want to experience the best of this incredible ride, joining this tour is a must!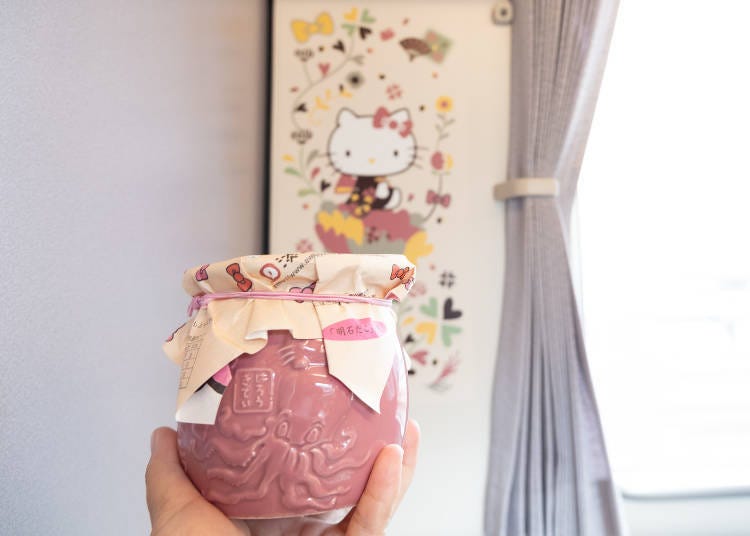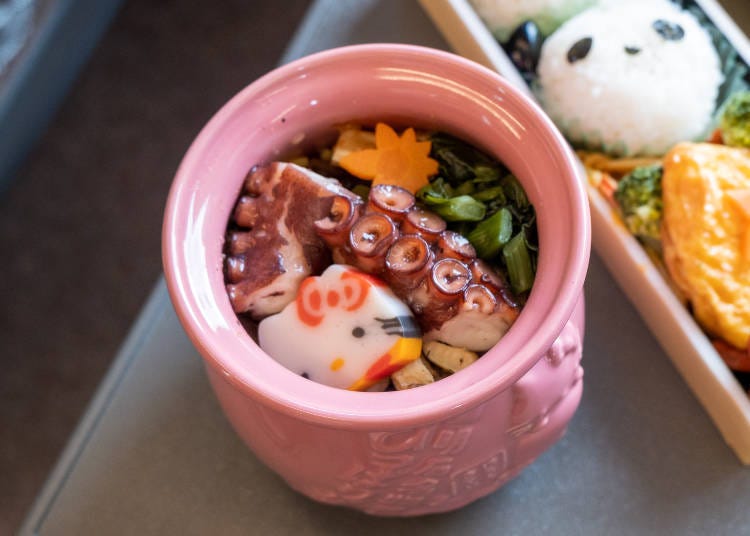 And yes, JR West has announced they plan to hold additional tours in January and February. It seems that until COVID-19 subsides, events like these will continue.
Make Your Trip in Japan Smooth with Travel Support by JR-WEST
The West Japan Railway Company is currently providing comprehensive travel support to prevent the spread of COVID-19 both in trains and stations alike.

One of these services is the Travel Support by JR-WEST app, which was developed to help ensure smooth communication when feeling unwell on your trip or in the event of a disaster.

This includes introductions to medical institutions, multilanguage medical support, evacuation shelter information, and more. The app is available in English, Chinese (Simplified/Traditional), Korean, and Thai. Those using the Hello Kitty HARUKA, shinkansen bullet train, and regular train services can use the app.
Start Your Adventure Through Kansai on the Hello Kitty HARUKA
We hope you enjoyed our overview of the Hello Kitty HARUKA. Connecting Kansai International Airport with a number of the region's most prominent travel hubs, this whimsical, one-of-a-kind train is often the first taste of Japan for many.

However, be aware that services are currently reduced, so make sure you check the latest timetable in advance on the official JR West website to ensure you'll get the chance to ride!

Health & Safety Measures
Indoor disinfection measures taken - Sanitizer installed - Ventilation measures in place - Staff wear masks, gargle, wash hands regularly, and monitor body temperature - Guests asked to wear masks


*The information presented in this article is accurate as of December 2021. Please confirm the latest details on official websites.

© 2022 SANRIO CO., LTD. APPROVAL NO. L621866
*This information is from the time of this article's publication.
*Prices and options mentioned are subject to change.
*Unless stated otherwise, all prices include tax.