The Hello Kitty Shinkansen is a bullet train operating between Shin-Osaka Station and Hakata Station on the Sanyo Shinkansen line. Inspired by the world-famous cartoon character, the Hello Kitty-themed train is an absolute eye-catcher with its bright pink exterior!

Although, it doesn't stop there. The interior is equally impressive with its Hello Kitty design and additional surprises in the train's first and second car.

Here we will share how to board the Hello Kitty Shinkansen as well as what you should look for inside! Take one of the special train cars to get the most out of traveling to your destination!

Main image: PIXTA
What is the Hello Kitty Shinkansen?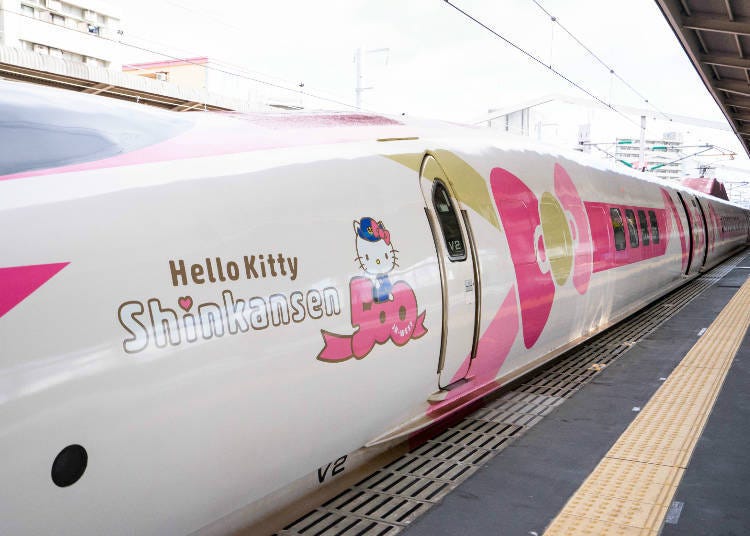 The Hello Kitty Shinkansen is a special service bullet train operated by West Japan Railway Company. To help make traveling throughout the nine prefectures of western Japan (Osaka, Nara, Hyogo, Tottori, Okayama, Shimane, Hiroshima, Yamaguchi, and Fukuoka) more enjoyable, they assigned Hello Kitty to be your guide!

This Shinkansen bullet train's service concept is to connect people from all walks of life. You can feel this just by looking at the train, too! The Shinkansen's streamlined shape, with its cute wrapping, has proved incredibly popular.

With raving reviews claiming that no such bullet train has ever existed before, it's not only popular among Hello Kitty fans or train lovers but has gained attention from people of all ages.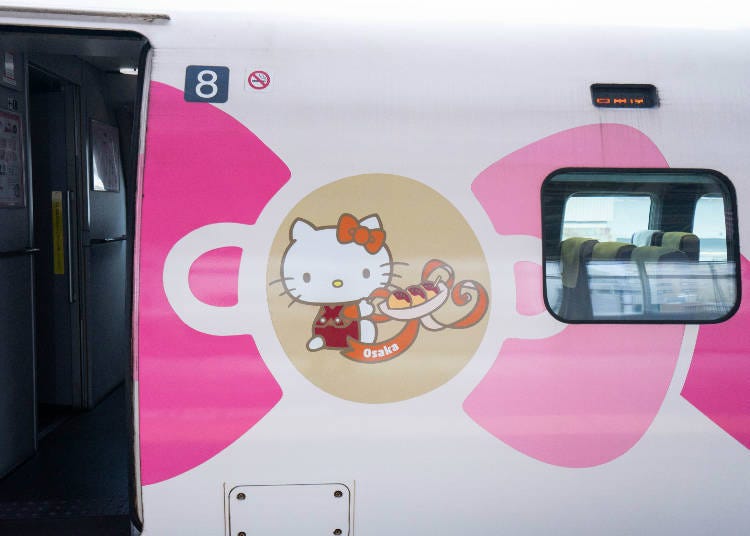 A photo of Osaka Prefecture Hello Kitty holding some Takoyaki-octopus balls.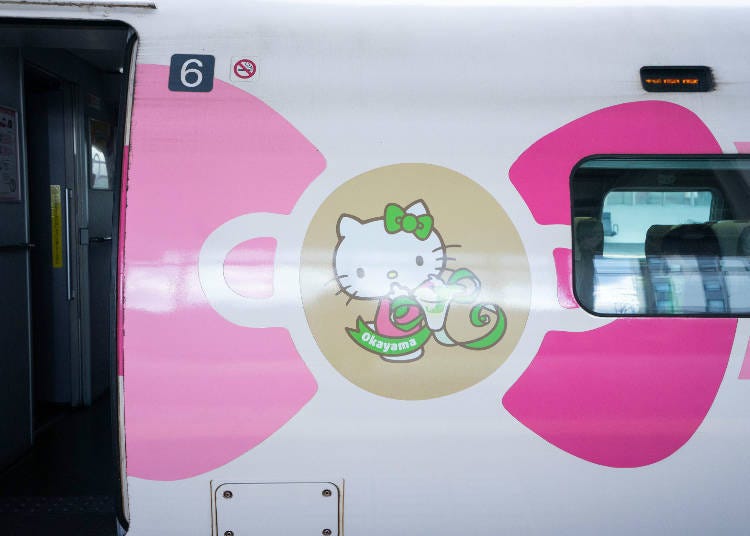 A photo of Okayama Prefecture Hello Kitty holding some Japanese Muscat grapes.
In addition to the pink ribbons, each train car is decorated with different images of Hello Kitty. Available for a limited time only, these colorful designs showcase Hello Kitty holding delicacies from each prefecture of western Japan.

Along with being shown on the train cars, you can enjoy the design through a range of limited-edition products.
How Do You Buy a Ticket for the Hello Kitty Shinkansen?
Just like a standard bullet train, you must purchase a ticket to board the Hello Kitty Shinkansen. When purchasing a ticket, you have two options of either reserved or non-reserved seating. Amazingly, you can enjoy this attraction at the reasonable price of a non-reserved ticket! (Although, please keep in mind that you'll need to have paid both the basic fare ticket and express charge ticket to board.)

Ticket purchases can be made online, at ticket machines, or at JR travel service centers. Additionally, reservations can be made the day of your trip! For a detailed guide on each purchasing process, please refer to the information below.

・Making a Reservation Online
You can conveniently purchase JR train tickets online outside of Japan by using the JR-WEST ONLINE TRAIN RESERVATION website here.
Once you're on the site, you can check for ticket details as well as which areas trains go to before making a reservation. Besides Hello Kitty Shinkansen tickets, day-use and special ticket deals limited to foreign visitors are available.
Before beginning your journey, you can print out tickets at 'green' ticket vending machines displaying the 5489 mark or at Travel Service Centers located at JR stations.
・Reserving or Purchasing Tickets at the Travel Service Center
You can also purchase tickets at travel service centers attached to each JR station. At JR Osaka Station's Travel Service Center Osaka as well as JR Shin-Osaka Station's Travel Service Center Shin-Osaka, guidance and services in foreign languages are available.

・Reservations and Same-Day Purchases at Ticket Machines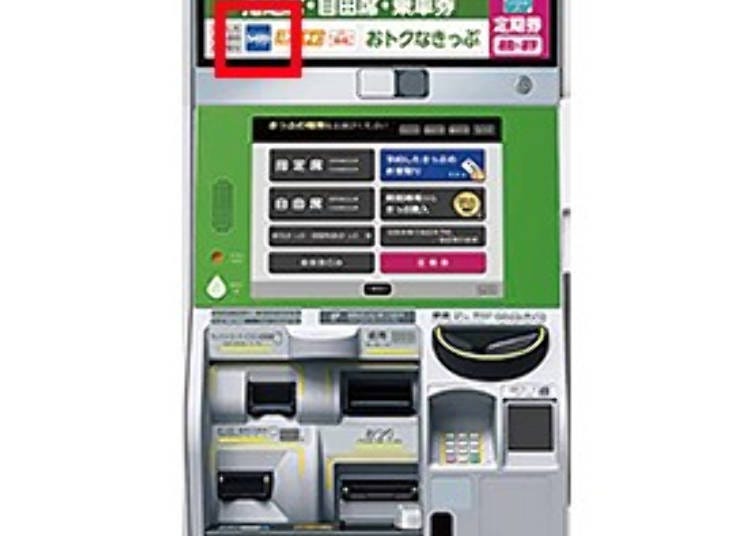 We recommend the 'green' ticket vending machines because you don't have to wait in line at service centers to receive your ticket, and you can even book a reserved seat! Upon making a new purchase, the machine gives you a choice of either non-reserved or reserved seating. All you have to do is follow the guide on the screen to choose the time and bullet train line you want to take.

The process in which you purchase these tickets is the same as when you would buy a standard bullet train ticket. Conveniently, reserved tickets can be printed out in advance straight from the machine.

At 'green' ticket vending machines, guides are available in Japanese, English, Chinese (Traditional and Simplified), and Korean.
Discounted Tickets Exclusively for Short-term Visitors to Japan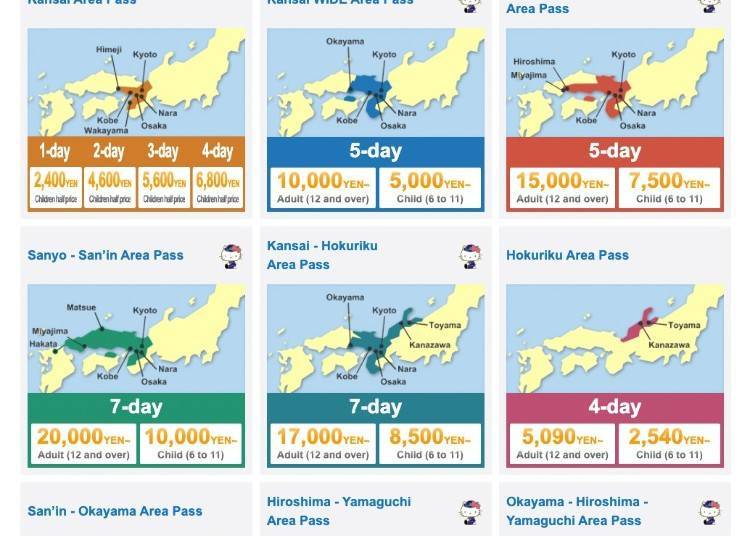 Foreign visitors who've purchased discounted tickets for short-term stays can ride the Hello Kitty Shinkansen! There are many options for discounted ticket packages, including the Kansai Wide Area Pass and the Setouchi Area Pass. We recommend choosing one based on what your travel plans are!

(*Please keep in mind that some discounted ticket packages don't allow you to take certain bullet train lines.)
KAWAII! ROOM: Taking a Look Inside the Train's Special Car #2!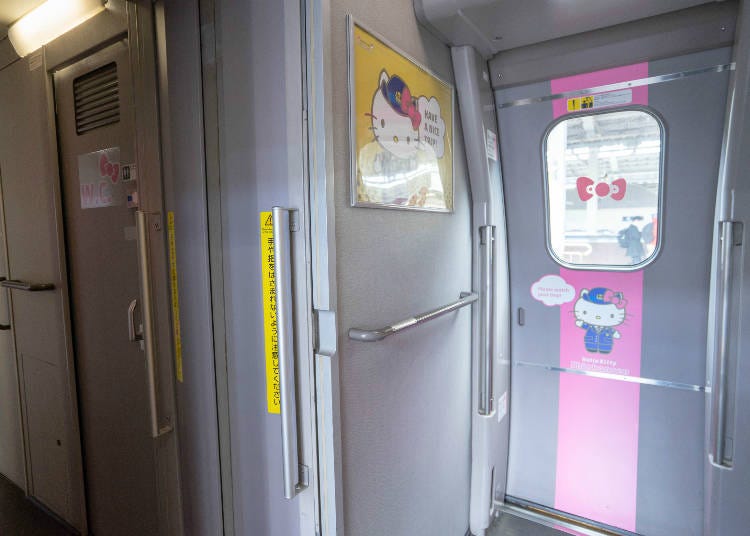 Most of the Hello Kitty designs inside the train can be found in either the first train car, called HELLO! PLAZA, or the second train car, known as the KAWAII! ROOM. Both train cars can be boarded using non-reserved tickets. Additional fees or reservations are not needed.

Once inside, you will be greeted by a cute Hello Kitty design and poster, getting you pumped for your trip!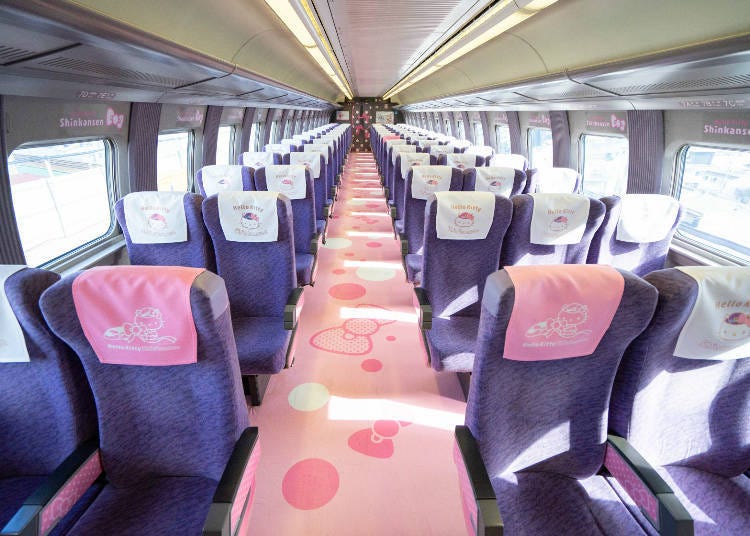 A never-before-seen bullet train car!
Entering the non-reserved area of the second train car, also known as the KAWAII! ROOM, will have you at a loss for words! A pink corridor, pink headrest covers, as well as images of Hello Kitty wherever you look, will take you on a journey to the land of Kawaii!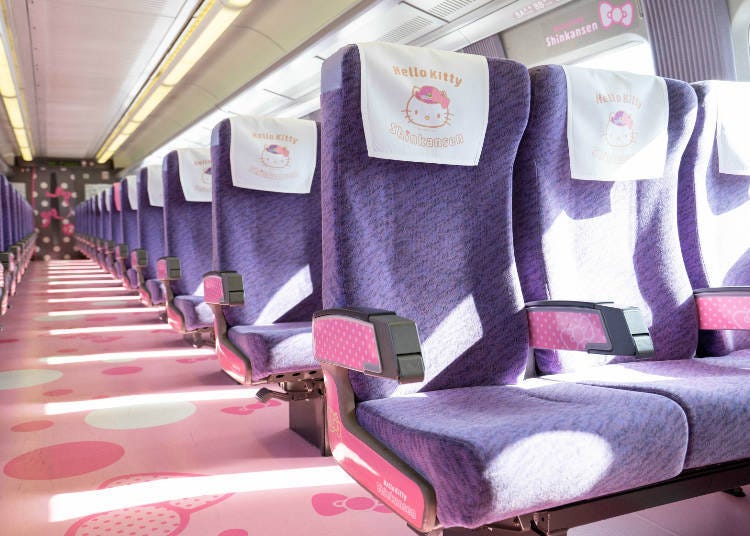 Hello Kitty designs can be also found on the armrest.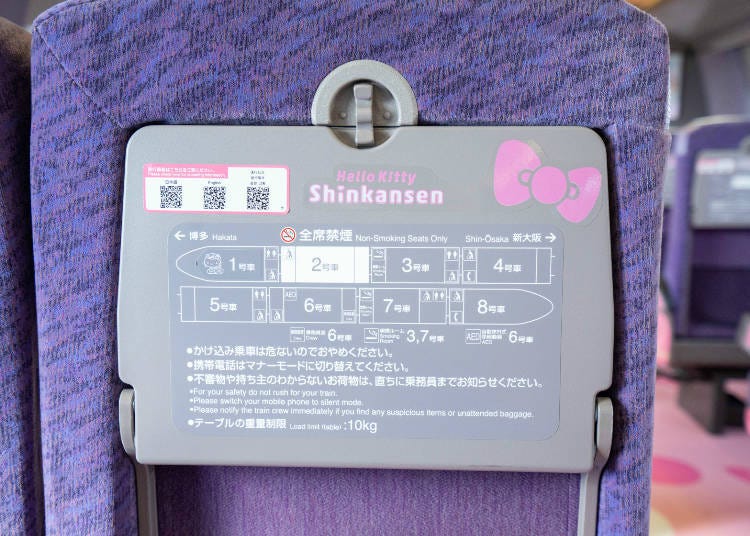 A pink ribbon decorates the seating chart.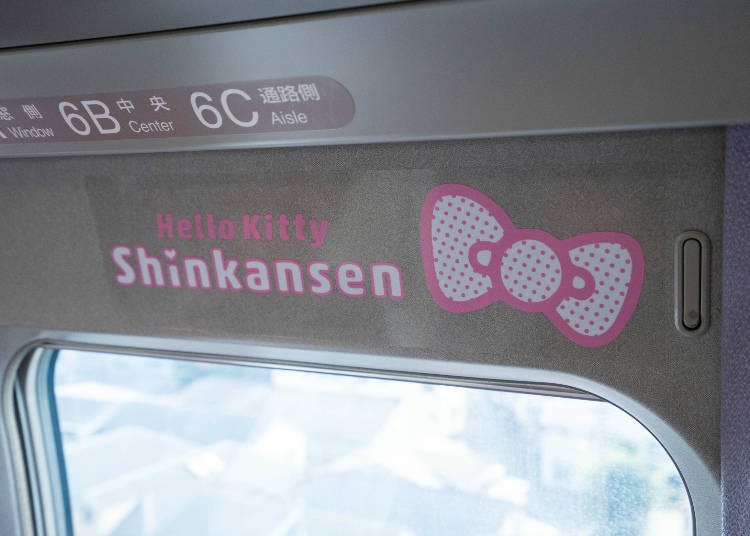 And, of course, a ribbon can be found on the bullet train's window.
Even our writer, a frequent bullet train user, had to admit it was their first time riding one that was so adorably decorated. Just sitting in the Hello Kitty seats is exciting and will have you loving your adventure all the more!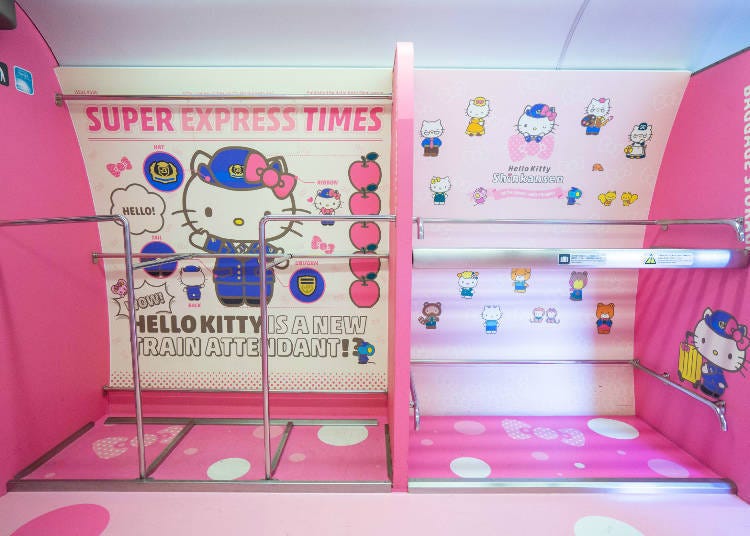 In the baggage storage space towards the front of the train car, Hello Kitty and her friends dressed in train conductor clothing wait to welcome you!

Some of the charming characters you'll find include Hello Kitty's parents, Hello Kitty's lamb friend, Fifi, and Tippy, the lovable brown bear who has a crush on Hello Kitty.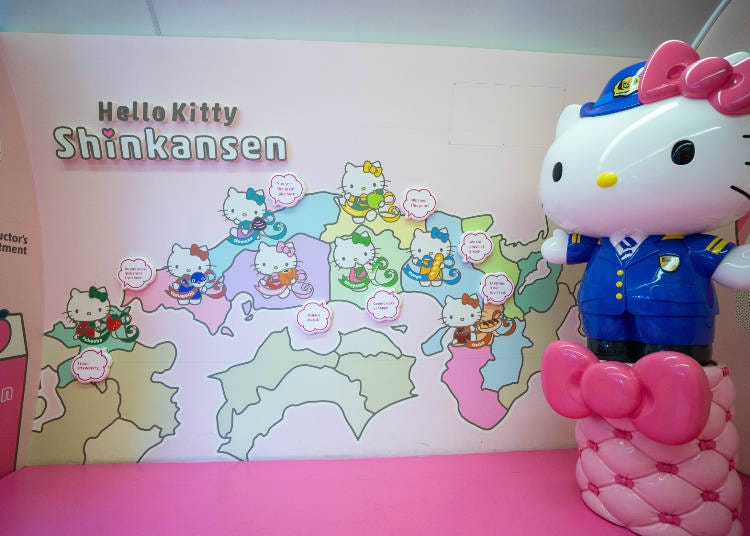 Across from the baggage area are a map of the nine prefectures of western Japan and a 3D statue of Hello Kitty holding her hands out to welcome new passengers!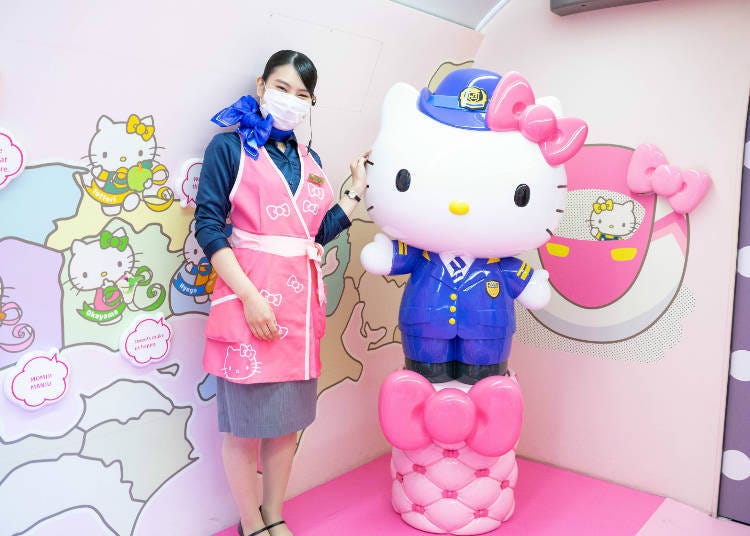 One of the concierge attendants recommends snapping many photos like the one shown above. Train fans might also note that the attendant's scarf and apron are limited edition versions only available to those who work on the Hello Kitty Shinkansen.
HELLO! PLAZA: Inside the Bullet Train's First Car
Located in the first car is our next stop, HELLO! PLAZA! With no need for additional fees or reservations, here you can enjoy the charm of western Japan's nine prefectures through a series of unique designs and decorations. One area is featured per period or season. During our visit, we got to take a look at some special designs for Hiroshima Prefecture.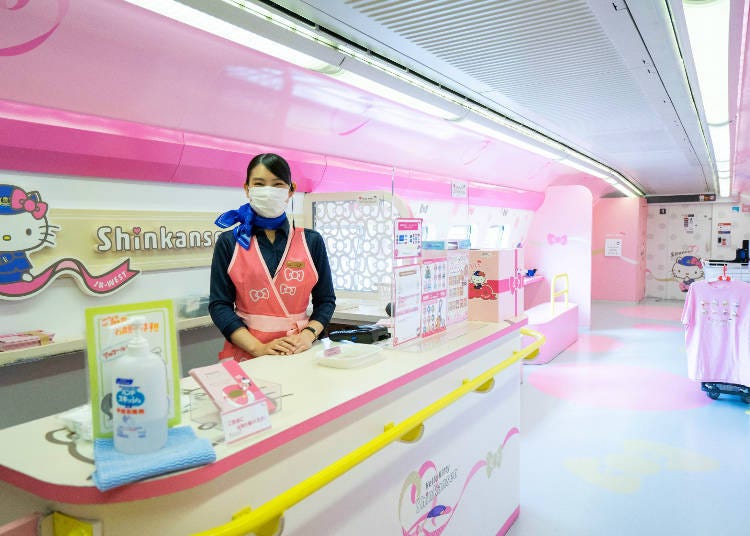 A concierge attendant greets you at the door.
The entirety of the first train car can be seen in the photo above. Once you step inside, you are immediately transported to the fairytale-like world of Hello Kitty!

Towards the front of the car are many Hello Kitty products. You can purchase these at the counter where the concierge attendant is ready to assist you. Service in foreign languages, by using a portable Pocketalk translation device, is available.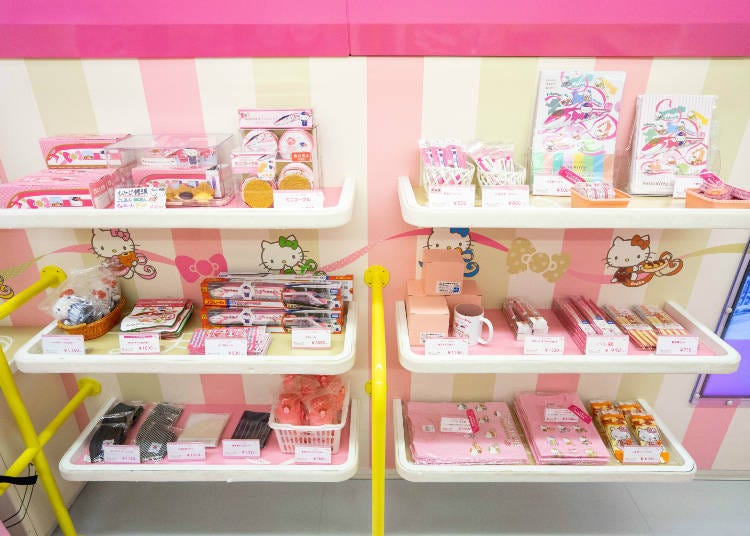 This is the souvenir corner. Here you can find many limited-edition products, including stationery goods and sweets, available exclusively inside the Hello Kitty Shinkansen! With most items having a bright, pink design, there are sure to be a hit with younger fans!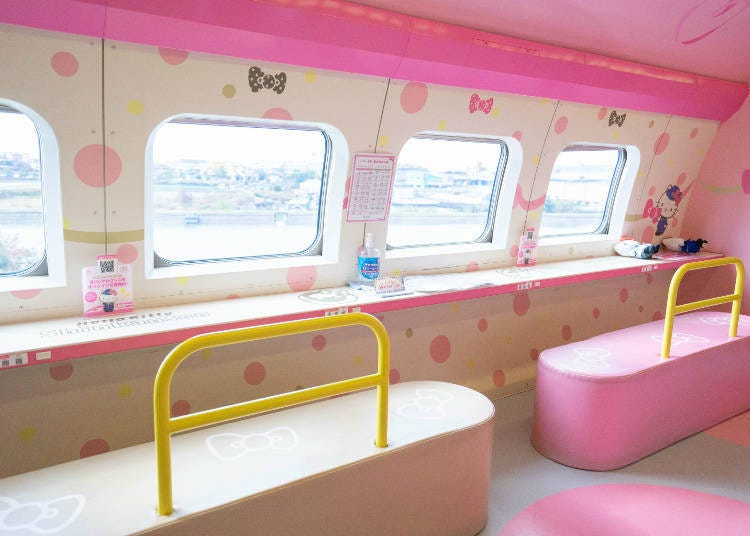 Relaxing while watching the scenery from a window is another highlight of traveling! But this is an entirely unique 'only in Japan' experience. You'll love enjoying the peaceful landscapes of western Japan while allowing yourself to be enveloped in a world of Hello Kitty!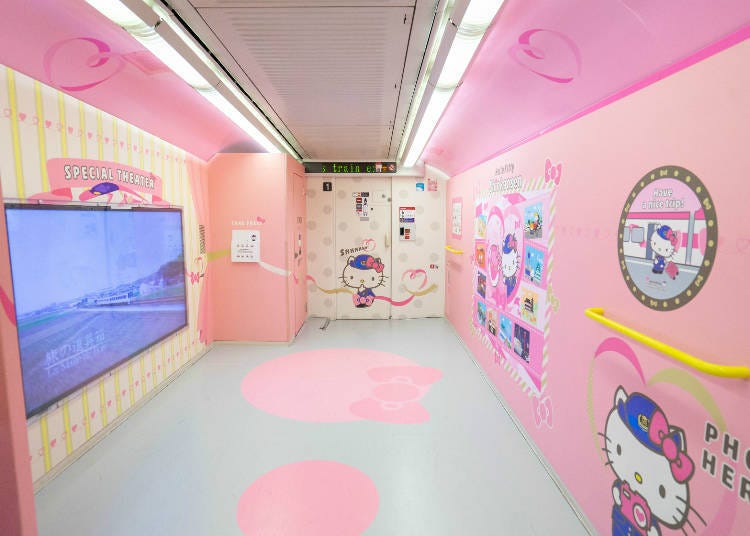 In the back of the train car, you'll find a video playing (on your left) and a photo spot (on your right) introducing the charm of various regions in western Japan!

We were introduced to the famous tourist spots and saw beautiful footage of Hiroshima Prefecture during our visit. It's a perfect place to visit to get tips on traveling around this area of Japan!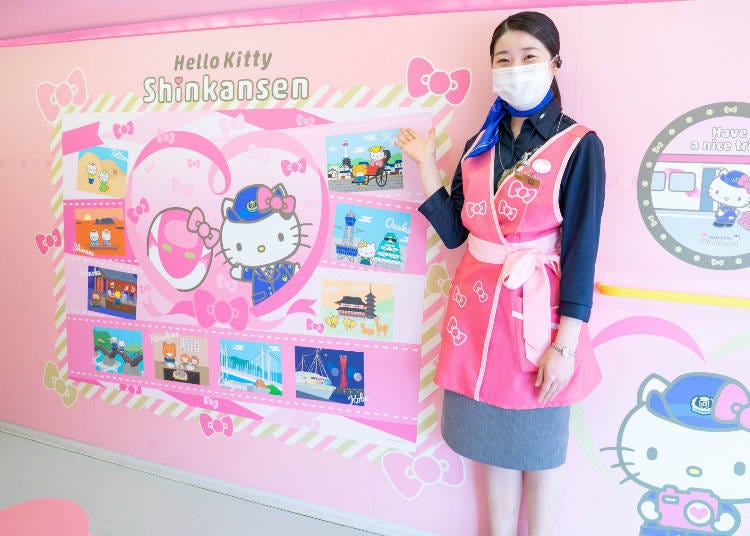 Snap a selfie with posters introducing the charm of western Japan's nine prefectures! And feel free to ask the concierge attendant to take a commemorative photo of you and your family or friends.
Top 3 Souvenirs You Can Buy on the Hello Kitty Shinkansen
Now we will introduce recommendations for souvenirs you should buy at HELLO! PLAZA. With some of these items only sold inside the bullet train, they're perfect for taking back home as a memento!

*All prices of items listed include tax.
*Some items may not be available depending on the inventory situation at the time.
(1) Clear Plastic Folder and Mini Towels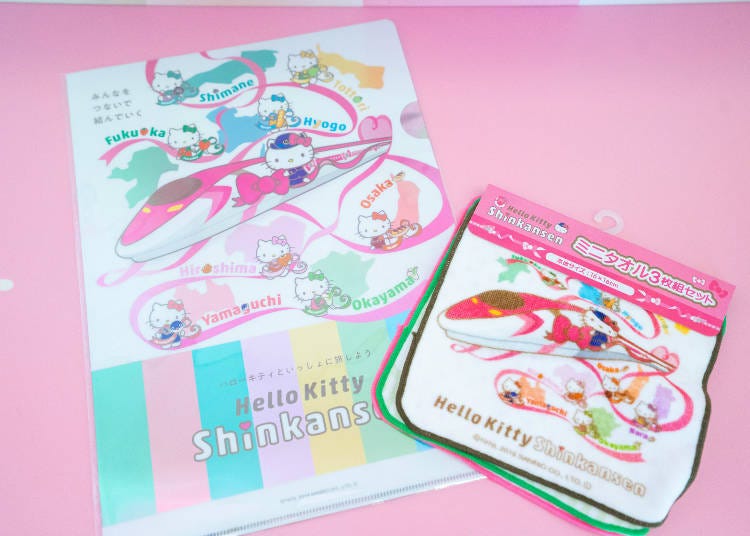 The Hello Kitty Shinkansen's Kira Testsu Folder (500 yen including tax) and Original Three Towel Set (1,000 yen including tax) are perfect lightweight souvenir options!

In addition to not taking up much space and being easy to transport, these items are very reasonably priced! The towel set is also only sold inside the Hello Kitty Shinkansen.

(2) Mini Gaufrettes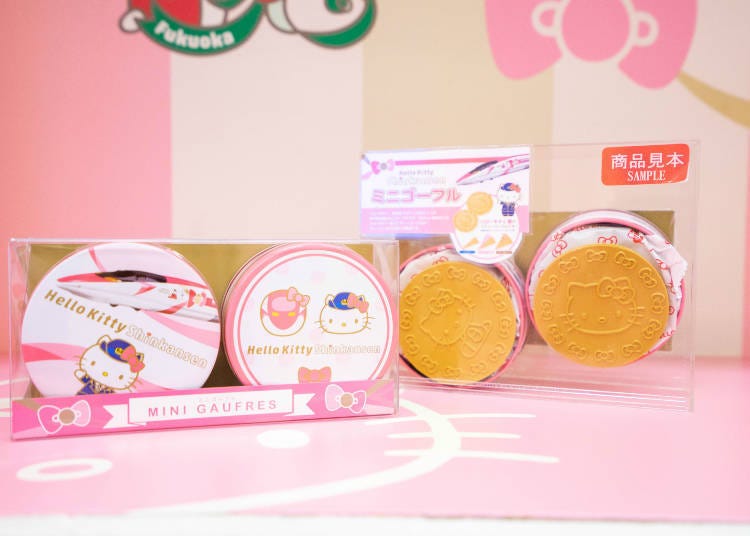 Next is the Hello Kitty Shinkansen Mini Gaufrette Two-Tin Box Set (910 yen including tax). Inside the tins are perfectly sized mini versions of the French cookie known as a gaufrette — round wafer cookies sandwiched with cream.

These gaufrettes are produced by Hyogo Prefecture's long-established confectionery manufacturer, Kobe Fugetsudo. What's more, the tins are decorated with an adorable Hello Kitty Shinkansen design! You won't be disappointed by the harmonious textures of a crispy cookie and smooth cream!

(3) Momiji Manju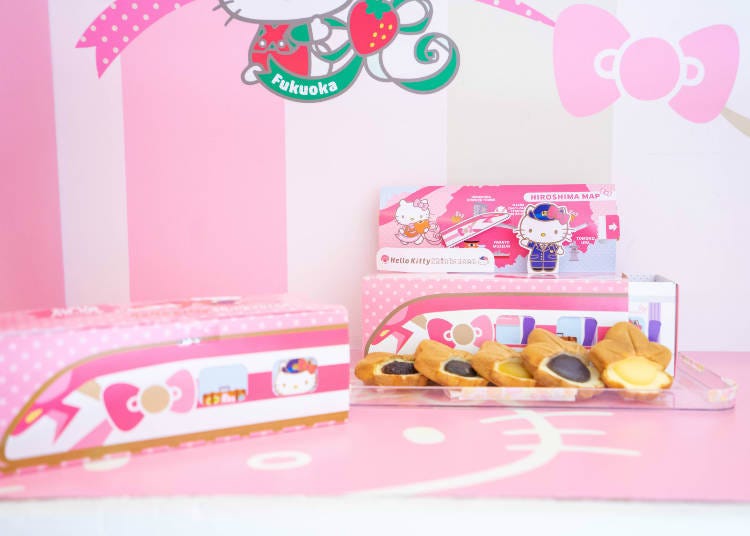 Momiji Manju is kind of a yaki manju, a roasted sweet bun that's formed into the shape of a Japanese maple leaf and filled with a sweet bean paste.

With Hiroshima Prefecture's confectionery manufacturer, Nishikido, being well-known for making these sweets, the Hello Kitty Shinkansen has partnered up with the brand to offer the Nishikido Hello Kitty Box (900 yen including tax).

Using the Hello Kitty Shinkansen as a motif for the package's design, you can slide the box forward to reveal the sweet and delicious treats inside. It's so cute, you'll want to decorate your room with this box as a reminder of your travels!
Check Out these Reservation-Only Original Desserts!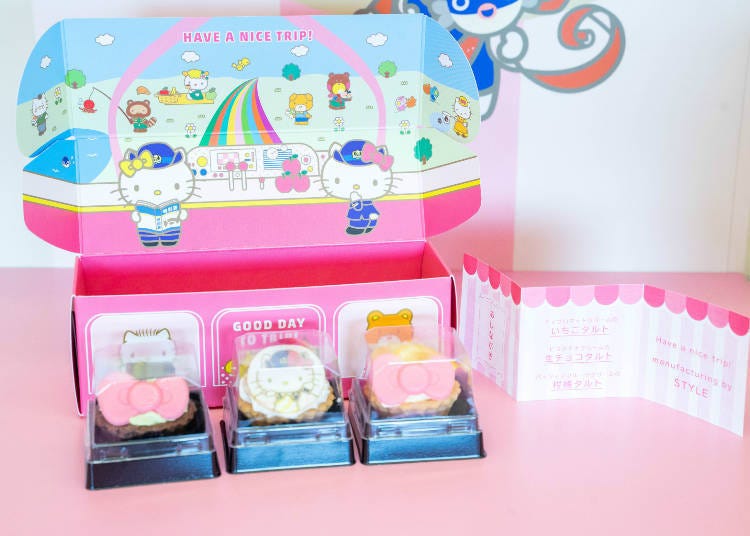 Another item you won't want to miss out on is the Hello! Sweets Box (950 yen including tax) sold until March 27, 2022.

Only available on Saturdays, Sundays, and holidays, this is a premium dessert box you need a reservation to purchase. It's an item that enables you to enjoy the taste of delicious desserts while keeping the unbelievably cute box as a souvenir.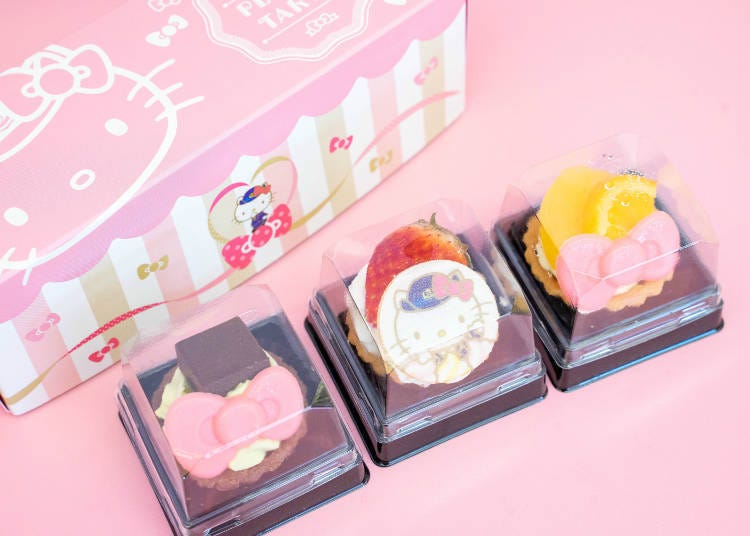 Inside the box, you'll find an assortment of three types of tarts from Okayama Prefecture's famous tart specialty shop, Style.

Starting from the left in the photo above, there's the chocolate ganache tart with pistachio cream, the strawberry tart with diplomat cream, and the citrus tart with passion fruit cream. Delight in the marriage of contrasting flavors of fruit and cream!
Find Hidden Hello Kitty Characters: A Special Activity Only for Those Who Reserve Seats!
In cars three to eight, which are for reserved seating, you can find hidden Hello Kitty characters! Generally, these hidden characters are supposed to be a special surprise for those who book seats to find, but we've been given the go-ahead to show our readers a sneak peek!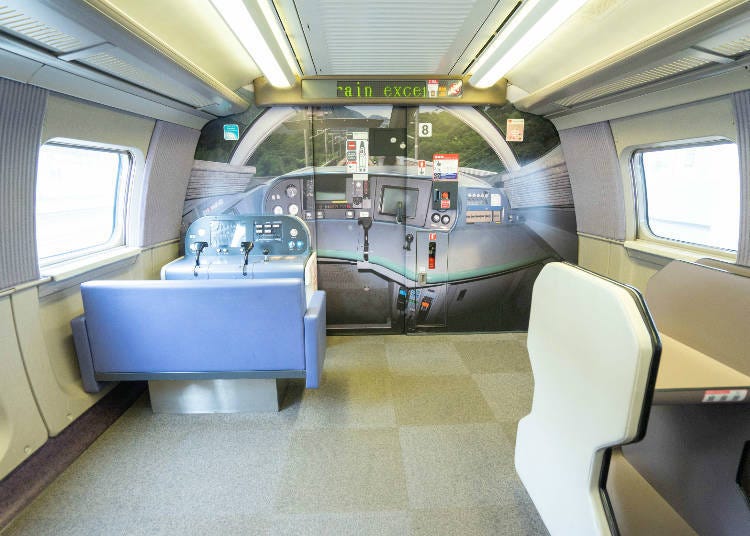 Shown in the photo above is the back of train car eight. This space has been designed to resemble the cockpit of a bullet train. Although anyone can sit here to enjoy feeling like a train driver, when looking at this section from the side...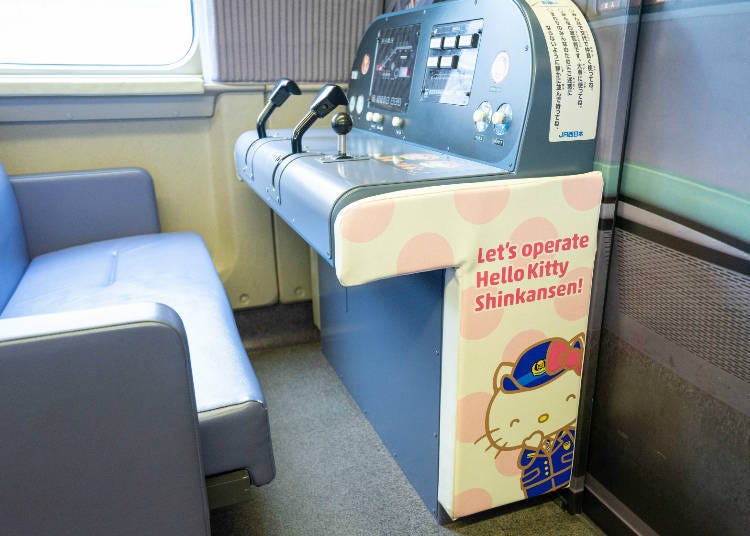 you'll find an image of Hello Kitty!
Plus, when pulling down the window screen...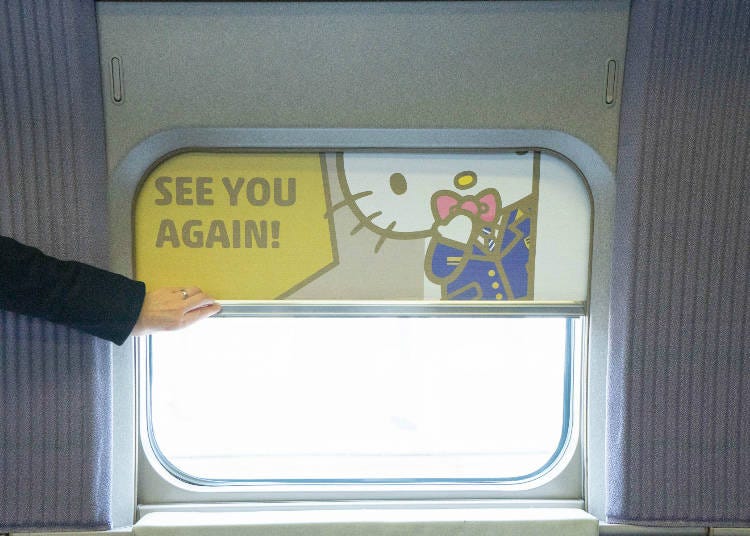 another Kitty appears!
And,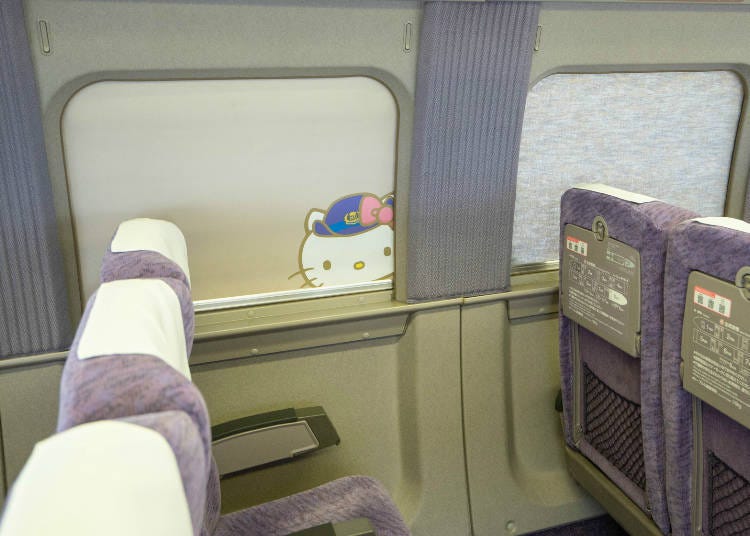 Next to a certain special seat, you'll find Hello Kitty peeking out from a window screen.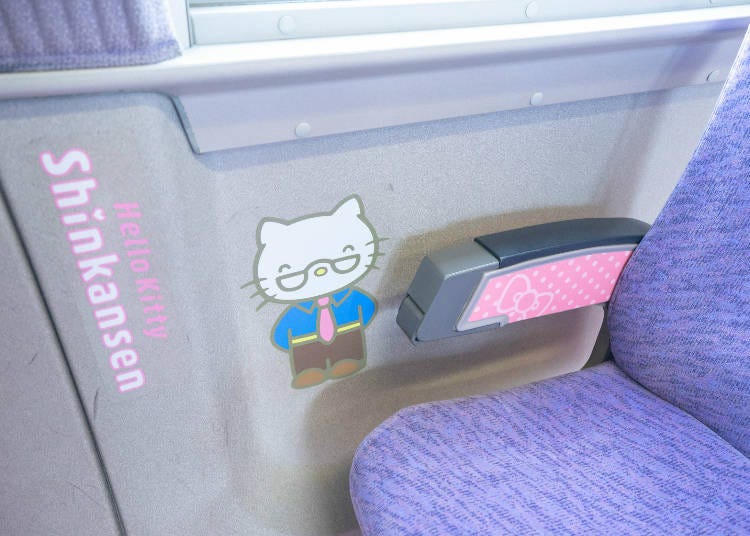 There are even Hello Kitty characters located in small spaces between seats.

As shown above, many Hello Kitty characters are hidden throughout the train so keep your fingers crossed that you're lucky enough to come across one!

◎Health & Safety Measures
Indoor disinfection measures taken - Sanitizer installed - Ventilation measures in place - Coin trays used - Staff wear masks, gargle, wash hands regularly, and monitor body temperature - Guests are required to wear masks
Enjoy Convenient Services for Foreign Visitors
The West Japan Railway Company helps you travel safely by providing sanitation management as well as taking preventative measures against Covid-19 inside the train and at stations.

When booking a trip, we strongly recommend using the Travel Support by JR-WEST web app. This was developed to ensure smooth communication if you ever get sick or encounter a natural disaster during your travels. The web app provides a guide to medical institutions as well as support for medical checkups in several languages. What's more, you can also find information on evacuation facilities in the case of a natural disaster.

Guides are offered in English, Chinese (Traditional and Simplified), Korean, and Thai. Not limited to Hello Kitty Shinkansen users, services are available for those planning to book standard bullet train tickets. Please have this app handy in case of an emergency.
Also, you can find free Wi-Fi in some train cars! Be sure to use the free services available while enjoying traveling.
Fully enjoy all that western Japan has to offer by taking a train journey using the Hello Kitty Shinkansen or other bullet train services!

*The information in this article is from December 2021. For updated information, please refer to the official websites listed.

© 2022 SANRIO CO., LTD. APPROVAL NO. L621866
Written by: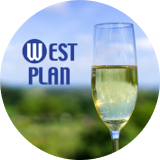 *This information is from the time of this article's publication.
*Prices and options mentioned are subject to change.
*Unless stated otherwise, all prices include tax.