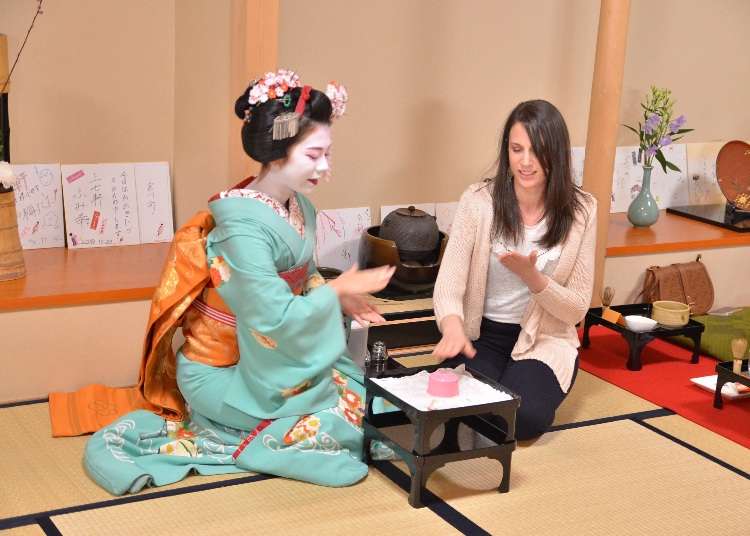 One of the sightseeing highlights of Kyoto for travelers is getting to meet a glamorous and beautiful Kyoto geisha, or a maiko, an apprentice geisha.

This article will introduce must-see spots for all foreign visitors who wish to experience this unique facet of Japanese culture first-hand. You can learn otemae, tea ceremony etiquette, from a real-life apprentice geisha and view traditional Kyoto dances.

First-time visitors are welcome, and you can even receive information and instructions in English. You are guaranteed to come away knowledgeable about the world of Kyoto geisha!
A Visit to Jinmatsuan, Where Anyone Can Enjoy Kyoto Geisha Culture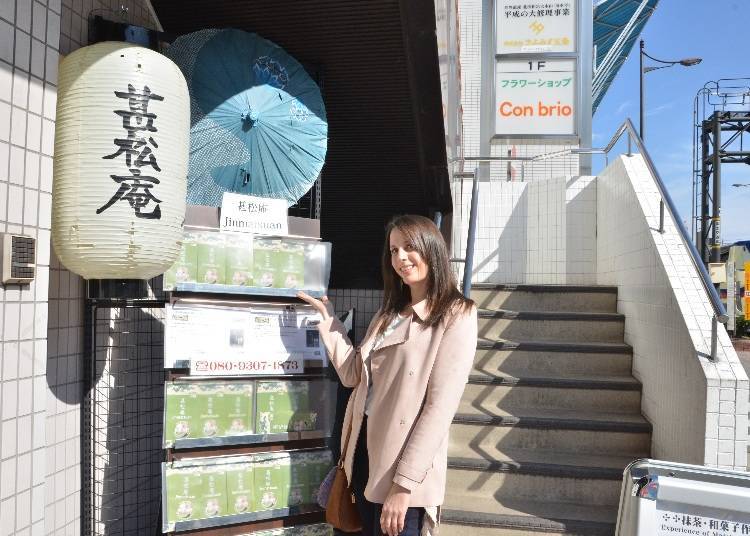 In general, attending "ozashikiasobi" (a meal with entertainment by geishas) is not permitted without an invitation for first-timers, but Jinmatsuan is one facility equipped with various programs to allow foreign visitors to Kyoto to enjoy and experience Kyoto geisha culture.

Our visitor, Jennifer from the US, attended one such program at Jinmatsuan, and this article will share her experiences.
Participate in a Program to Enjoy "Otemae" with a Kyoto Geisha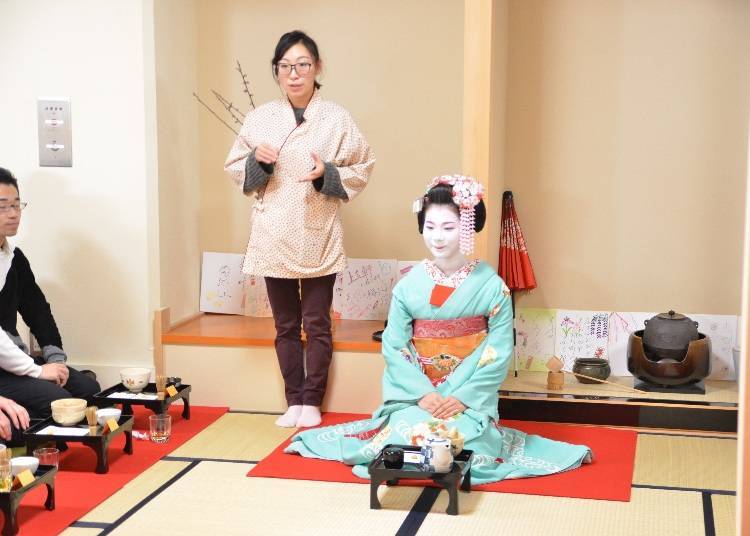 This time, Jennifer attended the "Matcha, Dance, and a Game with a Maiko" premium course (60 minutes). Including Jennifer, there were 14 attendees. The course is held with chair seating, so even those who have difficulty sitting on the floor can relax as they enjoy the program.

After everyone chooses their snack and drink, and takes their seats, finally, the maiko made her appearance! The Kyoto geisha attending this class was the beautiful Ichihiro-san, dressed in a vividly colored kimono and adorned with a glamorous flower hair clip. Photography is allowed during the program, so some attendees immediately brought out their cameras. Since Jennifer snagged the seat right next to Ichihiro-san, she got to experience her beauty and charm from extra close-up.
Watch the Maiko's Example, then Try Otemae Yourself!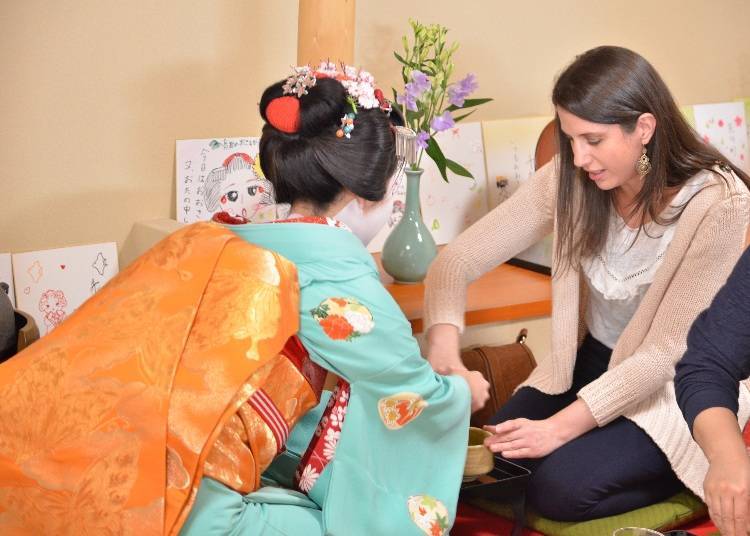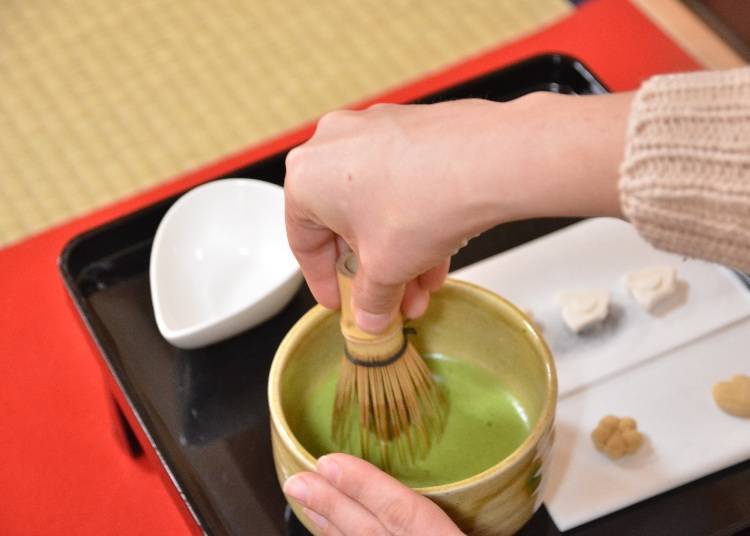 Once Ichihiro-san gives her greeting, the otemae course begins. First, Ichihiro-san shows the class by example. She pours a generous helping of matcha into the cup, stirs it well until bubbles formed, and then drinks the tea with a faint sipping sound as she finishes drinking. Everyone in the class listens intently to the explanation of her actions. Naturally, all instructions are translated into English, so you won't get confused. Even so, non-Japanese visitors may be surprised to learn that making sounds as you drink is considered good manners.

After the explanation, it's time for participants to receive their own chasen (the whisk used to stir matcha) and give it a try for themselves. Ichihiro-san goes around the class and kindly gives tips and advice. When Jennifer remarks that "It's hard to make bubbles. And am I supposed to mix down to the bottom of the whisk?" Ichihiro-san takes her hands and teaches her the proper technique. The entire class grins with satisfaction at the tea they made all by themselves.
When It's Time for the Souvenir Photo, Receive a Present from the Maiko Too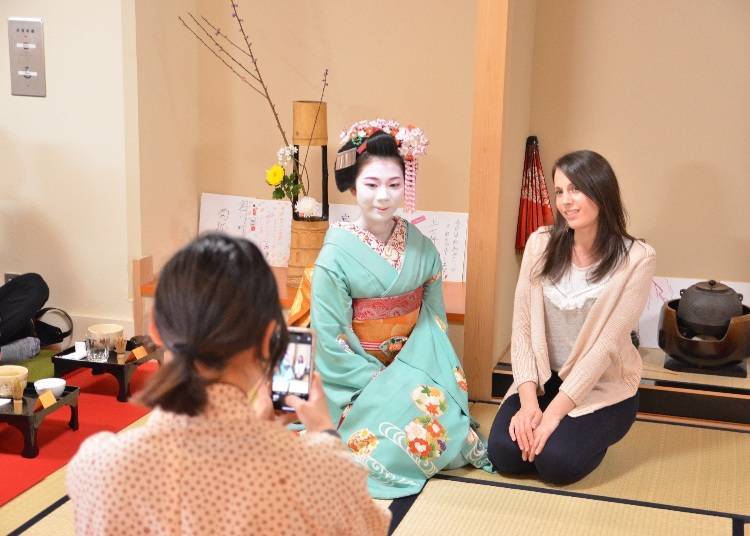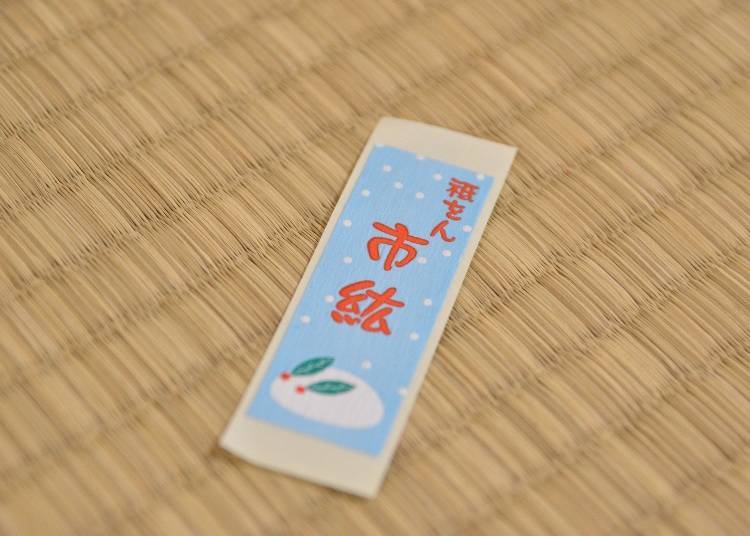 Next, it's time to take a souvenir photo with Ichihiro-san! Anyone who would like a photo is allowed two shots using your personal cell phone or smart phone. The photos are a wonderful memory. "I can't believe I get to take a photo with a Kyoto geisha! Maybe I'll put it on Instagram," says Jennifer.

In addition, participants receive a present. Ichihiro-san presents the senjafuda along with a greeting and thank you spoken in her gentle Kyoto dialect. (This part of the program may vary depending on the number of participants.) Senjafuda are pieces of paper similar to business cards on which the maiko's name is written. Senjafuda are also known as "maiko's notes" and are said to bring good luck and fortune if kept in your wallet.
Be Entranced by a Kyoto Dance Right Before Your Eyes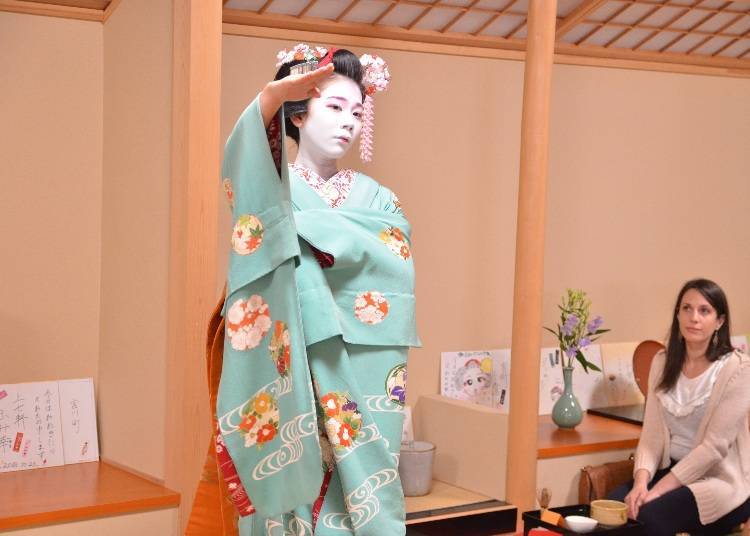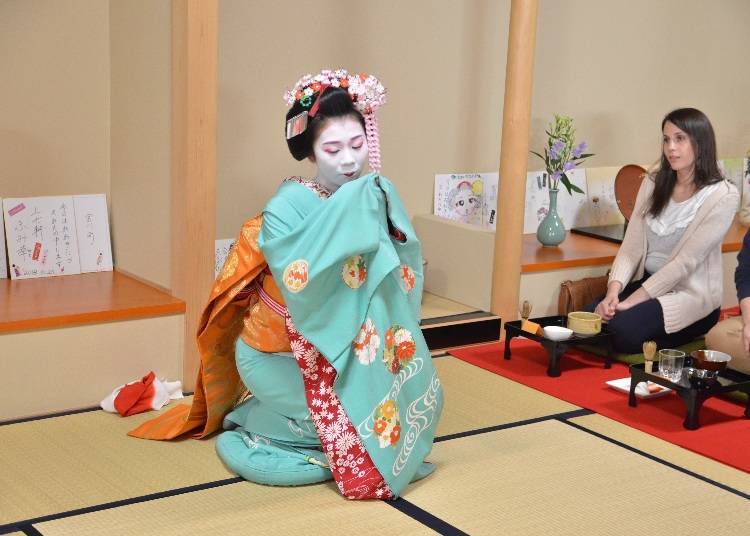 The fun program continues with a dance performed by Ichihiro-san. She dances to two folk songs, "Rokudankuzushi" and "Gionko-uta". Once the music begins, Ichihiro's smiling expressed turns serious. Every time she turns or raises her arms, her kimono sleeves, sash, and hair clip flutter, displaying both the beauty of the dance and quality of the kimono. Jennifer remarks, "I was surprised at how each and every movement was so careful and precise, down to the movements of her toes."

After watching the dance, next, during the question and answer session, someone asks how often and how long the Kyoto geishas practice. Apparently, they don't practice every day, but many mornings they receive dance instruction in the mornings and practice individually in the afternoons.
Lastly, a Musical "Hanamachi Asobi"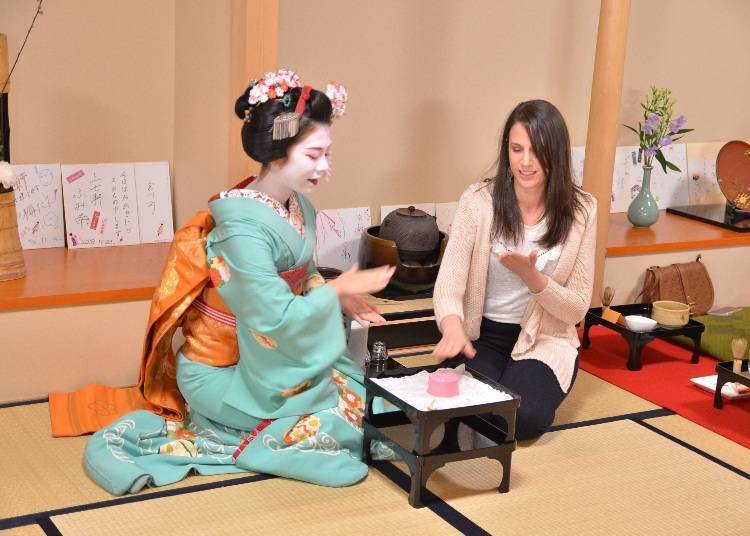 At last, the program comes to a close, with the final activity being "hanamachi asobi" with Ichihiro-san. Hanamachi asobi is where the maikos join guests in a tatami room and play games. The game this time was "konpira funefune". The rules are simple. Two players alternatively place their hands on top of a sake drinking cup or other item set between them. If the cup is set down, you tap it with your palm, but if your partner has picked up the cup on their turn, you must place your fist on the table in its place.

First up is Jennifer. The game begins slowly so she is able to play without difficulty, but as the rhythm speeds up, "Oops!" Unfortunately, Jennifer loses. The rule is whoever loses has to drink the cup of sake, making it a fun game for a drinking party. (In the program, water or some other beverage is provided.)
"I've much more respect for Maiko"
With that, the 60-minute program ends. Jennifer says, "I wasn't nervous to try the tea ceremony because we received such careful instruction. The hanamachi asobi was so fun too, I'd like to try it again sometime. The maiko's earnest desire to preserve Japanese and Kyoto culture through today's program really made me develop an even greater respect for the Kyoto geishas. I really appreciated the way she put her heart into making sure everyone had a good time."

Looking around at the program's participants, most seemed to be wearing casual clothing. We wondered if there was any etiquette about what to wear. "At tea houses, where geisha entertainment originally took place, formal clothing is required, and going barefoot is forbidden. However, at Jinmatsuan, there are no such rules. We want all guests to enjoy a casual and relaxing time with the maikos," explains Jinmatsuan employee Kimora-San.

At typical tea houses, such an activity requires around 50,000 yen, but this course costs only 3800 yen and up (tax included, varies by seat). The ability to join the program even as an individual is also a nice feature.
"I Developed a Greater Respect for Kyoto Geishas"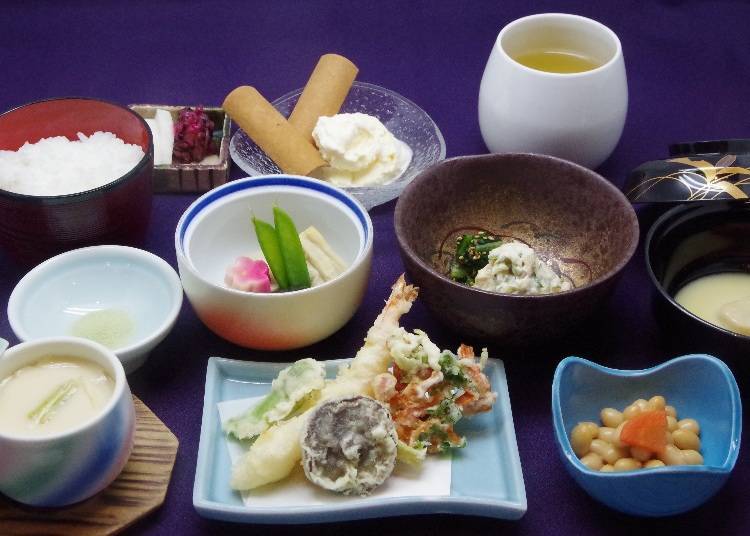 With this "Lunch with a Maiko" course (starting from 4800 yen, tax included, varies by seat), you can enjoy the tastes of a traditional old Kyoto restaurant lunch.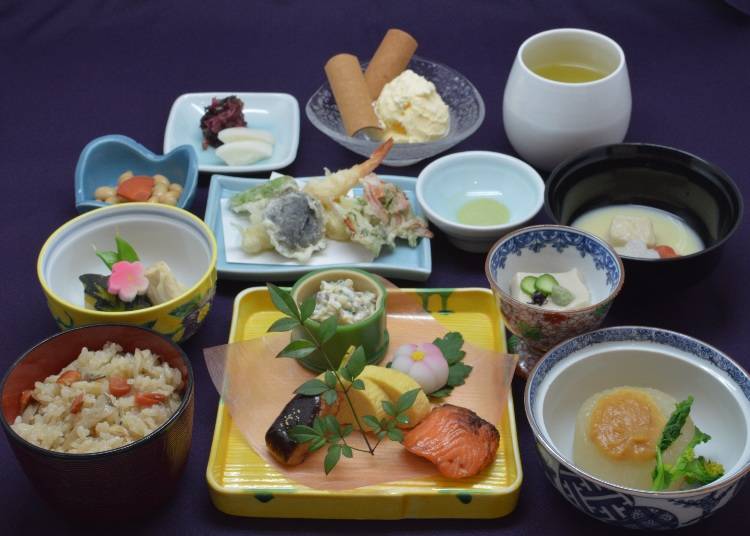 This is the "Dinner with a Maiko" course (starting from 5800 yen, tax included, varies by seat).
At Jinmatsuan, there are many various programs available to enjoy authentic Kyoto cuisine, such as the "Lunch with a Maiko" and "Dinner with a Maiko" courses. See the official website for more information. At Jinmatsuan, taking photographs with the maikos is allowed, but be careful about photographing Kyoto geishas you may meet out around town. Make sure to receive permission before taking photos and act with appropriate manners while you enjoy Kyoto's geisha culture!
甚松庵

Address

Belk Karasuma 2F, 135 Manjuji-cho, Shimogyo-ku, Kyoto 〒600-8104

Phone Number

080-9307-1873

Hours: 9:00 AM - 9:00 PM
Reservation Reception Hours: 10:00 AM - 5:00 PM
Price: "Matcha, Dance, and a Game with a Maiko" premium course (free snack and drink provided) - 3800 yen and up (tax included)
Closed: Irregularly
Text by:word
*This information is from the time of this article's publication.
*Prices and options mentioned are subject to change.
*Unless stated otherwise, all prices include tax.
Limited time offer: 10% discount coupons available now!