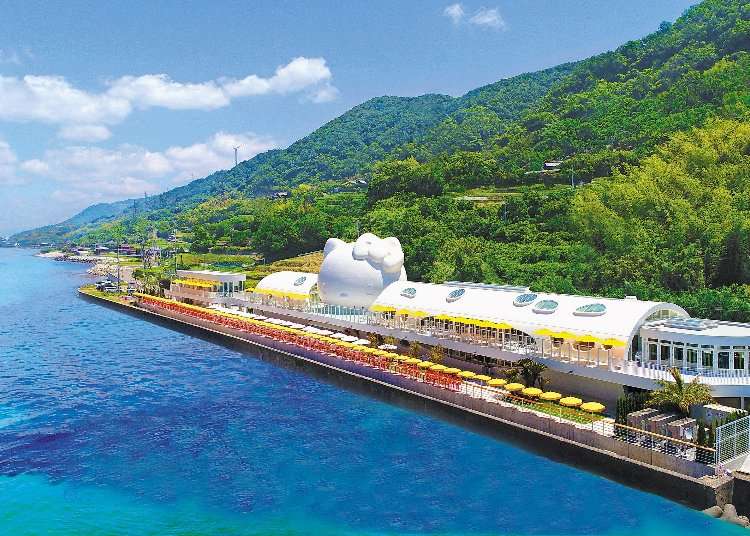 Hello Kitty Smile is a fun complex located on beautiful Awaji Island, just West of Osaka and south of Kobe.

Now as far as Hello Kitty attractions go, Sanrio Puroland is the most famous. And while Hello Kitty may be particularly popular with children, in April 2018, a new spot in Awaji City, Hyogo Prefecture, called Hello Kitty Smile, was established that specifically caters to her older fans! You can enjoy attractions such as a beautiful sunset view of the Harima-nada Sea, and delicious, authentic course menus.

Today, I will take a trip into the luxurious land of the recently trending HELLO KITTY SMILE.

Main image: ©SANRIO CO., LTD.
Getting to the Giant Hello Kitty Landmark
Hello Kitty Smile opened in April 2018 in Awaji City, Hyogo Prefecture, north of Awaji Island. It is about 10 minutes by car from Kobe-Awaji-Naruto Expressway, Awaji IC. As you go along the coast, you will catch glimpses of a huge, white, and round object looming in the distance. "What!? Could it be?" Yes, it sure is... Hello Kitty!
▲The gigantic Hello Kitty landmark, at 11m long and 14m wide, you can even see her from the streets. This Hello Kitty statue is said to be the largest permanent Hello Kitty objects in the world.
▲The entrance to HELLO KITTY SMILE
The long, oval building that lines the coast is120m in length! With palm trees surrounding the area and the sea right beside it, it has a very tropical atmosphere! Let's head into the building right away!
▲On the entrance floor you walk into a white atrium. There is a shop in the back.
As soon as you come through the glass entrance, you are greeted by a Benz! Its white body is painted in pastel-colored butterflies, flowers, and Hello Kitty. Hello Kitty sits with her boyfriend Daniel to welcome us.
▲The back of the Benz is loaded with Louis Vuitton hard trunks.
Also at the entrance are two Hello Kitties that are so huge, you might not even notice what they are at first. Here's a hint: the thick pink lines drawn on the wall to the side of the Benz!
▲When you look a little further away, it becomes visible: the thick pink lines painted on the side walls of the stairs connect to form... another Hello Kitty!
▲This cute Hello Kitty is hidden on the stairs! Try shooting a picture from the pink oval foot marks that are painted right in front of the stairs!
On the floor are footmarks painted in pink, marking the best angle from which to snap a picture of Hello Kitty. In addition to the foot marks, there is also photo equipment that you can use for a fee (1000 yen for one 2L print + data download, 800 yen for photo print only, and 500 yen for data only; all tax included). You can enjoy taking photos as you please.
Gallery & Theater: Enjoy Full-Scale Projection Mapping and a Huge Kaleidoscope
Hello Kitty Smile Gallery & Theater is a paid access area (1500 yen for 13 and up, 750 yen for ages 4 to 12, and free for children 3 and under). It is open from 11:00AM~7:00PM. Last entry is 6:40PM. The theme of the gallery changes depending on the season. When we went in February, the works were strawberry-themed.
▲Photography of works is allowed. You can take a photo with your favorite Hello Kitty!
The paintings on display are by Yuko Yamaguchi, the Hello Kitty designer since 1980. Hello Kitty was born in Japan in 1974 in Japan, and has been drawn by three designers since. Yamaguchi is the third.
▲The unique ceramic Hello Kitty decorations on the gallery walls are all colored by Awaji Island junior high students.
The exhibition area is divided into two separate rooms. The inside is decorated with six paintings, and various objects of various sizes. The most popular is the small room in the corner of the gallery. You will definitely want to check it out for yourself!
▲The super popular small room, where you can surround yourself with happiness, and about 350 Hello Kitty plushies!
Another popular spot i the gallery is the huge kaleidoscope.
▲The kaleidoscope has a depth of about 3 meter. You can peek though the hole at the top, or enter from a square hole in the bottom, in order to see the image.
The images you see are of Hello Kitty's favorite things. Images automatically rotate around you using mirrors, with items such as apples and pianos making an appearance. There's a particular part of it that I would like to introduce.
▲I couldn't take my eyes off all the colorful jewelry flying around me!

Next to the kaleidoscope is a spiral staircase leading to the second floor. As you go up, you come upon a white, window-less, domed space. This is actually the inside of the giant Hello Kitty's head that we just saw outside! Here you can enjoy the projection mapping shown on one of the walls.
▲The projection mapping is displayed using this wall
It is a 15 minute video about a sleeping Hello Kitty and the dreams she has. Check out the first 40 seconds. You'll be taken aback by how real it seems, enjoying the mysterious projected images and letting out shouts of joy at the sight of the adorable Hello Kitty.
▲The film is produced by NAKED, the company famous for producing commercials, movies, projection mapping, and more.

Additionally, Gallery & Theater has a commemorative Hello Kitty 45 year anniversary exhibition that, since March 20, 2019, follows the changes Hello Kitty has gone through throughout the years.
▲Why don't you try to find the first version of Hello Kitty that you were introduced to? (Photo courtesy of HELLO KITTY SMILE)
Also, together with the Hello Kitty objects decorated with strawberries, are other unique artworks made in collaboration between Hello Kitty and Alice in Wonderland.
▲So many Hello Kitty works that can only be seen here! (Photo courtesy of HELLO KITTY SMILE)
Authentic Restaurants at Hello Kitty Smile that Use Fresh Awaji Island Ingredients
There is also an authentic restaurant here at HELLO KITTY SMILE. Haruyuki Yamashita, a chef from Kobe who established with HAL YAMASHITA Tokyo, is the general producer. Along with executive chef Chon Che Win from Hong Kong, we have developed four creative Oriental restaurants that combine traditional Chinese techniques with Japanese elements.

First we will introduce SMILE Restaurant on the second floor, where you can enjoy some creative cuisine dishes in buffet style or course menu.
▲The SMILE Restaurant waiting room is decorated with a fancy chandelier and a pink-cream colored interior.
▲The restaurant is long and narrow, stretching all the way to the back. Gold Hello Kitty ribbons daily decorate the pillars.
The most popular course is the MIKETSUKUNI Course (5,500 yen plus tax), an order-style buffet course with over 70 dishes to choose from. For those who really want to be fancy, we recommend the IZANAGI Course (7,800 yen plus tax), which has about 80 dishes to select from, including King Crab Stew and Fukahire (shark fin) Collagen Soup.

Additionally there are three lunchtime course options, including the Nanohana Course"(4,800 yen plus tax), and four dinnertime courses, such as the Crystal Course (6,500 yen plus tax).
▲The courses are colorful and plentiful in taste, with an assortment of dishes (Photo courtesy of HELLO KITTY SMILE)
We also recommend the Special Fukahire (shark fin) Stew as a lunch dish (12,000 yen plus tax), and for dinner, the Special Kesennuma Fukahire Course (15,000 yen plus tax). It seems that even male customers, who you might never expect to be fans of Hello Kitty, are nonetheless regular fans of the these delicious meals.
SMILEレストラン

Address

985-1 Nojima Hikinoura, Awaji, Hyogo

Phone Number

0799-70-9037

Business Hours: 11:00AM~3:00PM (L.O. 2:00PM), 5:00PM~8:00PM (L.O. 7:00PM)
Regular Holidays: Tuesdays
"PARTY Balcony," a cafe with a selection of dozens of teas
▲A luxurious space overlooking the scenery of the sea and sky. There are many long-time customers
▲The full lineup of Chinese teas. You can choose from about 15 kinds. (Photo courtesy of HELLO KITTY SMILE)
Our PARTY Balcony recommendation is the High Tea. You can choose from among three kind of tea. High Tea is an afternoon tea set that includes sweets and snacks served on a double or triple cake stand. The most popular option is the luxurious 3-tiered High Tea Elegant Course, which is also the most gorgeous in appearance.
▲High Tea Elegant Course (3,780 yen plus tax per person *Photo shows 2-person serving). Drink can be selected from 40 different kinds.
▲The cafe latte is decorated with a Hello Kitty latte art drawing. It's too cute to drink! (Cafe latte only available with course order)
The top tier includes a canele and macaron, but the main focus is of course, Hello Kitty! It is a Hello Kitty daifuku with custard cream that you could eat in just one bite.
The middle tier includes brownies and egg tarts. The Hello Kitty ribbon tart in the middle really stands out. The ribbon is made of chocolate.
▲The bottom tier is full of snacks such as sandwiches, scones, and a bite-sized corn cream croquette with a Hello Kitty face drawn on it.
The High Tea Elegant Course is pretty voluminous. Even if visiting with a group of people, you can order a 1-person High Tea Course and individual drinks. However in that case, you're going to have to figure out how to decide who gets the single Hello Kitty Daifuku...
*Hello Kitty Daifuku also included with "Oriental High Tea Course' (2,980 yen plus tax).
PARTYバルコニー

Address

985-1 Nojima Hikinoura, Awaji, Hyogo

Phone Number

0799-70-9037

Business Hours: 11:00AM~6:00PM (Weekends/Holidays 10:30AM~6:00PM)
Regular Holidays: Tuesdays
There are two other restaurants, PARTY Terrace ~Seafood Grill Garden~, which newly reopened on March 21, and SMILE Terrace, which reopened on March 27 and offers about 30 different Oriental Dishes. Both places serve fine foods and incredible views.
▲PARTY Terrace ~Seafood Grill Garden~ is located on the second floor of the annex building and boasts many delicious dishes using seafood ingredients found in abundance in the waters of Awaji Island. (Photo courtesy of HELLO KITTY SMILE)
▲SMILE Terrace on the first floor offers a buffet style menu of both Oriental and European dishes. Which dish should I choose next? (Photo courtesy of HELLO KITTY SMILE)
▲This amazing view of the setting sun over the Harima-nada Sea has been selected as on of the "Top 100 Sunset Views of Japan!" 日本の夕陽百選 How romantic it must be to enjoy a meal with such a view1 (Photo courtesy of HELLO KITTY SMILE)
Hello Kitty Shopping Area: Tons of Cute Hello Kitty Goods
The shop offers tons of cute goods decorated with, of course, Hello Kitty drawings. The shopping area towards the back of the first floor offers tons of Hello Kitty goods made in collaboration with various other brands. There are many adorable items here that are guaranteed to capture the hearts of even grown-up girls!
▲Collaboration bags featuring miscellaneous goods brand, "Bling Me!" made with warovski Crystals. There are many cute items here that even appeal to adults.
▲White and beige bag. I would love to carry this around casually! (16,000 yen plus tax)
▲This subtle design is great for adult women who want a Hello Kitty item they can use casually. There are purses, bus pass holders, towels, handkerchiefs, and more.
▲The more expensive items are displayed in these glass cases, such as ostrich skin handbags and wallets
▲This Hello Kitty designed crocodile leather wallet with Swarovski crystals (200,000 yen plus tax) is the most expensive item in the shop!
▲For those who want to wear Hello Kitty items a little more boldly, check out the hoodies and t-shirts by the brand "Ninamew," a favorite brand of popular celebrity entertainers.
There are also affordable goods and sweets available in the shop, which make great souvenirs.
▲A wide variety of exclusive products at "HELLO KITTY SMILE" are sold in the shop! Folders and mobile phone cases are all popular items that are sold out immediately after purchase. *The HELLO KITTY ceramic artwork on the wall is not for sale.
▲Many customers love to buy heart-shaped sweets as souvenirs. Included here are iced cookies, marshmallows, and chocolates. (1,200 yen plus tax)
Hello Kitty is widely adored not just by children, but also adults! Here, you can feel free to return to your childhood self and get lost in the world of Hello Kitty. If you want to experience this world of Hello Kitty in a whole new way, then please make sure to stop by!
HELLO KITTY SMILE

Address

985-1 Nojima Hikinoura, Awaji, Hyogo

Phone Number

0799-70-9037

Business Hours: 11:00AM~8:00PM
Admission Fee: Free (Gallery & Theater: 1,500 yen for 13 & up; 750 yen for 4~12; free for children 3 and under; all prices are tax included)
Regular Holidays: Tuesdays
Recommended Hotels & Accommodations Near Hello Kitty Smile
Address

Nojima Hikinoura 150, Awaji, Hyogo, 656-1721
View Map

Nearest Station

Maiko Station (JR Kobe Line / JR San-yo Line)


Vacancy search, reservation

from

14,000JPY

1room, 2adults

Check with our partner site as the latest rates, rate details, and guest room requirements may vary.
Address

Nojimaezaki Aza Kandori 1249-13 Awaji Villa Forest, Awaji, Hyogo, 656-1725
View Map

Nearest Station

Maiko Station (JR Kobe Line / JR San-yo Line)


Vacancy search, reservation

from

54,880JPY

1room, 2adults

Check with our partner site as the latest rates, rate details, and guest room requirements may vary.
*This information is from the time of this article's publication.
*Prices and options mentioned are subject to change.
*Unless stated otherwise, all prices include tax.