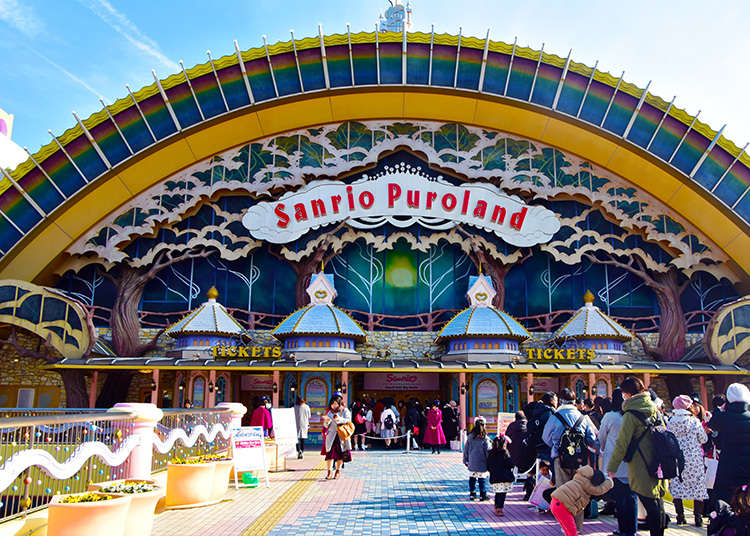 Sanrio Puroland was created with fans of Hello Kitty and her friends in mind. It's a mecca where people can immerse themselves in meeting with Sanrio characters, enjoy various shows, take thousands of Instagrammable pictures, and make lasting memories. At the same time, all throughout the park, the themes of friendship, love, and care are engrained.

The theme park first opened its doors in December 1990 in Tama Center on the west end of Tokyo. Since then, the park has welcomed some 1.5 million visitors each year to its 500,000 square meters, three-story indoor park. First, here is a rundown of some quick facts for full enjoyment.
Access from Shinjuku (Tokyo)
Take a Keio Line limited express train toward Hashimoto. Get off at Keio-Tama-Center Station and walk for about 8 minutes.
Who can go to Sanrio Puroland? Everybody!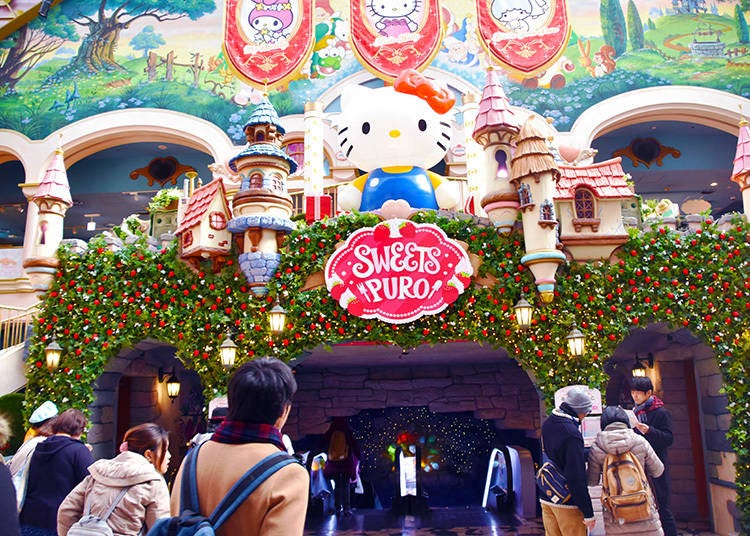 Sanrio Puroland can be enjoyed by people of all ages. While many of their customers are grandparents or parents with children, Puroland is a welcoming park for diverse groups. It's a cute date spot, a destination for girl friends, and parties of teenagers or adults.
When's the best time to visit Sanrio Puroland? All year round!
Sanrio Puroland is all indoors, unlike many other theme parks, meaning it can be enjoyed in every season, rain or shine, hot or cold. Just be aware that the crowded months tend to be in July and August when Japanese school kids are on vacation.

On a day-to-day basis, the park is busier in the morning, with the hours before and after major parades being the most crowded.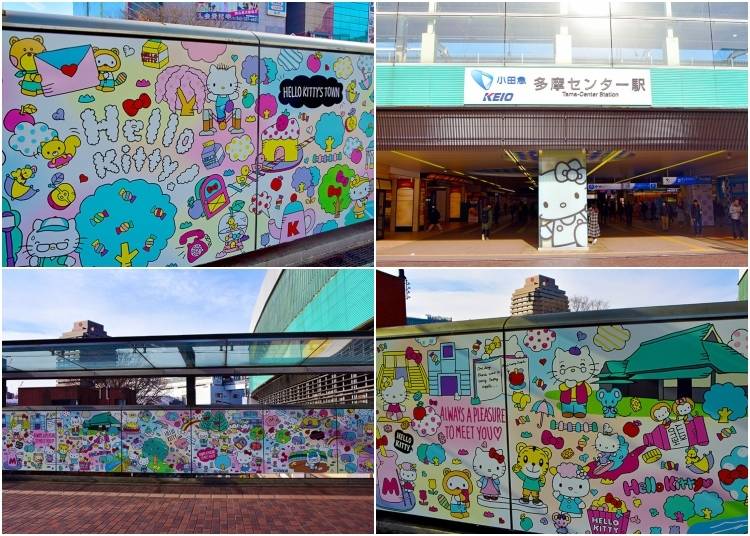 The walk from the station is less than ten minutes along a paved walkway leading straight to the park. Once indoors, extra luggage like coats can be stored in locker rooms while you enjoy the park to its maximum potential.
Sanrio Puroland One-Day Itinerary Recommendation
Follow our itinerary to enjoy the park in the best way possible! While we enjoyed the day in the order below, keep in mind that show times and wait times for activities may differ day by day.
#1 Kawaii Kabuki - Momotarō by the Hello Kitty Troup- (show)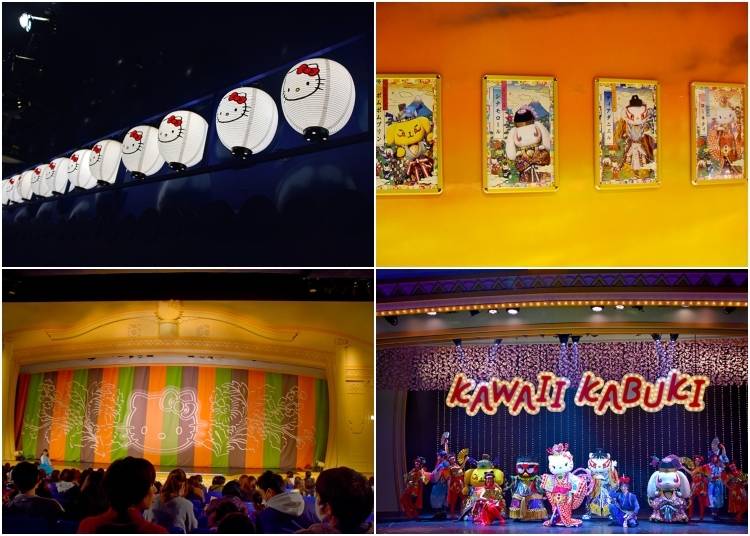 This show is a must when visiting Puroland. It's a show that beautifully blends Japanese culture and tradition into the modern iconic world of Hello Kitty.

Kabuki is a classical Japanese dance-drama that began in the 17th century stylized by its elaborate kimono-like costumes, dramatic makeup, and its use of unique storytellers and stage handlers. This style of theater was also proclaimed as a UNESCO cultural heritage in 2008.

As a Sanrio production, Hello Kitty and her friends take this colorful stage performance into their own hands to tell well-known historical children's tales. You can see characters like Pompompurin, Daniel, and Cinnamoroll in one-of-a-kind costumes, joined on stage by dancers.
#2: Lunch at the Character Food Court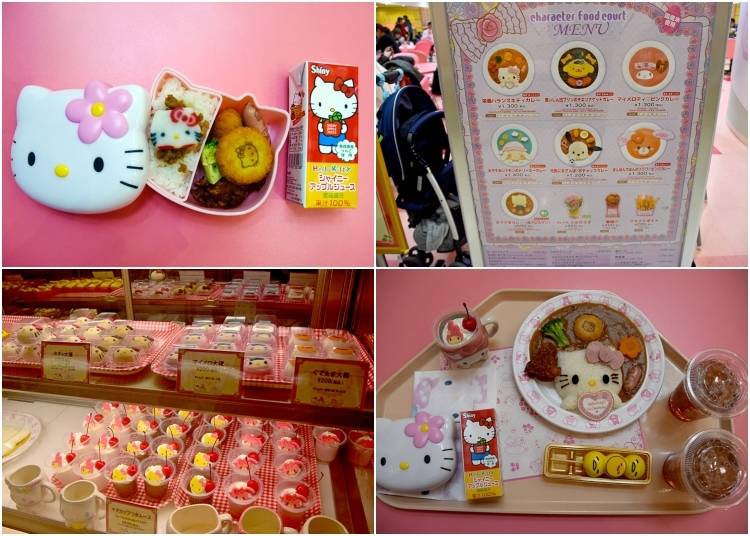 Character Food Court featuring Sanrio Character Curry, Parfait, and Bento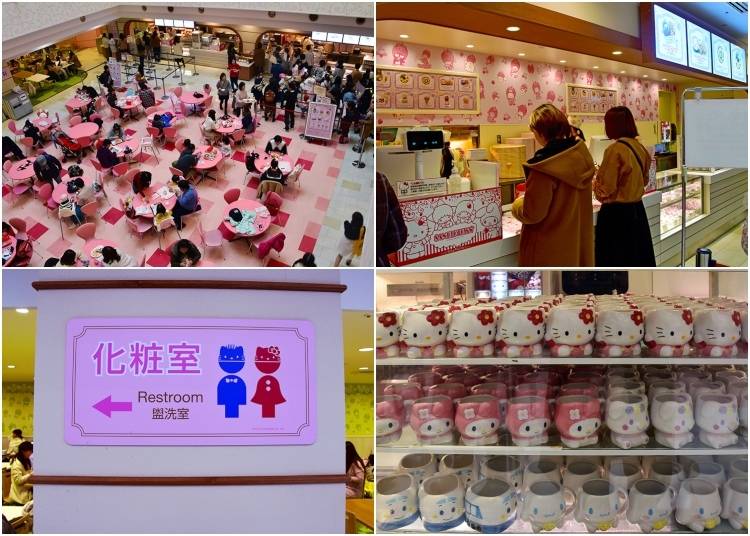 The Character Food Court is more geared towards families with a wide range of kid-friendly dishes. Indulge in an array of colorful character curries, burgers, parfaits, and bento sets arranged with small touches that remind eaters of the cute friends at Puroland.

Many items also come in souvenir cups and boxes. Indulge in kawaii Hello Kitty and friends dishes before heading upstairs from the food court to meet HK herself!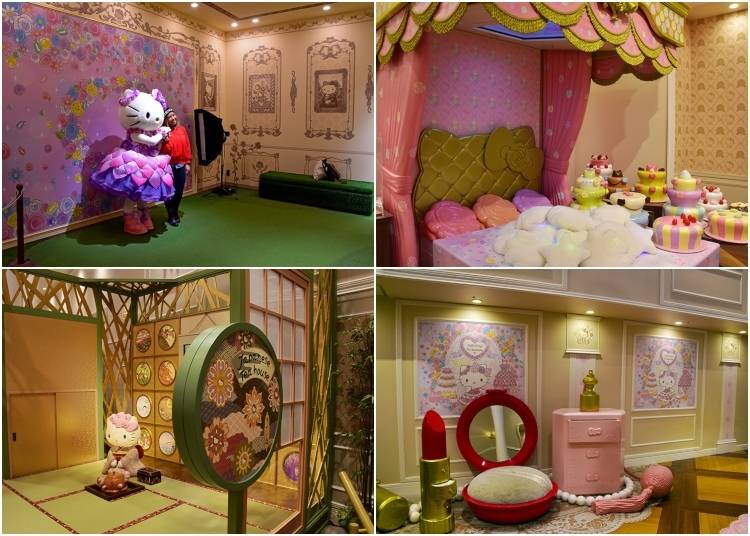 While there are often lines to get into the Lady Kitty House, it's worth the wait to be welcomed into the home of the famous Hello Kitty. When the great white Victorian doors first open, visitors are brought into the waiting room, where a white Hello Kitty grand piano sits beneath a chandelier and double winding staircase.

Visitors are then guided into a room featuring Hello Kitty's items such as clothes, makeup, and a traditional teahouse lined with tatami floors and Hello Kitty printed shoji (washi paper doors).

At the back of the room, there is a meet and greet room with Hello Kitty herself - a bubbly and friendly girl - adorned in a lilac princess dress to celebrate her 45th year.

Visitors get a chance to take a photo with Hello Kitty, which can be purchased at the end of the visit. If you come wearing or embellished with Hello Kitty gear, she'll be sure to point them out in appreciation.
#4: -Kiki and Lala- Twinkling Tour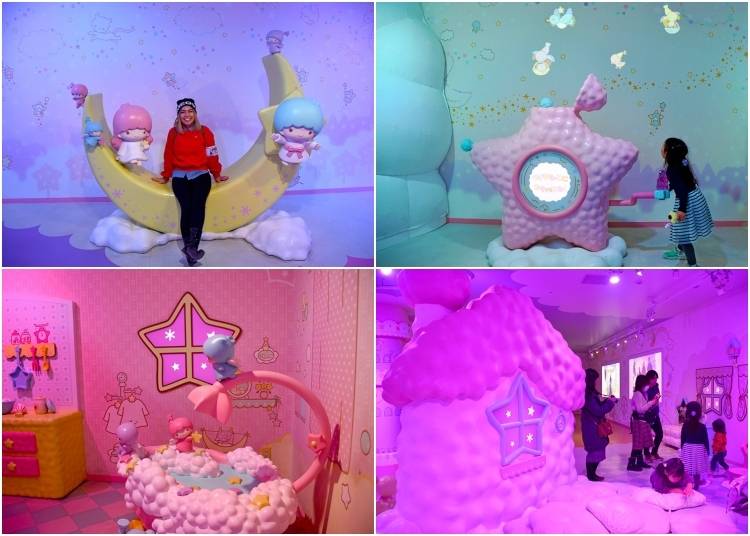 Enjoy a walk through the twins' world, where the atmosphere transports you to the top of fluffy clouds and among the stars. With its dazzling and dreamy backdrop, this is a perfect spot to relax and take many photos.
#5: -My Melody & Kuromi- Mymeroad Drive (ride)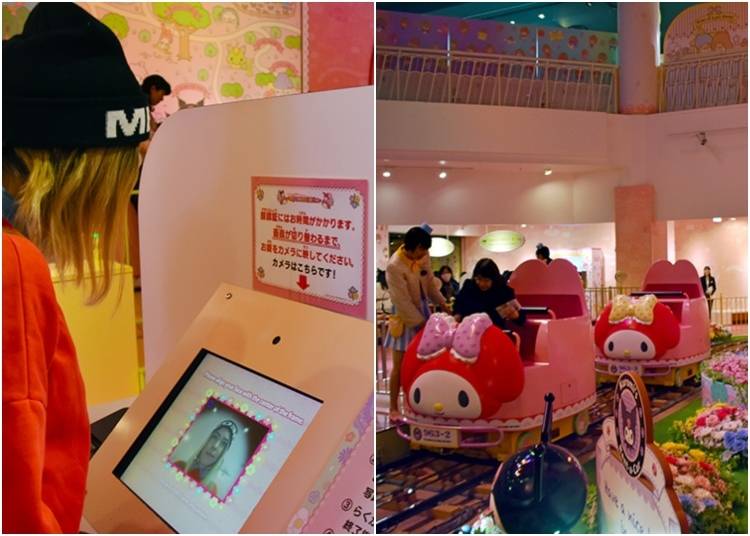 While riding along with My Melody and Kuromi, you'll ride through their tale with a photo op in each new room. Be prepared to take six photos - go crazy!

Get silly, have fun, or pose like the cute model you are. After the ride, head on over to view the photos and decorate them - just like the Japanese tradition of purikura. Photos can be purchased with an original My Melody and Friends photo frame.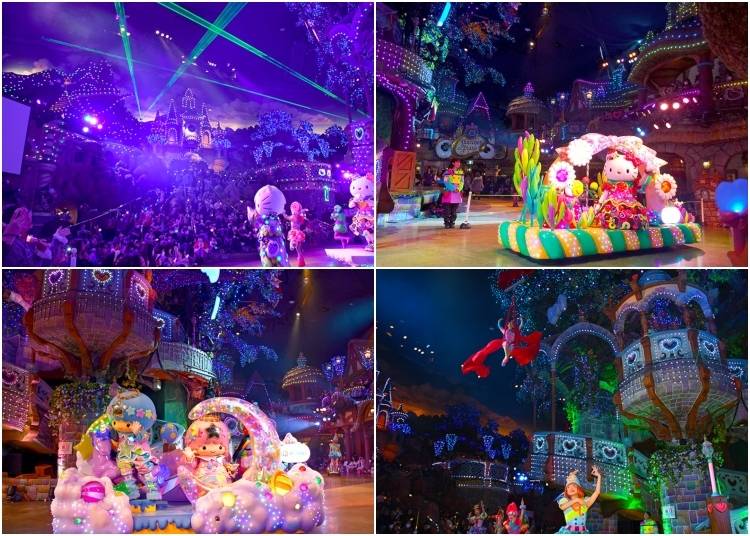 One of the notable parades at Puroland, the midday Miracle Gift Parade, takes place around the center of the whole park. With a storyline highlighting friendship, Hello Kitty and friends come out in singsong along with dancers and various characters, parade floats, and gets the audience involved.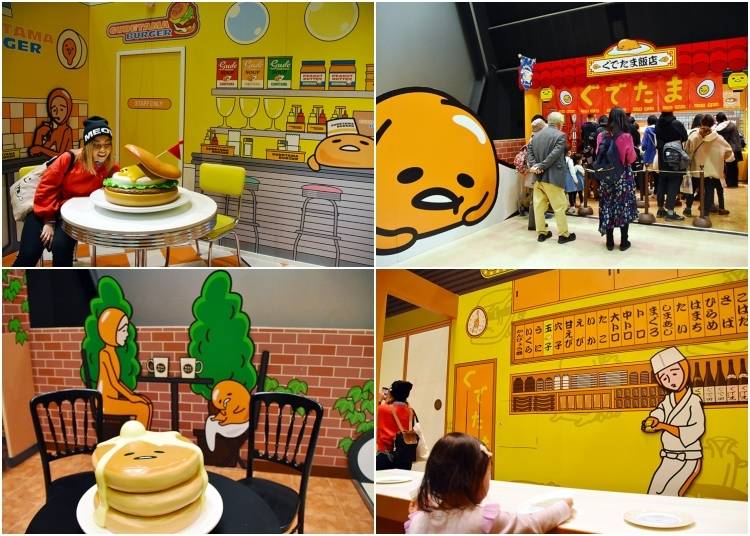 Gudetama, a character depicting an egg yolk, has taken over by storm. One of the most-loved modern characters by fans overseas and adults, Gudetama has found a sound place in Puroland, too. The entirety of Gudetama Land is one big photo-op with fun food and dance-related games around the land.

If you're in a mood for a laugh, check out the Gudetama the Movie show: an interactive show (only in Japanese) that gets the audience involved in making a movie with Gudetama, the director.
#8 Sanrio Character Boat Ride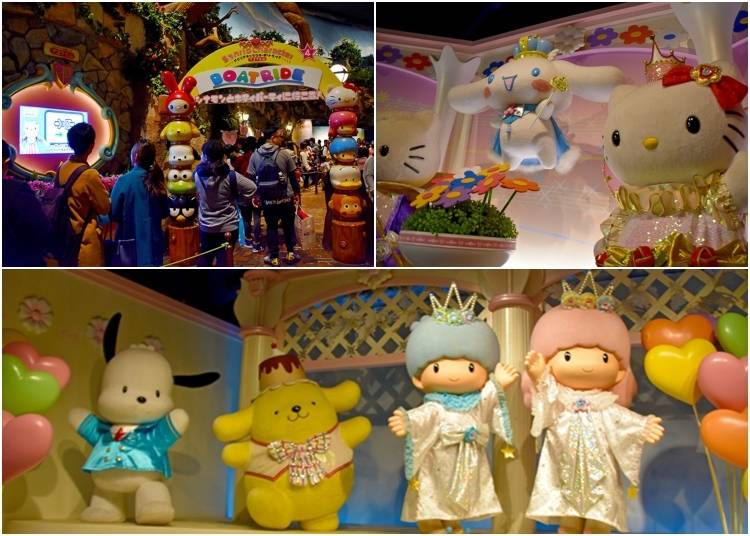 There are only two "rides" in the park, and this one is a must. It's a long-lasting boat ride that takes you on a journey through the years of Sanrio, which was founded in 1960. Riders are greeted with smiles and songs by all of the iconic characters - some of whom are not forgotten but rarely seen anymore.

The Little Twin Stars, Keroppi, Monkichi, Chococat, Pochacco, and Kuromi are a few, but not all that can be visited through the boat ride. A retro-feeling ride from times, it's sure to give riders nostalgic feelings from childhood.
#9 Cinnamoroll Dream Café for Sweets Snacks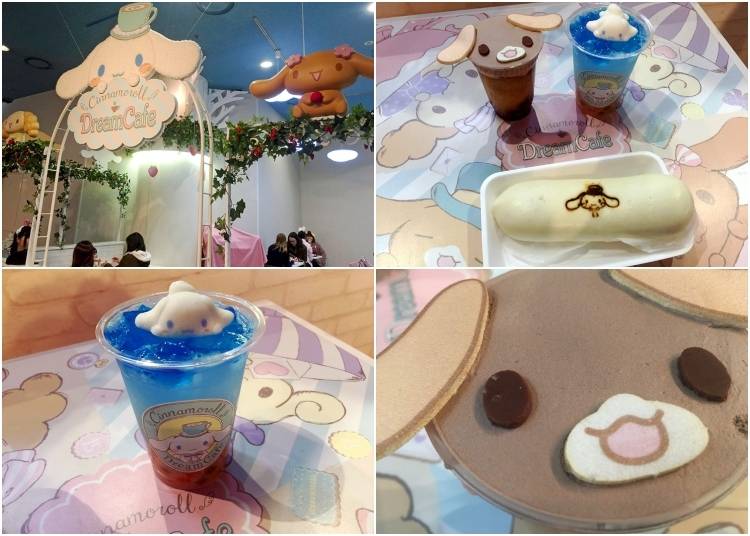 Finish off a long day of play with some sweets from the Cinnamoroll Dream Cafe. Jelly-filled soda or the chocolate milkshake dressed with Cinnamoroll and friends are a hit, with the drinks' designs changing in color and presentation with the seasons. If you're looking for a savory snack, there are pork buns imprinted with Cinnamoroll, too.
#10 Activities to Enjoy In-Between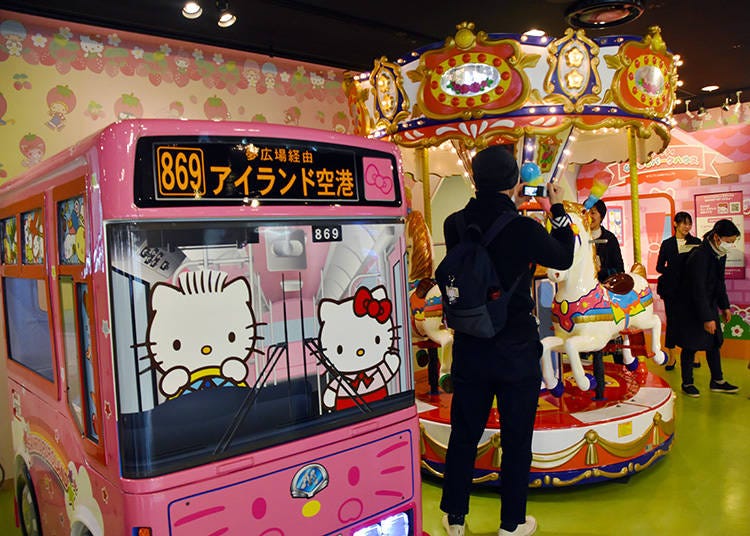 Character Meet and Greet
Many kawaii characters walk around throughout the day, with some characters being seen more so around their own territory. Have a chat, give them a hug or high-five, and snap a photo together.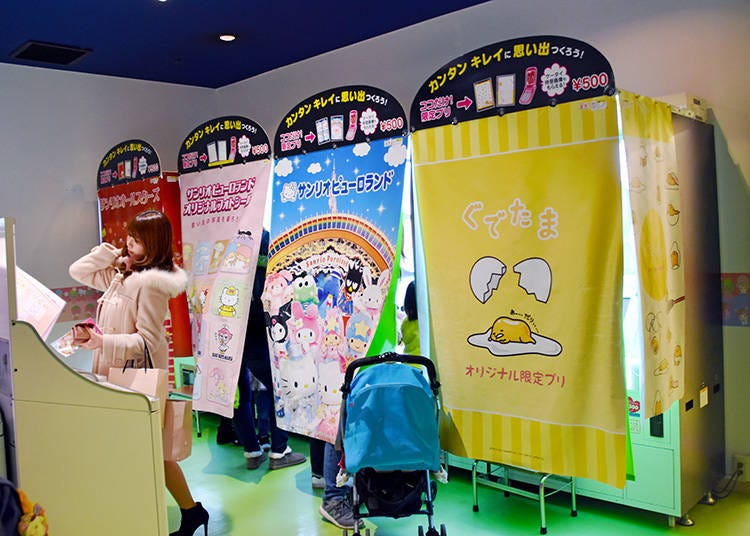 -Game Center in Sanrio Town
Like any proper grounds for fun in Japan, the park is equipped with its own game center, with rides for younger children and purikura, UFO catchers, and games for visitors of all ages. Take photos and play around with Sanrio character-themed filters and stickers to create lasting stickers or souvenirs to take home.
Puroland Exclusive Merchandise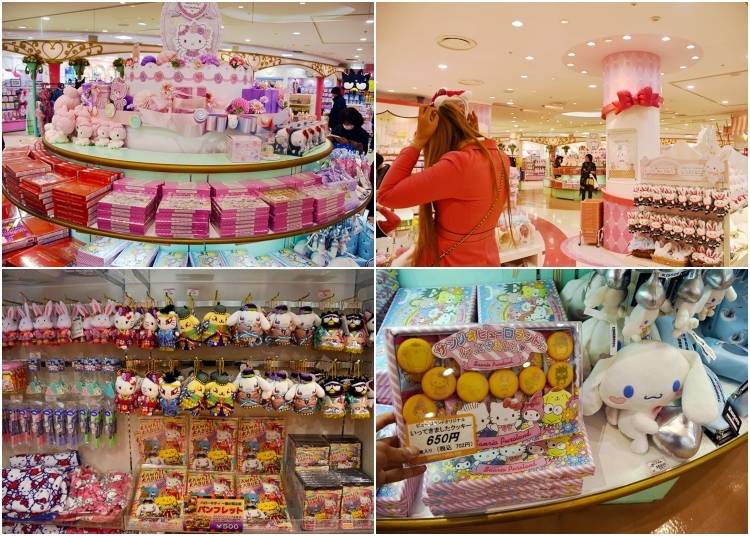 Exclusive merchandise for Sanrio Puroland range from Hello Kitty Kabuki souvenirs to seasonal brand collaborations. While many items can be found at certain Sanrio stores in Japan, no store has a wide array of goods as the megastore inside the park.

Be sure to go at the beginning of the day if you want headpieces and decorations to sport throughout the day, and go back at the end of the day for all the gift shopping.
Foreign Language Assistance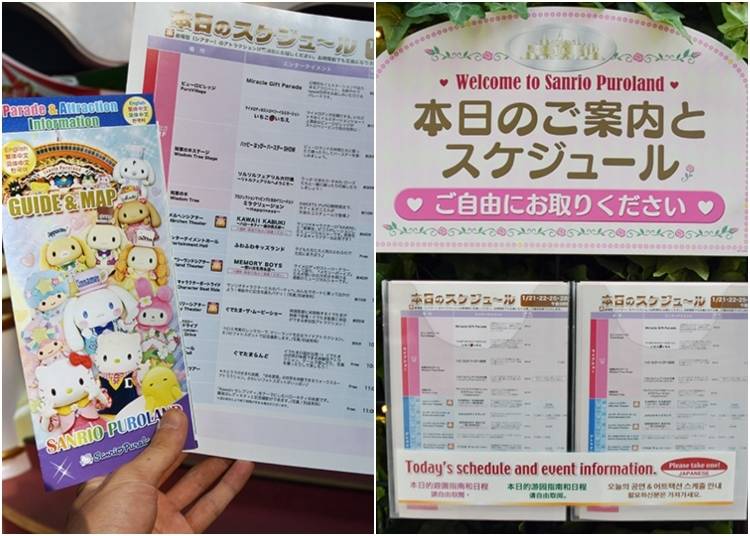 The theme park map can be found in English at the service counter when first entering the park. However, daily show schedules are only in Japanese on pamphlets. These show schedules can be found in English online, and it's best to check there for schedules that vary from day to day.

There is also an iPad rental service for tourists to help with park navigation and translations. Most attractions also have information or subtitles in Chinese and English.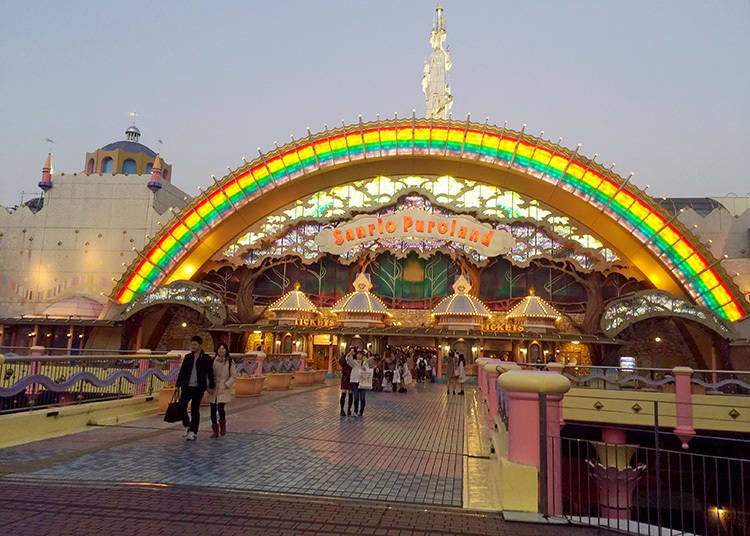 (This article was originally published in April 2019. Prices and content may have changed. See the official website for the latest information.)
Address

1-31, Ochiai, Tama-shi, Tokyo, 206-8588
View Map

Nearest Station

Tama-Center Station (Tama Urban Monorail)
5 minutes on foot


Phone Number

042-339-1111
Written by: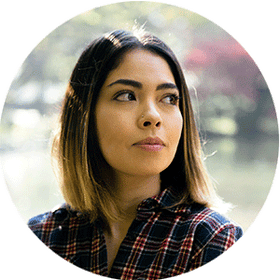 *This information is from the time of this article's publication.
*Prices and options mentioned are subject to change.
*Unless stated otherwise, all prices include tax.
Limited time offer: 10% discount coupons available now!