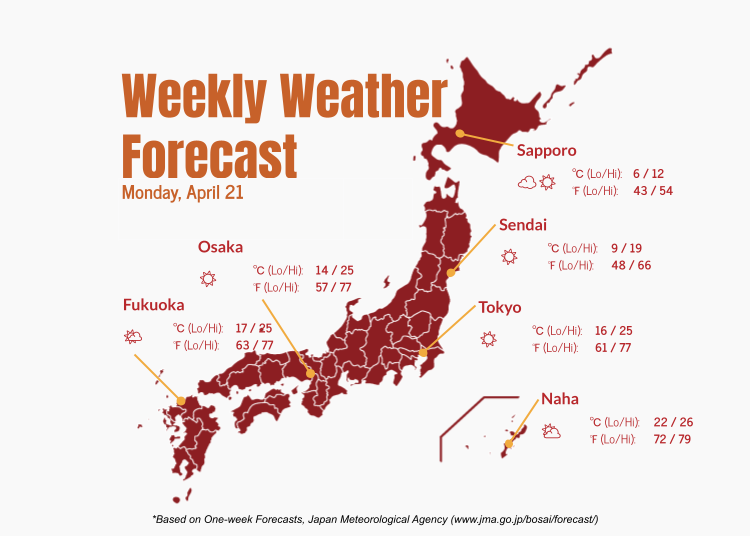 While chilly and breezy at times, the weather in Tokyo has been very nice for the past several days! While this trend is looking to continue, other parts of Japan will be seeing hefty snowfall soon. Read on as we cover this week's forecast and more!
What's the weather like in Tokyo? Forecast for January 21-27: Mostly clear with winter temperatures!
The week ahead in Tokyo will generally be cool, with mostly clear skies. Showers (or snowfall) are not expected for the week ahead. Daytime highs will be in the low teens/upper single digits Celsius (low 50s℉), while evening lows will be hovering around freezing.

The mostly clear skies will likely make for outstanding photos of Mt. Fuji!

What to pack for Tokyo?
・It's colder - prepare for winter weather.
・Bringing a winter jacket and sweater is recommended; you will want thermals and warmer wear in layers particularly if you'll be traveling into the higher elevations.
・Be sure to bring long-sleeved shirts and jeans, with warmer socks and sneakers or shoes. Hat and gloves are recommended too.
Mostly clear skies around Tokyo this week!
What's the weather like in Japan? Weather Forecast for January 21-27
Japan nationwide
Looking at the weather forecast for the rest of Japan, most areas will be seeing fairly pleasant weather, with flurries expected in the higher elevations and northern territory.

Northern Japan
Flurries are expected in Hokkaido and in the north country for much of this week, with stronger wind and snow likely around Thursday as a low pressure system moves in. Daytime highs will be around freezing, with evening temperatures dipping down to around -4℃ to -8℃. If you will be heading to Hokkaido or to the Tohoku region, be sure to pack warm clothes fit for winter, including winter boots and a good cold-weather jacket.

Central Japan
Meanwhile, the greater Osaka and Kyoto area as well as Fukuoka and northern Kyushu are expected to see nice weather for the week, with partly cloudy skies lingering up to the weekend. Daytime highs will be brisk, in the low teens, with lows in the low single single digits. Toward the weekend, it is expected to gradually colder. Dressing for winter is advised.

Okinawa
As for Okinawa (Naha), cloudy skies in the beginning of the week are expected to break, letting in some blue skies. Daytime temperatures will be comfortably in the upper teens/lower 20s℃ for much of the week.
Special: Japanese Custom - Setsubun (February 3)
Look around the shelves of Japan's convenience shops or supermarkets and you're bound to find masks in the shape of devils, plus a large amount of bean-related items. This is all in preparation for the festival of Setsubun, held on February 3, 2019 this year. Setsubun is a curious holiday: celebrated by flinging beans and eating a special kind of sushi roll, it is a festival that welcomes in the beginning of spring - according to the lunar calendar.

Check out the link below for more about this special Japanese holiday!
Other recommended articles for winter 2019
Two other incredibly popular festivals are coming up soon: the Sapporo Snow Festival (January 31-February 11) and the Chinese New Year festival (February 4-19).

See the links below for more on these and other fun events and festivals!
Source for forecast and images: Japan Meteorological Agency website / http://www.jma.go.jp/jma/indexe.html
Area

Category

Articles Genre
*This information is from the time of this article's publication.
*Prices and options mentioned are subject to change.
*Unless stated otherwise, all prices include tax.
Recommended places for first-time visitors to Tokyo