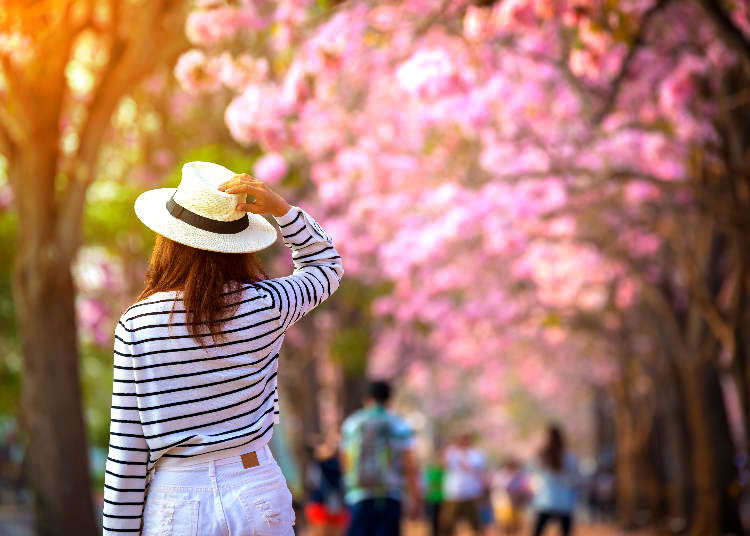 Spring in Japan is a very meaningful season. It marks the end of the year for both schools and companies, it is the time of "new encounters and new beginnings," as the Japanese like to say.

With the quickly rising temperatures, both old and young, locals and tourists, flock to see one of spring's most marvelous miracles: the evanescent cherry blossom, or sakura in Japanese.

The act of viewing and appreciating the tiny pink petals is called hanami, literally meaning flower viewing. Between March and May, Tokyo's hanami parties can be seen taking place pretty much everywhere where cherry trees can be found – but how to actually do a proper hanami? From the weather and what clothes to wear to what to bring to the event, let's take a look at everything you need to know to make your Tokyo cherry blossom experience an unforgettable one!
Spring in Japan: Tokyo's Temperatures from March to May
What's the spring weather like in Tokyo?
Tokyo weather in March

Average high: 14.9°C (58.8°F) /
Average low: 6.1°C (43°F)
Tokyo weather in April

Average high: 20.3°C (68.5°F) /
Average low: 11.3°C (52.3°F)
Tokyo weather in May

Average high: 25.2°C (77.4°F) /
Average low: 15.7°C (60.3°F)
What to wear in spring in Japan?
Dress warmly; bring a winter jacket, scarf and hat
The coldness of the winter can still be felt on certain days in March, but the temperatures during the day are about 15°C / 59°F and thus rather pleasant, especially if the sun shines. In the morning and at night, however, it does get quite chilly with usually less than 10°C / 50°F, which is a palpable temperature difference. The sun sets around 6 p.m., and March has the least sunshine hours of March, April, and May.
Dress in layers; bring a light jacket and scarf
Just like March, the daytime temperatures in April average around 15°C / 59°F. There are a lot of pleasant, warm days and the beginning of April is marked by the cherry blossoms being in full bloom. As the sun shines for a long time, it's the perfect time to venture to Tokyo's suburbs and enjoy the different and beautiful hanami viewing spots. As the temperature differences between day and night are still rather large, do make sure to bring a coat and keep things like mask or scarf in your bag as to not catch a cold!
Dress in layers; bring a light jacket and scarf
The maximum temperatures often exceed 20°C / 68°F in May and thus it is a wonderfully pleasant month that is usually neither too hot nor too cold. Even the nights start to get warmer and are rarely below 10°C / 50°F. May's sunshine hours are also the longest, but spring rain is also very characteristic for this beautiful month. Taking a look at the weather forecast before heading out to explore Tokyo is definitely recommended, lest you want to be surprised by sudden showers.
Spring in Japan outfit guide – Dress for cherry blossom season!
Proper spring outfits are important for enjoying the magic of the Japanese cherry blossoms.

As March is still rather chilly with temperatures around 10°C / 50°F, a warm coat and a scarf are still a must when venturing outside.

April, on the other hand, is warmer and a lot more pleasant during the day, making a winter coat obsolete. Nights, however, are still cold and shouldn't be underestimated. Especially in central Tokyo, cold winds tend to blow rather strongly between the tall buildings, so make sure that your jacket is warm enough. Keeping a scarf in your bag is also an excellent idea.

May finally gets rid of the need for any warm coats or jackets, and light clothes such as cardigans and long-sleeve shirts enter the stage! The main bane of May, however, is hay fever. Over 50 different plants, such as cedar and cypress, can make your nose and eyes terribly itchy if you have one or more allergies, along with all the other unpleasant and annoying symptoms of hay fever.

This is why you will spot a lot more people wearing a mask than in the months before. If you're just in Japan for a brief period of time, such as a week or two, you hopefully won't have to worry too much about Japanese hay fever!
How to Hanami – the Ultimate Japanese Cherry Blossom Experience
Hanami means "cherry blossom viewing", and it's how people in Japan celebrate the season of the beautiful pink flowers. Having the basic knowledge on how to dress for spring and what temperatures to expect, let's look at how to actually do hanami, or cherry blossom viewing.

The timing as to when the cherry trees in Tokyo are in full bloom varies from year to year, but the general timeframe is from the end of March until the beginning of April.

The cherry trees first start to bloom in Kyushu, the south of Japan, and then the bloom makes its way towards Kanto and to west Japan. Be sure to check Japan's Cherry Blossom Forecast in advance!

Around this time, hanami can be enjoyed all around Tokyo and many people gather to do just that. Families, friends, and companies will gather under the beautifully blossoming sakura trees, equipped with bento, or boxed lunches, drinks, and snacks. Hanami is one of the few occasions on which Japanese people start to drink alcohol at noon.

Some of the most famous cherry blossom viewing spots in Tokyo include Ueno Park, Shinjuku Gyoen, Chidorigafuchi, and Yasukuni Shrine.

A lot of cherry blossom spots are beautifully lit up at night, creating an almost enigmatic scenery, especially at Rokugien and Meguro River.

As breathtaking as the cherry blossom spring in Tokyo is, please don't forget that it is still March and it can get pretty chilly, so make sure to bring the right clothes.
How to Hanami – The Efficient Way
What is needed to do a proper hanami? Since it's an outdoor event, you want to make sure you bring everything necessary to enjoy your time under the cherry blossoms, so let's take a look at the must-haves:
Food: At popular spots such as Ueno Park and Yasukuni Shrine, many food stalls sell a variety of different dishes and snacks. However, the prices can be pretty high and the queues even longer, so buying things such as onigiri rice balls, bread, sweets, and drinks at nearby supermarkets and convenience stores is highly recommended. You'll also see a lot of Japanese people bringing home-made lunches in bento boxes – if you have the option, why not try making one for yourself?
Picnic Blanket: Since cherry blossom viewing is a popular event and lots of people flock to parks and spots do hanami, don't count on any benches being free to sit on! As the grass and earth tends to be rather wet n this season, we highly recommend bringing a sheet or blanket to leisurely sit on without having to worry about dampness or dirt. Those picnic blankets can be purchased for as little as 100 yen in various shops. Or just bring one from home!
Disposable Tableware: Especially handy when doing hanami in a larger group of people. Paper plates and cups will let you share any kind of food and drink easily without having to worry about carrying a load of tableware back and forth. Disposable tableware can be found in pretty much any 100 yen shop and convenience store.
Garbage Bags: This might sound a bit weird at first but in Japan, trashcans can be hard to come by, even at famous cherry blossom viewing spots. The Japanese way is to bring one's own garbage bags to collect any kind of trash, take it back home and dispose it there. Also, keep the waste separation rules in mind: burnable, non-burnable, cans, and bottles. A hanami pro-tip is to use the shopping bags you might have gotten when buying food and drinks as trash bags! Some spots do have trash cans installed, but you shouldn't count on it.
Tissues & Wet Wipes: Must-haves when eating outside. While there might be public toilets at parks and shrines to wash your hands, you can expect the queues to be long. Wet and regular tissues will clean your hands quick and efficient without the need to find a sink!
Make your own Memories of Spring in Japan!
With hanami and cherry blossoms, many people say spring is Japan's most beautiful season – and indeed, there's much to see and discover in Tokyo between March and May.

While you might encounter some train delays due to strong winds, the weather is generally pleasant and you're sure to hit a perfect day for your own unique cherry blossom experience!

If you want to discover cherry blossom spots all around Tokyo, both famous spots and local secrets, make sure to check LIVE JAPAN for more information!
*This information is from the time of this article's publication.
*Prices and options mentioned are subject to change.
*Unless stated otherwise, all prices include tax.