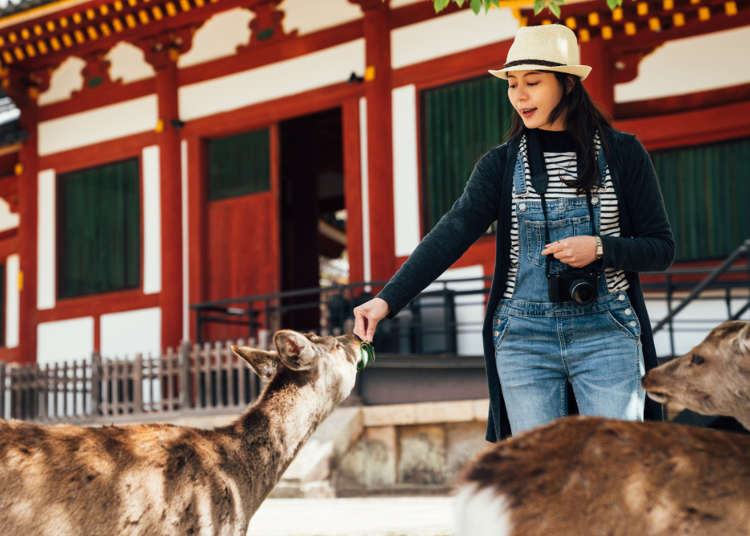 With over 1300 years of history since the era in which it was Japan's capital, Nara is home to 8 registered "historic monuments of ancient Nara" and world heritage sites.

The 8 sites are 6 Nara temples - "Todai-ji", "Kofuku-ji", Kasuga-Taisha", "Gango-ji", "Yakushi-ji", and "Toshodai-ji" - plus the special historical site of the "Heiji castle remains" and the special natural monument "Kasugayama Primeval Forest".

This article will introduce some of Nara City's world heritage sites as well as other fascinating Nara shrines and temples which garner great attention nationwide.
1. Kasuga Grand Shrine: Established to Protect Heiji-kyo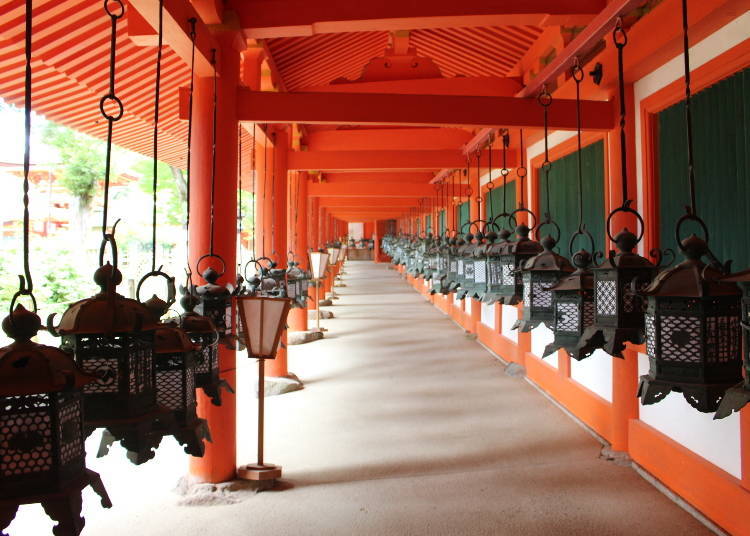 Kasuga-Taisha, or Kasuga Grand Shrine, was established in the year 768 in the protection of the Heiji-kyo national capital and as a blessing for peace on its citizens.

Visitors can offer prayers to each of the four deities enshrined there - Takemikazuchi-no-Mikoto, Futsunushi-no-Mikoto, Amanokoyane-no-Mikoto, and Himegami.

One highly recommended activity is attending the chohai morning worship ritual, which was opened to the public to commemorate the 1300 year memorial of the transfer of the capital to Nara. The purity and beauty of the morning are unparalleled.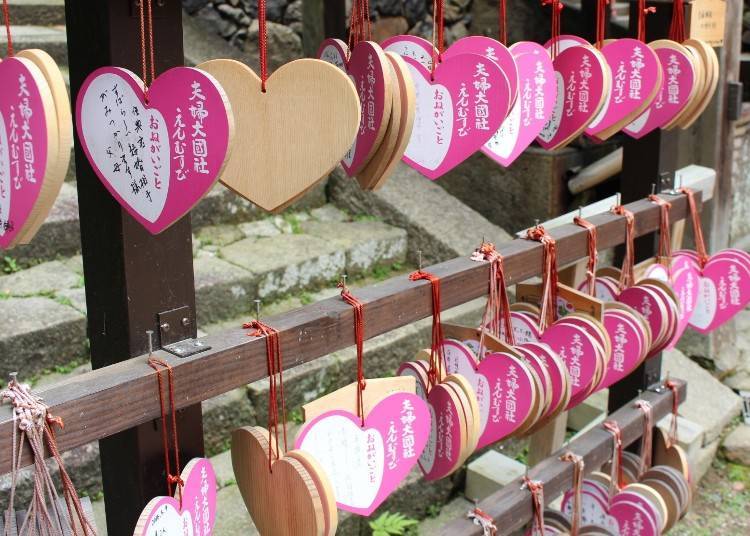 There are many subsidiary shrines to Kasuga Grand Shrine. One of them, the "Meoto Daikoku-sha", is the only shrine in all of Japan which enshrines a pair of married deities and is said to bring benefits to business prosperity and harmony for married couples.

Also known as the gods of matchmaking, there is a never-ending stream of visitors looking to purchase heart-shaped ema and pray for good luck in finding a partner.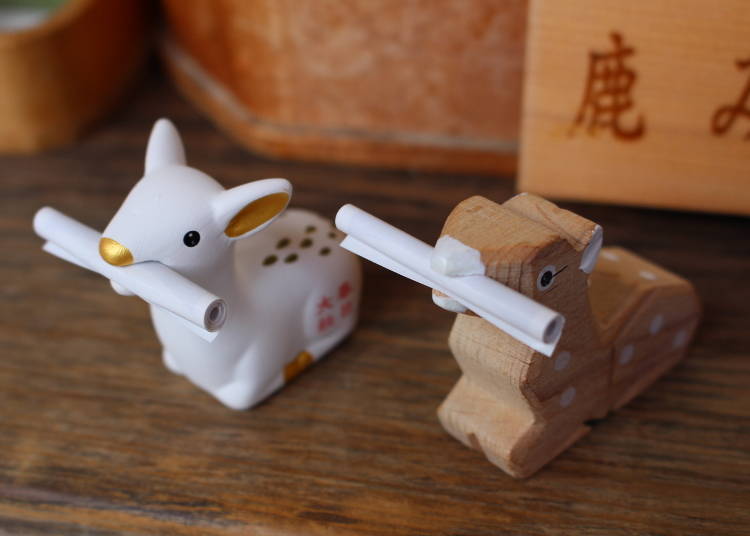 White deer fortune 600 yen, deer fortune 500 yen
Based on the tradition that the temple deity Takemizuchi-no-Mikoto rode in from Kashima, Ibaraki on a white deer, deer are revered and treated as gods at Kasuga Grand Shrine.

Many of the lucky items available like omamori charms and omikuji fortunes feature depictions of deer, and the deer omikuji who carry fortunes in their mouths as especially popular.
春日大社

Address

150 Kasugano-machi, Nara City, Nara

Nearest Station

Visiting Hours: 6:30 AM - 5:30 PM (November to February, 7:00 AM - 5:00 PM; juyojo open 8:00 AM - close)
Price: free entry (main shrine special worship service 500 yen)
Closed: Open Daily
Access: approximately 11-15 minutes from JR Yamatoji "Nara" Station or Kintetsu Nara Line "Kintetsu-Nara" Station via Kasuga Taisha Honden-yuki bus and a short walk from "Kasuga Taisha Honden" bus top; alternatively, 9-13 minutes on Nara City Outer Loop bus and 10 minutes walking from "Kasuga Taisha Omotesando" bus stop


Phone Number

0742-22-7788

参拝時間:6:30~17:30(11~2月は7:00~17:00、授与所は8:00~閉門時間)
Visiting Hours: 6:30 AM - 5:30 PM (November to February, 7:00 AM - 5:00 PM; juyojo open 8:00 AM - close)
Price: free entry (main shrine special worship service 500 yen)
Closed: Open Daily
2. Todai-ji Temple: Giant Buddha and Buildings are Both Among the Largest in the World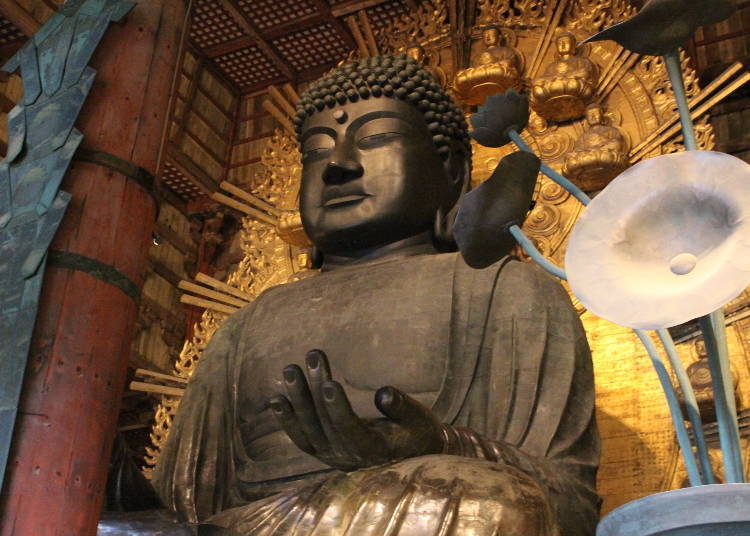 One place you absolutely cannot miss visiting in Nara is Todai-ji Temple. The Daibutsu-sama "Great Buddha" statue is so famous, you could even say there's no point in visiting Nara if you don't go see it.

In the Nara period, Emperor Shomu commissioned the construction of the Daibutsu-sama (also known as Rushanabutsu) as a prayer for the happiness of all people, in accordance with Buddhist teachings.

The Nara temple's name "Todai-ji" carries the meaning of then-capital Heian-kyo's "large temple of the east" in Japanese. Featured throughout its spacious premises are several of the world's largest buildings and structures, such as the Great South Gate and the Daibutsuden "Great Buddha Hall".

Standing 15 meters high, and its face 5 meters tall, the Daibutsu-sama statue is truly tremendous in scale.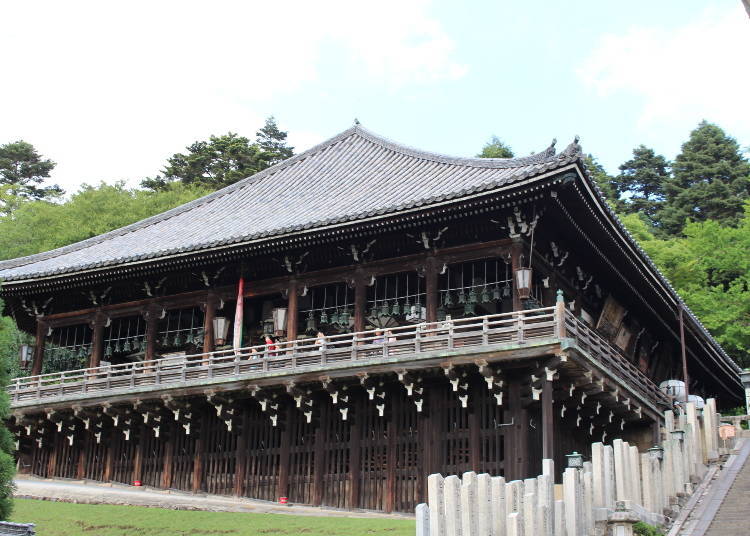 Nigatsu-do Hall, famous for its "water-drawing ceremony" that is a symbol of spring in Nara
After making the acquaintance of Nara's symbolic giant Buddha, tour the rest of the halls and temples located around the Todai-ji Temple complex.

A few of the halls you will want to be sure to visit are the Kaidan-do Hall, which houses the clay Shitennoji statues considered representative pieces of the Nara period, the Nigatsu-do Hall and stage construction, standing at the base of the mountain to the East and famous for its water-drawing ceremony held in March, and Hokke-do Hall (Sangatsu-do Hall), the temple's oldest remaining building constructed in the Nara period.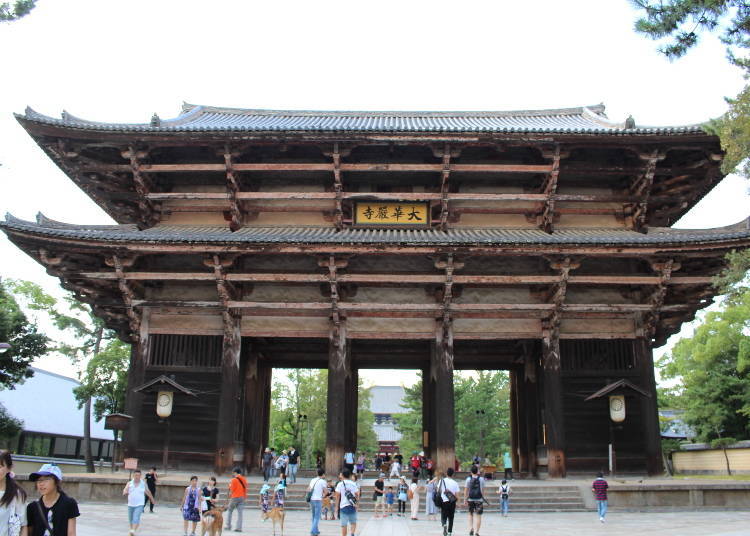 Todai-ji Temple's main gate, the Great South Gate
The Great South Gate, approximately 25.5 meters tall, is Todai-ji's main gate. Its size will surprise you, as will learning that the pair of Kongo Rikishi statues were completed in a mere 69 days, by Kaikei and several assistants under Buddhist sculptor Unkei's direction.

The "Todaiji Museum" is another must-see spot, with its collections of temple treasures dating from the Nara period, including a statue of the young Buddha and the Nikko and Gekko Bosatsu statues.
東大寺

Address

406-1 Zoshi-cho, Nara City, Nara

Nearest Station

from JR Yamatoji Line "Nara" Station or Kintetsu Nara Line "Kintetsu-Nara" Station, 4-10 minutes via Nara City Outer Loop bus, then a 5-minute walk from "Todaiji Daibutsuden Kasuga Taisha Mae" bus stop; alternatively, a 20-minute walk from Kintetsu-Nara Station


Phone Number

0742-22-5511

Visiting Hours: temple grounds always open (Great Buddha Hall, Hokke-do Hall, and Kaidan-do Hall open 8:00 AM - 5:00 PM; Todaiji Museum open 9:30 AM - Great Buddha Hall closing time ※times vary seasonally)
Price: Great Buddha Hall, Hokke-do Hall, Kaidan-do Hall, and Todaiji Museum each 600 yen; Todaiji Museum and Great Buddha Hall combined entry for 1000 yen
Closed: Open Daily (museum occasionally closed temporarily)
3. Omiwa Shrine: Japan's oldest Shinto shrine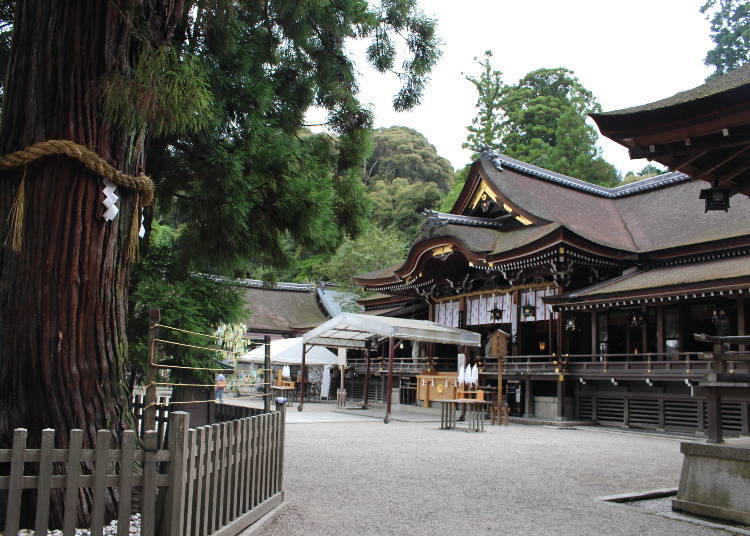 Omiwa Shrine is the oldest shrine in all of Japan, founded in the worship of Mt. Miwa. The entirely of Mt. Miwa is covered by cedar, pine, and cypress trees, and it has been worshipped as a sacred mountain of the gods throughout the ages.

That is how the method of passing through the three gates within the worship hall and praying to the mountain itself came to be, instead of having a main hall, and the tradition has been continued to the present day.

The deity enshrined, Omononushi no Okami, is the god of national development and the guardian of all livelihoods in agriculture, commerce, and industry - including industrial development, medicine, and sake brewing - and is beloved as the "great god of Omiwa".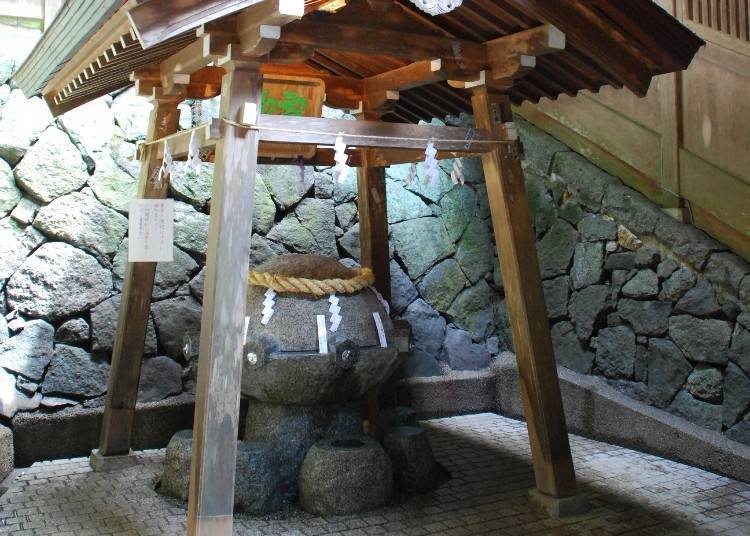 Sai Shrine's medicinal well
Within Omiwa Shrine is Sai Shrine, dedicated to a deity worshiped for an ability to cure illness. There is a well from which sacred water from Mount Miwa can be taken, and its water is believed to have medicinal properties.

There are even more worthwhile sites to see around the Omiwa Shrine grounds, such as Kuehiko Shrine dedicated to the god of wisdom and the Daimiwa shrine observation platform.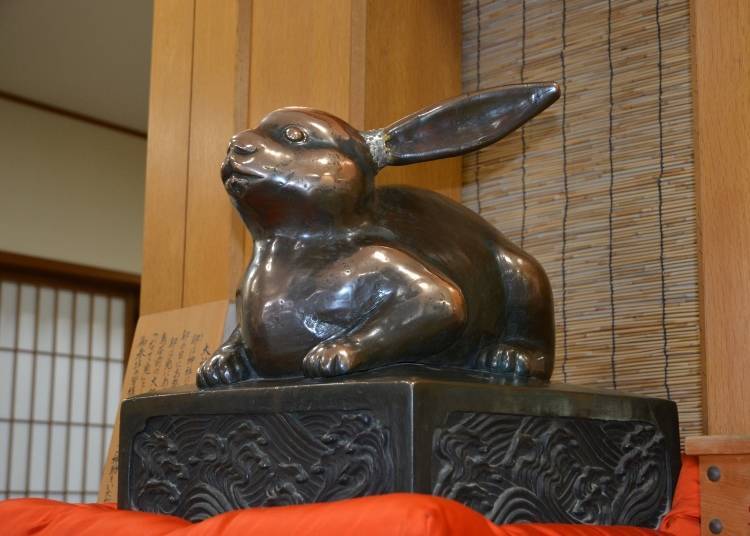 Omiwa Shrine is associated with rabbits. At the entrance to the sanshuden (assembly hall) located to the left of the worship hall is the "nade-usagi" rabbit statue, which is said to have guarded the firebox of the large stone lantern at the first torii gate since the Edo period.

When you visit the shrine, be sure to pet the "nade-usagi" and receive its good luck. There are also rabbit good luck charm omamori and ema available.
大神神社

Address

1422 Miwa, Sakurai-shi, Nara

Nearest Station

Access: 5-minute walk from JR Sakurai Line "Miwa" Station; on Saturdays, Sundays, and holidays, 20-minute shuttle bus available to "Omiwa Jinja Ni-no-Torii Mae"


Phone Number

0744-42-6633

Visiting Hours: Always Open (Juyojo open 9:00 AM - 5:00 PM, December through February until 4:30 PM)
Price: free
4. Hasedera: The sacred field of Kannon with beautiful peonies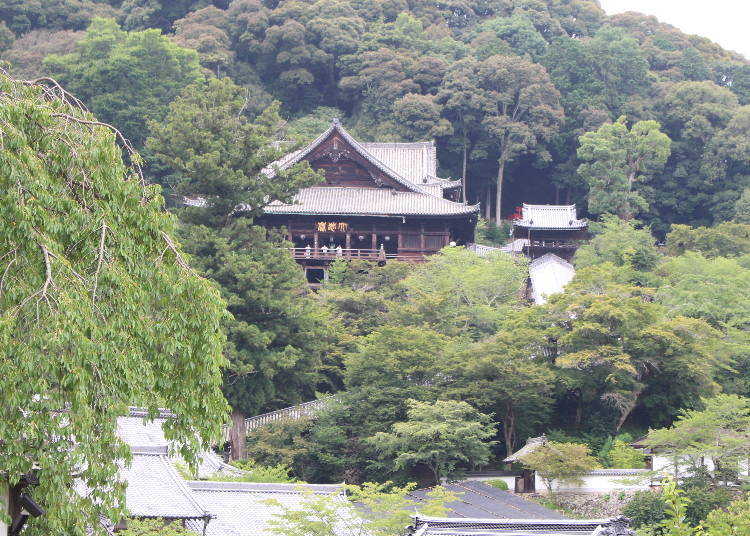 Hasedera Temple is the head temple of the Buzan school of the Shingon Buddhist sect, with over 3000 branch temples located throughout Japan, and it is also revered as the 8th of the 33 temples which belong to the Saigoku Kannon Pilgrimage.

The main, "Daihikaku" hall is a large temple, built with the same stage construction as Kiyomizudera Temple, and it is also a national treasure. The temple's principal deity, the 11-faced standing Kannon statue, is Japan's largest wooden Buddhist statue at 10 meters tall.

The way the goddess stands atop a pedestal with a staff in her right hand and a water jar in her left is known as the "Hasedera style" of statue.

Because of the flowers and trees that can be enjoyed at Hasedera during each of the seasons, including the temple's famous peonies as well as hydrangeas and maples, the Nara temple is also sometimes called the "Temple of Flowers".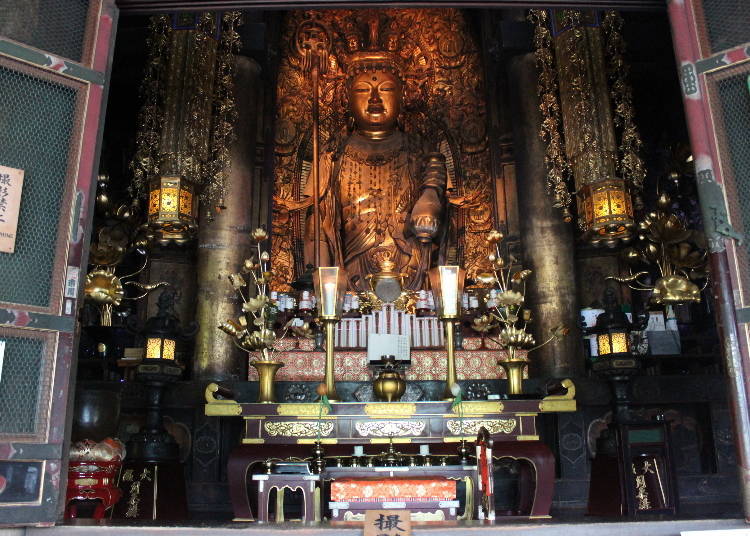 This is the shrine's principal deity statue of the 11-faced Kannon goddess. During the spring and fall special worship season, visitors are allowed to walk up close to the Kannon statue.

The sight looking up from her feet is stunning. You can also directly touch the statue's feet, so say a prayer while you touch them for good luck.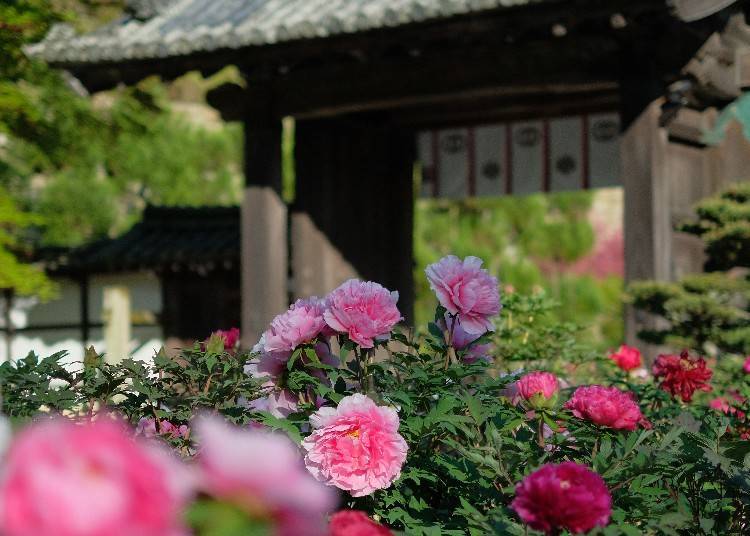 You can enjoy the flowers no matter which season you visit Hasedera Temple, but its most famous flowers are the peonies. There are over 7000 peonies on the Nara temple grounds, and the view in April when the flowers are in full bloom is breathtakingly beautiful.

The "Peony Festival" is held every year from mid-April through the Golden Week holiday, at which there are tea offerings and tea parties to attend.
長谷寺

Address

731-1 Hase, Sakurai-shi, Nara

Nearest Station

15-minute walk from Kintetsu Osaka Line "Hasedera" Station


Phone Number

0744-47-7001

Visiting Hours: 8:30 AM -5:00 PM (October, November, and March from 9:00 AM; December through February, 9:00 AM - 4:30 PM)
Visiting Fee: 500 yen
Closed: Open Daily
5. Abemon Juin: An ancient tomb known as one of Japan's three major Buddhist Monju temples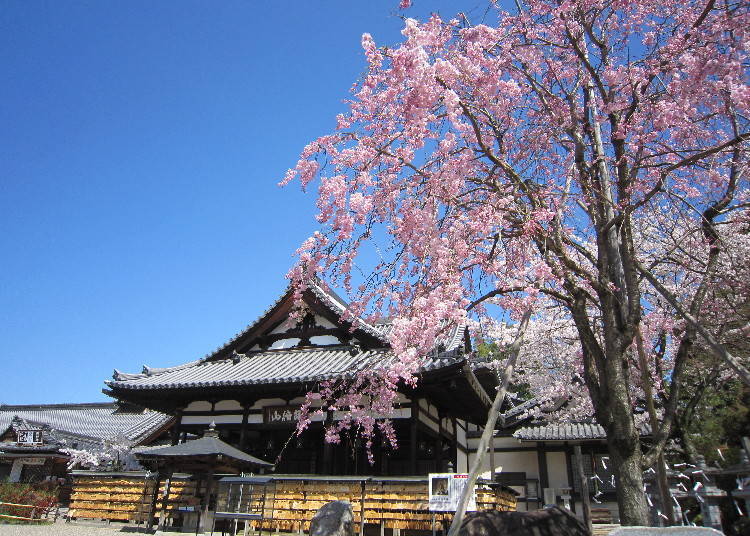 Abe Monju-in is a notorious Nara temple known for enshrining one of Japan's three largest Monju (deity of meditation), the Monju Busatsu deity being most famous by the Japanese saying, "Three gathered together have the wisdom of Monju."

Abe-shi, the head of an old, powerful clan established the shrine in the year 645, making it among Japan's oldest temples.

Because the temple is dedicated to the god of wisdom, the temple gets many visitors every year during the school entrance exam season to pray for passing their exams.

The temple's central Monju Busatsu statue, created by Buddhist statue sculptor Kaikei, is one of Japan's greatest national treasures.

Within the Nara temple are many fascinating sights, including a memorial to Abe no Seimei, the onmyoji and the shrine's deity.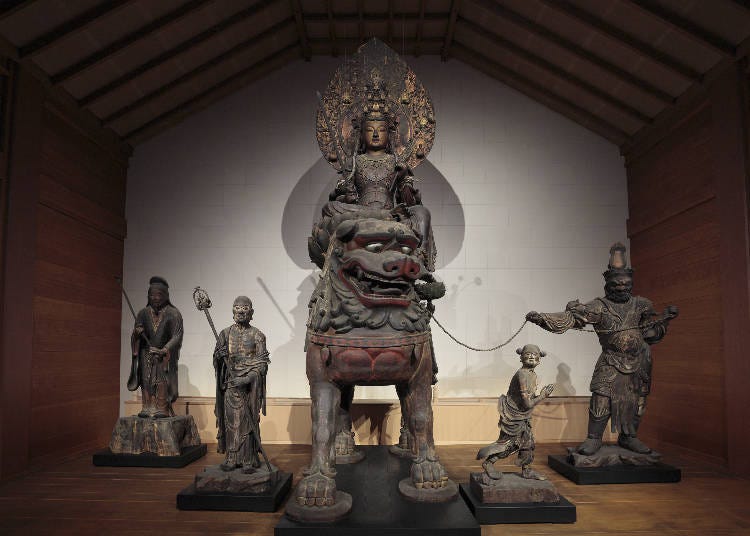 The principal deity of the temple, a kishi-zo made of colored wood, is Japan's largest Monju Bosatsu statue at 7 meters tall. The kishi-zo, meaning a statue of Monju riding a large lion, exudes impact and power. The Monju, accompanied by four attending statues including one of follower Zenzaidoji, is known as being one of Kaikei's masterpieces.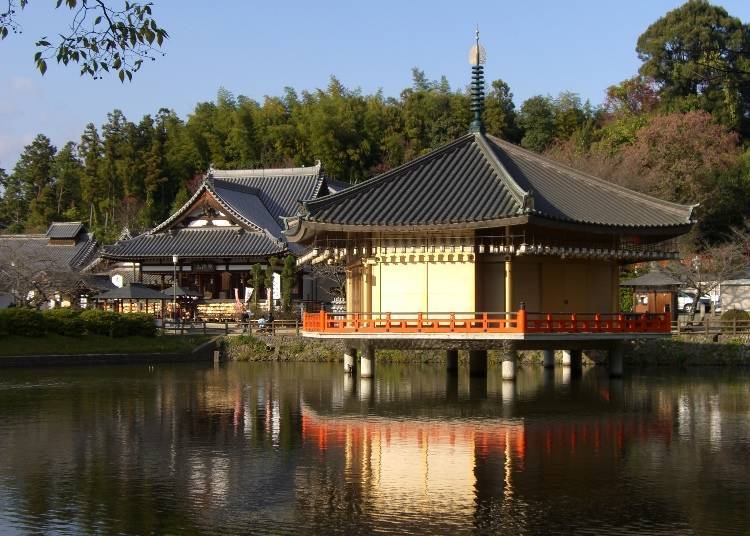 Kinkaku-ukimi-do Hall (also known as Nakamaro Hall) was built to enshrine members of the Abe clan, including Abe no Nakamaro, who was born at this very Nara temple, and Abe no Seimei.

Inside, deity statues of not only Nakamaro and Seimei but also the god of good fortune Benzaiten, the 9 kuyosei guardian gods of protection from evil, and wall hangings of the 12 gods of protection from disaster.

You can also try the "shichi-mairi" good luck ritual, by walking around the temple 7 times, offering a paper talisman to the deities with each round, and then making a wish or prayer.
安倍文殊院

Address

645 Abe, Sakurai-shi, Nara

Nearest Station

7 minutes by Ishibutai-yuki bus from Kintetsu Osaka Line "Sakurai" Station, and a short walk from "Abe Monju-in-mae" bus stop


Phone Number

0744-43-0002

Visiting Hours: 9:00 AM - 5:00 PM
Visiting Fee: entry to temple grounds, free; entry to main hall 700 yen (matcha and dessert included), entry to Kinkaku Fumi-do Reihokan museum 700 yen; combined ticket for 1200 yen
Written by: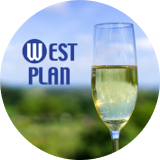 *This information is from the time of this article's publication.
*Prices and options mentioned are subject to change.
*Unless stated otherwise, all prices include tax.
Limited time offer: 10% discount coupons available now!