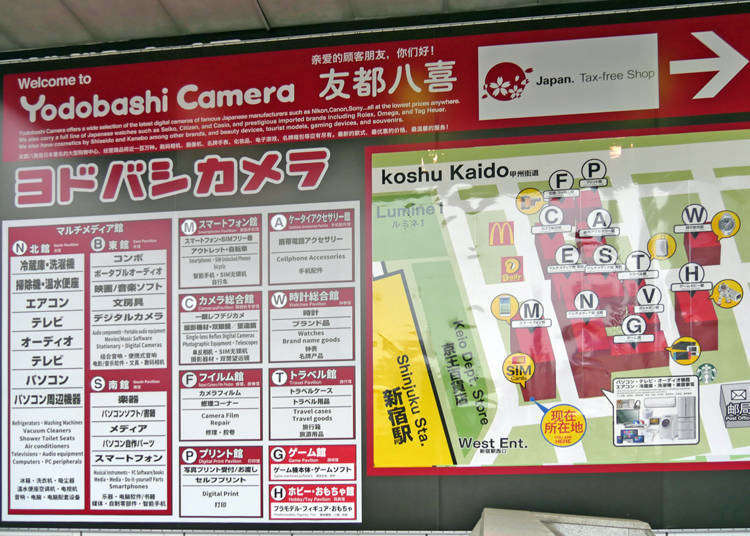 Shinjuku is one of Tokyo's most popular shopping districts, where everything, from food and drinks to fashion and entertainment, is gathered. Shinjuku is also famous for its popular electronics retailers. There is a wide selection of products ranging from the latest in home appliances to second-hand products, so if you visit Shinjuku's Electric Town, you will most likely find what you're looking for.

If you are shopping for home appliances, cameras, computers, and more, while comparing popular major electronics retailers, the Electric Town at Shinjuku's West Exit is the place for you. Here's all about the major shops in the area.
Shinjuku Station's West Exit Area: Shopping street with a great selection of goods
The West Exit of Shinjuku Station is where the ticket gates for the JR, Marunouchi, Keio, and Odakyu lines are. The buses connecting Narita and Haneda airports to the station are also located by its West exit, making it a convenient spot for foreigners visiting Tokyo.

What's more, some of the stores in Electric Town are directly connected to the station, making them easily accessible right off your commute.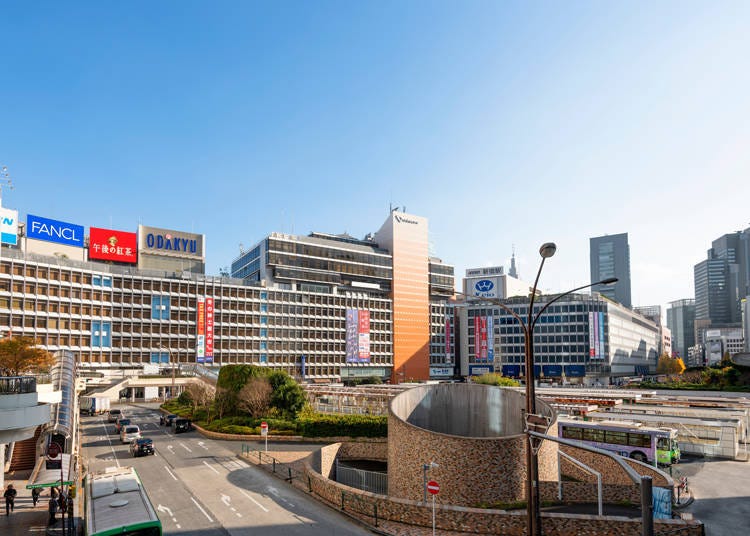 Imagepocket / Shutterstock.com
The Tokyo Metropolitan Government skyscrapers by the west exit of Shinjuku Station are impressive. Although the area is an office district, where many business people come and go, there are also stores for families and tourists.

Major electronics retailers compete for a broad customer base, and all stores have excellent product lineups. Each store has a unique style that makes use of its strengths.

Whether you are on the market for cheap home appliances of personal computers, or you are looking for the most advanced digital home appliances in Japan, or if you are looking to enjoy the vibrant atmosphere of Shinjuku Electric Town, you will find what you're looking for.
Yodobashi Camera Shinjuku Nishiguchi: 11 buildings around the West exit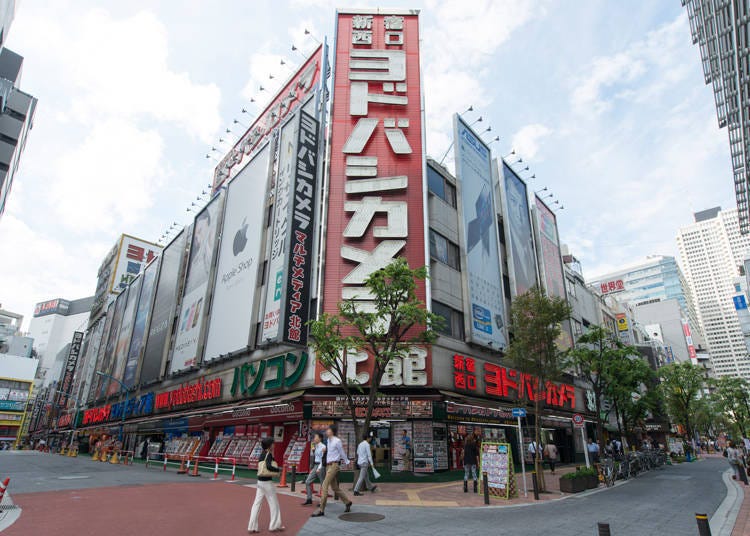 Yodobashi Camera Shinjuku West Exit Main Store
Since being established in Nishi Shinjuku in 1967, Yodobashi Camera has evolved from a camera shop into a general electronics retail store, and it's long been known as the face of the West exit of Shinjuku Station. This site has been part of Nishi Shinjuku since its former name, Yodobashi Shinjuku, and it's become the headquarters of Yodobashi Camera, which has stores all over the country.

One of the major features of the building is that it has expanded many times, acquiring nearby buildings and other floors. Several specialty areas are scattered around the west exit, mainly multimedia museums that have been there long. If you know what you're looking for, take a look at the specialty areas.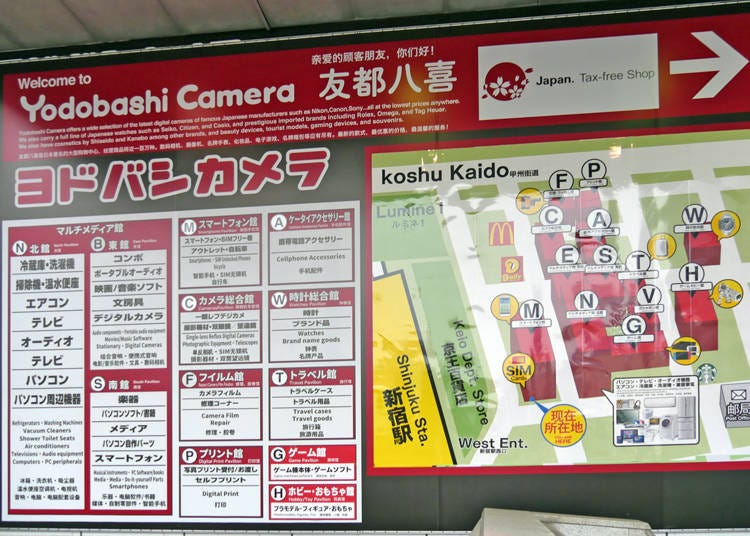 Yodobashi Camera specialty areas map
●Multimedia Building
If you're not sure where to go, visit the Multimedia Hall. This major section sports all kinds of appliances, like PCs, smartphones, cameras, audio equipment, electronic pianos, rice cookers, beauty appliances, and cosmetics. The Multimedia Hall consists of three buildings, the North, south, and East buildings, but the sections of the pavilion indoors are connected so that you can easily move within it. The North building stretches from the basement to the 8th floor, while the South and East buildings have products from the basement up to the 5th floor.

●General Camera Building
The camera building, filled with camera-related products from the basement to the 5th floor, is a must-see for camera lovers. It is no exaggeration to say that you can get almost anything related to cameras, such as tripods, camera bags, and photo-organizing supplies, as well as digital SLR cameras and lenses from all manufacturers.

●Print Building
There is a specialty shop that prints photographs. A digital printing machine is installed in the store, so you can print, by yourself, photos taken with a digital camera or smartphone while sightseeing around Japan. Of course, you can also ask the staff to make a print for you.

●Repair and Film Building
The Repair and Film Hall is for camera repairs. They also repair items that have not been purchased from Yodobashi Camera, so visit them if you have issues with one of your electronics breaking. They also handle camera film and film developing that are not common anymore.

●Watches Building
The watch specialty building is located on the 2nd, 3rd, and 4th basement levels. There are many Japanese watches on the first level, like Seiko, Citizen, and Casio. There's the casual kind that you can buy for 1000 yen, making the store section popular among foreign visitors. Other floors have foreign brand watches, alarm clocks, and even sunglasses, and writing instruments. The second basement level is where they handle battery replacement and repairs.

●Mobiles and Smartphone Hall
Connected with Shinjuku Station in the basement, this area has mobile phones and smartphones on the first floor and PC peripherals and home appliances on the second floor. If you want to try and find something cheaper of many different makes, check out the 'outlet' (discount) corner on the second floor. In addition, the store sells bicycles on the second basement level, and they also do watch repair, battery replacement, and parts replacement.

●Cellphone Accessories Hall
You can find Docomo, Au, SoftBank, smartphone cases, LCD protective sheets, chargers, earphones, and memory cards here. Selfie sticks (popular among travelers) can also be found here.

●Travel Hall
The Travel Hall has a variety of things to use for traveling. There are. A variety of suitcases, from small to large, as well as rucksacks, shoulder bags, padlocks, compression bags, preserved food, conversion plugs, adapters, etc. Foreigners traveling in Japan may find some useful goods. This area of the store also carries outdoor and camping equipment.

●Gashapon (gumball/toyball machine) Hall
Gashapon is a capsuled toy that comes out of a gumball-like machine upon inserting a coin and pulling a lever. On the ground floor and in the basement, about 500 gashapon are lined up, with prizes from popular characters, to animals, vehicles, and cute or funny things.

●Hobby and Toy Hall
There's a dream-like specialty section full of toys from the first basement level to the 5th floor. In addition to children's toys, they sell plastic models, drones, and railway models that adults will love. Everyone will be happy with the selection.

●Game Hall
The game specialty hall sells game software, peripherals, strategy books, and more for game consoles like Nintendo, Switch, 3DS, PS4, XboxOne. There are also game character goods for all video game lovers out there.
BicCamera Shinjuku Nishiguchi: Great assortment of goods, from the latest home appliances to alcohol
BicCamera Shinjuku West Exit
BicCamera, a major consumer electronics retailer with its head offices in Ikebukuro. The store at the Shinjuku West exit is directly connected to the station and covers six floors, from the 2nd to the 7th. Here, you will find a collection of specialty stores with cameras, personal computers, home appliances, smartphones, and more. The electronics sections have a lot of hands-on corners where you can try out products before buying them. In addition to electronics, the store carries various goods, from pharmaceutical products to toys, watches, and beds.

Noteworthy is the Rider's Café, where you can get a custom bicycle with the design and parts of your choice. It's a popular store that was built in 2017. On the second floor, you will find a liquor store that carries 7000 varieties of beer, whisky, wine, shochu, and sake, and where you can even find a walk-in cellar. Moreover, you can try drinks with snacks at the tasting counter while being introduced to your drinks by employees with sommelier qualifications.

The store has clerks with expertise in all items, like cameras, home appliances, as well as alcohol, or daily necessities, so you can choose from a wide variety of products while being sure that you will receive good consultation on things that you don't fully understand. Because it's connected to Shinjuku Station, this is a nice and easily accessible shopping center, even on rainy days. After you are done shopping at BicCamera, you can dine at the restaurant on the 8th floor of the same building.

Special BicCamera Coupon for Live Japan Readers!
Yamada Denki LABI Shinjuku West Exit Hall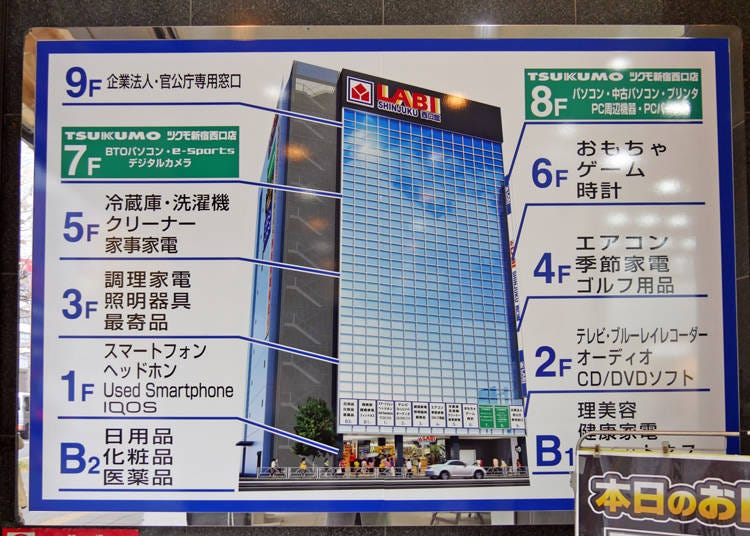 Yamada Denki LABI Shinjuku West Exit Hall
Yamada Denki Labi Shinjuku Nishiguchi, which opened in 2011, is a new store in Electric Town by the West exit of Shinjuku Station. That said, Yamada Denki is the largest consumer electronics retailer with large stores nationwide, not just in urban areas.

LABI Shinjuku West Exit also has 11 floors from the basement level to the 9th floor (7th and 8th-floor host the Yamada Denki Group's PC specialty store "Tsukumo Shinjuku West Exit"), and it carries PCs, digital cameras, games, watches, home appliances, smartphones. The store boasts a large selection of daily necessities, like cosmetics and pharmaceuticals. You will be amazed at the variety of smartphone accessories in the store on the first floor. There is also a section where you can experience the so-called suggestion-type sales.

The store also features many of the latest home appliances and smart home appliances focused on energy-saving, the main selling point of the store. The store itself uses only LED lighting on all floors since its opening. Also, unlike many other stores in the area, the passages connecting the various parts of the store are very spacious. Walking around with a cart, stroller, or large luggage is particularly good for families and travelers in generals.

In this bright, spacious store with high ceilings, finding your desired item from a large selection of products should be easy. The first basement level is connected to the underground connecting passage to Shinjuku Station, so it's safe even on rainy days.
Janpara: If you want to get used goods at a cheap price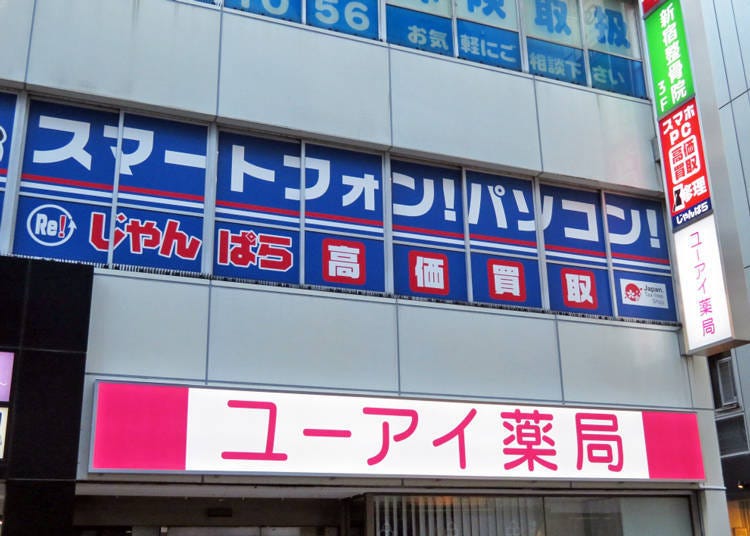 Janpara Shinjuku Store
Janpara is a smartphone/computer store that operates all-over Japan. They purchase unwanted smartphones, PCs, tablets, digital cameras, etc., inspect them, and re-sell them.

There are two stores by the West exit of Shinjuku Station. The one on the second floor of the pharmacy is a store that handles used smartphones, tablets, PCs, and video equipment in particular. The selection of smartphones like the iPhone is large. Many types of RAM, CPU, and HDD parts are indispensable for home-built personal computers.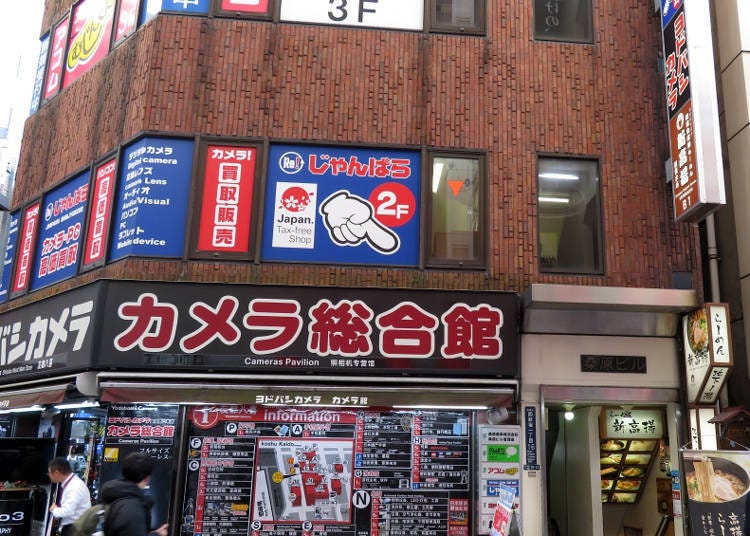 Janpara Shinjuku Second Shop
The entrance is different, but the main products of Janpara Shinjuku Second Store are on the second floor, in the same building as the Yodobashi Camera Shinjuku Nishiguchi Main Store. Here are all camera-related products, as well as Macbooks and iPads. In particular, you will find many SLR digital cameras and lenses. They also handle headphones and other audio equipment.

This is how the West exit of Shinjuku Station became Electric Town. Here, you can find new and used products and the major home electronics retailers in Japan, Yodobashi Camera, BicCamera, Yamada Denki, and Janpara.

Consumers can shop at lower prices because of the fierce competition, and you will also be able to receive guidance from expert clerks in many fields, in Electric Town by the West exit of Shinjuku Station. All of this will make for delightful shopping.
Written by: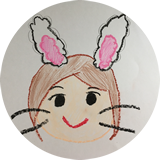 *This information is from the time of this article's publication.
*Prices and options mentioned are subject to change.
*Unless stated otherwise, all prices include tax.