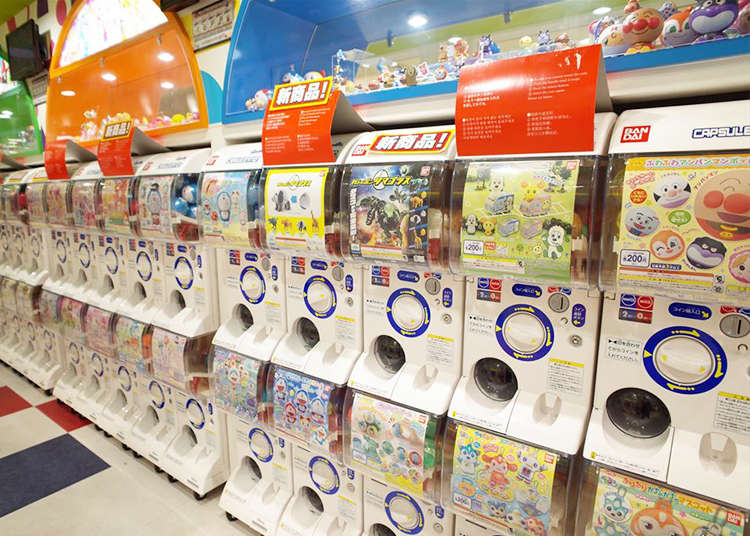 Pretty much everyone who comes to Japan will end up spending a few coins in the innumerable capsule toy machines. Especially anime fans are overjoyed to find their favorite characters as adorable phone straps or figurines, available for little money and with the exciting element of surprise. The great quality and creative diversity of these capsule toys do elevate them from a cute gimmick to genuine souvenirs and collectibles, a real "Only in Japan" thing to try at least once. We talked to Bandai, one of the country's largest capsule toy manufacturers, about the past, present, and future of the popular Gashapon.
Bandai, Known for Character Capsule Toys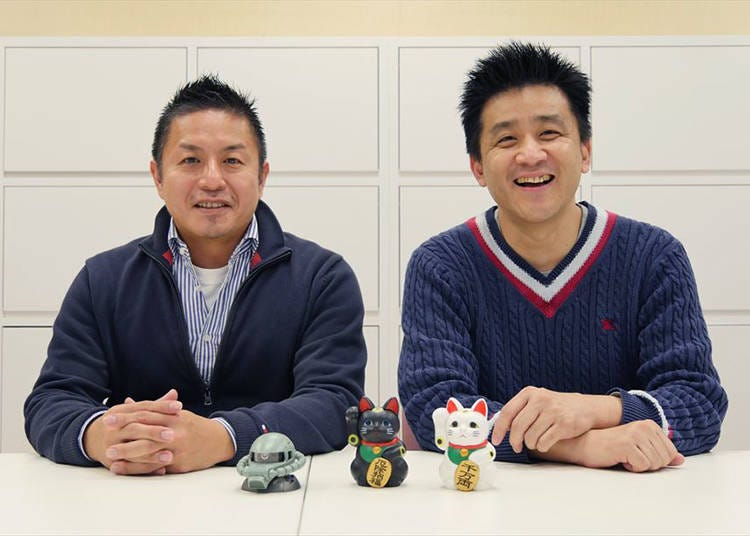 ▲ Mr. Otsuka (left) and Mr. Honda (right) of Bandai Co., Ltd.'s Vending Machine Business Department
Bandai is so strong in the capsule toy market because it focuses on popular characters such as Anpanman, Doraemon, Gundam, and so on. Mr. Honda, who works on the planning and development of Bandai's Gashapon®, and Mr. Otsuka, responsible for the promotion, tell us about the history of Gashapon, up to the current situation.
The Evolution of Gashapon #1 – No More Capsules?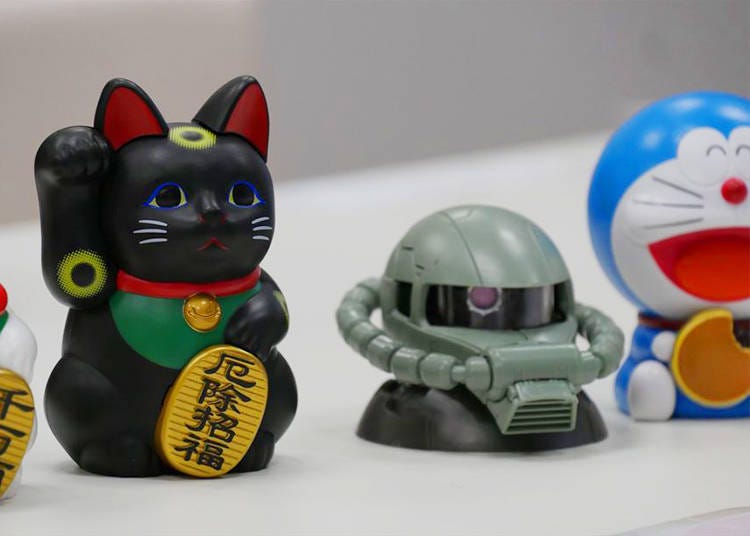 That capsule toys are contained in, well, capsules lies in their name. "However, because of that, the toy has to be small. We thought that if we made the capsule a part of the character, we'd also be able to create larger toys," explains Mr. Honda. To move away from the thought that capsule toy equals small, and to "surprise everyone with something big," series such as the Manekineko Lucky Cats and EXCEED MODEL ZAKU HEAD were created.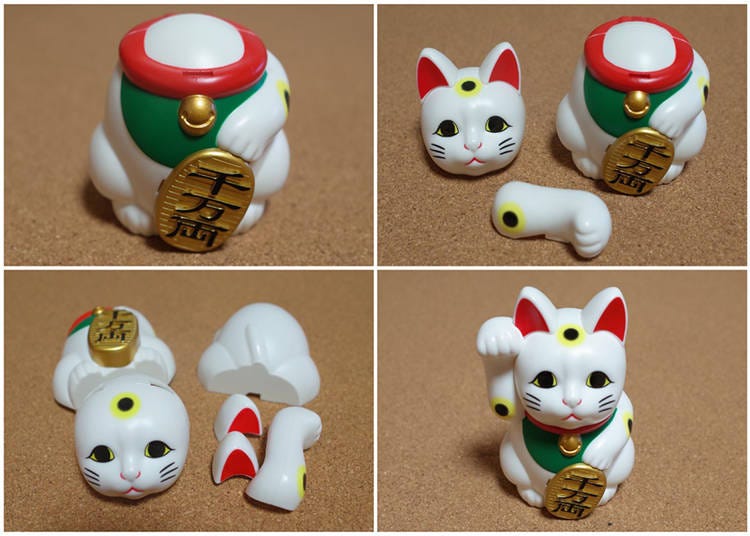 This is the Manekineko Lucky Cat series. The cat's torso acts as the capsule, with its face, arm, and ears hidden inside. It's quickly assembled:
1) Open the torso.
2) Put the ears on the head.
3) Add the head and arm to the body – all done!

One of these adorable lucky cats is about 10cm big and so intricately made, it's hard to imagine that this is a classic capsule toy. The lucky cat is famous all around the world, recognized by pretty much everyone. The cheap price and the unique status as a capsule toy makes this a wonderfully quirky and cute souvenir!
The Evolution of Gashapon #2 – Reviving Nostalgic Booms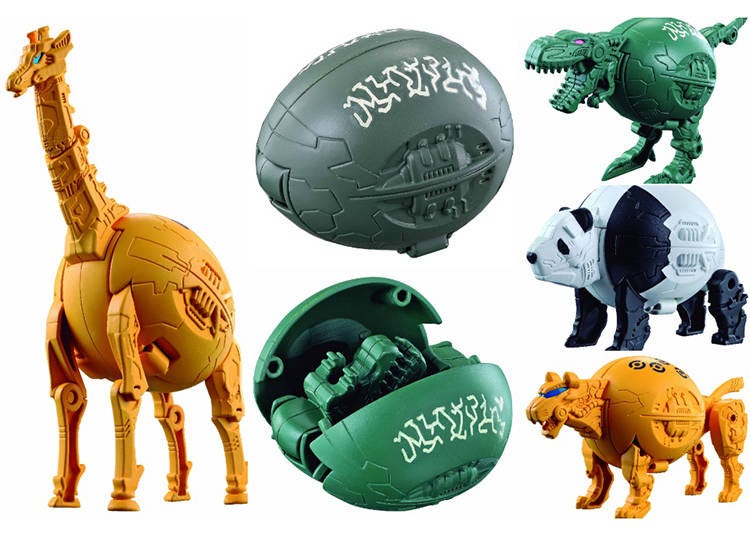 Gashapon Tamagorasu
This series is called Tamagorasu and Mr. Otsuka's warmest recommendation. It was a massive hit in the 80s and just this year, the series was revived in this egg-shaped capsule style. Tamago means egg, and that's exactly what this toy starts out as. As you "crack" it open, it transforms into an animal, this time much larger than the original series. It combines modern technology with old ideas, creating a blast from the past that's entirely irresistible.
The Evolution of Gashapon #3 – Towards the Artsy and Geeky!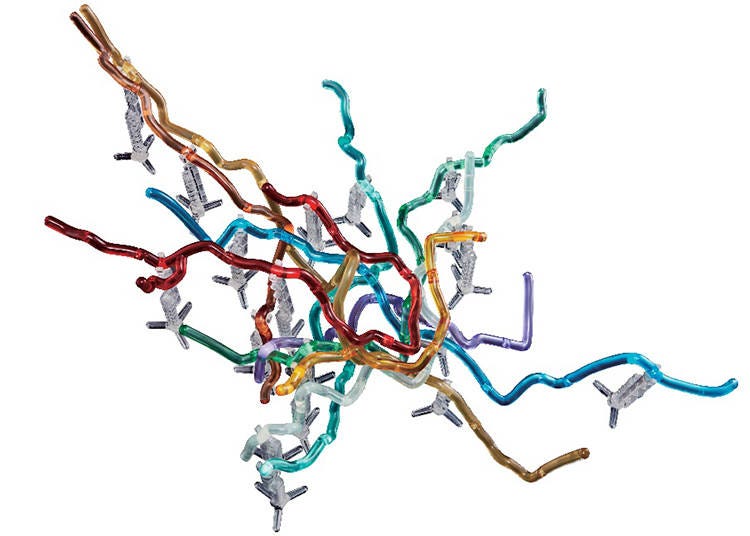 A cool and geeky 3D map of Tokyo's subway map
"You get one of these and there's only sticks inside. It's too ordinary, we thought at first, that can never make for a proper product." That was the beginning of the recently released Tokyo subway map Gashapon. It turned out to be so popular that it's already entirely sold out, but the truth is that this particular capsule toy was already in planning 10 years ago. It seems that there are plenty of ideas that at first aren't turned into toys until a few years later.
The History of Capsule Toys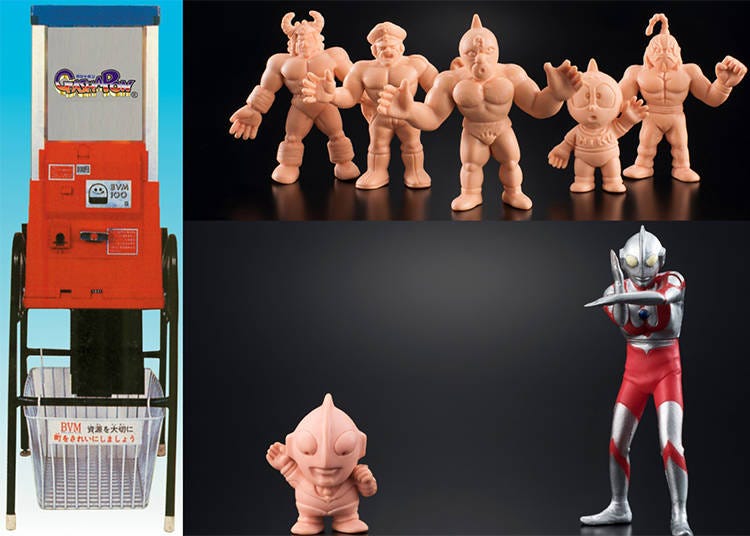 1) A Gashapon machine from the 80s 2) The "Muscle Man" erasers that created a massive boom 3) The figurine on the left is the SD Ultraman from the 80s, while on the right is the first version of the massively popular HG series from the 90s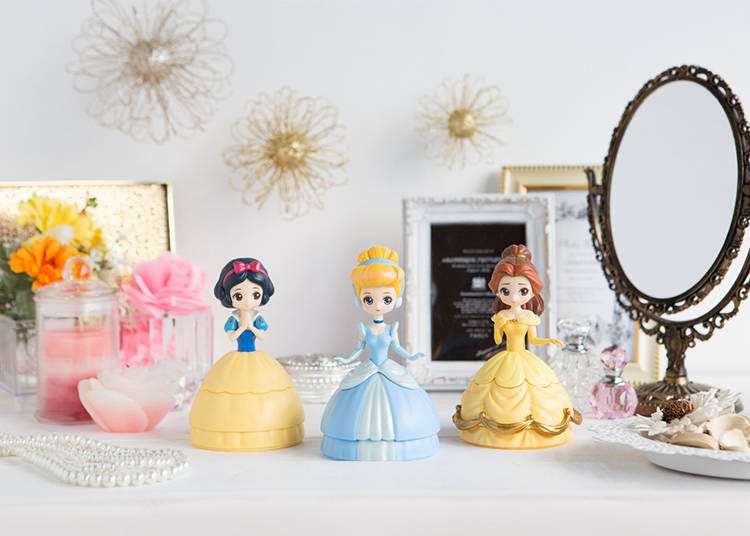 Capchara Heroine Doll
Bandai started selling capsule toys in 1977 and thus celebrated its 40th anniversary in 2017. Back then, the company was a real pioneer of character capsule toys, conquering the market with 100 yen per capsule. That seems cheap nowadays but back then, one capsule usually only cost about 20 yen, so the exceptionality of the character toys was evident immediately. One series that really left its mark and further established Bandai as a character toy player was the Kinnikuman ("Muscle Man") eraser series that launched in 1983. Lovingly referred to as Kinkeshi, 180 million muscle man erasers were sold in just four years. After this boom, Bandai kept focusing on character capsule toy and by the 90s, the quality had increased to a point where even adults, mainly men, started to notice the little goodies. More recently, capsule toys have also become massively popular with women and international tourists – these two groups are responsible for an all-new capsule toy boom.
Creating Capsule Toys: Development and Difficulties
Bandai's Gashapon development team is less than 30 people. It is divided into teams for every target audience, and everyone thinks of ideas individually. Those are then discussed with the sales department and presented. If the project is approved, a trial production is made within two weeks and improvements follow, until the capsule toy is ready for commercialization. From planning to release, the entire process takes about 3 to 4 months if it's fast, and 5 to 6 months if it progresses at a regular speed. Generally speaking, there's one new toy per character each month, while popular series get two new releases. In total, one month sees about 30 to 40 new toys of all kinds!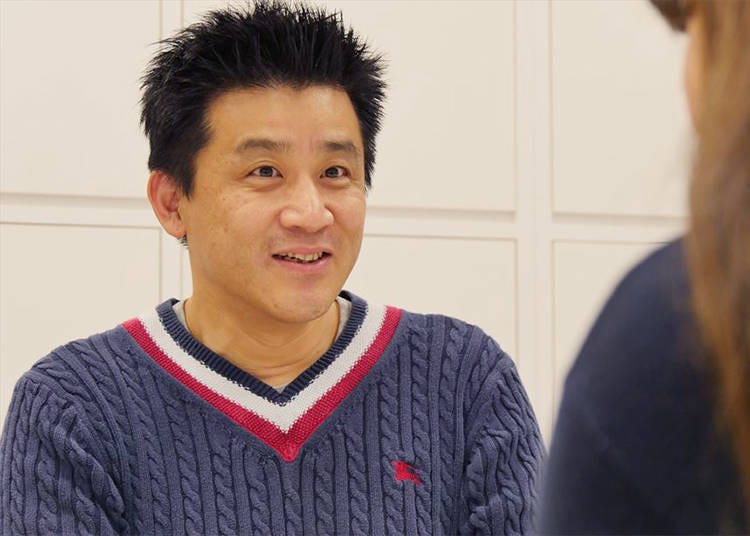 "It is very important whether it looks fresh in reality," says Mr. Honda. Opposed to regular toys, you don't know what you'll get when you put coins into a Gashapon machine, the uniqueness and impact that makes you think "That looks awesome, I need this!" is of great importance. "Everyone agrees that if a toy doesn't have a certain edge, they'll end up looking all the same. They become boring. To make people want a capsule toy, it needs to be different from the rest, boast a fresh uniqueness." Because of that, there are few discussions about new ideas inside the team. Instead, they're mostly pursued individually.
The main difficulty of this process is finding the balance between the realization of one's idea and price and quality. Gashapon toys are known for being wonderfully cheap – but that also means that an interesting idea needs to be realized within that small price. Simply dropping the price won't do either, as that would mean a decrease in quality and hence attractiveness. So, how to change an idea to make it fit in the regular price range, while also maintaining the quality and appeal of the product? We're told that this is the most difficult part of the capsule toy creation process.
Capsule Toy Trends: What's Hot Right Now?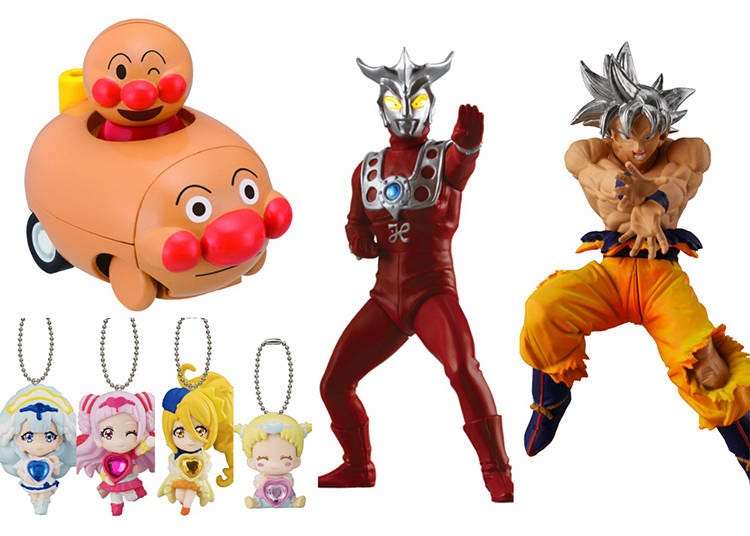 1) Kurutto turn! Pullback Anpanman 3 / 2) Hugtto! PreCure Kiratto Swing / 3) Ultimate Luminous Ultraman 06 / 4) Dragon Ball Super VS Dragon Ball 06
Even nowadays, Anpanman is the absolute favorite of Japanese kids. Kamen Rider, sentai (Japan's costumed superheroes), Ultraman, PreCure, and Dragon Ball are also series that enjoy massive popularity. For a long time, Gashapon was strongly connected to kids and adult men, so the question of how to target adult women was a real issue.
However, thanks to the iconic Sailor Moon series celebrating its 20th anniversary, that problem could be solved rather successfully. Since 2018, Gashapon also has its own lineup of Disney products, becoming a fun, unique way of surprise for more and more audiences.
The International Favorite: Gundam!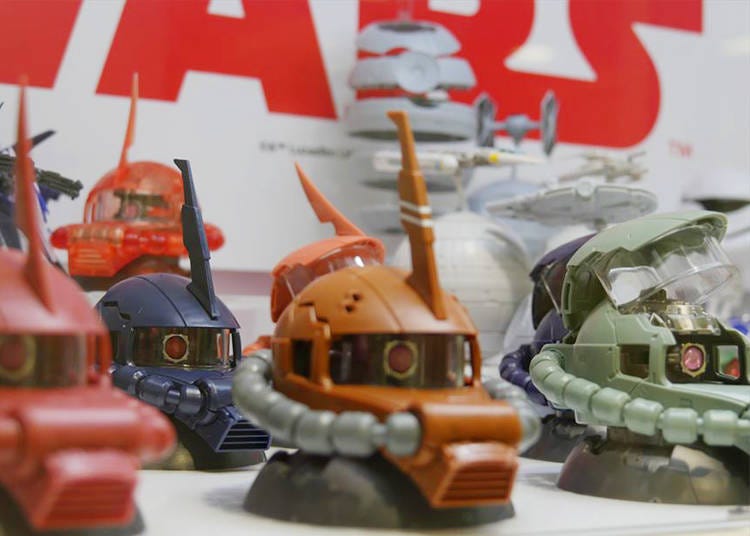 Gundam's EXCEED MODEL ZAKU HEAD capsule toy series is ridiculously popular with the international audience. "This series took a really long time to develop, that was exhausting. "I thought that making it round would be really easy, but it was actually rather hard. Halfway through I thought 'Ugh, I should've never started this'," says Mr. Honda and laughs. Apparently, there were a lot of attempts to turn the Gundam heads into the round capsule shape. This is also an example of a project that has been in the making for 10 years! Back then, the price range just didn't match and the idea could never be realized, so it was put on hold. But after all this time, the Exceed Model Zaku Head series finally hot the Gashapon machines! "Thank you all for making this a hit product and rewarding all the pain!"
Tokyo Gashapon Street: A Bandai Capsule Toy Paradise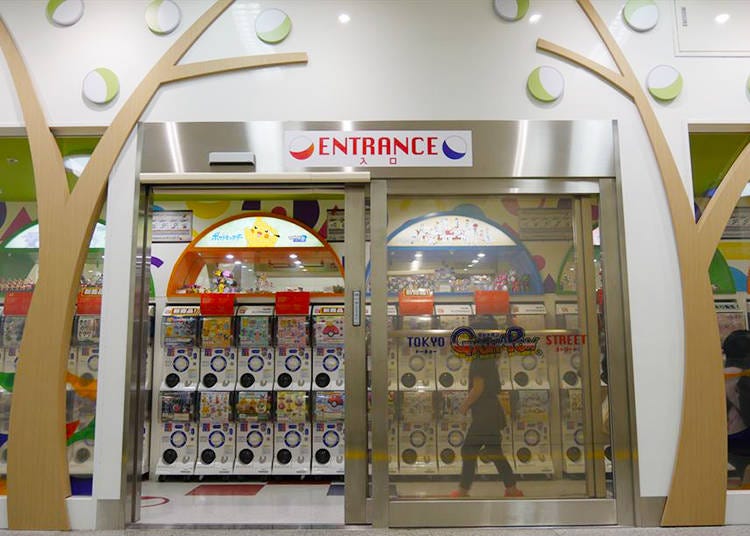 Behold: Tokyo Gashapon Street, where over 50 unique Gashapon machines line up to give you an extensive selection of awesome capsule toys! It's located within Tokyo Station and thus boasts excellent access, there's no excuse to not stop by. It's become a hot spot for tourists from all over the world, and you'll always see someone enjoying the unique experience of Japan's fun capsule toys.
Other than that, Gashapon Sky Shop at Haneda Airport Terminal 1's basement floor also offers a last-minute chance of scoring a great capsule toy souvenir.
What's Next? Gashapon's International Launch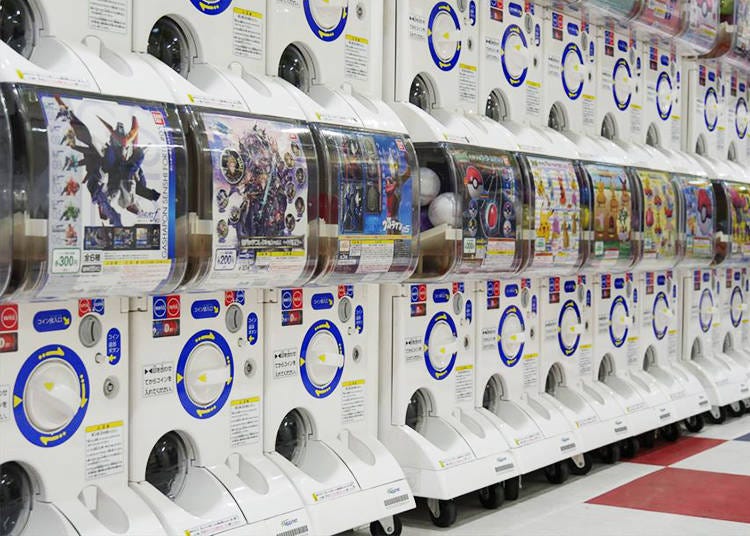 Currently, capsule toys are well on the way to conquer the international stage, focusing on Asia for now. Series such as Dragon Ball and Gundam are popular there as well, and toys are planned to be released at the same time as in Japan. Right now, Bandai has set up Gashapon machines in 9 countries and regions within Asia and is just about to launch the first machines in North America and Europe. "We're slowly entering the international market and plan to develop toys that an international audience will enjoy as well. We want to cater not only to anime fans but to everyone," explains Mr. Otsuka. Bandai's planning to release plenty of fun and unique products for summer, so look forward to the newest lineup! And if you happen to walk by a Gashapon machine on your next trip to Japan, do make sure to stop and check what creative toy is ready to be picked up!
トーキョーガシャポンストリート

Address

Tokyo Character Street, Tokyo Station Ichibangai B1F, 1-9-1 Marunouchi, Chiyoda-ku, Tōkyō-to 100-0005

Hours: 10:00 a.m. – 8:30 p.m.
Closed: always open
©Yanase Takashi/Froebel-kan・TMS・NTV
© TSUBURAYA PRODUCTIONS Co., Ltd.
©バードスタジオ/集英社・フジテレビ・東映アニメーション
©ゆでたまご・TOEI ANIMATION Co.,Ltd.
©Disney
©ABC-A・TOEI ANIMATION Co.,Ltd.
©SOTSU CO.,LTD., SUNRISE INC.
©BANDAI
*This information is from the time of this article's publication.
*Prices and options mentioned are subject to change.
*Unless stated otherwise, all prices include tax.