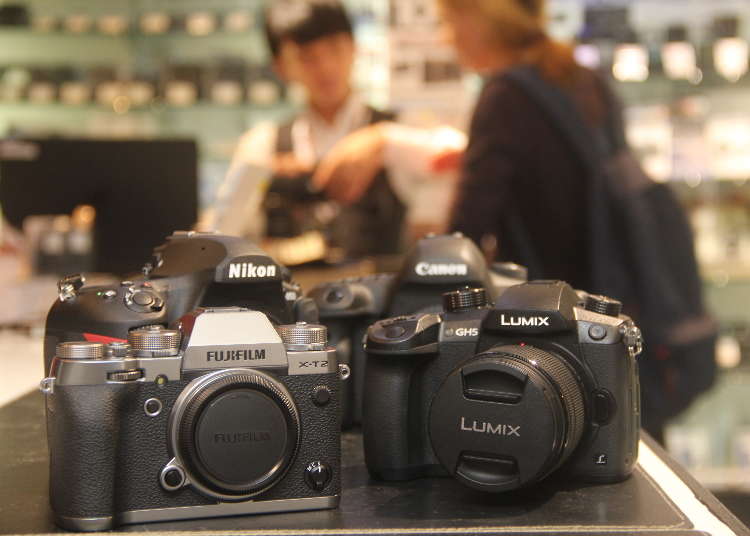 You just can't beat Japan's used camera stores: the owners are uncompromising in accepting only quality used merchandise, much of which will look practically new. Body blemishes and other minor defects are also plainly displayed so buyers know exactly what they are getting. And the prices? Well, you'll just have to read on to believe!

Here we'll introduce four camera stores in Tokyo selling used cameras (as well as new ones) that are very popular with all types of camera buffs: those looking for good old ones, those looking for the latest digital cameras, those interested in compact film cameras with superior designs, and those looking for classic and vintage cameras.

These Tokyo camera shops have something for everyone - some even have film cameras that are not even on the market and are sought after by collectors. These four shops sell Japanese cameras and are particularly popular with foreign visitors as they also have duty-free sales.
1. Fujiya Camera: Popular and Spacious Shop Nakano Tokyo Offering a Large Selection of Used Cameras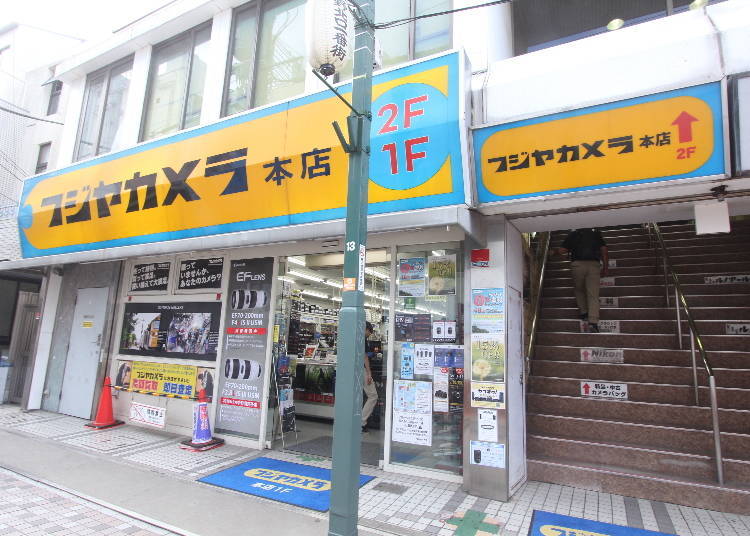 Look for the yellow and blue sign
Nakano is known to even foreign travelers as being a mecca for sub-cultures like anime and games and it is here that Fujiya Camera, boasting an 80-year history, is located.

To get to the main shop, go out the north exit of JR Nakano Station and head towards Nakano Broadway and you will see the shop's yellow and blue sign on the right.

On the first floor are Canon, Sony, Olympus, Fujifilm, and Panasonic while on the second floor are Nikon, Contax, Pentax, famous German brands such as Leica and Zeiss single-lens reflex film cameras, and Mamiya and Hasselblad which account for almost half of the cameras there.

This camera store in Tokyo has about 4,000 used items and about 5,000 new items.

There are five levels used to indicate the condition of the items starting with A (in beautiful condition) ~ B (feels like it has been used a lot). There are also outlet products that have never been used.

And in the annex of the shop on the same street, you can find used accessories such as tripods and upstairs there valuable old cameras and lenses, though there is no guarantee that they will work. This is a second-hand camera store you really should visit if you have the time.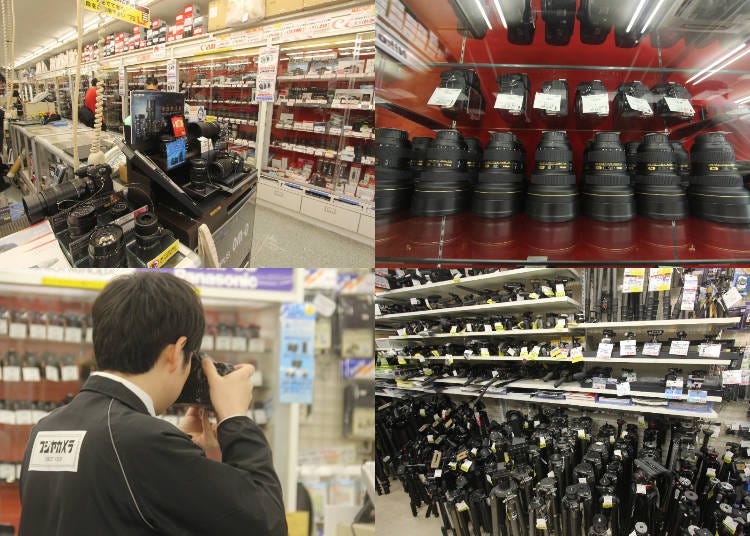 1: 1st floor interior. New products; 2: Nikon zoom lenses; 3: Staff checking functionality; 4: nearby accessory shop loaded with Gitzo used tripods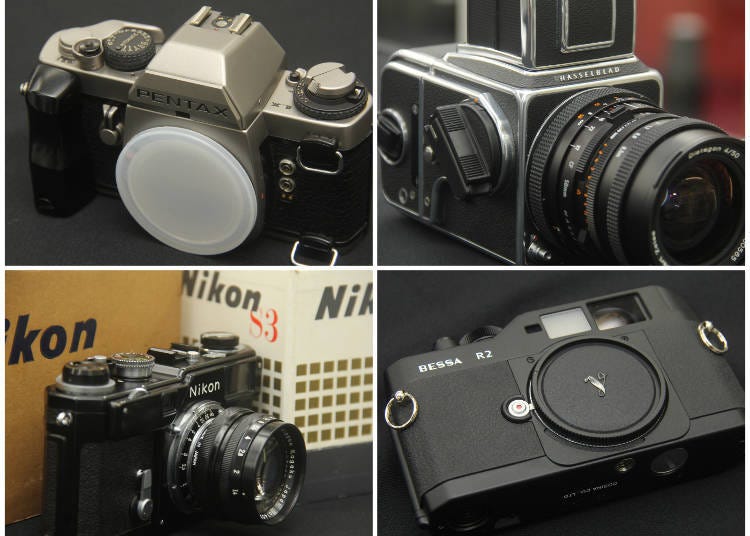 1: Pentax LX Titanium (body) 189,000 yen; 2: Hasselblad A12 Chrome (body) 17,280 yen, CF50 (lens) 81,000 yen, 500C/M (grid screen) 52,920 yen; 3: Nikon S3 Olympic Model 702,000 yen; 4: Voigtlӓnder Bessa R2 (body) 62,640 yen
Address

Tatsumi building, 5-61-1, Nakano, Nakano-ku, Tokyo, 164-0001
View Map

Nearest Station

Nakano Station (JR Chuo Main Line / Tokyo Metro Tozai Line)
2 minutes on foot


Phone Number

03-5318-2241
2. Map Camera: Popular Shop in Shinjuku! Over 20,000 cameras, lenses, filters and more in stock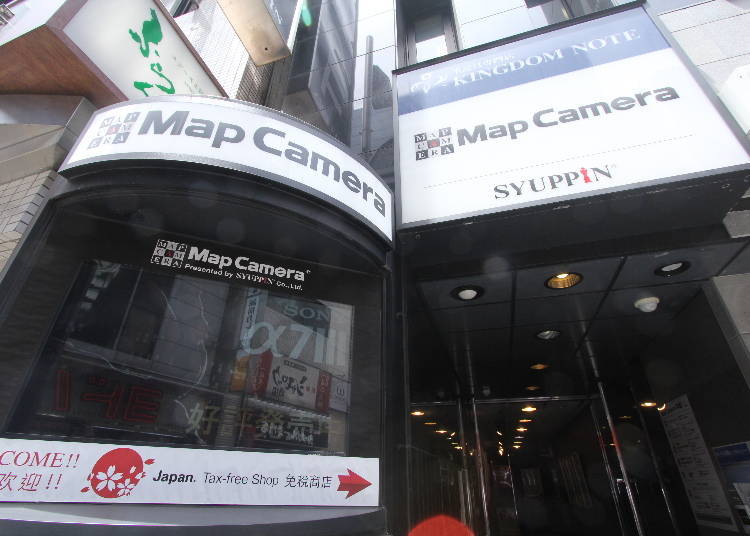 Entrance of the building in the district noted for mass merchandising of electronic products
The many mass merchandising electrical appliance shops in Nishi Shinjuku make it a lively place and it is here where Map Camera's main store is located, one of the largest vendors of good quality used cameras in Japan having an inventory of about 20,000 cameras which it sells through its shop and online. It carries over 30 different brands, both foreign and domestic.

Not only does it have an excellent selection of vintage film cameras, but also the latest digital single-lens reflex (dSLR) cameras at affordable cheap prices. The price tags also indicate the condition of the camera according to a six-level evaluation, such as Like New, Very Good, Good, etc.

It also has a department in the store specializing in buying cameras and another for repairs and maintenance. The shop also has a reputation for maintaining good quality control.

This second-hand camera store in Tokyo occupies the third through fifth floors and first basement of the building. Nikon, Pentax, and Fujifilm are found on the third floor; Canon and Olympus are on the fourth floor; and Sony and Contax are on the fifth floor.

In the basement, there are imported cameras, such as Leica for which there is a boutique corner as the shop is an officially recognized retailer of Leica. Here you can see comparisons of old and new Leica.

On the first and second floors of this building, GMT handles used and new luxury wristwatches and Kingdom Note, which sells fountain pens, is located on the sixth floor; both of these shops are managed by Map Camera. If time permits, these are also worth visiting.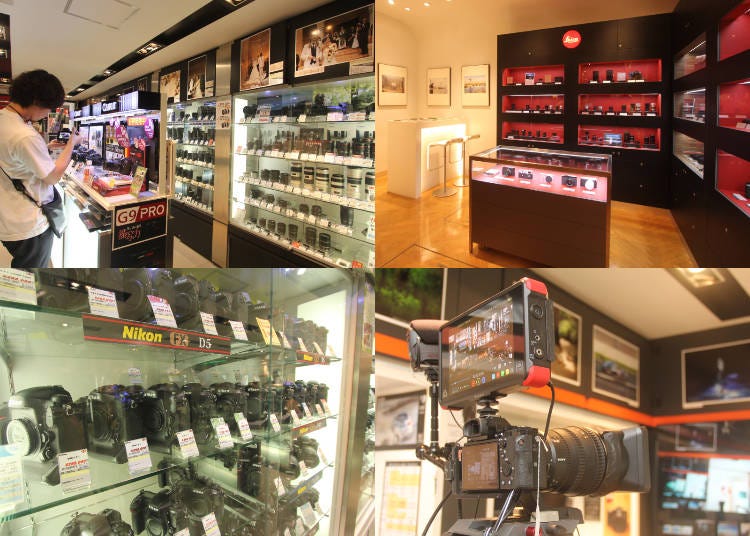 1: Shelves of Canon on the 4th floor; 2: Leica Boutique in the basement; 3: Nikon digital reflex cameras; 4: Sony digital cameras and HDR monitors made by Atomos (* Descriptions of Sony products is only in Japanese)
1: Fujifilm X-T2 Silver Edition (body) 128,000 yen; 2: Nikon D850 (body) 323,800 yen; 3: In front is the Leica M3 (body) 298,000 yen and behind it the Leica M6TTL (body) 219,800 yen; 4: Panasonic / Lumix DC-GH5M Zoom Lens Kit 208,000 yen
マップカメラ本館

Address

〒 160-0023東京都新宿区西新宿1-12-5/1-12-5 Nishi-Shinjuku, Shinjuku-ku, Tokyo, 160-0023

Nearest Station

5-minute walk from the South Exit of JR Shinjuku Station


Phone Number

03-3342-3381

Hours: 10:30 a.m. ~ 8:30 p.m.
Closed: Open daily
Language Support: English
3. Lemon Inc.: Has an Outstanding Collection of Vintage Cameras in Ginza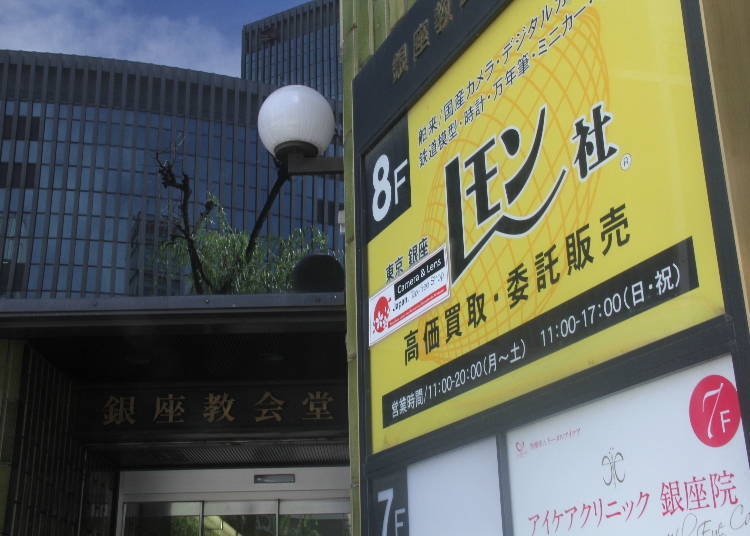 Entrance to Ginza Kyokaido standing at the east side of Yurakucho Station
Lemon Inc. has a history of almost 40 years in Ginza and in addition to this main shop, there are shops in Shinjuku, Akihabara, and Sakae in Nagoya. The Ginza Kyokai shop located to the east of Yurakucho Station has an extensive collection of film cameras. It enjoys great popularity among classic camera aficionados looking for second-hand film cameras in Tokyo.

In addition to national brands, such as Nikon, Canon, Olympus, and Pentax, the shop also has many good quality used foreign cameras and lenses, such as Leica and Hasselblad. The shop also has a good selection of twin-lens reflex cameras, both domestic and foreign, such as Rolleiflex, Ricohflex, and Yashicaflex.

The condition of the cameras is indicated by letters of the alphabet. A means the camera is in almost new and beautiful condition; AB+ means the camera has almost imperceptible defects; AB means that the defect is very light; and B means there is damage, cloudy lens, and feels old and worn out.

The shop also has a collection of used Japanese watches like Seiko and Citizen, plus domestic and foreign writing instruments, and model trains.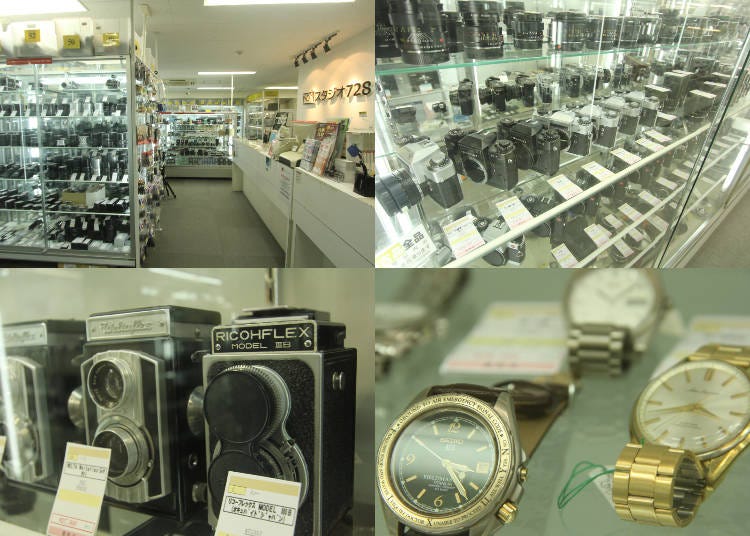 1: Photographic studio here, too; 2: Best collection in the city of old Leica products; Twin-lens reflex cameras Ricohflex and Rolleiflex; 4: Used Seiko wristwatches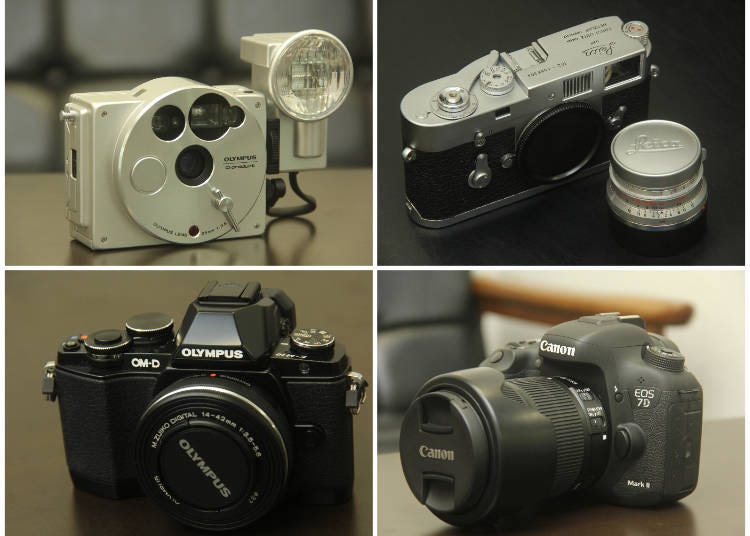 1: Olympus O-product 35,000 yen; 2: Leica M2 (body) 110,000 yen, Summicron M35/2 (8 elements) lens 480,000 yen; 3: Olympus OM-D lens kit 33,000 yen; 4: Canon 7D lens kit 128,000 yen
レモン社 銀座教会店

Address

〒104-0061 東京都中央区銀座4-2-1 銀座教会堂ビル8F / 8F, 4-2-1 Ginza, Chuo-ku, Tokyo, 104-0061, Japan

Nearest Station

1-minute walk from the B10 Exit of Tokyo Metro Ginza Station; 2-minute walk from the Central Exit of the JR Yurakucho Station


Phone Number

03-3567-3131

Hours: 11:00 a.m. ~ 8:00 p.m. (Sunday, holidays until 7:00 p.m.)
Closed: Open daily (except during the New Year's holidays)
Language Support: English
4. Sukiya Camera: 80 Years in Business! Look for Hidden Value at This Used Camera Store in Tokyo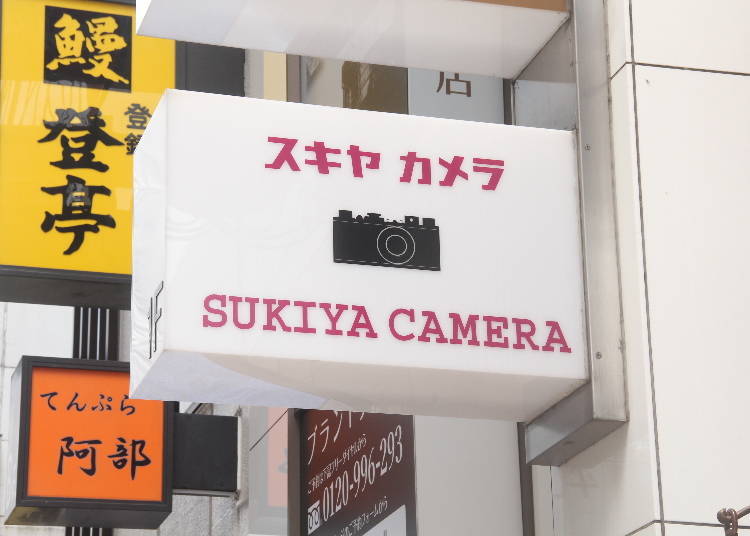 Sign at entrance on Ginza Renga-dori
Gucci, Beams, Ships and other well-known shops line Ginza Renga-dori, but among hardcore camera fans, the street is famous for Sukiya Camera. It began business 80 years ago in Sukiya-dori and then moved to its current location 10 years ago and remains as popular with devoted customers as ever for its famous products.

In recent years there has been a large increase in the number of foreign visitors to the shop seeking rare expensive compact film cameras made by Kyocera and Contax and famous cameras such as Leica.

The one-room shop snugly located on the first floor of the building has about 1,000 cameras and lenses on display. Of these, about one-third are Leica camera bodies and lenses.

Also on display are domestic brands such as Canon and Nikon as well as foreign brands like Hasselblad and Minox. Once a rare item goes on display, it doesn't take long for a collector to snap it up. Come and visit and you, too, may also discover what you have been looking for.
1: Shop interior; 2: Contax compact film camera; 3: Minox camera that originated in Latvia; 4: Leica M3 (body) 98,000 ~ 150,000 yen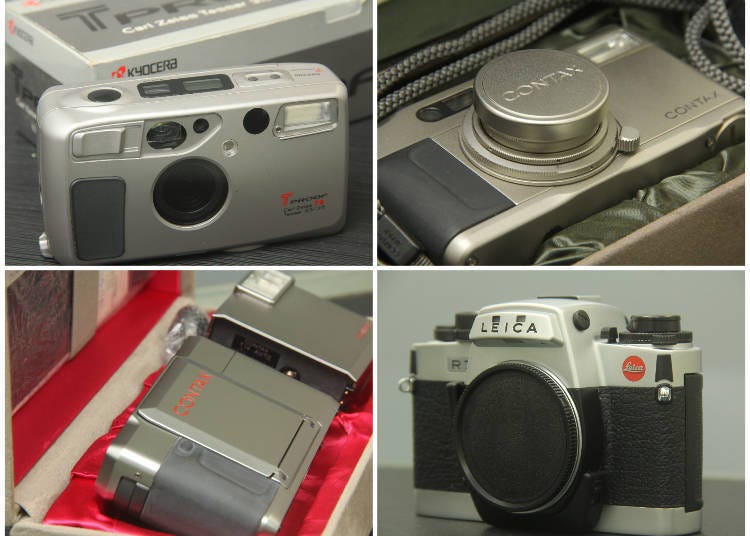 1: Kyocera T Proof 40,000 yen; 2: Contax TVS 20,000 yen; 3: Contax T 118,000 yen; 4: Leica R7 (body) 35,000 yen
スキヤカメラ本店

Address

〒104-0061 東京都中央区銀座4-3-7 猿谷ビル1F / 1F, 4-3-7 Ginza, Chuo-ku, Tokyo, 104-0061, Japan

Nearest Station

1-minute walk from the B4 Exit in Ginza Station on the Tokyo Metro Ginza Line


Phone Number

03-3571-5555

Hours: 10:00 a.m. ~ 7:00 p.m.
Closed: Mondays
Language Support: English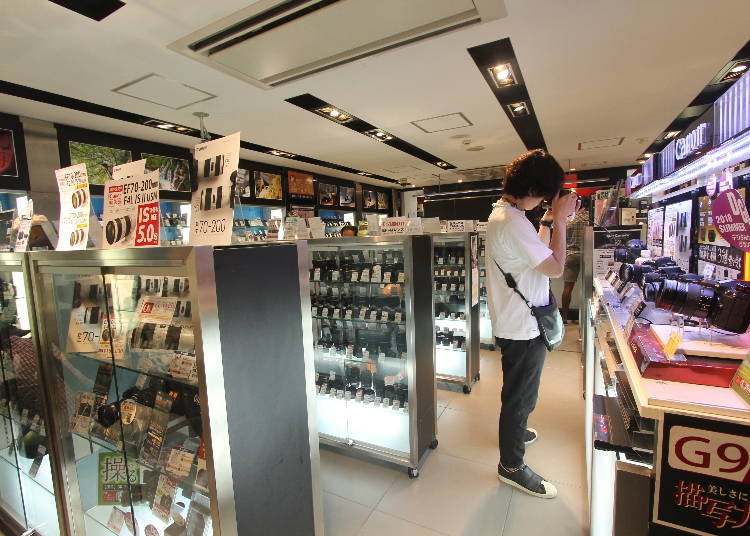 New multifunctional high-end cameras at list prices are sometimes beyond one's budget, but the same camera when used is often affordable. You might just be lucky enough to find the old model that you could not buy when it was new or a classic camera that you had long been looking for here in Japan.

Whether you are looking to buy a new camera, one of a certain quality and design, or a vintage camera, these shops offer wide selections of good quality used items to choose from, but when you do decide to buy, make sure that you carefully check the price and condition so that you don't have any regrets later on.
* Some of the cameras mentioned in this article may have been sold since the article was written and it is also possible that prices mentioned for some of the items may have changed.

*This information is from the time of this article's publication.
*Prices and options mentioned are subject to change.
*Unless stated otherwise, all prices include tax.