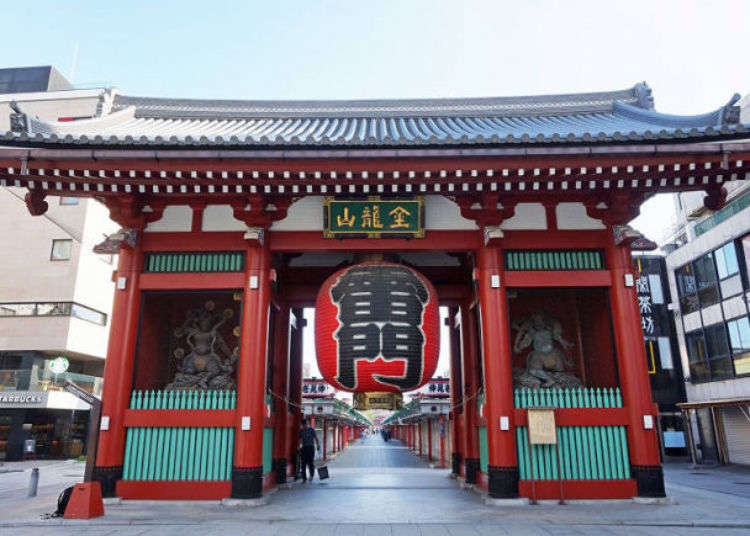 Hop outside Asakusa Station, and you'll see how Tokyo was like in its olden days. With plenty of historic buildings and structures such as Sensō-ji Temple, Kaminarimon, and the well-known Nakamise Street with its rows upon rows of established shops selling Japanese-style confectionery and souvenirs, it's really no wonder people from all over Japan as well as the world enjoy visiting!

The area's close proximity to the Tokyo Skytree means visitors will also be able to do some modern sightseeing while basking in the old town vibe of Asakusa at the same time - the best of both worlds that Tokyo has to offer!

It's easy to taste Japan's history and culture through the tasteful atmosphere of Asakusa's proudly old-fashioned streetscape. Here are some easy transport options first-timers (or even old-timers!) to Asakusa can use to get to the town and its most popular sightseeing spots, Sensō-ji and Kaminarimon.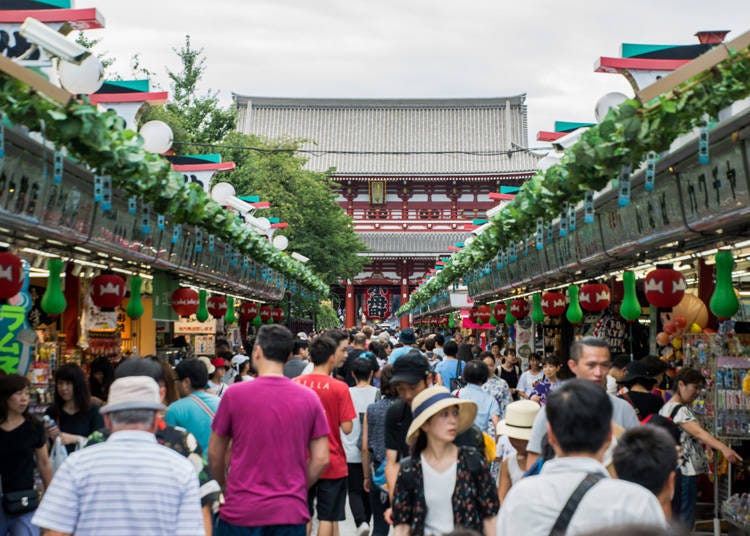 Tanasut Chindasuthi / Shutterstock.com
Located on the east side of Tokyo's Taito district, Asakusa is one of Japan's most popular tourist attractions for its Edo period (1603 to 1868) buildings and de facto status as a religious and cultural center of the ordinary people.

To get to Sensō-ji Temple, the oldest temple within the Tokyo metropolitan area, you'll have to pass through a massive entrance gate called the Fūraijinmon, more commonly known as the Kaminarimon. One of Tokyo's oldest shopping arcades, Nakamise Shopping Street, which is home to about 90 shops, is also found in Asakusa. There's no shortage of things to see and do here, that's for sure!

A little bit more about Sensō-ji: The temple is about 1,400 years old, and more than 30 million people visit the place every year. During the Edo period, it was designated as a prayer center of the Tokugawa shogunate. Entertainment districts and commercial streets started developing more quickly around the temple after its newfound popularity.

One of Tokyo's latest iconic sights, the Tokyo Skytree, is also just a stone's throw away, making the town a place where you can experience a fascinating mix of the old and new. The streets of Asakusa are, therefore, often packed with tourists from Japan or around the world, attracted by this intriguingly appealing dissonance.
Address

2-3-1, Asakusa, Taitou-ku, Tokyo, 111-0032
View Map

Nearest Station

Asakusa Station (Tokyo Metro Ginza Line / Toei Asakusa Line / Tobu Isesaki Line (Tobu Sky Tree Line) / Tsukuba Express)
5 minutes on foot


Phone Number

03-3842-0181
There are four train stations in Asakusa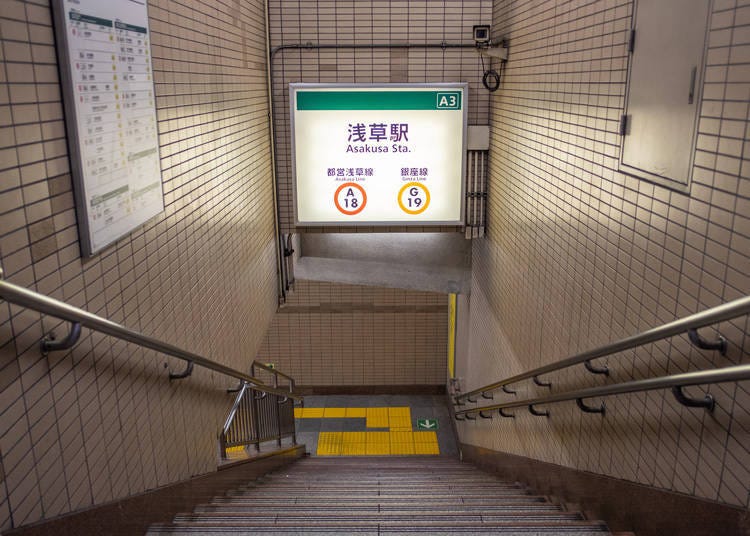 Nor Gal / Shutterstock.com
The first thing you'll need to know about Asakusa's transport options is that there are four train stations located near Kaminarimon of Sensō-ji, which is often used as a base for travelers touring this town.

It sounds more complicated than it really is, we promise, because all the stations are within 5-minute walks from each other. So rather than worry about which station to use, focus instead on finding the most suitable route to take from your accommodations to Asakusa.
Asakusa Station on the Tokyo Metro Ginza Line
The Tokyo Metro Ginza Line connects Shibuya to Asakusa, stopping at major stations such as Shimbashi, Ginza, Mitsukoshimae, Akihabara, and Ueno. This is a convenient route to use for sightseeing around Tokyo.

Take Exit 1 from Asakusa Station on the Tokyo Metro Ginza Line and walk for one to two minutes to reach the Asakusa area. This station is the nearest one to Kaminarimon. Choose this station if you don't wish to walk too much to get to nearby tourist hotspots, or if you're worried about getting lost on your way there.
Asakusa Station on the Toei Subway Asakusa Line
The Toei Subway Asakusa Line connects Nishi-Magome Station in the Ota district to Oshiage Station in the Sumida district, the latter being the closest station to the Tokyo Skytree and Tokyo Solamachi. If you have both Asakusa and the Skytree on your itinerary, then this line gives you easy access to both areas.

It takes about 2 to 3 minutes to reach the Asakusa area after coming out from the station's Exit A4. This station is also connected to the Ginza Line via an underground walkway, so getting from here to Kaminarimon shouldn't take very much more time than Asakusa Station on the Ginza Line.
Asakusa Station on the Tobu Skytree Line
Come out from the main exit of this station and walk for about two to three minutes to reach the Asakusa area. It's also easier to get to this station from Gunma or Saitama than the others. The Tokyo Skytree Station (formerly Narihirabashi) is right next to it, so we recommend using this station like the station on the Asakusa Line above if you plan to sightsee at Asakusa and then move on to the Skytree.
Asakusa Station on the Tsukuba Express
The Tsukuba Express (abbr.: TX) connects Akihabara Station in the Chiyoda district to Tsukuba Station in Ibaraki Prefecture's Tsukuba city. You'll be able to reach Asakusa directly from Ibaraki or Akihabara using this route without needing to transfer trains.

Walk for about seven to eight minutes from Exit A1 to get to the Asakusa area. Note that this station is slightly farther away from Kaminarimon than the other stations. One of the more efficient ways to get there from this station is to visit the main shrine building of Sensō-ji first, then pass through Hōzōmon gate and walk along Nakamise Shopping Street to finally get around to Kaminarimon.
Getting to Asakusa from major stations in Tokyo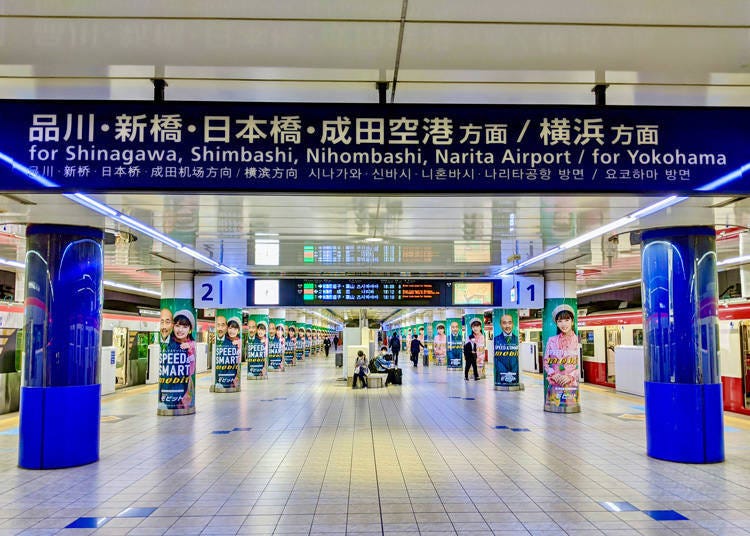 Paolo Gianti / Shutterstock.com
This section will focus on how to get to the Asakusa area from the airport or major stations in the city commonly used by tourists while sightseeing.
From Haneda Airport to Asakusa
Here's how to get to Asakusa from Haneda Airport, how much it will cost, and how long it will take. From Haneda Airport Terminal 1·2 Station, or Haneda Airport Terminal 3 Station, take a train on the Keihin Kyuko's Keikyu Line, and you'll be able to get to Asakusa Station on the Toei Subway Asakusa Line without needing to transfer lines. This should take about 40 minutes and cost about 660 yen in all.

If possible, try to board a special express or airport limited express train. However, because these trains don't run regularly in the evening, you may prefer to board a regular airport express instead if you'll be arriving around that time.

The trains have a few final destinations, such as Narita Airport, Inba-Nihon-Idai Station, and Makinohara Station. Just be very careful you don't accidentally board the wrong train going towards Yokohama / Shin-Zushi, as it will be using the same platform as the other trains as well.
From Narita Airport to Asakusa
The two main methods to get from Narita Airport to the Asakusa area is by train or bus. For trains, the Keisei Skyliner is a paid express train with guaranteed seating on the Keisei Electric Railway with direct access to Keisei-Ueno Station from the airport. After getting off at Keisei-Ueno Station, walk for about five minutes to Ueno Station on the JR Lines and transfer to a regular train that will take you to the Asakusa area. You can also travel to the Asakusa area from Narita Airport by using only regular trains as well if you like.

If you prefer taking a bus, try the limousine bus that goes from the airport to the Asakusa View Hotel. This brings you directly to the Asakusa area, and there is no need to transfer to another vehicle in between.
From Tokyo Station to Asakusa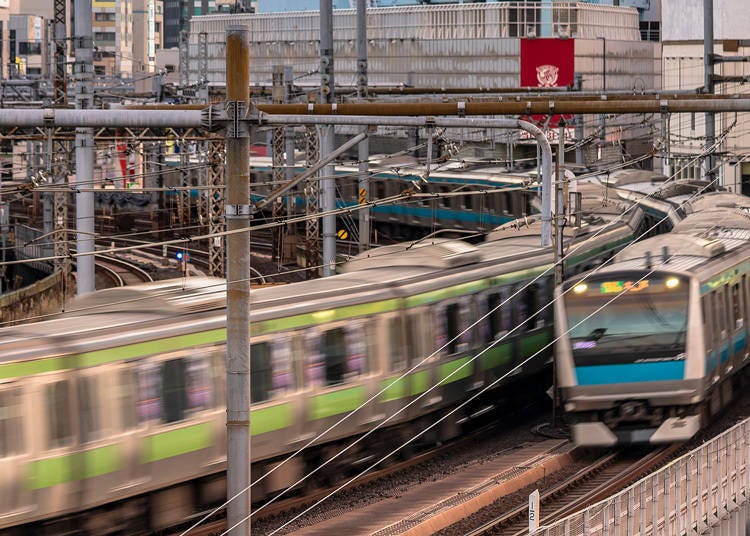 kuremo / Shutterstock.com
To get to Asakusa from Tokyo Station, you have the option of taking a bus, train, or taxi. The train is the best option for avoiding traffic jams.

Hop on a train on the Yamanote Line or Keihin-Tohoku Line and stop at Kanda Station on the JR Lines. Transfer to another train on the Tokyo Metro Ginza Line to get to Asakusa Station. It should take about 20 minutes, including transfer time, and cost about 300 yen. Since the trains on these routes run quite frequently, the journey should be a relatively smooth one.

If you like, you can also use just the subway without touching the JR lines. Take a subway train to the Ginza Station on the Tokyo Metro Marunouchi Line, then transfer to a train on the Ginza Line and take it to Asakusa Station. This should take about 25 minutes - slightly longer than the Kanda Station route, but also slightly cheaper at around 300 yen to balance things out.
From Shinjuku Station to Asakusa
Shinjuku is home to Japan's largest downtown district and a popular tourist hotspot among domestic and international visitors alike. To get to Asakusa from Shinjuku, you'll have to utilize both JR and Tokyo Metro lines and transfer trains one time.

Take the rapid train on the JR Chuo Line from Shinjuku to Kanda Station, then transfer to a train on the Tokyo Metro Ginza Line to get to Asakusa. This should take about half an hour and cost 340 yen or so.

Lines 7 and 8 are the platforms where the Chuo Line Rapid trains will depart heading towards Tokyo Station. All trains departing from lines 7 and 8 will stop at Kanda Station.
From Ueno Station to Asakusa
Ueno, like Asakusa, is located in the Taito district and is on par with Asakusa in terms of popularity among international visitors. To get to Asakusa from Ueno, simply use the Tokyo Metro Ginza Line for a short 6-minute trip without any transfers. The cheapest fare will only cost about 170 yen.
Consider traditional transportation for the complete old town experience!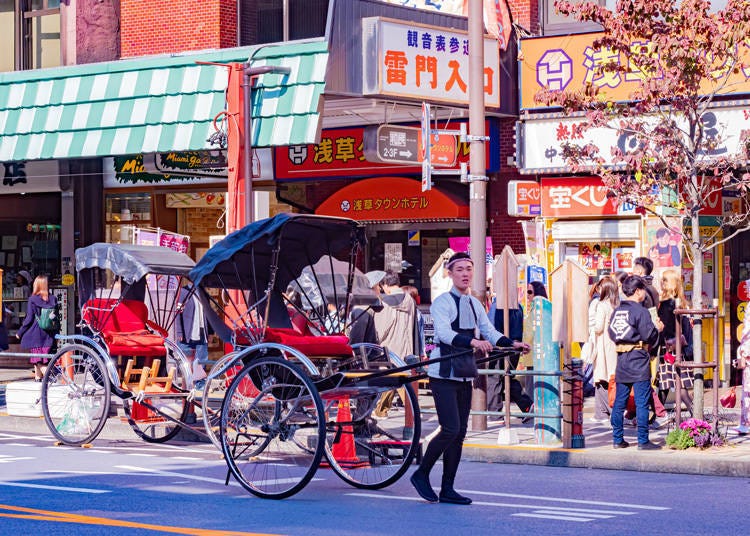 FOTOGRIN / Shutterstock.com
One good way to make your Asakusa tour even more enjoyable is to turn your mode of transportation itself into an adventure! Here are some transport options we highly recommend tourists try out if time permits.

Taito District Tour Bus: Megurin

Megurin is a community bus that goes around the Taito area. The bus itself is designed to exude a vintage charm that makes it attractive to riders of all ages and backgrounds.

The bus follows five courses: Kita-Megurin (Asakusa Loop), Kita-Megurin (Negishi Loop), Minami-Megurin, Tozai Megurin, and Gururi-Megurin. It takes about 40 to 45 minutes for the bus to complete one round on each course.

Buses on each course depart at 15 to 20-minute intervals, and the fare is a flat rate of 100 yen for adults and children alike! If you have an IC card you bought for transport purposes, you can use it to pay the fare as well.

Water Buses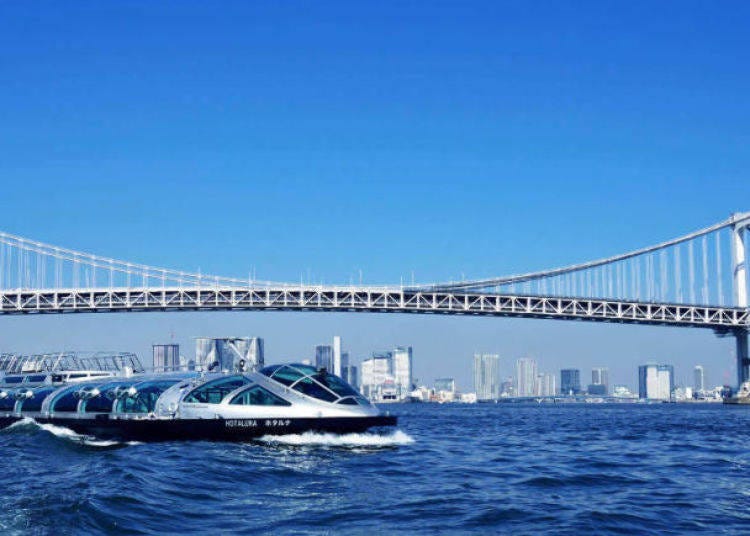 To move from the quaint and traditional Asakusa to a more modern part of the city, hop on the futuristic water buses Himiko or Hotaluna. Designed to look like spaceships by Leiji Matsumoto, author of famous works such as Galaxy Express 999 and Space Pirate Captain Harlock, they're a fun way of sightseeing while getting around. You'll be able to see major tourist landscapes like the Tokyo Tower, Tokyo Skytree, and Rainbow Bridge from aboard this intriguing water bus.

The trip from Asakusa to Odaiba Marine Park will take about 70 minutes for 1,720 yen. It may seem quite a bit higher than trains or road buses. Still, you'll also get to see the Tokyo cityscape from an entirely different point of view, so just consider it part of your sightseeing experience!
Rickshaws

Another popular tourist-oriented mode of transportation is the rickshaw. This mode of transportation unique to Japan allows you to tour the streets of Asakusa as if you've traveled back in time to the Edo period, adding even more flavor to the cultural side of your Japan trip.

There are a few rickshaw companies in Asakusa, but the fares are rather similar across the board. A two-seater rickshaw should set you back about 4,000 yen for a 10-minute experience. Some rickshaw drivers can speak English or Mandarin Chinese as well, a perk for visitors who may not be familiar with the Japanese language.
Shared Bicycles

for you: Shared bicycles! Download the "Hello Cycling" app and sign up for an account to gain access to plenty of bicycle ports (or parking lots) where you'll be able to rent and return bicycles. It costs 70 yen per 15-minute block, and you can rent a bike for up to 12 hours for 1,000 yen.
Take your time around Asakusa's old-style streets!
The general mood in Asakusa is a nostalgic reminder of the past, and this is perhaps what makes it a popular spot among the futuristic city of Tokyo. Familiarize yourself with the methods to get there beforehand to enhance your trip and make it much more enjoyable than planned!

Written by Yumiko Masaki, Dali Corporation

*The above article is based on information from June 2020
*This information is from the time of this article's publication.
*Prices and options mentioned are subject to change.
*Unless stated otherwise, all prices include tax.