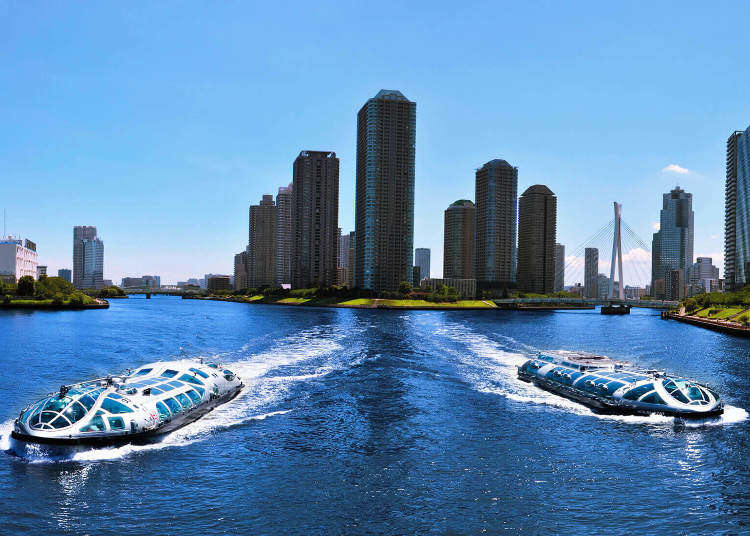 Did you know that Tokyo actually is a city of water? The southeastern part of the Japanese capital faces Tokyo Bay, while the Sumida River has acted as Tokyo's gateway to the sea since ancient times. This access to the ocean has always attracted both people and business, and even today, you'll spot many a ship sailing on the rivers and Tokyo Bay.

Among those ships are the so-called water buses, or 'suijo bus' in Japanese. These unique boat taxis have gained popularity, especially among visitors to the area. These water buses do not only take you from one place to the other, however; they offer amazing views of the city of Tokyo, and in some cases even unique gourmet experiences – let's take a look at Tokyo's trendy water buses!
Tokyo Cruise – The Standard of Tokyo's Water Buses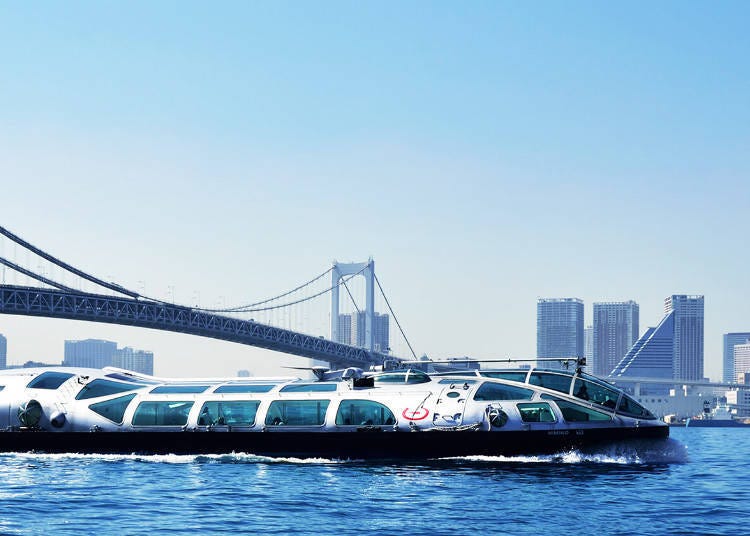 When talking about Tokyo's representative water buses, the name Tokyo Cruise immediately comes to mind. Their water buses populate the beautiful Sumida River, connecting Asakusa with the Hinode Pier at Hamamatsucho, Toyosu, and Odaiba Kaihin Park, among other locations.

The sightseeing ship company that operates Tokyo Cruise was initially founded 100 years ago. Back then, it was called "Sumida River Steamship Company" and operated small passenger steamships called issenjoki, "one sen steamboats." This is because one trip on such a boat cost the passenger one sen, which is about 100 yen in today's economy.

These cheap steamboats were incredibly popular with Tokyo's common folk as a convenient and easy way to get around the busiest parts of the city.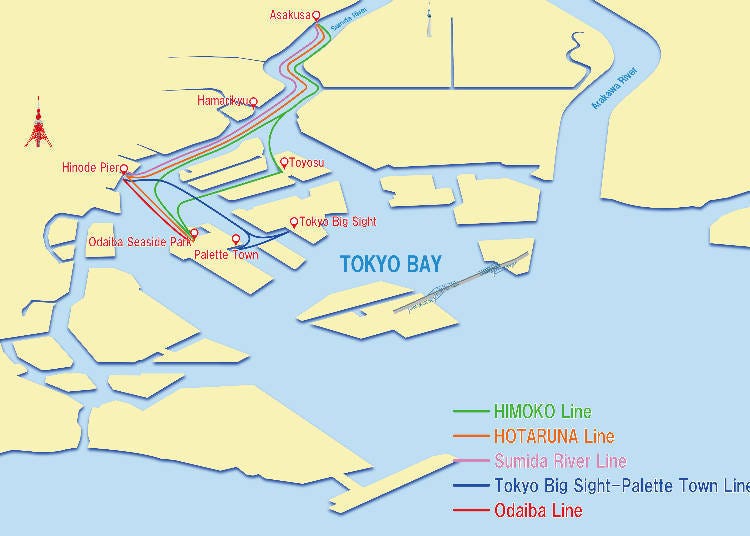 Today, Tokyo Cruise offers several different lines. The Sumida River Line connects Asakusa to Hinode Pier at the mouth of the river; the Odaiba Line connects Hinode Pier to Odaiba Kaihin Park.

The Tokyo Big Sight & Palette Town Line runs between Hinode Pier and two of Odaiba's popular spots: Tokyo Big Sight and Palette Town.

The water buses of these lines can be boarded without prior reservation. As the boats depart very frequently, water buses are the perfect way to enjoy unique and relaxed Tokyo sightseeing between Asakusa and Odaiba.

The Sumida River Line also offers an audio guide for 300 yen, available in English, Chinese, and Korean. Some of Tokyo's most famous landmarks can be spotted on the way, such as Tokyo Skytree(R) or the Rainbow Bridge – get a fresh perspective on the Japanese capital, by boat!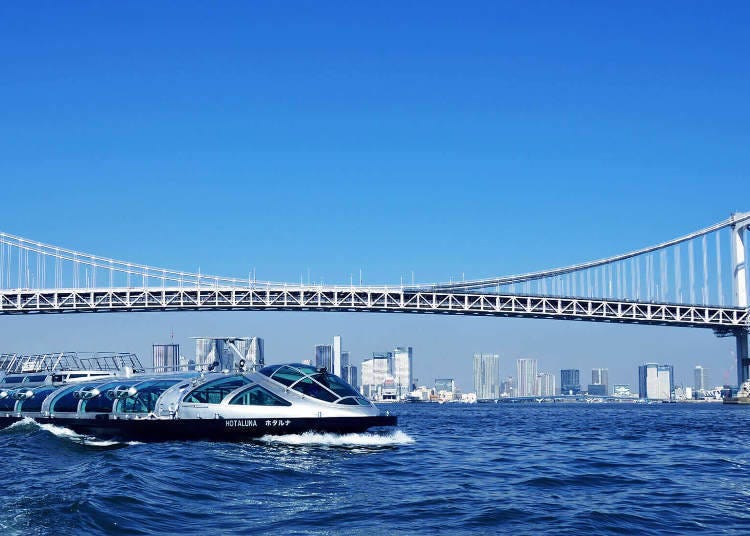 Among Tokyo Cruise's water buses are two truly unique boats: the Himiko and the Hotaluna, designed by the mangaka Leiji Matsumoto, the creator of Space Battleship Yamato, Space Pirate Captain Harlock, and Galaxy Express 999. The sci-fi-esque Himiko and Hotaluna are the symbols of Tokyo's water buses.

Both the Hikiko and the Hotaluna boats operate their own lines – the Himiko line connects Asakusa to Odaiba Kaihin Park and Toyosu, while the Hotaluna Line runs between Asakusa and Odaiba Kaihin Park, with a halfway stop at Hinode Pier.

On the Himiko boats, passengers can enjoy an inboard café that offers unique sweets and cocktails, as well as an audio guide for the characters of Leiji Matsumoto's famous work, Galaxy Express 999.
・Fare: 1,380 yen (adult; 690 yen for childen) from Asakusa to Odaiba Kaihin Park
・Duration: About 1 hour and 10 minutes from Asakusa to Odaiba Kaihin Park
・Holidays: Open daily (suspended during stormy weather)
・Access: Asakusa Boating Area: A short walk from Asakusa Station
・Website: Tokyo Cruise
TOKYO CRUISE

Address

1-1-1 Hanakawado, Taito-ku, Tokyo, 1110033 Japan
Tokyo Mizube Line – Taking You to the Edge of Tokyo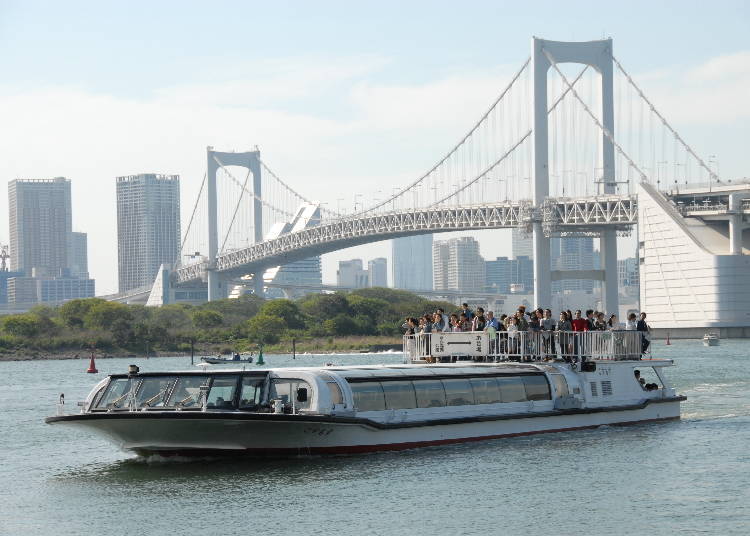 Next to Tokyo Cruise's water bus service, another line is trendy among both locals and tourists alike: the Tokyo Mizube Line.

The best feature of this water bus line is its large number of boarding places. Eighteen different boarding places are along the Sumida River, reaching far upstream from Asakusa, to Azusawa, Itabashi, and right up to the prefectural border of Saitama.

Parallel to the Sumida River flows the Arakawa River, and the boats of the Tokyo Mizube Line sail to the eastern end of Tokyo, up to the Kasai Rinkai Park of Edogawa.

No reservation is required to hop on the sightseeing boats, and an accompanying audio guide is available in English on board.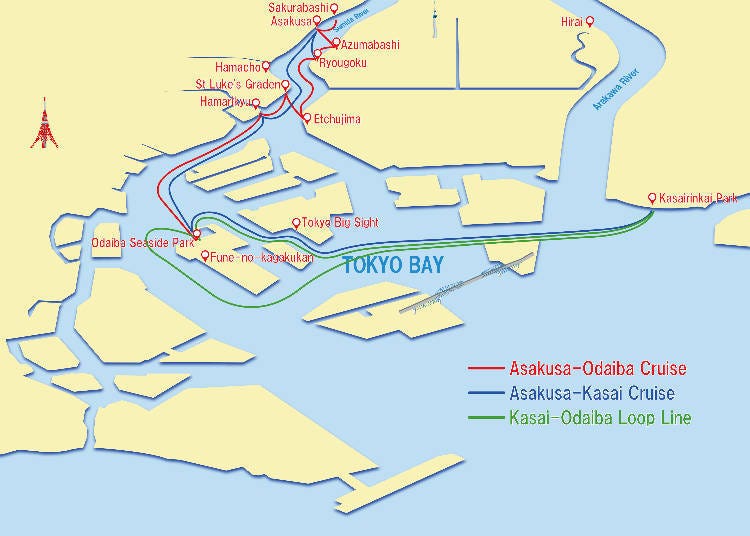 Tokyo Mizube Line has three main lines. The Asakusa Odaiba Cruise offers a leisurely trip between slightly above Asakusa and Odaiba, allowing you to get on and off at six different stops, such as Azumaba, Ryogoku, Etchujima, St. Luke's Garden, and Hamarikyu Gardens.

With the Asakusa Kasai Cruise, look forward to following the Sumida River upstream from Ryogoku to Asakusa. There, the water bus will turn downstream once more, taking you to Odaiba Seaside Park and further to the famous Kasai Rinkai Park in the east of Tokyo, where attractions such as an aquarium and a Ferris wheel can be enjoyed.

The third line is the Odaiba Kasai Tour, running back and forth from the Kasai Rinkai Park and the Odaiba Seaside Park, covering a vast area on the way.

Both the Asakusa Kasai Cruise and the Odaiba Kasai Tour sail along the Tokyo Gate Bridge, which was opened in 2012. The gigantic bridge of 8 kilometers spans Tokyo Bay and is a marvelous sight – one that can only be enjoyed up close with the Tokyo Mizube Line.
・Fare: 1,130 yen from Asakusa (Nitenmon) to Odaiba Seaside Park
・Duration: Between 45 and 75 minutes from Asakusa (Nitenmon) to Odaiba Seaside Park
・Holidays: Mondays (or the following day if Monday is a national holiday)
・Access: 5-minute walk from Asakusa Station to the Asakusa (Nitenmon) Boarding Place
・Website: Tokyo Mizube Cruising Line
Tokyo Mizube Cruising Line

東京水辺ライン

Address

2-1, Hanakawado, Taito-ku, Tokyo, 1110033 Japan
Japan's First "On Demand" Water Bus Taxi – in Tokyo!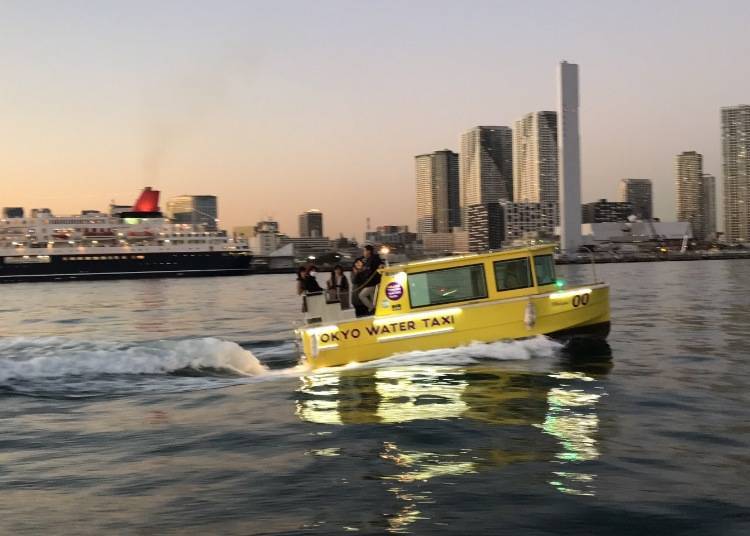 Next to sightseeing water buses, a new service that was started in 2015 now offers Japan's first "on-demand boats" – Tokyo Water Taxi.

The water taxis operate like any other taxi, covering four areas in total – Shinagawa, Tsukiji, Nihonbashi, and Asakusa – on demand.

Even from the outside, the water taxis are just like their classic car version. Shining in a bright yellow color, the boats are reminiscent of the characteristic yellow cabs of New York. This unique method of maritime transportation is attracting a lot of attention from both locals and tourists alike.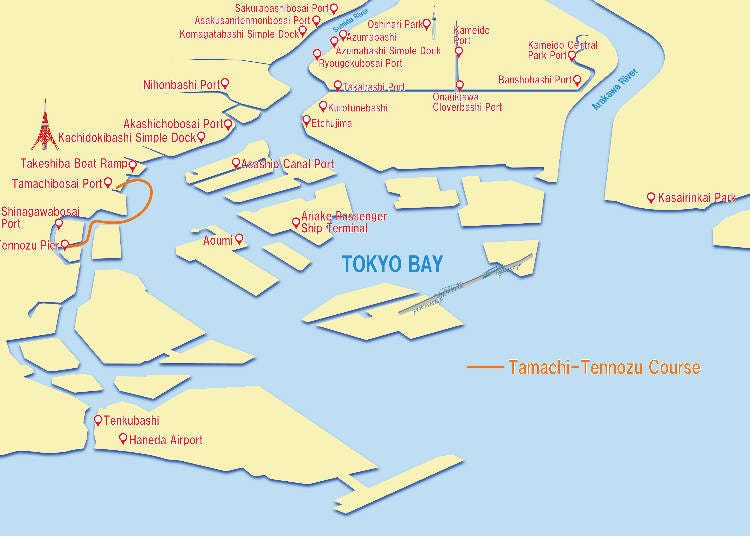 Tokyo Water Taxi offers the following three courses of interest to visitors.

The first one is the Basic Ride - Direct Plan, which can be used for up to seven days (weekdays only) and lets you hop on and off at 19 different places, such as Tennozu Pier or Toyosu. When you want to take a water taxi, call your boat via phone or web like you'd call a regular taxi – the phone service is available in English, Chinese, and Korean.

The Basic Ride - Custom Plan needs to be booked via the internet and can be used for more than seven days, without breaks on the weekend. It encompasses 27 places to get on and off the boats in total, and if you see a spot that strikes your fancy during your trip, just point to it and you can hop off and explore! Detours are perfectly fine, and fully customized cruise tours can also be enjoyed.

Finally, the Basic Ride - Recommended Plan, with water taxis running between Tamachi and Tennozu Pier on Wednesday and Friday nights every week. While a reservation is required via phone (in Japanese only), if a boat isn't full, you can hop on just as it is, for a mere 500 yen per trip. This is highly recommended for everyone who wants to try Tokyo's unique water taxi without booking a full course!
・Fare: Depends on boarding/destination locations, but around 5,000 yen for 15 minutes via the Direct Plan; 5,000 yen for 15 minutes as the standard fee for each trip via the Custom Plan. (Fare for one boat. Up to 8 people can board.)
・Duration: Depends on the plan (15 minutes minimum)
・Holidays: Depends on the plan
・Access: 5-minute walk from Asakusa Station to Asakusa Nitenmon boarding place
・Website: Tokyo Water Taxi
東京ウォータータクシー

Address

2-2-11, Kaigan, Minato-ku, Tokyo, 105-0022

Phone Number

03-6673-2528
Urban Launch – Tokyo's Fanciest Water Bus Experience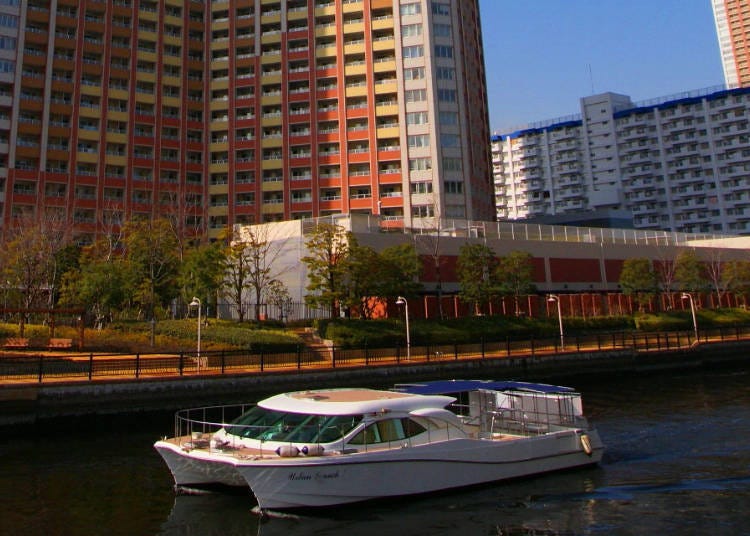 Operated by the same company that operates Tokyo Cruise, Urban Launch is a fancy luxury liner that'll make you feel like one of Tokyo's celebrities. It sails between Toyosu, Odaiba, Shibaura, and more locations, offering people to bring their pets and bicycles on board with them (300 yen each).

Urban Launch operates daily and is incredibly convenient since a prior reservation is not required.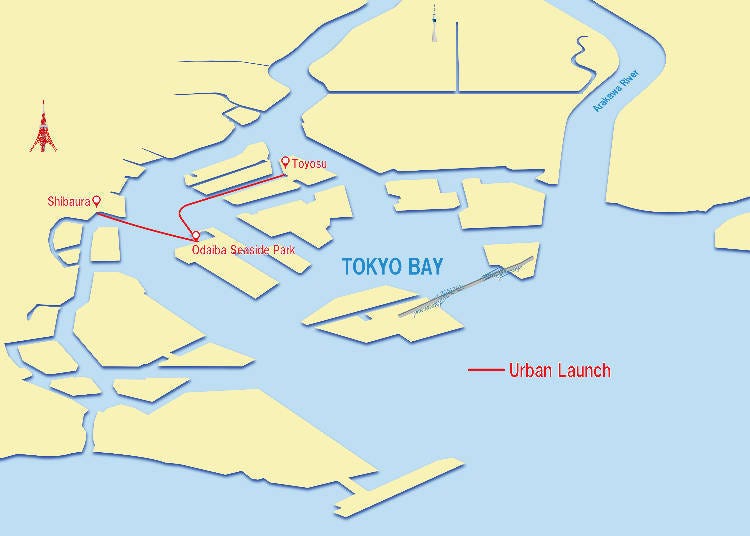 Urban Launch enjoys many regulars who use the water bus service to go shopping at Toyosu's large shopping mall, cycle around Odaiba, or take their dogs for a walk at Shibaura.

A charter service is also offered, allowing you to board the fancy cruiser for your own occasion – why not throw a party with all your friends and enjoy an entirely new perspective of Tokyo?

The Standard Class plan includes 90 minutes of cruising, with food and drinks options, for a total of 85,800 yen (or 2,860 yen per person for a party of 30). Bookable for parties up to 31 people.
・Fare: 1,200 yen from Asakusa to Toyosu
Departure Times: From Asakusa to Toyosu: 4:20 p.m.
・Duration: About 30 minutes (from Asakusa to Toyosu)
・Holidays: None (suspended during stormy weather)
・Access: Asakusa Boating Area: A short walk from Asakusa Station
・Website: Urban Launch
アーバンランチ

Address

1-4-1 Daiba, Minato-ku, Tokyo, 1350091 Japan
Symphony Tokyo Bay Cruise – Amazing Views and Amazing Food Await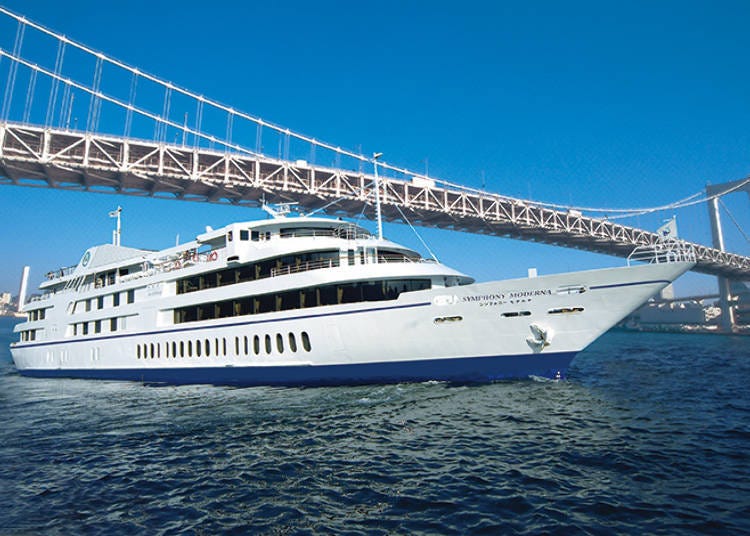 The last cruise service on the list is Symphony Tokyo Bay Cruise, operated by Sea Line Tokyo.

Offering round-trip cruises with an on-board restaurant, these impressive ships can be boarded at Hinode Pier.

While this round-trip style cruise differs from the previously introduced water bus services, Symphony Tokyo Bay Cruise deserves a place on this list as a marvelous way to enjoy Tokyo Bay's beautiful scenery while indulging in excellent French and Italian cuisine.

Due to this gourmet service and the cruise ships' luxurious atmosphere, Symphony Tokyo Bay Cruise is very popular, particularly among international tourists.

Reservations are required and can be made via phone or internet (The website is available in English and Chinese, and special phone services in English and Chinese are offered).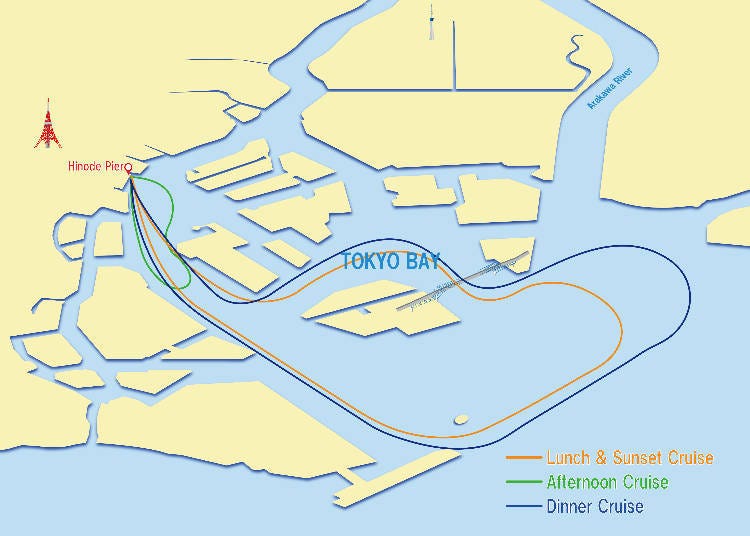 Symphony Tokyo Bay Cruise offers four different cruise plans.

The Lunch Cruise departs at 11:50 a.m. and sails for roughly 2 hours and 10 minutes to return at 2:00 p.m. to Hinode Pier.

At 3:00 p.m. sharp, another ship departs for the Afternoon Cruise, which lasts about 50 minutes, while the Sunset Cruise leaves at 4:20 p.m. for about 2 hours.

The highlight of the day, however, is the Dinner Cruise leaving at 7:00 p.m., letting you enjoy the full glory of Tokyo Bay's glimmering, shining night scenery for a total of 2 and a half hours.

While tea and cake can be enjoyed during the Afternoon Cruise, the other three cruise plans offer authentic French and Italian cuisine by renowned chefs, as well as a buffet. The combination of gourmet cuisine and a splendid ocean view of Tokyo Bay will make for unforgettable memories of your trip to Tokyo.
・Fare: Lunch Cruise (Italian) – 6,400 yen
・Duration: About 2 hours and 10 minutes for lunch
・Holidays: none
・Access: A brief walk from Yurikamome Line's Hinode Station
・Website: Symphony Tokyo Bay Cruise
Symphony Tokyo Bay Cruise

シンフォニー東京湾クルーズ

Address

2-7-104 Kaigan, Minato-ku, Tokyo, 1050022 Japan
*This information is from the time of this article's publication.
*Prices and options mentioned are subject to change.
*Unless stated otherwise, all prices include tax.
Limited time offer: 10% discount coupons available now!