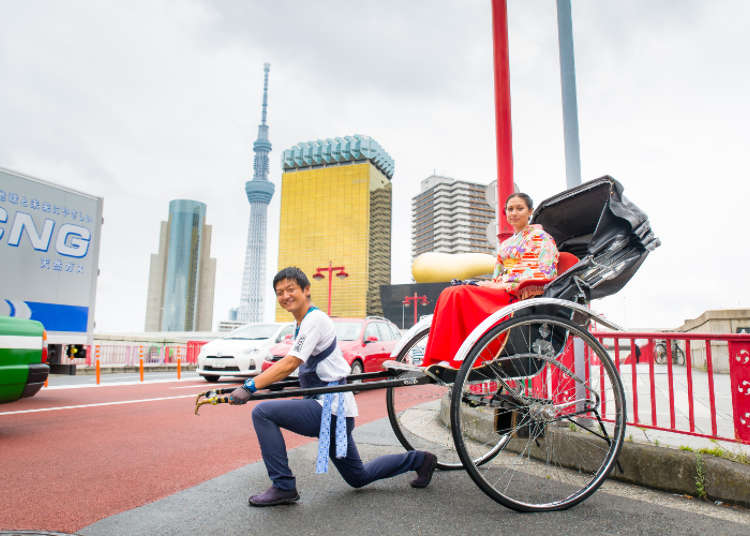 Although I have spent quite a bit of time in the area, there were still some boxes left to tick on my list of "Things to Experience in Asakusa" - one of those being, a ride in a rickshaw. In Asakusa, rickshaws are ubiquitous; just outside of the station, you'll find streets lined with man-powered carts.

I had seen tourists, both domestic and international, touring Asakusa via rickshaw. It seemed like fun, but what was it really like?
Why take a Rickshaw Ride around Asakusa?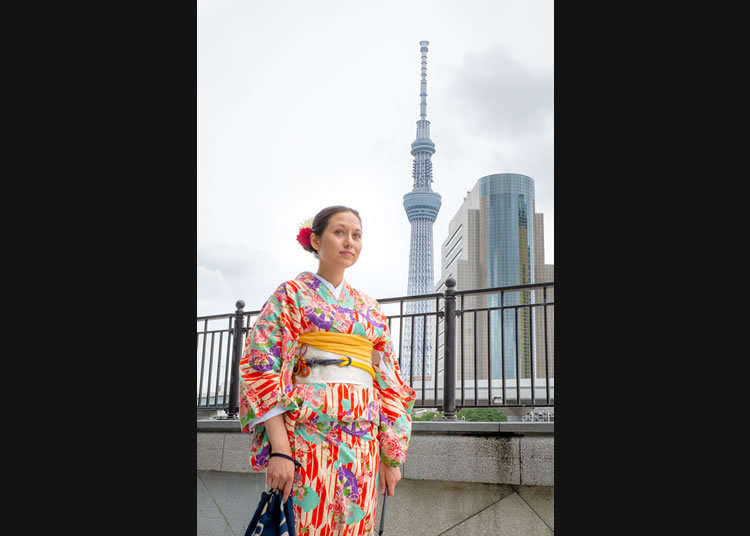 Of all the places I've visited in Tokyo, Asakusa has always held a special place in my heart. It was the 'downtown' of the Edo period, and even to this day, it has retained its traditional character. While you can see monuments to modern Tokyo, such as the Asahi Beer Hall and Tokyo Skytree, the charm of Edo period still permeates this neighborhood. It's also the home to some great festivals, including the famous Asakusa Sanja Matsuri, which takes place each May.
Beginning My Asakusa Rickshaw Journey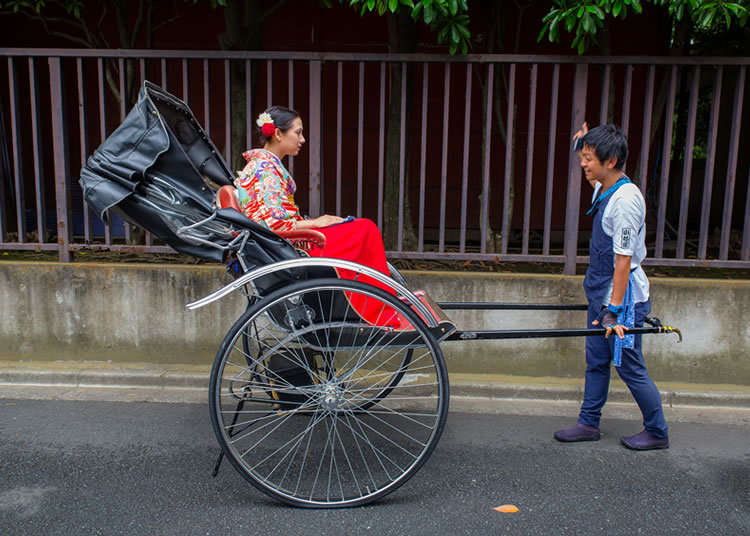 As I waited in anticipation, I saw the rickshaw pull up to our designated meeting point, kimono rental shop. The "rickshawman" introduced himself as Yuuki, called Yuu for short. Like many of the drivers at Kosugiya, Yuu was able to speak English. The rickshaw I rode in can fit up to two passengers, but there are also slightly bigger rickshaws available that can carry a maximum of three. I asked Yuu if it was difficult to pull such a heavy vehicle. He smiled and said confidently, "It's ok. I'm a strong man!" After stepping into the cart using the provided step-stool, we were ready to go!
On the Way: Hopping on the Asakusa Rickshaw Tour!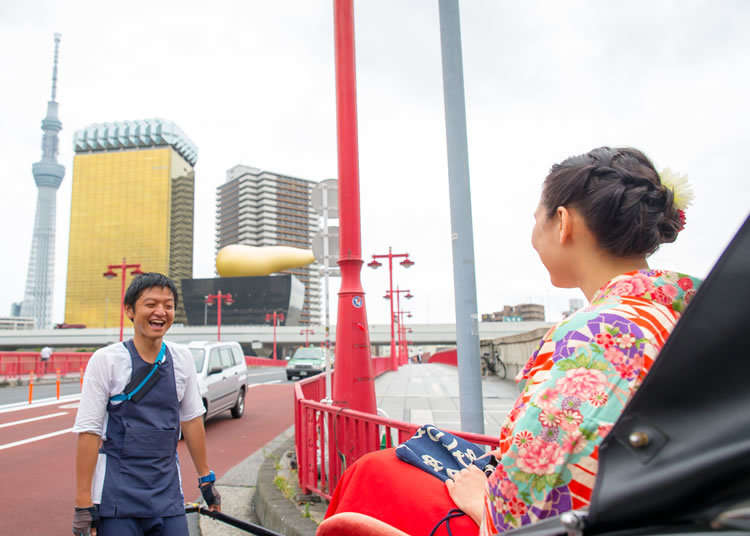 The first thing that struck me was how smooth the ride was, with no noticeable bumps. It was a very surreal experience, first riding out into the busy street, alongside the regular traffic of taxis, cars, and buses. As we crossed a bridge over the Sumida river, there was a clear view of the Asakusa skyline, including the iconic Tokyo SkyTree tower and the golden flame of the Asahi Beer Hall.

As we waited at a traffic light, I had a chance to get to know my driver a bit. Although, he currently lives in Tokyo, driving a rickshaw six days a week, Yuu grew up in Fukushima, as the son of a Buddhist priest. He carried on the family tradition by studying Buddhism, and still occasionally visits his hometown to carry out duties as a priest when needed. While he was pulling me through what is one of the most traditional areas of Tokyo, we somehow ended up chatting about American baseball and the future of the Red Sox – again, another surreal moment.
Asakusa: Interesting points of interest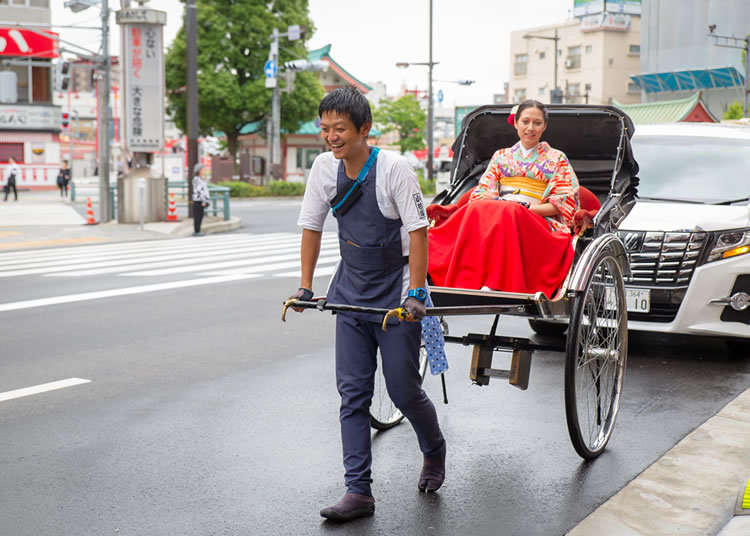 Among the interesting spots we passed was Tokyo's oldest western-style bar, Kamiya Bar, the kabuki theater district, and a shop that specializes in Japanese traditional clothing and festival-wear (it also happens to be the place where Yuu buys his own rickshawman clothing).
Discovering Old Tokyo and Finding Japan's Robin Hoods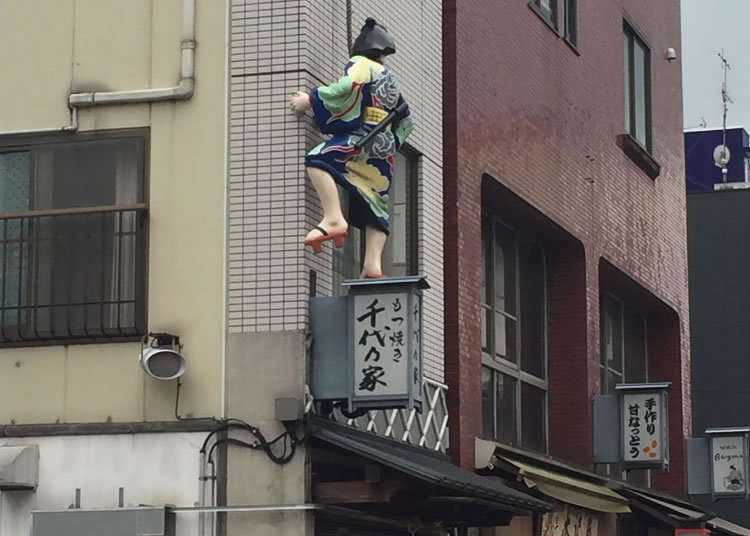 As we passed rounded a corner onto one of the more old fashioned looking streets, Yuu pointed out what appeared to be a ninja scaling a building...and another...and another! These were not actual living ninjas, but statues, five in total, of a group of legendary master thieves. According to legend, the five thieves, called Shiranami Gonin Otoko, robbed from rich feudal lords. "But they were good," Yuu assured me. "Like Japanese Robin Hoods!"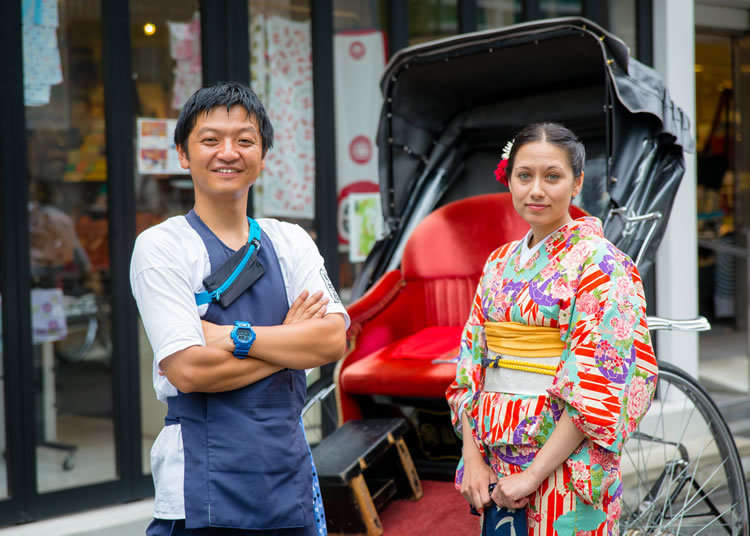 Before I knew it, it was time for my rickshaw tour to come to an end. I thanked Yuu for the once in a lifetime trip, and stepped down to continue my Asakusa journey on foot. As it turned out, the rickshaw ride was better than I could have imagined, leaving me to wonder why I had not given it a try earlier! While there are lots of bus tours available, only a rickshaw can provide the experience of being right in the middle of the Asakusa action!
Try a Rickshaw Tour in Asakusa for Yourself!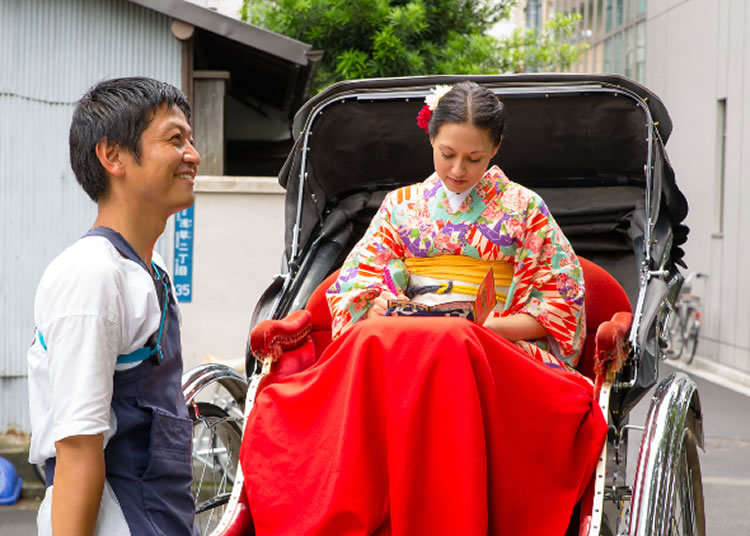 I scheduled my Asakusa rickshaw tour in advance with the Kosugiya company, but you can actually find dozens of rickshaws nearby the station that welcome customers throughout the day, without prior reservation. The Kosugiya website offers English language support, so it's very easy to to make a reservation, if you prefer to plan in advance. There are a number of courses available, but a 20 minute course will cost 4000 yen for a single passenger, 6000 yen for a two passenger trip, and 9000 yen for a three passenger trip.
Asakusa Jinrikisha Kosugiya

浅草人力車 小杉屋

Address

2-15-3, Kaminarimon, Taitou-ku, Tokyo, 111-0034
Written by: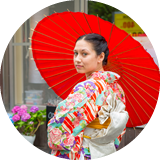 *This information is from the time of this article's publication.
*Prices and options mentioned are subject to change.
*Unless stated otherwise, all prices include tax.