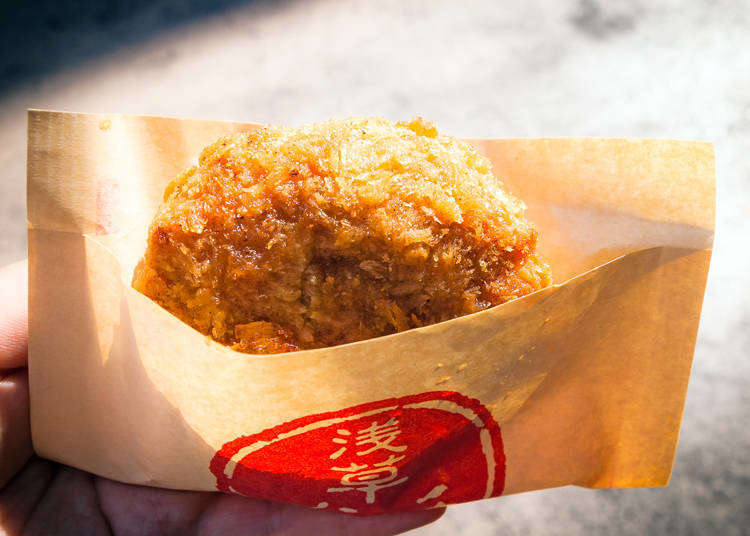 Asakusa, Tokyo is one of Japan's most popular tourist destinations. There may be many foreign tourists who think that sightseeing in Asakusa is an absolute must if you want to savor the taste of Japan.

In 2018, out of approximately 31.19 million visitors to Japan annually (*as reported by the Japan Tourism Board), 9.53 million foreign tourists (*Taito-ku survey) visited Taito-ku, Tokyo, where Asakusa is located. This is one-third of the whole figure, which means that it is very popular.

In this article, we listed 5 recommended restaurants in Nakamise Shopping Street, which is a particularly popular tourist spot, and in nearby areas. We will also talk about some important points to keep in mind when in Nakamise Shopping Street.
Asakusa Kokonoe: Agemanju
First on our list is Asakusa Kokonoe Agemanjū. It's the third store from the Sensōji Temple toward Kaminarimon. Here, you can eat a wide variety of newly fried manjū (steamed buns).

They have 11 flavors! There are no other stores in Nakamise Shopping Street that offer this many flavors. You will surely enjoy choosing which flavors to eat.

Here are the flavors they serve. Aside from their regulars, which are Azuki beans, matcha, custard cream, etc., you can also buy flavors at reasonable prices like monja or pan-fried batter for 130 to 250 yen (with tax).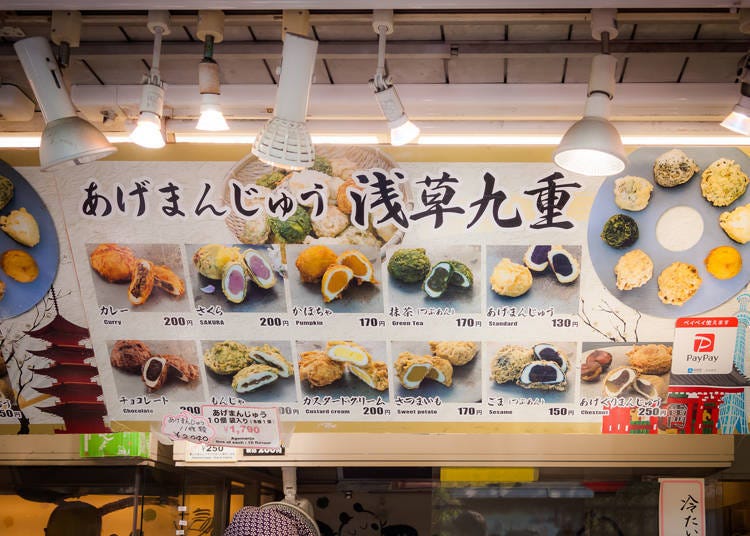 Everything looked delicious and I was having a really hard time choosing which to eat, but the store assistant told me with a charming smile that matcha and curry flavors are popular among foreign visitors. This time, I tried the matcha flavor she recommended to me.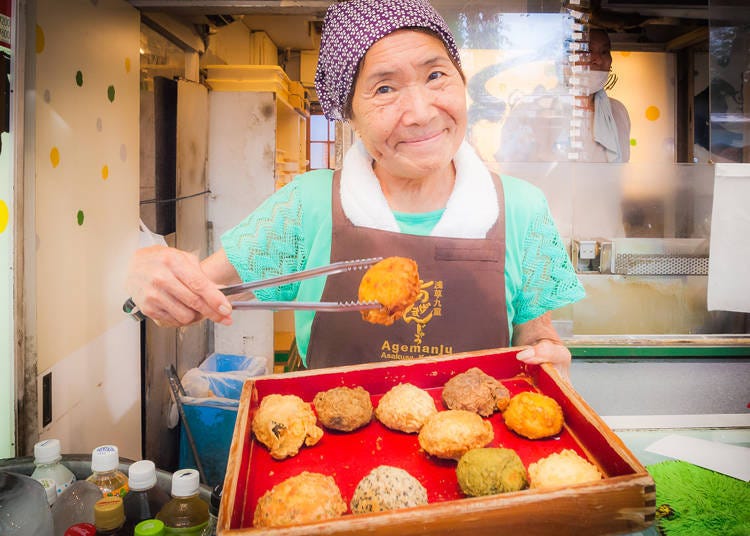 The plump taste of matcha blends well with the mouthful coarse red bean paste and the crispy fried coating! The coated manjū is soft and easily melts in your mouth making it easy to eat.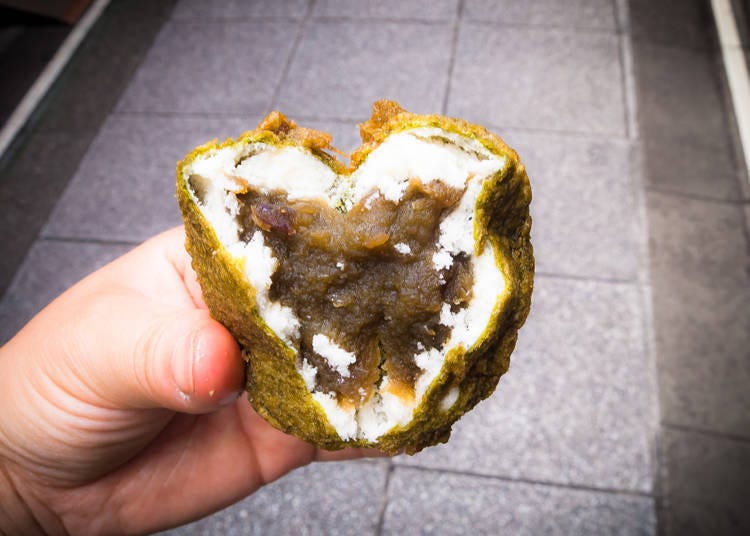 This is a unique one-hand sweet that you've certainly never had before. Be sure to try it out!
浅草九重

Address

2-3-1, Asakusa, Taito Ku, Tokyo To, 111-0032, Japan

Nearest Station

5-minute walk from Tokyo Metro Ginza Line Asakusa Station


Phone Number

03-3841-9386

Hours: 9:30 AM to 7:00 PM
Holiday: None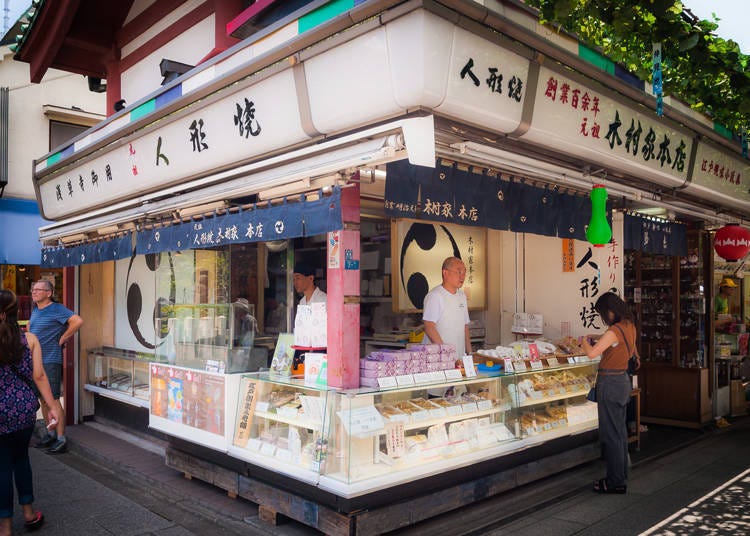 While there are several stores selling ningyōyaki, or fluffy pancake-like sweets, in Asakusa, Kimuraya, located in Nakamise Shopping Street, is said to be the originator of this treat. This store was established in the Edo period, making it a well-established store with a history that dates back 150 years.

Their most popular product is a souvenir set with 4 kinds of ningyōyaki based on Asakusa placed in a stylish box. These pancakes are in the shape of a pigeon, a lantern, a five-storied pagoda, and the god of thunder. All of which are so charming that it's such a waste to eat them.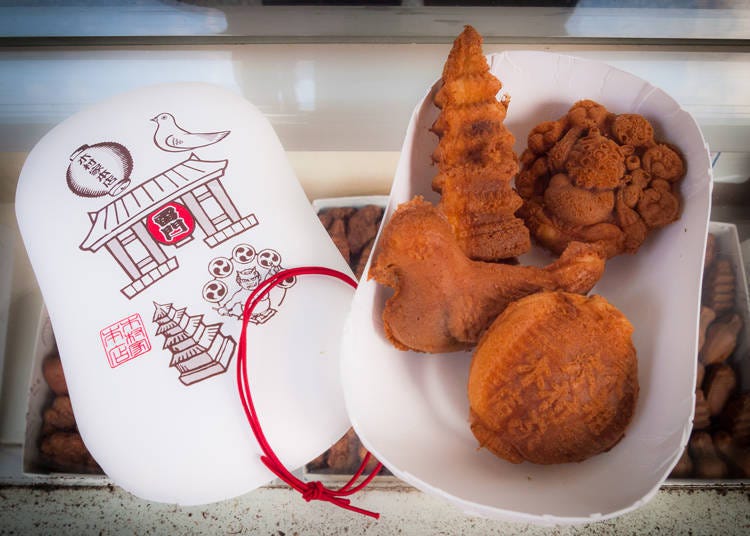 Ningyōyaki is made by using simple ingredients. The batter is only made of flour, eggs, sugar and honey, without any extra ingredient. The soft and gentle texture of the batter matches well with the sweet and moderately moist red bean paste, producing a delicious taste.
Aside from koshian or strained bean paste ningyōyaki, they also sell Matcha Dainagon Ningyōyaki made by filling matcha-flavored koshian into the matcha-flavored batter. We definitely recommend this to matcha fanatics.
In addition, local patrons of this store often buy Freshly Made Ningyōyaki. This costs 300 yen (with tax) for 4 pieces. They also come in a stylish box, which is hard to throw away, but we recommend this if you plan on eating at the store!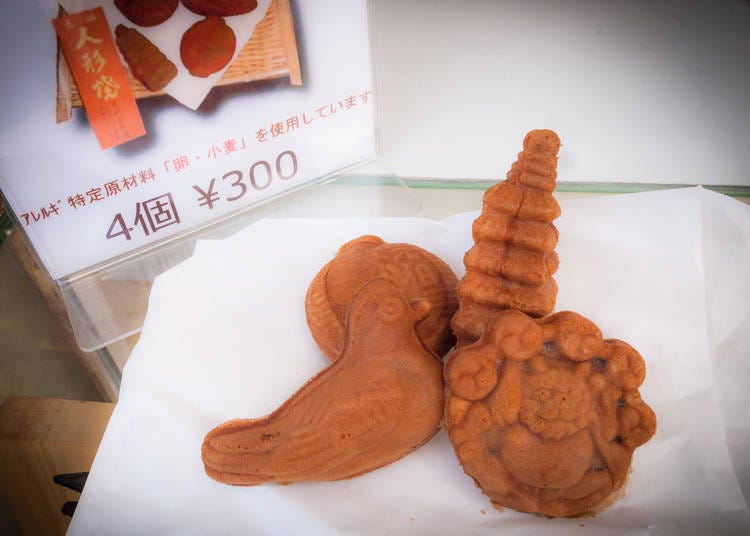 木村家本店

Address

2-3-1,Asakusa, Taito Ku, Tokyo To, 111-0032, Japan

Nearest Station

5-minute walk from Tokyo Metro Ginza Line Asakusa Station


Phone Number

03-3841-7055

Business Hours: 9:00 am to 6:00 pm
Holiday: Irregular
Asakusa Chōchin Monaka: Ice Cream Monaka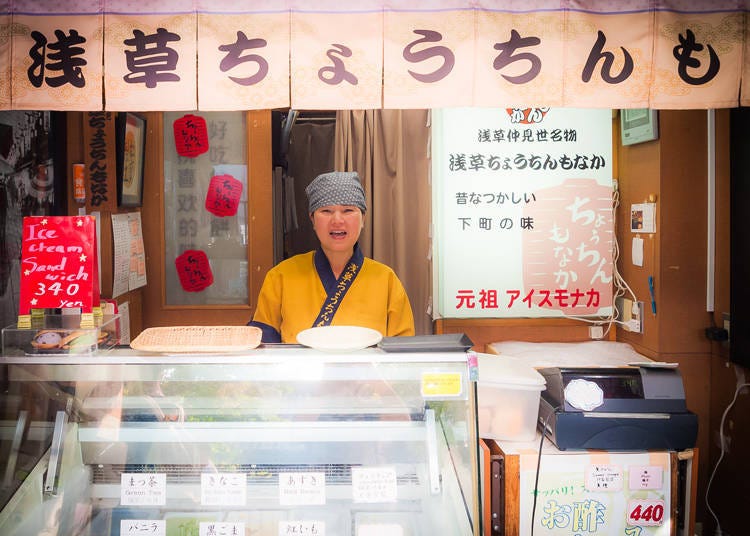 Asakusa Chōchin Monaka is a specialty store serving ice cream monaka or ice cream wafer cake which is rare not only in Asakusa but in Japan. This is a popular food in Asakusa made by stuffing freezing cold ice cream into the husk made with domestic glutinous rice.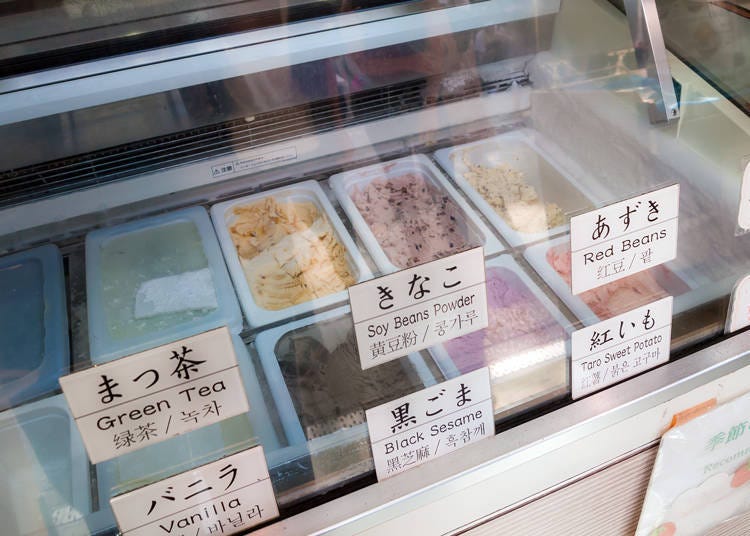 There are 8 types of flavors: vanilla, matcha, azuki, kinako or soybean flour, black sesame, red potato, strawberry and chocolate chip, all of which are sold for 340 yen (tax included). According to the restaurant, the most popular are matcha and vanilla. Asian people also preferred black sesame.

This time, I tried the matcha flavor which is popular among foreign tourists.
The best thing about this monaka is its fun texture. The cold ice cream is sandwiched with the crispy and crunchy dough, so you can enjoy different textures in one bite.
The well-cooked and carefully baked monaka dough matches well with the exquisite sweetness of matcha ice cream.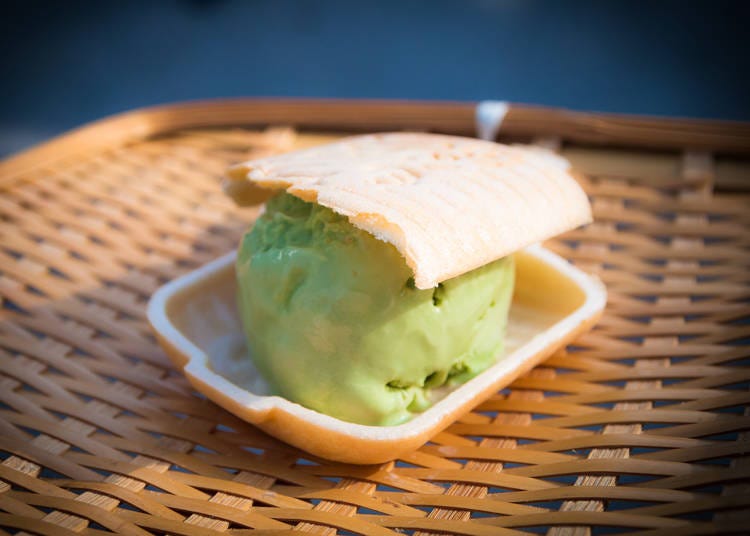 While foreign tourists may be unfamiliar with monaka, you may be impressed by its unique texture. People can't get enough of its refreshing taste, so we recommend Chōchin's monaka.
浅草ちょうちんもなか

Address

2-3-1, Asakusa, Taito Ku, Tokyo To, 111-0032, Japan

Nearest Station

5-minute walk from Tokyo Metro Ginza Line Asakusa Station


Phone Number

03-3842-5060

Hours: 10:00 am to 5:30 pm
Holiday: Irregular
Asakusa Mangando: Imokuri Pie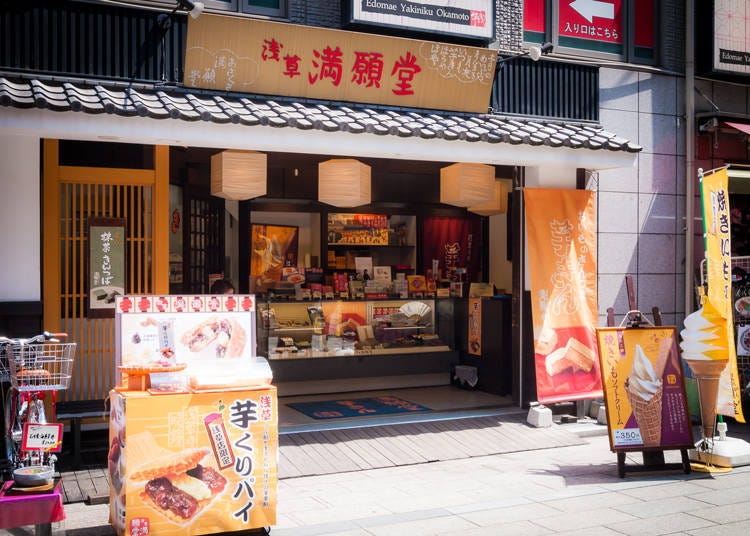 Asakusa Mangando is a Japanese confectionery store widely popular for imokin which is made of sweet potatoes. The imokuri pie developed by a Western pastry chef was created as the first ever attempt at the store. This sweet, which became a media sensation, was sold at a limited time at the end of 2017. Because of its popularity, the store decided to make it a part of their regular lineup at the beginning of the year.

At this shop, the imokin has been adored by locals for a long time, but it garnered a mixed reaction from Westerners, who don't usually eat sweet potatoes. With this in mind, imokuri pie was developed to make a sweet adored by foreigners.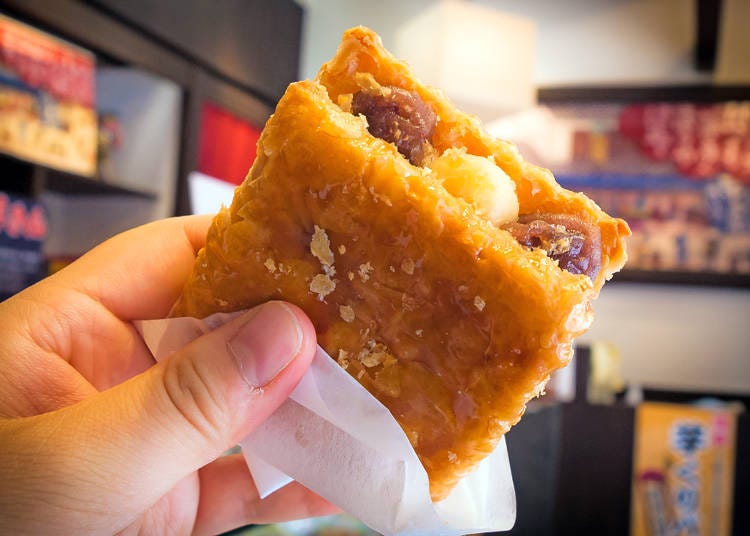 The creamy and melt-in-your-mouth anko paste and imokuri paste are sandwiched by the crispy pie dough. The savory pie dough has a very good texture, and you can feel the chestnuts in the baked paste making this a stomach-filling sweet.

It's such a surprise that you would be able to eat such an extravagant sweet for only 200 yen (without tax).

There are so many foreign tourists who like the taste of the baked pie and repeatedly buy the sweet during their stay in Japan. Some Asian tourists close to Japan come to the shop the day before their return flight to buy in bulk. This sweet is a must-eat if you are in Asakusa!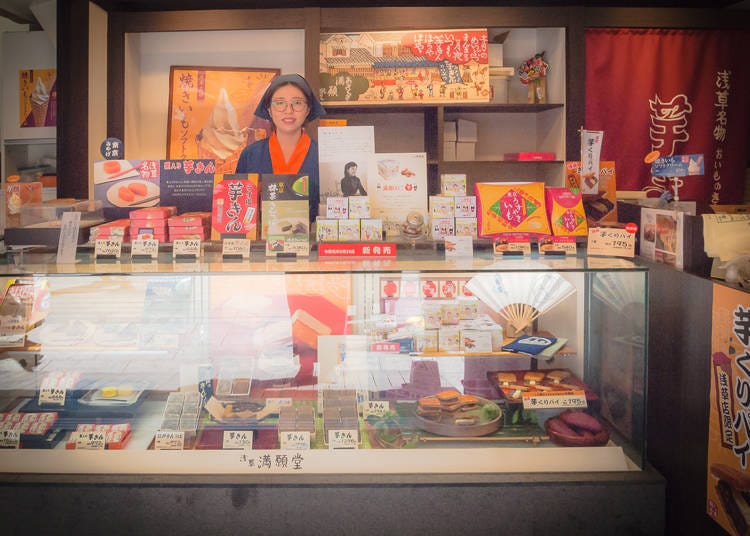 浅草満願堂

Address

1-33-3 Takesi Bld.1F, Asakusa, Taito Ku, Tokyo To, 111-0032, Japan

Nearest Station

5-minute walk from Tokyo Metro Ginza Line or Toei Subway Asakusa Line Asakusa Station


Phone Number

03-5828-8600

Hours:
Weekdays 10:00 am to 6:00 pm
Weekends and National Holidays 10:00 am to 6:30 pm
Holiday: None
Asakusa Menchi: Menchikatsu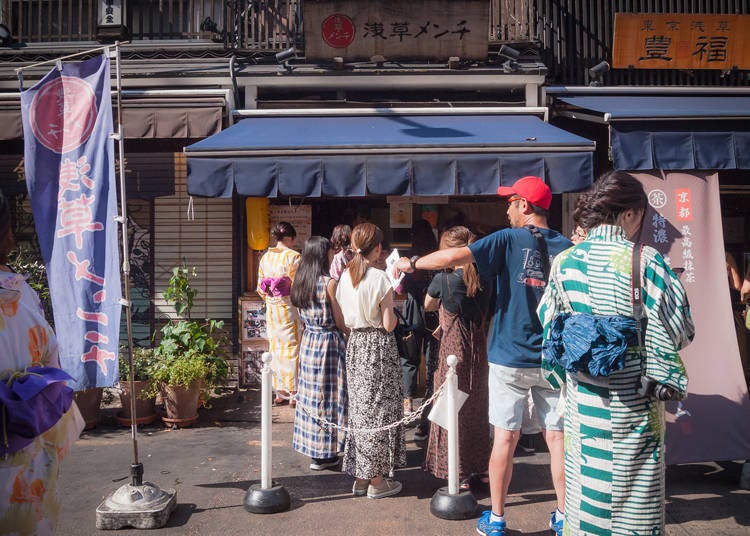 Nakamise Street has many traditional Japanese confectionery stores. One of its most unusual attractions is Asakusa Menchi's Menchikatsu (250 yen, including tax). As shown in the photo above, there a long line of people outside the store.

Menchikatsu is known for placing 1st for 4 consecutive years in the Souvenir Rankings held by the Asakusa Cultural Tourism Center from receiving a gold medal from Tabelog China.

This is a thick, juicy and rich-tasting cutlet, and you will feel its overflowing juices once you take a bite into it.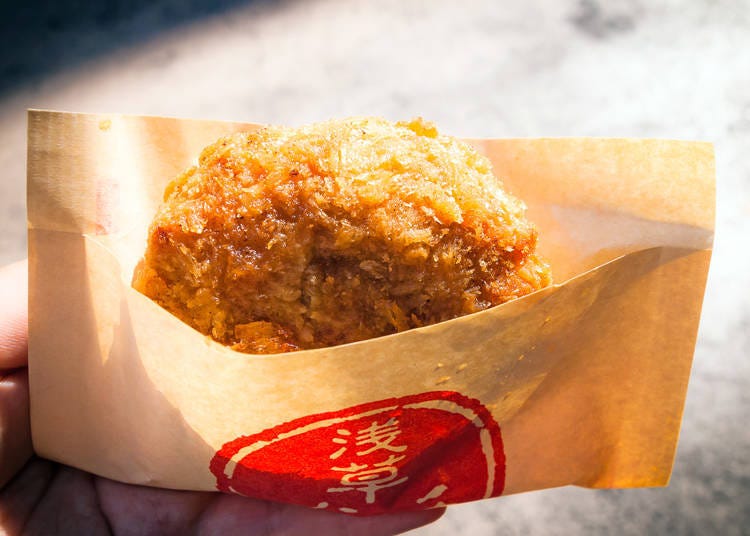 They regularly fry mechikatsu, so if you go to the store, you will surely be able to eat freshly cooked pork cutlets.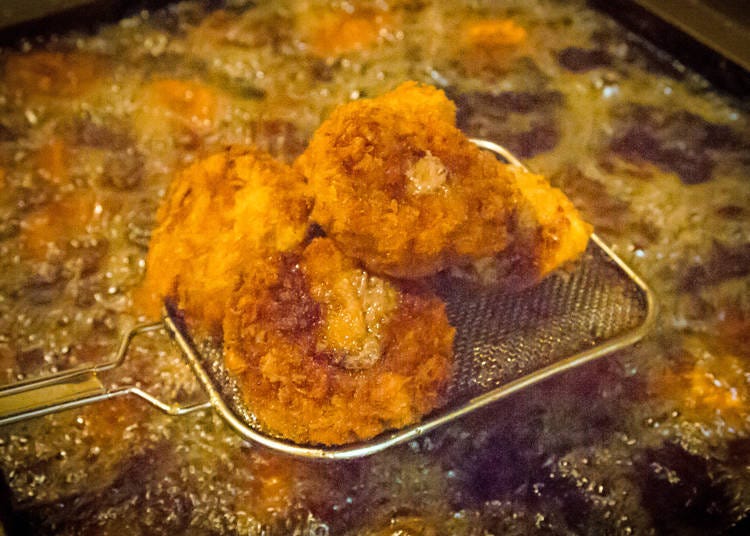 Menchikatsu is made from a mix of Kōza pork from Kanagawa Prefecture and carefully chosen beef. Menchikatsu is fried for 10 minutes at 160℃. The store sells around 4,000 pieces a day. This number doubles at New Year due to its immense popularity. If you want to clean your palate from eating Asakusa sweets, we suggest that you try menchikatsu which is packed with the umami of meat!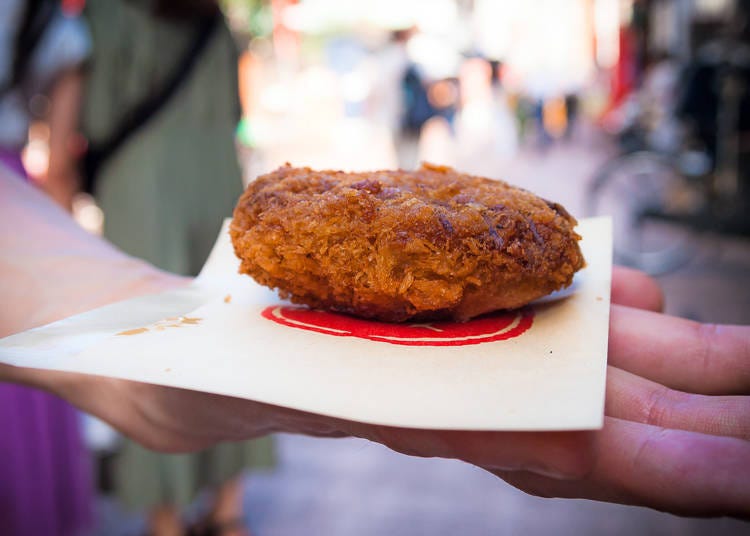 浅草メンチ

Address

2-3-3, Asakusa, Taito Ku, Tokyo To, 111-0032, Japan

Nearest Station

5-minute walk from Tokyo Metro Ginza Line Asakusa Station


Phone Number

03-6231-6629

Hours: 10:00 am to 7:00 pm
Holiday: None
Etiquette Tip: Don't do this when eating around in Nakamise Shopping Street!
There is one thing you should keep in mind when eating around Nakamise Shopping Street. Do not eat while walking. If you want to eat sweets right away, then you should do so in front of the store.

In addition, Asakusa Mangando and Asakusa Menchi have areas where you can eat their food. If you want to eat right away, use these eating and drinking spaces.
Try all of the affordable food while sightseeing in Asakusa!
While Asakusa is one of the biggest tourist destinations in Japan, it is also a place where you can enjoy various affordable food. This area is filled with sweets and snacks that can be eaten for under 500 yen!

Written by: Sayaka Narikawa, Dali Corp.
*This information is from the time of this article's publication.
*Prices and options mentioned are subject to change.
*Unless stated otherwise, all prices include tax.