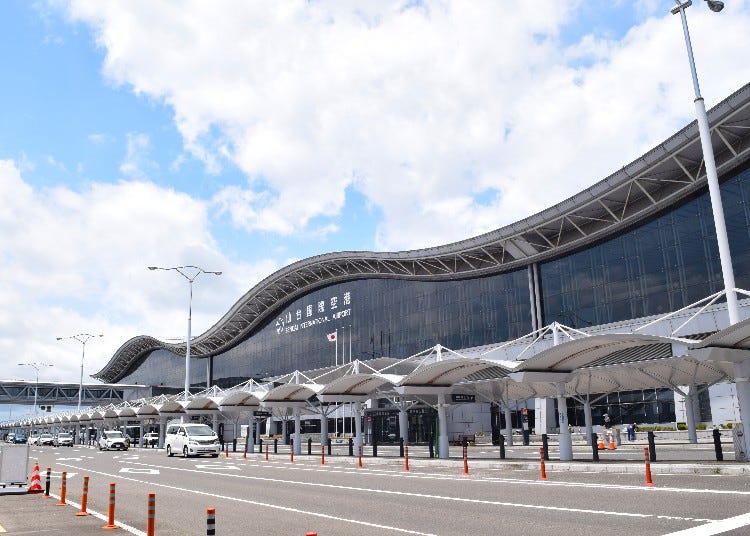 Sendai Airport is the gateway to the Tohoku Region of northeastern Japan. Here, we share a range of fun experiences that will enrich your time upon arrival and before departure. From specialty shops offering local cuisine to shopping areas brimming with Tohoku souvenirs, not to mention the observatory with a panoramic view of the airplanes arriving and taking off, there's plenty to do in the airport alone!

We'll also provide a comprehensive guide to the procedures you'll encounter when entering and leaving the country, all indispensable to a hassle-free travel experience.
Sendai Airport at a glance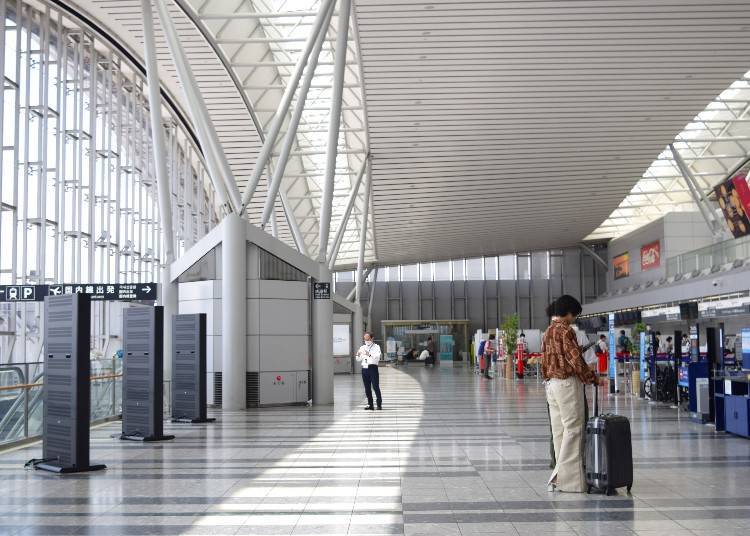 Situated around 14km southeast of Sendai Station in Miyagi Prefecture, Sendai Airport (airport code: SDJ) stands as the largest airport in the area.

It is easily accessible by train and the Shinkansen, with JR Sendai Station only a short 17-25 minute ride away. As such, it offers a full range of convenient services for both domestic and international travelers alike.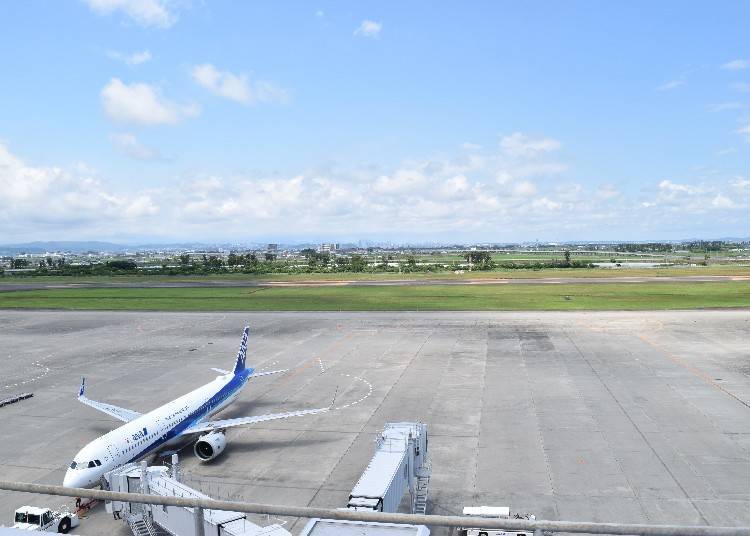 Pre-COVID travel landscape
Before the global impact of COVID-19, nearly 3.7 million passengers used these services annually, with the number of international flights increasing by the year.

Post-COVID travel resumption
In January 2023, international flights resumed after a long hiatus, and as of July 2023, routes from Taiwan (Taipei), Korea (Seoul), and China (Dalian and Beijing) also resumed operation. The Taipei route runs daily, the Seoul route runs on Tuesdays, Fridays, and Sundays, and the Dalian and Beijing routes run on Tuesdays and Fridays.

The number of international tourists spotted at the time of this visit still seems small in comparison to the number encountered before the pandemic, but according to officials at Sendai Airport, the number of tourists from abroad is increasing day by day.

Ideal seasons for visiting Sendai
Summertime, with festivals like the Sendai Tanabata Festival, autumn, with its colorful leaves, and winter, with its spectacular snowy landscapes, are among the best seasons to visit Sendai and the greater Tohoku Region. One can expect to see an even greater increase in the volume of visitors at these times.
Entry and Departure at Sendai Airport
Immigration/entry at Sendai Airport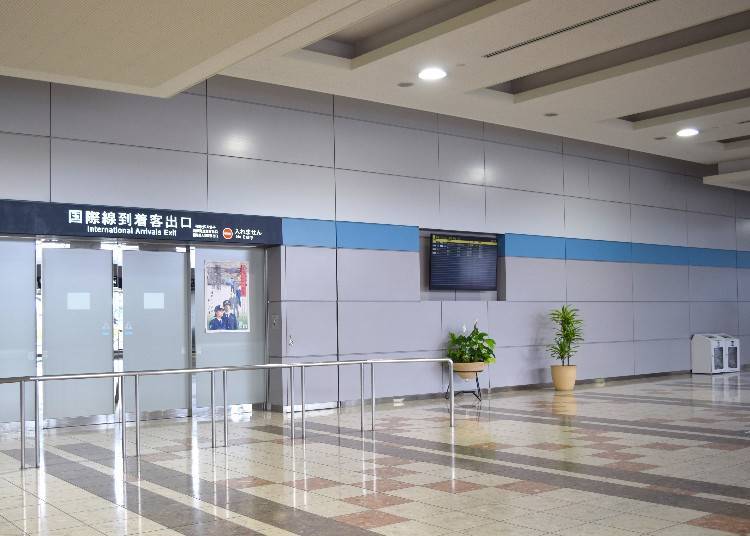 Once you arrive at Sendai Airport from overseas, you will go through the following procedures: quarantine, immigration, baggage claim, and customs.

A convenient tool that facilitates this process is the Visit Japan Web online app, which allows you to go through immigration and customs procedures online.

With Visit Japan Web, quarantine, immigration, and customs can now be completed by simply presenting the QR code and your passport. For a smoother trip, be sure to register in advance. The online app also helps in additional ways, like making tax-free shopping a breeze.
Customs/departing from Sendai Airport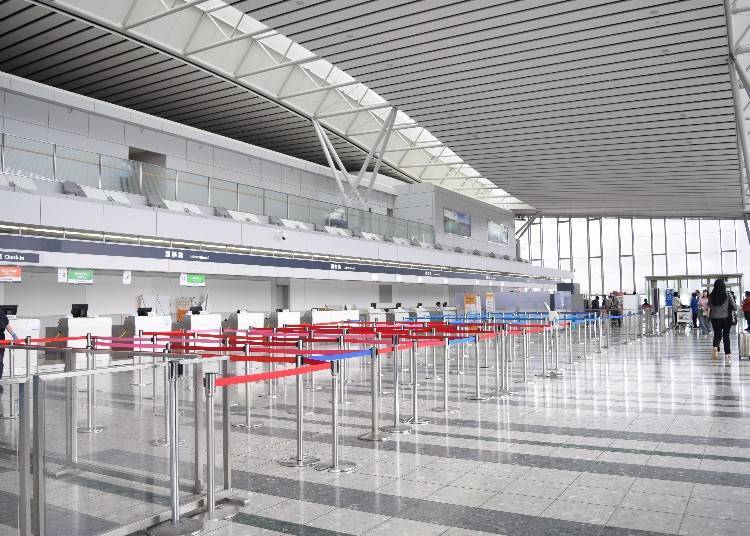 Departure from Japan consists of the following steps: security, customs, and passport inspection. As the security inspection utilizes body scanners, the process is quick and stress-free.

Before leaving Japan, thoroughly check your baggage for items that cannot be carried on board, as well as for any duty-free items you may have purchased. If you have a great amount of these, it may take a longer time to clear inspection. We recommend arriving at the airport with plenty of time to spare.
Convenient services at Sendai Airport
During your travels in Japan, concerns may arise about currency exchange, Wi-Fi, and baggage. Here are some convenient services that will help you address any issues related to these.
Foreign Currency Exchange (1F): Travelex Sendai Airport International Arrivals Lobby Branch and 77 Bank Foreign Currency Exchange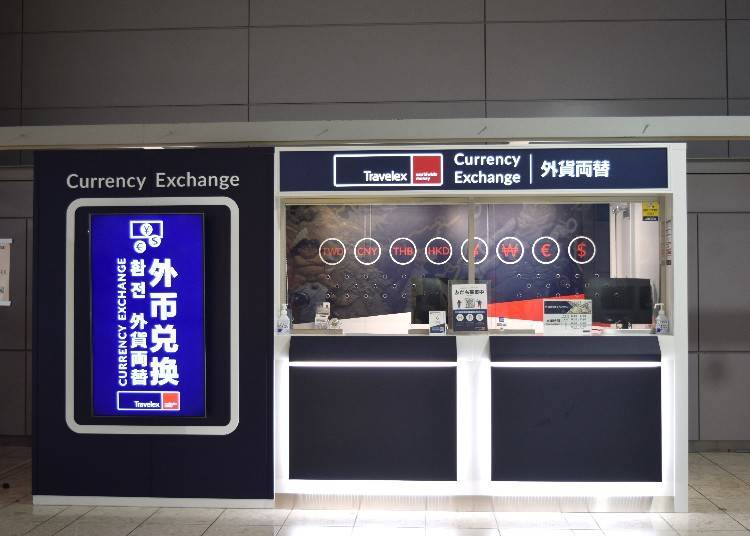 Travelex Sendai Airport International Arrival Lobby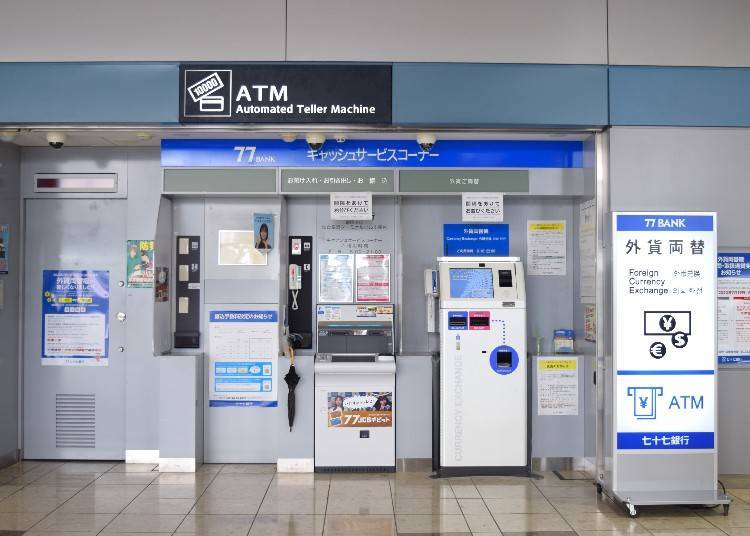 77 Bank foreign currency exchange machine
Before you venture out on your sightseeing journey, you will need to exchange any foreign currency for Japanese yen. Travelex Sendai Airport provides foreign currency exchange services, and is located in the International Arrivals Lobby on the first floor near the arrivals entrance. Meanwhile, 77 Bank operates foreign currency exchange machines. Both are open year-round.
Travelex Sendai Airport International Arrival Lobby Branch
TEL: 022-383-6073
Closed: Open daily
Hours vary: Mon/Wed/Sat, 2 PM–5 PM; Tue/Sun, 10:30 AM–1 PM and 2 PM–7 PM; Thu 2 PM–7 PM; Fri, 10:30 AM–1 PM and 2 PM–5 PM.
Available Currencies:

Both Sale & Purchase:

U.S. dollar, Chinese yuan, New Taiwan dollar.

Sale Only:

Korean Won.

Purchase Only:

British pound, Canadian dollar, Swiss franc, Swedish krone, Danish krone, Norwegian krone, Australian dollar, Hong Kong dollar, New Zealand dollar, Singapore dollar, Thai baht, Euro.
Available Languages: Japanese / English
77 Bank Foreign Currency Exchange Machine
Hours: 6:10 AM–10 PM
Closed: Open daily
Limitations: No more than 100,000 yen equivalent per day (sale/purchase total)
Available Languages: Japanese / English
Baggage Delivery Service: Yamato Transport (2F)
You can also ship your luggage from Sendai Airport to your accommodation via Yamato Transport, located in the shopping area on the 2nd floor. This is especially recommended for those who plan to do some sightseeing immediately upon arrival before heading to their accommodations.
Yamato Transport
TEL: 0120-01-9625 (From mobile numbers: 0570-200-000)
Hours: 8 AM–6 PM
Closed: Open daily
Languages: Japanese
Signage in: Japanese / English
Wi-Fi Router Rental Service: NINJA WiFi (1&2F)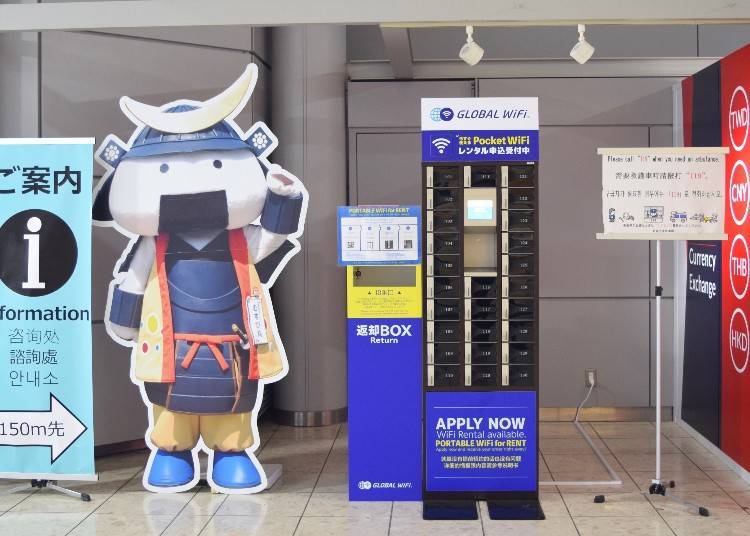 Sendai Airport provides free Wi-Fi in all areas of the Sendai Airport Passenger Terminal Building. Additionally, there are designated unstaffed lockers where you can apply for and obtain NINJA WiFi, a Wi-Fi router rental service for use in Japan. They are located near the 1F International Arrivals Entrance and the 2F International Check-in Counter.

Check your desired pickup time in advance using the application form on the official website. You will receive a locker number and QR code to unlock it via e-mail. Once you arrive at Sendai Airport, hold the QR code over the locker reader to receive your Wi-Fi device. For those without reservations, you can rent a device by following the instructions on the information board located at the return box.

To return your device, simply drop it into the designated box at the airport before your departure. Payment for rental services is by credit card only. Rental services also available in English.

Alternatively, you can book a data-only eSIM from the links below.
Information and Travel Guides: Information Counter and Tohoku Tourist Information Center (1F)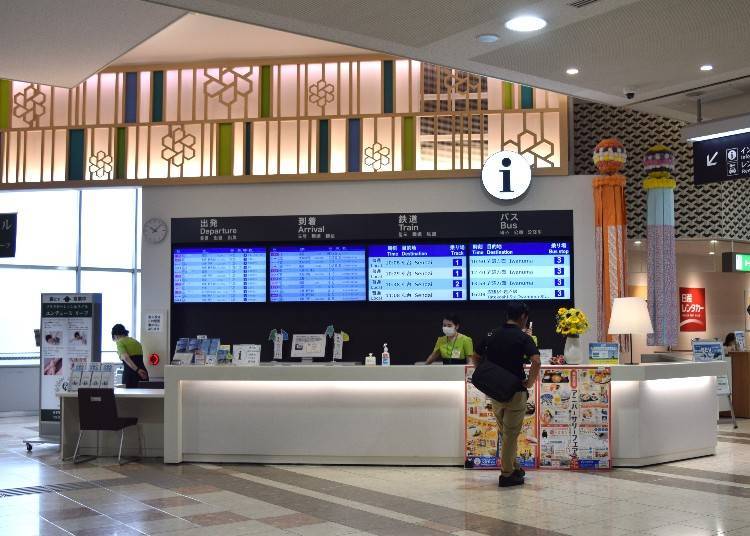 If you have any issues while in the airport, head to the Information Counter on the 1st floor. Staff are available in English and other languages to help!
1F Information Counter
TEL: 022-382-0080
Hours: 6:30 AM–9:45 PM
Closed: Open daily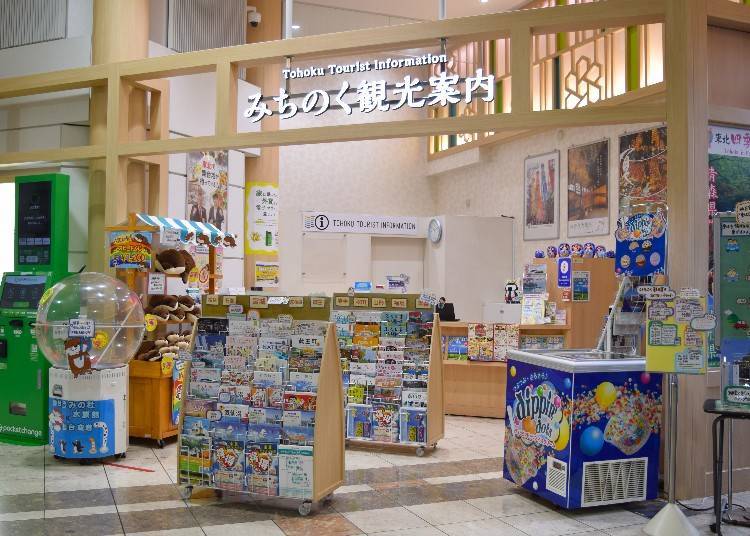 Tohoku Tourist Information provides information on sightseeing spots and transportation around the Tohoku region. Bus tickets, as well as tickets for popular Miyagi attractions like the Matsushima sightseeing boat and the Sendai Uminomori Aquarium, are also available.
Tohoku Tourist Information
TEL: 022-383-6741
Hours: 9 AM–5 PM
Closed: Open daily
Languages: Japanese / English (*Other languages available via interpretation operators and tablets)
Souvenir Stores and Tax-Free Shopping at Sendai Airport
On the second floor, you'll find 11 different shops, including a souvenir shop with famous sweets and other Tohoku specialties, a specialty sake shop, a drugstore with cosmetics and compact travel items, and a tax-free shop. Except for the tax-free shop, you'll find all these in the center of the second floor, making shopping easy and convenient.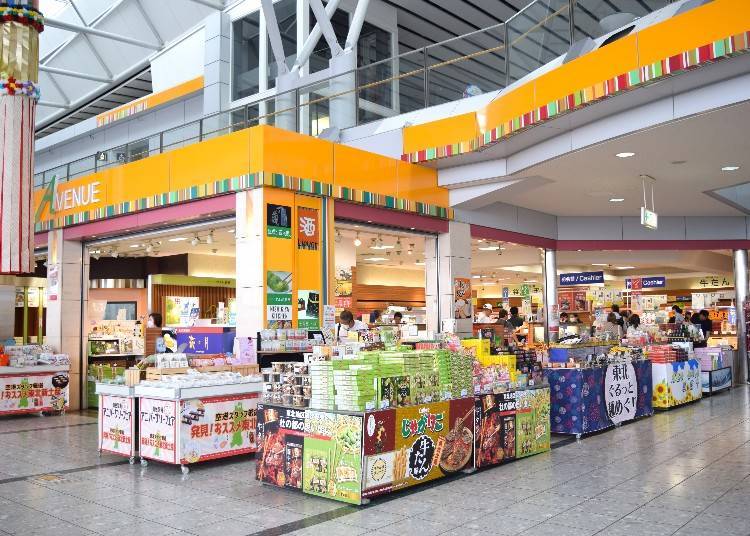 The souvenir shop, General Store Hagi, offers the widest selection of goods, including a wide variety of Tohoku specialties, from souvenir sweets to meats, marine products, and local delicacies. Here are five popular souvenirs from General Store Hagi.
General Store Hagi
TEL: 022-383-6205
Hours: 7 AM–8 PM
Closed: Open daily
5 Recommended Sendai souvenirs
Here are 5 of our top souvenir recommendations from General Store Hagi.

1. Hagi no Tsuki: A Custard Cream Pastry Enveloped in a Fluffy Dough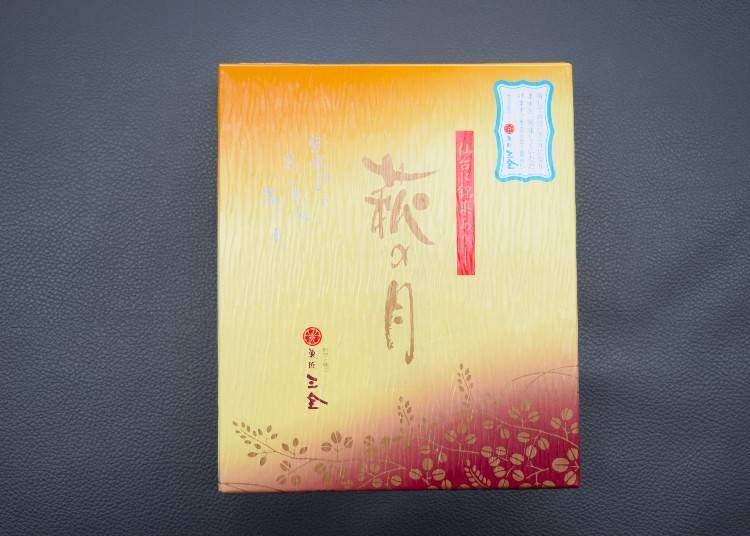 Hagi no Tsuki: 5 pieces, 1,250 yen (tax included)
Hagi-no-Tsuki is a standard Sendai confectionery by long-established confectioner, Kasho Sanzen. Its yellow, round shape, reminiscent of the moon itself, boasts a light, airy sponge cake texture, filled with a delicious custard cream. Each piece is packaged in a small box, making it an ideal choice for a thoughtful gift.

2. Sendai Hitokuchi Zunda Mochi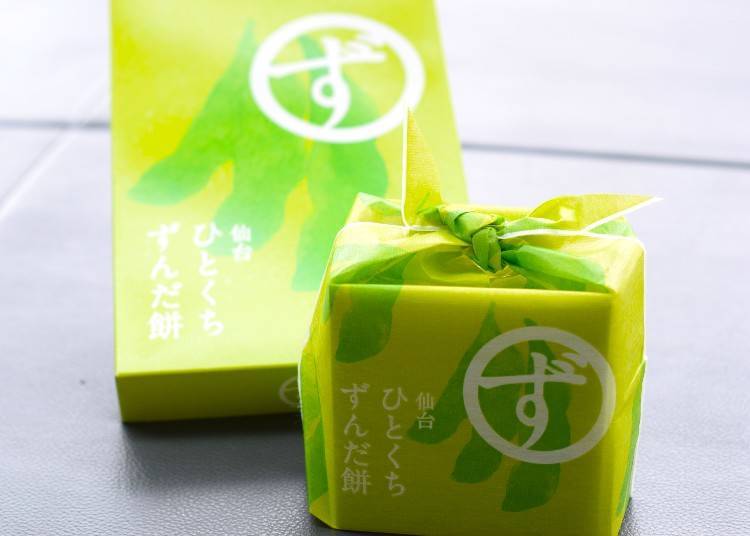 Sendai Hitokuchi Zunda Mochi: 4 pieces: 650 yen (tax included) / 8 pieces: 1,200 yen (tax included)
Sendai Hitokuchi Zunda Mochi is an easy-to-eat-size rice cake enveloped in zunda, a regional Sendai specialty crafted from edamame bean paste. Each rice cake is individually wrapped, making them easy to give out as gifts.

3. Patissier's Apple Stick: Aomori Prefecture's Best Apple Pie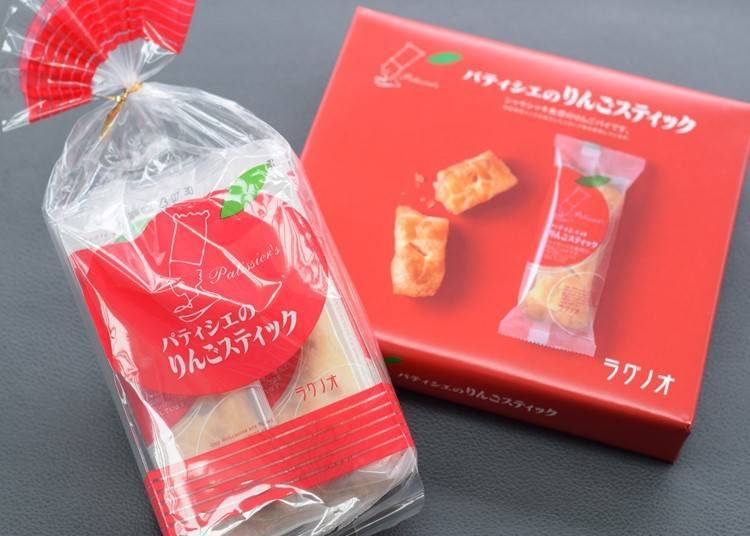 Patissier's Apple Stick: Bag of 4: 920 yen / Bag of 5: 1,150 yen (both tax included)
Patissier's Apple Sticks are another super-popular souvenir choice from Aomori Prefecture, located in the northernmost part of the Tohoku Region. This pie features sizable and delightfully crispy apple slices and a spongy dough.

4. Mou: A Fried, Fluffy Fish Cake Treat
5 pieces: 756 yen (tax included)
Mou is a fried kamaboko (fish cake) made of ground fish and tofu. This treat serves as an ideal snack or side dish, and is loved by many for its airy texture and rich soybean flavor.

5. Shiroishi U-men with Soy Sauce: A Local Noodle Treat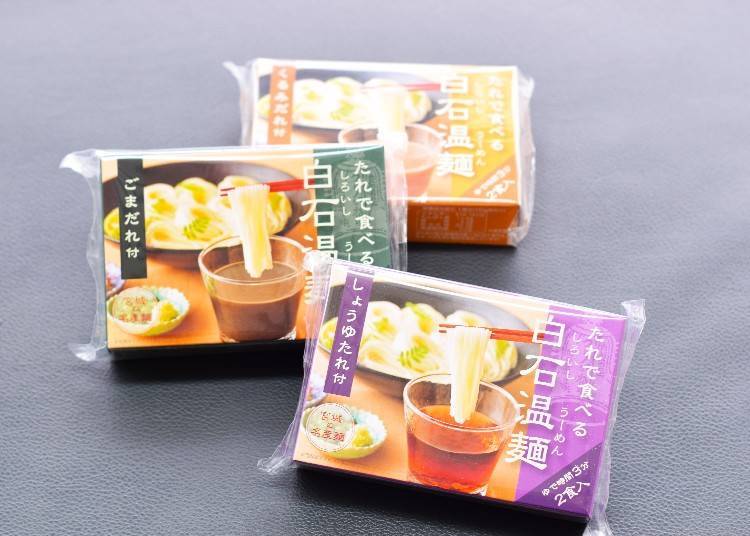 Shiroishi U-men with Soy Sauce (2-serving pack): 476 yen per box (tax included)
Shiroishi U-men is a specialty of Shiroishi City, Miyagi Prefecture, boasting a history of nearly 400 years. Its unique features are the absence of oil used during noodle preparation, and the noodles' compact size of just 9 cm long. It also includes its own sauce, so you can savor this local Miyagi delicacy from the comfort of your own home.
Duty Free Shop VEGA: Popular Products at Discount Prices!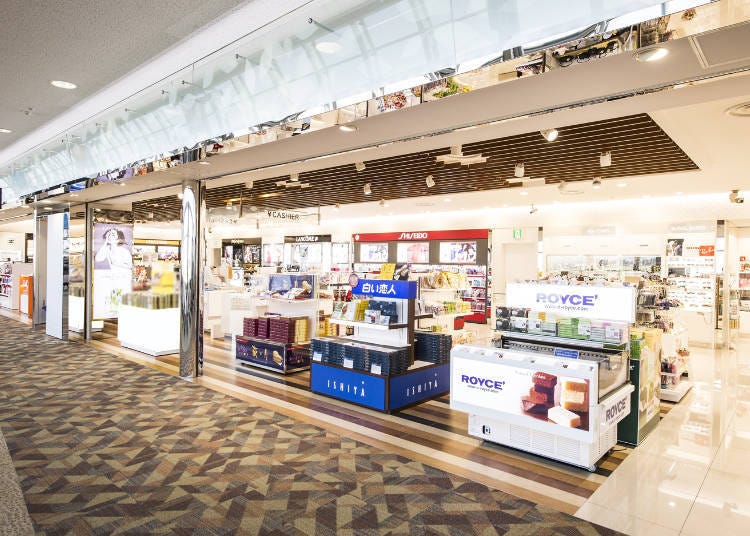 For duty-free merchandise, be sure to visit Duty Free Shop VEGA on the second floor of the International Departure Waiting Area. In addition to standard products like brand-name cosmetics, alcohol, and sundries, there's also a lineup of popular souvenirs from outside the Tohoku Region.
Duty Free Shop VEGA
TEL: 022-383-6205
Hours: From 1 hr. 30 min. before departure until the last international flight
The airport has 10 restaurants that cater to diverse tastes, serving sandwiches and coffee as well as Japanese food. Many locals even frequent the airport for the purpose of enjoying the eateries, which include ramen shops and cafes that hold considerable popularity in Sendai. But don't worry if you do not speak Japanese. You can easily order yplace an order by simply pointing to what you want on the menu! Some restaurants even offer halal menus, providing convenient options for those with dietary restrictions.

Below we introduce a selection of restaurants in Sendai, one of Miyagi's most popular tourist destinations, with an array of local specialties, from gyutan-yaki to zunda.
1. Beef Tongue Restaurant Jinchu: Indulge in Sendai's Specialty Beef Tongue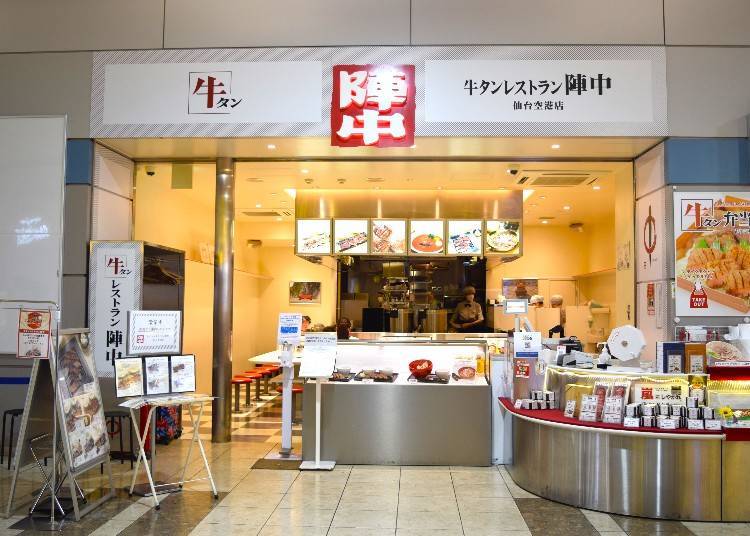 The restaurant Jinchu, located on the first floor near the Domestic Arrivals, serves "gyutan," or beef tongue, regarded as the crown jewel of Sendai's culinary delights. This local dish features beef tongue, grilled to perfection. Inside the restaurant, you can watch as the skilled chefs work their magic right before your eyes. There is also a to-go menu, recommended for those who'd like to enjoy it at their hotel.
Beef Tongue Restaurant Jinchu
TEL: 022-383-3429
Hours: 10:30 AM–8 PM (last order 7:30 PM)
Closed: Open daily
Languages: Japanese
Menus: Japanese (foreign language menus will be available in the future)
2. Zunda Saryo: A Popular Edamame Sweets Shop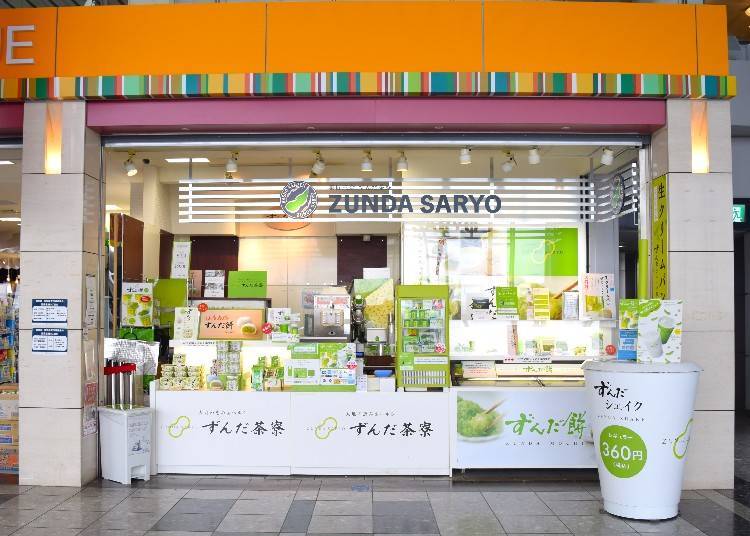 Zunda Saryo, located on the second floor, specializes in zunda, a local Sendai delicacy made by mashing boiled edamame beans into a paste. The most popular item is the Zunda Shake, a beloved favorite filled with zunda goodness and boasting the refreshing flavor and distinctive texture of edamame beans. Served in a convenient cup, this treat is perfect to enjoy while shopping or taking a break before check-in. It's also a great place to find zunda-based souvenirs.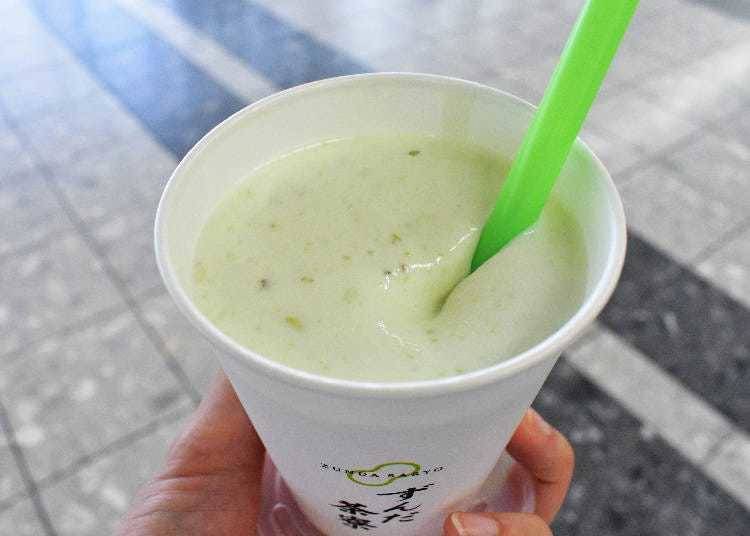 Zunda Saryo
TEL: 022-381-6031
Hours: 8 AM–7 PM
Closed: Open daily
Languages, menu: Japanese
Recommended facilities at Sendai Airport
Sendai Airport has a wide range of facilities for travelers. Here are some of the best places to stop by if you have some free time to spare.
Smile Terrace: Rooftop Observation Deck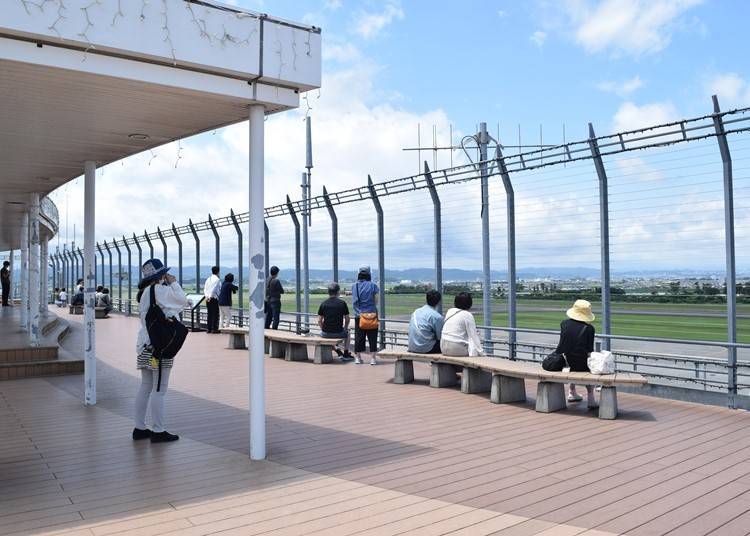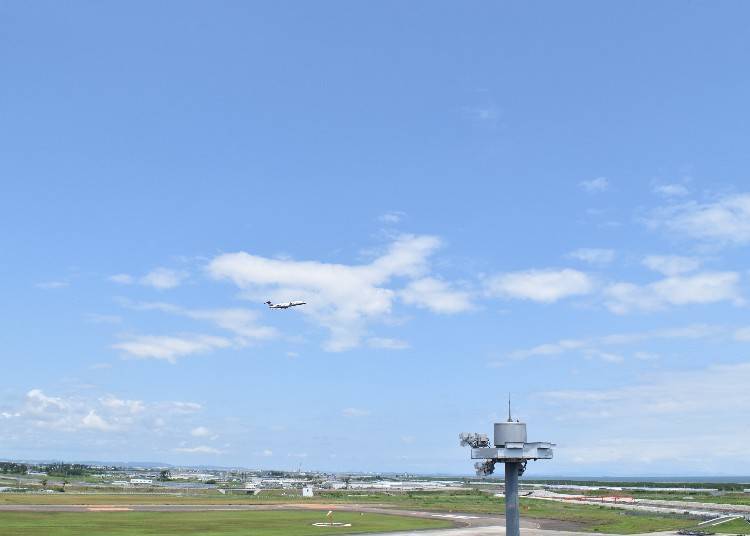 Smile Terrace is a great rooftop observation deck where visitors can look out over the runway and tarmac. The deck is equipped with three 20x telescopes (100 yen per use), which provide not only a close-up look of the airplanes, but a sweeping panoramic view of Sendai City and the majestic Zao Mountain Range.
Smile Terrace
TEL: 022-382-0080 (Sendai Airport Information)
Hours: 6:45 AM–8 PM
Admission: Free
Closed: Open daily (may close in event of inclement weather)
Relaxation & Nail enDuce Leaf Massage Parlor (1F)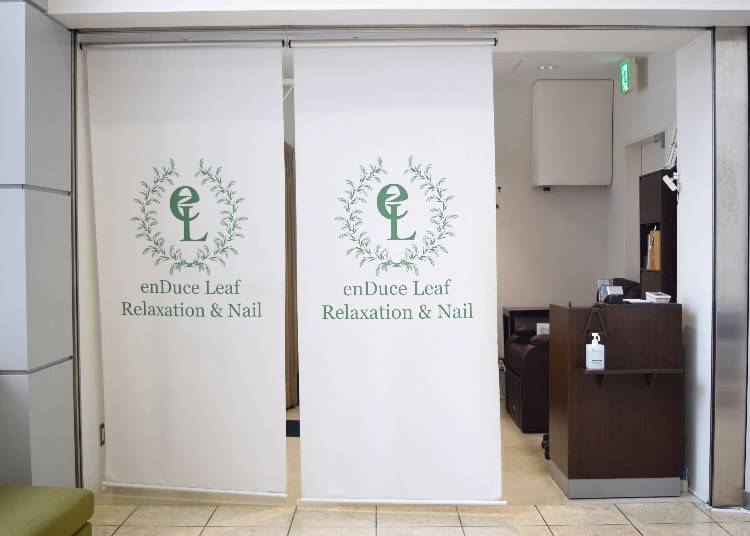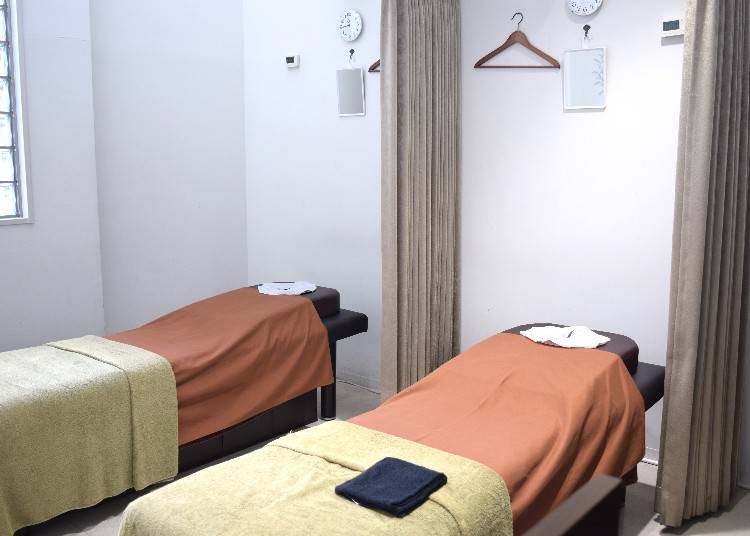 For those seeking relief from travel fatigue before boarding or upon arrival, consider checking out Relaxation & Nail enDuce Leaf, located on the first floor by the Domestic Arrivals gate. Here, you can treat yourself to a 60-minute full-body massage or a 10- to 30-minute foot and palm massage. So take advantage of the opportunity to provide your body with a well-deserved refresh in the midst of your airport journey. Appointments not necessary.
Relaxation & Nail enDuce Leaf
TEL: 022-397-9743
Hours: 10 AM–7 PM (Reception until 6:30 PM)
Closed: Open daily
Languages: Japanese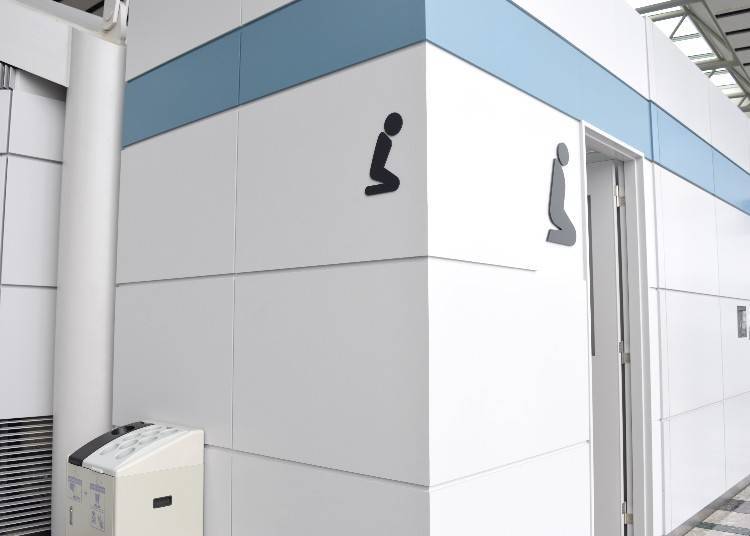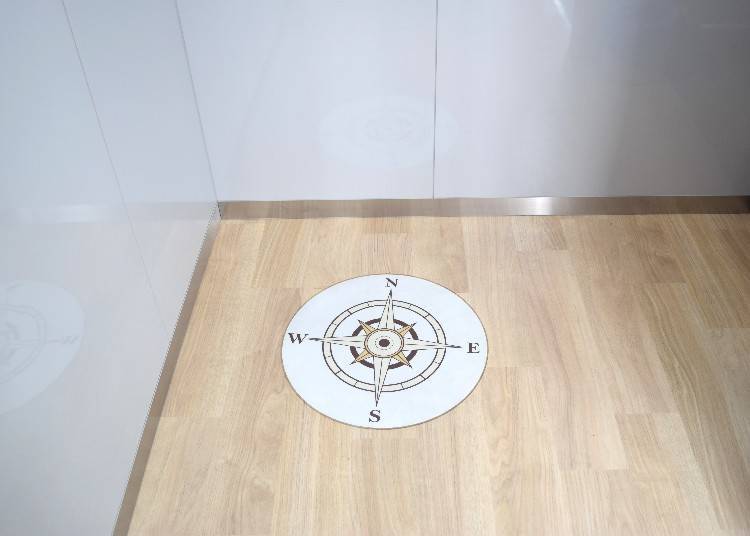 The prayer room is a space designed for the use of a diverse range of individuals, regardless of belief or religious affiliation. Located on the second floor in the International Departures lobby, this room spans roughly 5 square meters and is equipped with water for washing your hands and feet, along with floor markings indicating the directions.
Prayer Room
TEL: 022-382-0080 (Sendai Airport Information)
Hours: 6:10 AM–9:30 PM
Admission: Free
Closed: Open daily
Getting to and from Sendai Airport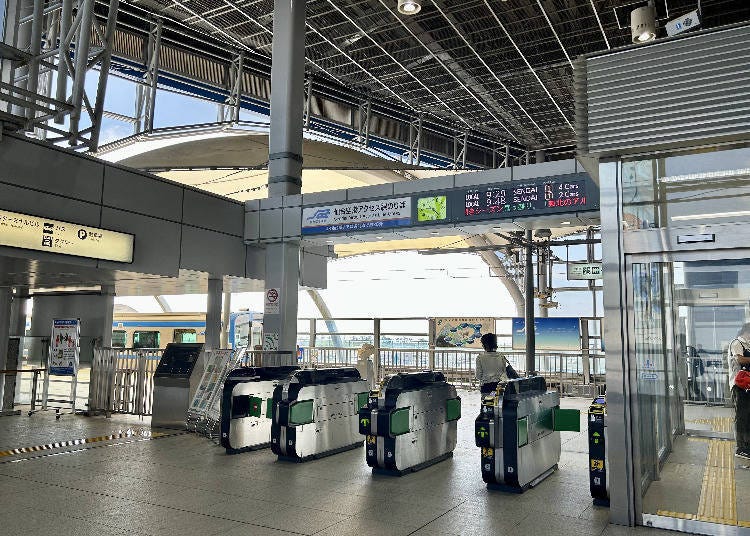 JR Sendai Station provides convenient access to all major cities in Miyagi Prefecture and the Tohoku Region. For details, see the Sendai Airport Access Guide link below.
Trains:

Getting from Sendai Airport Station (directly linked to the Sendai Airport Passenger Terminal Building) to JR Sendai Station is about 25 minutes (or 17 minutes via rapid train). See this article for details on getting to/from Sendai Airport to Sendai Station by train. Thanks to the direct connection, there's no need to worry about transfers!

Car Rentals:

Sendai Airport also features a car rental counter on the first floor. See here to reserve a rental car.

Bus:

Bus stops are on the right side of the International Arrivals lobby.

Taxis:

A taxi stand is behind the bus stop, to the right of the International Arrivals lobby. A taxi from Sendai Airport to Sendai Station costs around 9,300 yen plus cost of tolls.
Got a layover? Why not explore the nearby Matsushima Bay, one of Japan's Three Great Views? Or enjoy some retail therapy at Kawamachi Terrace Yuriage?
Kawamachi Terrace Yuriage: An Attraction Near the Airport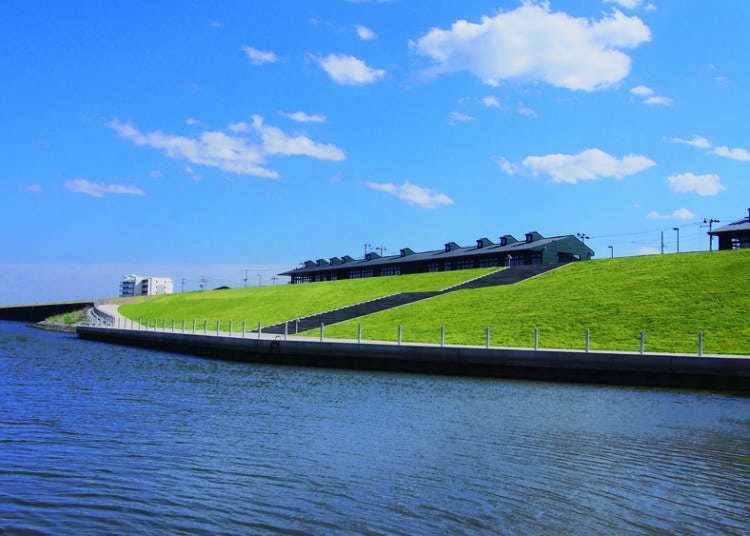 About a 15-minute drive from Sendai Airport lies Kawamachi Terrace Yuriage, a commercial complex boasting nearly 27 stores, including popular seafood restaurants and sweets shops using locally sourced fruits. Although multilingual service may not be available, international tourists flock to this facility, where each establishment happily welcomes them with open arms!

Kawamachi Terrace Yuriage
Yuriage Chuo, 1-6, Natori City (Kawamachi Terrace Yuriage)
Phone: 022-399-6848
Hours: Varies by store
Closed: Varies by store
Hotels near Sendai Airport
Here are some accommodations near Sendai Airport. Why not add them to your list of potential accommodations?
So if you're traveling through Sendai Airport, take advantage of the convenient array of shops and services available to all travelers. We hope the information provided here enhances your travel experience, and grants you a pleasant and comfortable journey!
Address

Mubanchi, Aza-Minamihara, Shimomasuda, Natori City, Miyagi Prefecture, 989-2401
View Map

Nearest Station

Sendai Airport Station (Sendai Airport Access Line)


Phone Number

022-383-4301
Interview location: Sendai Airport

Text by: Shoe Press
*Information in article as of August 2023. Please see official websites for the latest updates and information.

English translation by: Krys Suzuki
*This information is from the time of this article's publication.
*Prices and options mentioned are subject to change.
*Unless stated otherwise, all prices include tax.
Limited time offer: 10% discount coupons available now!