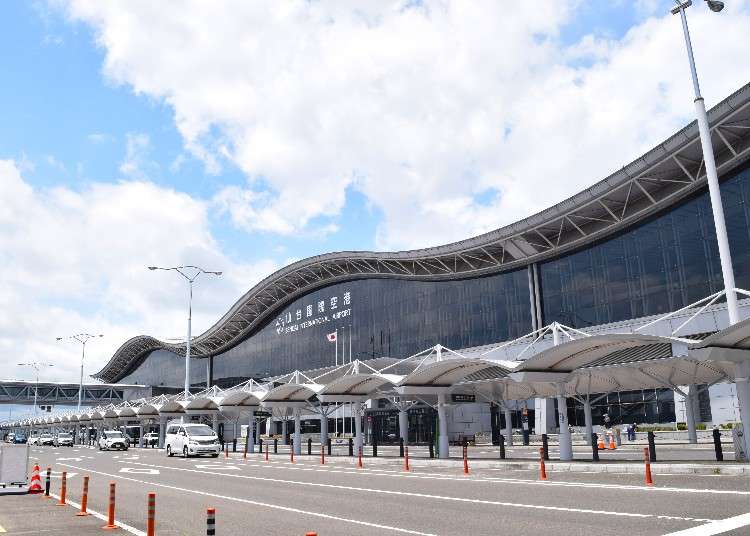 Sendai International Airport is Tohoku, Japan's "gateway to the sky." This airport is rather stylish in appearance, with a corrugated roof, and plenty of attractions.

From restaurants serving local Sendai dishes, a shopping area full of Tohoku souvenirs, an observation deck to watch the arrival and departure of planes, and a mini-museum where you can get a taste of what it feels like to be a pilot, Sendai International Airport has it all! Here we'll share a thorough guide to all the attractions of Sendai Airport that can also be enjoyed as sightseeing spots!
Tohoku's Largest International Airport
Sendai International Airport (SDJ) is the largest airport in Tohoku, serving approximately 3.6 million people annually. The number of international flights increases year by year, as does the number of foreign tourists visiting the area.

In 2017, part of the building was renewed, providing new services for travelers to spend their time in the airport more comfortably. It is a must-see base for sightseeing in Tohoku.
Sendai International Airport Dining Recommendations
There are restaurants and cafes on each floor of this three-floor airport, with a variety of menus options such as traditional Japanese food, sandwiches, and coffee.

There are also a variety of dishes that are unique to Sendai, such as ox tongue, zunda, and sasa-kamaboko, so don't worry if you missed the chance to try any of these during your travels!

There are also restaurants with halal menus, and some that even use "yubisashi sheets" ("point-and-speak" menus) for those who don't speak Japanese.
Authentic Sendai Gyutan Beef Tongue Restaurant
Koji-marinated Grilled Beef Tongue, 100g A set: 1,550 yen (tax included)
On the first floor near the domestic arrival lobby is a restaurant called "Jinchu Kantanya," an ox tongue specialty shop, also known as the "king of local Sendai gourmet."

Grilled ox tongue dishes originated in Sendai, and they have a juicy, meaty flavor. In this shop, skilled artisans cook the sliced ox tongue right in front of you. There is also a take-out menu that you can enjoy later at your hotel.

Gyutan Senmonten Restaurant Jinchu Kantanya
Phone: 022-383-3429
Business Hours: 10:30AM~9:00PM (L.O.8:30PM)
Regular Holidays: None
Attention-Grabbing Edamame Sweets, as seen on TV!
Zunda Shake, regular size, 290 yen (tax included)
The second-floor shop "ZUNDA SARYO Sendai Airport" has a lineup of Sendai local specialty zunda products. The most popular menu item is the Zunda Shake, a shake made with plenty of soybeans crushed into a paste, with a pulpy texture and refreshing taste.

It is often featured in the media and has attracted a lot of attention. It is served in an easy-to-carry cup so you can enjoy it freely as you shop at the airport or during a break before check-in. You can also try the "Zunda Mochi Petit," which are small, bite-sized zunda balls, and gelato made with fruit.

ZUNDA SARYO Sendai Airport
Phone: 022-381-6031
Business Hours: 6:45AM~8:00PM
Regular Holidays: None
Sendai International Airport Souvenir Recommendations
On the second floor, there is a shopping area with various stores including Tohoku specialty confectionery shops, original miscellaneous airport goods, specialty sake shops, and drug stores. We will now introduce popular gifts from souvenir shop "Sogo-Baiten Hagi" (GENERAL STORE HAGI), the souvenir shop boasting the widest selection of items.
A Cute, Round, and Famous Confectionary
Hagi no Tsuki, 5 pieces 1,000 yen (tax included)
Whenever the topic of popular Sendai confectioneries comes up, the name Hagi no Tsuki is sure to arise. It is the signature confectionery sold at the long-established confectionery shop, KASHO SANZEN, with a round, yellow castella dough in the image of the moon and a moist, fluffy texture, filled with plenty of custard cream. They are sold individually wrapped in a box, so they also make perfect gifts.

General Store Hagi
Phone: 022-383-6205
Business Hours: 6:45AM~8:00PM
Regular Holidays: None
The Flavor is Alive in this Local Sendai Whitefish Gourmet
"Matsuzawa Cafe Sasa-kamaboko Fuku," 10 pieces, 1,080 yen (tax included)
Another Sendai specialty, "kamabako," is whitefish grilled in the shape of bamboo leaves. It is said that it was born in Sendai around 1870. "Kamabako Fuku," which contains 10 vacuum-packed sasa-kamaboko, is a product of Matsuzawa Cafe, a well-established coffee shop that has been around for over 100 years. It is tender with the characteristic taste of fish. It is a refrigerated product, but can be stored at room temperature for up to 12 hours.
Sendai International Airport Services & Facilities
Sendai Airport is an international destination serving both major cities within Japan, as well as other countries such as Seoul, Taipei, Shanghai, and Beijing, with approximately 10,000 visitors a day.

Services and facilities that accommodate people of various nationalities and languages are also improved year by year, making time spent at the airport much more comfortable.
Your Journey Starts Here!
When you arrive at the airport, the first facility you want to visit is the Michinoku Tourist Information Center. It has information on travel, transportation, and lodging for places throughout Japan, with a focus on the Tohoku Region. They also sell and exchange JR EAST PASS (Tohoku area) and JR East-South Hokkaido Rail Pass for international travelers, which means it may become crowded around the arrival time of international flights. Staff are also available in Japanese, English, and Chinese. There is also a system that uses a tablet to allow you to speak face-to-face with an interpreter in several other languages.

Michinoku Tourist Information Center
Phone: 022-383-6741
Business Hours: 9:00AM~9:00PM (Entry until 8:30PM)
Regular Holidays: None
A Mini-Museum for Kids and Adults Alike
If you like airplanes, check out the Airport Museum Tobucha on the 3rd floor. You can even sit in an actual cockpit and touch real instruments and levers used for pilot training, so you can experience what it feels like to be a real pilot. The Flight Simulator (100 yen per use) lets you experience flying a plane, and is another popular attraction. There are also panel exhibits worth seeing that show actual business-class seats and the mechanisms of the plane. There is also an original Sendai Airport photo booth (600 yen), where you can make memories of your trip.

Airport Museum Tobucha
Phone: 022-382-0080
Business Hours: 9:00AM~7:00PM
Admission Fee: Free
Regular Holidays: None
Exciting Sights, Only At This Airport!
On the rooftop observation deck, "Smile Terrace," you can get a close-up view of the runway and the parking lot, highlighted by the powerful roaring and scene of the take-offs and landings.

Many people bring their camera to catch the photo opportunities. There are three 20x telescopes installed on the deck (100 yen per use). In addition to the airplanes, you can also see Sendai City and the Zao Mountain Range.

Smile Terrace
Phone: 022-382-0080
Business Hours: 6:45AM~8:00PM
Admission Fee: Free
Regular Holidays: None (may close due to inclement weather)
A Soothing Space and Relaxing Hand Massage
If you want to relieve travel fatigue, whether its before boarding your flight or after arriving, we recommend massage parlor "Relaxation & Nail enDuce Leaf" on the 1st floor near the domestic entrance. You can get a standard 80-minute full body massage, a 10-30 minute sole or palm massage, and more.

Relaxation & Nail enDuce Leaf
Phone: 022-397-9743
Business Hours: 10:00AM~8:00PM (Entry until 7:30PM)
Regular Holidays: None
Take A Jog in the Airport
Many people perform daily exercises, such as running and walking. There is a "Runners Port" on the first floor, which is also equipped with a shower and changing room. You can also rent face and bath towels. You may even just want to use the shower after running all around the airport to refresh your mood.

Runners Port
Phone: 022-382-0080
Business Hours: 7:00AM~9:00PM (Entry until 8:30PM) *Reception at 1F Information
Admission Fee: 800 yen; towel rental: 100 yen; bath towel rental: 100 yen (tax not included in prices) *Cash only accepted
Regular Holidays: None
Prayer Rooms: All Are Welcome!
The prayer room in the 2nd floor international departure lobby is a facility available to all people regardless of religion. The room is about 5 square meters, and inside is a wash area to clean your hands and feet, and directional marks on the floor.

Prayer Room
Phone: 022-382-0080 (Sendai Airport Information)
Business Hours: 6:10AM~9:30PM
Admission Fee: Free
Regular Holidays: None
Getting to Major Areas from Sendai International Airport
The most convenient way to Sendai City from Sendai International Airport is via the Sendai Airport Access Line, which directly connects to Sendai Station from the airport.

The travel time is 25 minutes by regular train and 17 minutes by express. To get to Morioka City, the gateway to northern Tohoku, take the Sendai Airport Access Line to Sendai Station, then ride the Tohoku Shinkansen. You will arrive in about 40 minutes.
Sendai International Airport

仙台空港

Address

Mubanchi, Aza-Minamihara, Shimomasuda, Natori Shi,Miyagi Ken

Phone Number

022-383-4301

Regular Holidays: None
Text by: SHOE PRESs
*This information is from the time of this article's publication.
*Prices and options mentioned are subject to change.
*Unless stated otherwise, all prices include tax.