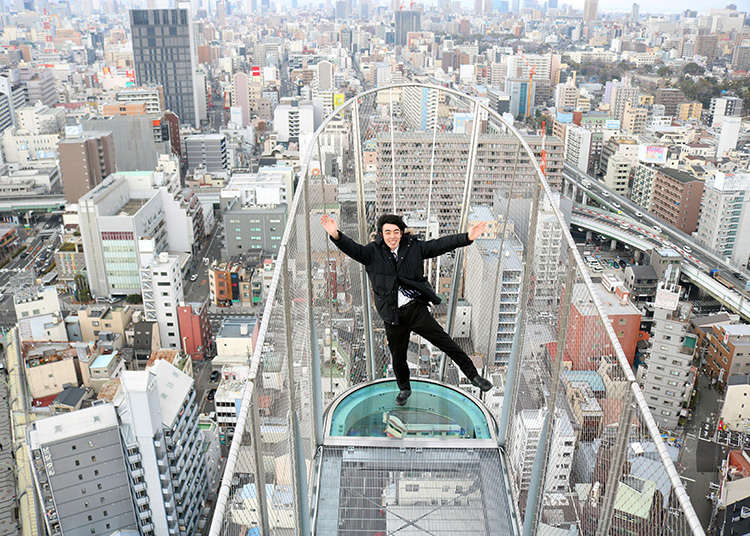 Tsutenkaku is one of the most prominent and exciting landmarks of Osaka. It is close to the renowned and popular tourist spot Shinsekai, deep in the heart of that incredible Osaka atmosphere.

Today we're taking a look at TIP THE TSUTENKAKU, a pop-up observatory where you can experience first-hand the thrills of Tsutenkaku. We also take a look at some awesome souvenirs and spots to relax!
What Kind of Place is Tsutenkaku?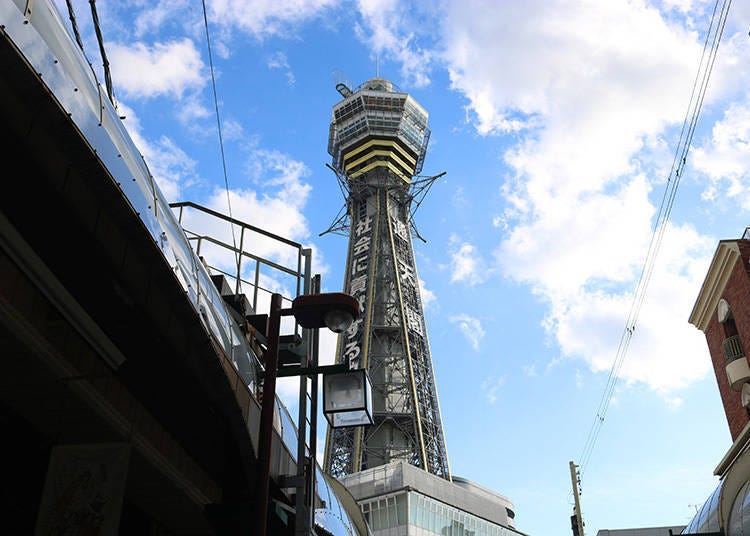 Tsutenkaku is an observation tower located in the Shinsekai entertainment district of Osaka. Built in 1912, it was inspired by the Arc de Triomphe and the Eiffel Tower, and was proposed as a symbol of Shinsekai. The Tsutenkaku you see today is actually the second generation. The original was destroyed in a fire, and at the request of the citizens, was rebuilt in 1956.

The name Tsutenkaku means "tall building leading to heaven." You can also visit at night, and enjoy a nighttime cityscape view of Osaka, as well as a cute light-up display. The neon lights at the top of the tower change according to the weather: white when it is sunny, and blue when it rains.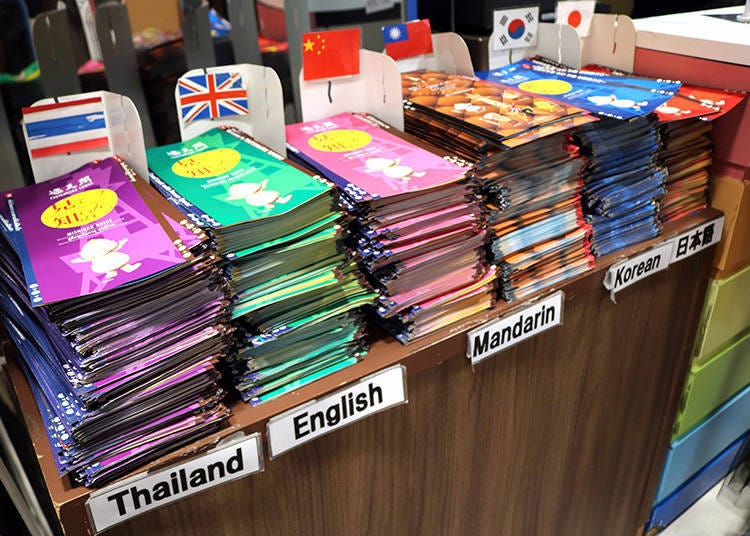 Pick up a pamphlet before heading on!
A lot of overseas visitors worry about the language barrier when traveling around Japan, but there's no need to worry here! In addition to the pamphlets available in multiple languages (Japanese, Thai, English, Chinese, Taiwanese, and Korean), some staff members can also speak English and Chinese.

Additionally, each floor is equipped with a translator called PokeTalk, so they've really gone all out to make overseas visitors feel welcome!
All About TIP THE TSUTENKAKU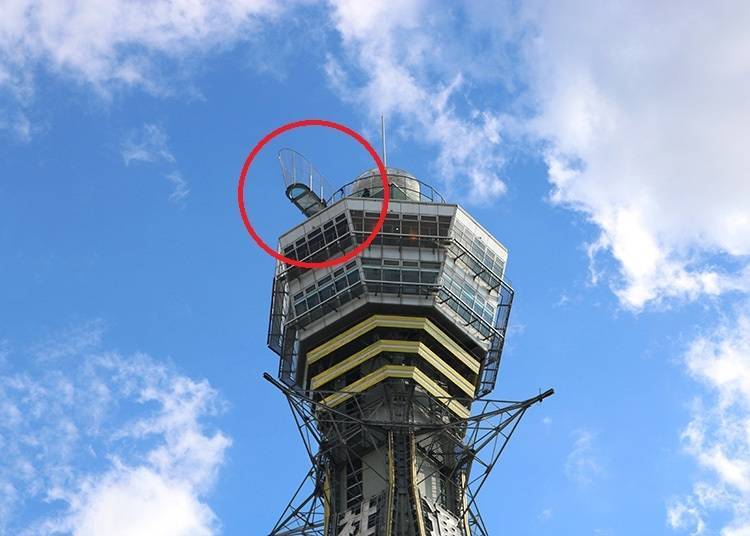 TIP THE TSUTENKAKU as seen from the left side of Tsutenkaku.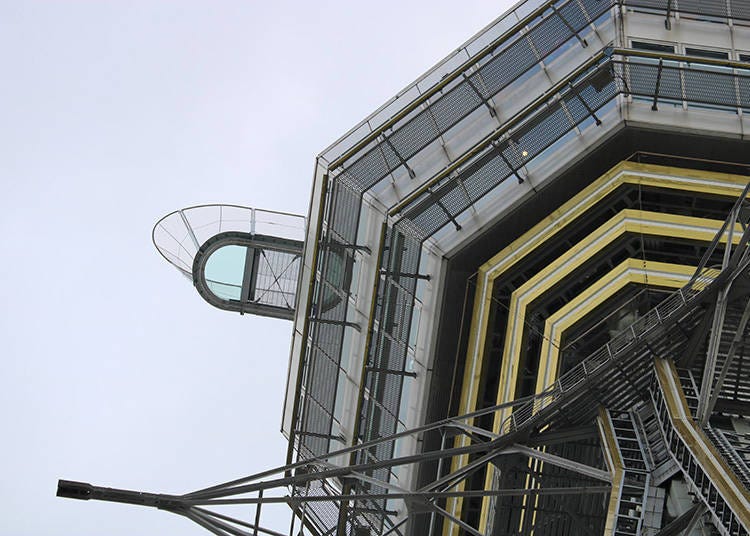 TIP THE TSUTENKAKU, as seen from below
TIP THE TSUTENKAKU launched in December 2019. TIP THE TSUTENKAKU can be seen from below protruding out from Tsutenkaku. It is a thrilling and popular spot visited by nearly 300 people daily.

To visit, you will need to purchase an admission set that includes the 360-degree Special Observation Deck on top of Tsutenkaku (adults 500 yen, children 300 yen). With no time limit, you can stay a while and fully enjoy the sky views from the top of the world.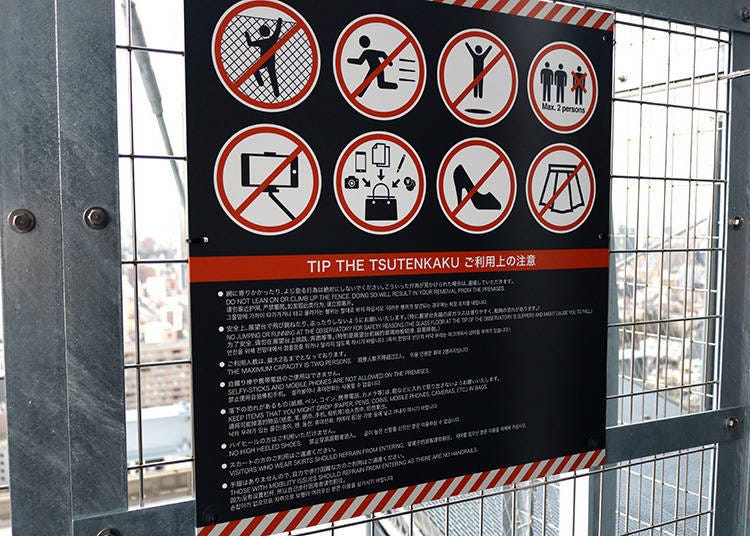 Take the elevator to the 5th floor and purchase your ticket at the information counter. From there, climb the stairs and go outside. The protruding section of the observatory is limited to no more than two people at a time.

Please note that skirts and high heels are prohibited, as well as the use of cell phones and taking selfies. Also, no running or climbing on the net, as it can be dangerous. Please observe all rules and be aware of prohibited items before entering.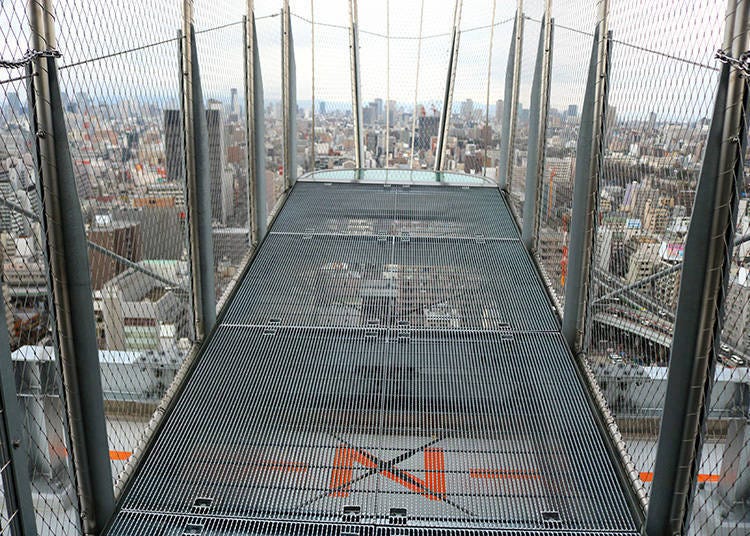 At last, here is TIP THE TSUTENKAKU. The extended section measures 5.4 meters long and 1.5 meters wide. It sits 92.5 meters above ground! Gather your courage and proceed to the top of Tsutenkaku.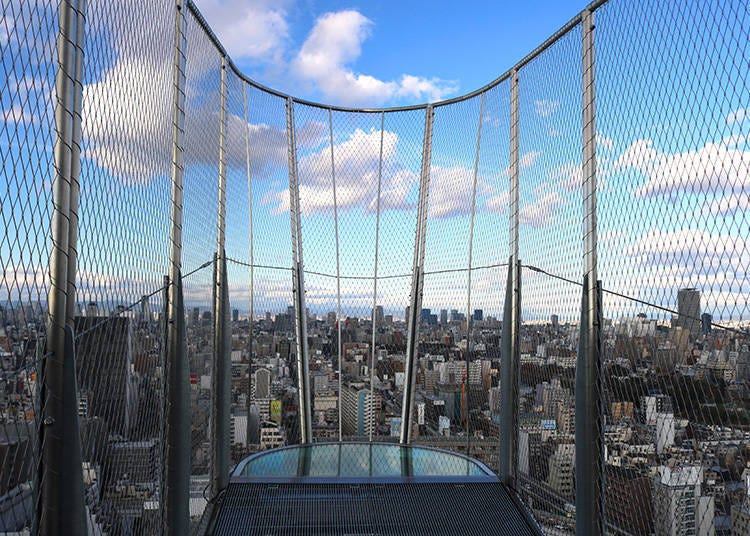 The area is surrounded with a wire mesh enclosing. However the mesh is coarse, and the upper part extends outward, so you won't feel closed in. With no tall buildings nearby, you will feel as if you're floating through the sky.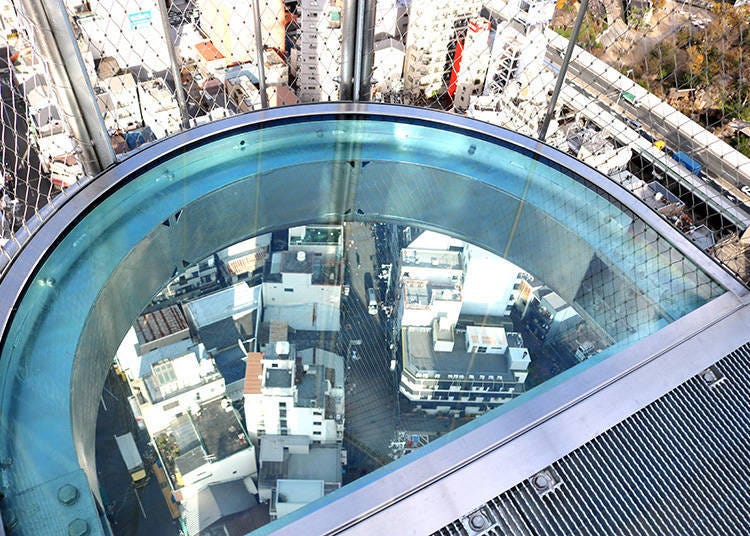 I felt such a rush stepping onto that glass panel! I'm not usually afraid of heights, but as expected, it was a little scary to move...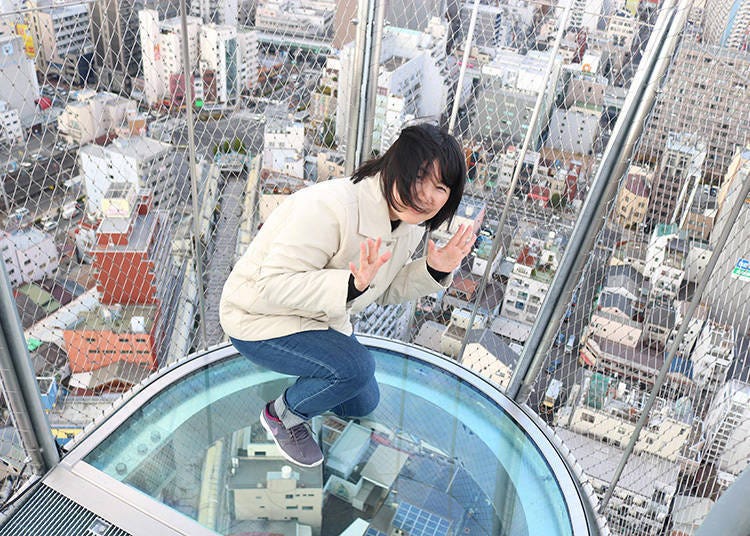 Too scared to look down!
OK, maybe a lot scared! I managed to walk out onto the glass, but I had to squat down. Even though I knew it was safe, it's still pretty frightening! I couldn't even stand up.

You can give your camera or smartphone to a staff member to take a photo of you for free. So stand still if you can, and have some cool photos taken (or some nice photos of you looking scared on a cool background...).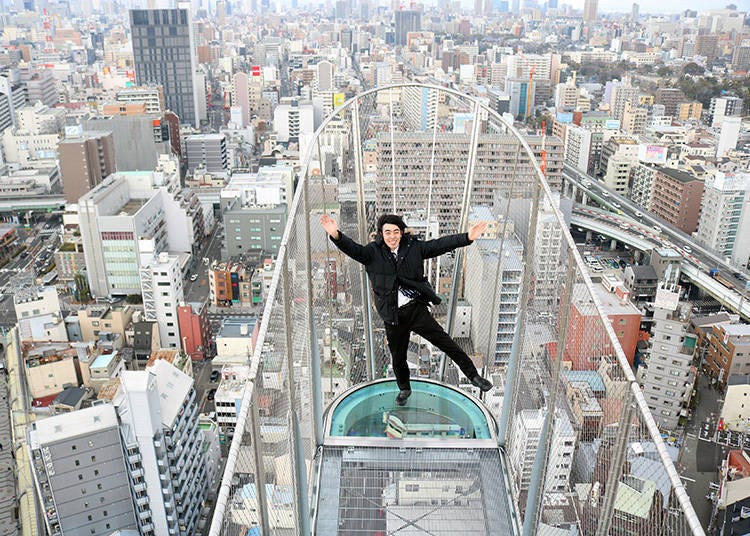 Strike a pose and take a cool photo!
At the upper part of TIP THE TSUTENKAKU is the 360-degree Special Observation Deck. You can also ask the staff to take a photo of you from the Special Observation Deck above. You can take stunning photos with the beautiful cityscape of Osaka in the background.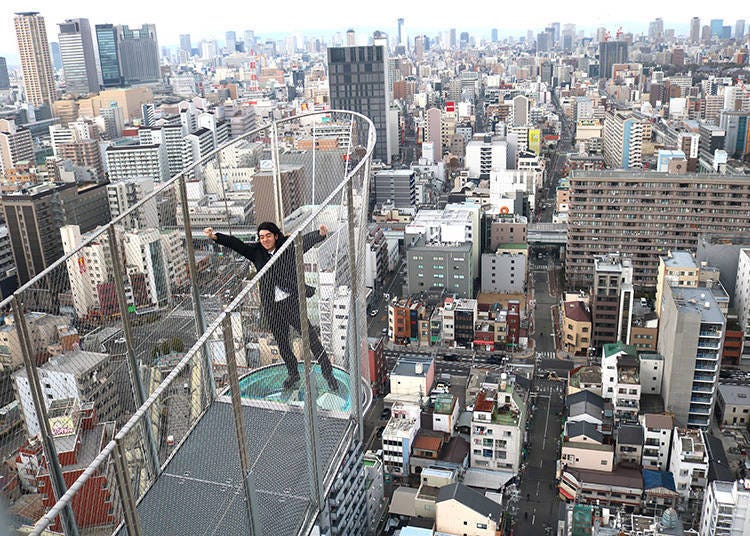 You can also see TIP THE TSUTENKAKU from various angles from the Special Observation Deck. There is also a popular device that measures the loudness of sounds and voices. Why not use it to vent your daily frustrations, or proclaim your love for your significant other? It can feel quite refreshing!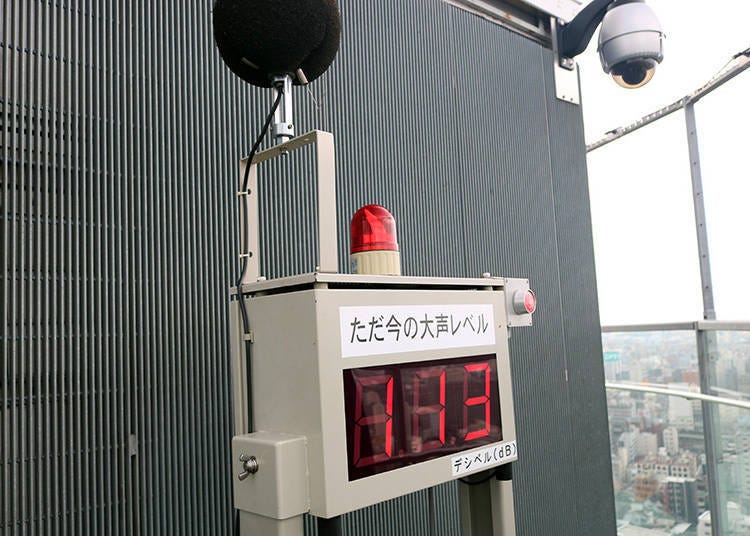 Volume measurement device at the Special Observation Deck. Free to use.
Admission to TIP THE TSUTENKAKU and the Special Observation Deck can be reserved together for private use. Some people even come here to propose! The Tsutenkaku staff will even offer support in setting up arrangements such as flowers. The romantic atmosphere, the thrill and excitement of being suspended in mid-air, and the kindness and support of everyone at Tsutenkaku... your special person is bound to say 'YES!'

The minimum number of people required to reserve is two, and the max is 30. Time restrictions also apply, limiting usage to no more than 30 minutes, between the hours of 9:00AM to 10:00AM in the morning, or 8:00PM to 9:00PM at night. Space rental costs 11,000 yen, plus the additional entrance fees per person (800 yen per adult). Reservations are required at least 7 days in advance, so be sure to check the schedule.
Other Highlights of Tsutenkaku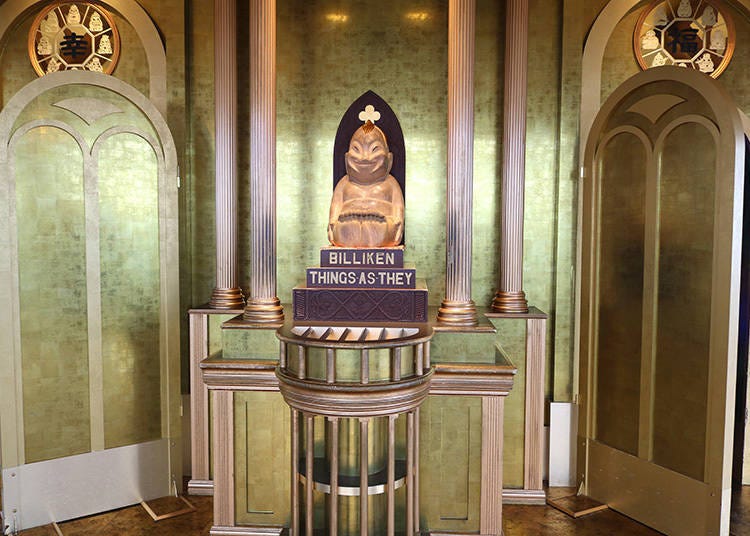 Golden Observatory (5F)
There's more to enjoy at Tsutenkaku than just the observatory! Let's take a look at some highlights on the other floors.

Below TIP THE TSUTENKAKU is the 5th floor Golden Observatory. Here Billiken resides, who is said to bring you happiness if you rub the soles of his feet. While Billiken can be seen all over the Shinsekai Area, this one here in Tsutenkaku is Osaka's original. This is the third generation Billiken. Because the soles of his feet tend to wear away with so many people rubbing them, he had to been replaced several times.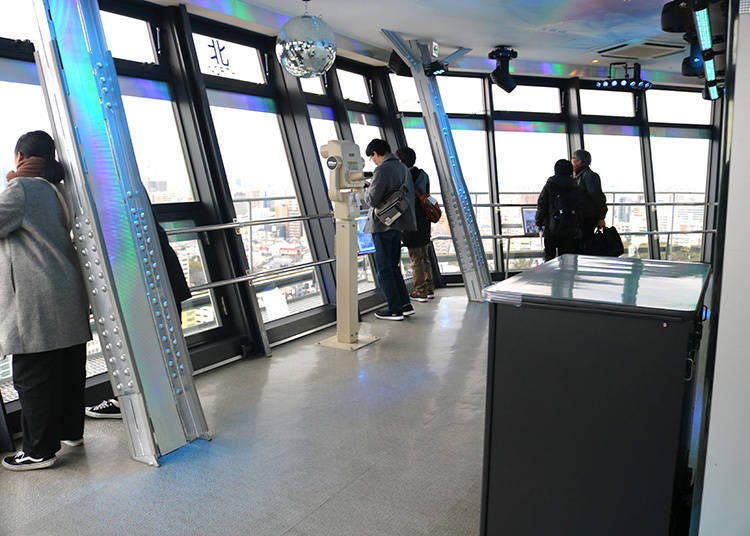 Light Observation Deck (4F)
Finally, on the 4th floor is the Light Observation Deck, complete with disco music and lighting effects. This is a fun observatory where you can dance along with the music, or visit at night for the more romantic atmosphere of the light-up display.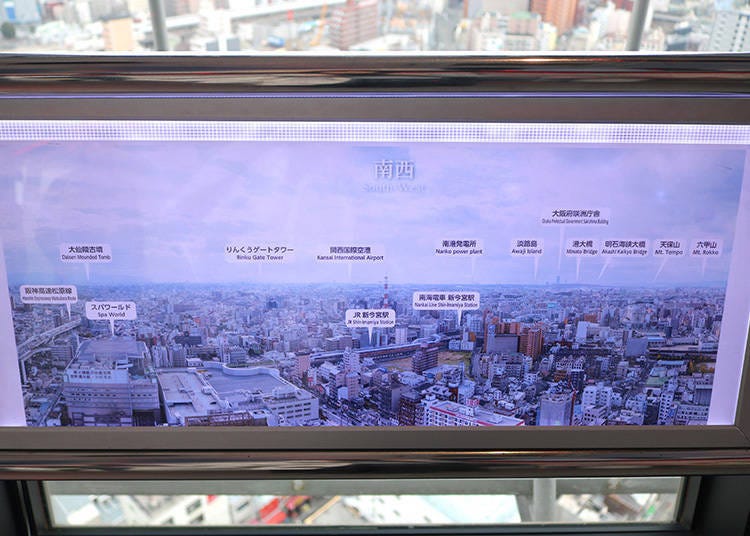 At the Light Observation Deck, you can look for different spots in each direction in Japanese and English. When the weather is nice, you can even see as far as the Kansai International Airport, the Tower of the Sun, and the Akashi-Kaikyo Bridge. See if you can spot your hotel!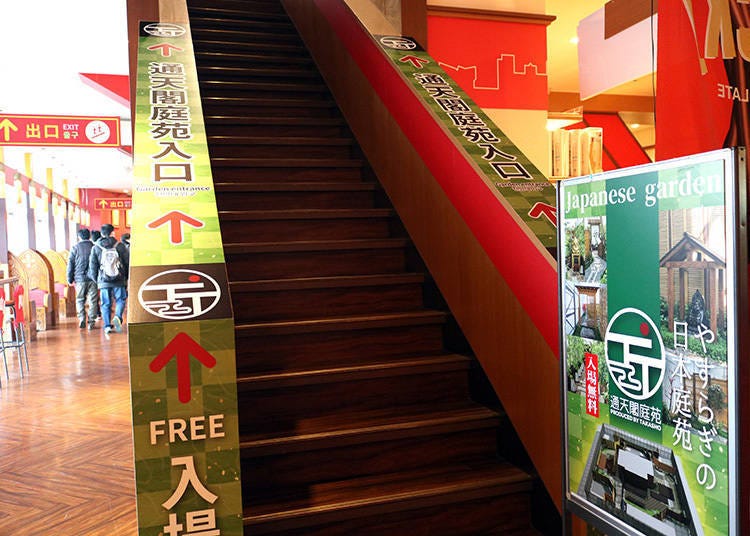 The entrance of Tsutenkaku Gardeb is on the 3rd floor. It's easy to miss, so look carefully!
Tsutenkaku Niwaen, or Tsutenkaku Garden, is a popular, hidden outdoor Japanese garden. As you climb the stairs, look for the Japanese-style space with stone lanterns and traditional art. It is a subtle, hidden area where you can sit on a bench to relax, yet many people miss the it. It's a nice place with a gentle breeze on a clear day.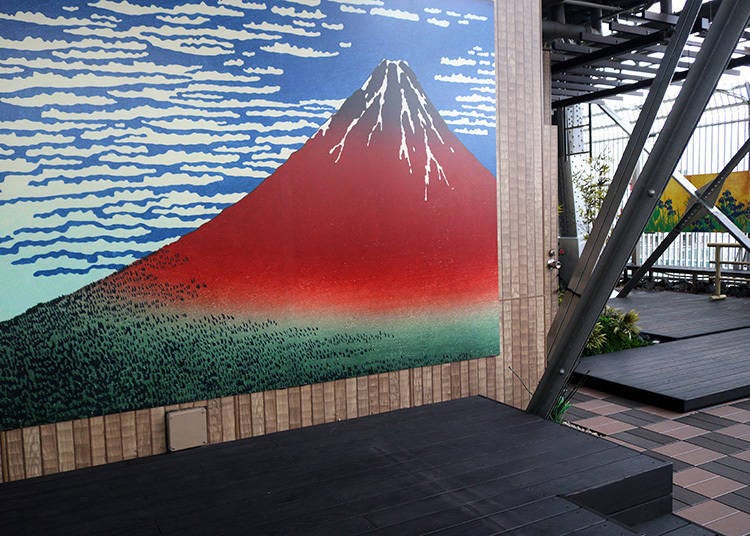 This is a stage set against the backdrop of the famous ukiyo-e painting, commonly known as Akafuji (or "Red Mt. Fuji") by renowned artist Katsushika Hokusai. There are many Japanese-style photo spots at Tsutenkaku Garden, so feel free to take some photos.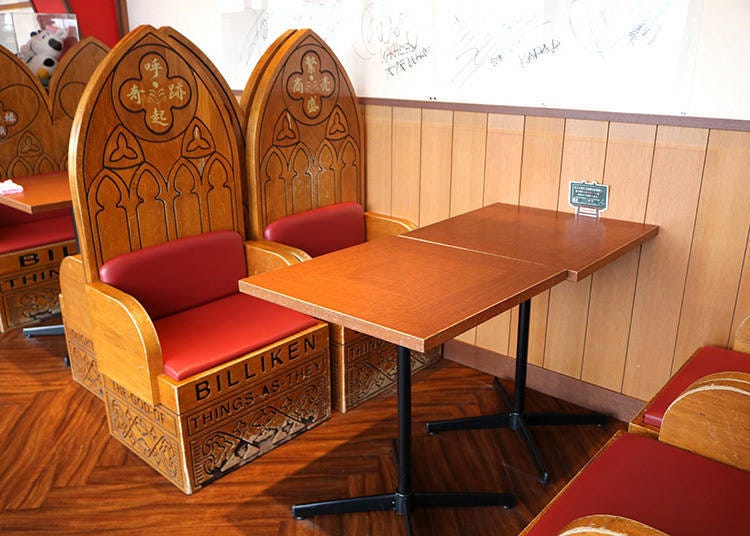 Chairs inspired by Billiken's pedestal. The back is inscribed with blessings, such as "prosperity in business" and "prayers to find a good match."(3F)
You can purchase drinks and sweets at Cafe de Luna Park on the third floor, which can be brought into Tsutenkaku Garden (alcohol is prohibited). Cafe de Luna Park is owned by Mother Farm in Chiba. You can enjoy rich Soft Cream (320 yen), Osaka's specialty Mixed Juice (350 yen), and the Original Tsutenkaku Parfait (700 yen). You can also take a quick break in chairs designed in the image of Billiken's pedestal.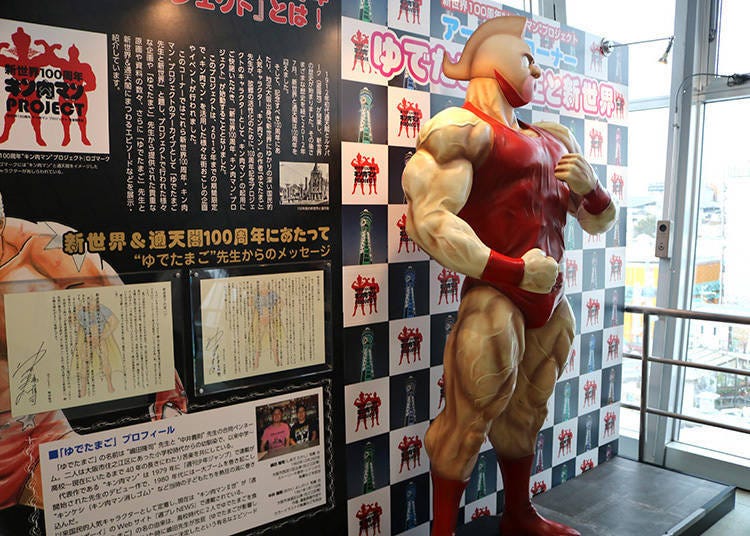 Kinnikuman Photo Spot (2F)
On the way back from the observation deck are a variety of different photo spots. Many of them are unique to Tsutenkaku, including a retro diorama-style reproduction of an old-fashioned Tsutenkaku, and a photo spot of the anime, Kinnikuman, which was set up in 2011 in commemoration of their 100th anniversary! It is an exciting place to walk around, where you can see other retro scenes such as pachinko parlors and shogi shops.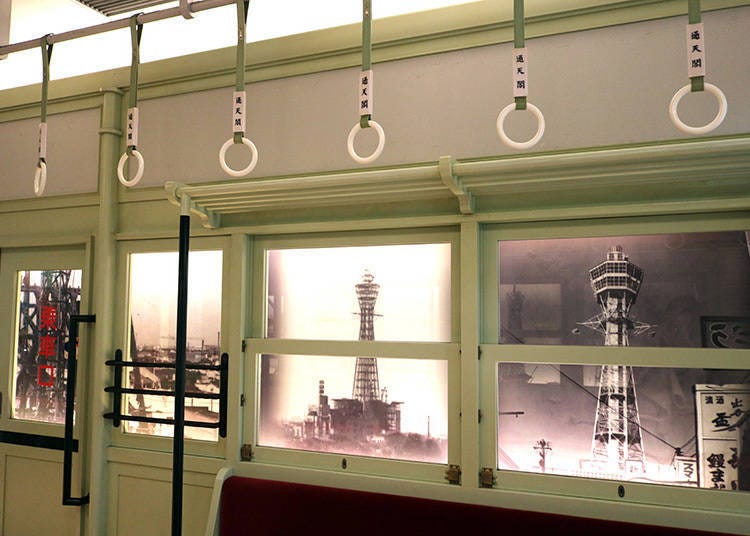 A reproduction of the interior of the nearby Hankai Tramway. The kanji for Tsutenkaku is written on the straps. (2F)
There is also a photo corner on the second floor where you can take photos next to a model Tsutenkaku. You can get there by elevator. This photo spot is for professionally-shot photos that you can purchase afterwards if you like. While you don't have to purchase one, it comes in an original clear file and is sure to make a nice memory if you do.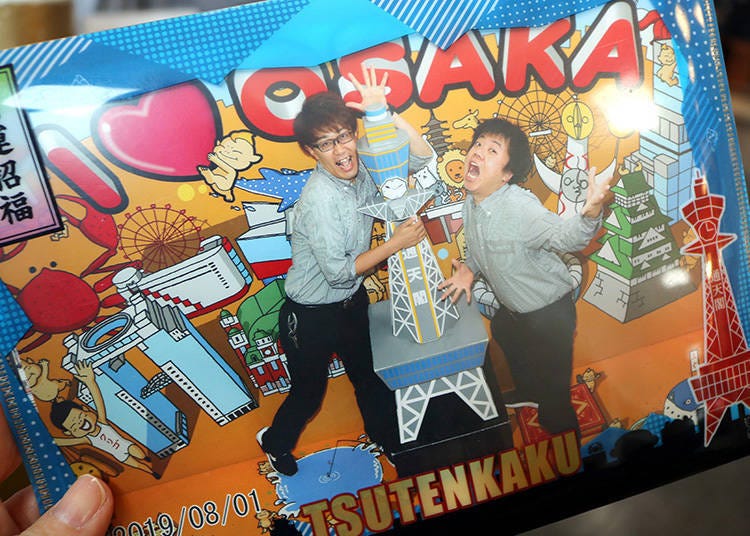 Souvenir Photo (1,300 yen) (2F)
What Souvenirs Can You Buy at Tsutenkaku?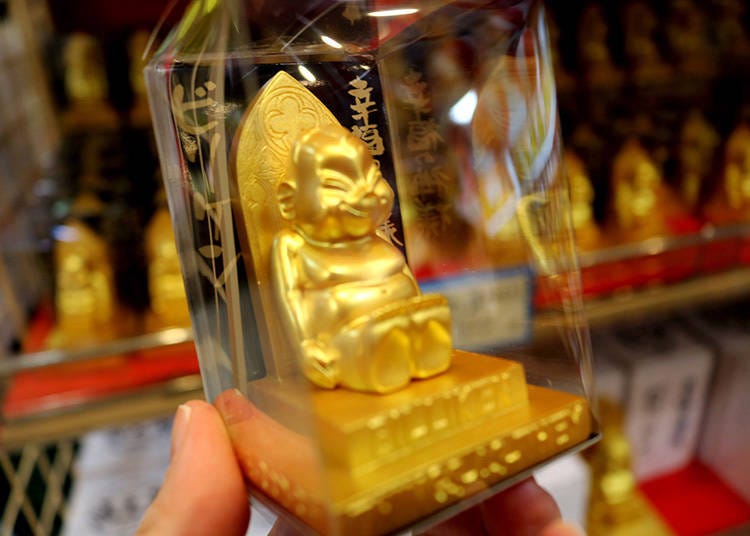 Billiken Figure (Small) (770 yen) (2F)
If you enjoyed Tsutenkaku, you will probably want some nice souvenirs to take home! Souvenirs can be purchased on B1F, 2F and 3F. Billiken is the most popular souvenir item. These palm-sized Billiken Figurines (small size) are especially popular, and sure to make a great gift!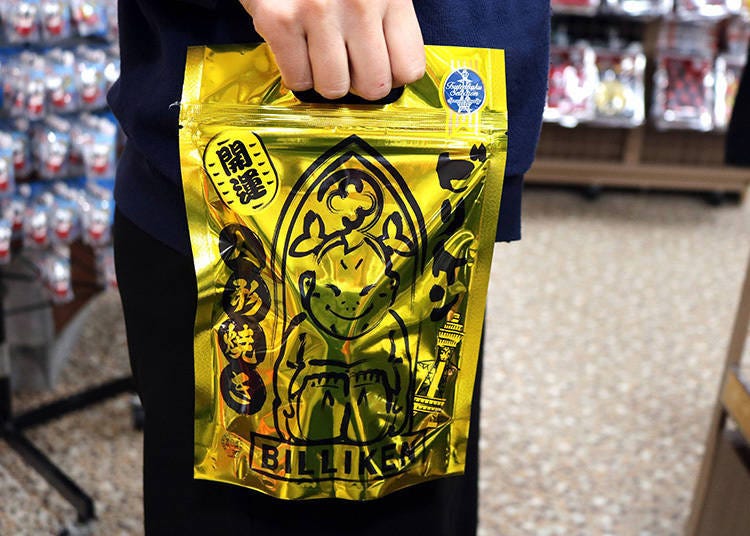 Billiken Ningyo-yaki (160g) (648 yen) (2F)
The Billiken-shaped Ningyo-yaki comes in about 16 varieties. The golden handbag-style package is inscribed with a message of "Good luck." It has a zip-lock style opening, so you can securely re-close it. Staff members ensured us that the inside ningyo-yaki are souvenirs with a good reputation for being delicious.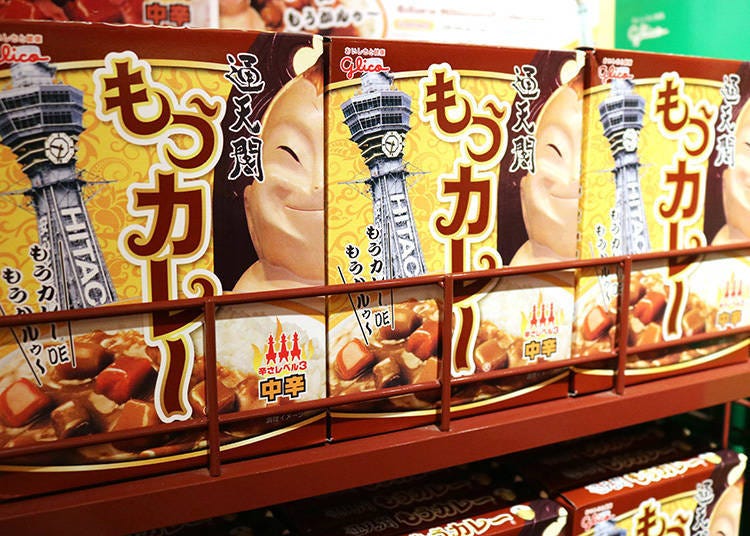 Tsutenkaku Limited-Edition Item Mou Curry (216 yen) (3F)
This is another great food item. Billiken's Mou Curry is a unique dish with a special meaning. "Mou" comes from the word "moukaru" (to be prosperous) in the Osaka dialect. "Moukare" combines the words "mou" and "curry." The price is reasonable for a Tsutenkaku limited item, and makes a perfect souvenir.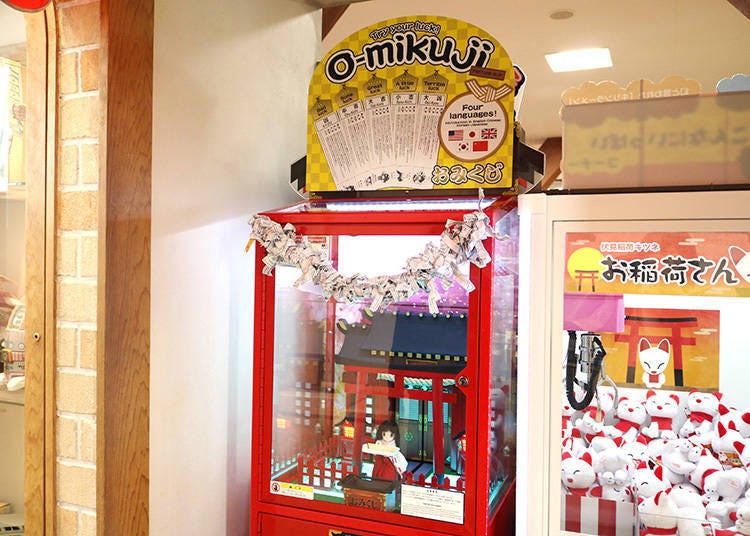 Omikuji Fortune Telling (200 yen), written in Japanese, English, Chinese, and Korean (2F)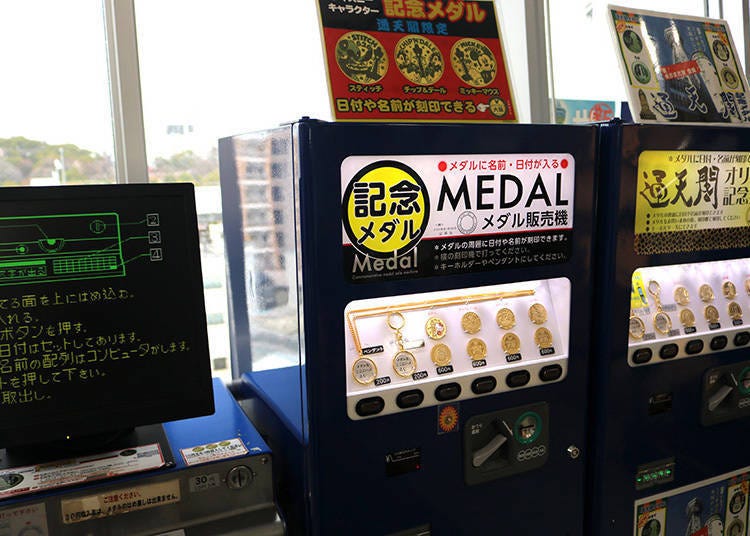 Name and Date Engraved Souvenir Medals (600 yen) (2F)
There are many items available in multiple languages, including Omikuji Fortune-telling and Souvenir Medals that can be made into key chains.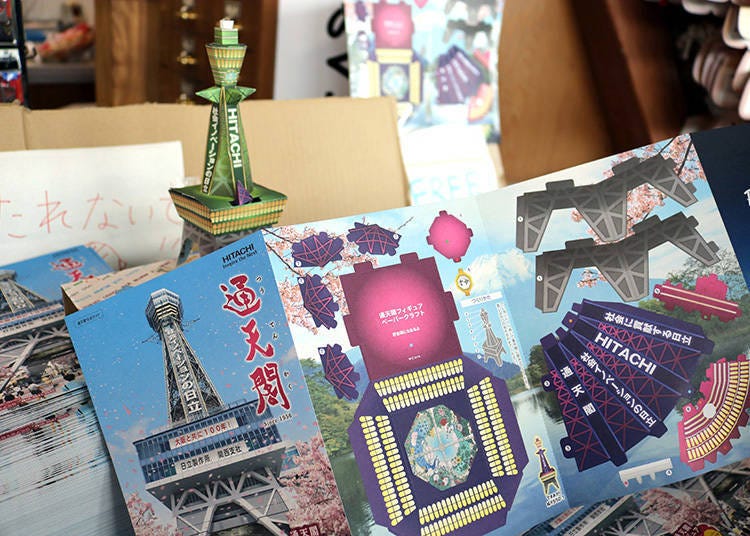 Tsutenkaku Paper Crafts. Tsutenkaku's color may vary by season.
You can also get free Tsutenkaku paper crafts! This hidden item also makes a popular souvenir. You can find it on the second floor aisle. Feel free to find and grab one for yourself!

After enjoying the thrills of TIP THE TSUTENKAKU, there are a variety of other fun activities at Tsutenkaku sure to keep you busy for the rest of the day. Feel free to check them out, and get an authentic feel of that deep-Osaka vibe.

*All prices in article are tax-inclusive.
通天閣

Address

1-18-6 Ebisu-higashi, Naniwa-ku, Osaka City, Osaka, 556-0002

Phone: 06-6641-9555 (9:00AM-6:00PM)
Hours: 8:30AM-9:30PM (Entry until 9:00PM)
Admission: Adults: 800 yen (more than high school students) (+500 yen for Tenbo Paradise, TIP THE TSUTENKAKU)
Junior high/elementary school students/children over 5: 400 yen (+300 yen for Tenbo Paradise, TIP THE TSUTENKAKU)
Closed: N/A
Text by:二木繁美
*This information is from the time of this article's publication.
*Prices and options mentioned are subject to change.
*Unless stated otherwise, all prices include tax.
Limited time offer: 10% discount coupons available now!