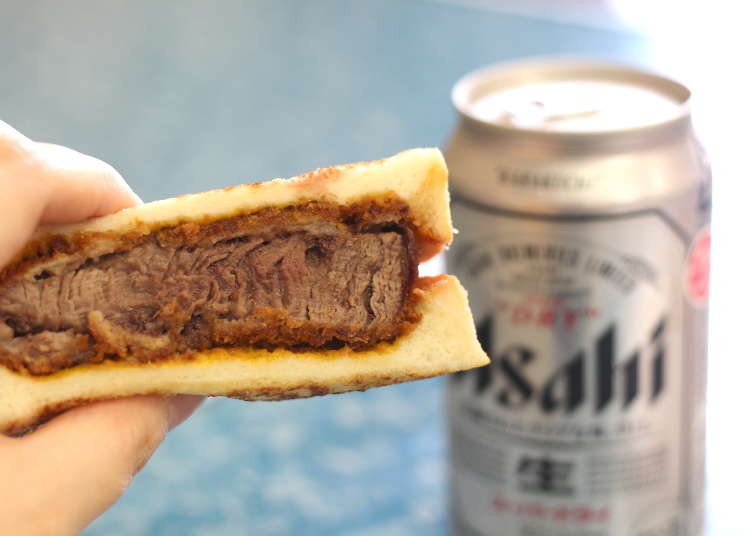 Amid the flashy neon lights of Osaka's Shinsekai neighborhood is Janjan Yokocho, a shopping alley filled with exciting Osaka cuisine, shops, and more. From kushikatsu, sushi, to coffee shops and tiny bars, this is precisely the experience in Japan you'll want to have - and you'll love wandering around, sampling so many foods and drinks.

Today we will introduce four carefully-selected Janjan Yokocho restaurants, where you can enjoy local Osaka foods with local folks surrounded by the local atmosphere of the shops!
What Kind of Place is Janjan Yokocho?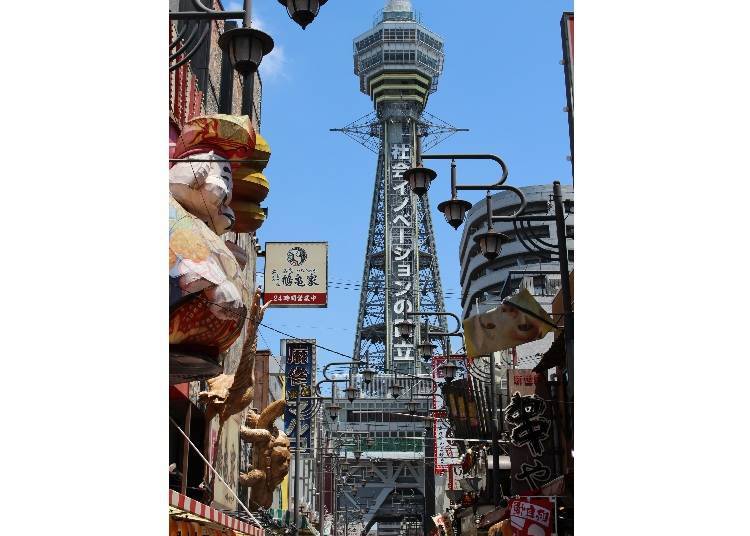 Shinsekai is one of Osaka's classic neighborhoods and tourist attractions. The symbolic shopping district, Nanyodori Shopping Street, extends under Tsutenkaku Tower, and is a familiar spot of Janjan Yokocho. The name "Janjan" comes from the sound of the shamisen and taiko drums that used to come from the shops lining the street to attract customers.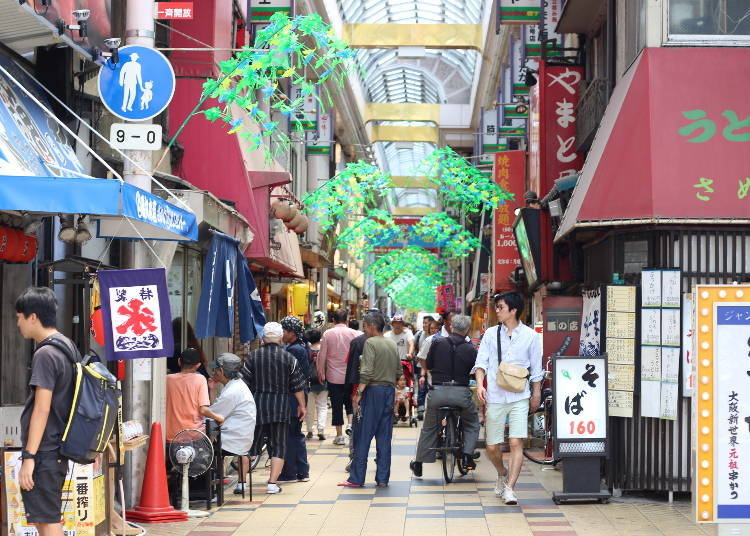 Though you can no longer hear the sounds of the music, the crowd is still very much alive. It is a bustling shopping street crowded with locals and tourists alike.

There are plenty of shops serving delicious Osaka gourmet in Janjan Yokocho! Many people begin drinking from the afternoon, a fun way to get into the mood for exploring the different shops of the city. Here are four popular places to visit at Janjan Yokocho.
1. Daiko Sushi: Starting at 3 pieces for 150 yen!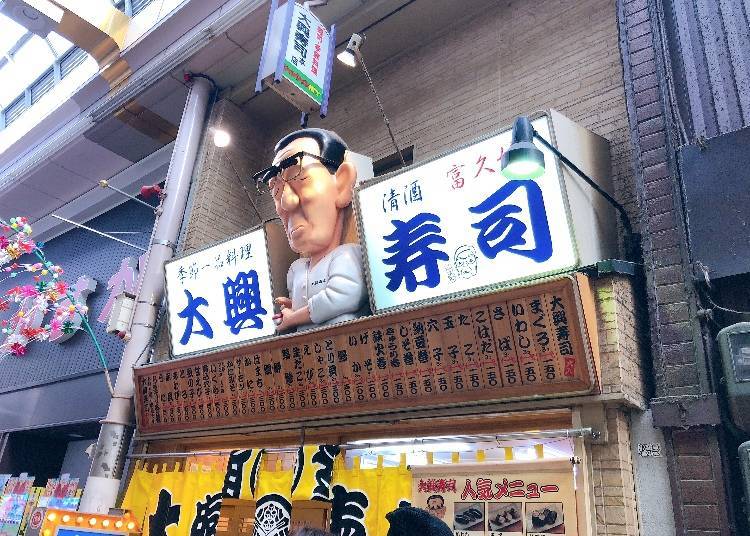 Daiko Sushi is popular sushi restaurant in Janjan Yokocho. Look for a large sushi chef on the sign!

Despite being a sushi restaurant with counter seating, it offers popular menu items such as tuna, sardines, and kohada (a type of sardine) at the very affordable price of 150 yen. That's as cheap as a kaiten-sushi place! This shop tends to get very full at lunchtime, even on weekdays.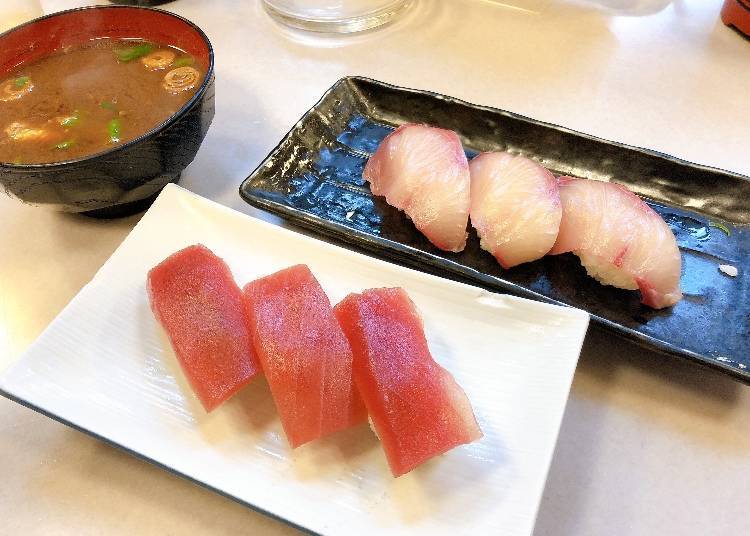 Clockwise from front: tuna, red miso soup (with fish), 150 yen each; hamachi (Japanese amberjack), 300 yen (all include tax)
Once you place an order, it quickly appears right in front of your eyes. Soy sauce and dipping sauces are set along the table for you to take and add yourself. Each delicious piece of sushi has a good balance of rice and fish, making them even more delicious!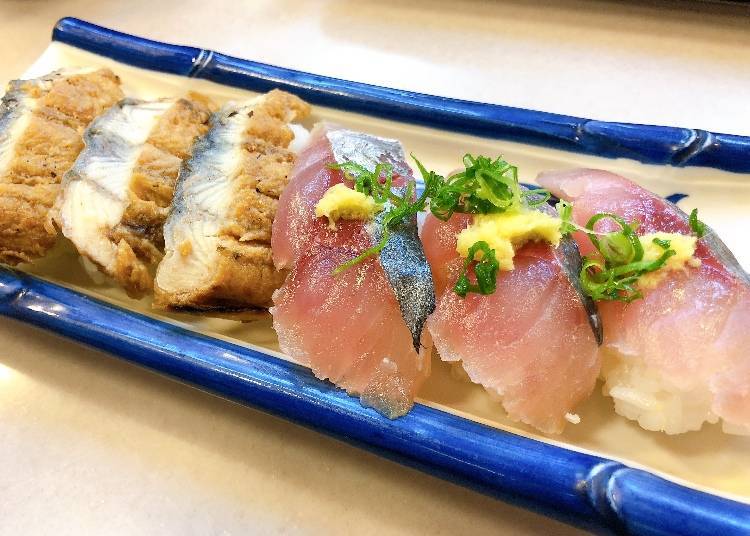 From right: Aji (Mackerel), Unagi (Eel): 300 yen each (tax included)
Tuna, mackerel, sardine, kohada, anago (conger eel), octopus, and egg, all for only 150 yen a piece. Even all those above 150 yen are reasonably priced, in the range of 200, 300, 400, and 500 yen. There are also special limited items including Uni (sea urchin) for 600 and extra-fatty tuna for 1,000 yen.

English menus are not usually available, so you may want to memorize the names of what you want to order or write them down on paper in advance.
大興寿司 本店

Address

3-2-18 Ebisu-higashi, Naniwa-ku, Osaka City, Osaka 556-0002

Phone Number

06-6641-4278

Hours: 11:00AM-9:00PM (L.O.)
Closed: Thursdays
2. Kushikatsu Janjan Yokocho: Crisp, Delicious Kushi-katsu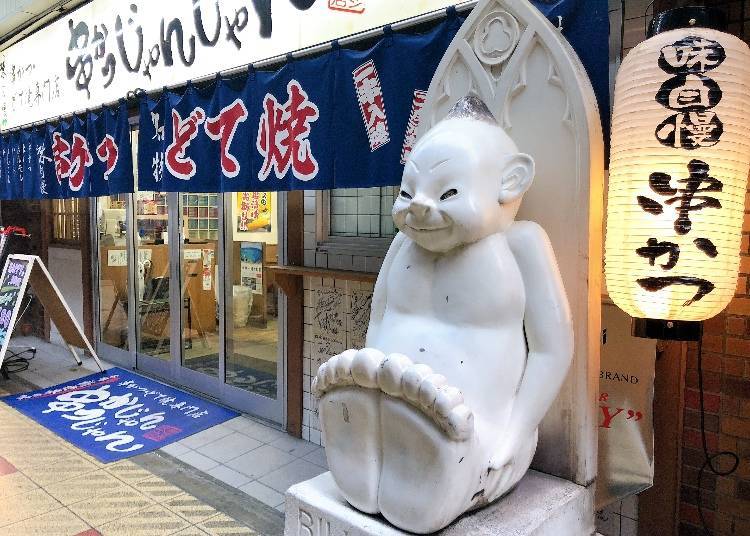 Kushikatsu are a staple when it comes to Osaka gourmet. Kushi-katsu is essentially fried things on skewers, and it's delicious! There are a wide variety of kushikatsu shops in Osaka, popular with both locals and tourists. Shinsekai is actually the birthplace of kushikatsu, and there are said to be over 70 kushikatsu shops here today.

Kushikatsu Janjan is a popular skewer shop with a number of branches throughout Osaka, including in Janjan Yokocho, Nihonbashi, and Umeda. The Janjan Yokocho store is marked with a statue of Billiken, the beloved mascot deity of Shinsekai.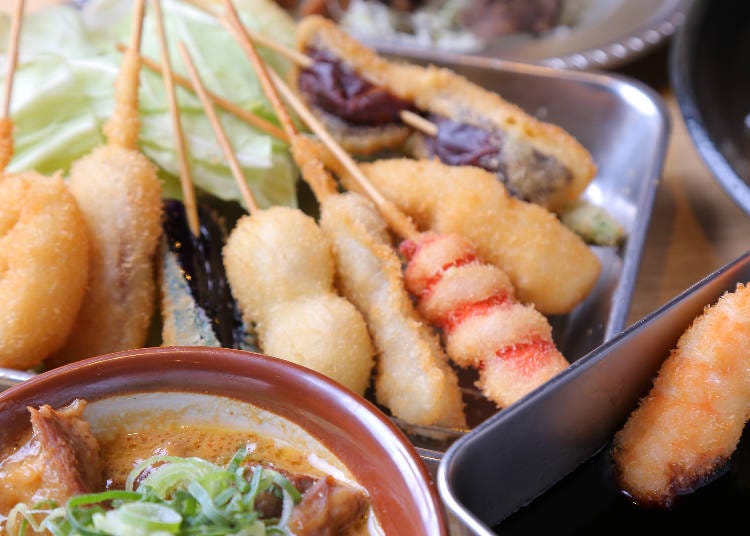 Kushikatsu prices begin at 50 yen apiece (tax not included). The lineup consists of over 60 kinds of beef, pork, chicken, seafood, and vegetables.

All skewers offered are freshly fried, crispy, and hot! Dip them in the secret sauce (only once!) and make sure they stay hot. The menu is written in English, though you can also order by just pointing to what you want. If you can't decide what to eat, try the assorted set, which includes ten recommended skewers for 1,450 yen! (Tax not included)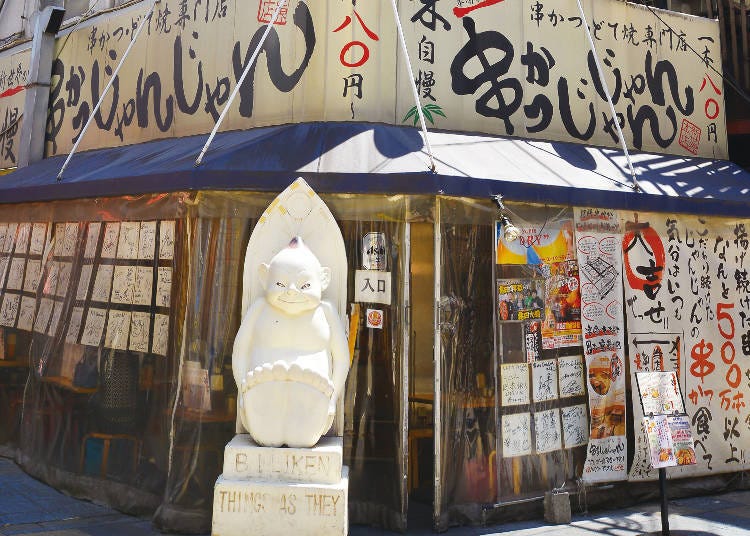 If it's too crowded, you can head to the main shop, Kushikatsu Janjan Honten, located only 5 minutes north. It is closer to Tsutenkaku and boasts a more lively atmosphere.

At the main branch, you can also try some unique and exciting dishes including frog, kangaroo, and crickets. Grab some skewers and enjoy the downtown Osaka area.
Kushikatsu Janjan Janjan Yokocho

串かつじゃんじゃん ジャンジャン横丁店

Address

3-3-12 Ebisu-higashi, Naniwa-ku, Osaka 556-0002

Phone Number

06-6643-0840

Hours: Monday to Thursday: 12:00PM-10:00PM, Friday: 12:00PM-11:00PM, Saturday: 11:30AM-11:00PM, Sundays/public holidays: 11:30AM-10:00PM
Closed: None
3. Sennariya Coffee: Home of Osaka's Sweet & Unique Mixed Juices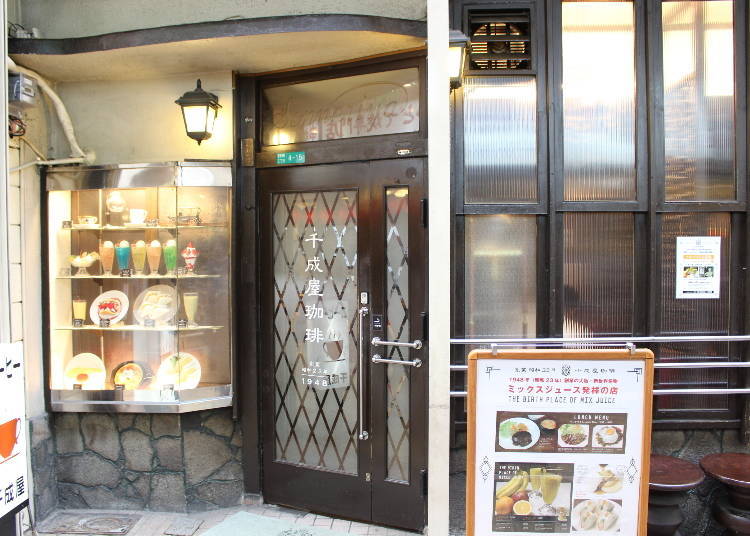 Kushikatsu isn't the only Osaka-born gourmet you can enjoy. How about some Osaka-born drinks, like Mixed Juice? Mixed juices are mellow drinks that blend various fruits in a blender, a mix them with milk. Sennariya Coffee is a historic coffee shop, also known as the birthplace of Mixed Juice.
From the front: Mixed Juice (510 yen), Mixed Juice (Large, 730 yen) (both include tax)
The original recipe for Mixed Juice has evolved from the time of its creation to fit a more modern taste. The sweetness and flavor of the ripened fruit is strong and memorable, and is balanced out with a generous amount of creamy milk.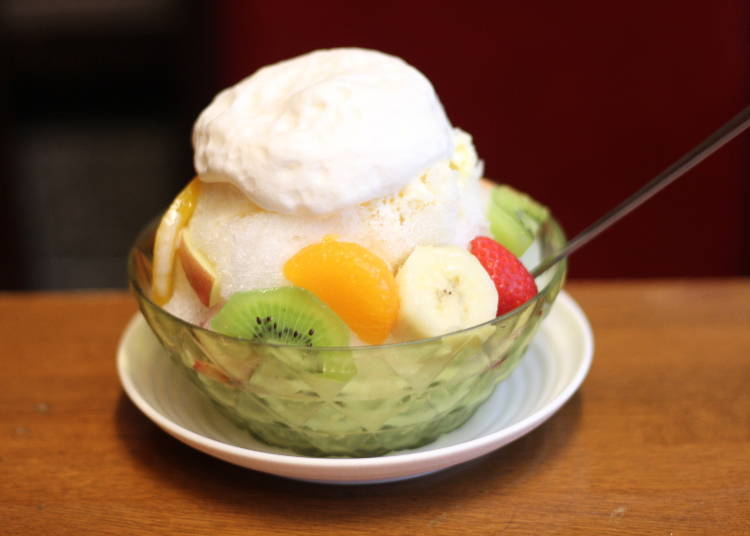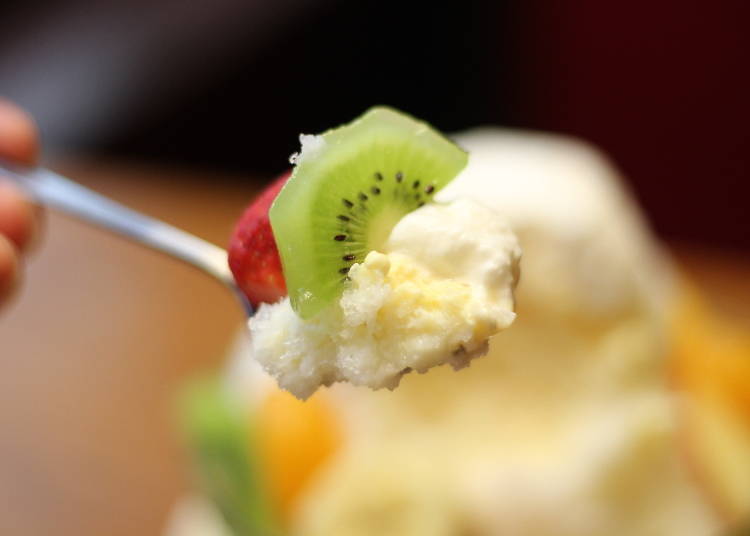 Mixed Juice Frappe, 990 yen (tax included)
The Mixed Juice Frappe is another delicious drink, flavored with mixed juice syrup. Kin, shaved ice, and mixed fruit juice with plenty of fruit are well combined and topped with fluffy milk foam.

Sennariya Coffee is the perfect spot for a short break in Janjan Yokocho between sightseeing around Shinsekai. The menu is also written in English, so tourists can feel comfortable visiting, as well. Drop by for some Osaka sweetness!
千成屋珈琲

Address

3-4-15, Ebisu-higashi, Naniwa-ku, Osaka 556-0002

Phone Number

06-6645-1303

Hours: 9:00AM-9:00PM (L.O.: Food 10:00PM, Drinks 10:30PM)
Closed: None
4. Niku no Sakamoto: Specialty Pork Cutlet Sandwich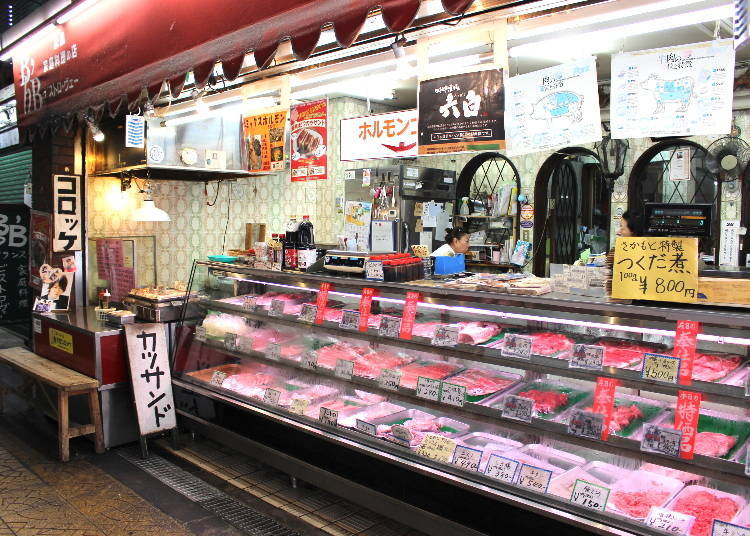 A little ways away from Janjan Yokocho is another place you should definitely check out: Niku no Sakamoto. This meat shop offers their specialty "Here-katsu," or Pork Cutlet Sandwich. Niku no Sakamoto is located on the north side of Shinsekai Market, a shopping area only 5 minutes away on foot north of Janjan Yokocho. In addition to the Pork Cutlet Sandwich, croquettes and skewers are also available.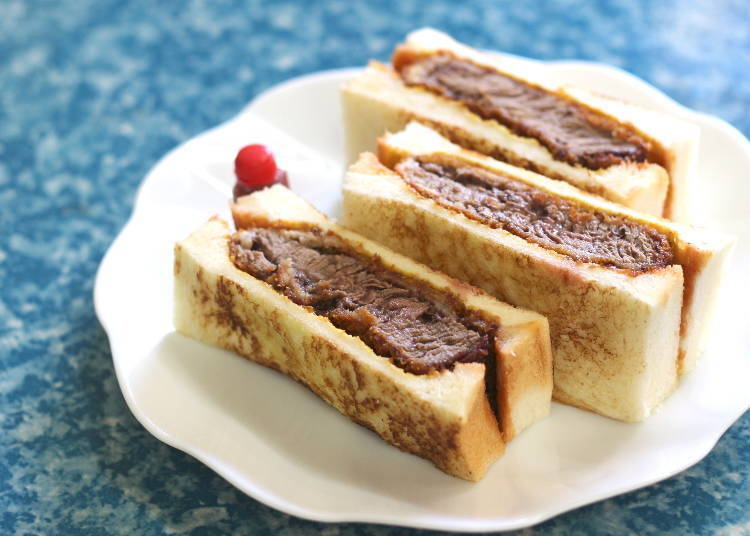 Herekatsu (Pork Cutlet) Sandwich, 1,600 yen (plus tax)
The thickly sliced beef fillet is coated in bread crumbs, slowly fried, then lightly toasted. Finally, it is seasoned with karashi mustard and sauce. This voluminous cut of beef makes for a rather delectable sandwich!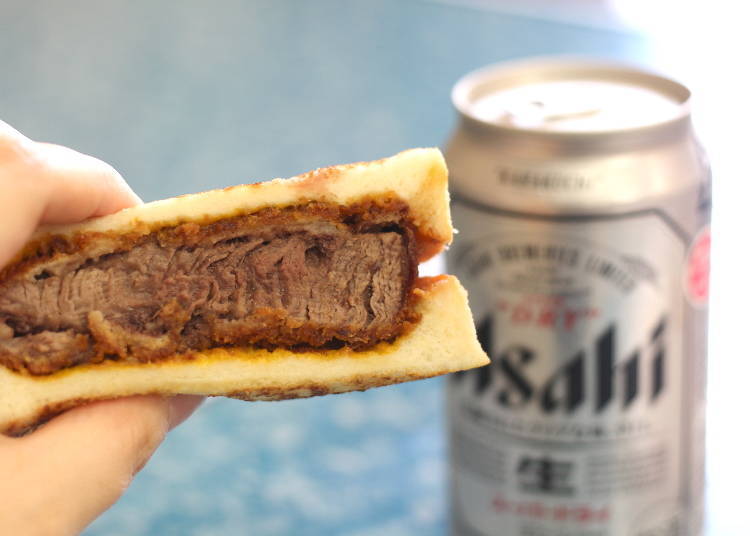 You can eat at the space in the shop and order a can of beer, or you can order to take out.

The beef cutlets are surprisingly tender, and pair well with the mustard and bread. The delicious taste of red meat grows even more flavorful with each and every bite. There is no English menu, however, so please feel free to bring this this photo and show it when you order!
肉のさかもと

Address

1-22-6 Ebisu-higashi, Naniwa-ku, Osaka City 556-0002

Phone Number

06-6641-0508

Hours: 8:30AM-5:00PM
Closed: Thursdays
Enjoy great food at Shinsekai Janjan Yokocho!
Despite being a top tourist destination visited by people from all over the world, many shops of Janjan Yokocho are reasonably priced, and all are loved by the locals. There is a wide variety of shops, so you may even want to enjoy several places back to back.

In addition to those introduced here, there are many other popular Shinsekai shops offering kushikatsu and local gourmet. Immerse yourself and become intoxicated by the lively Osaka atmosphere!
Address

3, Ebisuhigashi, Naniwa-ku, Osaka-shi, Osaka, 556-0002
View Map

Nearest Station

Dobutsuemmae Station (Midosuji Line / Sakaisuji Line)
2 minutes on foot


Phone Number

06-6641-2420
Related Articles and Bookings
*This information is from the time of this article's publication.
*Prices and options mentioned are subject to change.
*Unless stated otherwise, all prices include tax.
Limited time offer: 10% discount coupons available now!