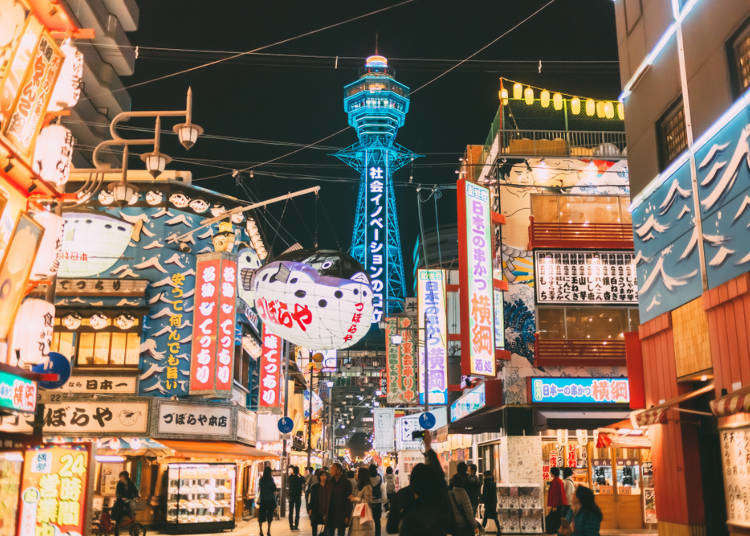 If you want to fully enjoy a tour of Osaka, be sure to add Shinsekai to your itinerary! Centered around the iconic Tsutenkaku Tower, the area is home to numerous kushikatsu and takoyaki shops.

With easy access to Namba and Umeda on the Osaka Metro, there are many reasonably priced guesthouses nearby. Here are a few of Shinsekai's top attractions!
main photo: Vichy Deal / Shutterstock.com
Located in Osaka's Naniwa district, Shinsekai is just a few minutes walk from Ebisucho Station on the Osaka Metro Sakaisuji Line and a 3-minute walk from Dobutsuen-mae Station on the Midosuji Sakaisuji Lines. The area began with the creation of Tennoji Park, the first Tsutenkaku Tower, and the Luna park amusement park on the site of the 5th National Exposition, held in 1903. Theaters were soon added to the bustling neighborhood, making it a popular destination.

Shinsekai's charm lies in its glamourous and relaxed atmosphere. The large, colorful shop signs leave an unforgettable impact on visitors. It's a great place to enjoy some of Osaka's signature foods like skewered cutlets and a drink as you take in this unique downtown area.
Symbolic Tsutenkaku Tower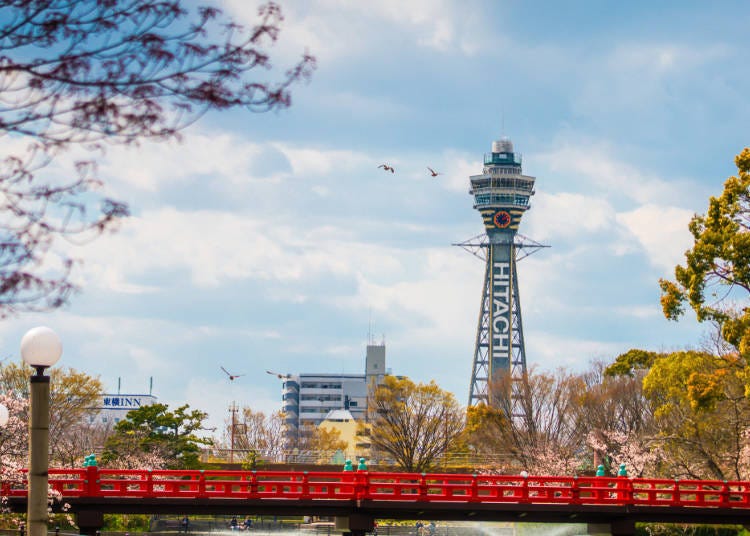 robbin lee / Shutterstock.com
As the symbol of Shinsekai, Tsutenkaku is the first place to visit. The B1 floor is a great place to buy souvenirs from well-known Kansai food manufacturers Glico and Nisshin.

On the 1st floor there's an exhibition dedicated to the first Tsutenkaku including a large ceiling mural. The 2nd floor offers a variety of attractions like spots for taking photos with popular characters and capsule toy corners. There is a cafe on the 3rd floor where you can relax while taking in the scenery.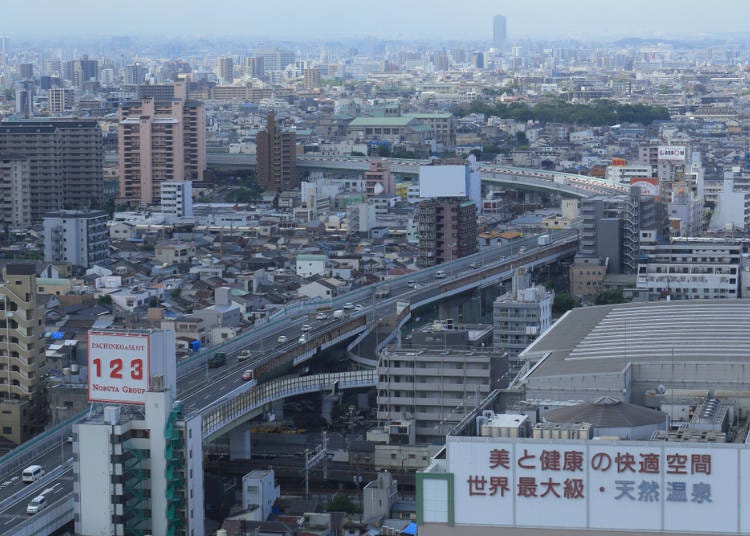 SUJITRA CHAOWDEE / Shutterstock.com
From the observation deck you can get an open view of southern Osaka. As the sun sets, the 4th floor Light Observatory takes on the feeling of a dnace hall as mirror balls begin to sparkle in a show of light and music.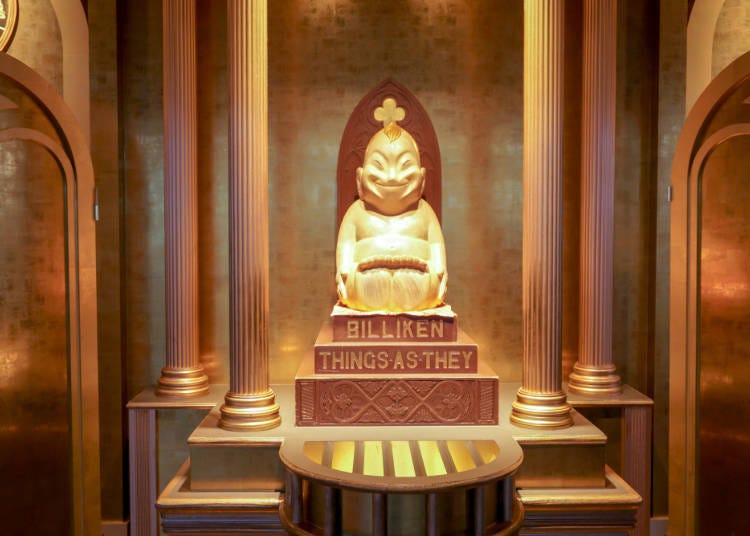 Atiwat Witthayanurut / Shutterstock.com
The 5th floor's Golden Observatory is home to Billiken-san, the Deity of Good Fortune. You'll also find eight more Deities of Good Fortune here where you can make wishes surrounded by gleaming golden walls. The roof above the 5th floor features an outdoor observation platform with a thrilling view of the city!
通天閣

Address

1-18-6, Ebisu Higashi, Naniwa-ku, Osaka 556-0002

Phone Number

06-6641-9555

Hours: 8:30 - 21:30 (last entry 21:00)
Admission: Adults 800 yen, children and high school students 400 yen; 5th floor observation platform requires an additional 500 yen entry fee.
Discover amazing food at Janjan Yokocho!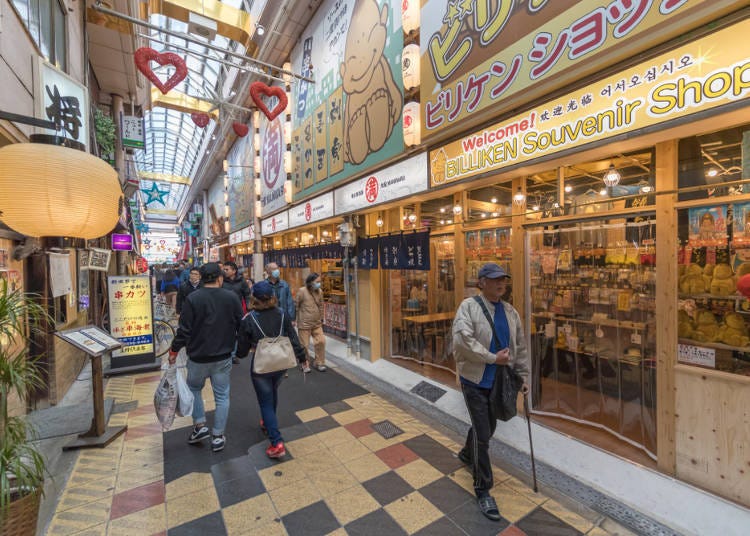 Sakarin Sawasdinaka / Shutterstock.com
Stretching about 180 meters from Dobutsuen-mae Station to Tsutenkaku, the Janjan Yokocho shopping street is a lively spot, day or night. It's a great combination destination with Tsutenkaku.

The charm of Janjan Yokocho lies in its abundance of low-priced, delicious gourmet foods. In addition to its famous kushikatsu shop, there are many other attractive shops selling grilled meat and sushi, as well as long-established pubs.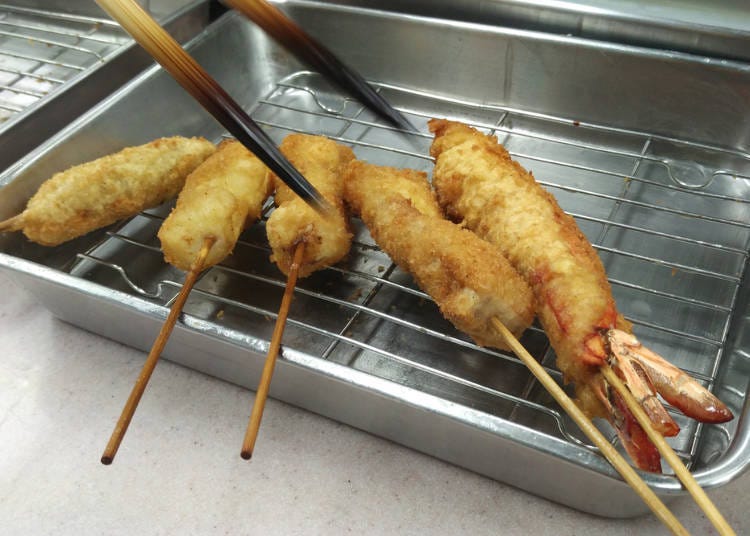 Kushikatsu shops are the main culinary attraction in Janjan Yokocho. Kushikatsu are freshly fried skewered cutlets of meat and veg, and here they are particularly crispy and fragrant, made even more delicious when dipped in savory sauce. There are variations from store to store such as the size or texture of the cutlets, so take a stoll to find your favorite style. Rich dote-yaki (boiled beef tendon in miso) is a classic menu item that you need to try out too!

Guests usually come and go quickly at kushikatsu restaurnats, so even if there is a line, they're often happy to wait.
Shinsekai's other great foods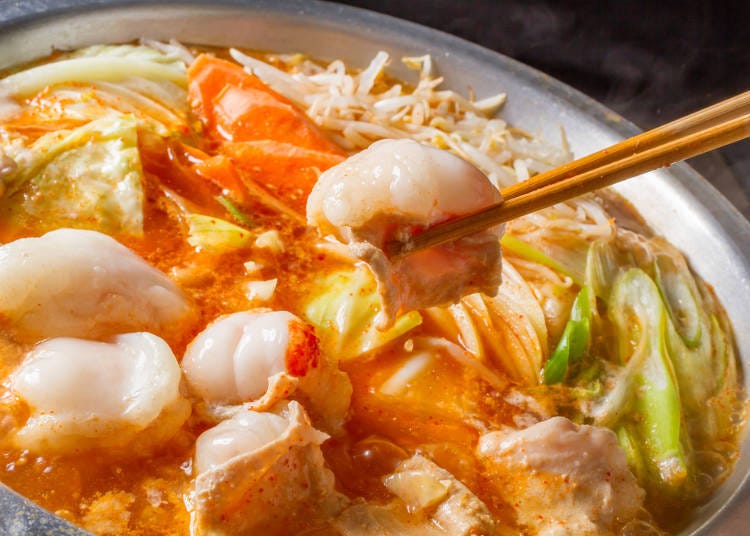 There are numerous other Osaka gourmet foods available in Shinsekai, and if you want to experience a unique meal, check out a "horumon" shop.

Horumonyaki (grilled beef or pork offal in sauce), horumon nabe with vegetables (hot pot), or soft simmered horumon are all juicy and delicious.

There are many horumon shops throughout Shinsekai, and they are fun places to relax in any season and to fully appreciate JanJan Yokocho.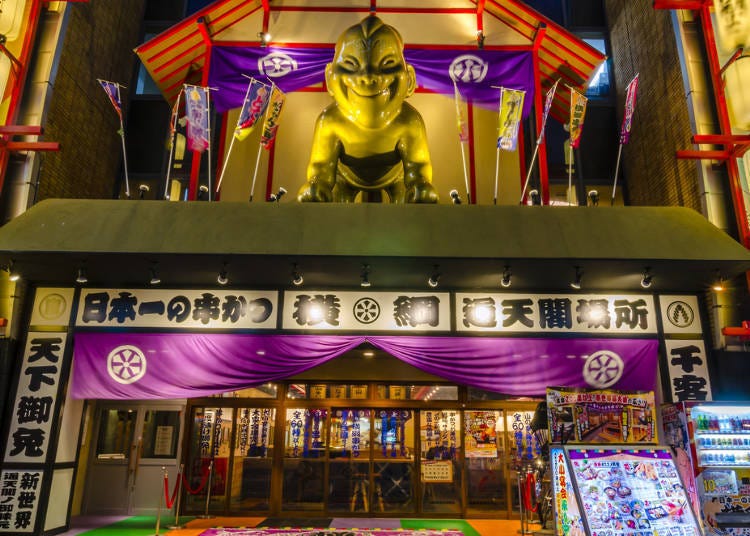 Korkusung / Shutterstock.com
Of course, there are also larger restaurants that serve a wide variety of Osaka's delicacies, from kushikatsu and takoyaki, to okonomiyaki and yakisoba that are convenient for families or larger groups. These establishments also have a variety of izakaya menu items, such as nabe and yakitori, that go well with a drink.
Take some snaps of the iconic neon signs!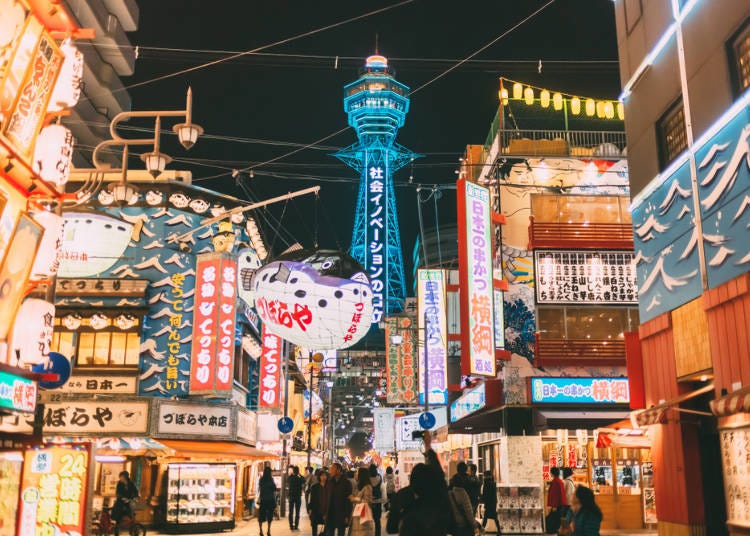 Thana Thanadechakul / Shutterstock.com
After dark, be sure to take a few photos against the colorful backdrop of Tsutenkaku and Shinsekai's bright neon signs!

As you exit Tsutenkaku and wlk south, you'll see the bright sign of Zuboraya – the famous fugu restaurant, and an equally popular photo spot among Shinsekai's many Instagram-able locales.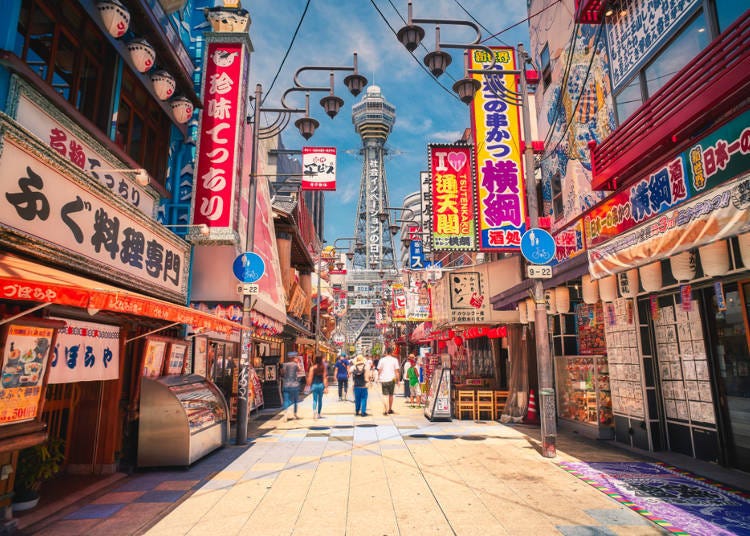 YUSHENG HSU / Shutterstock.com
Of course, the area around Zuboraya is good for photo shoots duting the day too, with a striking contrast between the bright blue sky and the colorful signage. Big billboards jump out from the left and right, creating a colorful world.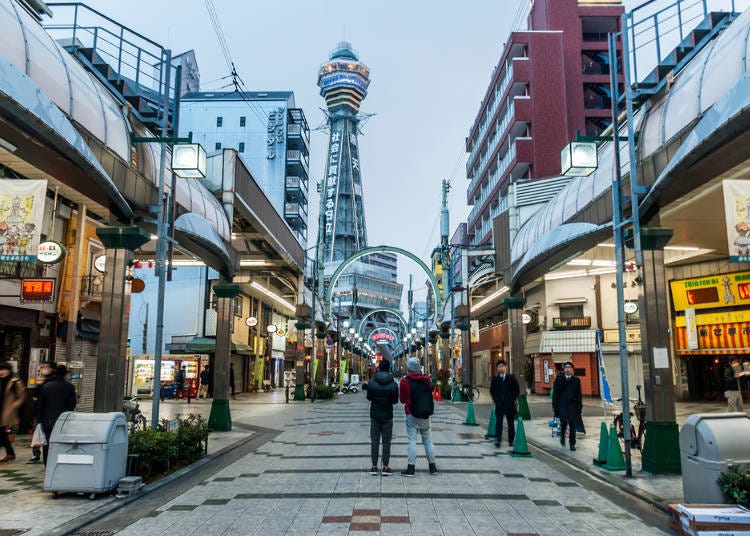 rizal mansor / Shutterstock.com
If you want a great shot of Tsutenkaku, Tsutenkaku Hondori shopping street provides an excellent view (as you can see above). The street's entry arch Tsutenkaku are an attractive combination and by night the arch's neaon lights creating a more fantastic atmosphere. Tsutenkaku Hondori is lined with traditional shops ready for taking great retro photos.

While enjoying the view of Tsutenkaku, enjoy a variety of gourmet foods and neon night views. Shinsakai's downtown Osaka atmosphere will create impressive memories of your trip, and a unique contrast from Tokyo and Kyoto!

Text by: WESTPLAN
*This information is from the time of this article's publication.
*Prices and options mentioned are subject to change.
*Unless stated otherwise, all prices include tax.
Limited time offer: 10% discount coupons available now!