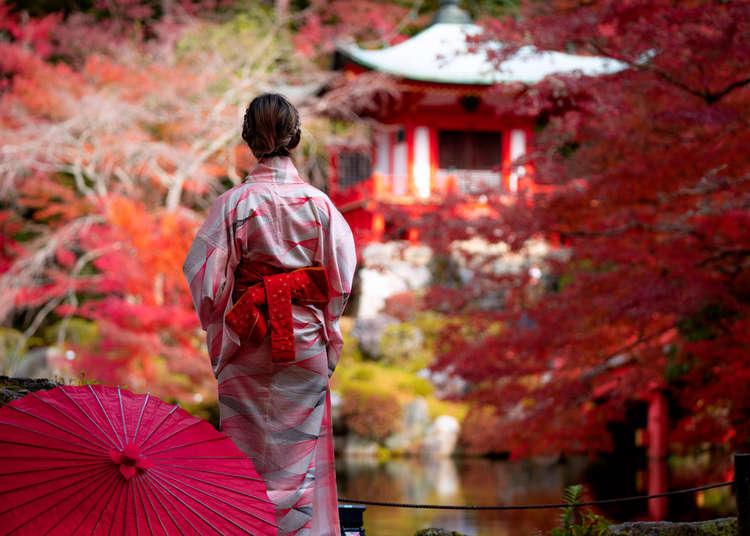 "Finally in Kyoto!" you think as you step out of JR Kyoto station. Now then, what is the most time-efficient and effective way to see Kyoto in one day?

Though Kyoto may seem like a place that requires at least several days to explore fully, many travelers have a limited number of days in each destination, and they often have to move on to their next target in a concise amount of time. As such, it's natural to want to see as much as you can, as efficiently as possible!

And so, this writer, a great lover of Kyoto, shall help these travelers fulfill this wish!
Is one day in Kyoto really enough to see everything?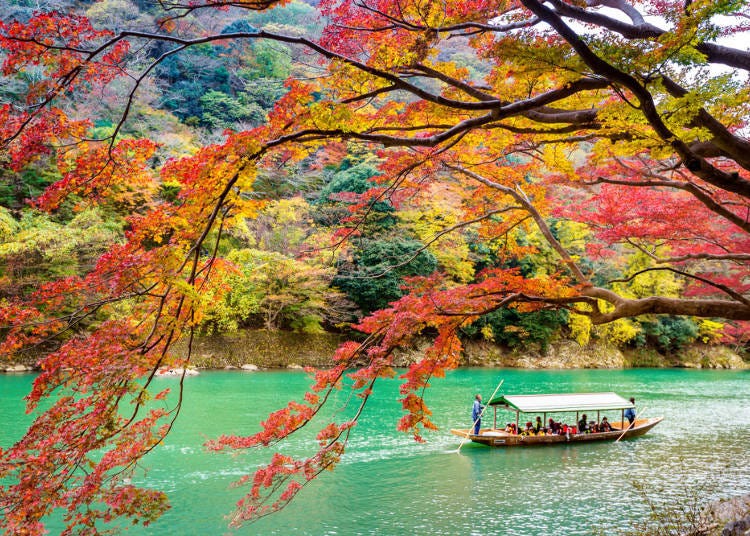 The city of Kyoto is surrounded by mountains on all four sides. Temples and shrines line the mountains, and make for beautiful mountain scenery, one of the main draws of Kyoto.

Many places are relatively far from the nearest train station, and many visitors don't know how to make bus and train transfers in Kyoto.

Thus, it can be quite difficult for first-timers in Kyoto to have an efficiently planned trip.
Three main points for efficiency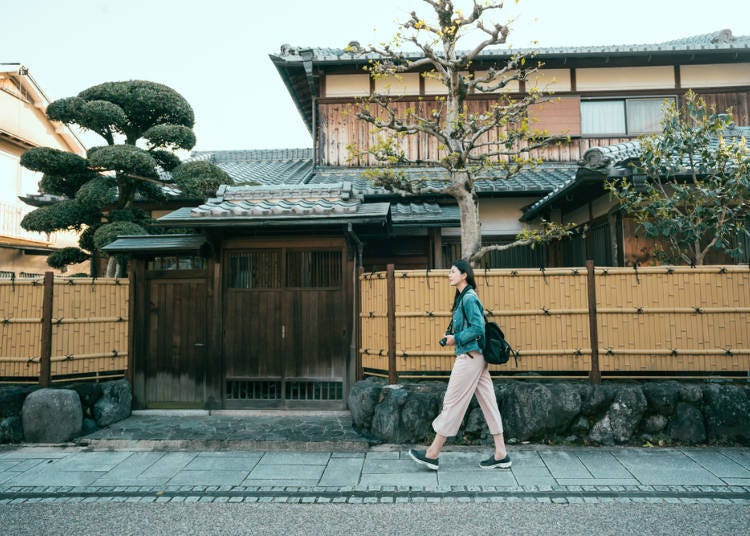 (1) Use the trains, buses, and walking for a smooth trip
There are many train services you can take within Kyoto City. Each line has multiple train types as well, and the wait is usually from 10 to 20 minutes. Besides making good use of the train services, it's recommended that you walk where you can as well. As the buses serve most of the major streets in Kyoto, you can walk the backstreets inaccessible by bus to feel Kyoto's rustic side.

For those who aren't keen on walking, you can use the Subway, Bus One-Day Pass for discounted travel. Each ticket can be used for a full day, and allows for unlimited access to the subways and buses, allowing you to reach areas in Kyoto with relative ease. You can plan your routes and transfers for a more efficient trip.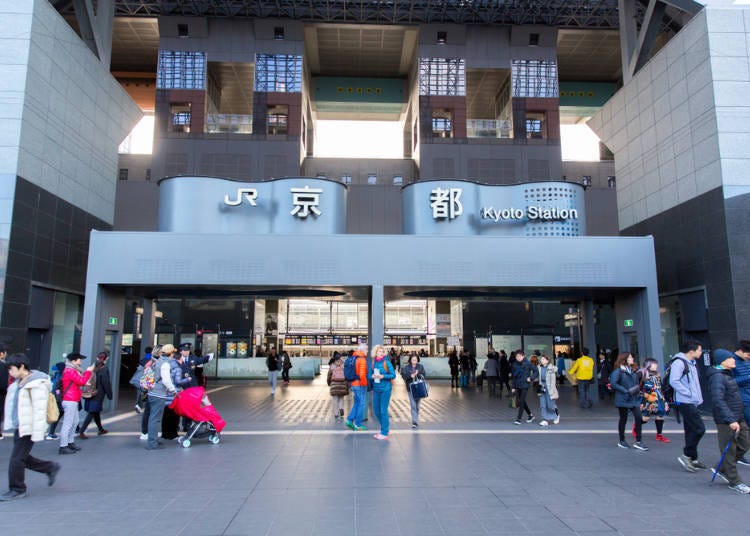 2p2play / Shutterstock.com
(2) It's more convenient to pick accommodation options near Kyoto Station for an easier starting point
There are numerous accommodation options throughout Kyoto City. Still, if you want to explore Kyoto with maximum efficiency, it's best to pick accommodations near Kyoto Station, which is very well connected. The area around JR Kyoto Station also has many coin lockers, and for travelers carrying heavy luggage, it's a life-saver for before check-in and after check-out.

・Case 1: Arriving in Kyoto Station by highway bus early in the morning
You can leave your large suitcases at a coin locker (there are over 4,000 of them in JR Kyoto Station) and enjoy sightseeing for the rest of the day. Return to JR Kyoto Station at night to pick up your belongings before checking in to a nearby hotel.

・Case 2: After check-out from a hotel near JR Kyoto Station
Leave your large suitcases at either the hotel you stayed at or at a coin locker, and enjoy sightseeing for the rest of the day. Return to JR Kyoto Station at night to collect your luggage and move on to your next city. As there are bullet trains, local trains, and highway buses that depart from and arrive at Kyoto Station, many transport options are available for you.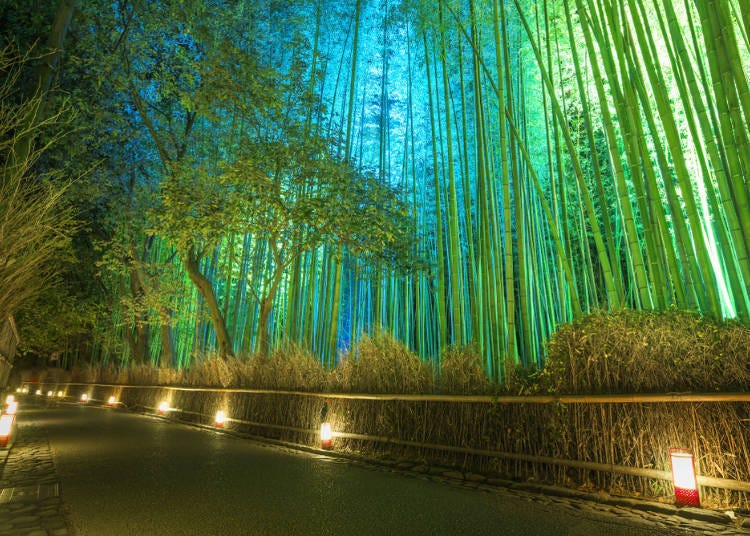 (3) To see buildings and structures, it's best to go between 9:00 a.m. and 5:00 p.m.
Though most shrines do not have restrictions on when you can enter or pay respects, the reception for goshuin-cho, a notebook for collecting the red stamps unique to each temple and shrine, and the sales of charms and amulets are limited to the opening hours of the shrine office.

In the case of temples, there are set opening and closing hours of the gates. Though it may differ slightly from place to place, 9:00 a.m. to 5:00 p.m. is a good estimation for visiting hours.

The closing hours of the gate tend to differ with the seasons, being as early as 4:00 p.m. in winter when the sun sets early, to as late as 9:00 p.m. during the cherry blossom and autumn foliage seasons for evening light-ups, so be sure to check beforehand.

If you would like to make the most of your sightseeing trip, you can also set up your schedule such that the early hours and night are occupied by visits to structures and architectural spots. The refreshing morning atmosphere and romantic night views can make for some unforgettable memories.

Now, we'll introduce two possible one-day plans you can try out after offloading your luggage at Kyoto station.
A "train-only" plan to see famous sights in one day in Kyoto (Fushimi Inari → Kiyomizu-dera → Kinkakuji → Arashiyama)
This is a plan where you can visit the most famous spots in Kyoto by using the various train lines at your disposal. For those worried about the difficulty of buying train tickets, it's recommended to buy an IC card instead.

By using the "Kansai One Pass," an IC card designed for foreign travelers, you can conveniently use just this one card for various modes of public transport.
9:00 a.m. Head to Fushimi Inari-taisha shrine: Take the Nara line from JR Kyoto Station to Inari Station (7-minute ride, 150 yen)
Start off at Fushimi Inari-taisha shrine, home of the thousand torii gates.

The shrine entrance is just one minute away from the station. From the main path, visit the gates, main hall, thousand torii gates, inner shrine, and Kumataka-sha shrine. (60 minutes to visit the shrine and its surroundings)

After visiting the shrine, head to Fushimi Inari Station along the Keihan line, to the west of JR Inari Station, as you peel back at the main path to the shrine. (5 minutes away by foot.)
Address

68, Fukakusayabunouchicho, Fushimi-ku, Kyoto-shi, Kyoto, 612-0882
View Map

Nearest Station

Inari Station (JR Nara Line)


Phone Number

075-641-7331
10:20 a.m. Head to Kiyomizu-dera temple: Take the Keihan line from Fushimi Inari station to Kiyomizu-Gojō station (6-minute ride, 210 yen)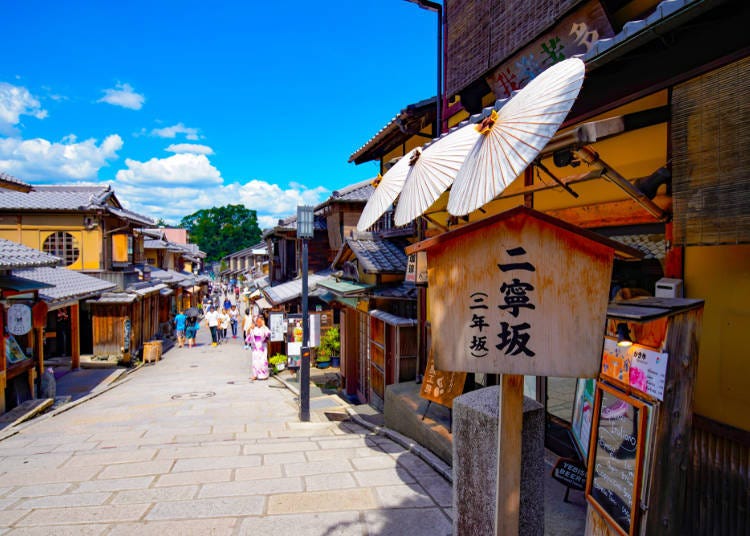 beeboys / Shutterstock.com
A 30-minute walk away from the Keihan line's Kiyomizu-Gojō station, head towards Otowayama Kiyomizu-dera, the stage of the famed Kiyomizu area. The route to the temple is lined with many shops, and it's highly recommended that you walk up to the temple for a relaxing stroll. The slope is also gentle and easy to climb.

From the Niōmon, a gate flanked by two guardian statues, of Kiyomizu-dera temple, do the Tainai-Meguri, a special room in the temple, followed by the Stage of Kiyomizu, Jishu-jinja shrine, the Oku-no-in, a resting place for spirits, and the Otawa Falls. (90 minutes to visit the temple and surrounding areas)
Address

1-294 Kiyomizu, Higashiyama-ku, Kyoto City, Kyoto Prefecture, 605-0862
View Map

Nearest Station

Gionshijo Station (Keihan Line)
25 minutes on foot


Phone Number

075-551-1234
12:30 p.m. Lunch (around Kiyomizu-dera)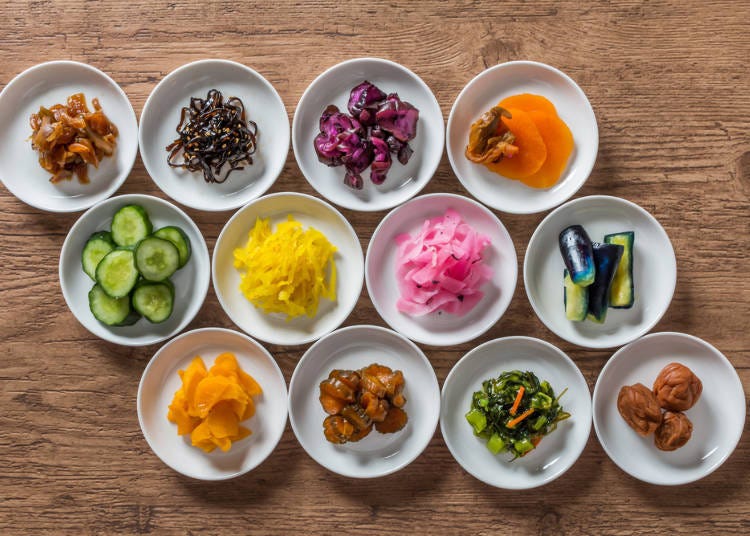 From Kiyomizu-dera Niōmon, head north towards Gion-Shijō Station, which connects to Nene-no-michi and Yasaka-jinja shrine. (30 minutes by foot)

You can have lunch along the way too.

One item that Kyoto is famous for is its pickles, known as Kyo-tsukemono. The varieties on sale change with the seasons, and there is a surprisingly wide variety available. There are famous shops offering a Kyo-tsukemono buffet with ochazuke, a dish of rice with tea, so why not give it a go? It's suitable for vegetarians too.
2:00 p.m. See Kinkakuji Temple: From the Keihan line's Gion-Shijō Station, transfer to the Subway and head to Kitaōji station (28-minute ride, 420 yen)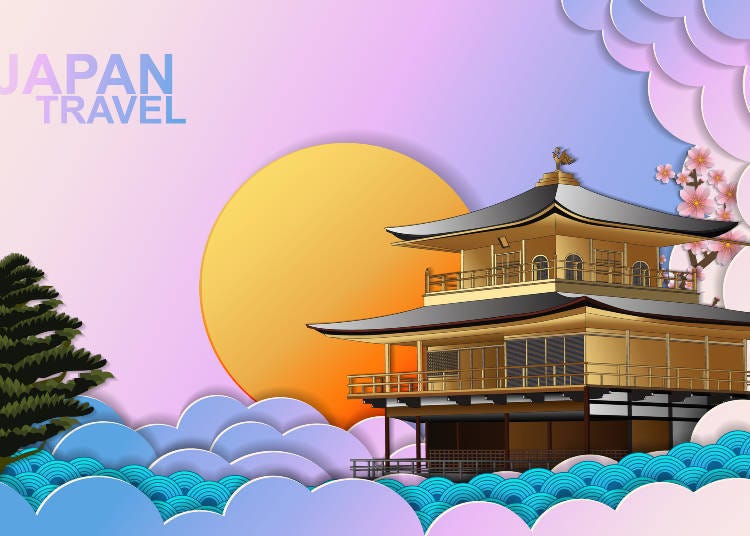 Next is Kinkakuji Temple (the Golden Pavilion). From Gion-Shijō Station on the Keihan line, take the train to Sanjō Station (2-minute ride, 160 yen), and transfer to the Tozai Line on the Kyoto Municipal Subway, to Sanjō Keihan Station (2 minutes by foot).

Once you've reached Karasuma-Koike Station, transfer to the Karasuma Line, and take the train down to Kitaōji Station. (11-minute ride, 260 yen)

From the station, walk eastwards for 40 minutes, and head towards Kinkakuji Temple as you soak in the sights of Kyoto's streets.

The proper name of Kinkakuji Temple is Rokuonji. The structure is a three-story reliquary hall covered in gold leaf on both the inside and outside. Together with all its surrounding halls, this hall is collectively known as "Kinkakuji," and it's is one of the most famous sightseeing spots in Kyoto.

From Rokuonji's Kuromon gate, you can spend around 40 minutes walking the temple grounds.
Address

1, Kinkakujicho, Kita-ku, Kyoto-shi, Kyoto, 603-8361
View Map

Nearest Station

Kitanohakubaicho Station (Keifuku Dentetsu-kitano Line)
20 minutes on foot


Phone Number

075-461-0013
4:00 p.m. Touring the area around Arashiyama: From Kitano-Hakubaichō station on the Keifuku Electric Railroad, go down to Arashiyama station on the same line (19-minute ride, 220 yen)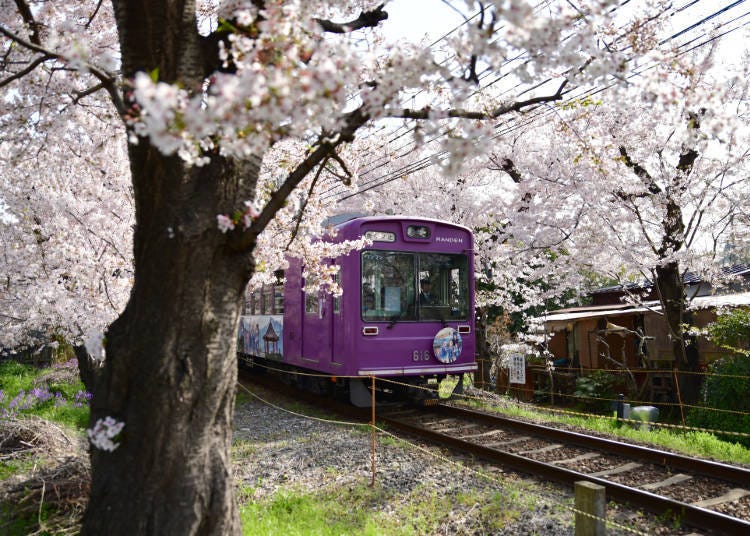 For our last destination, Arashiyama, let's take a relaxing ride on the train towards the entrance. It's a 20-minute walk from Rokuonji's Kuromon gate to the nearest station, Kitano-Hakubaichō Station.

Take the train down along the Kitano line to Katabira-no-Tsuji Station, and change onto the Arashiyama line towards Arashiyama Station.

About five minutes away from the station, you'll reach Togetsu-kyō Bridge, where you can see the amazing view of Arashiyama.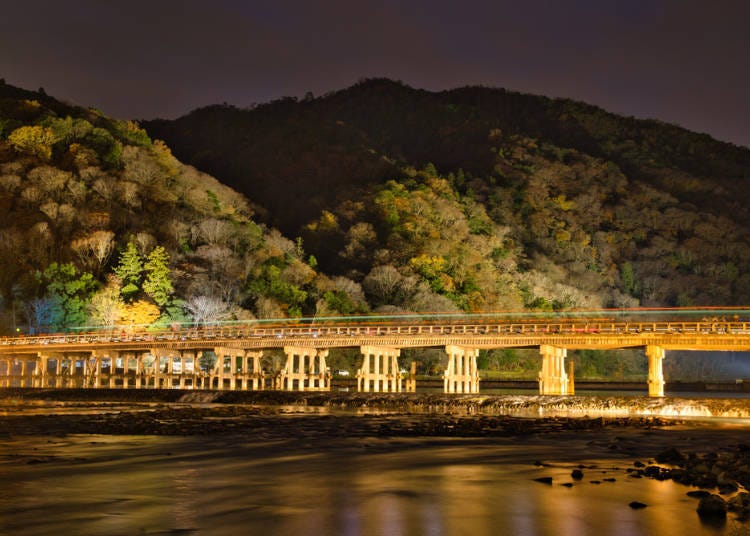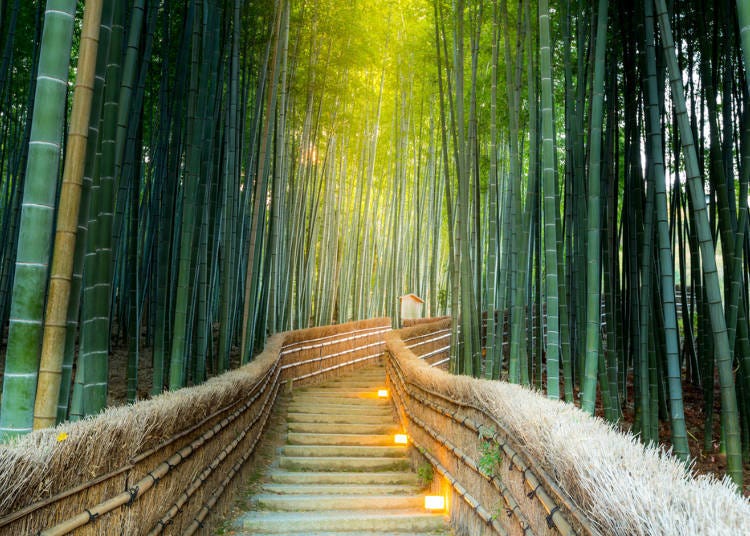 Togetsu-kyō Bridge can also be said to be a symbol of Arashiyama, and the beautiful sights there all year round, from the cherry blossoms in spring, to the lush greenery in summer and autumn foliage in fall, are breathtaking no matter how many times you see it.

Head for a stroll in the nearby bamboo forest and visit the shrines in the area, and peek in the various souvenir shops nearby while looking for your dinner venue.
Address

Sagatenryuji Suenobaba Town, Ukyo Ward, Kyoto City, Kyoto Prefecture, 616-8385
View Map

Nearest Station

Arashiyama Station (Keifuku Dentetsu-arashiyama Line)
3 minutes on foot


Phone Number

075-411-9990
6:00 p.m. Dinner (around the Arashiyama and Sagano area)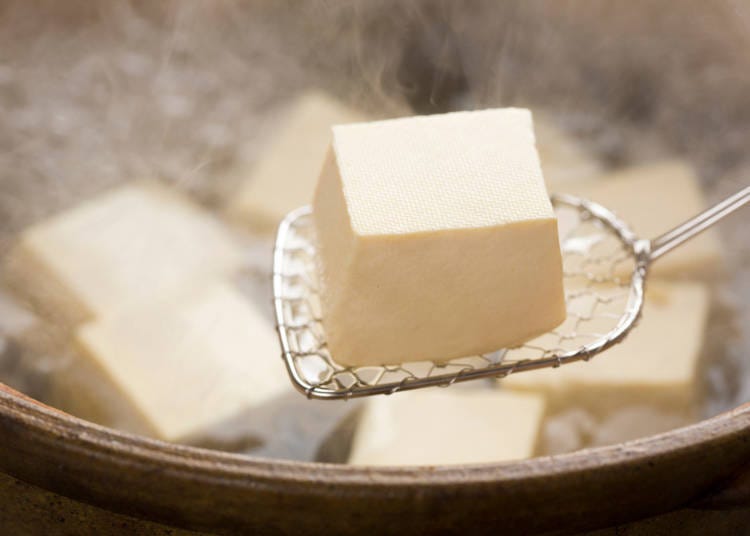 If you're having dinner in the Arashiyama and Sagano area, you have to try the tofu dishes, also known as yuba.

One of the signature tofu dishes is boiled tofu, also known as yudofu, which is gentle on your tired body and gently warms your heart. In the Arashiyama and Sagano area, there are many restaurants where you can gaze at Japanese-style gardens while enjoying your food.

After relishing your hearty meal, return to Kyoto Station. Togetsu-kyō bridge, with a large number of eateries nearby, is about 10 to 15 minutes away from JR Saga-Arashiyama Station by foot, and you can take a ride down to Kyoto Station from there. (17-minute ride, 240 yen)
A "train and bus" plan, making use of the Subway, Bus One-Day Pass for the best of one day in Kyoto!
(Kyoto Gyoen → Nijō-jō → Nanzen-ji → Ginkakuji → Gion)
By using the 900-yen Subway, Bus One-Day Pass, you can visit many sightseeing spots in Kyoto with great savings. The ticket can be bought from the ticket counters in subway stations. There are discounts and other perks in some areas, so be sure to show the ticket when you need to pay for entry to any place.
8:45 a.m. Stroll around Kyoto Gyoen: Head to Imadegawa Station from Kyoto Station via the Kyoto Municipal Subway (10-minute ride)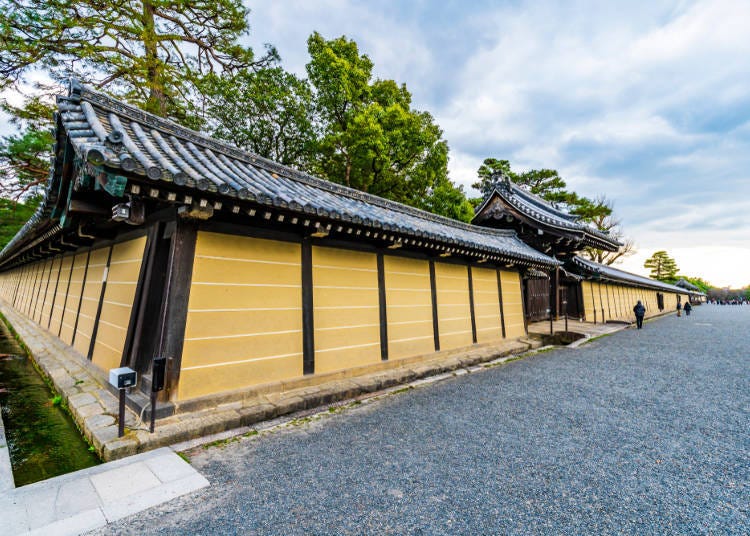 beeboys / Shutterstock.com
First, we'll visit Kyoto Gyoen, home of the Emperor of Japan until 1869. From Imadegawa Station, take the exit Kyoto Imperial Palace exit, and it'll be a six-minute walk to the Seisho-mon gate.

Starting from the palace itself, explore the Kyoto State Guest House and other buildings in the area too (120 minutes to explore). The grounds of the Kyoto Imperial Palace run from north to south, and is the approximate distance between two subway stations.

As we move on to our next destination, we'll be using the Kyoto Municipal Subway's Marutamachi Station at the southern end of the palace to head off.
Address

3, Kyotogyoen, Kamigyo-ku, Kyoto-shi, Kyoto, 602-0881
View Map

Nearest Station

Imadegawa Station (Karasuma Line)
8 minutes on foot

11:00 a.m. Have a stroll around Nijō-jō castle: From Marutamachi Station on the Karasuma Subway line, head to Nijōjō-mae Station on the Tozai line (3-minute ride)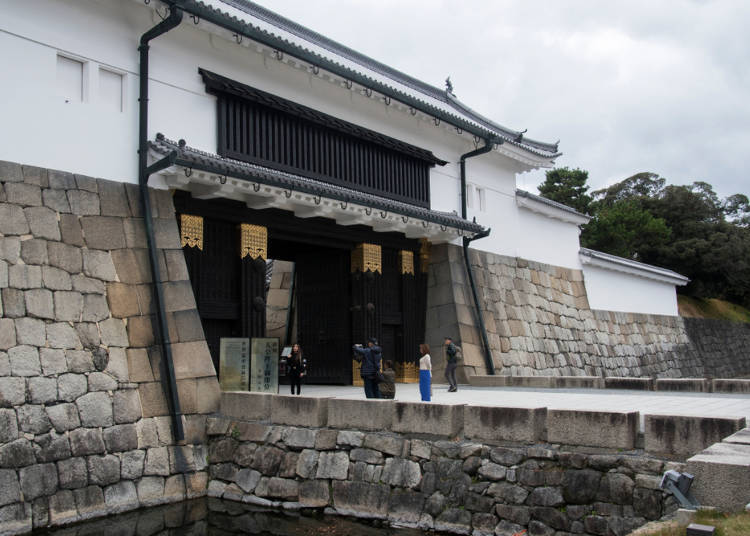 Tang Yan Song / Shutterstock.com
Moving on, let's move on to Nijō-jō castle, famous for its cherry blossoms.

From Kyoto Gyoen, head from Marutamachi Station to Karasuma Oike Station on the Karasuma line. From there, transfer onto the Tozai line to reach Nijōjō-mae Station.

From Nijōjō-mae Station to the entrance of Nijō-jō castle, the Higashi Ote-mon Gate, is a three-minute walk. Nijō-jō castle is built on flat ground and is where the Bakufu government, run by the Tokugawa Shogunate of the Edo period, began and fell. Including time to see the inside of the castle and explore the grounds, you can spend around 90 minutes there.
Address

541 Nijojocho, Horikawa Nishiiri, Nijo-dori, Nakagyo-ku, Kyoto-shi, Kyoto, 604-8301
View Map

Nearest Station

Nijojomae Station (Tozai Line)


Phone Number

075-841-0096
1:00 p.m. Have lunch on the way from Nanzenji to Ginkakuji: Take a train from Nijōjō-mae Station to Keage Station via the Kyoto Municipal Subway Tozai Line (9-minute ride)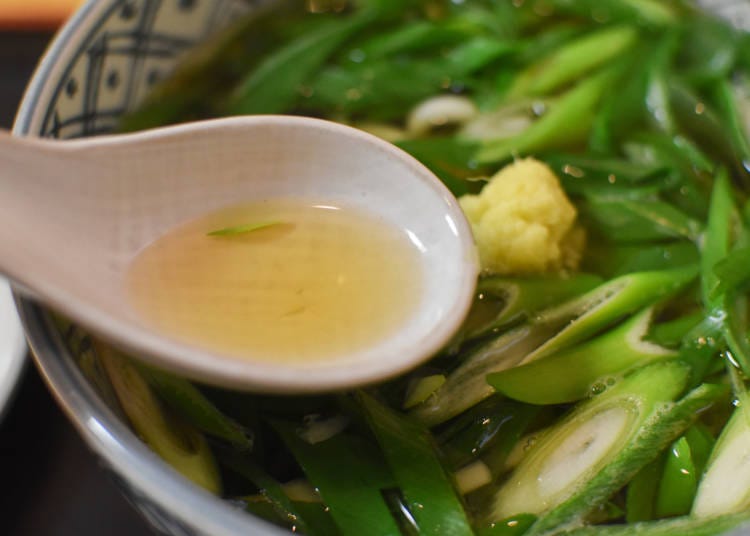 (C) Tokyo Metropolitan Park Association
Return to the Tozai Line's Nijōjō-mae Station, and head to Keage Station. Our destination this time is Nanzenji, one of the representative temples of Zen Buddhism. Let's enjoy a late lunch. From here on, there are many udon shops along the way, so be sure to drop by. Most of the shops offer tempura and rice bowls too.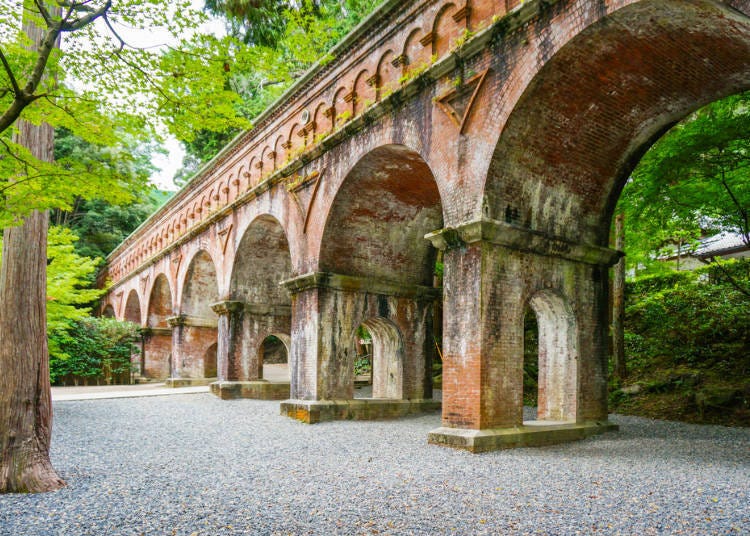 Once you've satiated your hunger, you can see the breathtaking Nanzenji Suirokaku aqueduct, with its continuous beautiful arches that start from Nanzenji's Sanmon gate (90 minutes to explore the area). From there, head to Ginkakuji temple via the Philosopher's Path (Tetsugaku-no-Michi), famous for its cherry blossoms in spring (26 minutes by foot).
南禅寺水路閣

Address

Nanzenji Fukuchi-cho, Sakyo-ku, Kyoto-shi, Kyoto-fu, 606-8435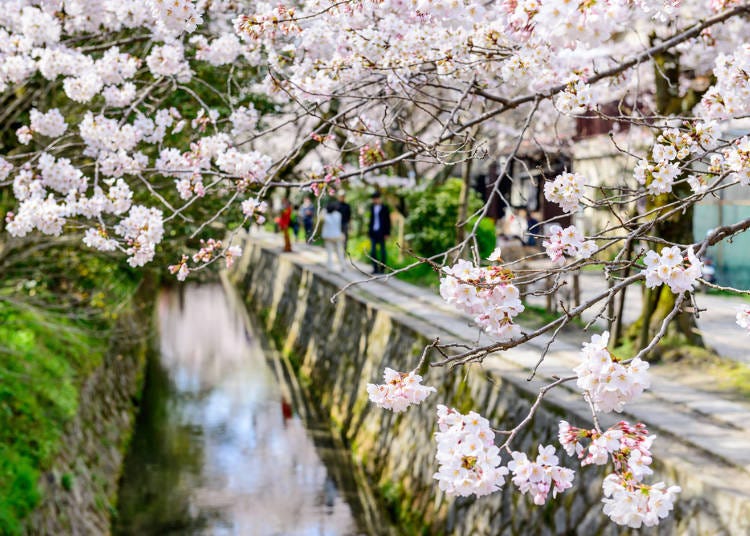 Tetsugaku-no-michi/Philosopher's Walk
Ginkakuji Temple (the Silver Pavilion) is at the heart of Higashiyama culture, which uses the Japanese concept of "wabi-sabi," an acceptance of transience and imperfection, as its basis. Enjoy the simple beauty of the place, starting from the Jishōji main gate, for a 60-minute soiree along the main path.

After you've finished exploring the place, exit from the Jishōji main gate onto Ginakakuji Sando road, and head west for five minutes to reach the bus stop, Ginkakuji-mae, served by city buses.
Address

2, Ginkakujicho, Sakyo-ku, Kyoto-shi, Kyoto, 606-8402
View Map

Nearest Station

Mototanaka Station (Eizan Dentetsu Eizan Line)
28 minutes on foot


Phone Number

075-771-5725
5:00 p.m. Enjoy Gion at night: Take the city bus from Ginkakuji-mae to Gion (21-minute ride, subject to traffic conditions)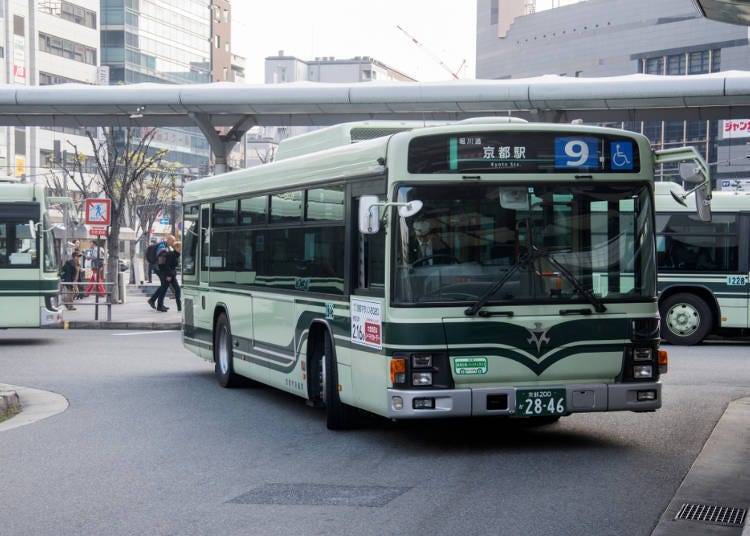 Tang Yan Song / Shutterstock.com
The sun is beginning to set. Let's head off to see Gion at night via bus.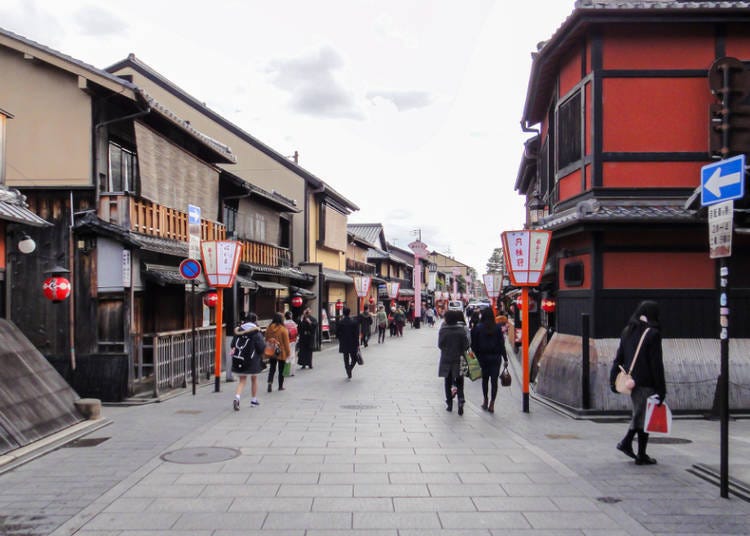 Shawn.ccf / Shutterstock.com
From Ginkakuji-mae, you can take City Bus 100 (towards Kyoto Station) and alight at Gion. If you're fortunate, you may sometimes see maiko and geisha walking the stone pavements of Gion.

However, chasing after them with your smartphones and cameras is strictly not allowed. Enjoy the atmosphere of this historic street.
7:00 p.m. A Kaiseki dinner in Gion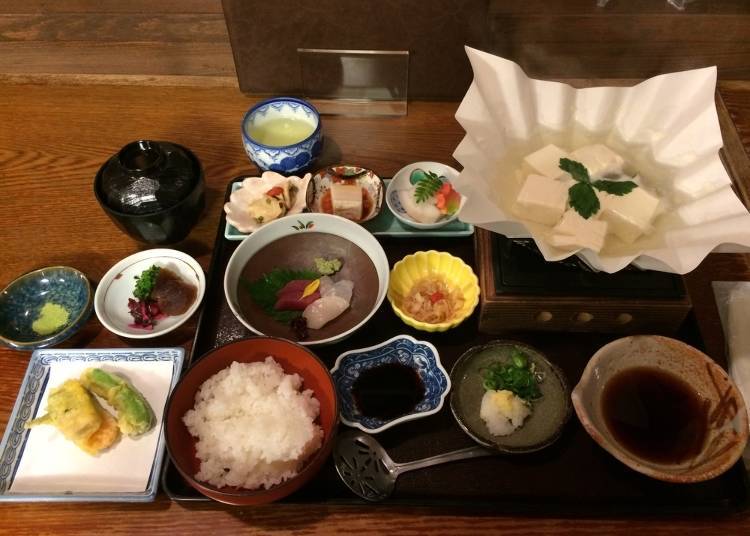 It's time for dinner; let's look for a place to eat at while heading towards Shijō Station from Kawaramachi. In this area, you can freely pick between casual izakayas to high-end restaurants, but why not give Kaiseki-ryōri, a traditional Japanese multi-course dinner, a go?

After you've enjoyed a hearty meal, let's head back to Kyoto Station. It's a four-minute ride via the Kyoto Municipal Subway Karasuma Line from Karasuma Station to Kyoto Station.
Make the most out of your one day in Kyoto! Check the hours of places you're visiting beforehand
For an enjoyable and efficient trip, pre-trip planning is a must. Mark out the places you want to go on a map of Kyoto, and check the visiting hours for each one. From there, connect the points in the shortest way possible for your own bespoke sightseeing map of Kyoto.

The starting point of your journey can be either the station where you leave your baggage, or the hotel you're staying at.

It's recommended that you leave your luggage at your starting point, and wear comfortable walking shoes or sneakers so that you can easily get around by walking and public transport.

If you bring along a light jacket and simple rain gear, you can have a blast enjoying Kyoto. Please make each and every day of your holiday count, including your one day in Kyoto!
Written by: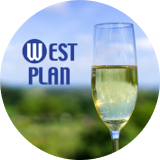 *This information is from the time of this article's publication.
*Prices and options mentioned are subject to change.
*Unless stated otherwise, all prices include tax.
Limited time offer: 10% discount coupons available now!