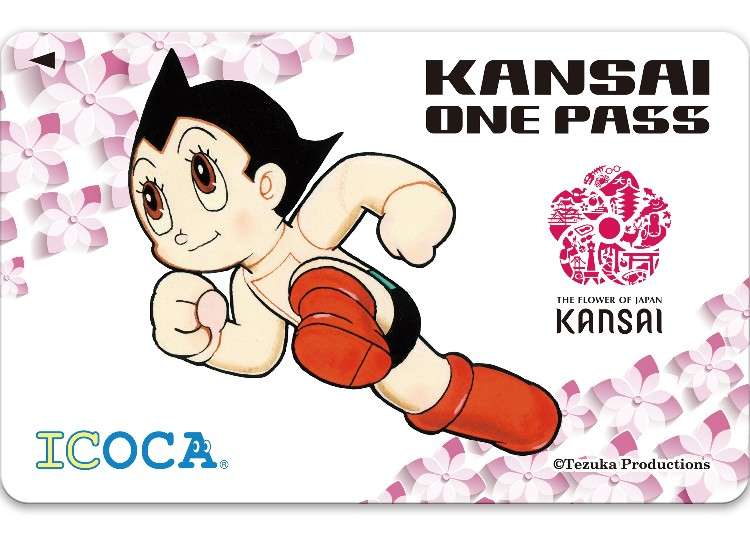 While you may not know the word "Kansai", you've definitely heard of Osaka and Kyoto. Kansai is simply the region you can find them in! And if you're planning to head there, you definitely need to know about the KANSAI ONE PASS, a transportation IC card specifically designed for international visitors to Japan. This pass is a super-convenient, card-type ticket that allows you to ride the JR lines, subways, private railways, buses, and almost any other type of transportation servicing the Osaka, Kyoto, and Kobe Regions. There are plenty of perks that come with having the pass.

©Tezuka Production
What Exactly is the KANSAI ONE PASS?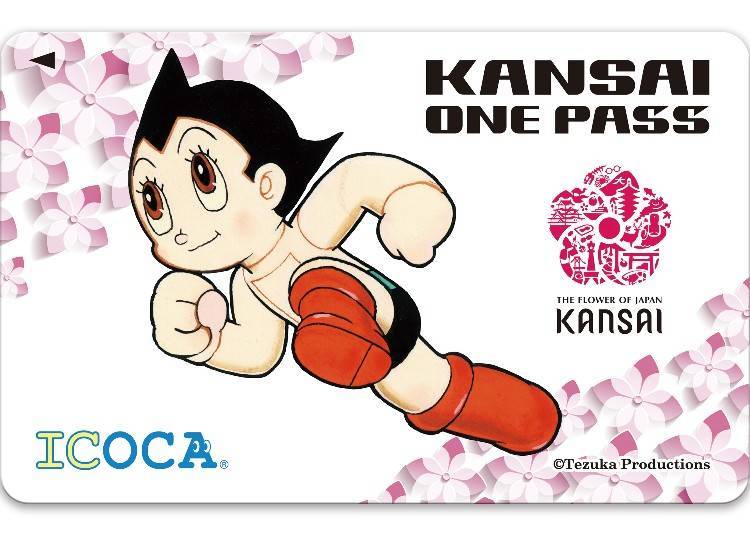 ©Tezuka Production
The KANSAI ONE PASS is a special transportation IC card geared towards tourists visiting Japan, and has been on sale since April of 2016. Until recently, it was necessary to purchase a ticket for each transfer when traveling via multiple railway companies and methods of transportation. However, now with only one card you can ride the JR lines, subways, buses, and other transportation systems centered around the Kansai Region.

The pass can be used in any IC Card Area servicing nation-wide transportation, specifically those with IC marks such as ICOCA and PiTaPa. Now you can spare yourself the hassle of purchasing a ticket every time you ride, as you can use the pass over and over again once it is charged. However, please note that the pass cannot be used on the Shinkansen, and on certain uncovered areas of the JR line.

One of the perks of this pass is that you can receive special benefits at over 300 commercial facilities and tourist attractions by simply presenting your card. Since you're in Kansai, you might also want to opt for the card with the illustration of Osaka Tezuka's Astro Boy, who has a strong connection to the Kansai Area.
How to Get a KANSAI ONE PASS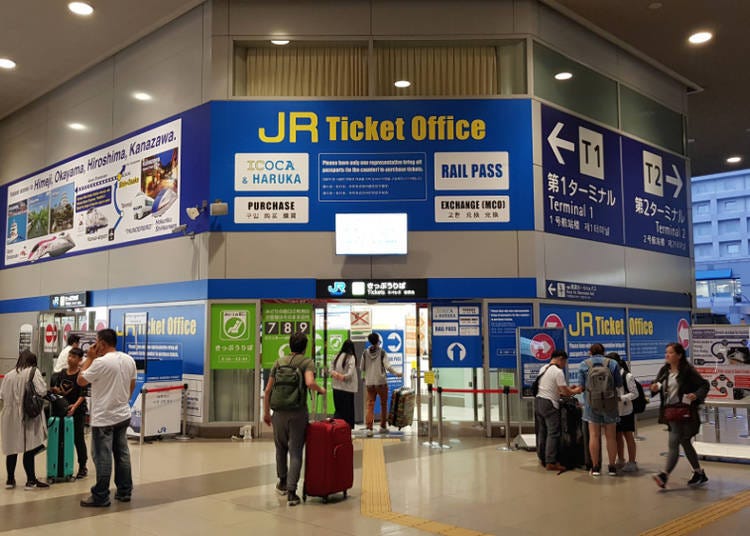 Giovanni G / Shutterstock.com
The KANSAI ONE PASS can be purchased at any of the following major Kansai railway companies and transport stations, as well as tourist information and service centers:

Kansai International Airport:
•JR West Kansai Airport Station
•Nankai Kansai Airport Station Ticket Office

Kyoto:
•JR West Kyoto Station
•Hankyu Kyoto Tourist Information Center (Kawaramachi)
•Hankyu Kyoto Tourist Information Center (Karasuma)
•Keihan Sanjo Station
•Kintetsu Kyoto Station
•Kyoto City Transportation Bureau City Bus/Subway Information Center Kyoto Station & Kotochika Kyoto

Osaka:
•JR West Shin-Osaka Station
•Hankyu Tourist Center Osaka/Umeda
•Keihan Kyobashi Station
•Kintetsu Osaka-Namba Station, Osaka-Uehonmachi Station, Osaka-Abenobashi Station
•Nankai Namba Station 2F Service Center & 3F Ticket Counter
•Osaka Metro Information Counter (Shin-Osaka Station, Umeda Station, Namba Station)

Kobe:
•Hanshin Train Service Center (Kobe Sannomiya)
•Kobe City Transportation Bureau City Bus/Subway Customer Service Corner (Sannomiya), Shin-Kobe Station Tourist Information Center

*Please check the following link for the latest information:
https://kansaionepass.com/kf_pr/kf_pr_sale_jp.html

The price to get your hands on one is 3,000 yen. This includes a 500 yen deposit, so you will have 2,500 yen available to use on the card. The maximum charge you can put on is 20,000 yen. Because this card is only available for short-term foreign visitors, you will need to present your passport at the time of purchase.

Additionally, the Kansai Area Railway Map and Usage Guide distributed with each purchase has a QR code that leads to the KANSAI ONE PASS official website. After scanning the QR code, you will be taken to the website which supports English, Chinese (simplified and traditional), and Korean. Please feel free to check the website for any questions you may have about using your pass.
Charging Your Card and Using It at the Ticket Gate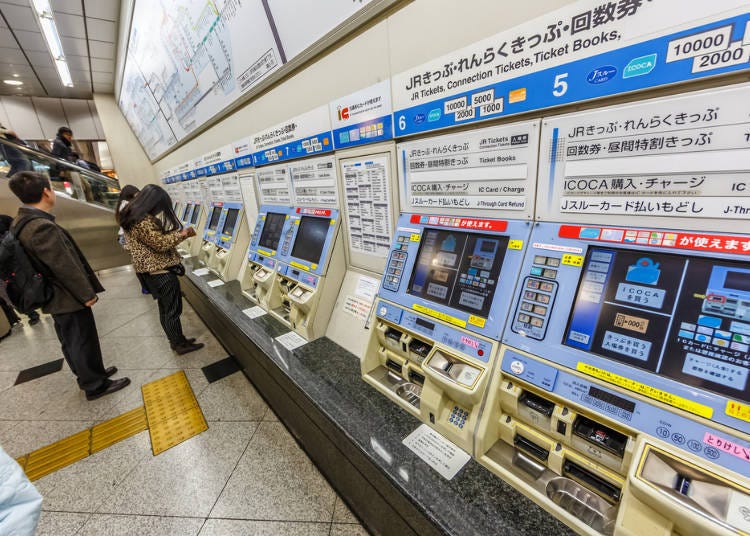 Tooykrub / Shutterstock.com
Once you purchase the pass, you will need to charge it. You can charge your card at the ticket machines at any station with the following steps:

1.Select the option "Charge IC Card" (ICカードにチャージ)
2.Insert card into slot
3.Select charge amount
4.Insert cash
5.Select whether you would like a receipt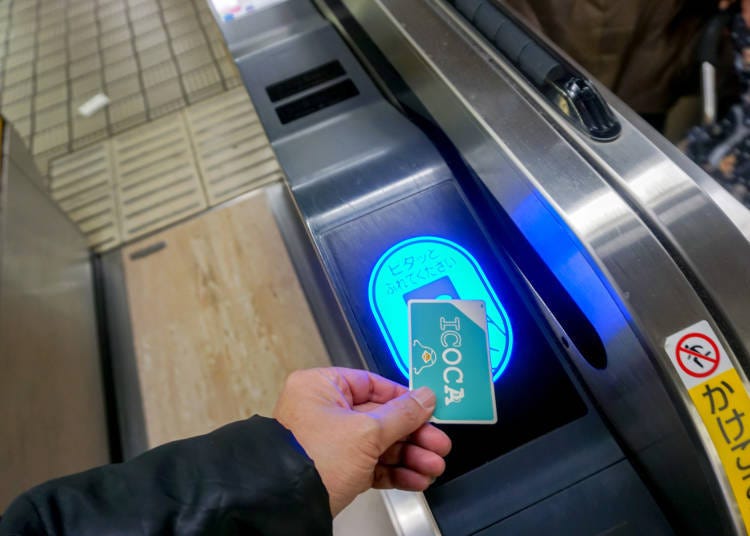 ※画像はイメージです Atiwat Witthayanurut / Shutterstock.com
When you're finished charging, it's time to take your first ride! The card is super easy to use. Simply touch the card to the card reader on the right side of the ticket gate for a second. The fare will be automatically deducted and you can pass through the gates with ease, so long as you have enough funds. Careful - If you're short, you will not be able to pass and will have to recharge your card!

Because there is no expiration date, your card can be used at any time. So don't worry if you have fare left over at the end of your trip. You can continue to use it next time you visit Kansai! (You can also get a refund on the unused amount).
Special Perks at Over 300 Locations, Just By Presenting Your Card!
Somjork / Shutterstock.com
One of the great things about the KANSAI ONE PASS is not only the convenience of travel, but the ability to visit many sightseeing spots. By presenting your card, you can receive various benefits such as discounts at over 300 shopping facilities and tourist attractions, including 60 shops located in Kansai International Airport.

The first thing to do is check the following website:
http://kansaionepass.com

In addition to information on the KANSAI ONE PASS, you can check for information about available benefits, as well as sightseeing info for over 500 locations. Some of the benefits offered are indispensable to travel, such as food, transportation, and sightseeing perks, and include discounts to certain attractions and restaurants, rental car and bicycle discounts, free original goods, and small Japanese accessories.

The website is available in English, Chinese (simplified and traditional), and Korean, and you can search by category, as well as for sightseeing spots near your current location. You can also access routes and travel directions on your smartphone, so you can enjoy your sightseeing without lugging around a guidebook or a map. There are also discounts and services available for the duty-free shops at Kansai International Airport, making it convenient for souvenir shopping and dining right before or after leaving and entering Japan.
3 Spots to Enjoy KANSAI ONE PASS Benefits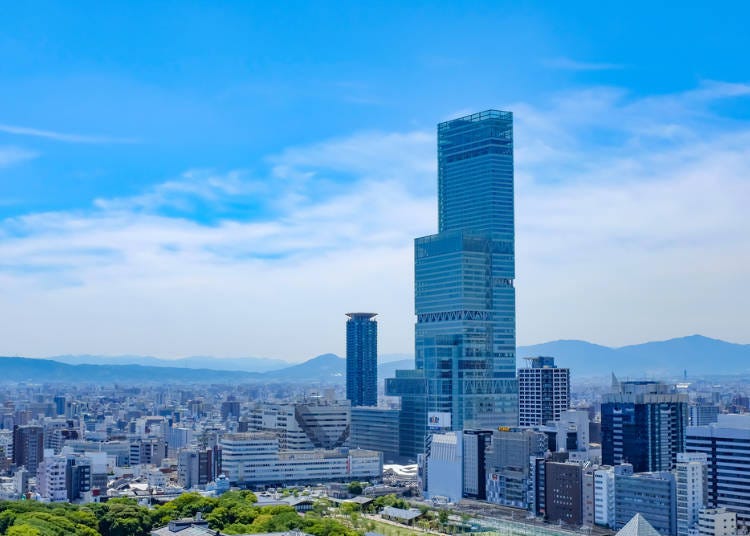 Abeno Harukas (Get off at JR/Osaka Metro Tennoji Station, or Kintetsu Osaka Abenobashi Station)
Abeno Harukas
Abeno Harukas is a landmark of Tennoji known for the Kintetsu Department Store Headquarters, an art museum, and the Osaka Marriott Miyako Hotel. Harukas 300 is the tallest building in Japan, and has an observatory 300 meters above ground where you can get a great view of not only Osaka City, but Kobe City, the Akashi-Kaikyo Bridge, and if you're lucky, the Kyoto Tower! And with your KANSAI ONE PASS, you are eligible for a 10% discount on admission on the day you present your pass.
ABENO HARUKAS (Harukas 300 Observatory)

あべのハルカス【ハルカス300(展望台)】

Address

1-1-43 Abenosuji, Abeno-ku, Osaka, 545-6016

Phone Number

06-6621-0300

Hours:9:00AM~10:00PM (Last Entry 9:30PM)
*Ticket sales from 8:50AM~9:30PM
Price:10% discount on admissions with Pass
Adults: 1,500 yen (1,350 with discount)
Students (12~17 years): 1,200 yen (1,080 with discount)
Students (6~11 years): 700 yen (630 with discount)
Children (4~5 years): 500 yen (450 with discount)
Closed: Open every day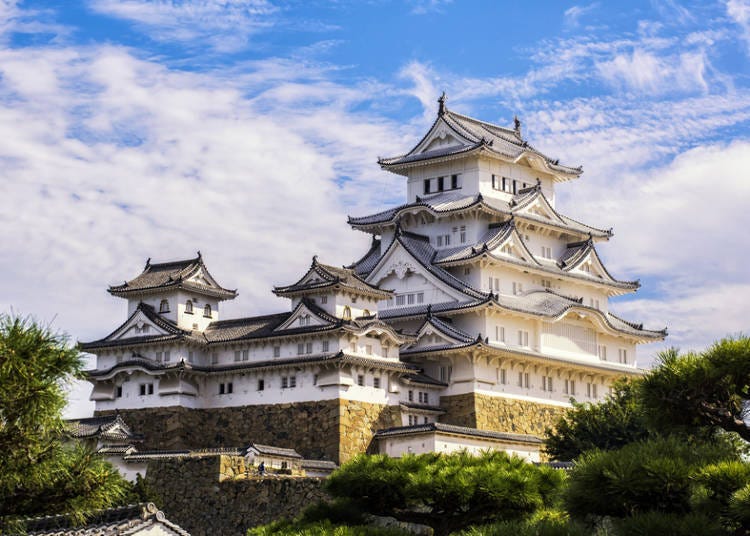 Himeji Castle (Get off at JR Himeji Station)
Himeji Castle
Himeji Castle was Japan's first national treasure to be registered as a World Cultural Heritage Site, along with Nara's Horyuji Temple, in December of 1993. It has become lovingly dubbed as "Shirasagi-jo" (or "White Heron Castle") because of its appearance of a beautiful white heron ("shirasagi" in Japanese) elegantly spreading its wings. With your KANSAI ONE PASS you can receive 2% off your admission.
姫路城

Address

68 Honmachi, Himeji, Hyogo 670-0012

Phone Number

079-285-1146

Hours:9:00AM~4:00PM (Closes 5:00PM)
*Summer Hours (4/27~8/31): 9:00AM~5:00PM (Closes 6:00PM)
Price:*2% off entry with Pass
Adults (18 & older): 1,000 yen (800 with discount)
Children (Elementary/Middle/High School): 300 yen (240 with discount)
*Cannot be combined with other discounts/services
*Non-transferable
Closed: 12/29~12/30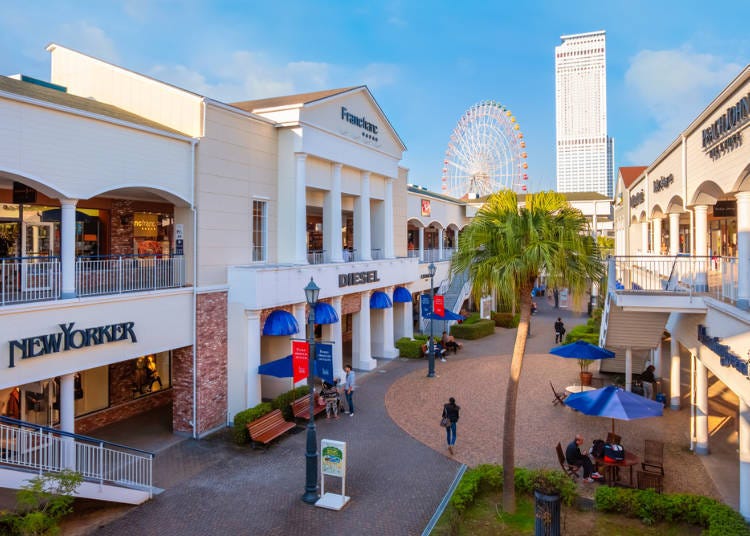 Rinku Premium Outlets (Get off at JR/Nankai Rinku Town Station)
Rinku Premium Outlets
Right across the bridge connected to Kansai International Airport is Kansai's largest outlet mall, the Rinku Premium Outlets. There are about 210 nationally and internationally famous brand shops where you can purchase high-quality goods at great prices. When you present your KANSAI ONE PASS you will receive a coupon sheet that you can use at Rinku Premium Outlets. With convenient access to Kansai International Airport, you can easily stop by either when you arrive or right before leaving Japan.
りんくうプレミアム・アウトレット

Address

3-28 Rinkuorai-minami, Izumisano, Osaka 598-8508

Phone Number

072-458-4600

Hours:10:00AM~8:00PM
Price:1 coupon sheet
Closed:3rd Thursday in February, Annually
And there you have it! A fun and fulfilling Kansai trip, with nothing more that a KANSAI ONE PASS and your smartphone. Why not purchase a pass and experience the smooth travels and great benefits for yourself?

Text by:WESTPLAN
*This information is from the time of this article's publication.
*Prices and options mentioned are subject to change.
*Unless stated otherwise, all prices include tax.