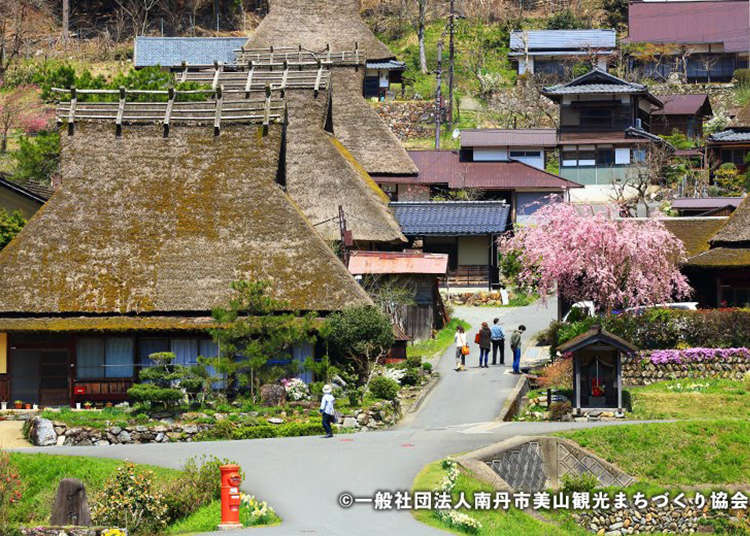 Think you've seen all the historical shrines and famous buildings there are to be seen in Kyoto? Then maybe it's time to try a Kyoto day trip!

Besides the main places of interest that most tourists usually charge towards, Kyoto is also chock full of lesser-known attractions that offer equally exciting experiences, and that's what we're going to talk about today.

Although usually a little distance away from Kyoto's town center, these are nevertheless great places to visit, especially for a Kyoto day trip! What's more, these places can be conveniently accessed via public transport options such as trains and buses. See if you can fit one of them into your schedule!
1. Kifune Shrine: Spiritual sanctuary tucked away in the recesses of Kyoto (Kurama / Kifune area)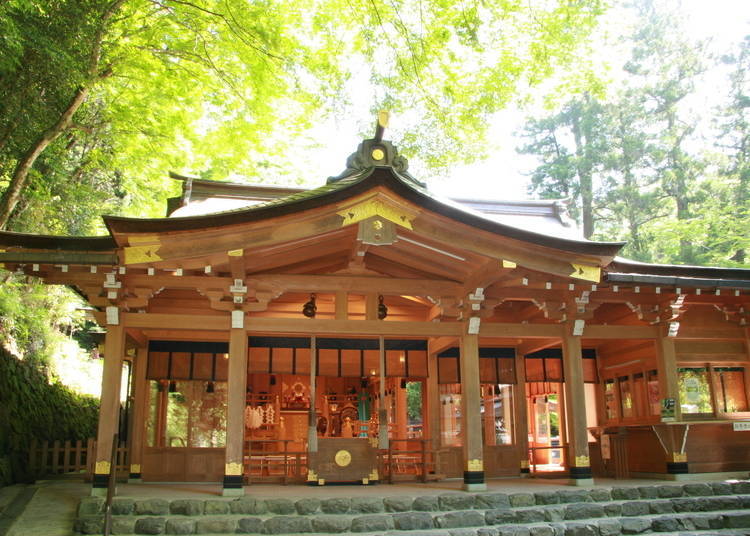 The majestic-looking main hall framed by leaves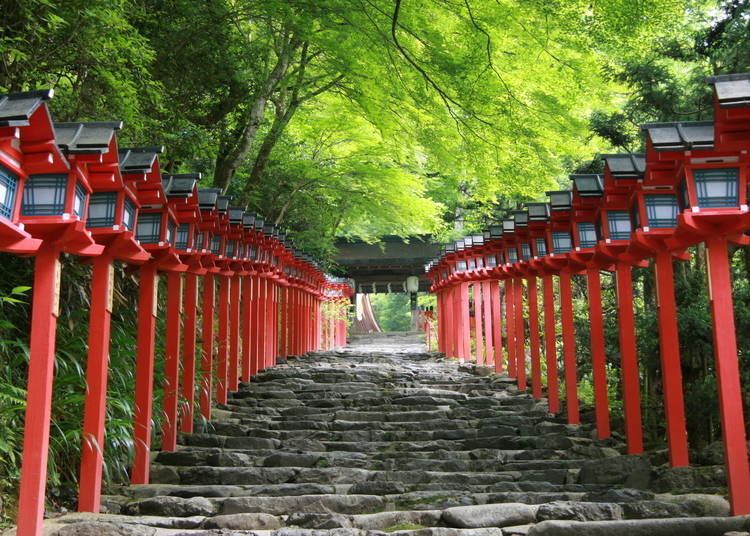 Approach to the shrine, made up of a stone stairwell that seems to purify with every step taken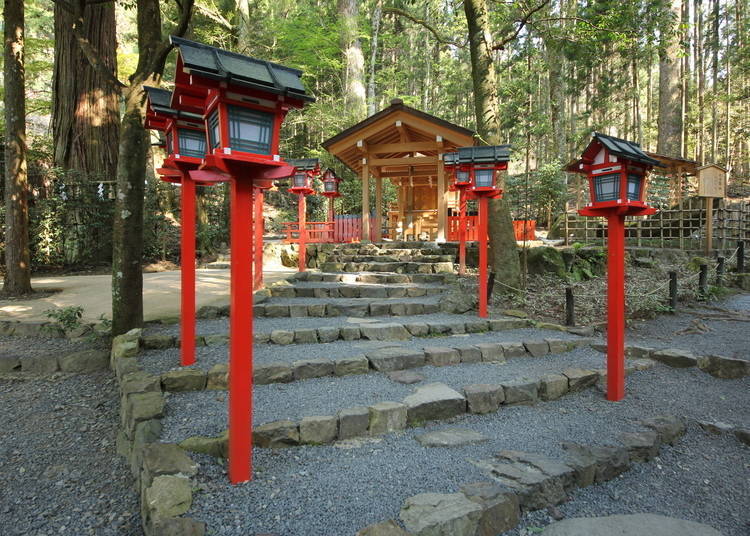 Head over to the Kessha building to pray for success in romantic relationships!
About an hour away by subway and bus from Kyoto Station on the JR Lines is the Kurama / Kifune area, the back parlor of Kyoto. The area is dotted with buildings and facilities known as spiritual healing spots, and Kifune Shrine is the foremost of them all.

Visitors to this shrine often pray for romantic success, business prosperity, and their wishes to be fulfilled. The sprawling premises includes a stone approach that is decorated with tastefully designed garden lanterns as it leads visitors towards the majestic main hall.

Other buildings in the area are the shrine's back hall, surrounded by lush greenery, and the famous Kessha, which is where people go to pray for smooth-sailing romantic relationships.

To prevent the spread of Covid-19, all workers at talisman distribution facilities are required to wear masks. Alcohol-based sanitizers have also been set up at a few locations around the shrine for all to use.

If you're in the area, do also check out the other places of interest nearby as well, such as Kurama Highway, a road that has deep-ties with an ancient Japanese tradition about a mythical creature called the Tengu (long-nosed goblin)!
Address

180, Kuramakibunecho, Sakyo-ku, Kyoto-shi, Kyoto, 601-1112
View Map

Nearest Station

Kibuneguchi Station (Eizan Dentetsu-kurama Line)
30 minutes on foot


Phone Number

075-741-2016
2. Amanohashidate: One of Japan's top three views when seen from an elevated observatory deck!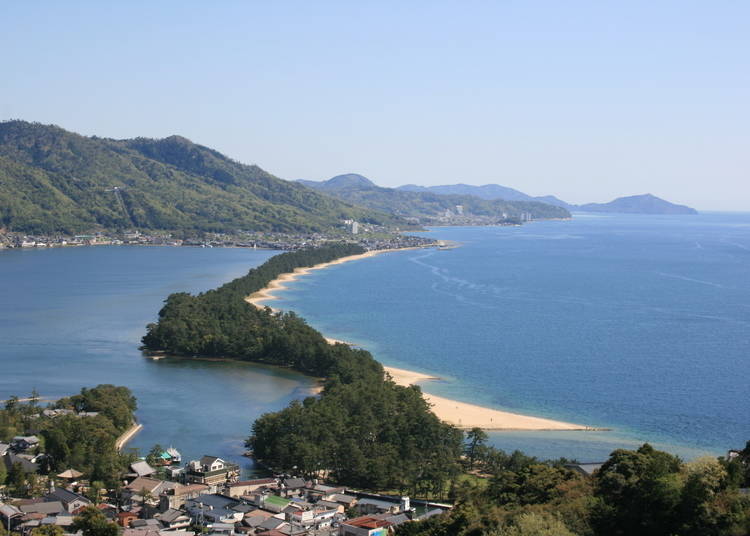 Amanohashidate is about 170 meters (557 feet) long and 20 meters (65 feet) wide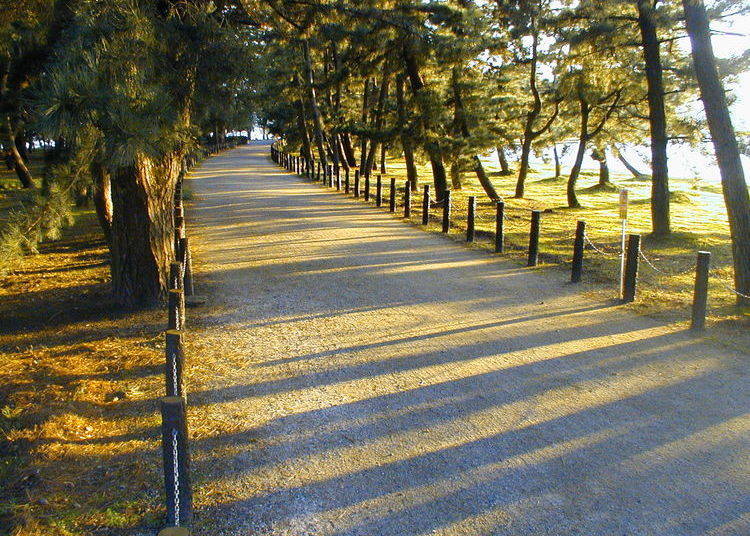 The well-maintained nature trail is lined with beautiful pine trees
The place is accessible by direct highway bus from Kyoto Station, and the trip should take around two hours. You can also take the Hashidate, a special express train, to reach in about two hours and 10 minutes. Along with Miyagi Prefecture's Matsushima and Hiroshima Prefecture's Miyajima, Amanohashidate is considered one of the three most astounding views you can see in Japan. This is a long and thin sandbank with some 5,000 pine trees growing on it - an unusual geological formation. The place was named Amanohashidate, which translates to "bridge of heaven", because the shape of its sandbank makes it appear like a bridge ascending to heaven.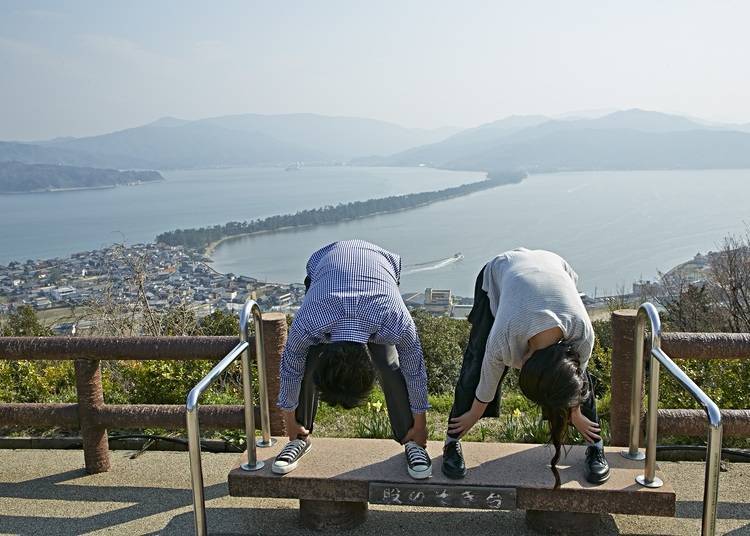 By peeking at the sandbank from between one's thighs, Amanohashidate appears like a soaring dragon, and this popular way of viewing the scene is aptly named shōryūkan, meaning "soaring dragon view"
To fully enjoy the view at Amanohashidate, we recommend going up to an elevated observatory deck nearby. Kasamatsu Park is one such popular spot, especially for those wanting to peek at the sandbank upside-down for the famous shōryūkan view. The park is located about 130 meters (426 feet) above sea level and there are lifts and cable cars that can bring visitors up. Going to the park for a day trip is thus entirely within the realm of possibility. English maps of the area are also available on site.
Address

Monju, Miyazu-shi, Kyoto, 626-0001
View Map

Nearest Station

Amanohashidate Station (Tantetsu Miyatoyo Line)
7 minutes on foot


Phone Number

0772-22-8030
3. Ine's Funaya: Exotic port side landscapes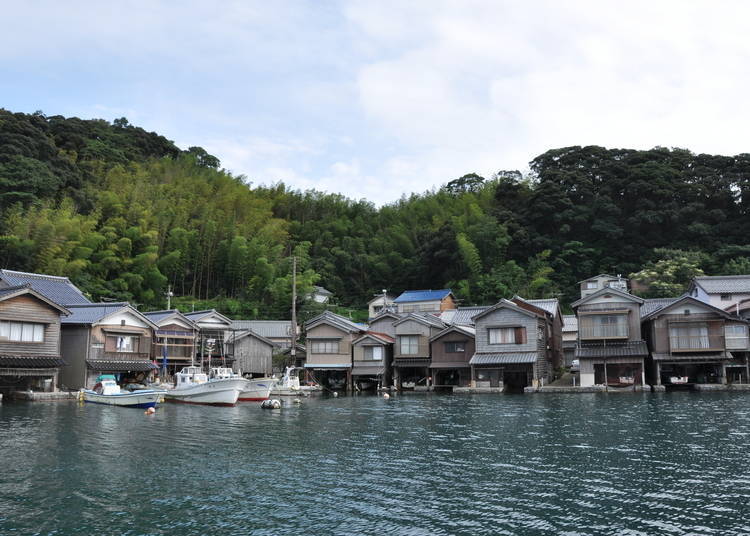 The village of Funaya seems to float on the sea
Near Amanohashidate and about three hours from Kyoto Station by train and bus is Funaya of Ine-chō in the Yoza District, a little port side village. The houses here, built to jut out of the surface of the sea, have boat garages on the first floor and housing spaces on the second. From afar, it almost seems as if the buildings are floating on top of the sea, and this is a prominent feature of the landscape here.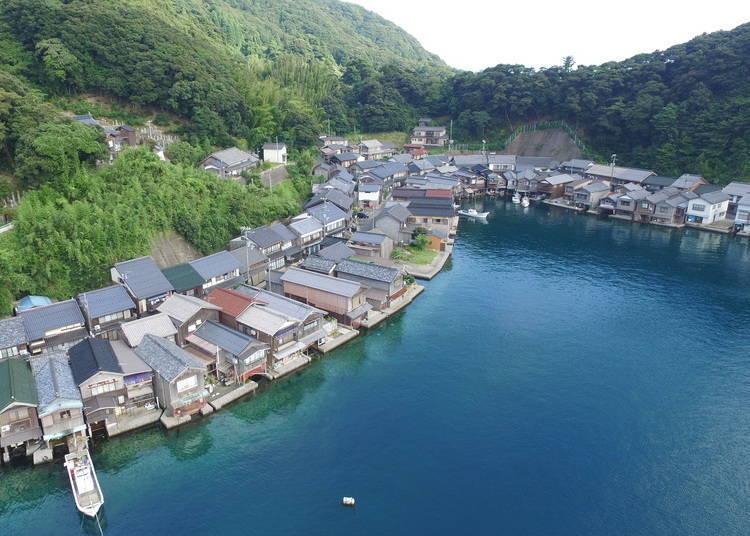 The only place in Japan where visitors can see more than 230 boat houses together at once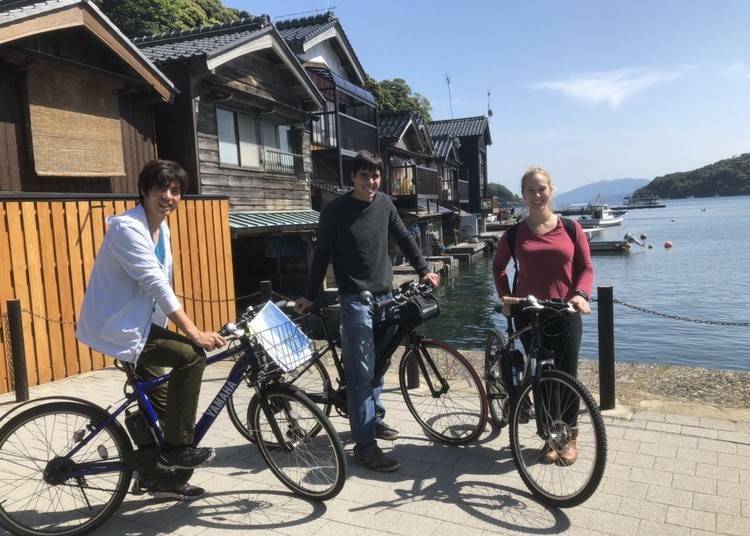 Rent an e-bike to enjoy Funaya's local sights up close and personally!
The spectacular sight of more than 230 boat houses lined up along Ine Bay has been designated an Important Preservation District for Groups of Traditional Buildings, a testament to its intangible value. Visitors can walk or rent an e-bike to explore the area. There's also a community cycling initiative that allows visitors to use bicycles free of charge without prior registration. The bicycles are available on an as-is basis in four parking locations around the vicinity of the bay, where you can either borrow or return a bicycle at your own time and convenience.
伊根の舟屋

Address

459, Kameshima, Yosa Gun Ine Cho, Kyoto Fu, 626-0424, Japan

Phone: 0772-32-0277 (Ine-chō Tourism Association - 9:00 a.m. – 5:00 p.m.)
Free to walk
4. Sanzen-in: Blissful and beautiful moss-covered space of spiritual healing (Ohara area)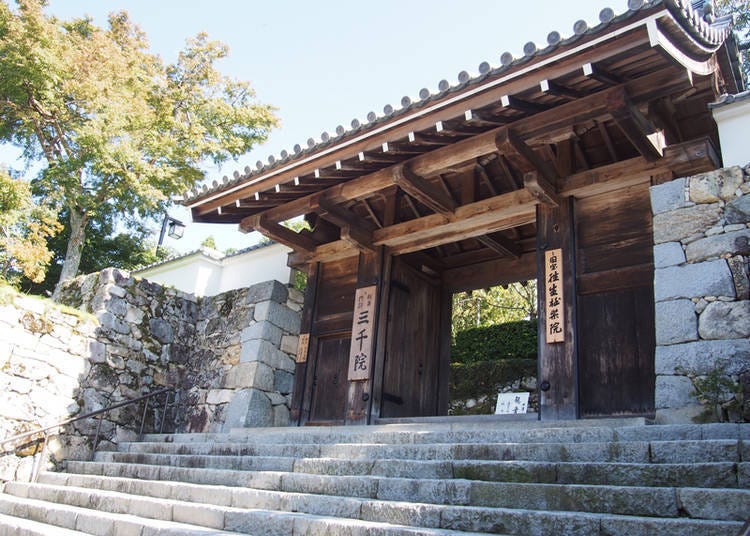 As a temple for royal and noble monks back in the day, the gates of Sanzen-in are appropriately elegant in design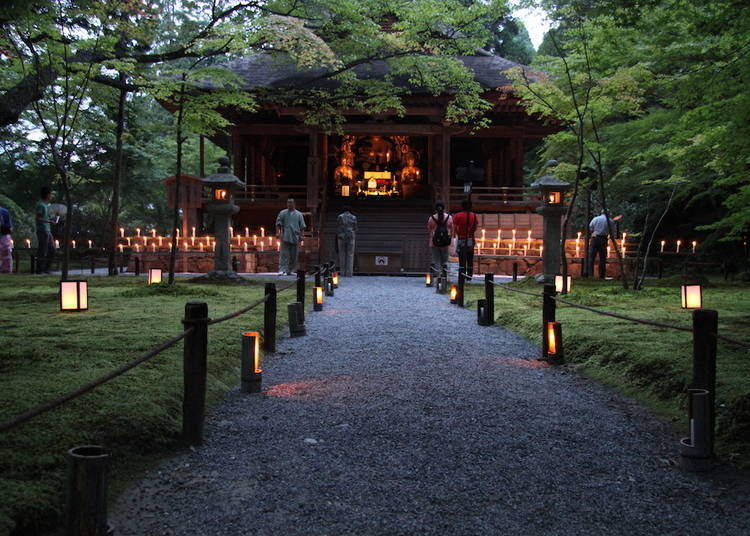 The Ōjōgokuraku-in building is designated as an Important Cultural Property of Japan, and the Amida Sanzon statues within are considered national treasures
It takes about one hour by subway and bus to get to Sakyō-ku's Ohara area, where there are many major and minor shrines and temples. Ohara is well-known for its beautiful streets that blend in harmoniously with nature. This is also where shibazuke pickles, one of the three best-tasting Kyoto-style pickles originated from. Sanzen-in is one of the five Tendai Monzeki temples that can be found in this area. The temple's moss garden is a popular spot for cherry blossom or autumn leaves viewing.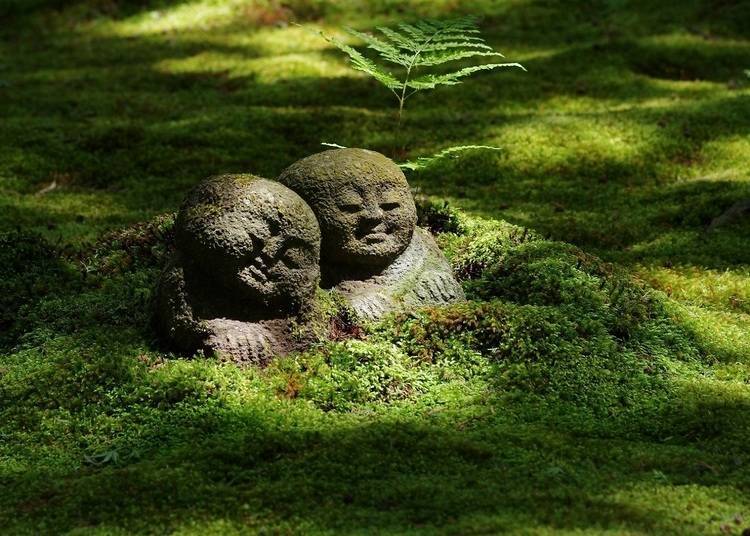 Warabe Jizō, child-like Buddha statues resting peacefully on a moss-covered ground (Photo: Takashi Sugimura)
The famous Shūheki Garden and Yūsei Garden here are must-visit attractions, but don't forget to look out for the simple yet pleasant Ōjōgokuraku-in and the Warabe Jizō statues quietly resting by the side of Benten Pond as well.

Other than Sanzen-in, Ohara is also home to other temples of interest such as Jakkō-in and Hōsen-in. Since it's relatively close to Kyoto Station, planning a quick day trip to this area will be a worthwhile investment of your sightseeing time.
Address

540, Ohararaikouincho, Sakyo-ku, Kyoto-shi, Kyoto, 601-1242
View Map

Nearest Station

Kokusaikaikan Station (Karasuma Line)
22 minutes by bus


Phone Number

075-744-2531
5. Chagenkyō Tea Plantations: A major production center of uji green tea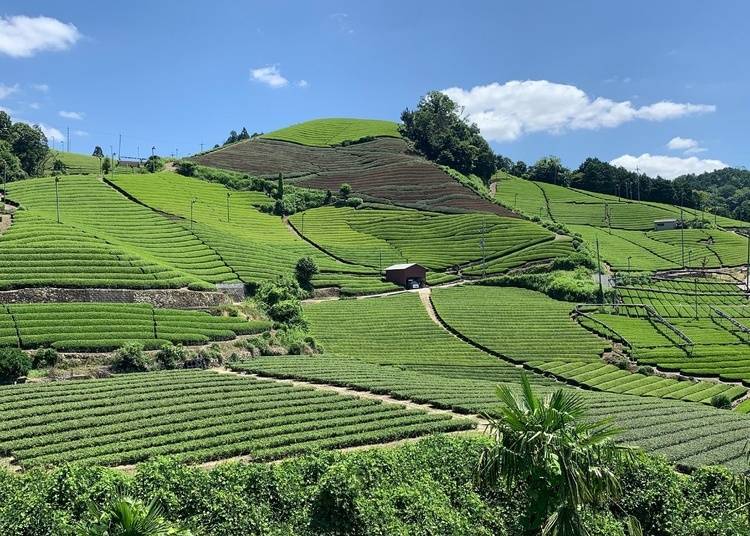 The Ishidera tea plantation's well-manicured slopes make the area seem as if they are carpeted by a sea of tea leaves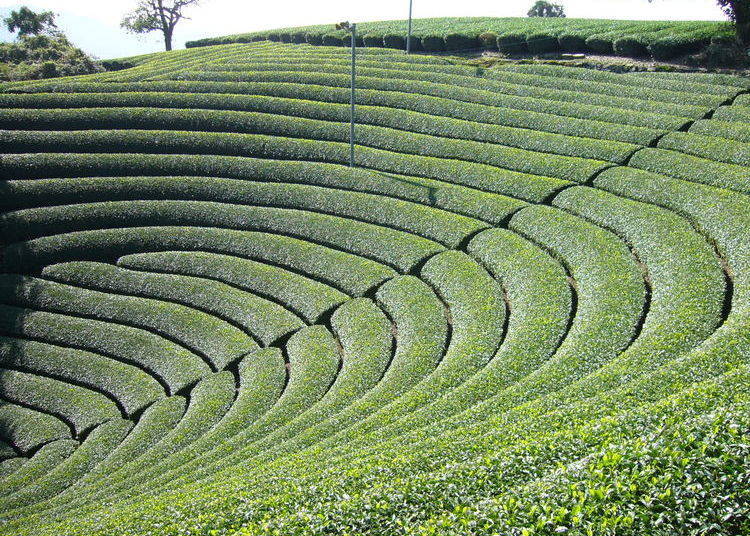 Harayama's circular formation is rarely seen in tea plantations these days
Wazuka town in Kyoto's Sōraku district is called Chagenkyō, or tea paradise. It takes about slightly less than one and a half hours to get here from Kyoto Station via train and bus. There are many places you can visit here right inside town itself, like the Shirasu/Ishidera, Erihachi, or Harayama tea plantations. The vast area of carefully maintained green tea shrubs is what gave the town its tea paradise moniker. The Ishidera tea plantation is especially prominent because of having been prominently featured in many media articles.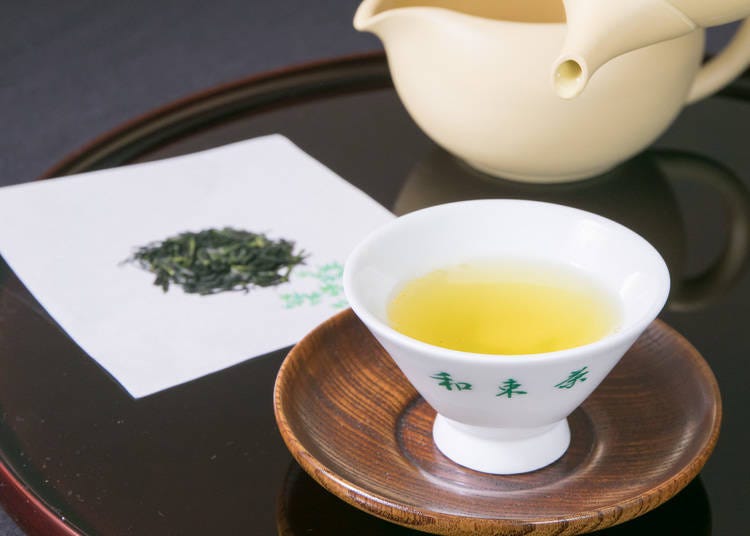 Wazuka tea - the pride and joy of Wazuka town
Other than the beautiful landscape, visitors can also enjoy local tea with cakes and snacks at Wazuka Tea Cafe. If you're planning to buy some tea leaves back as souvenirs, get them fresh at the cafe, as the tea leaves here come directly from the plantations. This is also where you can book a slot for Tenkū Cafe, a reservations-only teahouse located at the peak of a mountain (as of August 2020, usage of this teahouse has been suspended indefinitely, so please inquire about plans for reopening if you're interested to visit). Takeout Wazuka tea, carefully boiled in a teapot, is available as well.

For customer safety and peace of mind, the cafe has implemented measures to prevent the spread of Covid-19, such as disinfecting entrances and exits and requiring all staff to wear masks.
和束茶カフェ

Address

35, Shirasu, Soraku Gun Wazuka Cho, Kyoto Fu, 619-1222, Japan

Phone Number

0774-78-4180

Hours: 10:00 a.m. – 5:00 p.m. (last order 4:30 p.m; The shop opens at 9:00 a.m. on Sundays)
Closed: End of year and start of year holidays
6. Rurikei Prefectural Natural Park: Changing sights through the seasons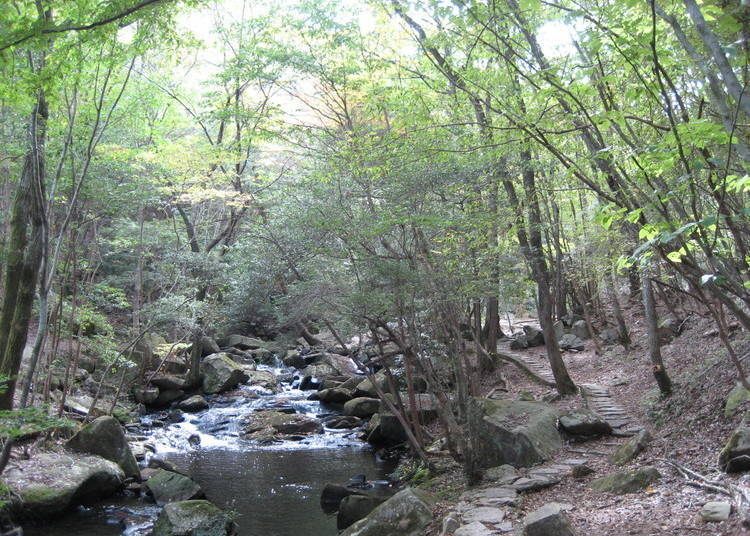 The park is an excellent hiking place due to its cool temperatures
Rurikei Prefectural Natural Park is about an hour and a half's train and bus ride away from Kyoto Station. Standing at 500 meters (1,640 feet) above sea level, the park attracts visitors from all over Japan looking for pleasant places to hike or just somewhere to relax at leisure. The pristine and clear streams that run through the park undoubtedly add to its appeal.

In terms of space, the park takes up 36.3 hectares and features a four-kilometer (about 2.5 miles) hiking course that takes visitors through its lovely valleys. Every new season, the natural forest here puts on a new face and this ever-changing scenery is absolutely worth a trip down to admire!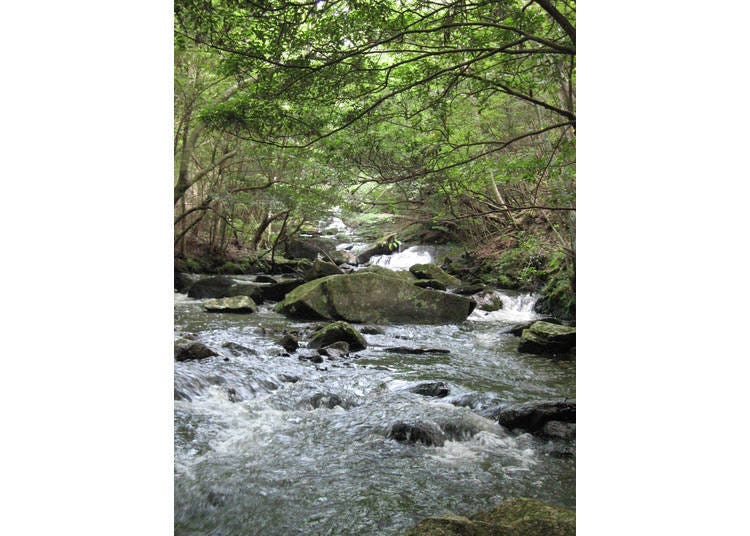 Clear and translucent steams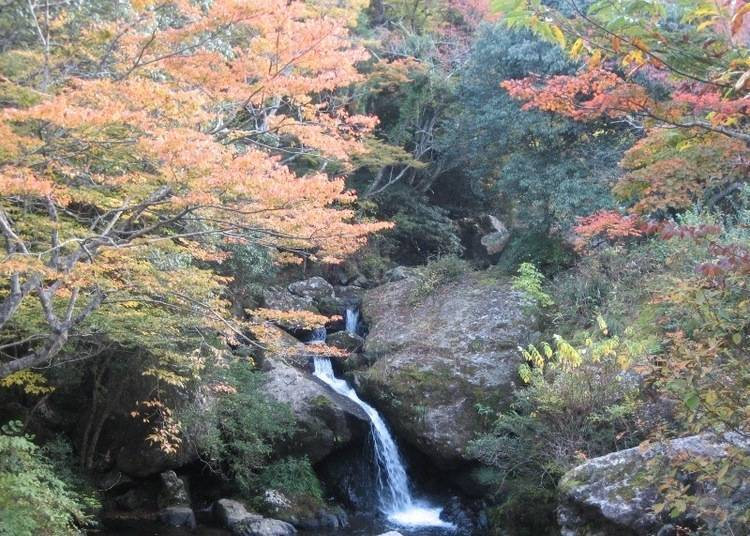 A valley waterfall that changes its appearance according to the season
The streams of the park are so clear, Japanese giant salamanders, designated as Special Natural Treasures of the country, have taken up dwelling around the area. In 1932, the main part of the valley was designated as a place of scenic beauty by the country. We highly recommend this park as a day trip for families with young children who would enjoy playing around in the water for a bit.
Rurikei Prefectural Natural Park

京都府立るり渓自然公園

Address

Sonobecho Okawachi, Nantan Shi, Kyoto Fu, 622-0065, Japan

Phone: 0771-68-0050 (Natan City Department of Agriculture, Forest, and Industry Tourism Exchange Room)
Free to walk
7. Yunohana Onsen: Refresh your tired body with an onsen day trip!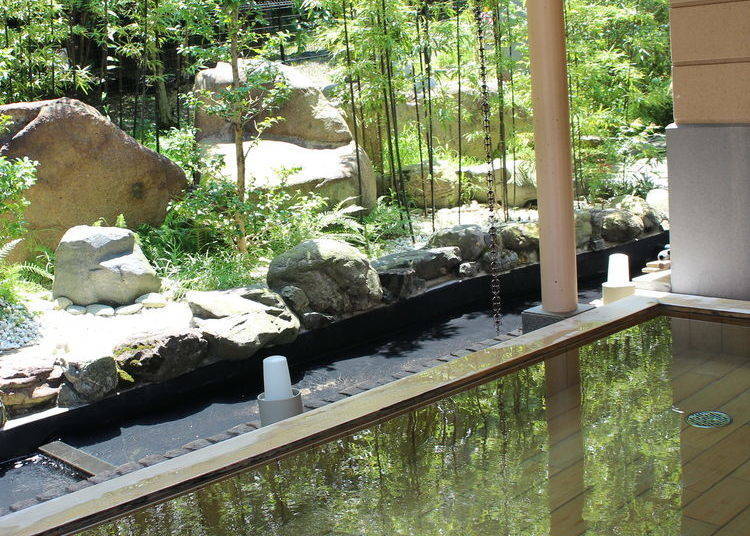 Yunohana Onsen has five hot spring hotels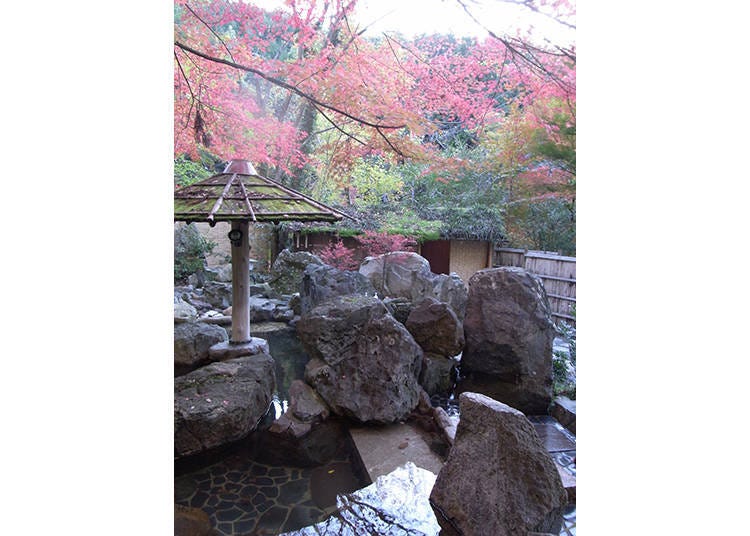 Here's an open-air hot spring that allows visitors to enjoy the sights while soaking their cares away
Fancy a refreshing bit of authentic onsen, or hot spring action in between your other Kyoto sightseeing activities? Simply take a bus and train on the Sagano Line from Kyoto Station on the JR Lines for less than 40 minutes to reach Yunohana Onsen, a peaceful hot spring area tucked away in the mountainous region.

The spring waters here contain natural radium, touted to have good effects on reducing nerve or muscle pain, relieving fatigue, and promoting body wellness.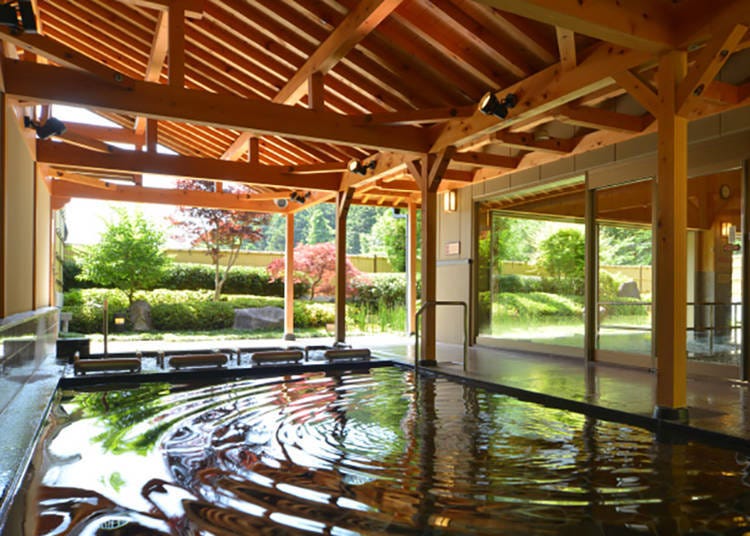 Keizankaku is where you can have an authentic Japanese onsen experience
This area has five onsen hotels, and we recommend going to Keizankaku for its attractive day trip packages for visitors who only wish to use the hot spring facilities without staying the night.

To prevent the spread of Covid-19 and give visitors peace of mind, the hotel thoroughly disinfects its premises and keeps enclosed spaces well-ventilated. Sightseeing gets tiring after a while, so refresh yourself with a trip to a beautiful onsen in between destinations and ensure your body and mind are in top form for the next leg of your trip!
Yunohana Onsen Keizankaku

湯の花温泉 渓山閣

Address

20-6, Hiedanocho Saeki, Kameoka Shi, Kyoto Fu, 621-0033, Japan

Phone Number

0120-417-004

Hours: 11:00 a.m. – 8:00 p.m. (for day trip hot spring usage)
*Weekend hours are 11:00 a.m. – 3:00 p.m. and 6:00 p.m. – 8:00 p.m. Subject to change without notification during long holidays such as Obon.
Day trip hot spring fee: Weekdays - Adults 800 yen, minors 400 yen; Weekends and holidays - Adults 1,000 yen, minors 500 yen *Comes with a face towel, tax included
Closed: Due to Covid-19, as of July 2020, opening hours are slightly different than usual. Please check the website for more details.
8. Miyama Kayabuki-no-Sato: A glimpse of Japan during its earliest days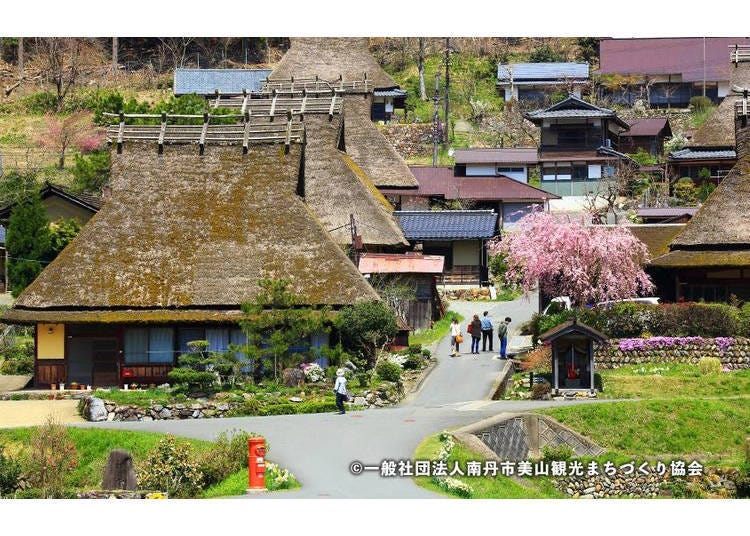 Walking into Kayabuki-no-Sato is almost like traveling back in time
It takes about 100 minutes to get to Kayabuki-no-Sato, a village north of Kyoto, by direct bus from Kyoto Station on the JR Lines (only one bus is in operation per day), or about two hours by a combination of train and municipal bus.

There are 39 houses here with traditional thatched gambrel roofs (known as kayabuki in Japanese), and they feature prominently in the village's well-known landscapes. The sight of the rustic village and its farming fields against the backdrop of a forested mountain is about as primitive as modern Japanese civilization can get!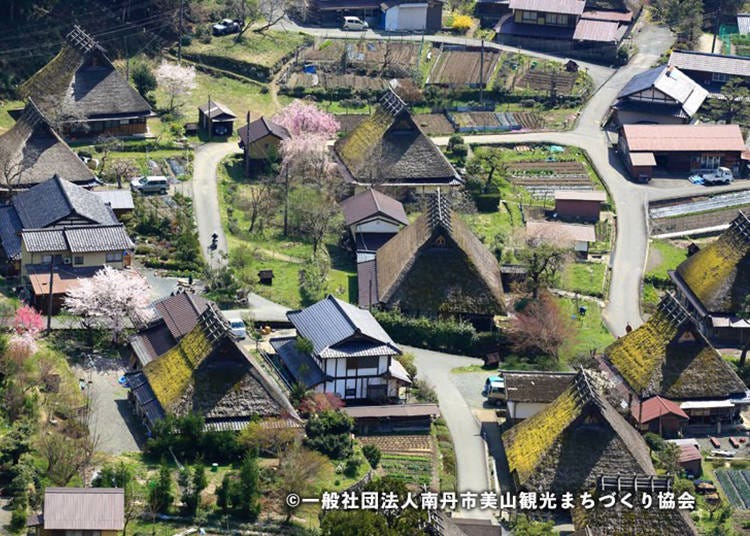 An ancient village that's still occupied today
The kayabuki houses are still occupied by residents despite being built between 150 to 200 years ago. The area has been designated as an Important Preservation District for Groups of Traditional Buildings due to its cultural value.

The buildings here may be old, but the lifestyle certainly isn't! Eateries like cafes and bakeries stand ready to serve up modern cuisine and the Miyama Folk Museum nearby conducts guided tours in English upon request.
A picturesque view awaits everywhere you go
美山 かやぶきの里北集落

Address

Miyamacho Kita, Nantan Shi, Kyoto Fu, 601-0712, Japan

Phone: 0771-75-9030 (Nantan City Miyama Tourism Development Association)
Free to walk
9. Take-no-Michi Mukō City: A little-known bamboo forest that's not in Arashiyama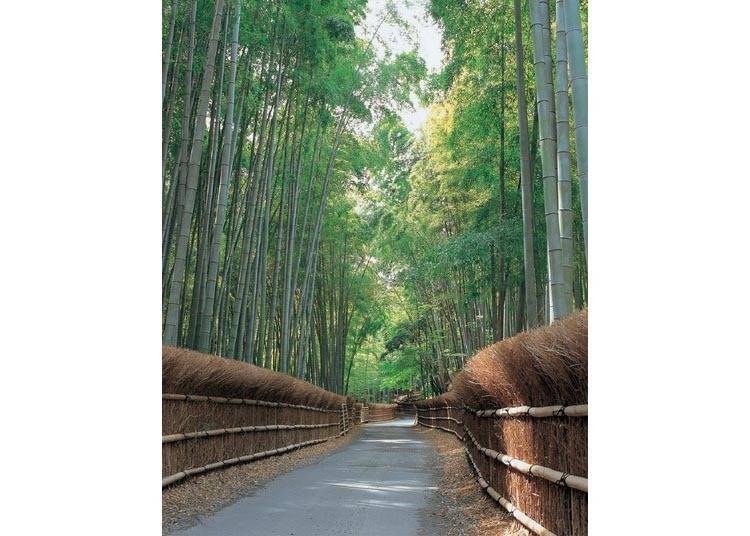 The peaceful road is surrounded on both sides by bamboo hedges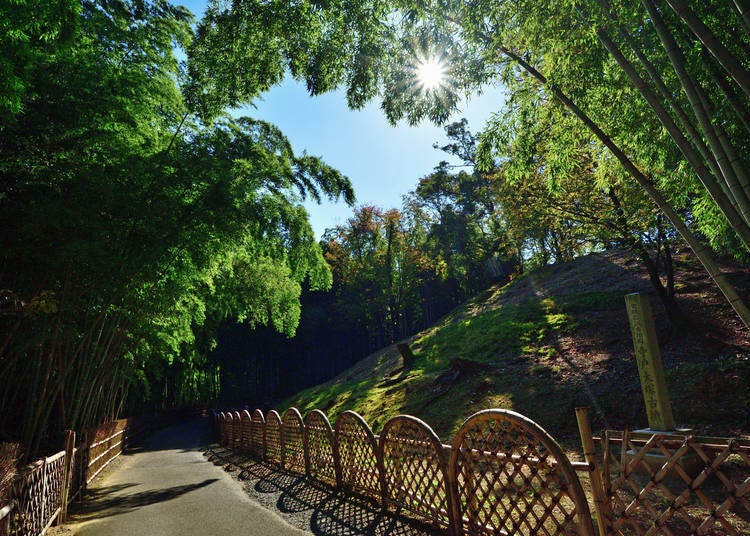 You're looking at kofungaki, a certain pattern of bamboo fencing. Eight other patterns adorn the bamboo forest here
Take-no-Michi, or bamboo road is a lesser-known tourist attraction located a relatively short distance away from Kyoto's city center.

Take a train from Kyoto Station on the JR Lines and alight at Mukocho Station on the Kyoto Line, then walk for about 20 minutes to reach. Including the train ride, the whole journey should take about 30 minutes in all.

The road cuts through a bamboo forest on one of Mukō City's hills, which is incidentally also a well-known spot for picking good quality bamboo shoots. The path through the forest is marked by bamboo fences made in different styles, such as takehogaki (bundled) and kofungaki (woven).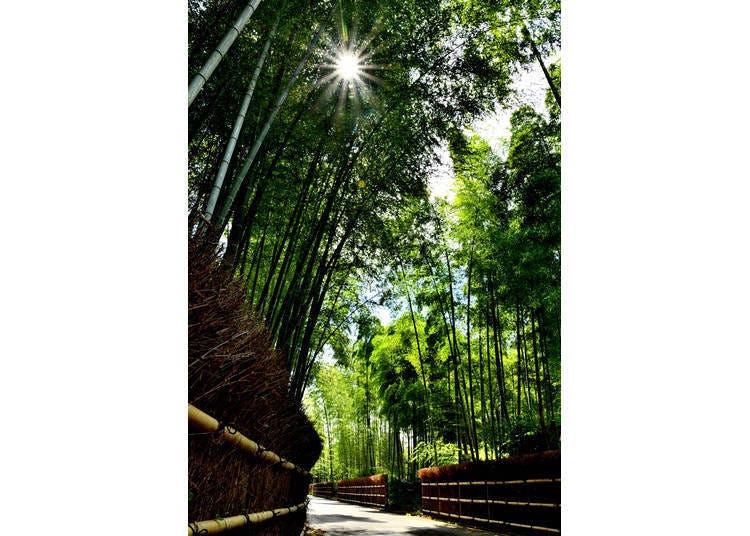 The tall bamboo stalks block out quite a bit of sun and the road is pleasantly cool as a result
Arashiyama's bamboo forest is about 400 meters (1,312 feet) long, but the one in Mukō City is a staggering 1,800 meters (5,905 feet) in comparison.

There is a phrase in Japanese called chikurinyoku, which means "bamboo forest basking", and this perfectly illustrates how cool and calm the atmosphere here must be if it can encourage visitors to take their time to walk through the quiet and peaceful road and bask in its goodness.

Listen to the rustling of the bamboo leaves as gentle winds flow through the openings in between stalks and you'll find that your heart has never been calmer once you reach the end of the road just walked.
向日市 竹の径

Address

Shibayama, Teradocho, Muko-Nagano, Mozumecho,Muko

Phone: 075-963-6504 (Mukō City Tourism Association)
Free to walk
Yes, Kyoto's historical and famous shrines and temples should absolutely be on your itinerary, but we hope this list of lesser-known sights has introduced you to the possibility of adding one or two seldom-ventured places of interest slightly farther away from Kyoto's town center into your trip schedule!

These places are a great way to relax away from the hustle and bustle of crowded city life, and since no advance reservation is required, you can even make a spontaneous trip down if you so please!
*This information is from the time of this article's publication.
*Prices and options mentioned are subject to change.
*Unless stated otherwise, all prices include tax.