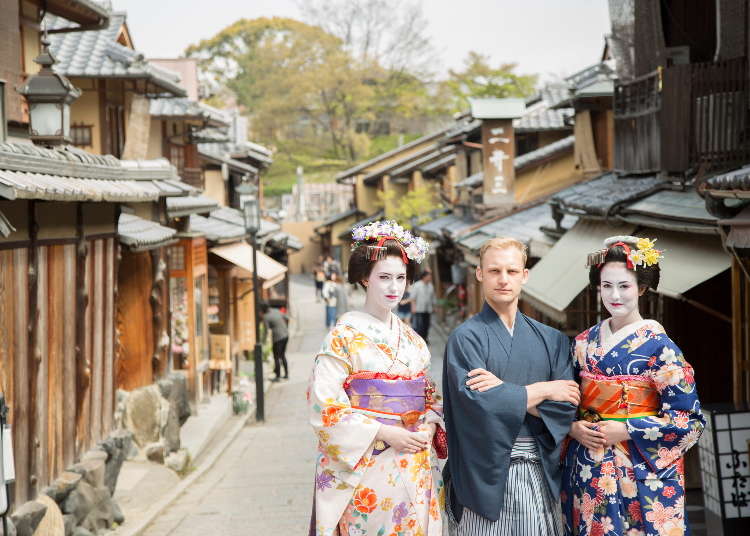 One of the questions you'll ask is where to rent a kimono in Kyoto. Wearing an authentic kimono while strolling around the old city streets is a fantastic way to experience Japanese culture.

While walking around Kyoto, you'll also notice the maiko (apprentice geisha in Kyoto). With such beauty, it makes you stop and look back. Wouldn't you like to become a maiko?

As it happens, there are kimono rental shops in Kyoto that offer maiko experiences! You can casually become a maiko, like wearing a costume. Here we will introduce a studio where 30 to 40% of foreign visitors visit to become a maiko!
Maiko Henshin Studio Shiki: Offering the Kyoto maiko experience!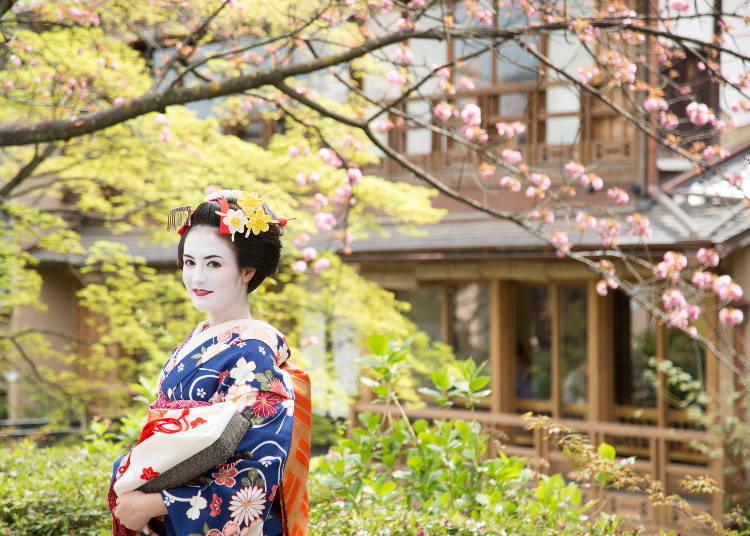 Maiko Henshin Studio Shiki Main Store is located on Ninenzaka (Nineizaka) along the path to Kiyomizudera Temple.

In the area, there are sightseeing spots like Kiyomizudera Temple, Kodaiji Temple, Nene no Michi, Ishibe-koji Alley, Yasaka-no-Tou, Yasaka Shrine, Kenninji Temple.

If you're looking to rent a kimono in Kyoto, at Studio Shiki, they have about 150 colorful kimonos. To transform into a maiko starts with authentic makeup, wing, and kimono and then finishes with a photoshoot.
First Stage of the Kyoto Maiko Experience: Makeup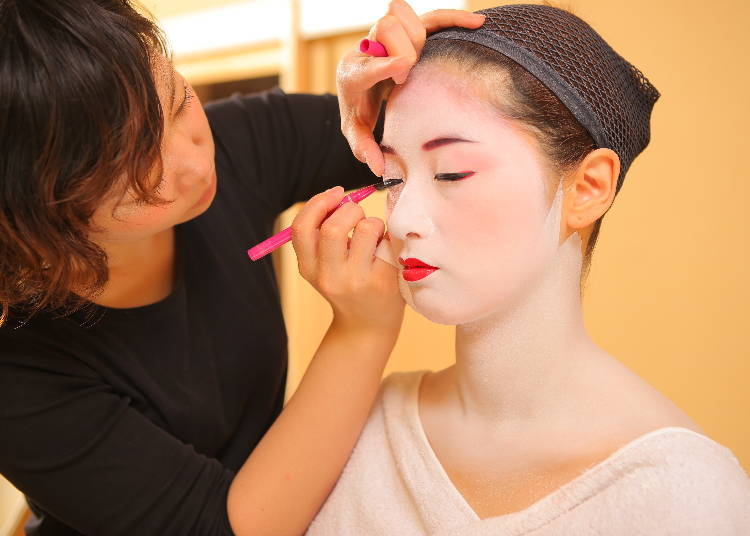 The makeup used at Shiki Main Store is the same type that maiko and geisha uses. They use the traditional technique and add in elements of modern makeup and cosmetics. By adding modern elements to traditional maiko makeup, it adds additional beauty. They add a white base, so your skin looks fine, and they add red lipstick. They bring out individual beauty and carefully finish the makeup. The makeup and face wash they use are additive-free and unscented, which is always nice.
Start to Feel More Like a Maiko Makeover With the Wig!
The next step for the Kyoto maiko experience is the wig. All plans include all types of wigs, but you can also request the half-wig.

Traditionally maiko will spend hours having their hair done by Kamiyui (traditional hair stylists), and they will keep the hairstyle for a week without washing it. It is quite difficult changing clothes and sleeping.

The half-wig is what made it easy to deal with. The half-wing uses the wearer's front hair, so the hairline looks more natural. The half-wig costs an additional 2,100 yen (excluding tax) and takes about 20 minutes to set up.
Put on the Kimono and Time for the Photo Shoot!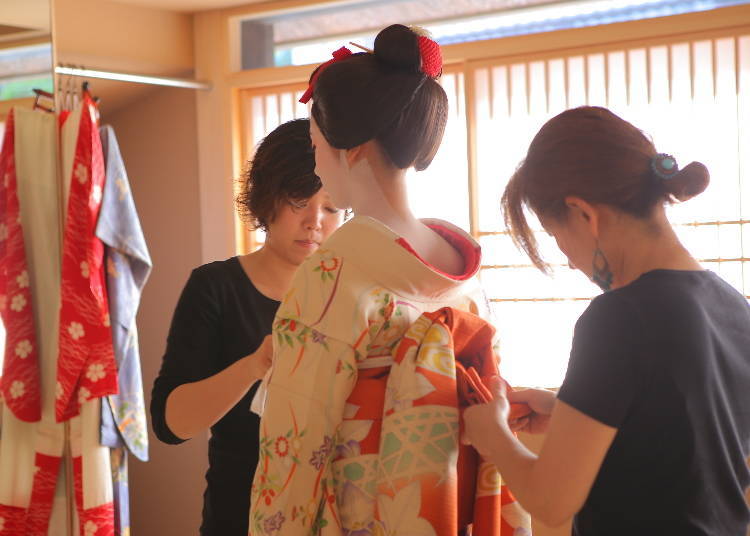 Once you are finished with the makeup and wig, it's time for the kimono. At Shiki Main Store, they have a selection of about 150 kimonos that are hand-embroidered and handmade from pure silk.

With so many beautiful kimono, it is hard to choose one! Once you pick one, the professional kimono dresser then handles your maiko makeover.

Also, all the kimonos are the same price. You can also check the kimono catalog on their website and select a few candidates beforehand. They also have detailed information on the traditional Japanese kimono.

Next up is a photoshoot by the camera crew. The trick to a maiko smile is to keep your mouth closed and smile. They will help you get into a natural pose, which makes you feel like a model during the photoshoot.
How to Rent a Kimono in Kyoto: Various plans like the transformation & photoshoot + strolling plan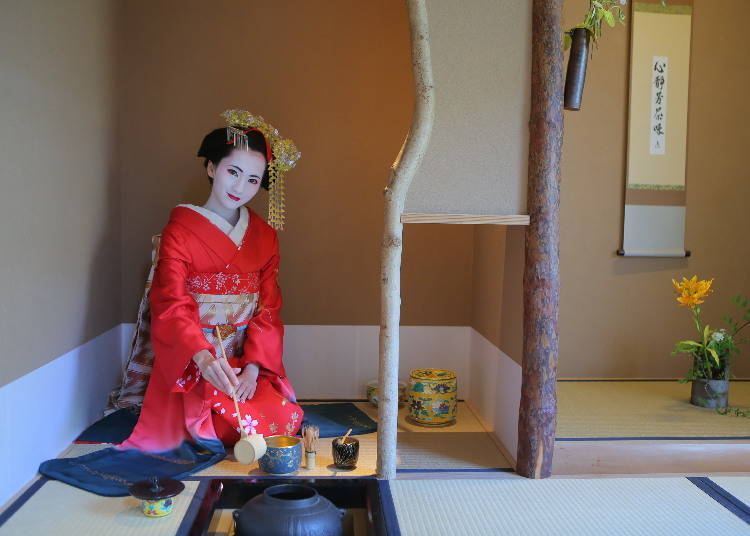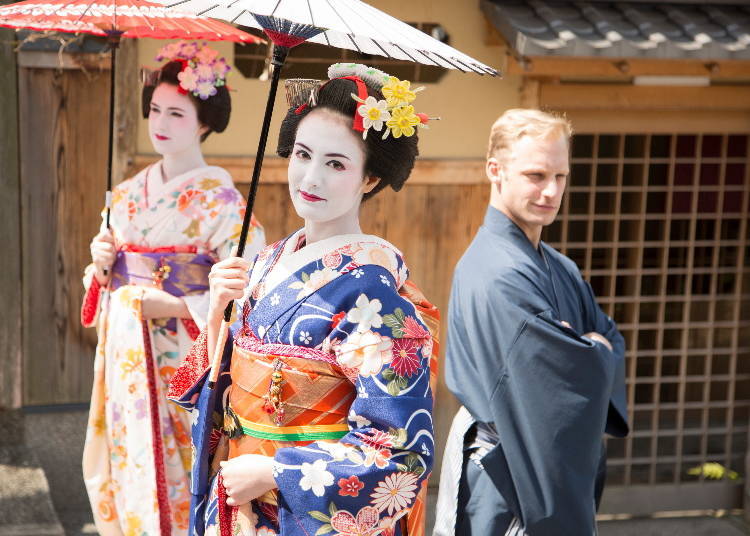 Their website is available in several languages and has various plans for foreign visitors. The budget-friendly program is the Studio Photoshoot Plan, which includes studio photoshoot and a free 10-minute free photoshoot (14,900 yen, excluding tax). The popular plan is the Studio Shoot with Strolling Plan, which consists of a 45-minute stroll (18,900 yen, excluding tax).

Also, if it's raining, they have a Rainy Day Plan (25,900 yen, excluding tax). Photos will be taken at a Japanese room, tea room, and pictures with a gold-leafed folding screen and Fushimi Inari Taisha in the background. Other than the Kyoto maiko experience plan, they also have a Japanese wedding dress plan, where you can experience a Japanese wedding. (*Prices are valid until December 31st, 2019.)

The plan for foreign visitors includes tabi (Japanese socks) (390 yen, excluding tax) and the half-wig (2,100 yen, excluding tax), which would typically have an additional fee. It is also possible to have extra photos taken (1 set, 1,000 yen, excluding tax).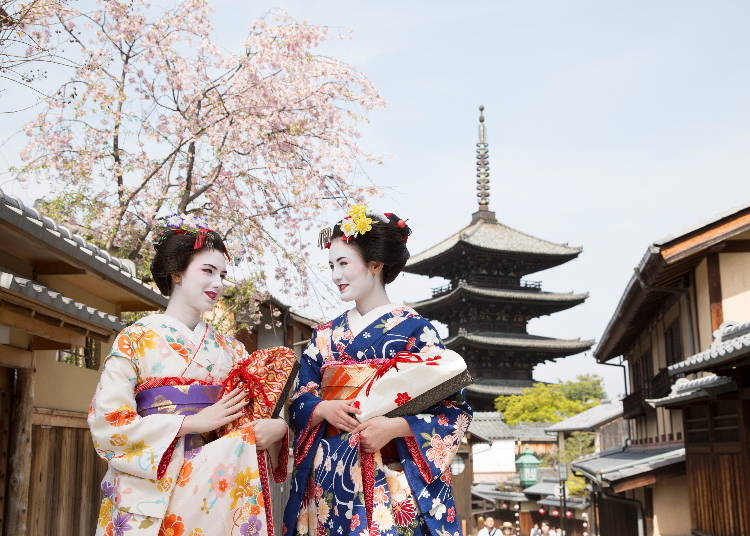 With the stroll plan, the photo crew will take photos of you at nearby sightseeing locations. We recommend heading to the path that leads to Kiyomizudera Temple, Ichinen Zaka, Ninenzaka (Nineizaka), and Sannenzaka (Sanneizaka). The area is designated as an Important Preservation District of Historic Buildings and provides an intense Kyoto atmosphere.

Kiyomizudera Temple, with many national treasures and important cultural property, is another popular spot for foreign visitors. Sanenezaka leads to Kiyomizudera Temple. It takes about 3 minutes on foot to reach Yasaka-no-Tou from Ninenzaka and Sanenezaka, and it is a must to take a photo there.

The cobbled stone Nene no Michi where rickshaws go through has no power lines, and you can get an even stronger Kyoto feel here.

Another photo spot popular on Instagram is Yasaka Koshin-do, also known as Yasaka no Koushin-san. We recommend taking a photo in front of the colorful kukuri-saru that is enshrined on the temple ground.

Also, keep in mind that you can't eat, drink, or smoke during the stroll. The only transportation that can be used is the rickshaw. On rainy days, the only available plans are the Studio Photoshoot Plan and the Rainy Day Plan. Please contact Shiki Main Store in advance for details.
Maiko-henshin Studio Shiki

舞妓変身スタジオ 四季本店

Address

351-16 Masuyacho, Higashiyama-ku, Kyoto, 605-0826

Phone Number

075-531-2777

Hours: 9:00 am - 4:30 pm (the final reception time for plans with strolls or outdoor photoshoots is at 2:30 pm)
Closed: Open daily
Text by:WESTPLAN
*This information is from the time of this article's publication.
*Prices and options mentioned are subject to change.
*Unless stated otherwise, all prices include tax.